Salsa is one of the easiest things you can make at home and this Fresh Salsa Verde from scratch is so fresh and so delicious, you'll never want to buy it in a jar again!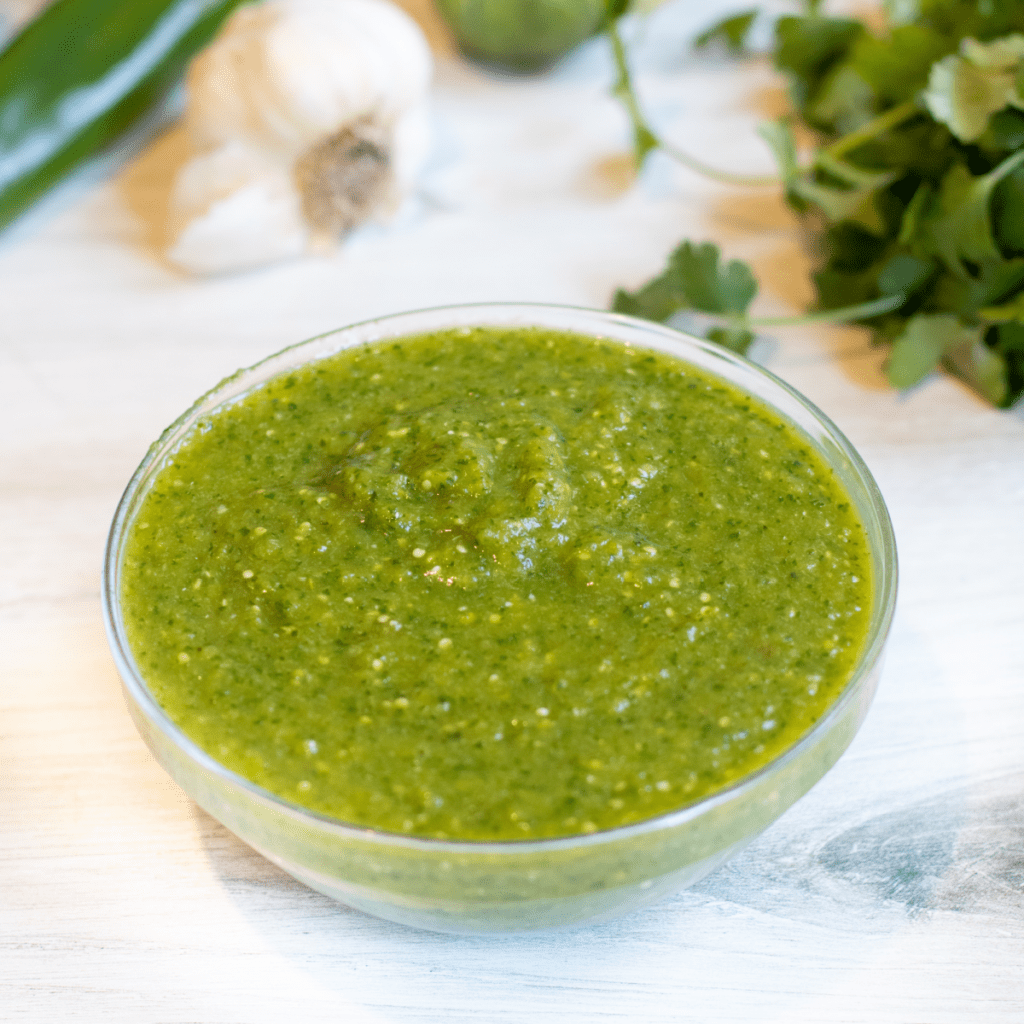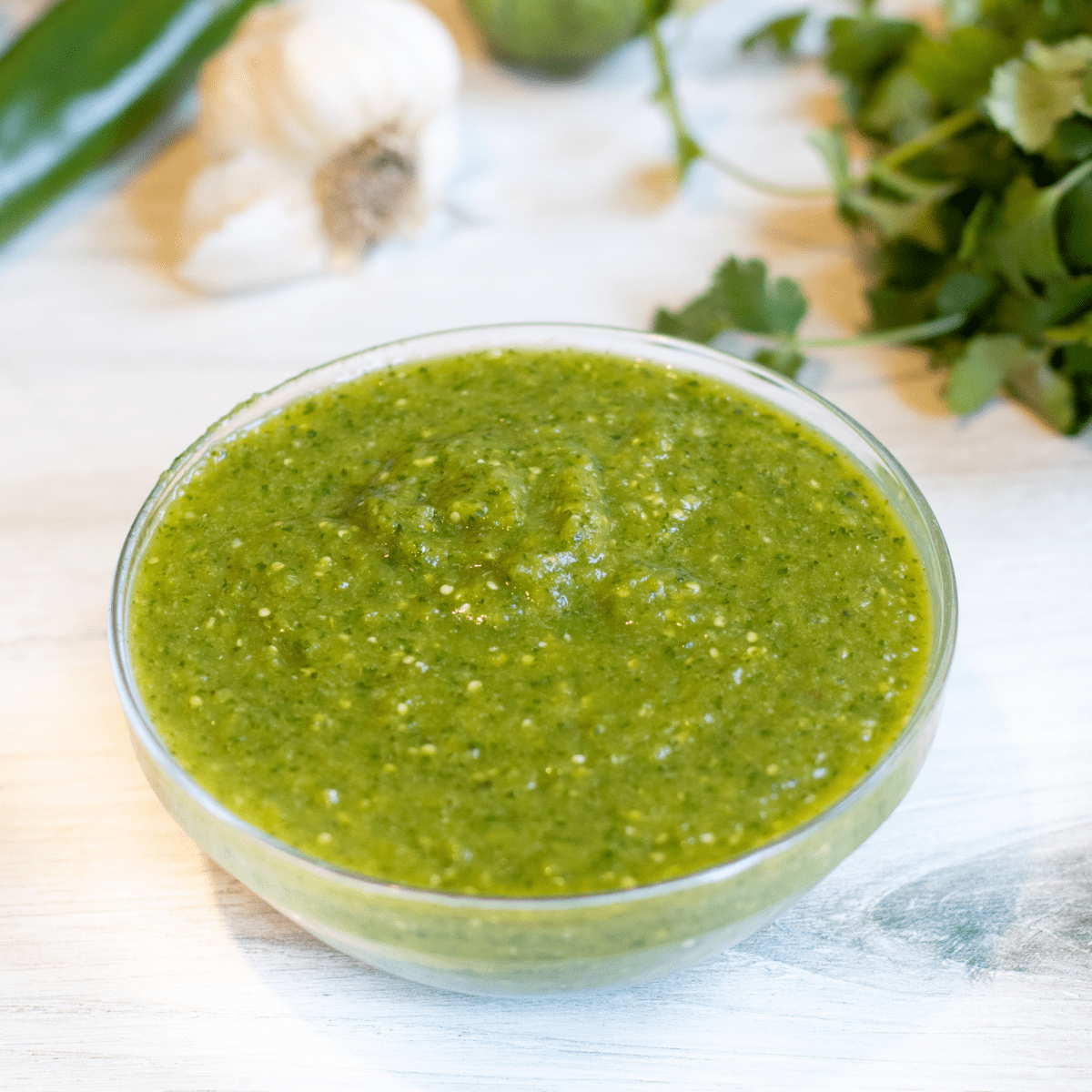 Here's a quickie for ya, friends. And by quickie, I mean this Fresh Salsa Verde from scratch is exactly that, quick, easy, and sooo fresh! A green salsa made of fresh, roasted tomatillos and peppers, this salsa is one that you can whip up quickly and the result is so much better than store-bought!
The ingredients: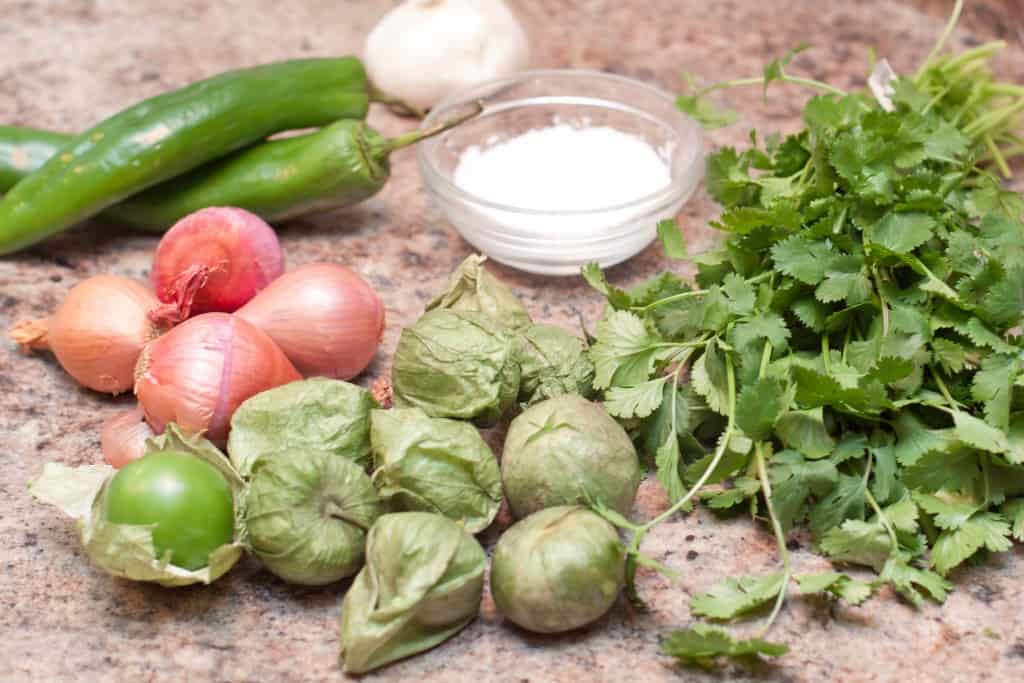 Fresh Tomatillos - Tomatillos, also called husk tomatoes, look like little green tomatoes wrapped in a husk. They are bright, acidic, and have a pretty high water content, which makes them perfect for a salsa verde!
Fresh Anaheim Chili Peppers - These mild chili peppers are slightly sweet and tangy and have a hint of a smokey flavor.
Fresh Jalapeno - Here's where the touch of heat comes in!
Fresh Shallots and Garlic - While some green salsas may call for onions, we prefer the more delicate flavor from shallots.
Fresh Cilantro - Key to adding an herbal touch! Cilantro not your thing? You could substitute fresh parsley, too!
Salt - Just a touch!
It doesn't get much fresher than this!
Step-by-Step Instructions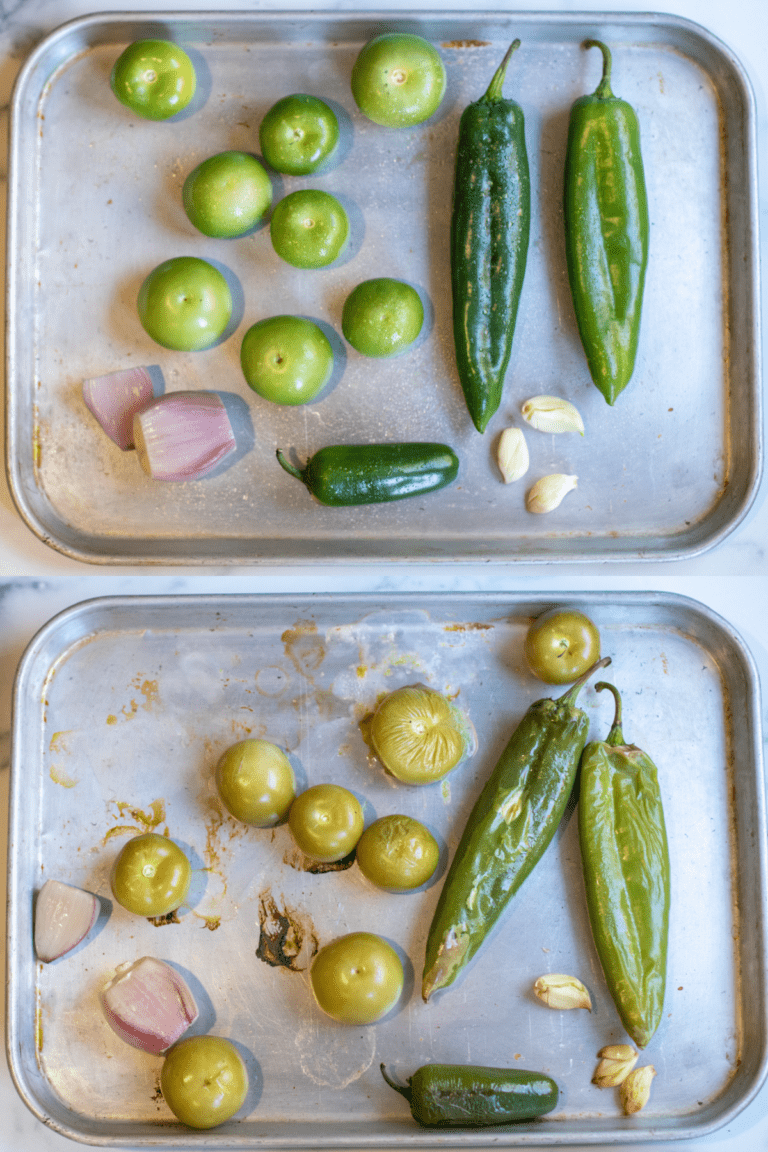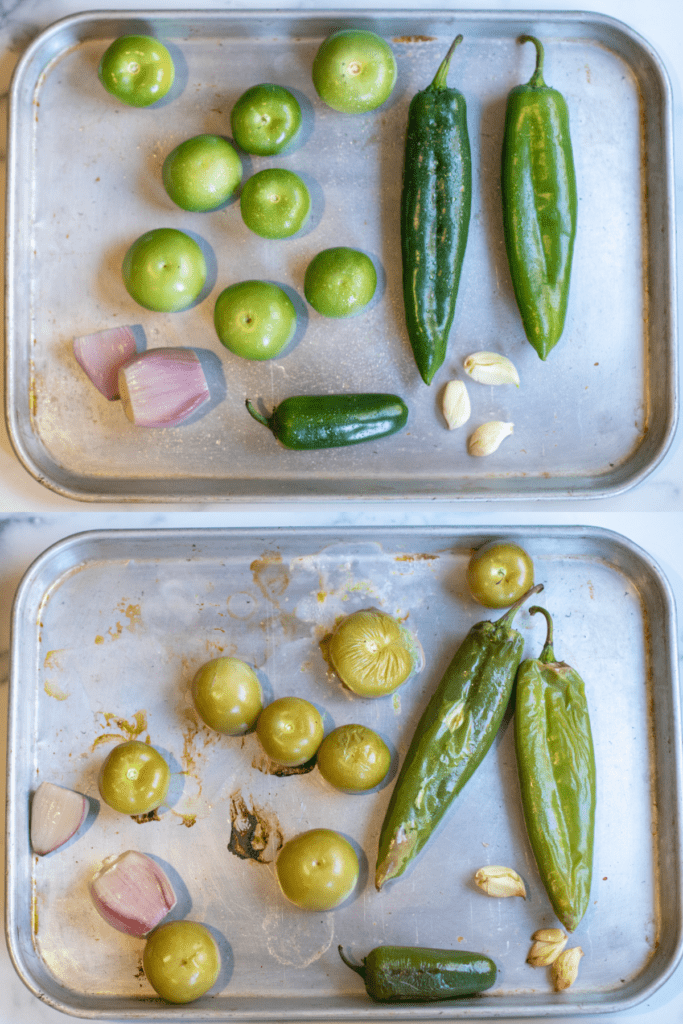 Roast the Veggies
While not absolutely required for a tasty Fresh Salsa Verde, roasting the peppers, shallots, tomatillos, and garlic in just a spritz of oil enhances and elevates their flavor in the salsa.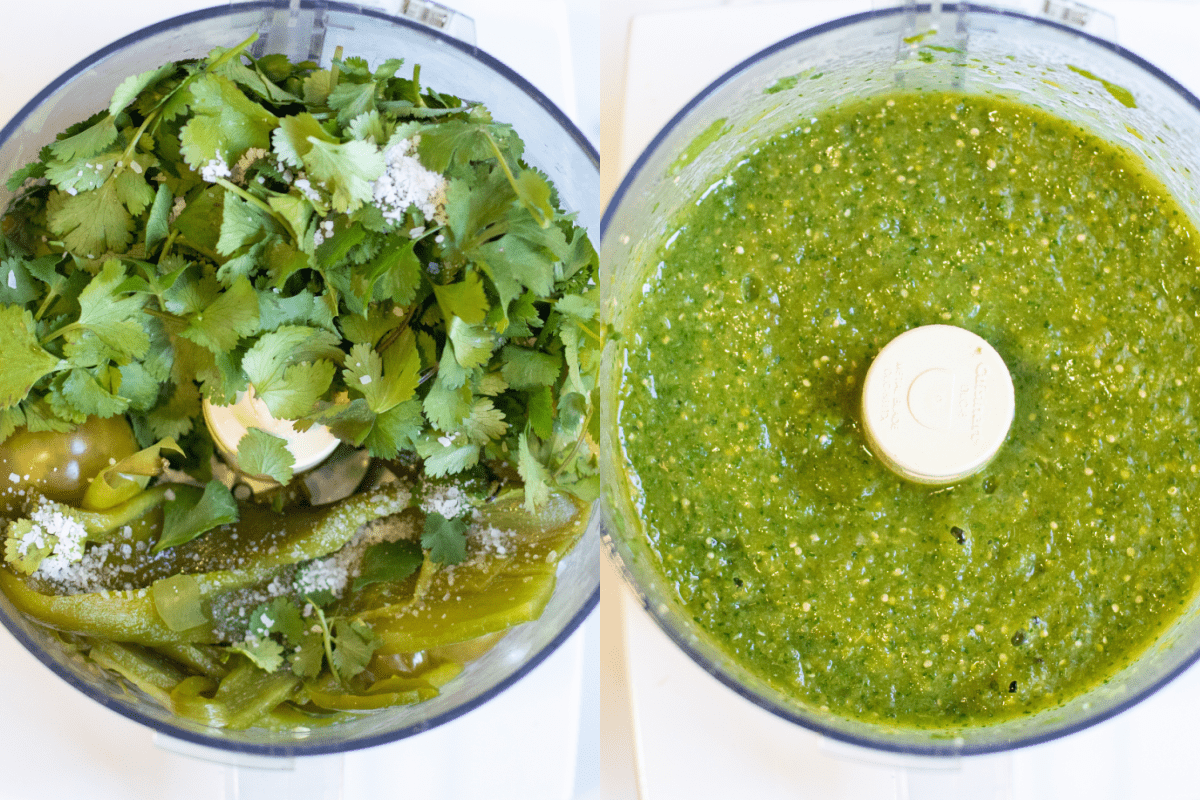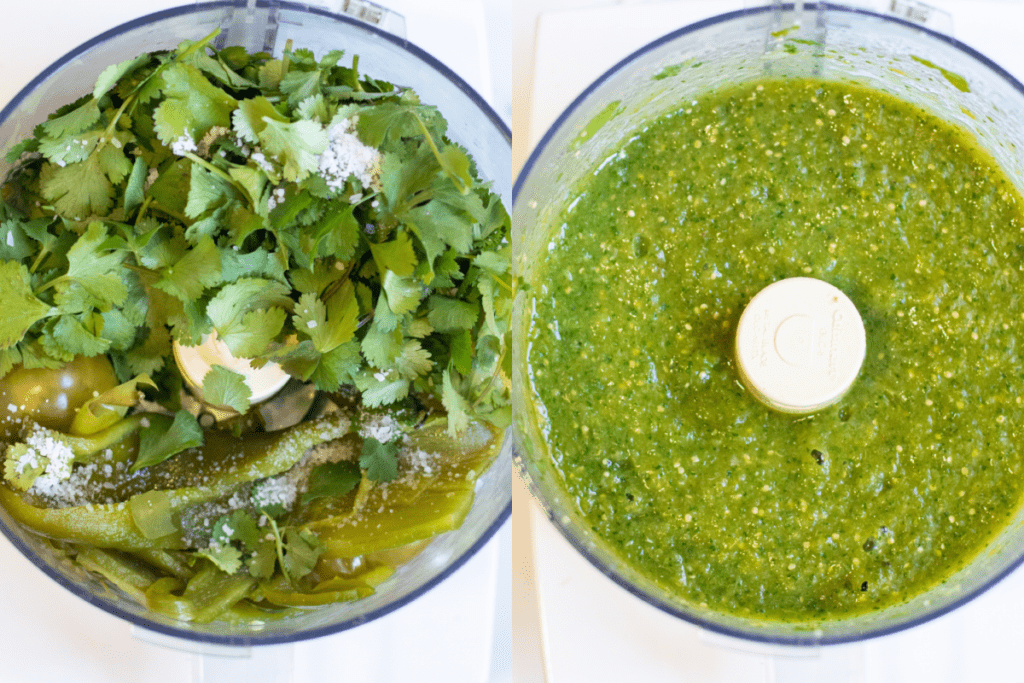 Blend!
Then it's just a matter of throwing it all in either your trusty food processor or blender and blending until you have a smooth (or chunky if that's what you want!) salsa verde!
I wish you all had smell-o-vision. It's vibrant and clean and just screams, "Bring me some chips and a Margarita!"
What to Serve with Salsa Verde
Chips - Like our homemade Corn Tortilla Chips or Flour Tortilla Chips.
Pork Verde! - Super easy thanks to your trusty Crock Pot!
While you're at it, try out our Fresh Easy Pico de Gallo From Scratch, Fresh Spinach Guacamole, and our favorite, go-to side dish for any Mexican-themed meal, our Mexican Street Corn Salad or our Mexican Street Corn Chicken Tacos!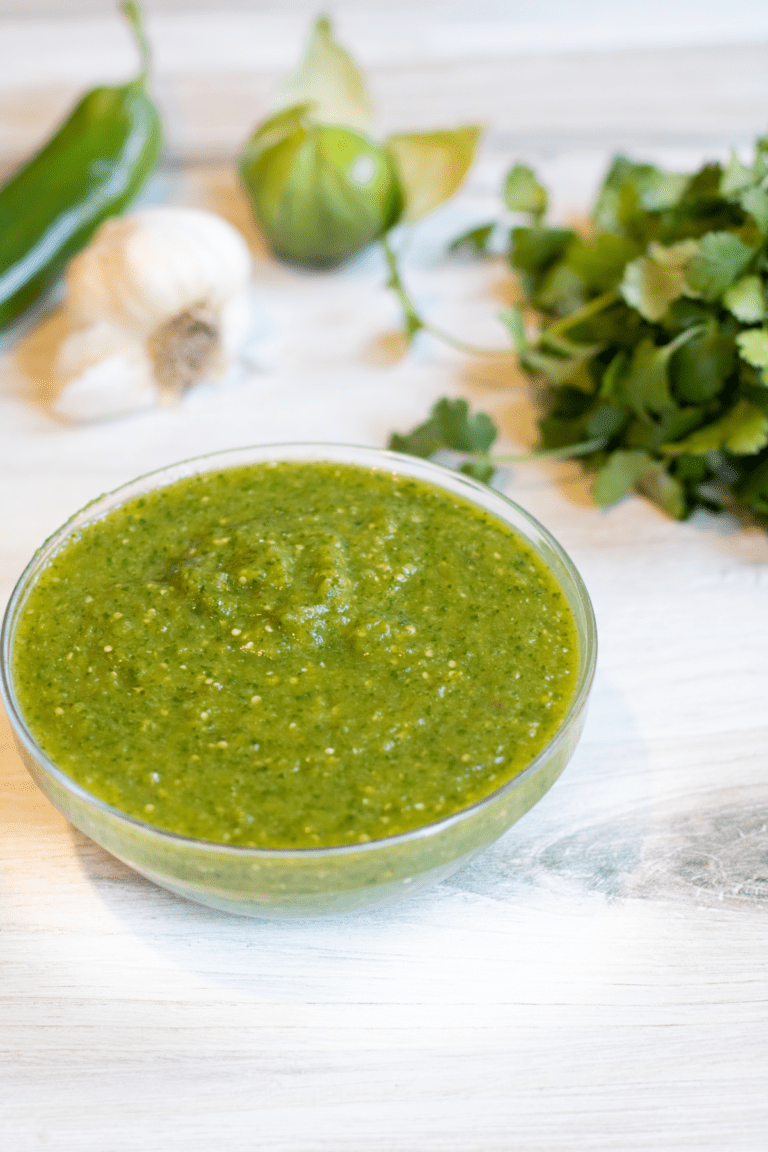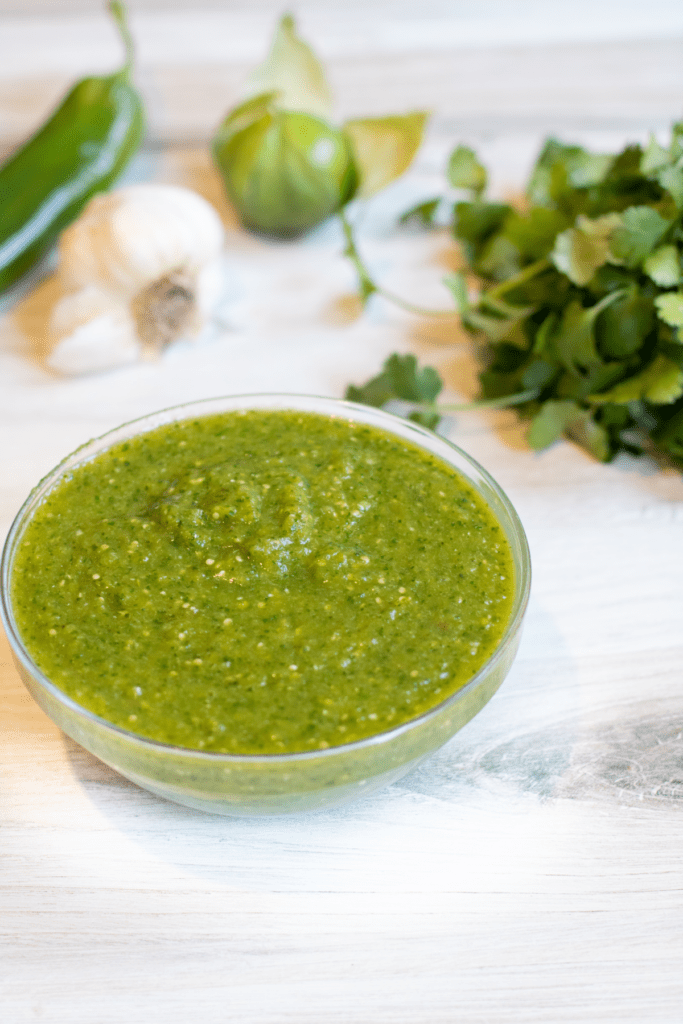 Salsa from a jar? Pshh. This Fresh Salsa Verde will send you to the produce section to buy tomatillos instead of that center aisle with the jarred salsa. The flavor and freshness just cannot be beaten!
Tips
Adjust the heat
This salsa is mild because we remove all of the seeds from the jalapeno. To kick up the heat, keep in a few of the jalapeno seeds.
Peel the anaheims
The skin of anaheim peppers is tough. By roasting them, it'll allow you to peel the skin off.
Keep it chunky
Do you prefer a more chunky salsa verde? No problem! Just pulse in the food processor or blender until you have your desired consistency.
Enjoy! As always, if you make this recipe or any of my others, I love to hear what you think! Leave a comment below, email me, or you can find me on Facebook, Instagram, and Pinterest!
If you want to see more, be sure to sign up for my 5 Easy Ways to Start Cooking From Scratch!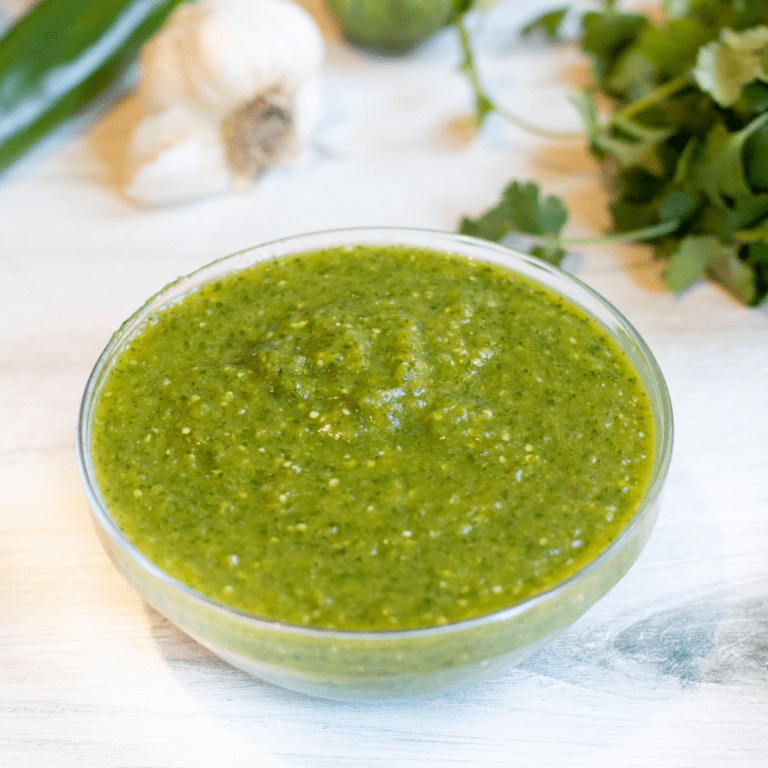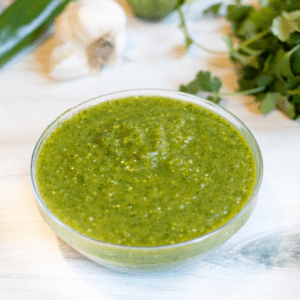 Ingredients
8

tomatillos husked

1

large shallot

peeled and halved

3

cloves

garlic

peeled

2

anaheim peppers

halved

1

jalapeno

halved and (most of) the seeds cleaned

1

bunch

fresh cilantro

stems removed

1/4 - 1/2

tsp

salt to taste
Instructions
Pre-heat oven to 400 degrees F.

On a tray, place peppers, tomatillos, shallots, and garlic. Spritz with a misto or drizzle a little olive oil over the top. Roast for 15 minutes.

Remove from oven and gently cover with foil for about 10 minutes.

Once cool, remove seeds from anaheims and jalapenos and gently peel skin off of anaheims.

Add peppers, shallots, garlic, tomatillos, and cilantro to a food processor or blender with salt. Blend until everything is well combined for a nice smooth salsa.
Notes
Nutritional value is for all 2 cups.
Storage
Fridge: Store in an airtight container in the fridge for up to 7 days.
Freezer: Add to freezer-safe bags for up to two months.
Substitutions
Cilantro: Fresh parsley
Shallots: Use about 1/4 large white onion.
Adjust Heat
Use a smaller jalapeno and control the heat by removing all of the seeds, or leave a few jalapeno seeds in to add more heat.
Nutrition
Calories:
25
kcal
|
Carbohydrates:
6
g
|
Protein:
1
g
|
Fat:
1
g
|
Saturated Fat:
1
g
|
Polyunsaturated Fat:
1
g
|
Monounsaturated Fat:
1
g
|
Sodium:
1061
mg
|
Potassium:
56
mg
|
Fiber:
2
g
|
Sugar:
2
g
|
Vitamin A:
346
IU
|
Vitamin C:
18
mg
|
Calcium:
12
mg
|
Iron:
1
mg