If you live in or have visited the Pacific Northwest, then you're likely familiar with the fast-casual restaurant chain, Cafe Yumm! which serves clean fresh bowls with their signature vegan, gluten-free spread/dip/dressing sauce. This sauce is so versatile and is packed full of flavor and bright lemon. With this recipe, you can make your own Copycat Cafe Yumm Sauce at home, at a fraction of the price!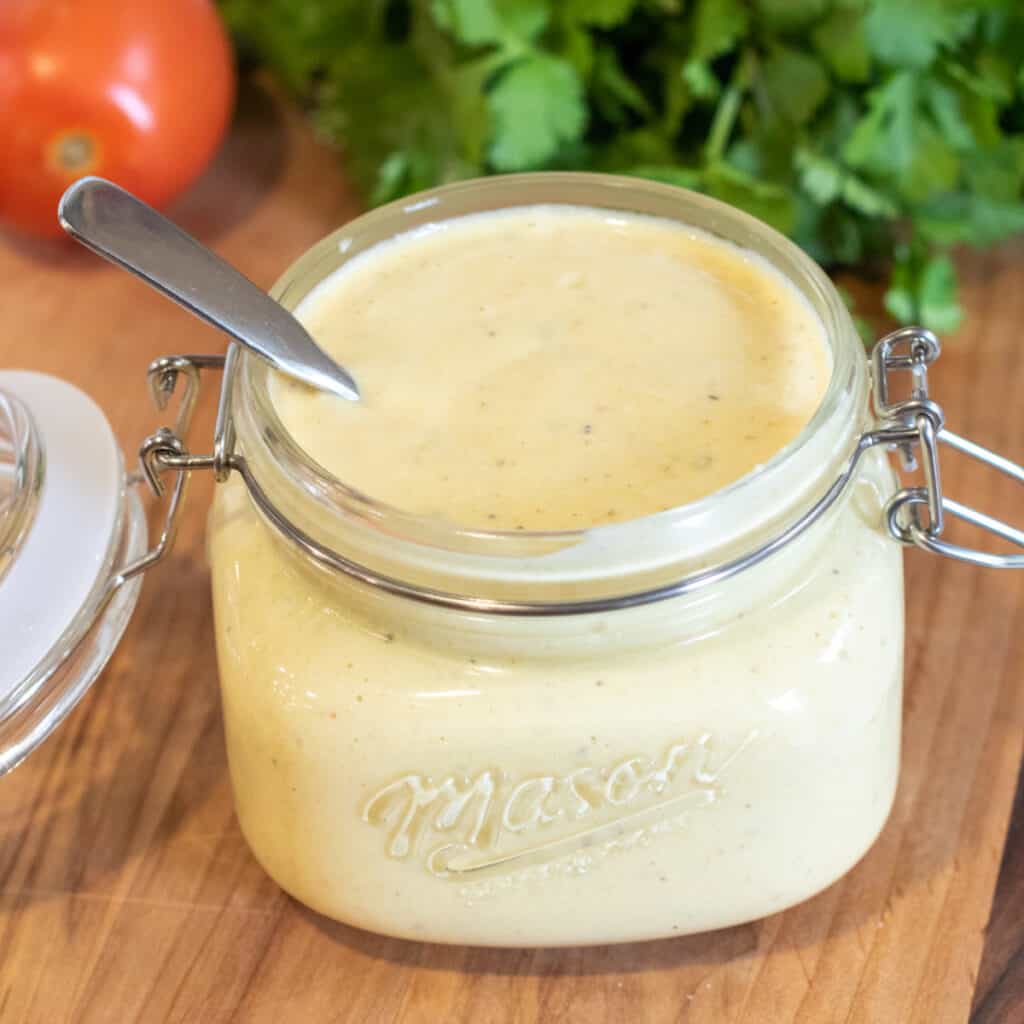 This is one that my husband and I have been talking about recreating for years, friends. Years! Cafe Yumm! has been a go-to favorite of my husband's for a long time and we have been buying their signature Yumm Sauce for just as long. It makes the best dressing and dipping sauce for sooo many things, but let me tell you, it is not cheap. Which is why we have finally recreated this delectable multipurpose sauce at home and now have our own Copycat Cafe Yumm Sauce recipe!
What Is Yumm Sauce
This Yumm Sauce is specific to the brand, Cafe Yumm! and should not be confused with the popular Yum Yum Sauce that can be found in many Japanese steakhouse restaurants. Yum Yum sauce is made up of mayo, ketchup, and vinegar, whereas this Cafe Yumm sauce is a vegan and gluten-free sauce that's made up of chickpeas, almond flour, and nutritional yeast. With the right amount of almond flour, it cuts the chickpea flavor and adds a nice nutty note with the additional savory flavor from the nutritional yeast, plus tons of bright acid from the lemon and just the right amount of savory from the herbs.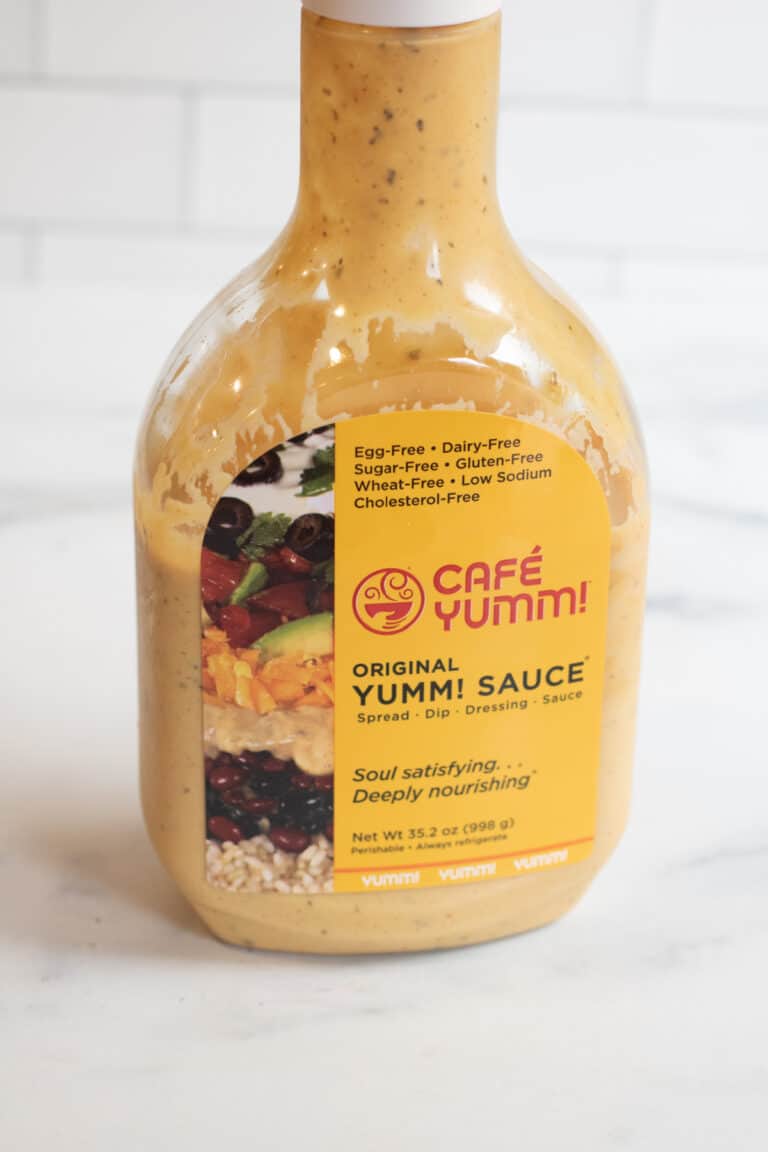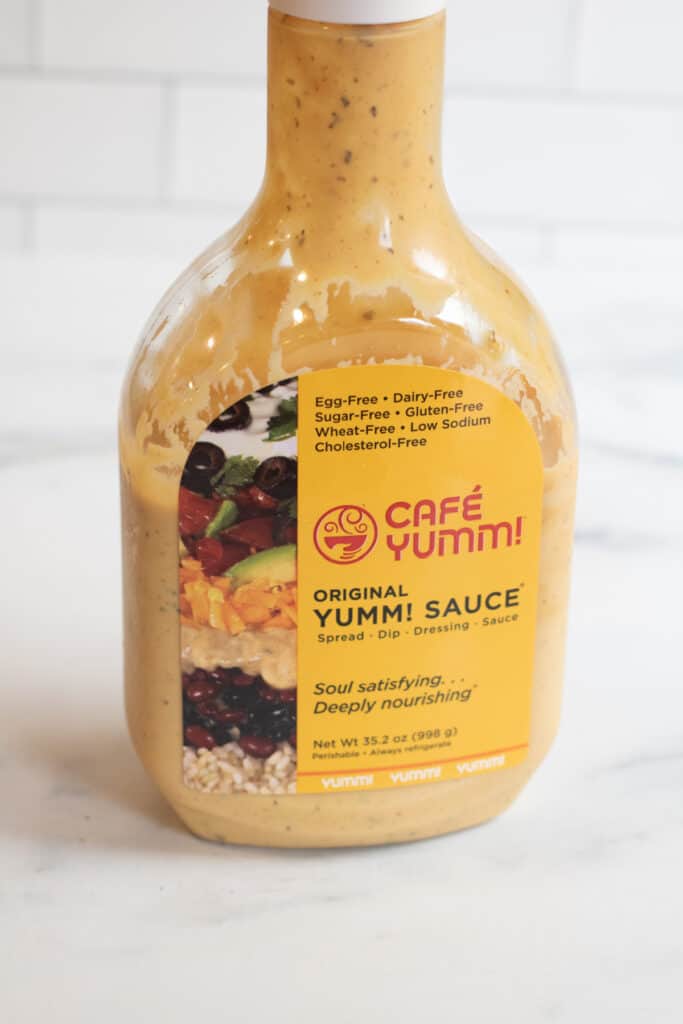 We tested this Copycat Cafe Yumm Sauce recipe over a dozen times with the original to get all of the right flavor notes and balances and let me tell you, it is darrrrrn close to the OG and soooo so good.
Ingredients Needed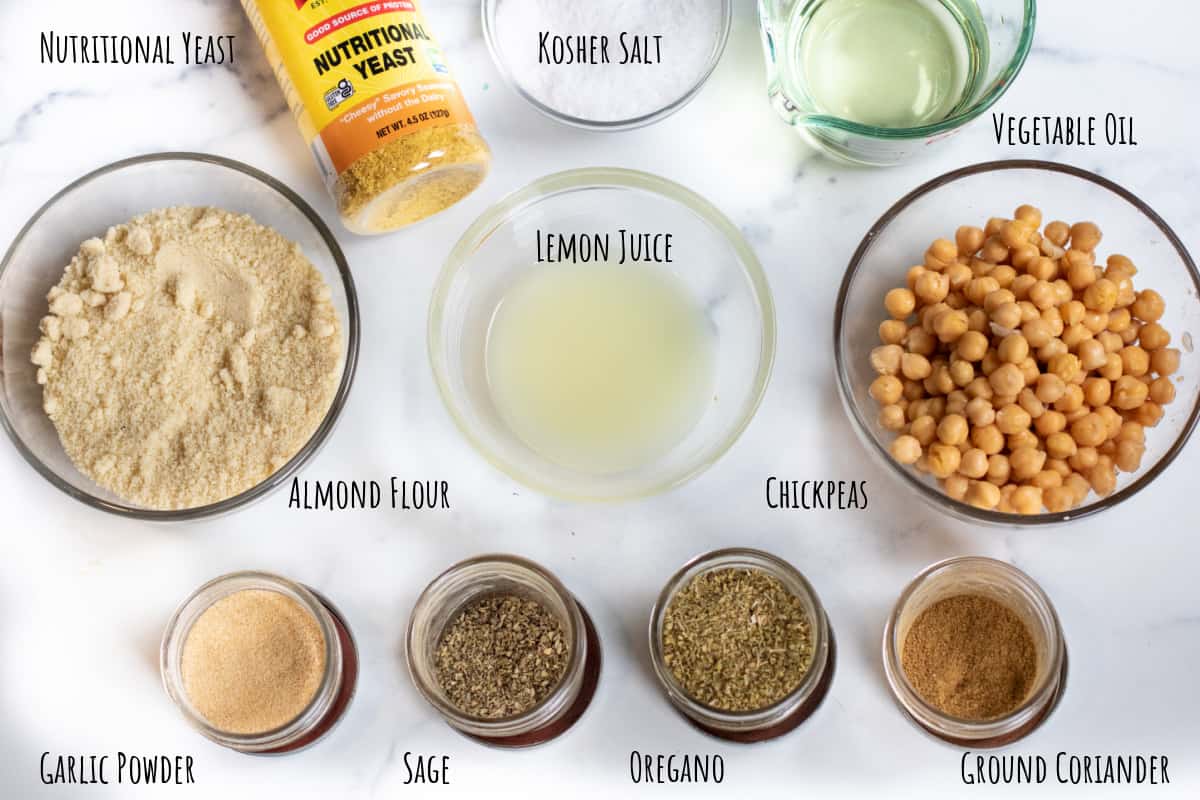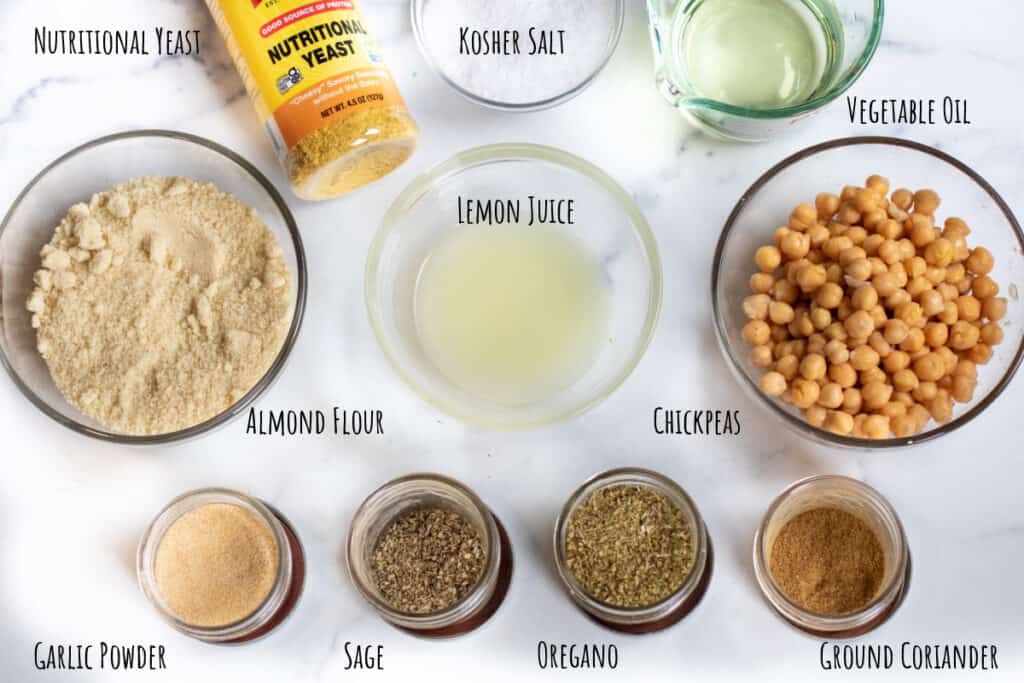 Chickpeas - The base of this sauce, when prepared right, is creamy and relatively neutral. Plus the added nutritional value (hello protein and fiber!) all while being gluten-free and vegan.
Almond Flour - Not only does this add substance to the sauce, but it helps offset the "chickpea" flavor and adds a light nutty note. Plus, it keeps it gluten-free!
Nutritional Yeast - This adds so much delicious savory, almost cheesy flavor while remaining vegan.
Lemon Juice - This adds the right amount of acidity and brightness to this sauce, which is absolutely key.
Vegetable Oil - You can use another neutral-flavored oil like canola or even avocado.
Herbs - Garlic Powder, Sage, Oregano, Ground Coriander. Just the right amount of savory.
Kosher Salt - We always use kosher salt, but you can also use regular table salt, just be sure to see the recipe notes for the conversion.
Water - This will help loosen the sauce, otherwise you'll end up with a thicker dip that more resembles hummus than a sauce, which is delicious, too!
Easy to Make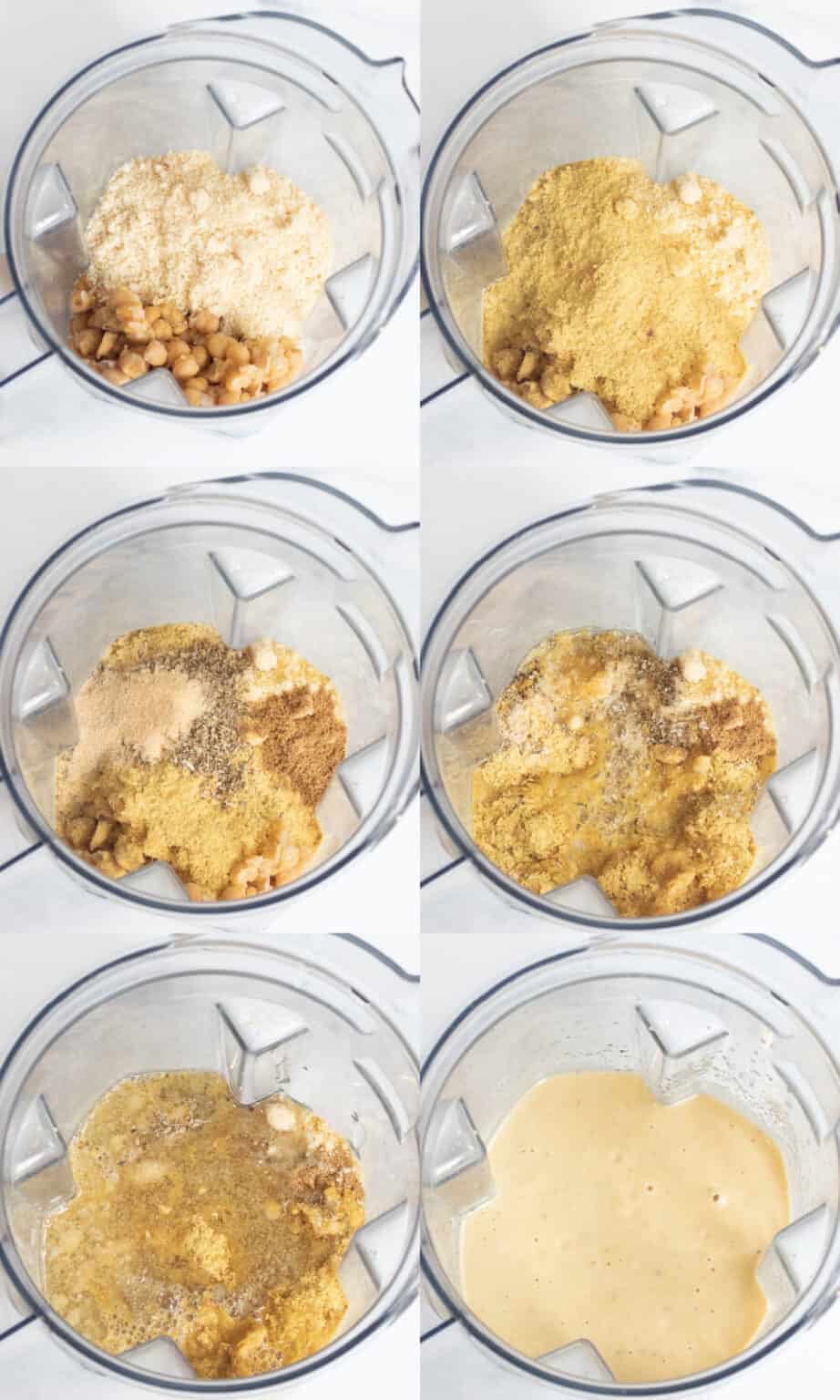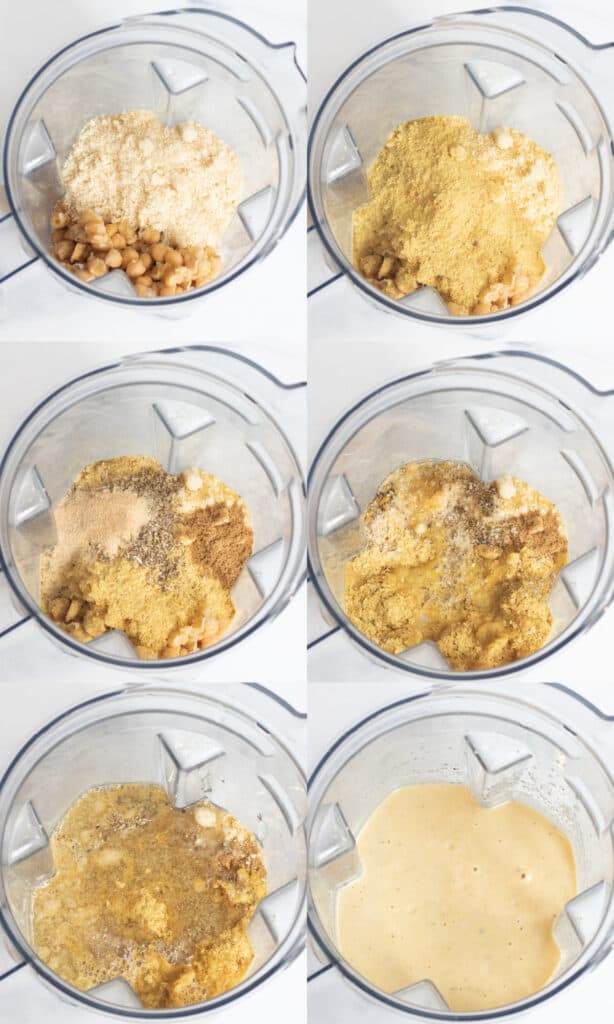 Could it get any easier than mixing it all in a blender until creamy? Nope!
We used our Vitamix for this recipe, but because the chickpeas are cooked, there's really no need for a high-powered blender. You can also use a regular blender or an immersion blender.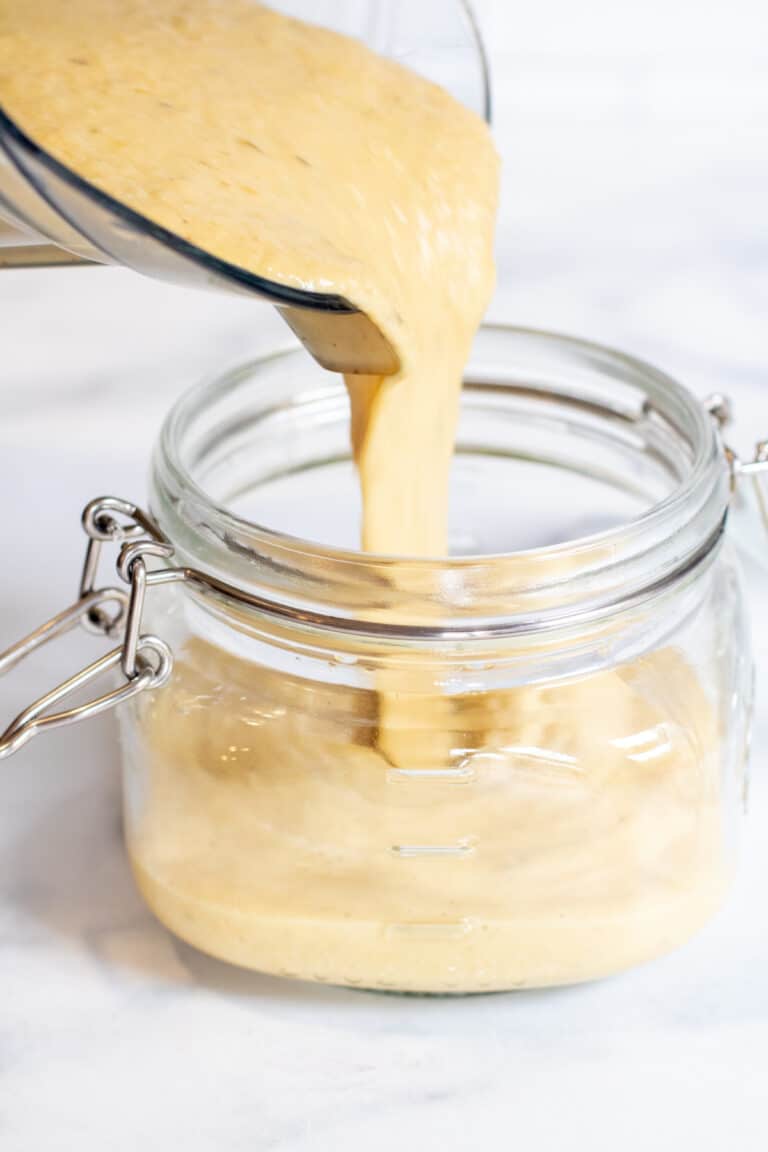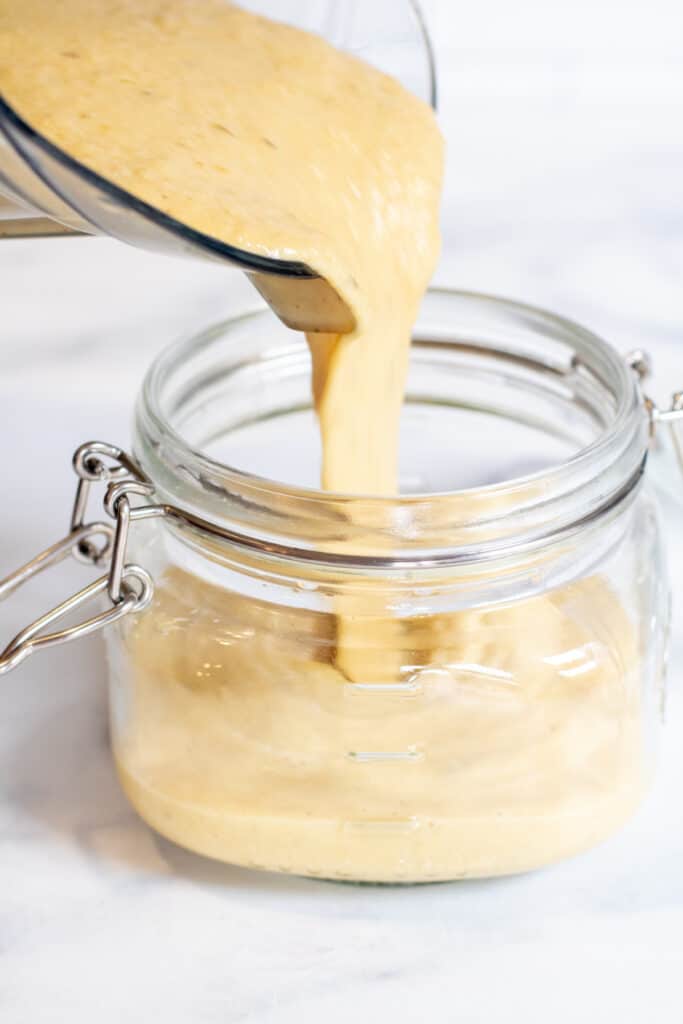 It's creamy and dreamy! We tried a lot of different methods to create the best texture. Here are our tips!
Tips for the Best Texture
Boil the chickpeas
Using chickpeas straight from the can will of course work, but by taking the extra step of boiling the chickpeas for just a couple of minutes in a little bit of baking soda, you'll soften them even more to get that nice creamy texture.
Remove the skins
This is much easier to do after you've boiled the chickpeas because when you drain them, you'll see that most have separated and you can give them a quick rinse and/or use a fork or a spoon to gently pick them out. The alkaline (or pH level) of the cooking liquid created by the baking soda will help soften the bean's skins and allow them to easily separate during the cooking process.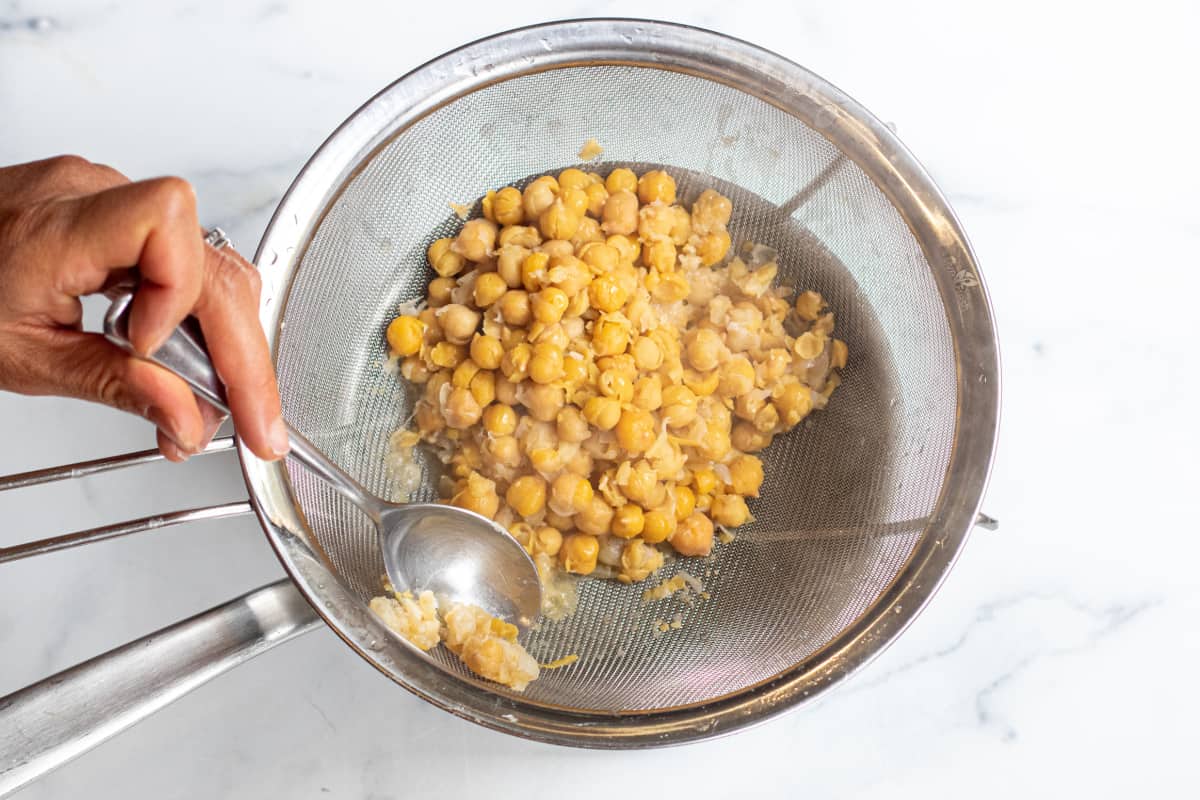 Why remove the skins?
This is what truly creates the creamiest texture, not only for this sauce but also for any hummus. While it takes some extra time, the resulting texture is totally worth it!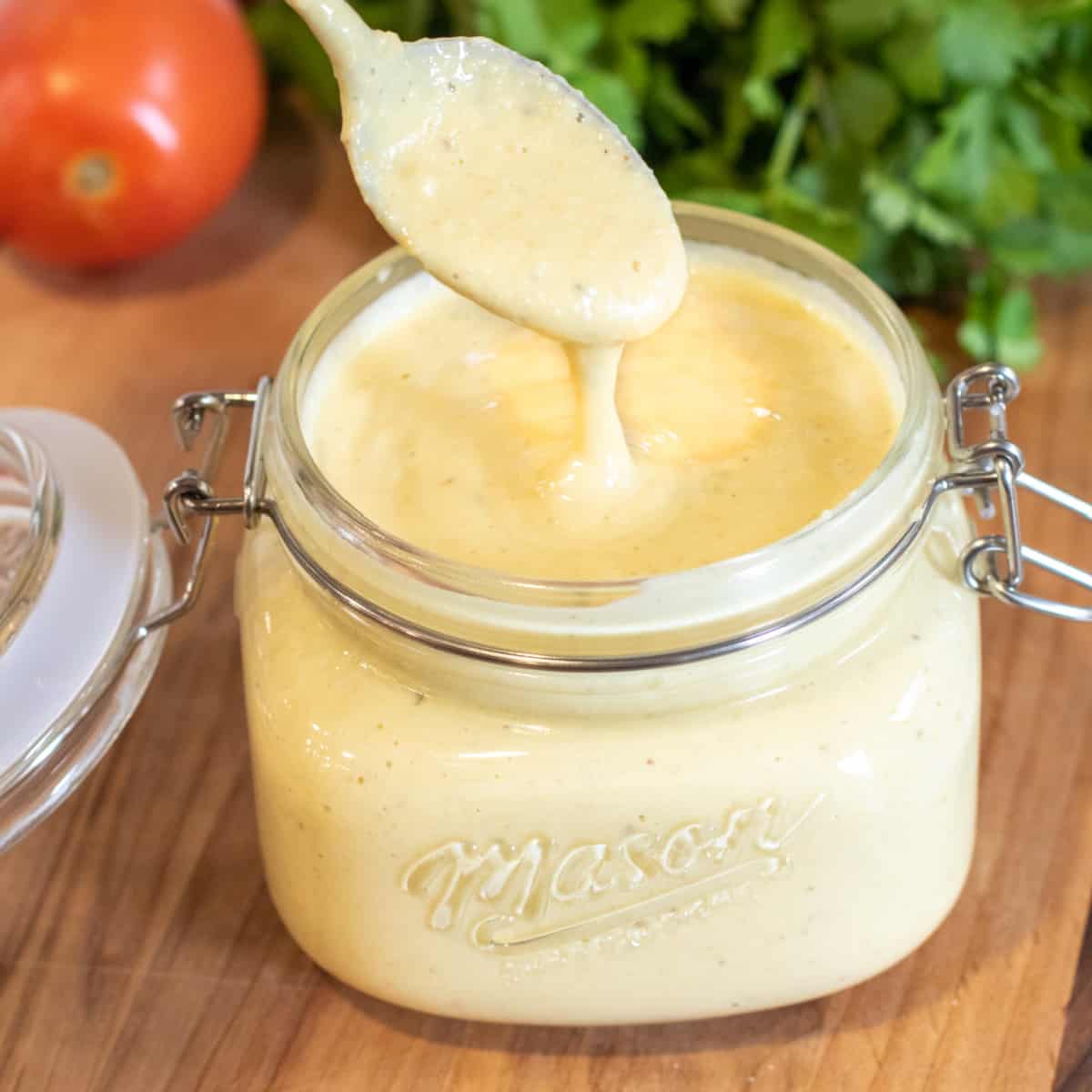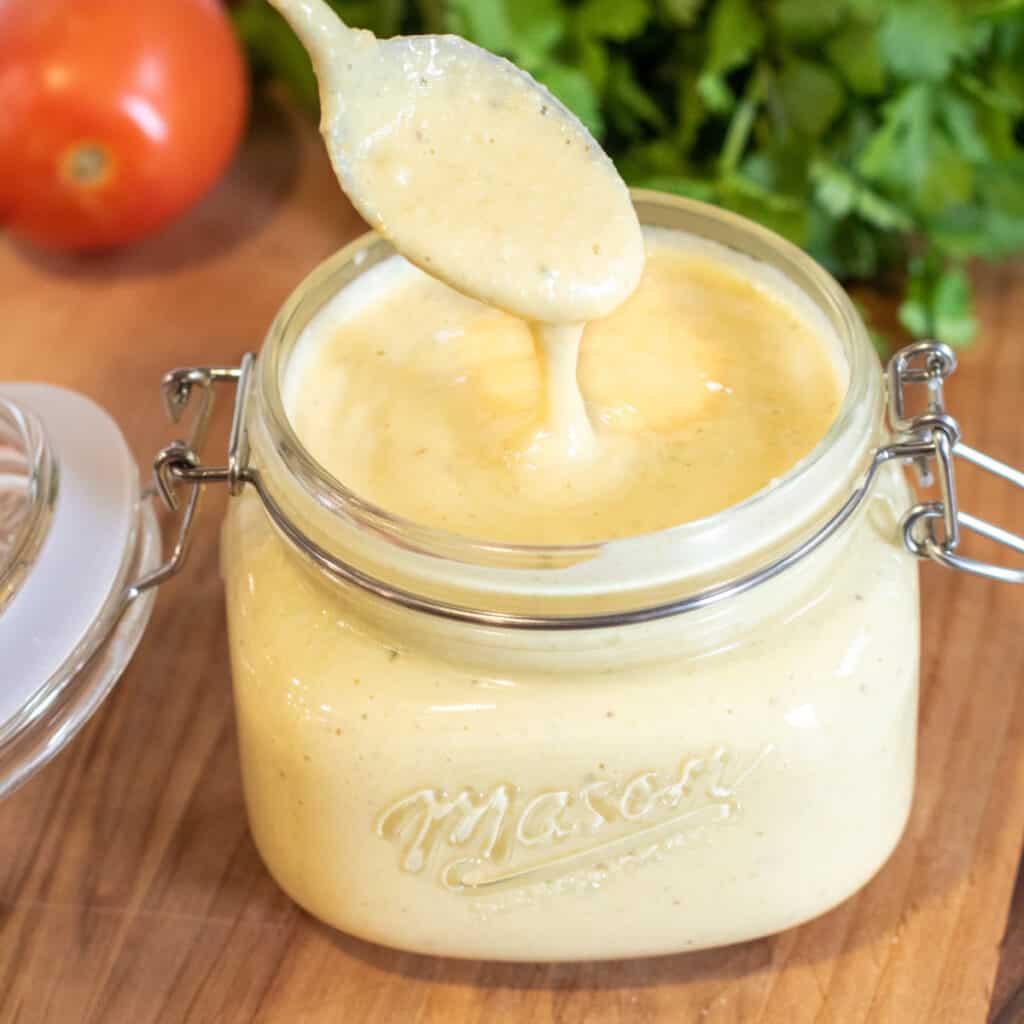 How to use Yumm Sauce
The possibilities are endless! Here are some of our favorite options:
Salad Dressing - This is such a great dressing for your favorite green salads!
Dipping Sauce - This sauce is a great addition to any crudités platter!
Sandwich Spread - Spread it on your favorite sandwiches!
Mayo Replacement - We'll often use this to replace mayonnaise in our egg and tuna salads!
Yumm Bowls! - Yumm! Cafe's signature dish! Stay tuned for our version...
Avocado Toast - See this reel for my new favorite breakfast!!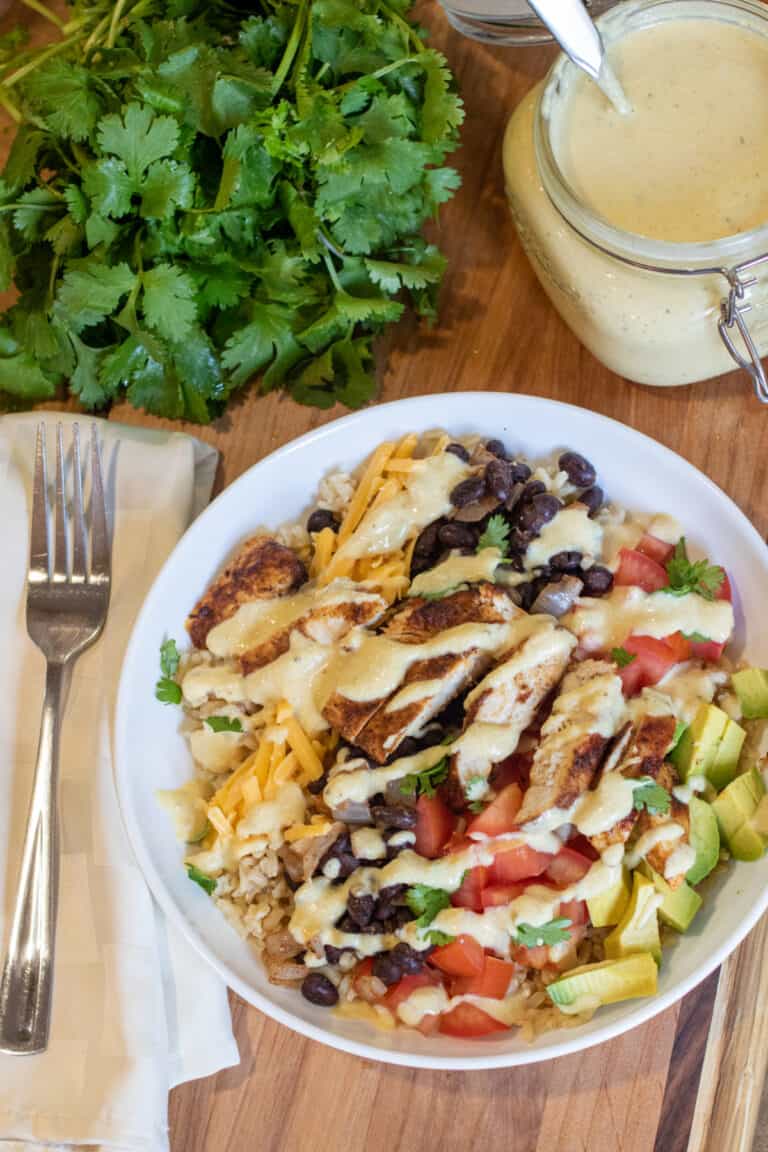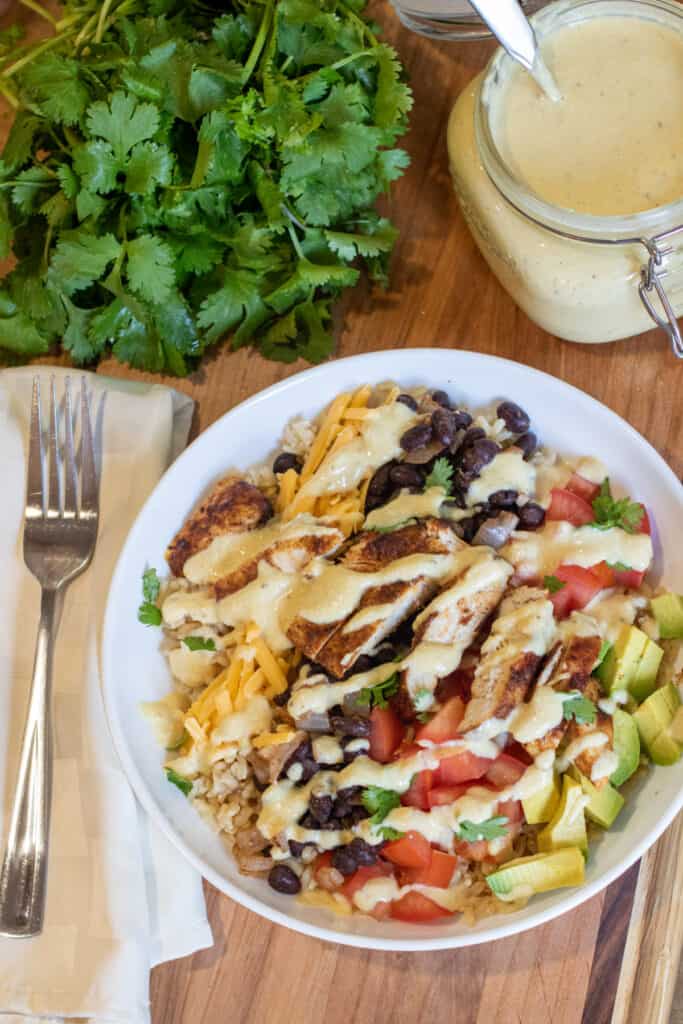 You Also Might Like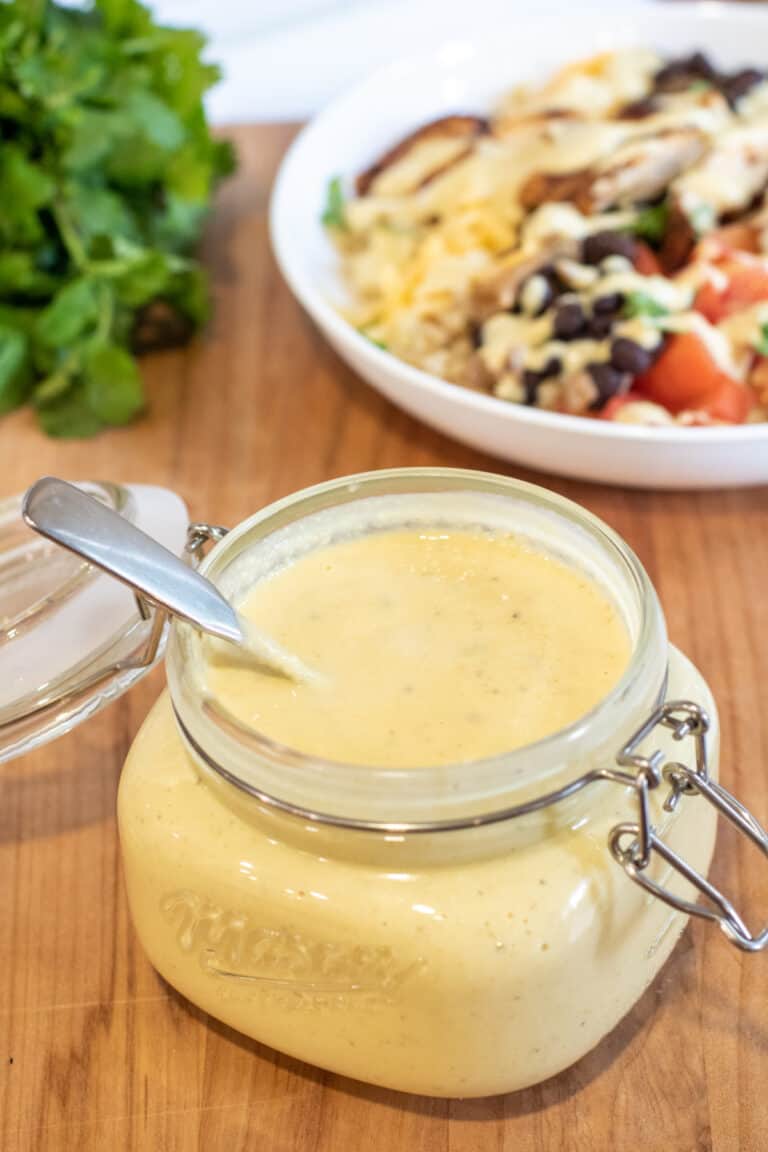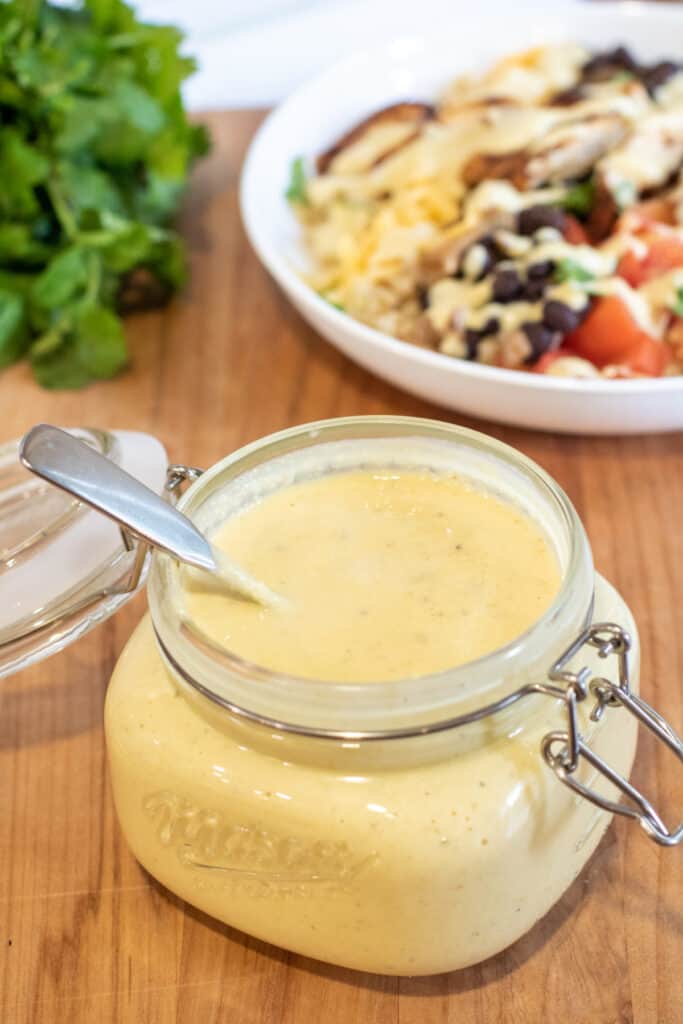 Enjoy! As always, if you make this recipe or any of my others, I love to hear what you think! Leave a comment below, email me, or you can find me on Facebook, Instagram, and Pinterest!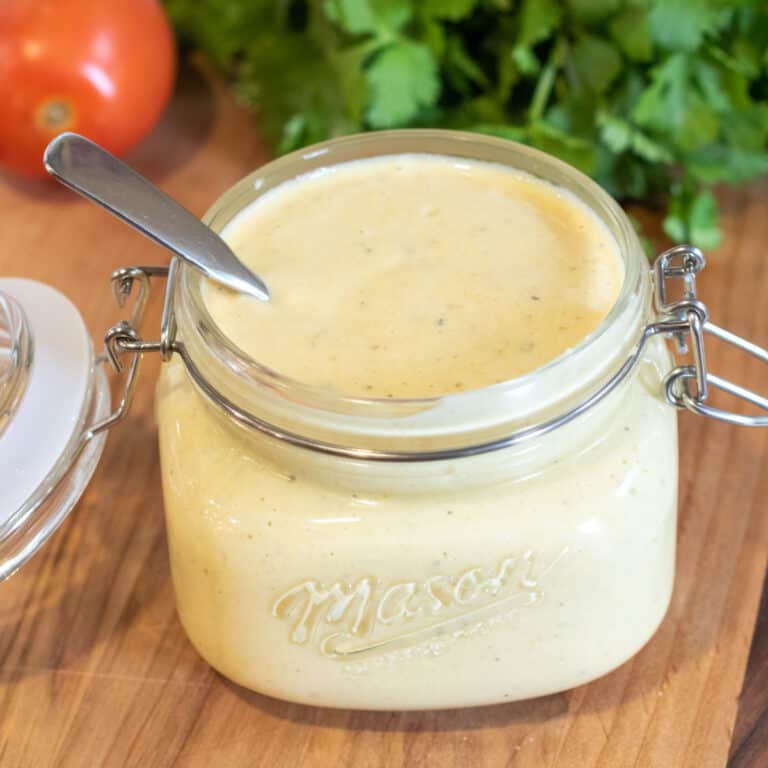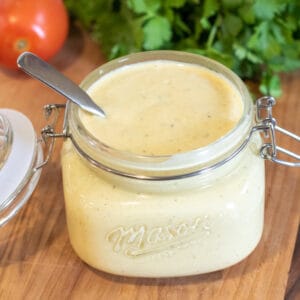 Copycat Cafe Yumm Sauce
A homemade version of the popular Cafe Yumm! Signature Yumm Sauce
Print
Pin
Rate
Equipment
Ingredients
3/4

cup

chickpeas

1/2 can or an overflowing 1/3 cup of dried chickpeas

1/2

teaspoon

baking soda

2.5

oz

almond flour

or 2/3 cup spooned and leveled

6

tablespoons

lemon juice

1/2

cup

vegetable oil

6

tablespoons

water

3/4

teaspoon

garlic powder

1/2

teaspoon

ground coriander

1/2

teaspoon

dried sage

1/2

teaspoon

dried oregano

1

oz

nutritional yeast

2 tablespoons + 2 teaspoons

3/4

teaspoon

kosher salt
Instructions
In a medium sized pot, add chickpeas with 3 cups of water and baking soda. Heat to high until it reaches a boil. Let boil for 2 mintes.

Drain in a colander or sieve. Use a spoon or a fork to gently remove the skins of the chickpeas that have separated.

Let chickpeas cool for at least 5 minutes.

Add chickpeas to a Vitamix, blender, or food processor.

Add everything else to the blender and blend until creamy.
Notes
Serving Size = Approximately 2 tablespoons
Storage
Fridge- Store this sauce in an airtight container for up to 1 week. The texture will change slightly the next day and the lemon may be a little more pronounced, which is why we love this sauce the best the first day it's made.
Freezer- Unfortunately, this sauce does not freeze well. Its texture becomes quite grainy when defrosted.
Cooking the Chickpeas
While you can add the chickpeas straight to the blender from the can (although we always recommend removing the skins), it will create a grainy textured sauce, when first made. Boiling the chickpeas first will create a much smoother texture.
Weigh Ingredients
When using flours, we always recommend weighing your ingredients for more consistent results. We love this kitchen scale!
Substitutions
Salt - You can substitute table salt for kosher, just reduce the table salt a scant 1/4 teaspoon.
Vegetable Oil - You can use another neutral-flavored oil like canola.
Chickpeas - For dried chickpeas, soak overnight (or at least 12 hrs) and boil for 90 - 120 minutes. Add baking soda for at least the last 10 minutes of boiling.
Fresh Garlic and Herbs - You could use fresh herbs (1 tablespoon of fresh for every 1 teaspoon), but it will change the consistency of the sauce.
Almond Flour - We have not tried this recipe with another flour. The almond is signature to the original Cafe Yumm Sauce.
Nutritional Yeast - Don't!
Nutrition
Calories:
46
kcal
|
Carbohydrates:
4
g
|
Protein:
3
g
|
Fat:
2
g
|
Saturated Fat:
0.2
g
|
Polyunsaturated Fat:
0.1
g
|
Monounsaturated Fat:
0.1
g
|
Sodium:
144
mg
|
Potassium:
67
mg
|
Fiber:
2
g
|
Sugar:
1
g
|
Vitamin A:
4
IU
|
Vitamin C:
2
mg
|
Calcium:
15
mg
|
Iron:
1
mg