It's one of the easiest condiments you can make at home! This Homemade Teriyaki Sauce is just as fast to make as it is easy and will be your new go to marinade, glaze, or stir fry sauce!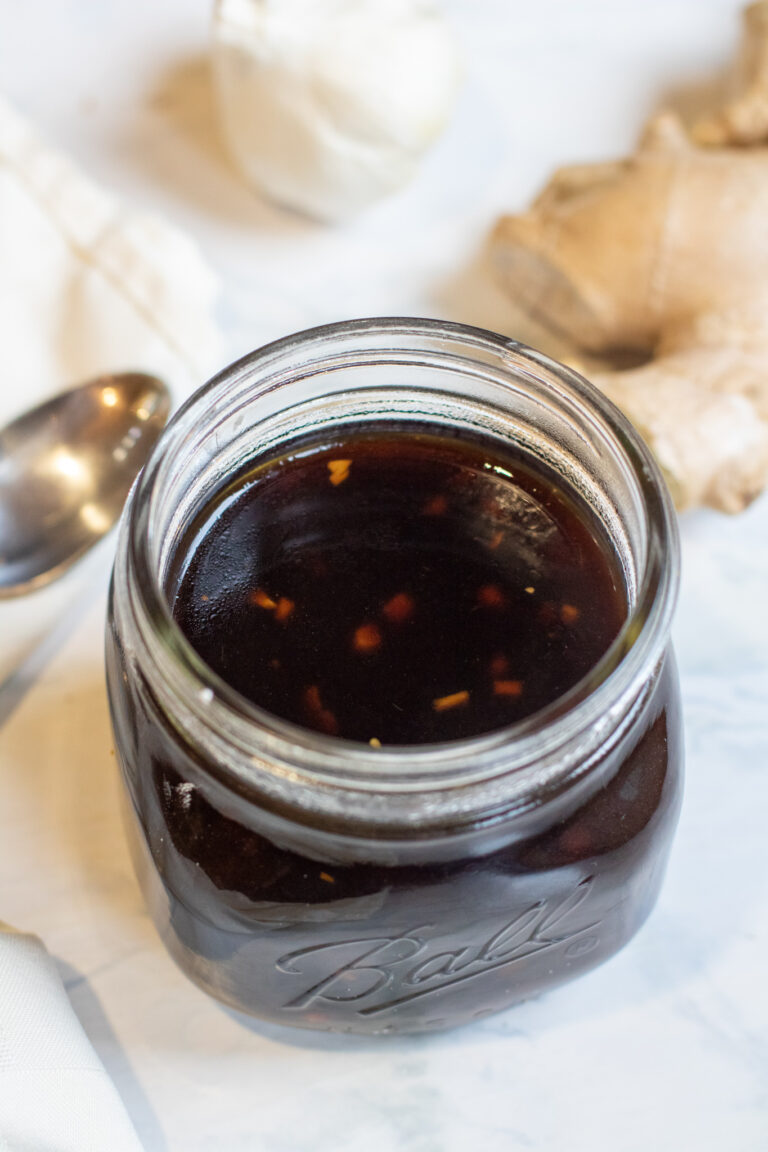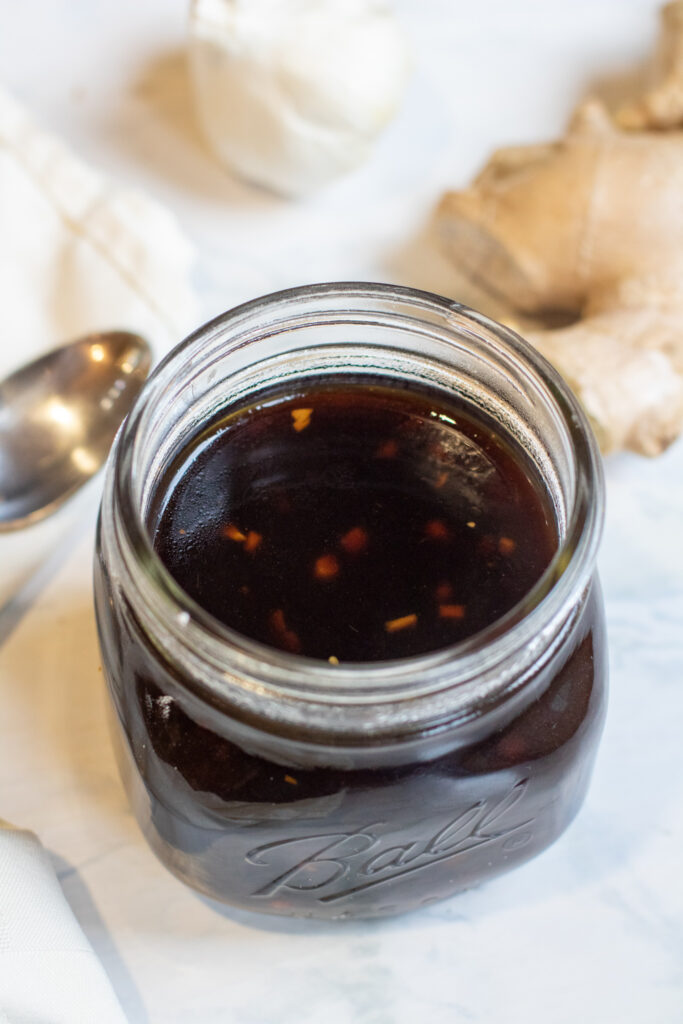 I think one of the best things about making condiments from scratch is when you realize just how easy some of them are! Case in point: Homemade Teriyaki Sauce! Just a few ingredients and 10 minutes is all you need to cut out the bottle and make all of your favorite teriyaki sauce meals from scratch!
What is Teriyaki?
"Teriyaki" is actually a method of cooking in Japanese cuisine. It's made up of the words "teri," which means luster or gleam, and "yaki," which means grilled or broiled. So basically, it's when foods are cooked with a glaze. And that glaze, known as Teriyaki Sauce, is made up of soy, sake or mirin, and sugar. Teriyaki Sauce then of course is that sweet, tangy, sticky sauce has a lovely salty umami flavor.
Ingredients Needed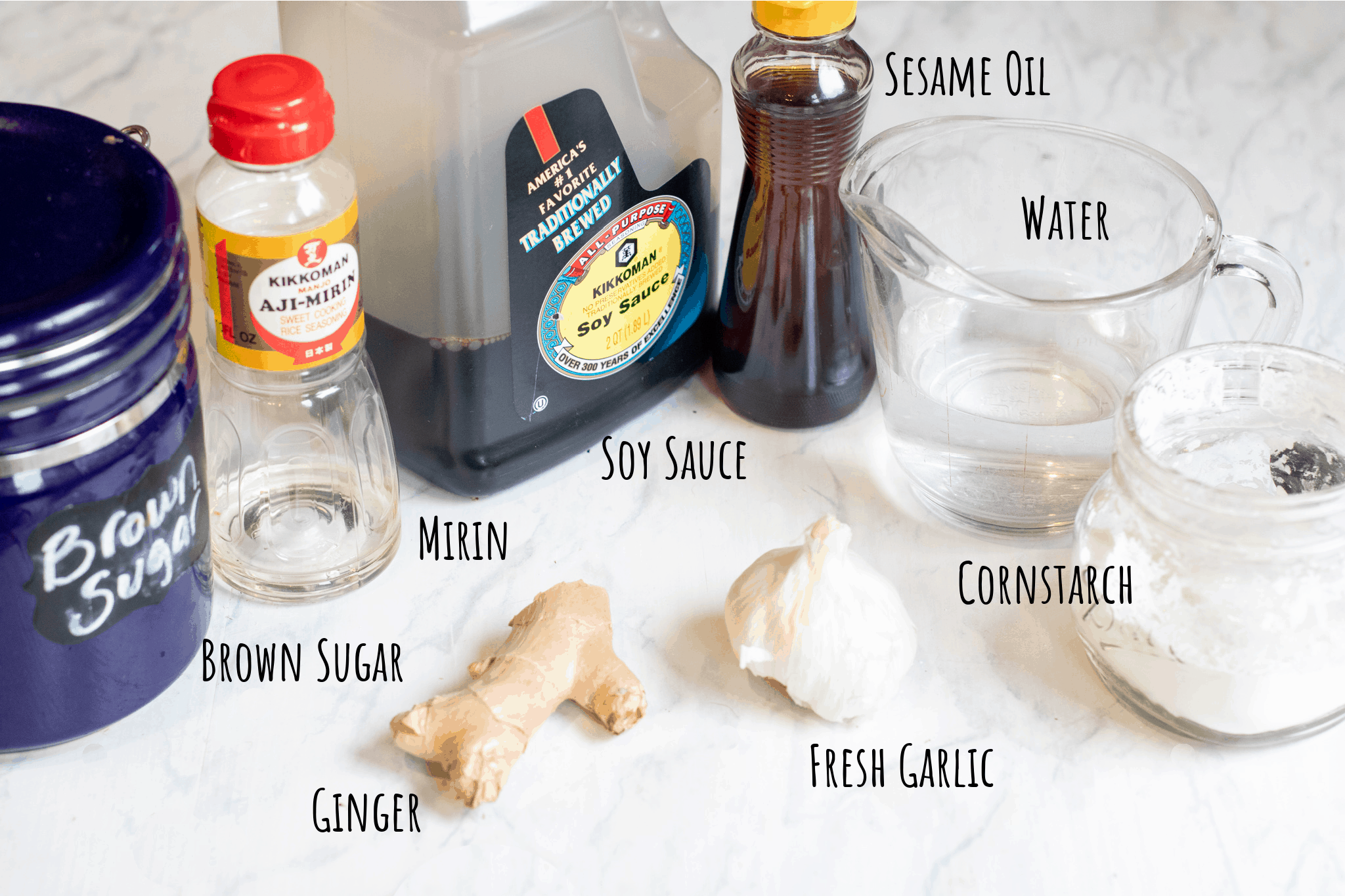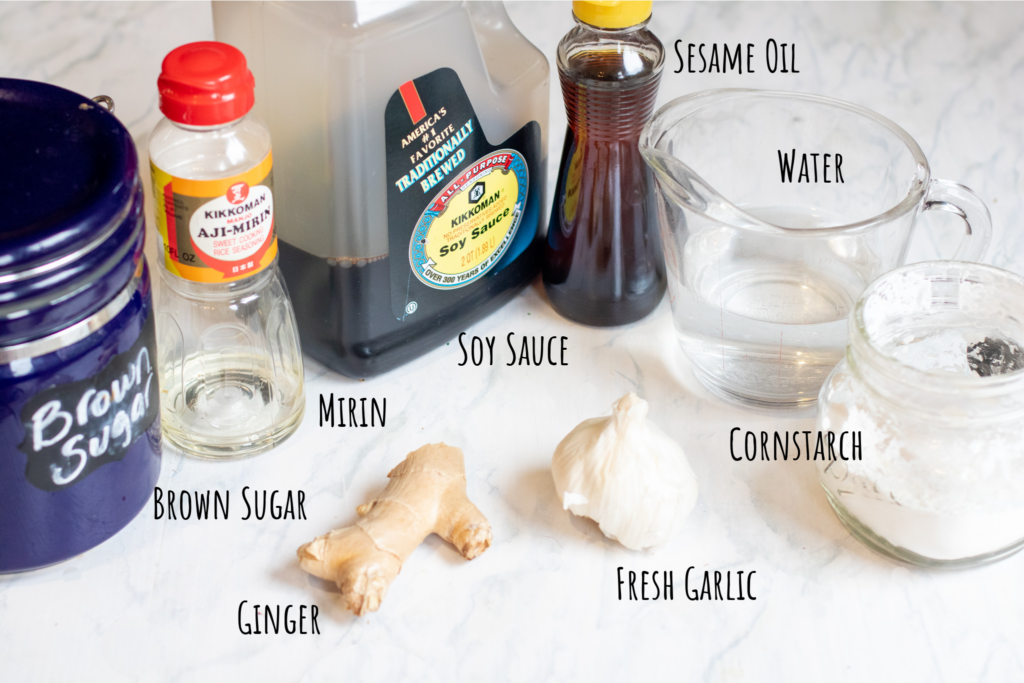 Soy Sauce - Regular, you could use low sodium if you are watching your sodium levels, but it will greatly adjust the flavor.

Mirin

- No Mirin? You could also use a little sake or sherry with a pinch of sugar.
Brown Sugar - Part the sweetness
Sesame Oil - optional, but I like the very subtle sesame flavor it adds
Garlic and Ginger - Both of these are aromatics that add additional flavor to the sauce. I prefer fresh, but you can absolutely use ground - see recipe notes for the conversion.
Water and Cornstarch - For thickening the sauce if you'd like.
What's Mirin?
Mirin is a Japanese rice wine that is a low-alcohol sweeter version of sake. Yes, alcohol. There is a very low level of alcohol in mirin, which is why you should bring this sauce to a boil to cook out the alcohol, especially if you're going to use it as a dipping sauce. If you are using it as a marinade or in a dish that is cooked at high heat, then you'll pretty easily cook all of the alcohol out.
Less traditional Terikaki sauces will contain a citrtis instead of mirin or sake and there are a lot of Teriyaki sauces out there that just use soy and some sweeteners. However a true Teriyaki Sauce has either sake or mirin, too.
Easy To Make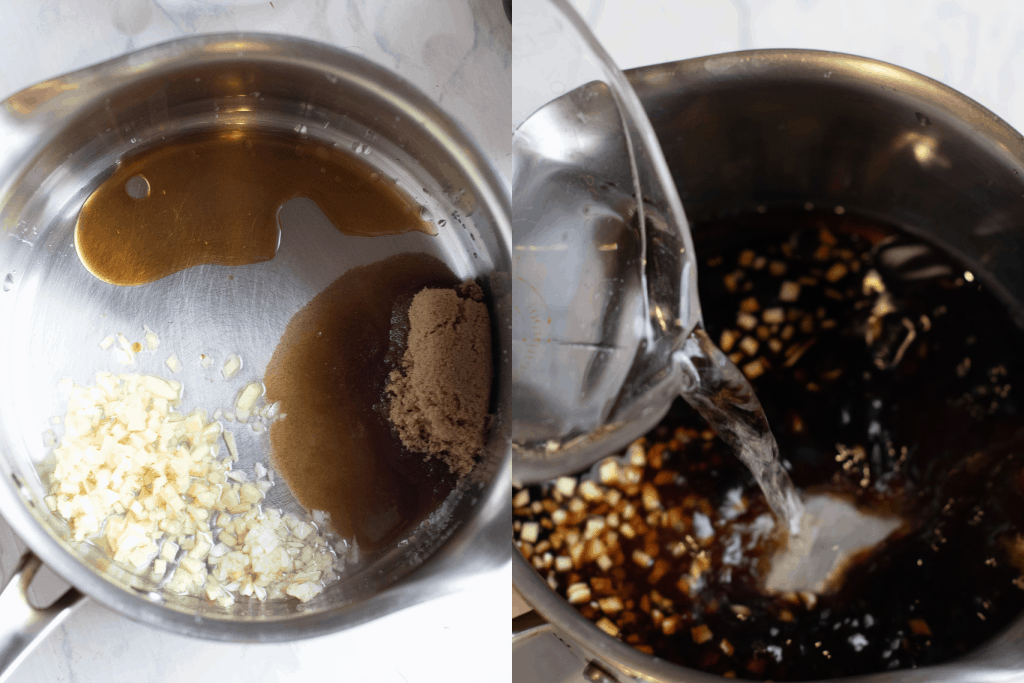 This has to be one of the easiest condiments to make as far as steps and time!
Step 1: Add everything except 2 tablespoons of water and the cornstarch to a small saucepan.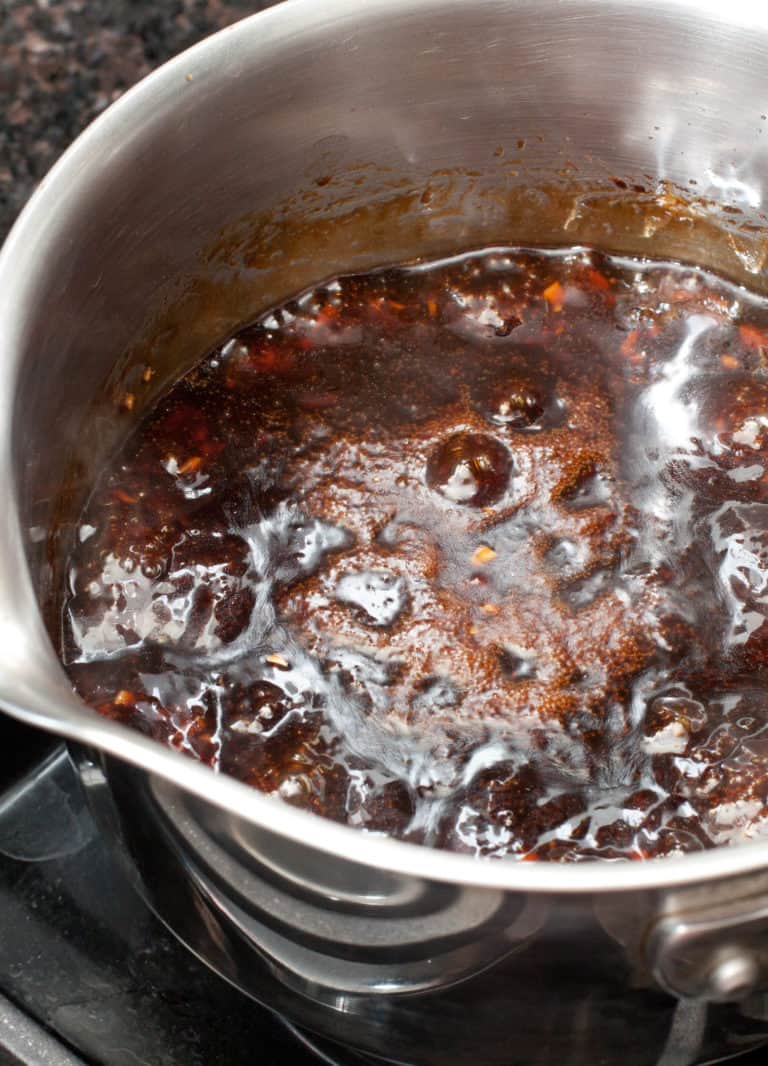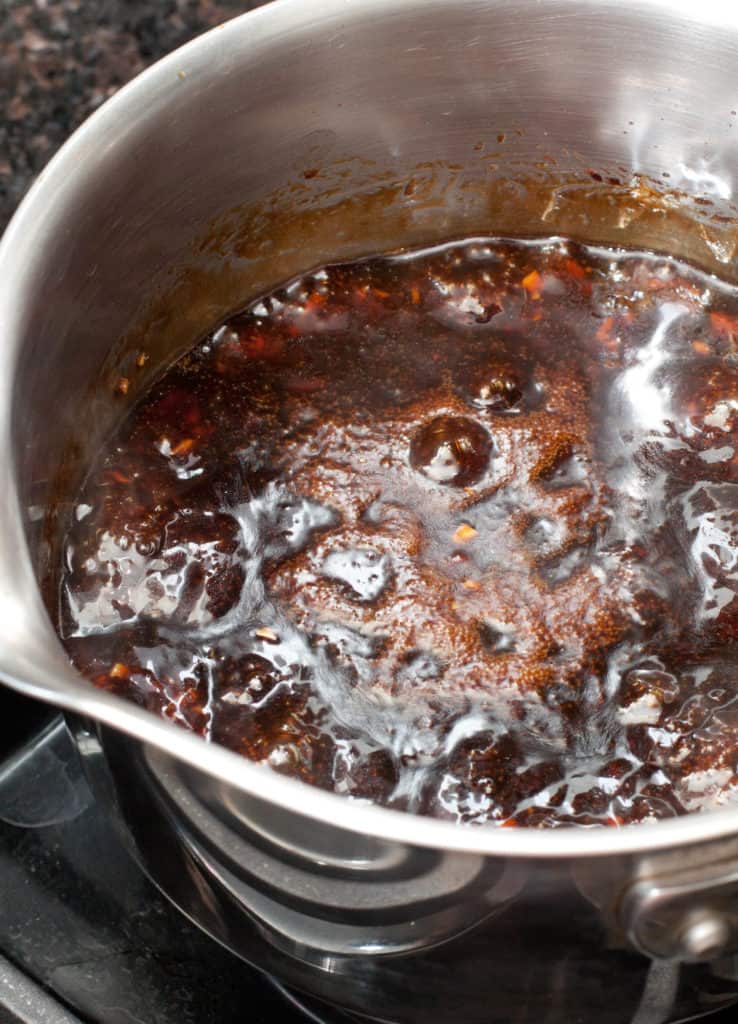 Step 2: Bring it all to boil over medium high heat and then simmer and let cook for about 5 minutes.
Bringing it to a boil is what will cook off the little bit of alcohol that's in the mirin. Stir often to allow for all of the brown sugar to dissolve and to prevent any burning.
Step 3: Remove from heat and let cool completely before using.
Use as a Marinade or Glaze
This is when you can chose to either use the teriyaki sauce as a marinade to marinate your favorite proteins or as a glaze or in your favorite Asian dishes.
Marinade: If using as a marinade, you don't have to thicken it and can be done here.
Glaze or to Thicken the Sauce: If you want a thicker sauce to use as a glaze or even as a dipping sauce, then this is when you can move on to Step 4.
Step 4: Thicken the sauce by mixing the remaining 2 tablespoons of water with 2 tablespoons of cornstarch in a small bowl. Be sure that it's all mixed together well so there aren't any lumps of cornstarch. Slowly whisk it into the sauce to thicken.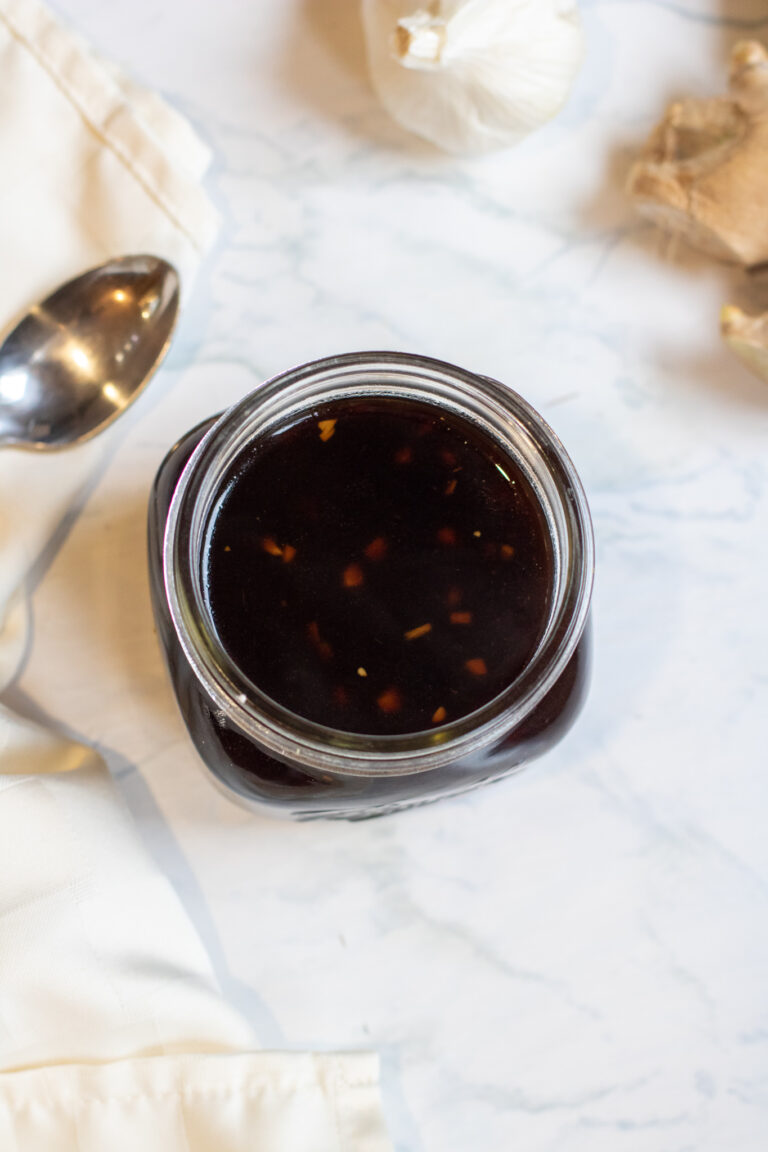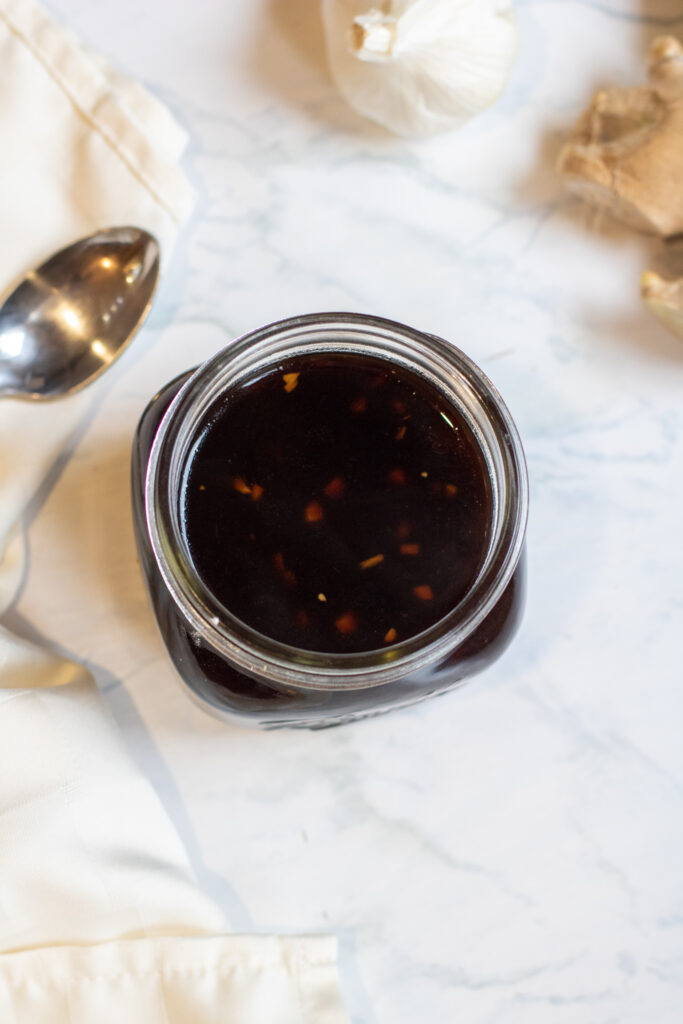 Done! A fast, easy, and multi-purpose condiment!
Ways to Use Teriyaki Sauce
Use it as a glaze, use it as a marinade, in a stir fry, or with any protein or vegetable. It's sweet, salty, and delivers on that umami sense - there's a reason "umami" means a pleasant savory taste in Japanese.
Grill or Broiler: Because of the high sugar content of this sauce, when you're glazing your meat or vegetables, be sure to add it more toward the end of the cooking process if you're using a high heat like a broiler or on a grill. This is because the high sugar content means it will burn easily.
Wok: With that said, Teriyaki Sauce can take a high heat and works great in a wok where it'll become thick and sticky - perfect to coat meat or veggies like in a stir fry.
Oven Baked: This is another great option because that sugar will caramelize beautifully on whatever you're cooking.
Our Teriyaki Shrimp Salad with Sesame Ginger Dressing is one of my favorite ways to use it!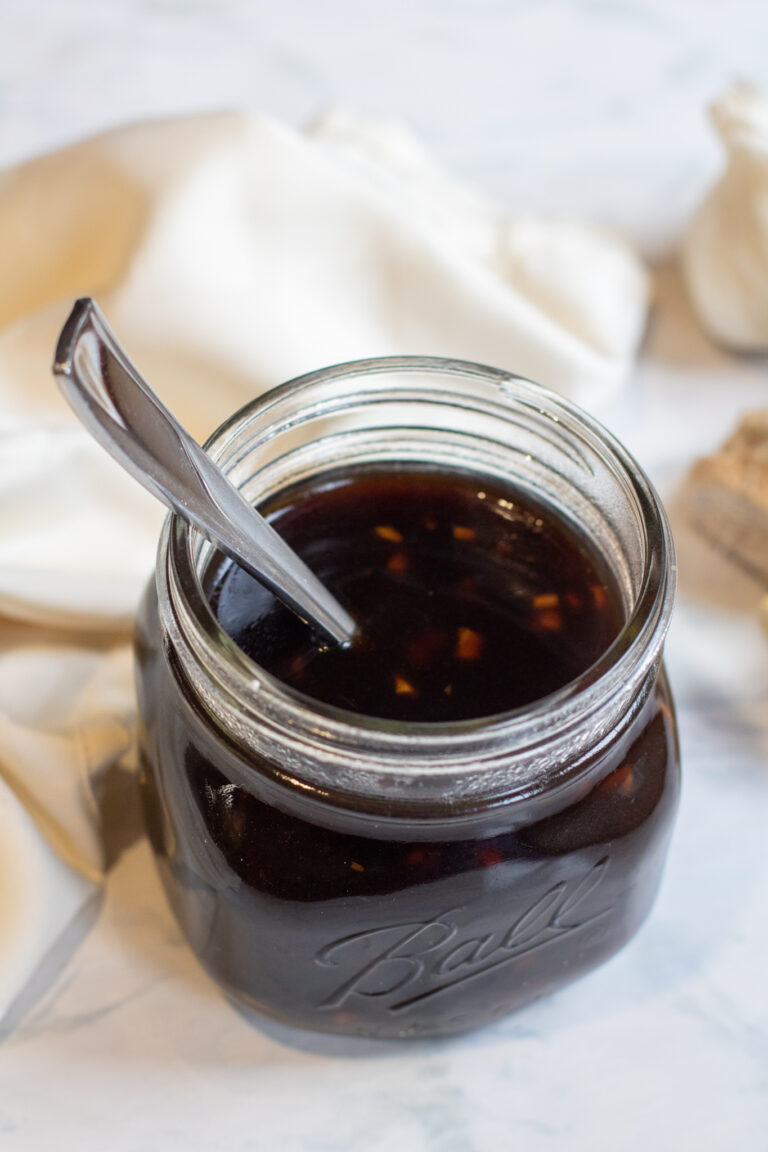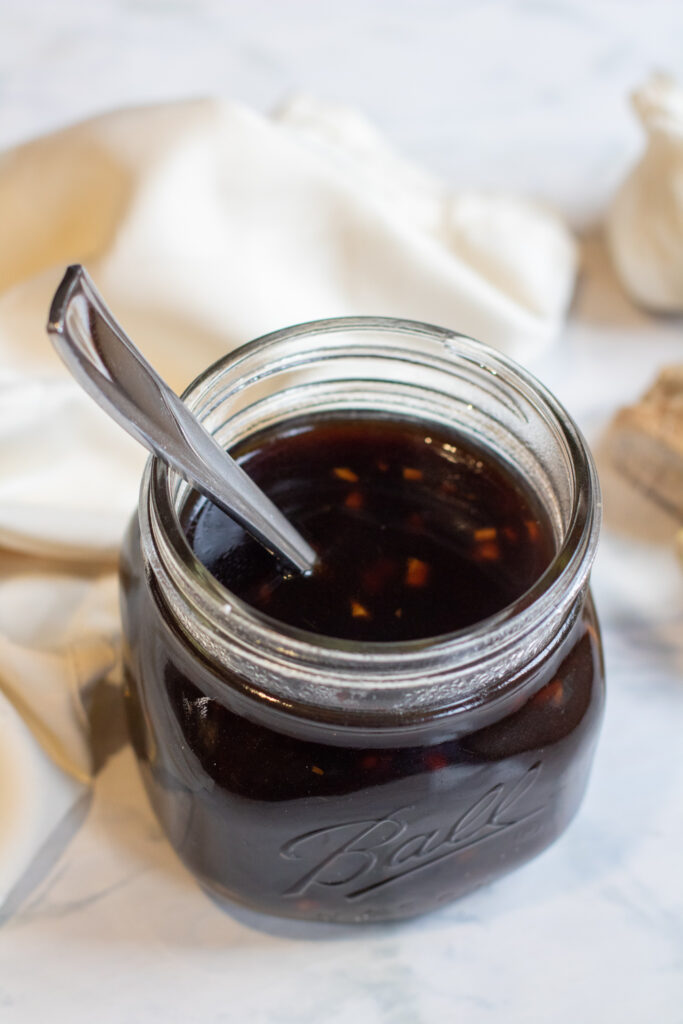 No matter how you use it, now you can ditch the store bought bottle and make your own, Homemade Teriyaki Sauce in just minutes!
FAQs
Do I have to use Mirin?
No, you definitely don't. You could also substitute little sherry with a pinch of sugar mixed in. Or if you want to omit any trace of alcohol, you can omit it entirely.
Can I use powdered ginger and garlic?
Yes. Substitute 1 teaspoon of ground ginger for the 1 tablespoon of fresh ginger and then 1/4 teaspoon of garlic powder for the 1 teaspoon of fresh garlic.
How much does this make?
This recipe will yield 1 2/3 cups of sauce.
How do I store it?
In an airtight container in your fridge.
How long does it last?
About 1 week in the fridge.
Enjoy! As always, if you make this recipe or any of my others, I love to hear what you think! Leave a comment below, email me, or you can find me on Facebook, Instagram, and Pinterest!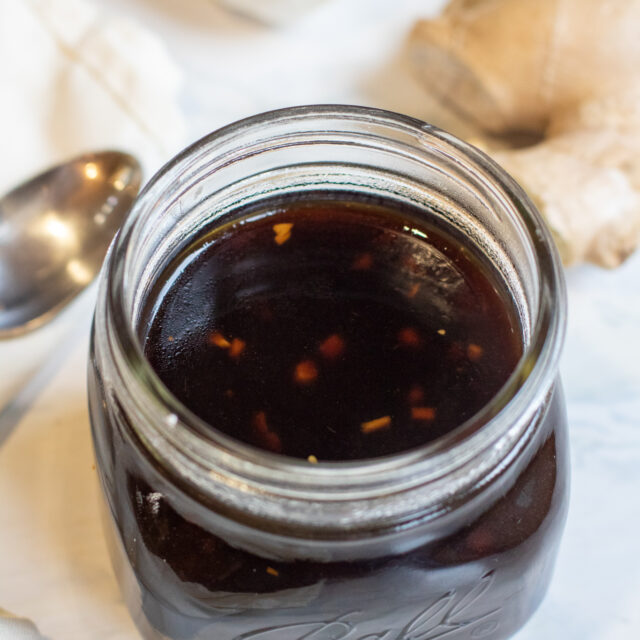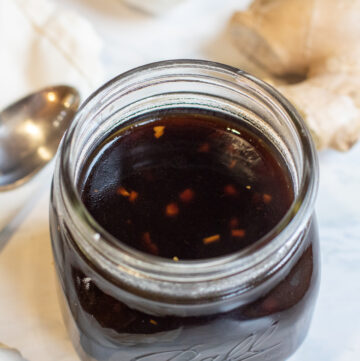 Homemade Teriyaki Sauce
Making your own Homemade Teriyaki Sauce is incredibly easy, fast, and can be customized to your own taste!
Print
Pin
Rate
Ingredients
1

teaspoon

garlic, minced

minced

1

tablespoon

ginger, minced

1/3

cup

soy sauce

3

tablespoons

brown sugar

2

tablespoons

mirin

1

teaspoon

sesame oil

1

cup

water, 2 tablespoons reserved

2

tablespoons

cornstarch
Instructions
Add all ingredients (except 2 tablespoons of water and cornstarch) to a small sauce pan and heat on medium.

Bring to a boil for 30-60 seconds and then turn to low and let simmer for 5 minutes.

Add two tablespoons cornstarch to the 2 tablespoons of reserved water and whisk together until there are no more lumps.

Remove sauce from heat, and slowly whisk in the cornstarch and water to thicken the sauce.

Transfer to a mason jar or airtight container and let cool before using or storing in the fridge for up to 1 week.
Notes
If using immediately as a marinade, let cool completely first.
Serving Size: 2 Tablespoons
Substitutions:
Ground Ginger and Garlic: 1 teaspoon of ground ginger and 1/4 teaspoon of garlic powder.
Mirin: Sake or Sherry with a pinch of sugar.
Brown Sugar: Honey or a brown sugar alternative (to reduce sugar content).
Nutrition
Calories:
26
kcal
|
Carbohydrates:
5
g
|
Protein:
1
g
|
Fat:
1
g
|
Saturated Fat:
1
g
|
Sodium:
353
mg
|
Potassium:
16
mg
|
Fiber:
1
g
|
Sugar:
3
g
|
Vitamin C:
1
mg
|
Calcium:
3
mg
|
Iron:
1
mg