Dinner in 15 minutes! This Sheet Pan Shrimp and Asparagus dinner is fast, easy, healthy, flavorful and perfect for those busy weeknights!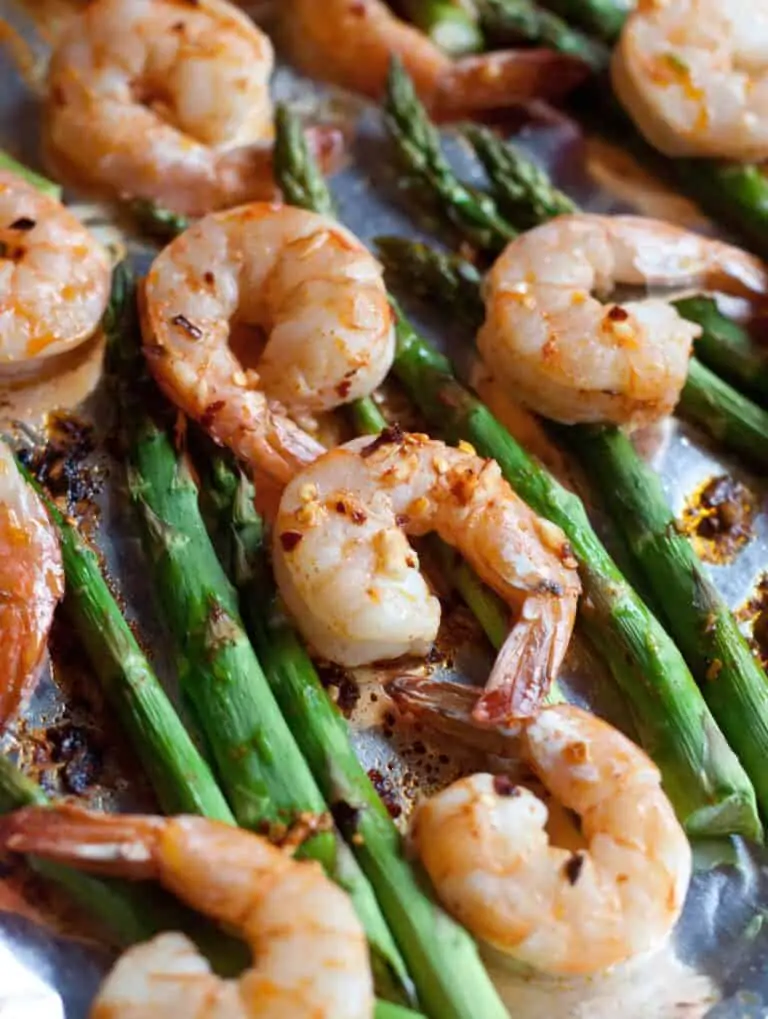 Oh the days when getting home and starting that from scratch dinner at 6:30 was no big deal because, well, it was only 6:30! Now, with a little one who has a bedtime at 7:00 and an exhausted mom who likes to be in bed no later than 9:00, dinner needs to be fast but not suffer in quality, freshness, or have any less from scratch flair. So with the asparagus and shrimp we had in our fridge, we wanted a meal that was fast and easy. Helllooo Sheet Pan Shrimp and Asparagus!
I can totally see how people fall into the boxed or frozen super processed dinner during the week. Trust me, there have been times when I felt like I couldn't (and didn't) manage anything else. Except you really can have fresh, homemade meals fast. With already deveined, shelled shrimp (I like to keep the tails on), this comes together really quickly 15 minutes kind of quickly.
Ingredients Needed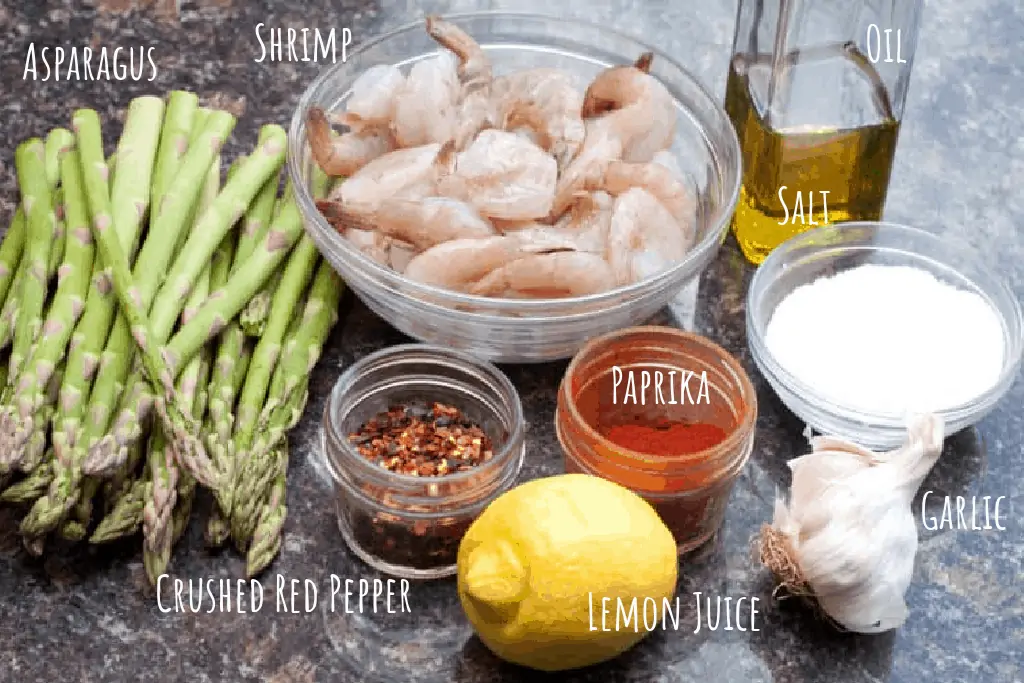 Asparagus - Fresh and trimmed. Trimmed being removing that tough end. You can do this either by just giving a quick chop of them, or by bending them and letting the spear tell you where the tough end is, as that's where it will snap off.
Shrimp - See our notes below about fresh vs. frozen.
Fresh Garlic - Do we even have any dinner recipes here without it?
Lemon Juice - Fresh squeezed or bottled, whatever you have.
Spice - We love crushed red pepper, paprika, and salt - all totally adjustable to taste! We've also used onion powder too.
Oil - Olive oil is always our favorite, but you could of course use your favorite oil or butter.
Raw, Cooked, or Frozen Shrimp
Which to use? Well, this is completely up to you! But, if you're going for the most "fresh" then truly, Frozen Uncooked is actually the freshest!
Frozen Uncooked: It seems counterintuitive, however, the frozen uncooked has likely been frozen very close to when it was harvested, which means the time from when they came out of the water to being frozen is very short. This means that they're going to have the freshest flavor.
Fresh from the Seafood Counter: Although this may seem more "fresh" than the bag that's frozen, it's really not! Because every second more that the shrimp is out of the water, it's losing a little bit of it's freshness and shrimp-y flavor. Also, it's likely that this shrimp was previously frozen and then thawed by your supermarket, or they were actually frozen and then thawed for the little ice mound that they're on. This means that if you are buying shrimp from your seafood counter, it's important to use it right away and not re-freeze it.
REAL Fresh: This means that you're lucky enough to have access to a market like Pike's Place Fish Market in Seattle or another fresh fish market where you know that the shrimp have just come off of boat!
Frozen Cooked: This of course would be the least "fresh" option, however, still a good one! Typically all you need to do with this shrimp is thaw and then eat (although make sure it's coming from a reputable source), or you can thaw and just heat through.
So Easy to Make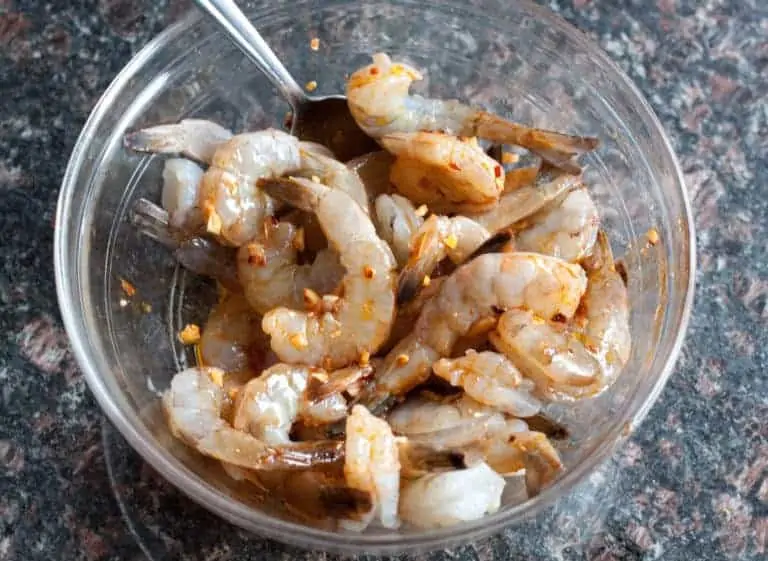 Step 1: Mix the oil and your chosen spices into a bowl. Separate out a tablespoon of the oil mixture, then add the shrimp and give a good mix to coat.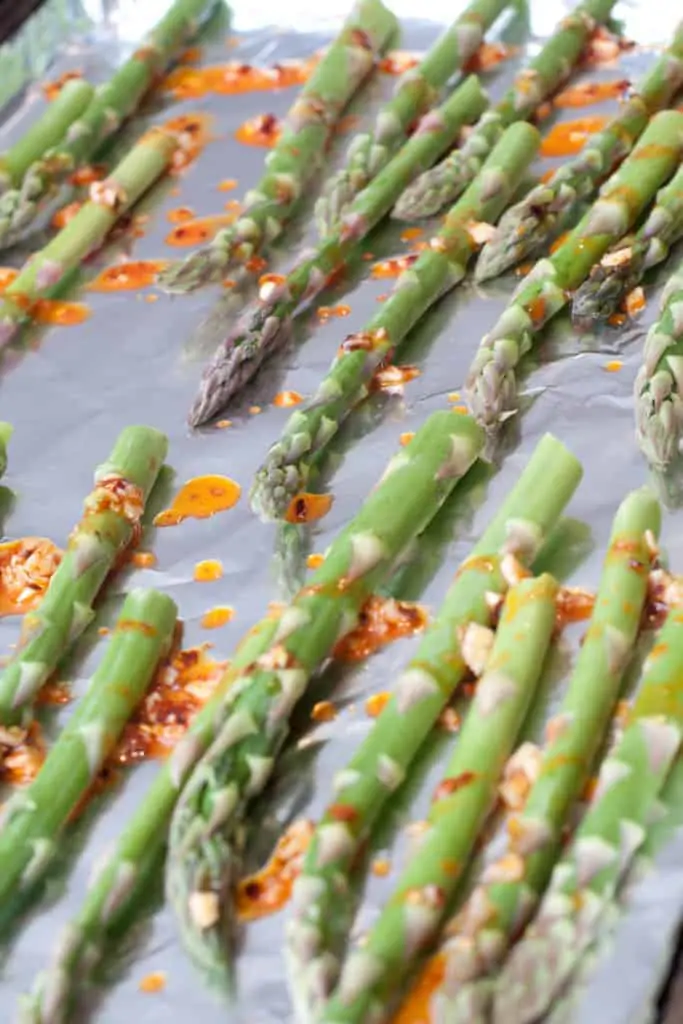 Step 2: Add your asparagus to a foil lined baking sheet and use that tablespoon of reserved oil mixture to drizzle on asparagus.
Step 3: Roast the asparagus for about 5-6 minutes. This way your shrimp (which cooks so much faster) will not over cook. If you asparagus is really thick, cook up to 8 minutes.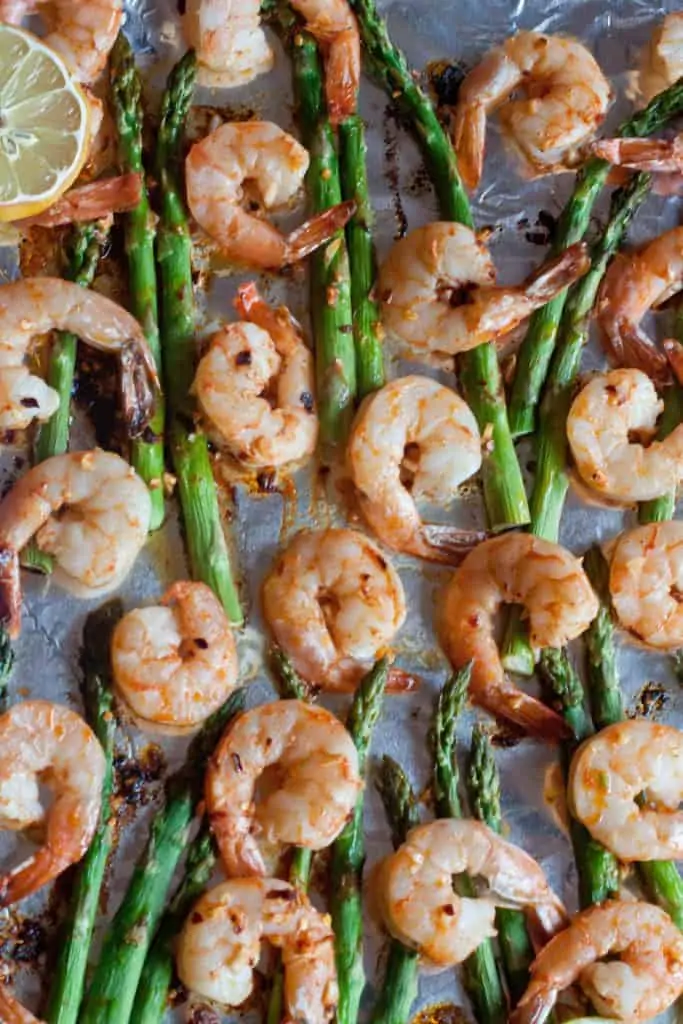 Step 4: Add that marinated shrimp (and a couple of lemon slices) to the baking sheet and then toss back in the oven for another 5-6 minutes.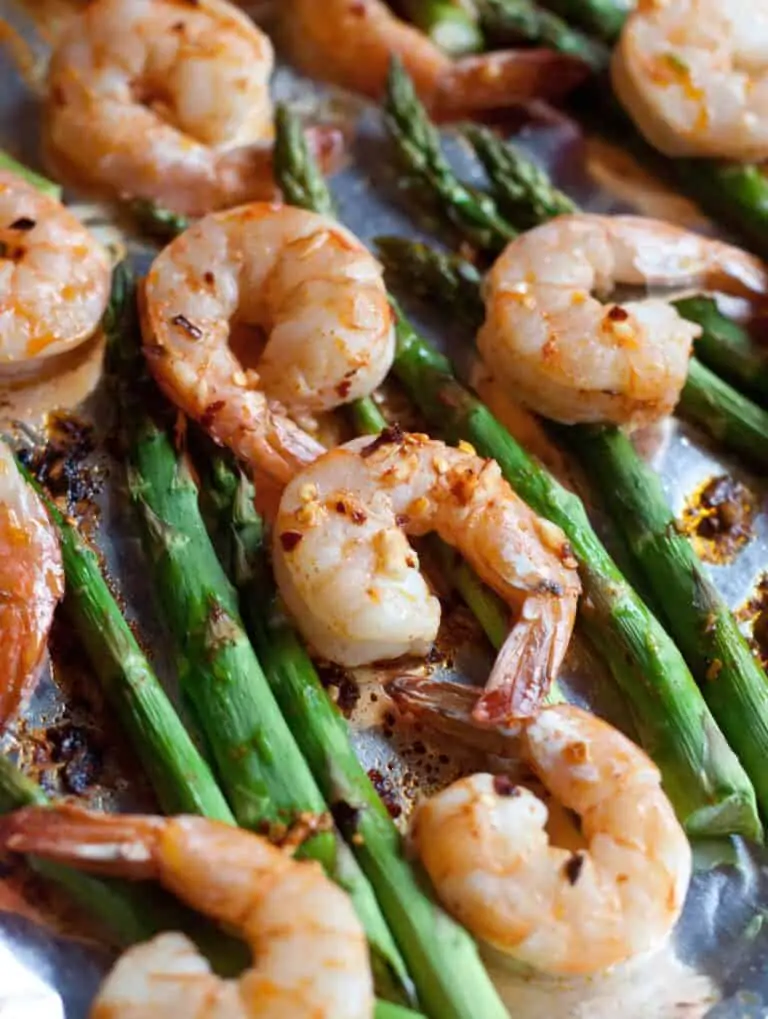 And done!
We love to whip this Sheet Pan Shrimp and Asparagus up when we have some leftover rice or quinoa in the fridge from another dish. Or whip up a quick mashed potato or your other favorite potato side dish and you have a complete, super healthy, fresh meal with some fresh asparagus and shrimp!
Other 15 Minute Favorites
Enjoy! As always, if you make this recipe or any of my others, I love to hear what you think! Leave a comment below, email me, or you can find me on Facebook, Instagram, and Pinterest!
If you want to see more, be sure to sign up for my 5 Easy Ways to Start Cooking From Scratch!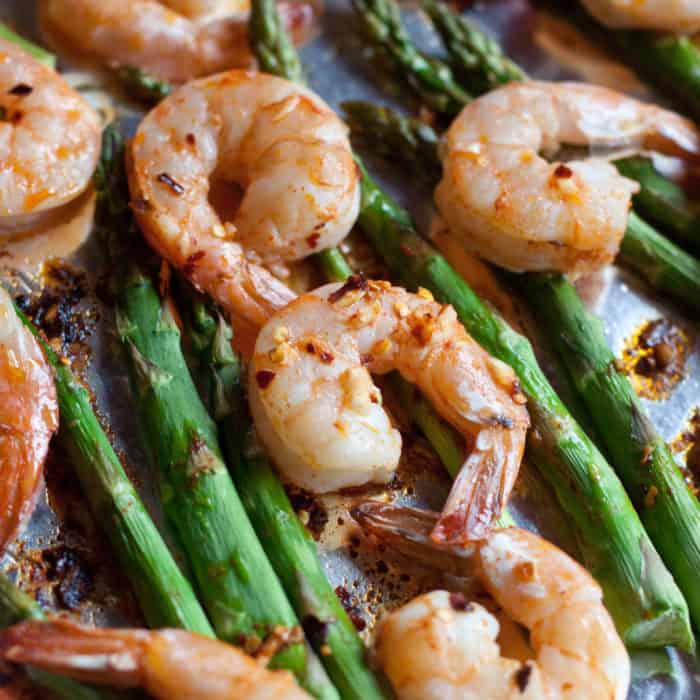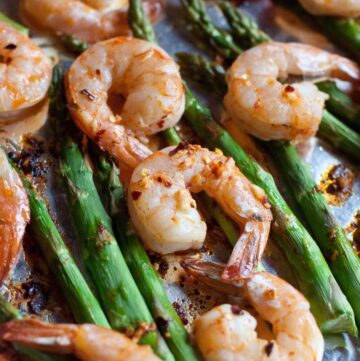 Sheet Pan Shrimp and Asparagus
Dinner in 15 minutes! This Sheet Pan Shrimp and Asparagus dinner is fast, easy, healthy, flavorful and perfect for those busy weeknights!
Print
Pin
Rate
Ingredients
1

lb

shrimp

peeled and de-veined

1

lb

asparagus

trimmed

3

large garlic cloves

minced

3

tablespoons

olive oil

1

teaspoon

red pepper flakes

1/2

teaspoon

paprika

1/2

teaspoon

salt

Juice from 1/2 a lemon

about 1 tablespoon

fresh ground pepper to taste
Instructions
Pre-heat oven to 400 degrees and line a baking sheet with aluminum foil.

Mix together garlic, olive oil, red pepper flakes, paprika, salt, and pepper in a small bowl.

Place trimmed asparagus on sheet and drizzle 1 tablespoon of the mixture on the asparagus. Roast for 6 minutes.

Add the rest of the oil mixture to shrimp and mix well to coat all of the shrimp.

When asparagus is done, remove from oven and then add lemon juice to the shrimp mixture and toss to coat again (if lemon is added too early, the citrus will begin to 'cook' the shrimp).

Add shrimp to sheet pan with asparagus, one at a time with tongs, shaking excess oil off.

Roast for another 5-6 minutes, or until shrimp is opaque.

Serve with your favorite pasta or rice!
Notes
Fresh Raw vs. Frozen Shrimp? I always prefer raw shrimp for this dish, but you can totally use frozen - either cooked or raw. Whatever you use, make sure it's peeled and deveined. Frozen Raw, make sure you place them in a colander in the sink and run cold water over them for about 5 minutes, first then follow instructions. Frozen Cooked, also be sure to run it under water to thaw and then all you really need to do is heat them up, so that just means cook the asparagus for 10 minute and then add the shrimp and cook for only 2 minutes.
Nutrition
Calories:
235
kcal
|
Carbohydrates:
6
g
|
Protein:
26
g
|
Fat:
12
g
|
Saturated Fat:
2
g
|
Cholesterol:
286
mg
|
Sodium:
1183
mg
|
Potassium:
348
mg
|
Fiber:
3
g
|
Sugar:
2
g
|
Vitamin A:
1129
IU
|
Vitamin C:
13
mg
|
Calcium:
198
mg
|
Iron:
5
mg