This post may contain affiliate links. Read my disclosure policy.
This Roasted Butternut Squash Soup from scratch is creamy and delicious and made with simple, healthy, flavorful ingredients.
I'm still sick. And I'm not happy about it. After thinking I was good to go yesterday and making the 'yay you're healthy again dinner,' I was up the rest of the night with chills while hacking up a lung. My Dr. said I can't go back to work until Thursday; actually she said I should take the rest of the week off but that's not happening. I'm getting stir crazy and incredibly annoyed with the fact that I can't be functional for more than an hour before I'm exhausted. So, I decided to make soup to make me feel better. I had leftover Chicken Noodle Soup that Dan made me Sunday for lunch, so I needed a different soup that was easy and that didn't take much energy, because I don't have any. Roasted Butternut Squash Soup it was.
So. Easy. Butternut squash, onion, garlic, olive oil, salt, pepper (I forgot about that until the end), and some homemade chicken stock.
I cleaned and squash, peeled it, and chopped it into 2 inch pieces.
Then a rough chop of a white onion and I peeled a couple of large cloves of garlic. Then I peeled another and tossed that in too, because we love garlic.
Then I mixed them all in a baking dish, drizzled in some oil, sprinkled in some sea salt, and then added a cup of chicken stock and popped it into a pre-heated oven for 90 minutes. So I could go sit down because I was already tired.
After the 90 minutes of baking, everything was very nice a roasted and our house smelled like roasted garlic deliciousness. I checked on it a couple of times to make sure there was enough chicken stock to keep the veggies from burning to the bottom of the pan and gave it a quick stir. The extra clove was definitely a good choice.
Then I put the roasted squash, onions, garlic, and leftover chicken stock into a pot, added the rest of the chicken stock and cooked on medium for another 20 minutes.
Oh yeah and I added a bunch of pepper and another good pinch of salt.
And into the blender. Just about half at a time. I've over packed a blender before and I just didn't have the energy to have to clean up a mess like that.
Then into (another, since I was blending the mixture half at a time) pot to maintain it's heat.
We can't have soup without Dan's Como Bread. This particular batch made loaves that were wide and flat. Dan explained why to me, but I can't remember now. Have I mentioned how tired I am?
From scratch Roasted Butternut Squash Soup. And trust me, it is as good as it looks. Oh man. Creamy. Slightly sweet. With a wonderful roasted garlic flavor. Sooooo gooood. And easy. I started it super early so we ate early like an old married couple and now I can drug up and go to bed.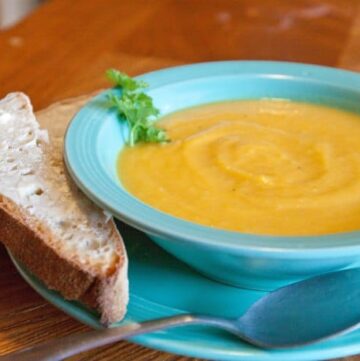 Roasted Butternut Squash Soup
This Roasted Butternut Squash Soup from scratch is creamy and delicious and made with simple, healthy, flavorful ingredients.
Print
Pin
Rate
Ingredients
1

small to medium

2 lb Butternut Squash

3 1/2

Cups

of Chicken stock

1

large onion

2-3

large cloves of garlic

2

Tablespoons

of olive oil

sea salt and pepper to taste
Instructions
Preheat oven to 350°F. Mix squash, onion and garlic cloves with 1 to 2 tablespoons olive oil in glass baking dish and pour 1 cup stock over the top. Sprinkle with 1/2 teaspoon salt.

Bake at 350ºF for 1 1/2 hours or until fairly soft and a little caramelized-looking; check on the pan every 20 minutes or so and if necessary, add additional liquid to keep it from scorching to the bottom of the pan. Stir once during cooking.

Add squash, garlic, onion, and any liquid from baking dish into a large Dutch oven or stockpot. Add 2 1/2 cups stock and 1/2 teaspoon each salt and pepper to the pot, and cook over medium-low heat for at least 20 minutes.

Purée all ingredients in a blender, half at a time, pending the quality of your blender. Add back to pot and adjust salt and pepper to taste.

Serve with buttered bread and enjoy!