It's a creamy dreamy soup that's made without cream! This Healthy Leek and Potato Soup recipe lets the flavors of the fresh leeks shine thanks to a secret ingredient! Top it with some homemade croutons for an elegant vegetarian soup that's ready in 30 minutes!
Be sure to serve it with our Easy Crusty French Baguette!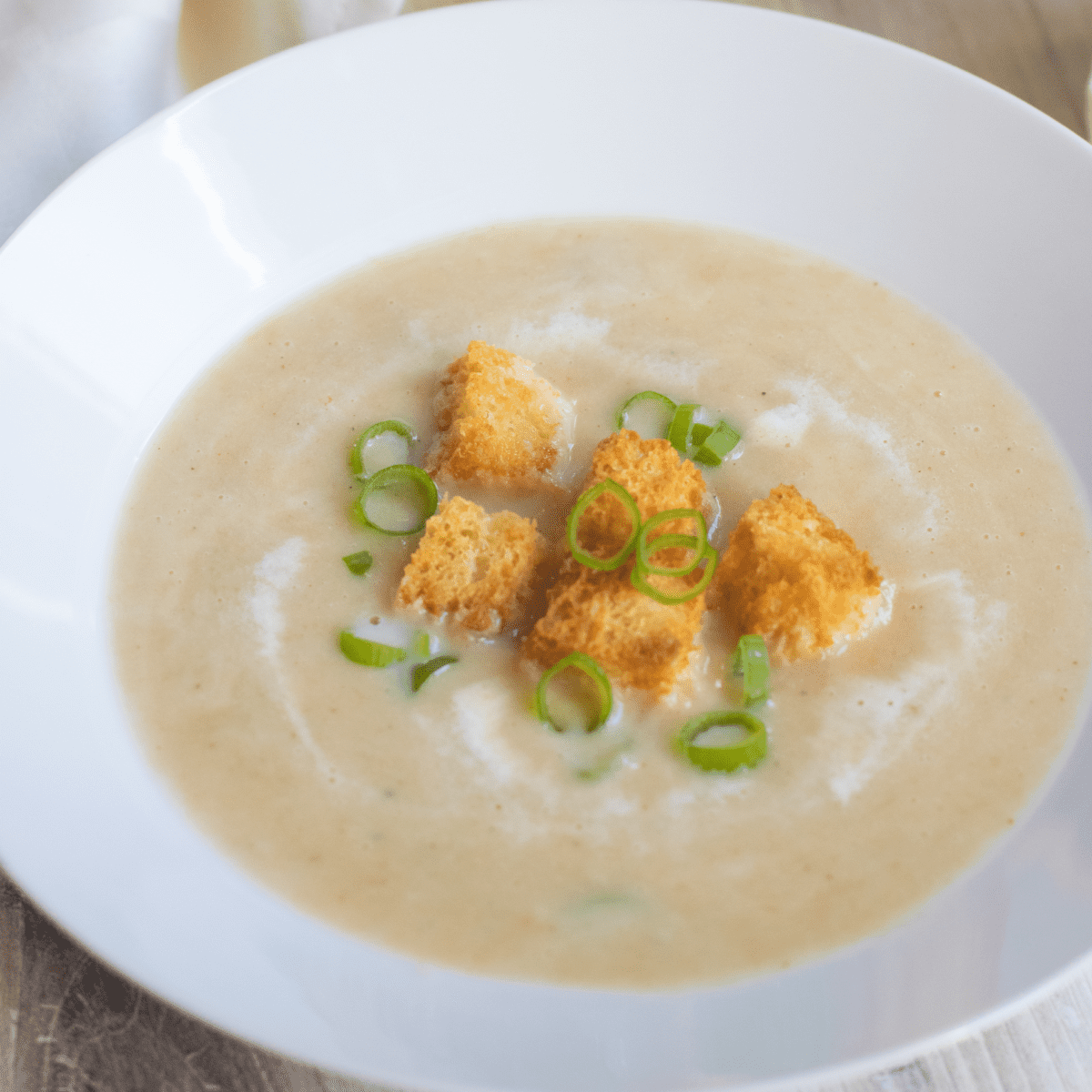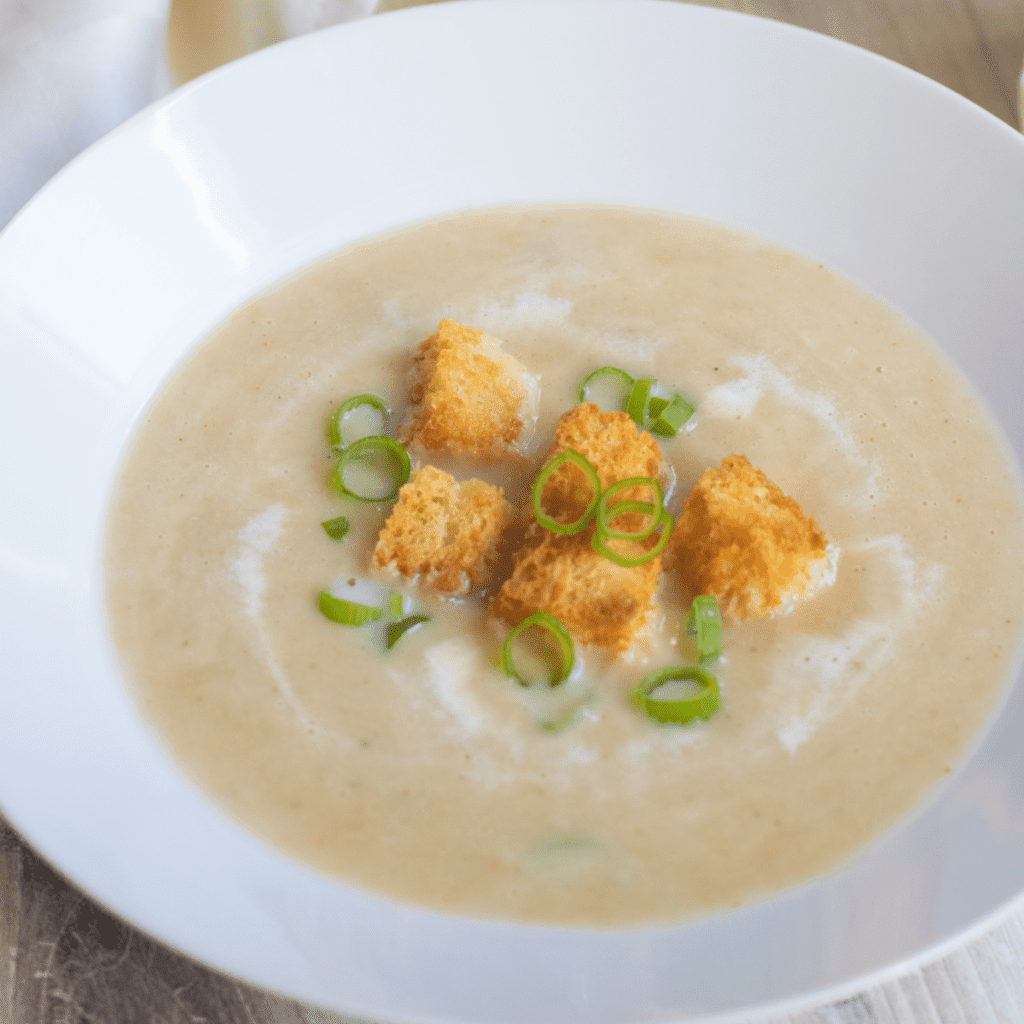 We are in the heart of soup season around here! Cold rainy days mean alllll the soups, and this Healthy Leek and Potato Soup delivers everything we love about soup. It's creamy without cream (except a tiny bit to finish). It's healthy and veggie-packed. It's ready in 30 minutes. And, duh, it's delicious.
I know what you're thinking, there are so many leek and potato soup recipes out there. Yes, yes there are. But let me tell you about what makes this leek and potato soup recipe different. It was born out of a mistake. I was recipe testing a couple of recipes at the same time, one a leek and potato soup that wasn't quite there yet, and another rice dish, and I got some ingredients mixed up. That meant that a lil ingredient I would have never thought of trying in this soup ended up in there. And boom! This delicious, soup was born. Not only does it honor the sweet onion flavor of the leeks and have the perfect leek to potato ratio, but it also has a lil sumthin' sumthin' that makes this Healthy Leek and Potato Soup one where you take your first bite and go yum... and Ohhh...!
Ingredients Needed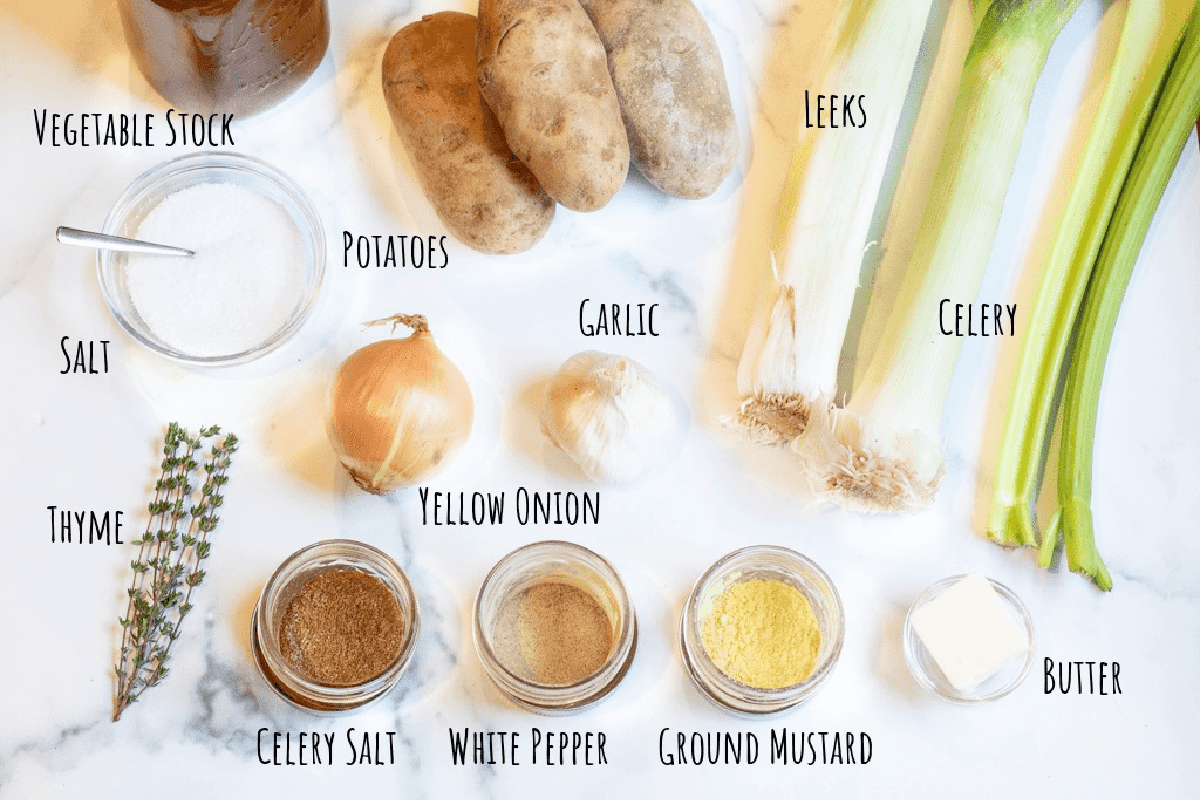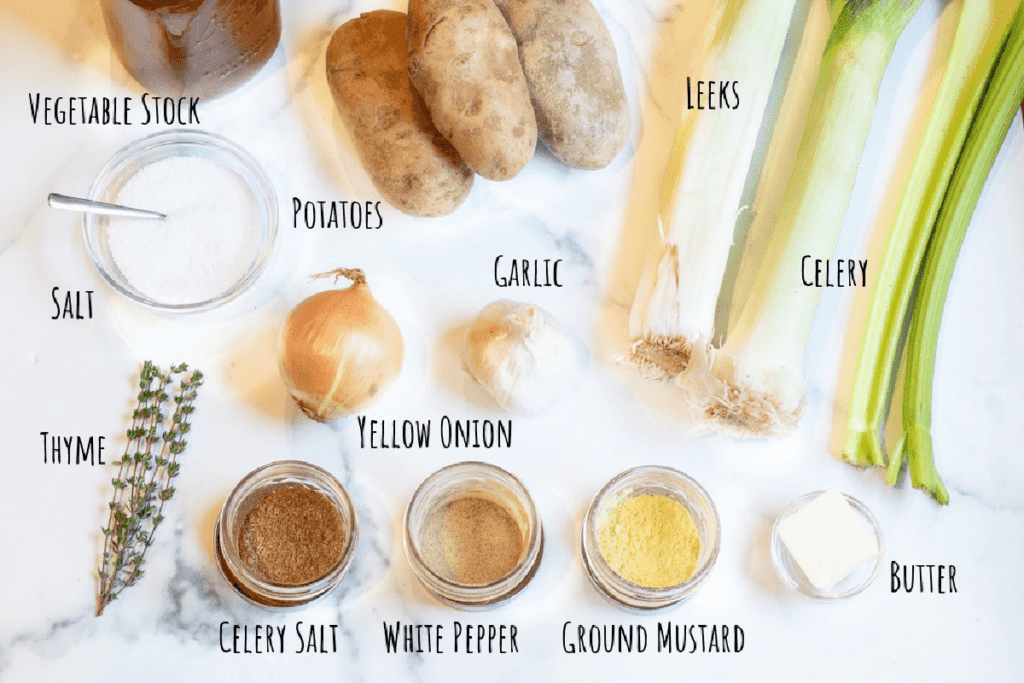 Fresh Leeks - That goes without saying, right? Two good sized leeks is about what you'll need. Once the dark green parts are removed and the white and light green are sliced, you should have about 1 lb worth to add to the soup.
Potatoes - Russets are the best for this recipe because they have more starch, less moisture than other potatoes, which allows them to soak up the liquid of the soup more and be a much better mashing potato (it's why they're the best for mashed potatoes) and it also makes them the best for blending into a creamy dreamy soup.
Stock - We love this soup with vegetable stock or chicken stock.
Extra Alliums - "Allium" is the plant genus that garlic, onions,(and leeks), are all a part of. Plus, garlic and onions are staples in our kitchen and cooking. We love yellow onions for this soup, but white would also be great.
Celery - Because celery and onion together are just a match made in heaven that add a lot of flavor and depth to dishes.
Celery Salt - That's also why I use celery salt! Which is one of my favorite seasonings to add to soup.
White Pepper - Why white? Well, honestly because of the look of it. While white and black pepper can almost be interchangable, I think that white pepper has a little more complex and subtle flavor. Plus, when it comes to a light colored soup lilke this, it keeps the soup looking "clean" without the little black flecks.
Fresh Thyme - Just like with the white pepper, using fresh will keep for a "cleaner" looking soup as you can discard the whole thyme sprig before you blend, but if dried is all you have, that's fine too. It will "show" in the final blended soup.

Tip

: Get a bunch of about 5 sprigs that are connected so that you can easily pull it out before you blend.
Butter and Salt - Olive oil is great too if you want to keep it vegan.
Ground Mustard - My secret ingredient for this soup thanks to a very happy accident, but of course. Mustard and onion are lovely flavors together and trust me, they are lovely in this soup, too!
How to Cut and Clean Leeks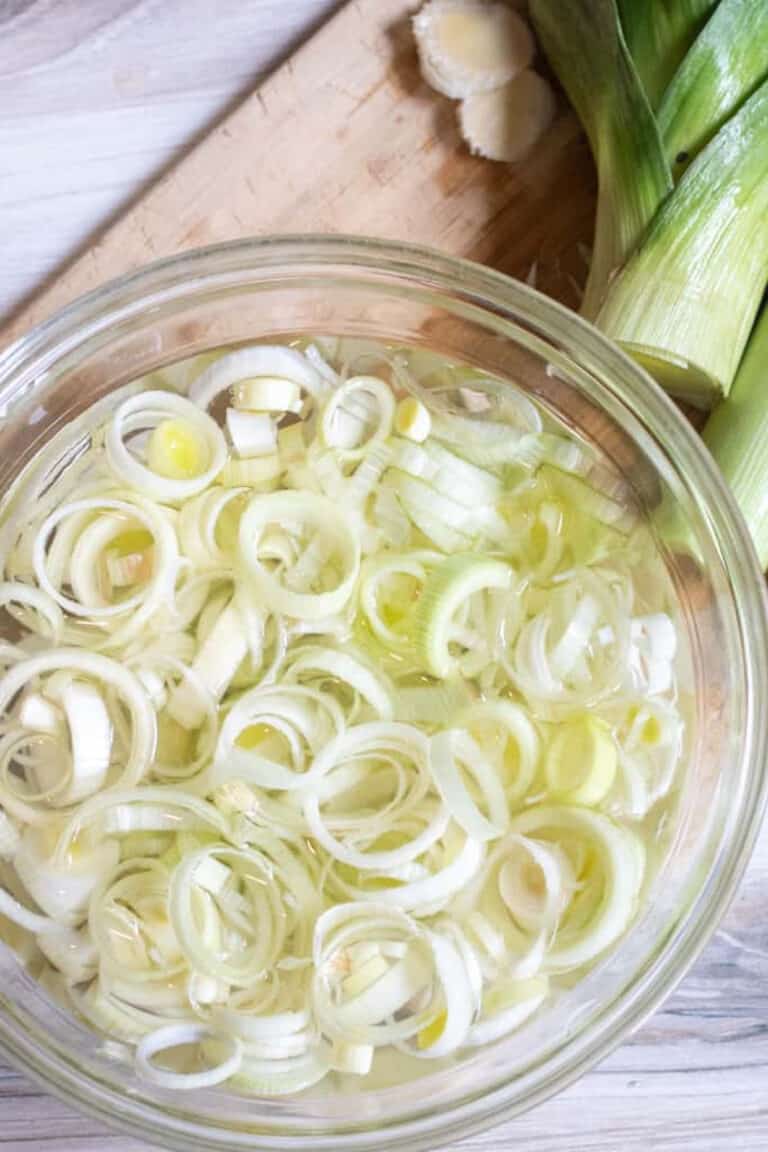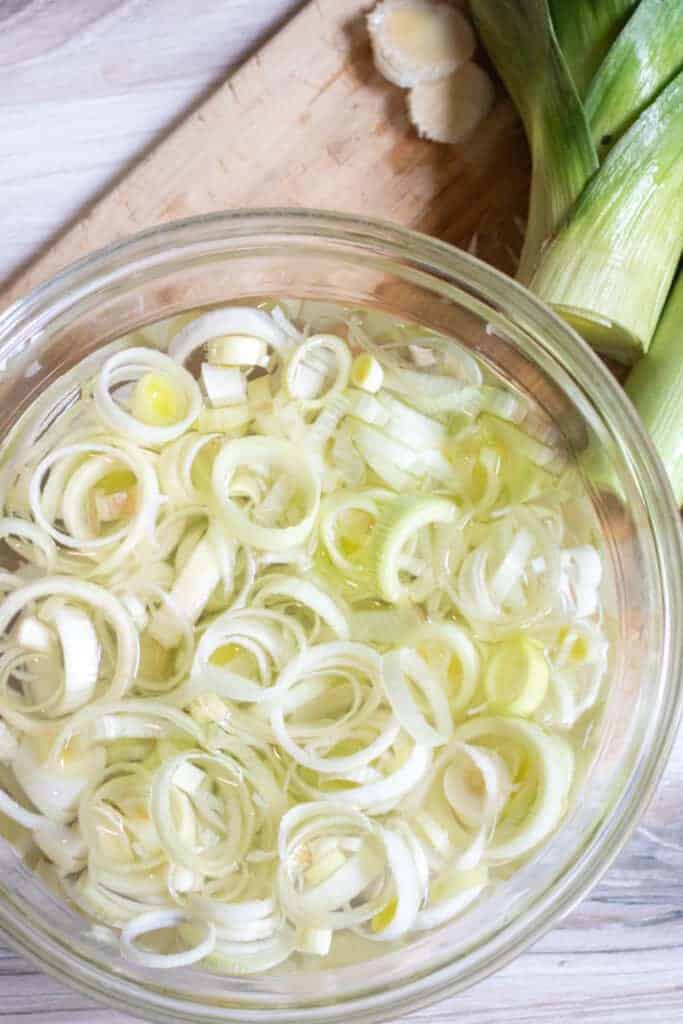 Leeks are dirty. All those little layers can hold a lot of sand and dirt, and so you need to get them clean. Cut and clean your leeks in just a few steps:
Slice off the dark green part of the leek. You don't want this, it's super tough and bitter (like a lot of people I know! bah ha ha).
Slice the white and light green parts into either rounds, or half moons.
Give 'em a little water bath to pull out the dirt and sand. If using just the rounds, push those rings out as your add them to the bowl.
Swish and drain.
Remember! All that dirt and sand that you just rinsed out? It settles to the bottom of your bowl, so don't pour everything in the bowl into a colander and call it good. Use your hands to lift and shake your leeks before putting them into a colander. Then give a final rinse for good measure.
Easy to Make
I love a soup that's easy to make but tastes like it wasn't. That's exactly what this leek and potato soup recipe is!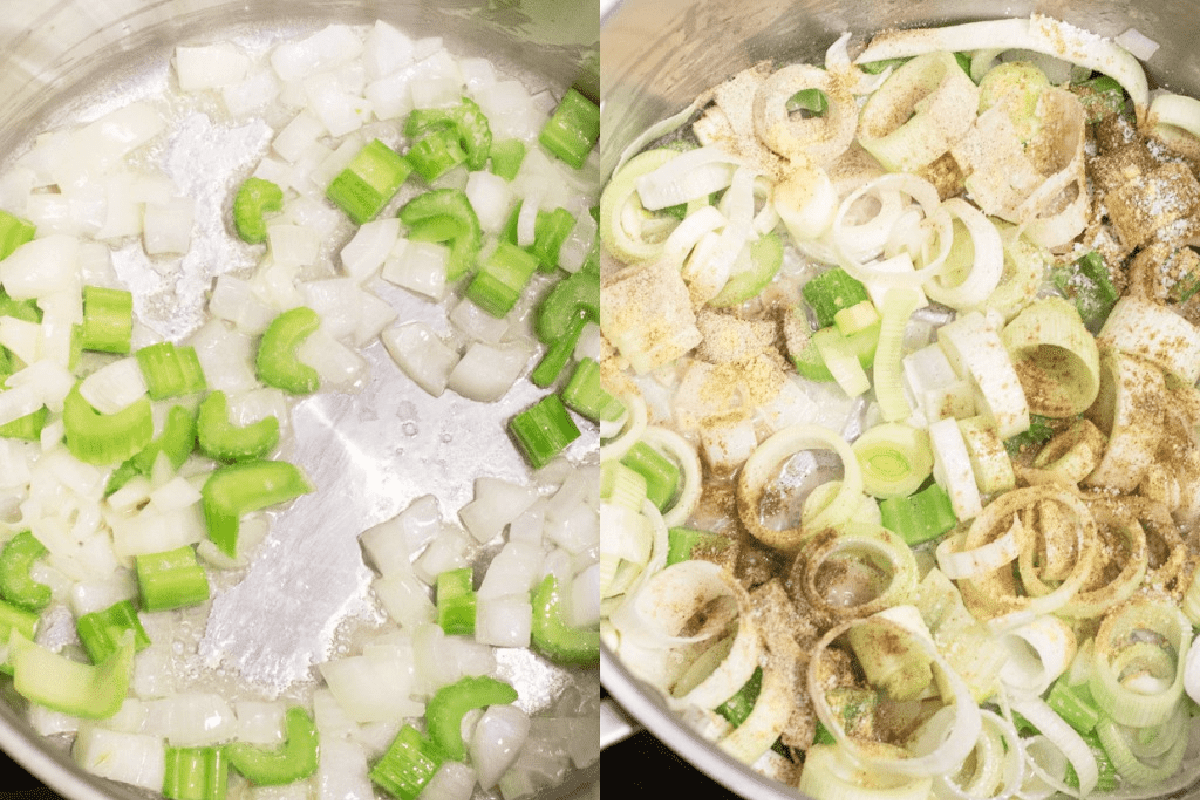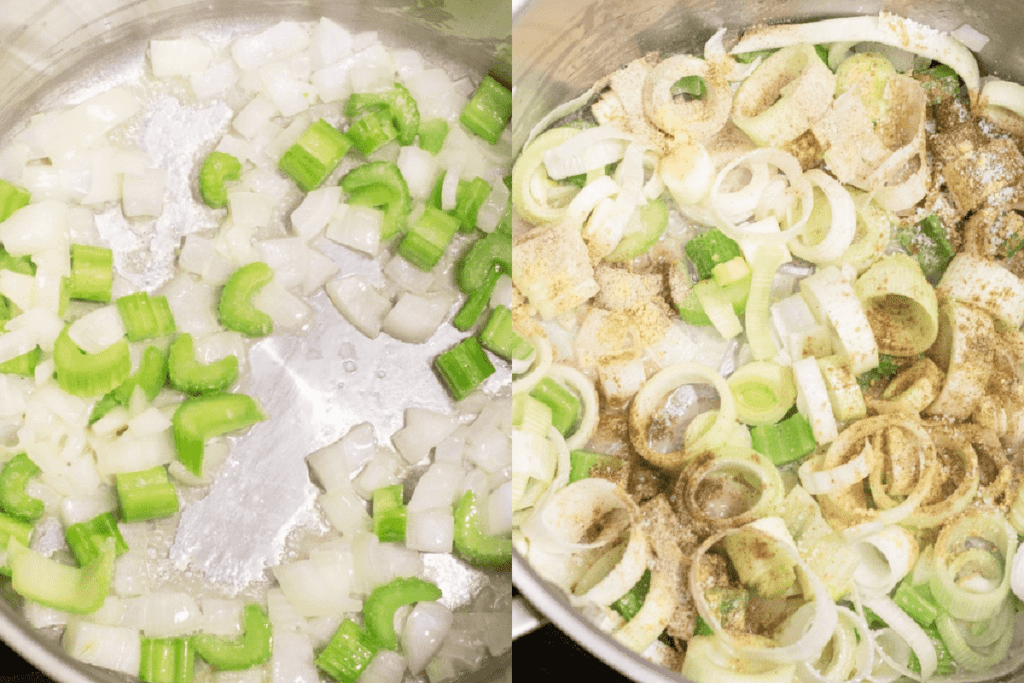 Step 1: Saute garlic, onion, and celery in butter then add spices (including that special one!) and leeks to saute a few more minutes.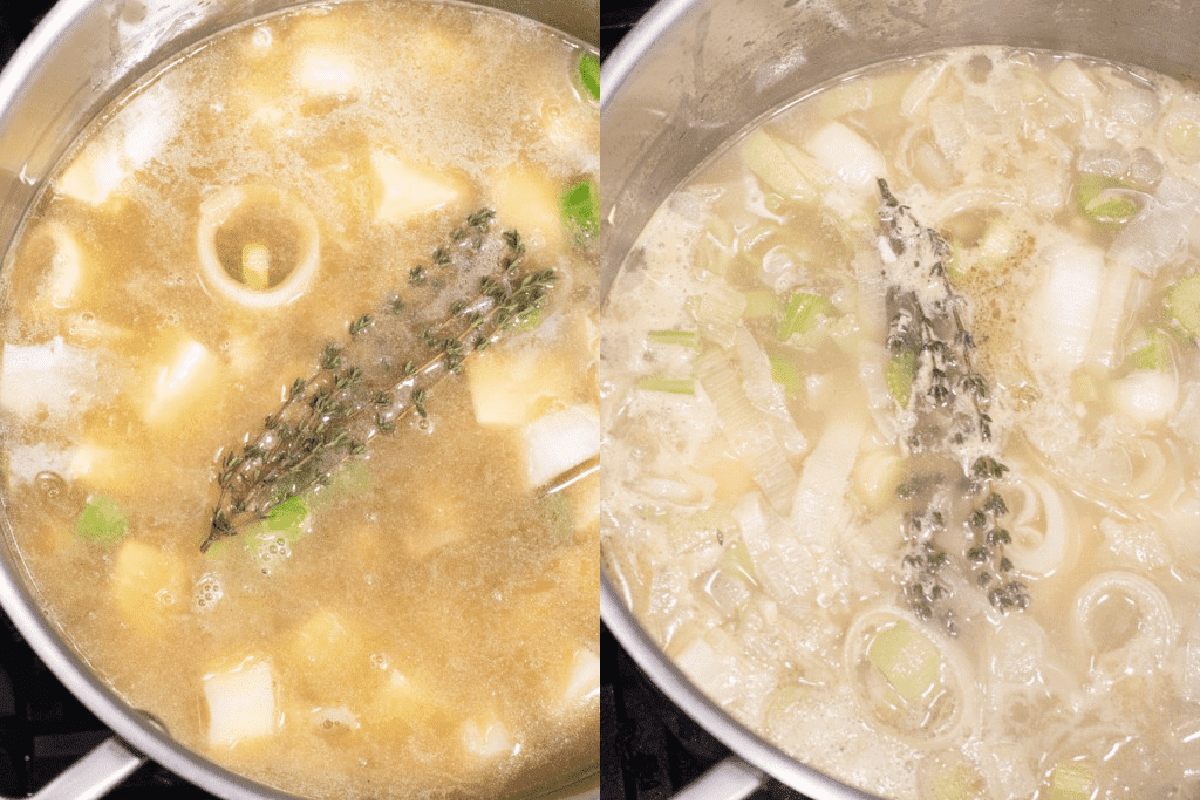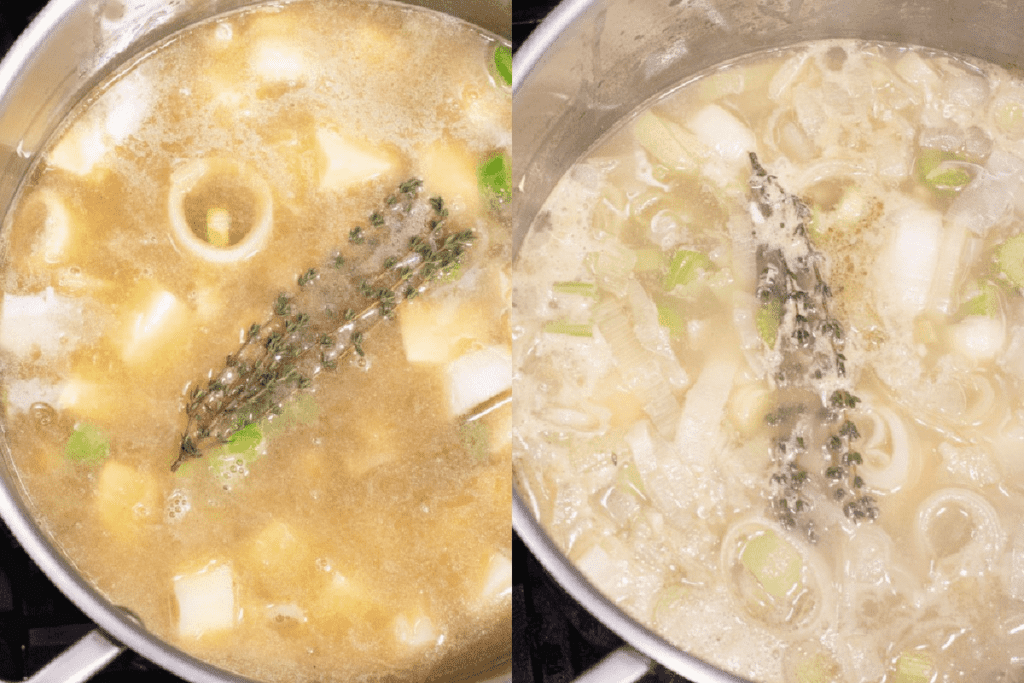 Step 2: Add the potatoes and stock and simmer.
Step 3: Remove that thyme and then blend until creamy and dreamy - but without cream!
The hardest part of this leek and potato soup recipe? The blending. But with a good immersion blender or high-powered blender like a Vitamix, a breeze.
If using a blender, be sure to do so in batches and always be careful when transferring hot soup. Oh and definitely, definitely make sure that you have all parts of the lid on and don't make the mistake I made while recipe testing our Roasted Parsnip and Potato Soup...
Garnish and Serve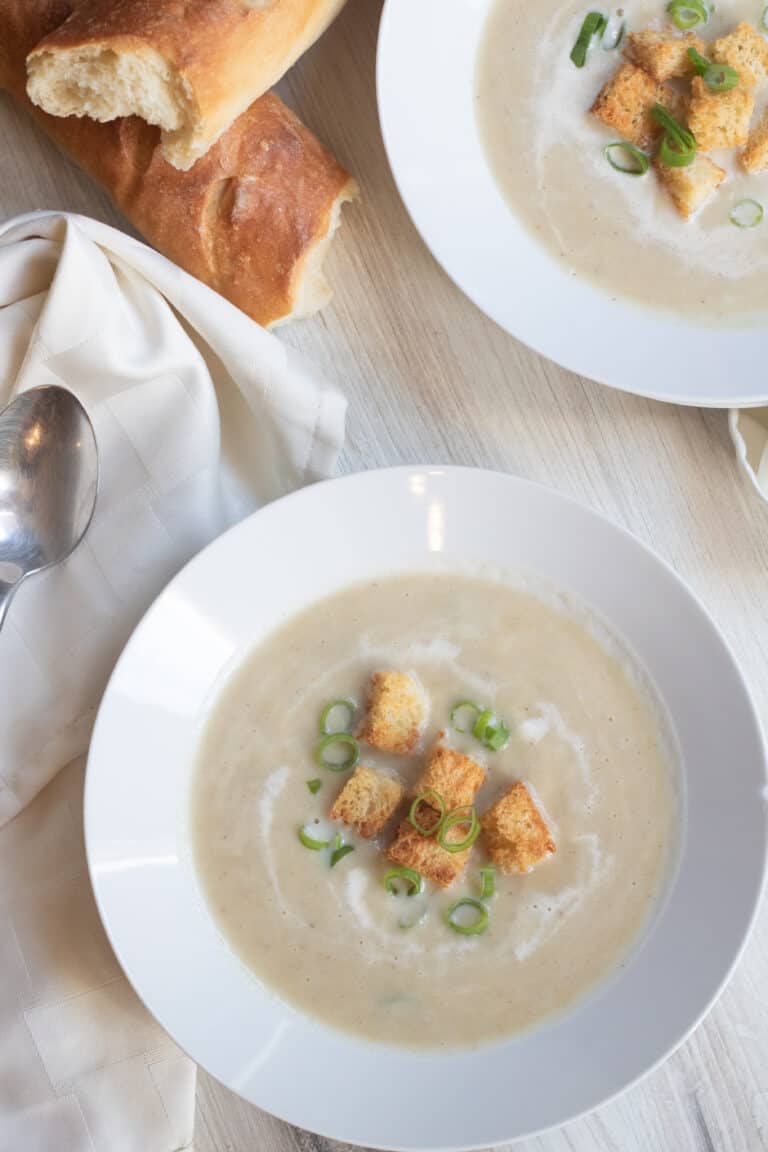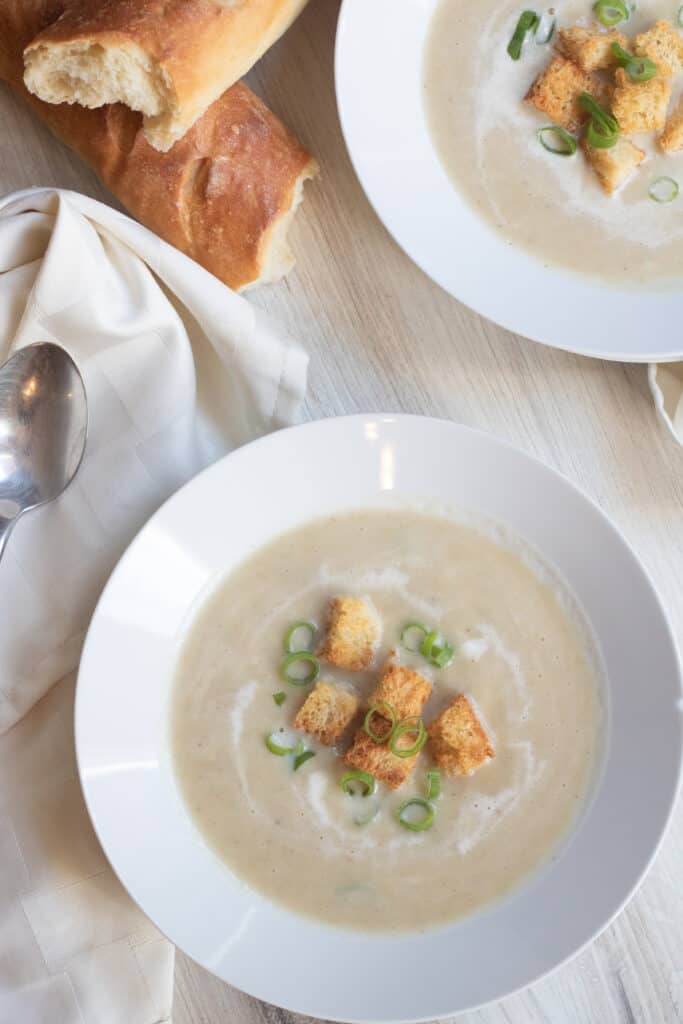 Our favorite leek and potato soup garnishes? The 3 Cs. Crunch, cream, and color.
Crunch: Add your favorite crouton, or make your own!
Cream: Use half and half, heavy cream, or (our favorite) sour cream to finish! It adds just the right amount of richness. Just about a tablespoon to each bowl is perfect to add a lil' swirl and just the right amount of flavor.
Color: Go full-on allium by adding just a little diced green onions on top for an elegant pop of color.
CARBS - A "C" all on its own, bread! We love this soup with our favorite Easy Crusty French Baguette, or soft and chewy Vietnamese Baguette, or just a slice of Dan's Como Bread with butter.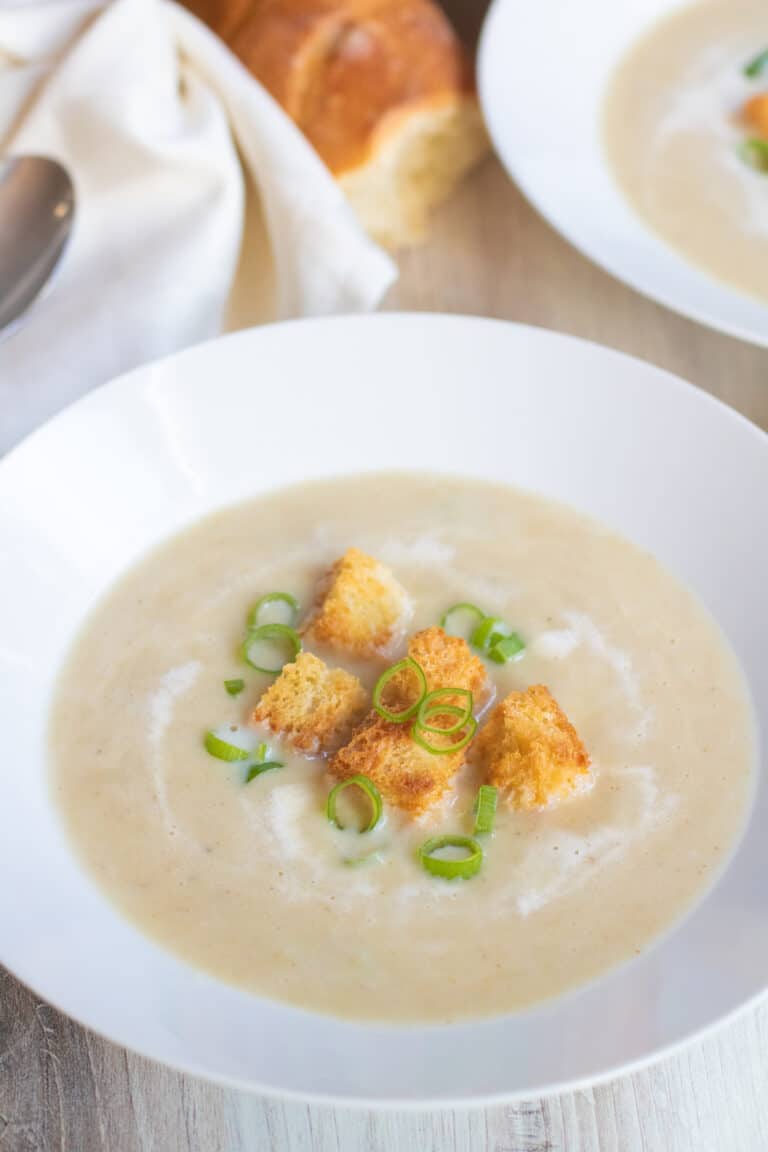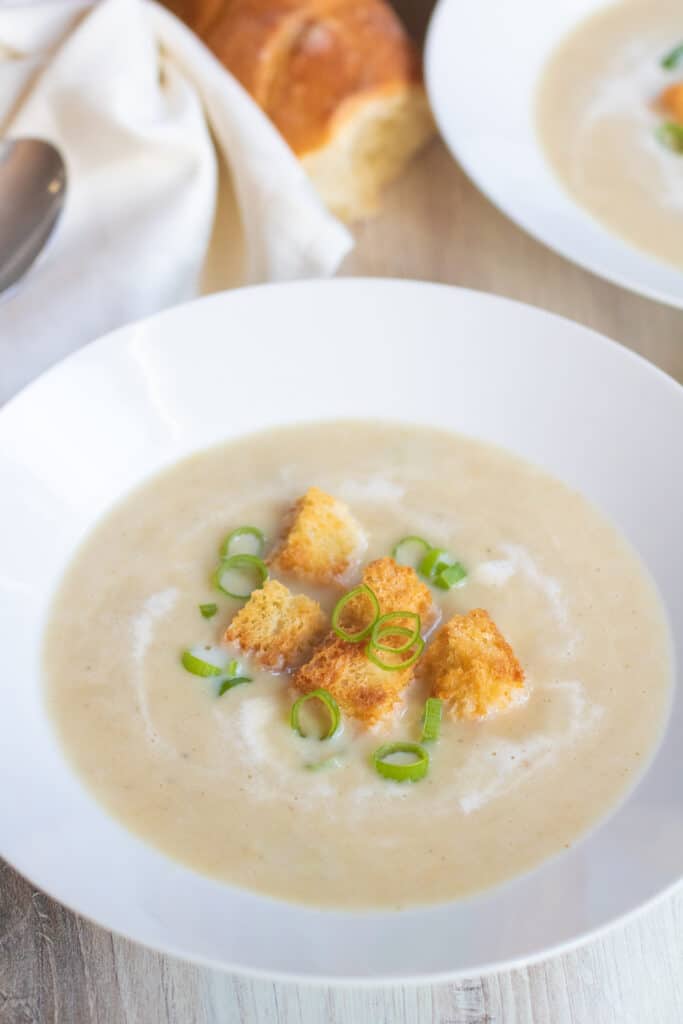 Healthy Leek and Potato Soup! And trust me, friends. This soup is different than others you may have tried. That little special ingredient takes this recipe to the next level.
Plus, the options for this soup are endless! The soup itself before garnishes are vegan and gluten-free and then from there, you can keep it that way, or even add some crumbled bacon on top. You do you, but whatever you do, give this soup a try!
Our Other Favorite Creamy Soups
Enjoy! As always, if you make this recipe or any of my others, I love to hear what you think! Leave a comment below, email me, or you can find me on Facebook, Instagram, and Pinterest!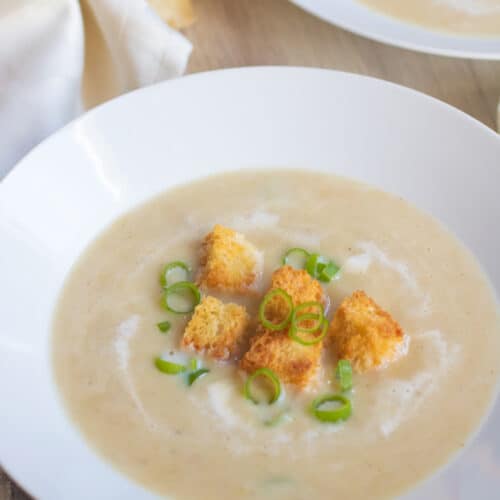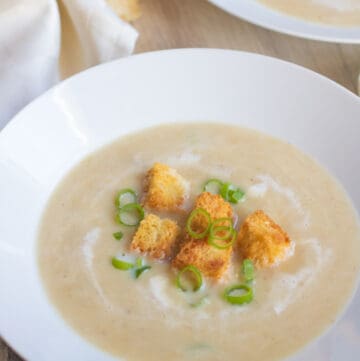 Healthy Leek and Potato Soup
A healthy version of the classic with all the flavor and less of the fat!
Print
Pin
Rate
Ingredients
2

large

leeks

approx 1 lb when white and light green parts are sliced

2

lbs

russet potatoes

2 extra large or about 3 large potatoes

2

tablespoons

salted butter

4

cloves

garlic

about 1 tablespoon minced

1

small

yellow onion

diced, about 1 cup

2

stalks

celery

chopped

5

sprigs

fresh thyme

or 1 teaspoon dried

1 1/2

teaspoons

ground mustard

1/4-1/2

teaspoon

white pepper

1/2

teaspoon

kosher salt

1

teaspoon

celery salt

6

cups

vegetable stock
Garnishes
half and half, heavy cream, or sour cream

about 1 tablespoon per bowl of soup

croutons

chopped green onions
Instructions
Cut and Clean Leeks. Cut off the roots and the dark green parts of the leek and discard them. Slice the white and light green parts of the remaining leeks into circle slices. Add them to a large bowl, pushing out the little rings of each slice slightly as you add them to the bowl. Fill the bowl with water and the swish around the leeks a few times before letting them sit for a minute. Use your hands to remove the leeks and place into a colander because the dirt from the leeks will settle to the bottom of the bowl. Give a quick rinse.

Start the Soup. Add butter to a large pot on medium and add celery and onion. Saute for just 2-3 minutes until onions start to turn transluscent, but you don't want them to brown or caramelize.

Add Garlic, Leeks, and Spices. Add the garlic and saute another minute before adding leeks, celery salt, kosher salt, white pepper, and ground mustard and sauteeing for another 2 minutes.

Add Potatoes with Stock. Add the final chopped potatoes to the pot then add the stock of choice. Add thyme. Turn up heat to bring it all to a boil, and then turn down to simmer.

Let it Simmer. Let soup simmer for 15 minutes or until the potatoes are fork tender.

Remove Thyme. If using fresh thyme, discard the bunch of sprigs.

Blend. Use an immersion blender, or in batches, use a high powered blender to blend until all of the potatoes, leeks, onions, etc. are creamy.

Ladle, Garnish, and Serve. Add a tablespoon of half and half or heavy cream to each bowl, and top with crunchy croutons and/or green onions.
Notes
Storage
Store in the fridge for up to 3 days. Store in the freezer for up to 3 months.
Substitutions
Potatoes: Russets are best, but you can also use Yukon gold potatoes.
Onions: You can use white in place of yellow.
White Pepper: Black pepper can be used in place, but use only about 1/4 teaspoon. It will "show" in the soup.
Thyme: You can use 1 teaspoon dried in place of fresh, but it will "show" in the soup.
Stock: Use vegetable or chicken.
Blending Tips: The best is to use an immersion blender. But if you use a regular blender, blend in batches.
Garnish:
Add a tablespoon of half and half, heavy cream, or sour cream to each bowl and mix. Top with croutons, sliced green onions, or even crumbled bacon!
Nutrition
Calories:
196
kcal
|
Carbohydrates:
37
g
|
Protein:
4
g
|
Fat:
4
g
|
Saturated Fat:
2
g
|
Polyunsaturated Fat:
1
g
|
Monounsaturated Fat:
1
g
|
Trans Fat:
1
g
|
Cholesterol:
10
mg
|
Sodium:
1580
mg
|
Potassium:
754
mg
|
Fiber:
3
g
|
Sugar:
5
g
|
Vitamin A:
1213
IU
|
Vitamin C:
15
mg
|
Calcium:
55
mg
|
Iron:
2
mg