Ditch the can.  It's easy to make your own Cream of Mushroom Soup from scratch at home with just a few simple ingredients!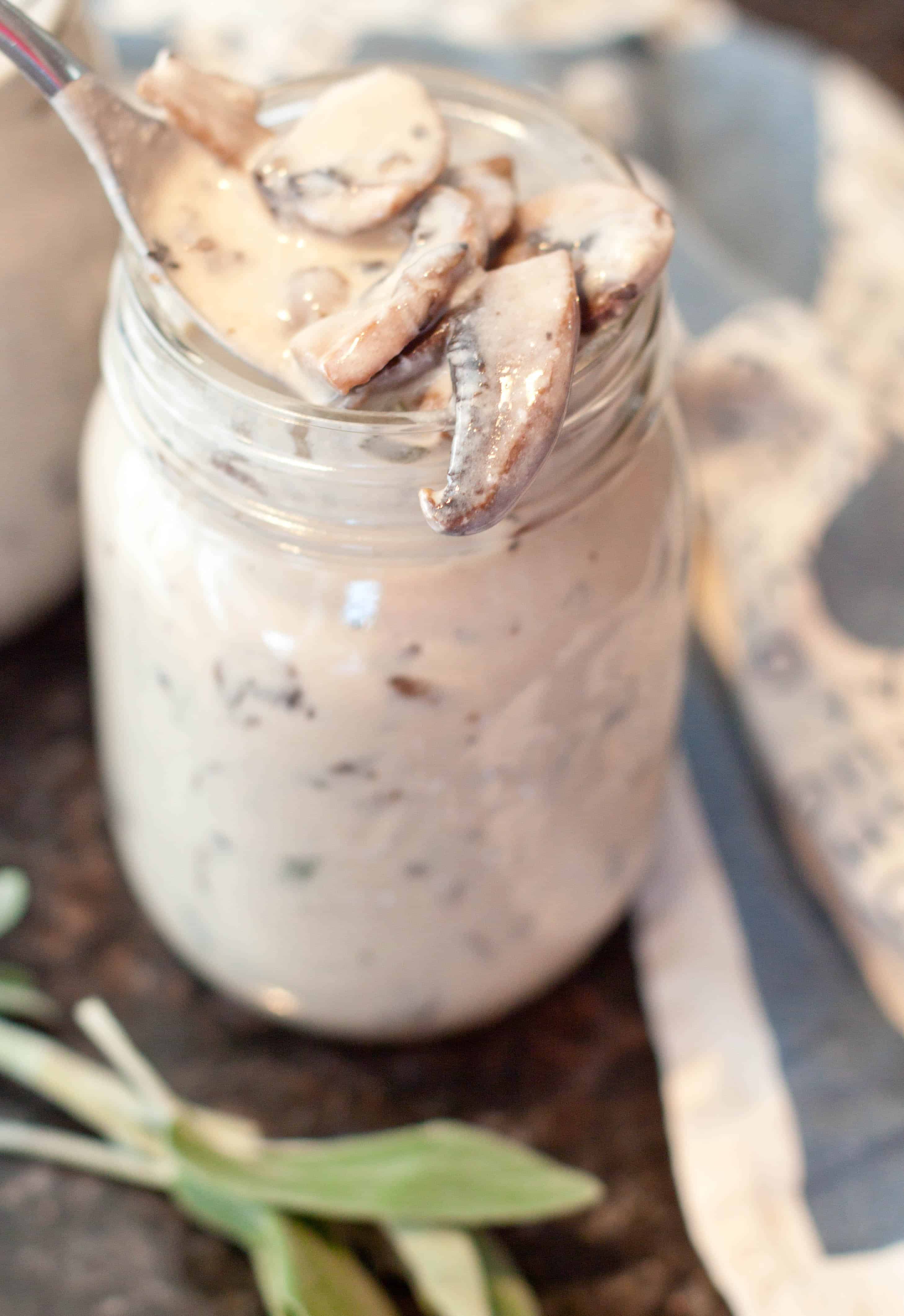 Cream of Mushroom Soup, it's a staple in your cupboard, right? Especially this time of the year. Because how else could you make a classic, comfortingly creamy casserole?  But have you ever really looked at the ingredients of a can of good ol' Campbell's Cream of Mushroom soup? It's not great.  No biggie, I've got your back with this easy and >dare I say< WAY more delicious Cream of Mushroom Soup From Scratch!
Ok, I know, I know.  Opening a can of good ol' Campbell's is soooo easy.  But trust me.  The added effort (and really, it's not that much extra effort) is sooo worth it.  The flavor of this soup is so rich and savory and your have the added benefit of knowing exactly what's in it.  The only thing I forgot from this picture: chicken stock.  You could also use vegetable stock, to make it vegetarian friendly.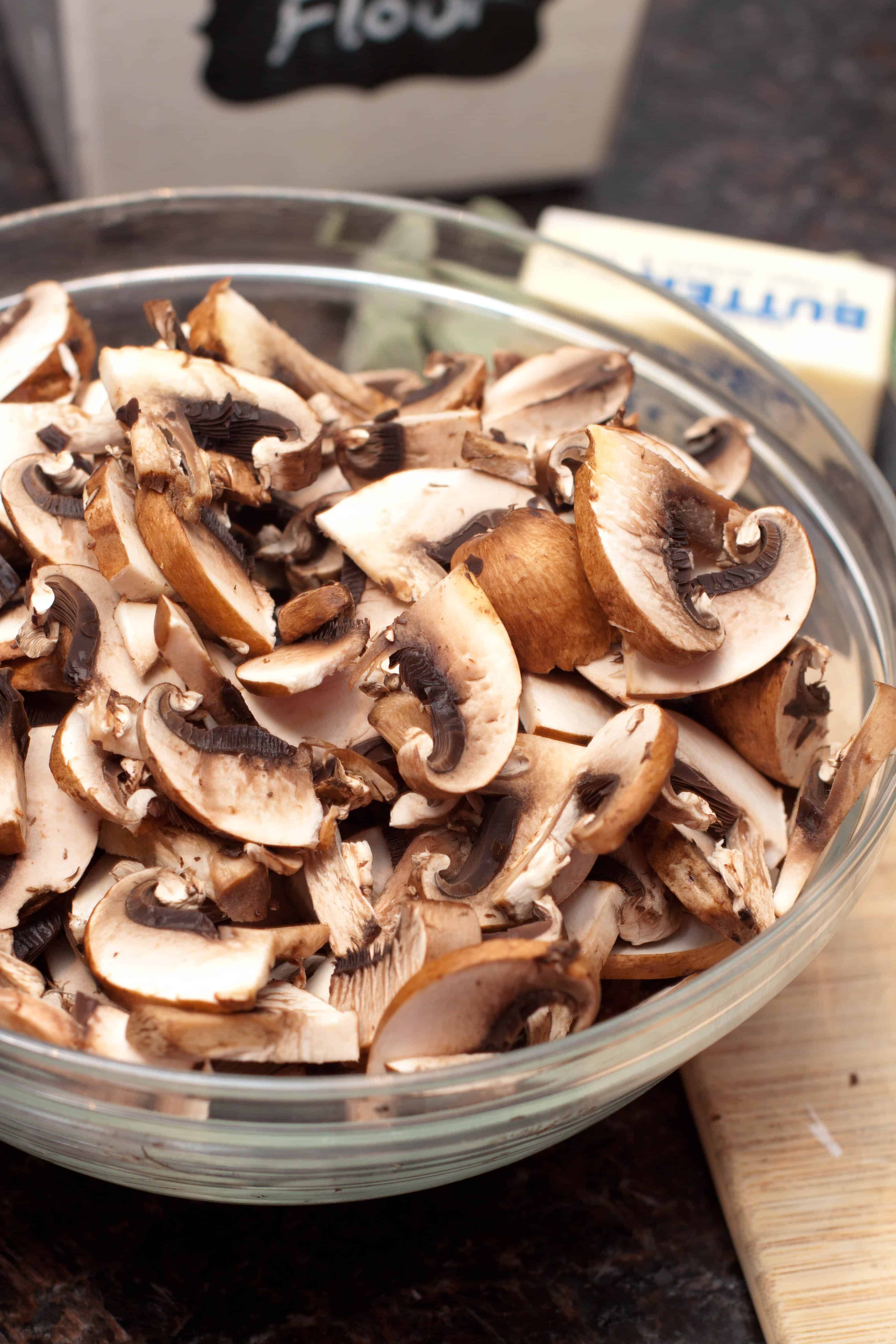 The key to the Cream of Mushroom soup?  Fresh mushrooms. And a lot of them.  I chose these big beautiful creminis.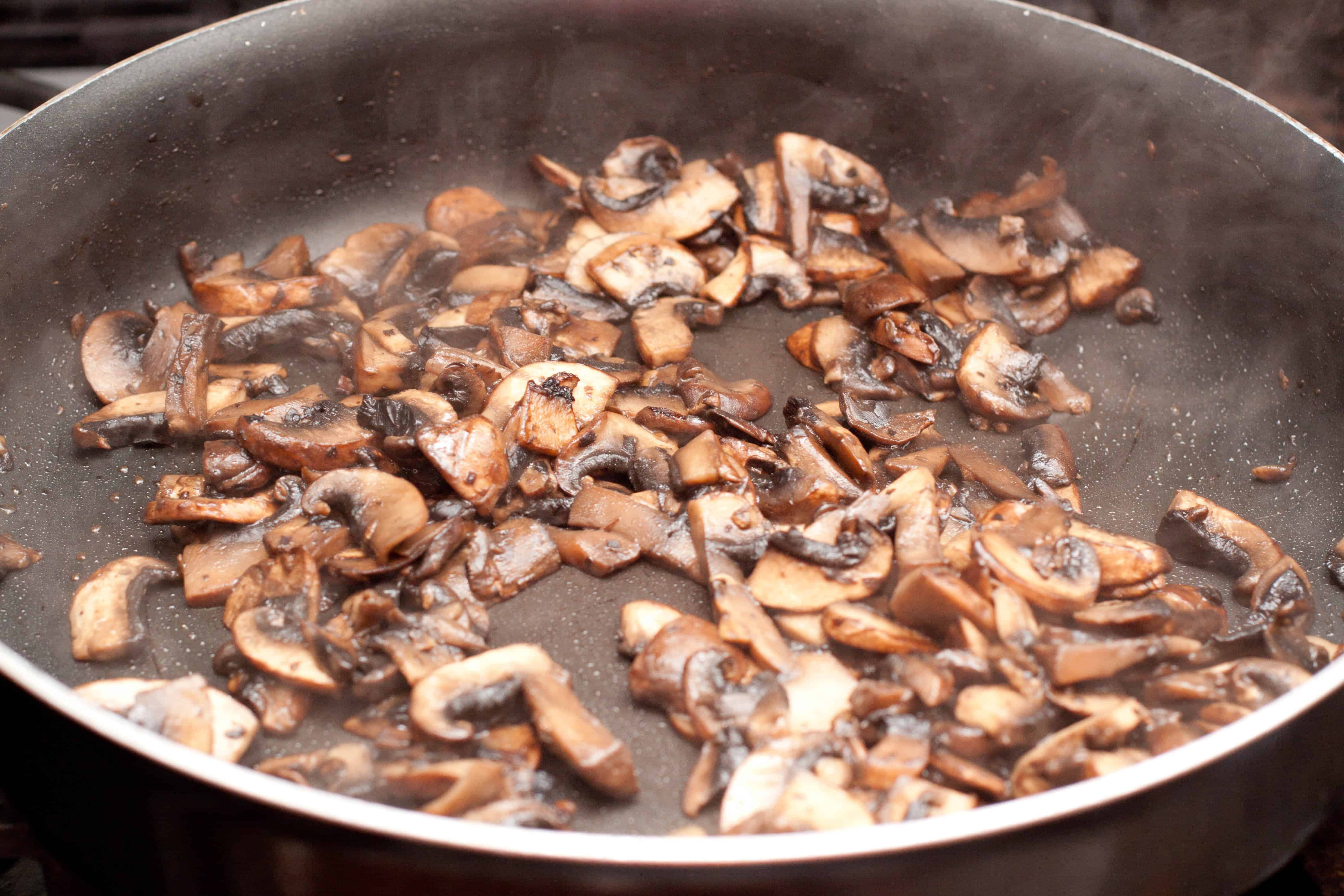 Then they're sauteed in butter while a roux is made with more butter and flour.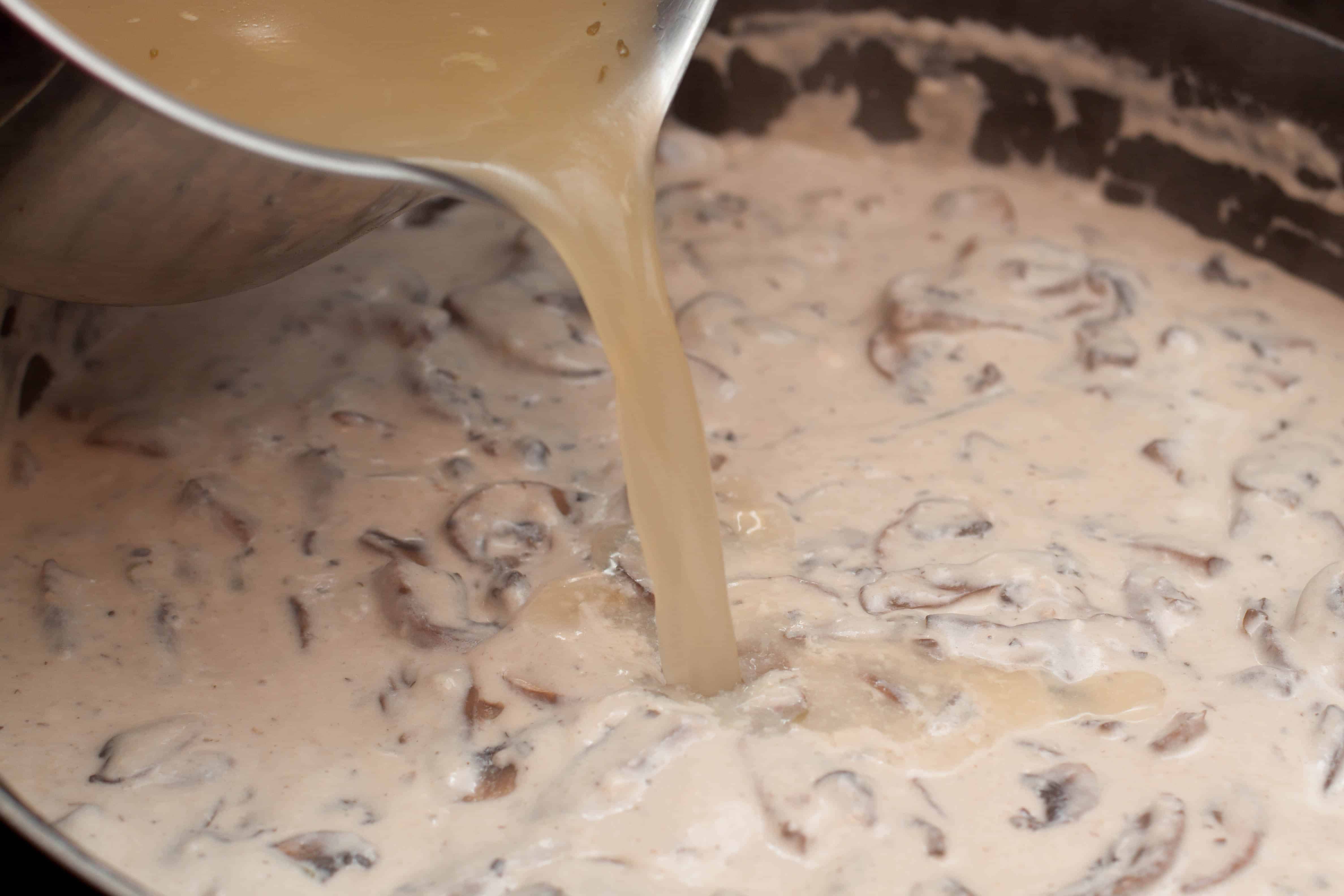 Then the roux is used to make the creamy base with milk and cream and reduced to a consistency that you like.  Add to the mushrooms in the saute pan and then at this point you can omit the stock and have a nice condensed cream of mushroom soup, or you can add the stock, mix well, and let simmer and reduce more to a desired consistency.  I prefer adding the stock because of the added flavor.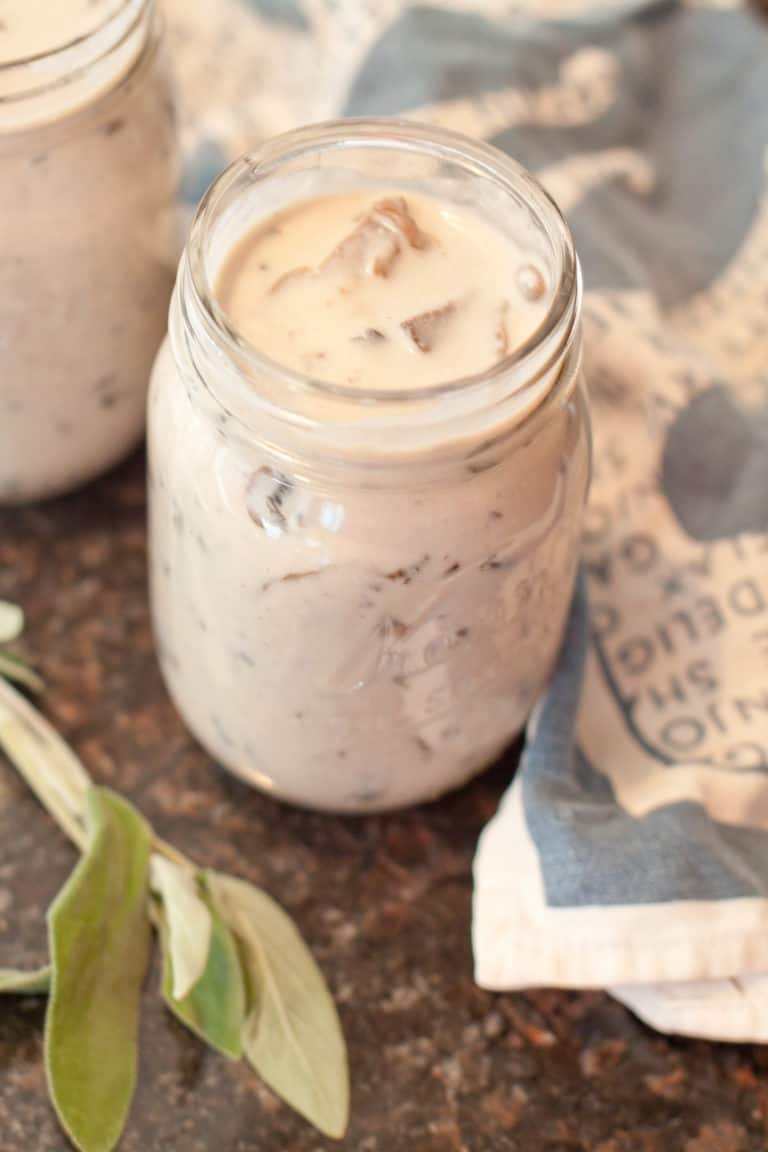 Now doesn't this look waayy more delicious than the stuff in the can?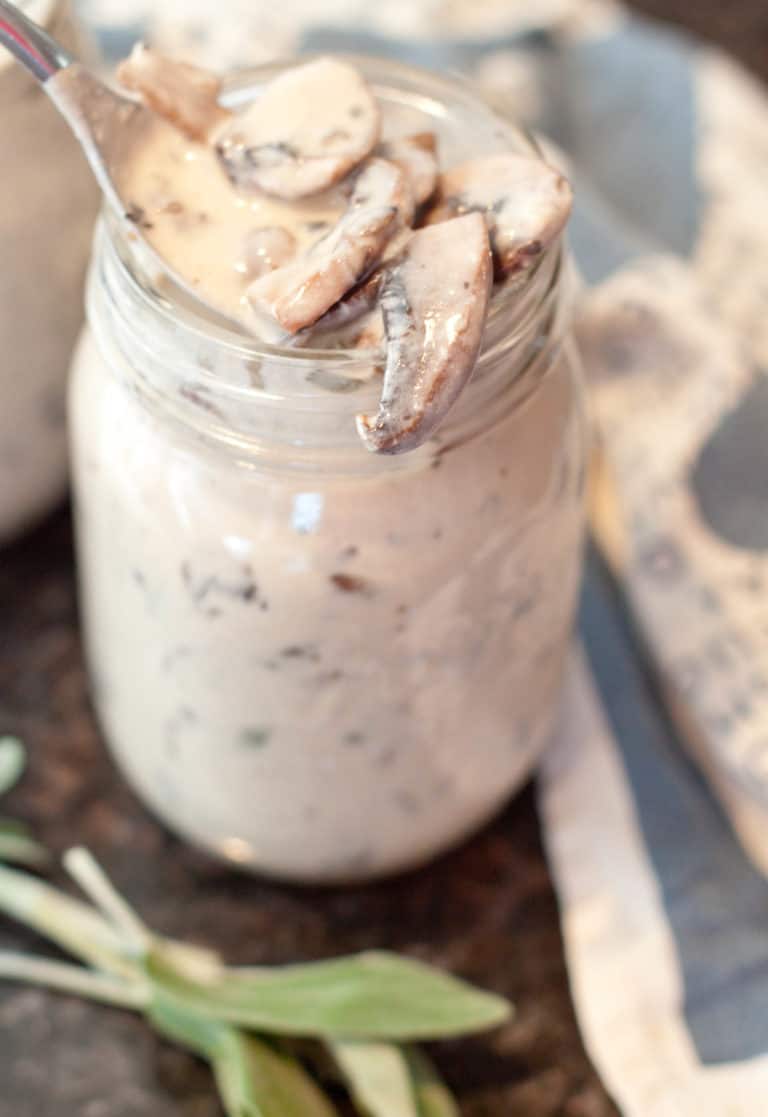 That's because it is!  Best part – you can make a large batch and freeze it for whenever you're ready to use it.  Or, if you have a pressure canner, can those bad boys.  Otherwise, just toss a couple of cups into freezer bags and freeze it like you would any other soup.
Just in time for those holiday casseroles and for bragging rights with your family!  Keep an eye out for my Green Bean Casserole From Scratch with this soup, too.  Follow me on Pinterest, Facebook, and Instagram!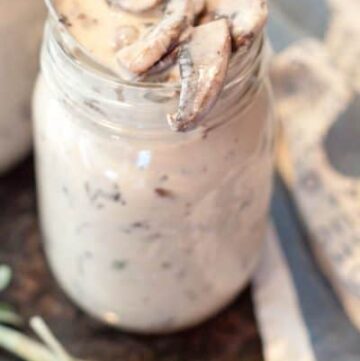 Cream of Mushroom Soup From Scratch
Ditch the can! Make your own Cream of Mushroom soup from scratch!
Print
Pin
Rate
Ingredients
16

oz

cremini mushrooms - cleaned and sliced

halved if large

4

+ 2 tablespoon of salted butter

4

tablespoons

of flour

2

cups

half and half

2

cups

2% milk

6

leaves

of sage

julianned

3

pinches

salt

to taste

2

pinches

ground pepper

to taste
Instructions
In a medium pot, melt 4 tablespoons of butter on medium low and add flour stirring constantly to create a roux. Be careful not to burn flour and once all the flour and butter is incorporated and lightly browned, add cream and milk slowly, stirring constantly. Add salt, pepper, and sage.

Turn down heat down a little so milk doesn't burn and reduce for at least 30 minutes or until it's reached desired thickness.

Meanwhile, in a large saute pan with melt 2 tablespoons of butter on medium heat and add mushrooms. Saute until almost all the moisture is cooked off.

Add soup to mushrooms in saute pan and mix well. Add chicken stock and mix well until combined. Continue to cook and reduce for another 10-15 minutes until desired thickness is reached.

Remove from heat and let cool. Transfer to jars for canning or freezer bags to freeze.

Yields approximately 5 cups.