Don't throw away those past their prime or leftover veggies, get more mileage out of them by making your own Vegetable Stock from scratch!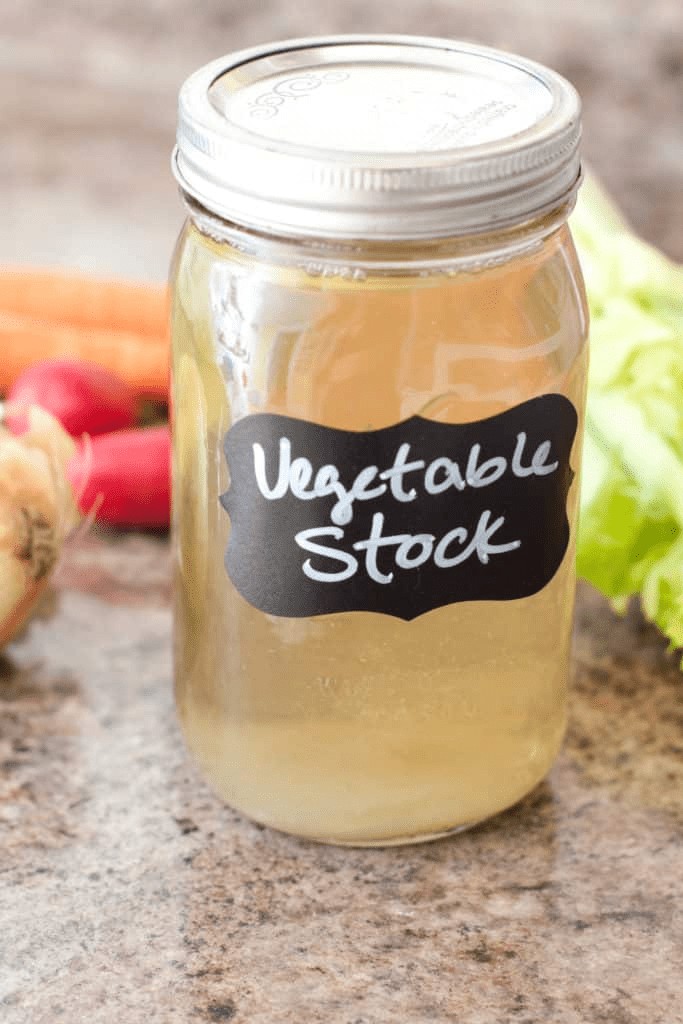 August?! Ahh how did that happen? What a summer it's been already. Today, I bring you a super simple way to eat from scratch, Vegetable Stock From Scratch!
I also bring you a little bit of a more personal story. When our little one was born just 2 months ago, she was a perfectly healthy bundle of baby goodness. We were in the hospital just 2 days before going home. On day 4, we had her first pediatrician appointment and also a lactation appointment for some breastfeeding support. At those appointments, we found out our little one had lost a LOT of weight. She hadn't been able to get enough milk from me and she was approaching dangerous jaundice levels. After a terrifying trip to the children's hospital, we were put on a pump and supplement with formula plan as well as (what would become 6 weeks of) working closely with lactation consultants to get my supply to where it needed to be to support our growing girl and keep her healthy.
Needless to say it was a hell of a way for my husband and I to start our lives as brand-spankin' new parents. But by the time of her follow-up appointment, our little one had put on almost half a lb of the 18 oz she had lost since birth. We totally high-fived over her on the scale. Now, she's a little rolly-polly super healthy little girl eating her own "from scratch" (or as my husband says "fresh from the farm") meals.
Why am I sharing this with you all? Because it's given me a whole new perspective on an incredibly important issue: childhood hunger and malnutrition. My friend Dini over at The Flavor Bender has started a campaign with Action Against Hunger to raise awareness for this very issue.
Looking back on those first few days and realizing that the inconsolable crying the first few days of my baby's life were out of hunger (insert sword into my heart here...), the fact that there are so many children around the world whose hunger cries go unanswered is absolutely heartbreaking. And their parents and loved ones who are forced to watch their children suffer from not only hunger but also the long-term effects of malnutrition? I can't even imagine.
This brings me to this vegetable stock. A seemingly small but important way we can help raise awareness, respect, and be thankful for the fact that most of us will never have to face any type of food shortage, hunger, or malnutrition is by trying to reduce our own personal food waste.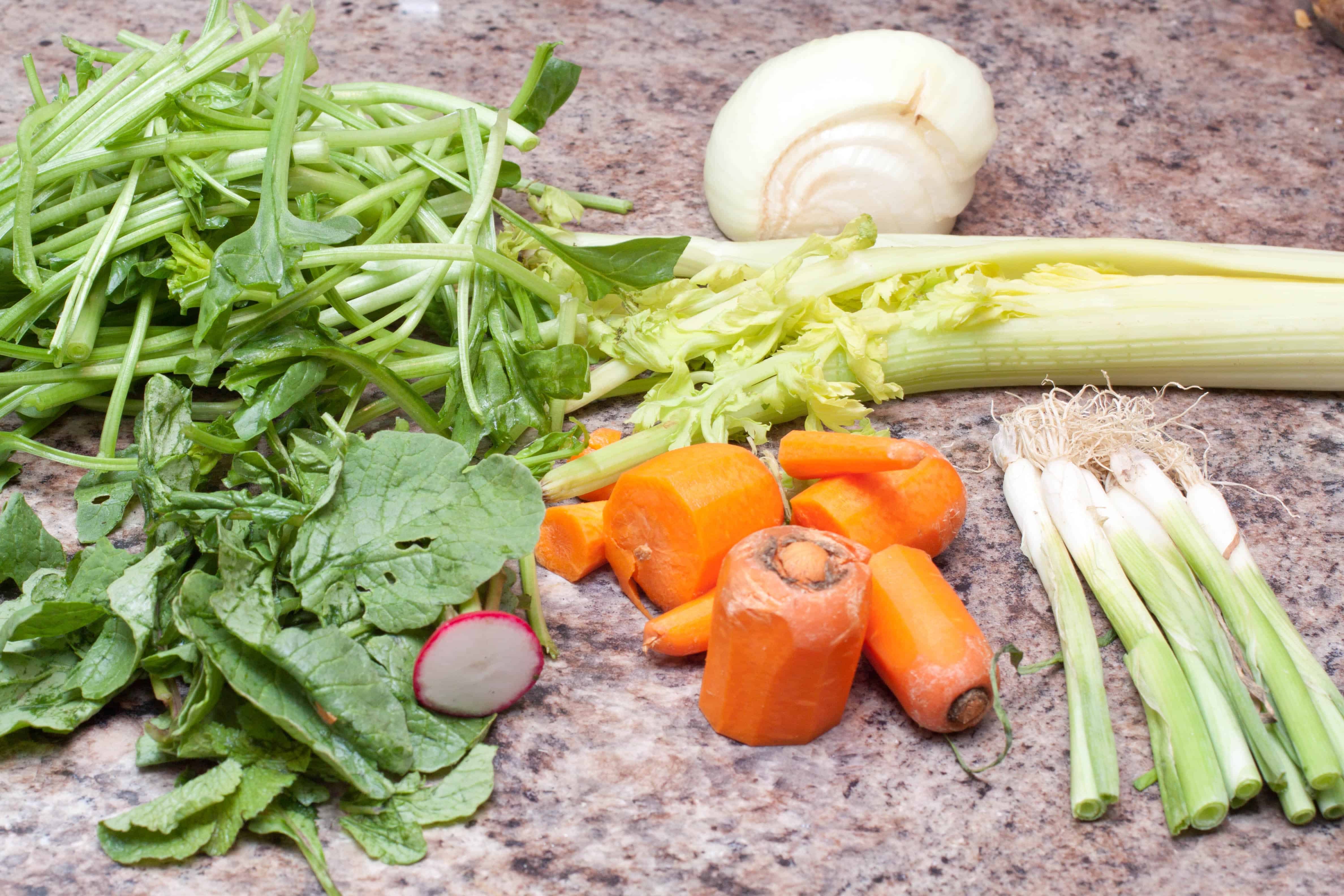 One of the easiest ways to do that, make stock! We always have homemade chicken stock in our house since we eat a ton of chicken and always have discarded skins and or bones. But you know what else we also typically have? Veggies that just end up in the compost. In this case, we had stems from some cleaned spinach, radish tops, and some scallions, carrots, celery, and onion that just went a tad beyond their prime which makes them perfect for stock! Then it's just a matter of tossing it all in a pot with water and salt (and additional seasonings of choice) and letting all the flavors of the veggies create your own, from scratch vegetable stock. It's vegan, gluten-free, chemical and preservative free, you can control the sodium level, and it's basically free in cost if you're using what would have otherwise been food waste.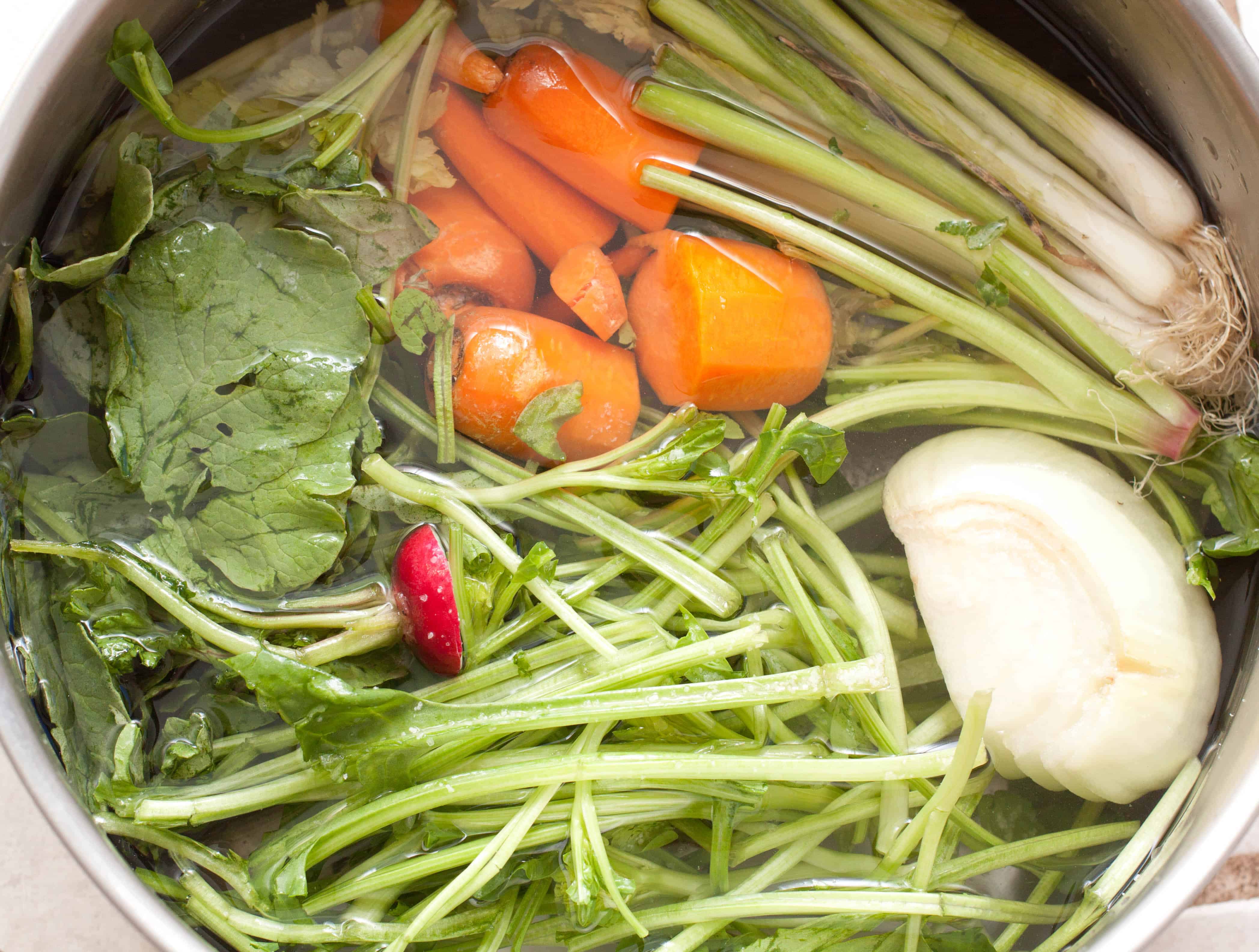 Some say that chopping the veggies small (greater surface area) and even browning the veggies to release more flavors makes a better stock. I'm sure they're right, but the easier it is and the fewer dishes it creates makes this method my go-to. Keep an eye out this month as I'll continue to share from scratch ways to reduce food waste from myself and from some of my favorites around the interwebs.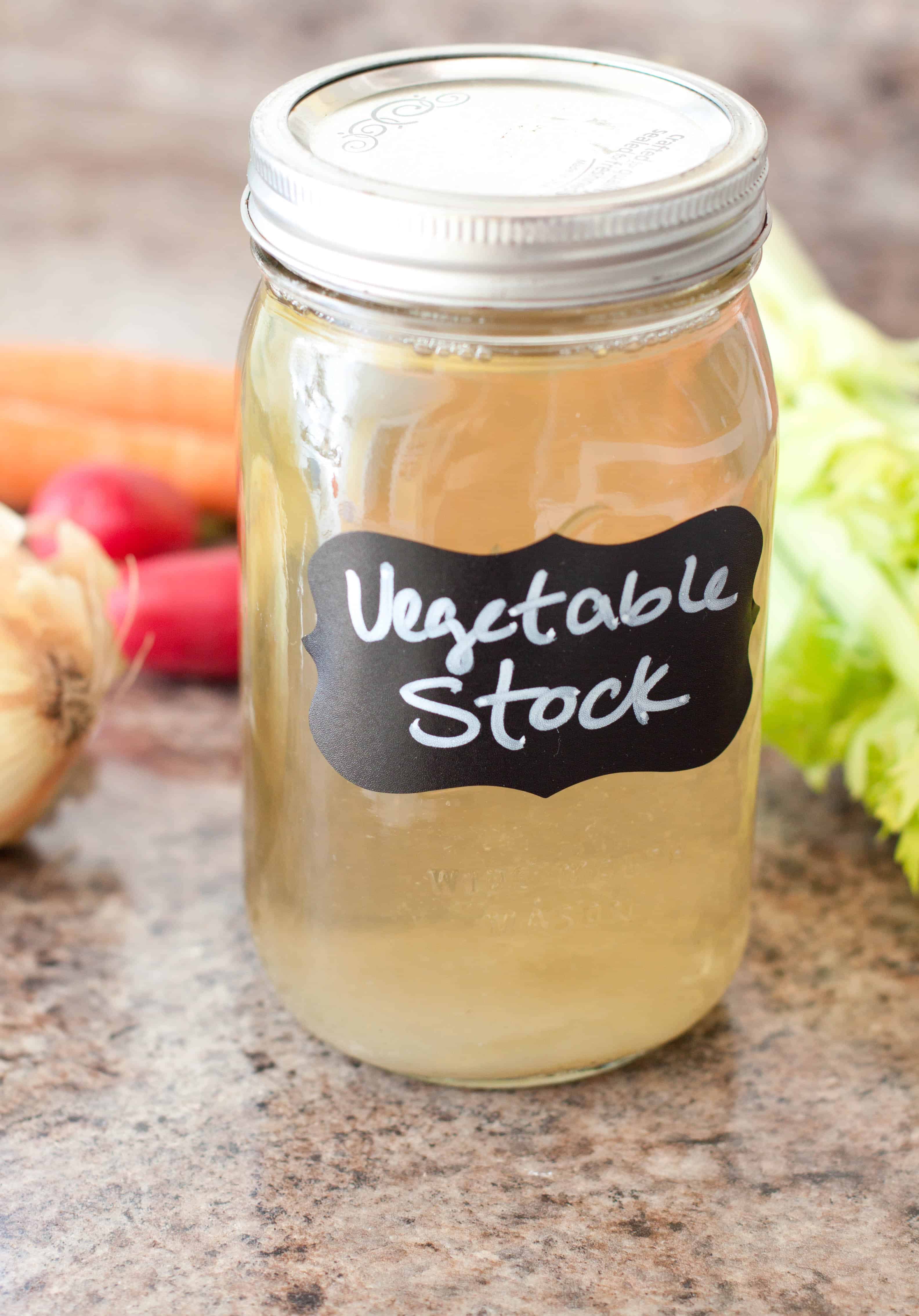 And if you have a few minutes, check out the amazing folks over at Action Against Hunger to see the incredible work they're doing to help quiet the hunger cries from children around the world.
Enjoy! As always, if you make this recipe or any of my others, I love to hear what you think! Leave a comment below, email me, or you can find me on Facebook, Instagram, and Pinterest!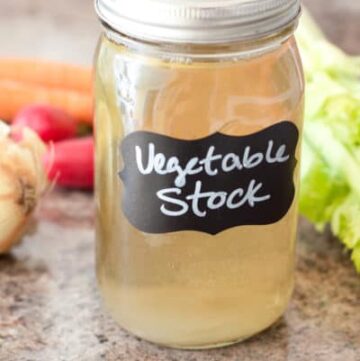 Vegetable Stock From Scratch
Don't throw away those past their prime or leftover veggies, get more mileage out of them by making your own Vegetable Stock from scratch!
Print
Pin
Rate
Ingredients
10

cups

of water

Whatever veggies you have - Best: carrots

celery, leeks, onions, garlic, mushrooms, radish / beet tops, root vegetables (turnips, rutabagas, radishes).

1 - 2

tablespoons

of salt

less for lower sodium stock
Instructions
In a large stock pot add all your veggies, 10 cups of water, and salt.

Bring pot to a boil and cook for 15 minutes then lower to medium low and simmer for at least an hour - more if you have the time. The longer it simmers the more flavor you'll develop.

Store in an airtight container in the fridge for about 2 weeks on the freezer for 1 month. Or it can be canned by only by using