This Easy Crusty French Baguette is simple enough to be made at home but tastes just like you bought it at your local bakery!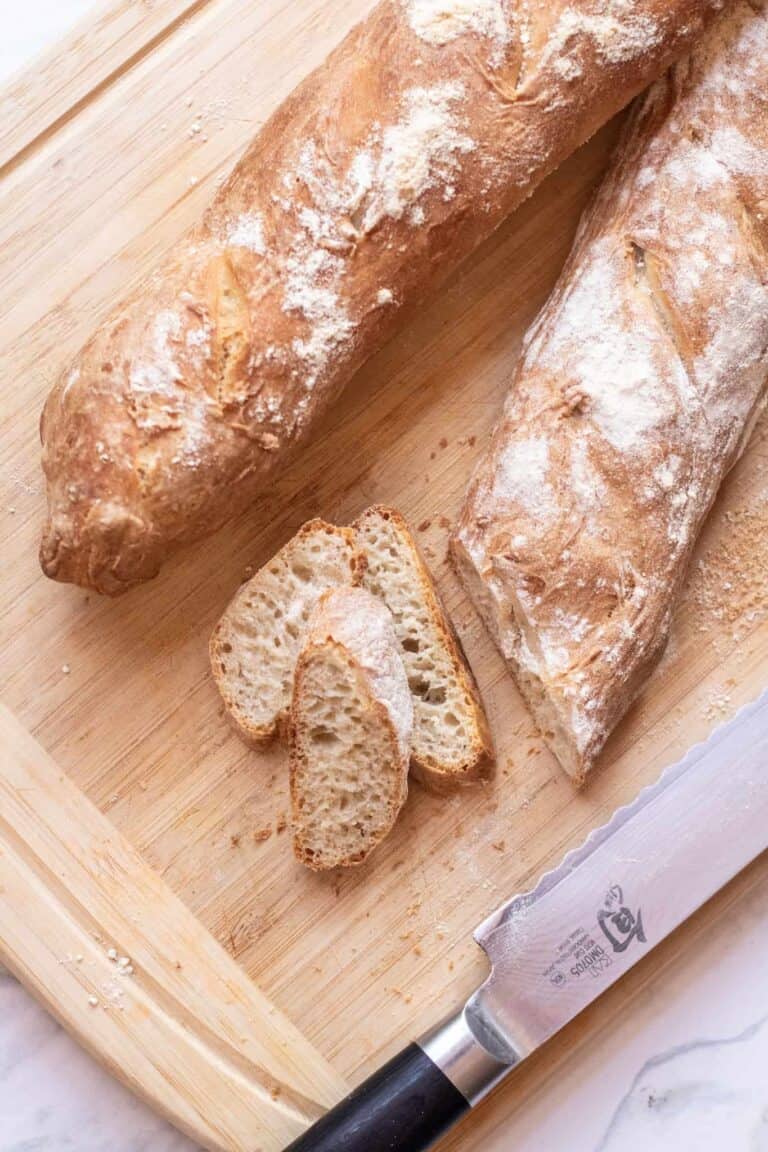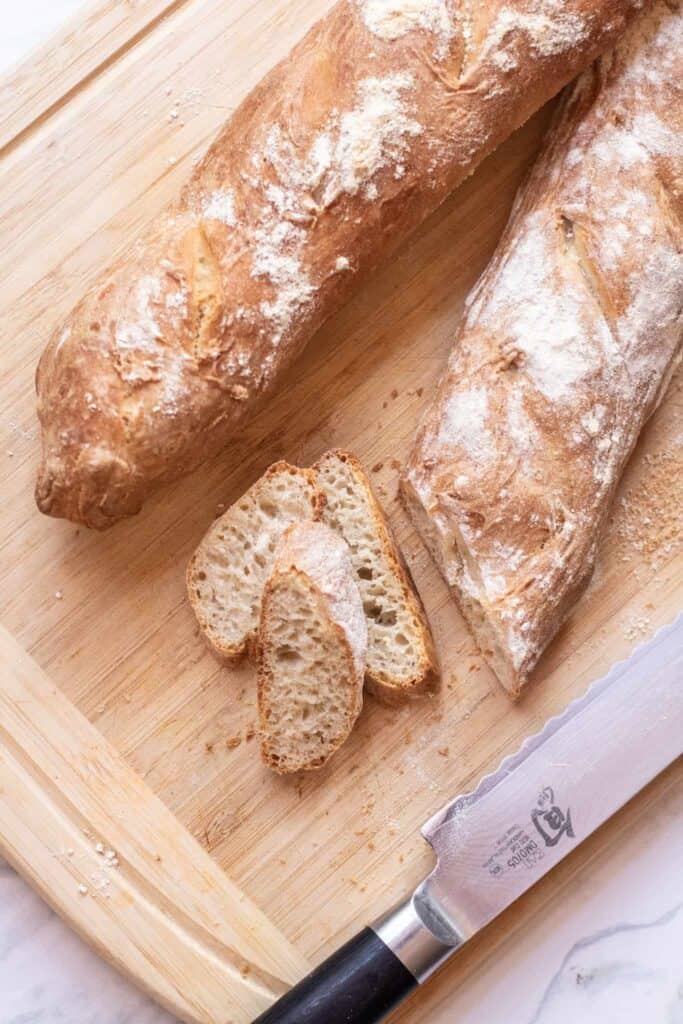 Hellloooo fellow quaran-carb friends! Let me introduce you to our newest carb love, this Easy Crusty French Baguette!
I don't know about you guys, but we are carb-loading hard during self-isolation. We've been baking a LOT of bread. And one of my deepest loves? A crusty French baguette, which we now can make at home.
Ingredients Needed: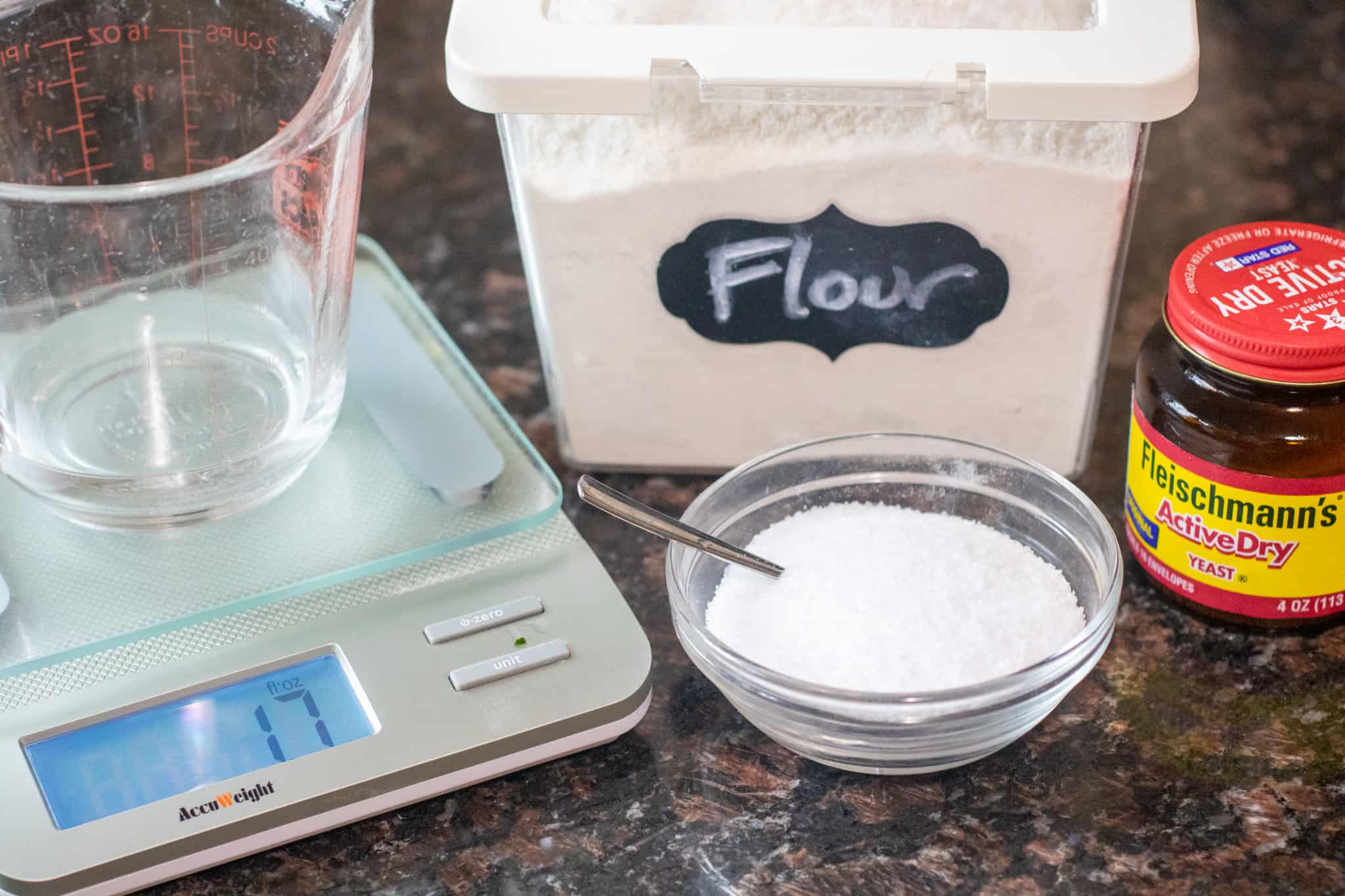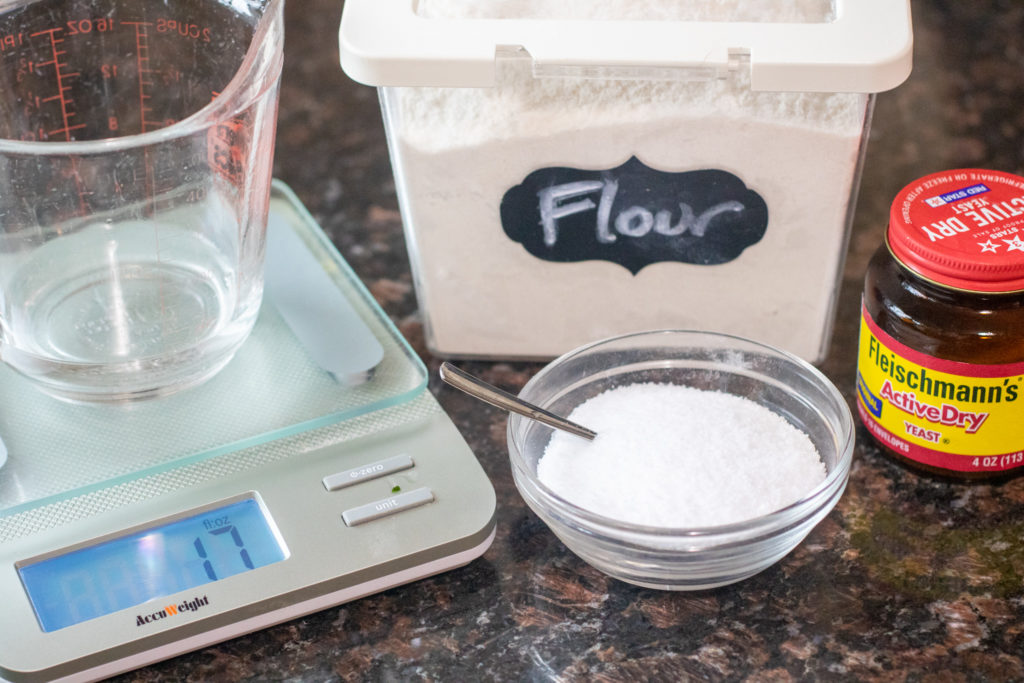 Flour (bread flour is ideal, but not necessary
Yeast
Kosher salt
Water
Equipment Needed:
A Kitchen Scale is really necessary if you want to do a lot of baking as to get the right ingredients We love this one!
Also, to help with the Maillard reaction, AKA the gorgeous browning effect, you'll need a little spray bottle with water. Nothing fancy, just something like this one.
A Lame Bread Slashing Tool - this is basically a super sharp bread razor to make those lovely bread slashes. You can also use a super sharp knife, but isn't it always more fun to have a special tool?
How to Make:
This bread is an easy one that doesn't require a starter or a lot of prep time, which is why it's exactly the kind of bread that stays in our repertoire. It's really very easy:
Dissolve the yeast - this recipe calls for fast acting yeast, but you can also use regular active yeast and just wait a bit longer until it's activated.
Mix flour - not a lot of kneading required, which is one of the best parts of this recipe!
Let rest / rise - let it do its thannng
Shape into loaves (and rise again)
Bake!
Bake the next day: You could also after kneading it, place it in the fridge to bake the next day. Just add it to an oiled bowl, cover it tightly with plastic wrap, and place it in the fridge. The next day, punch it down, let it rest for about 10 minutes, and then shape.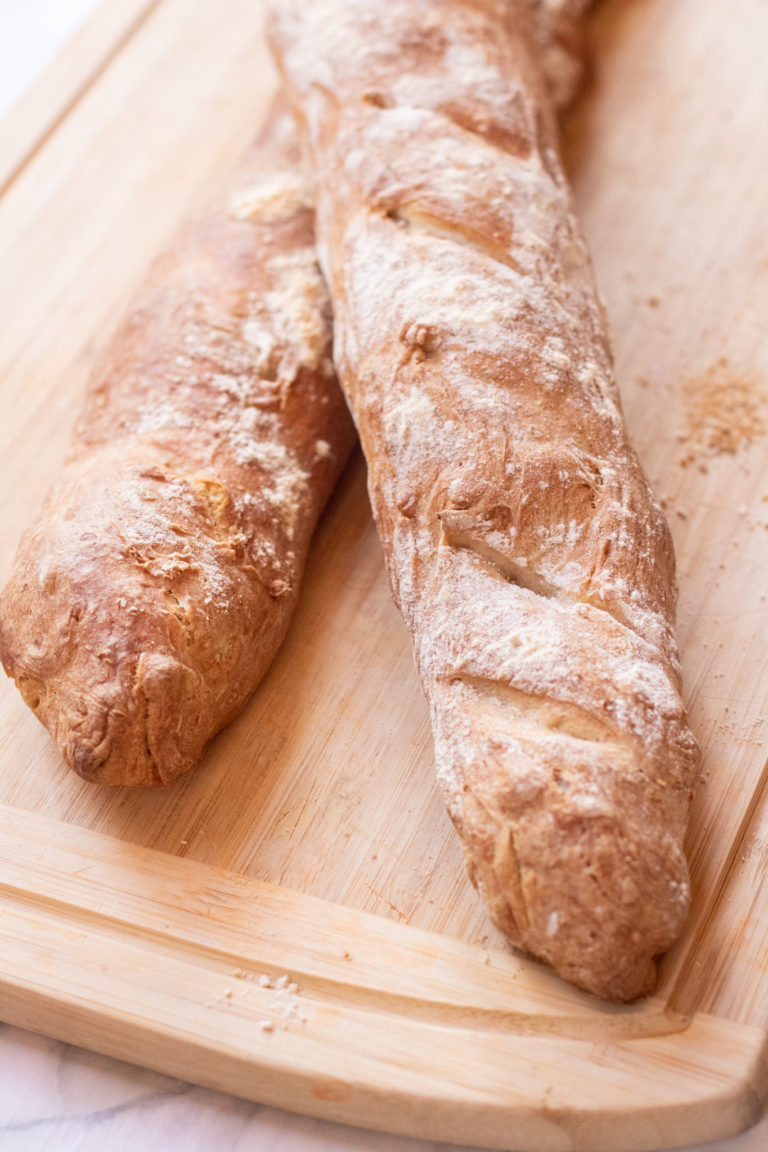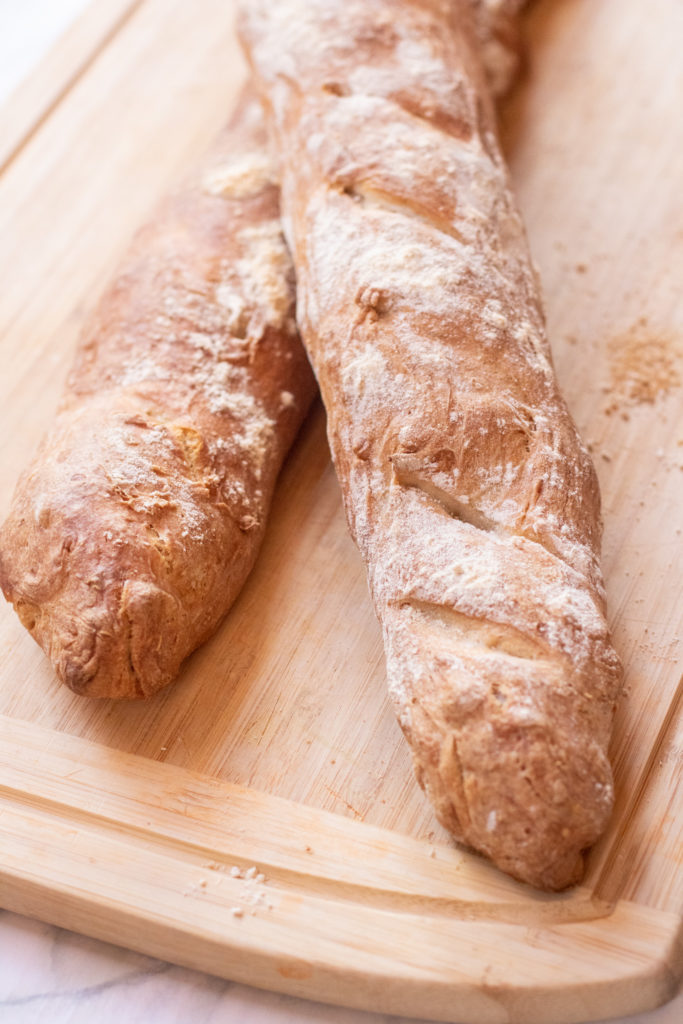 I decided to just make two baguettes, but you could definitely make four. Personally, I like 'em long, but it will make it difficult if you don't have a sheet pan big enough, so really, this recipe will make up to 4 crusty loaves.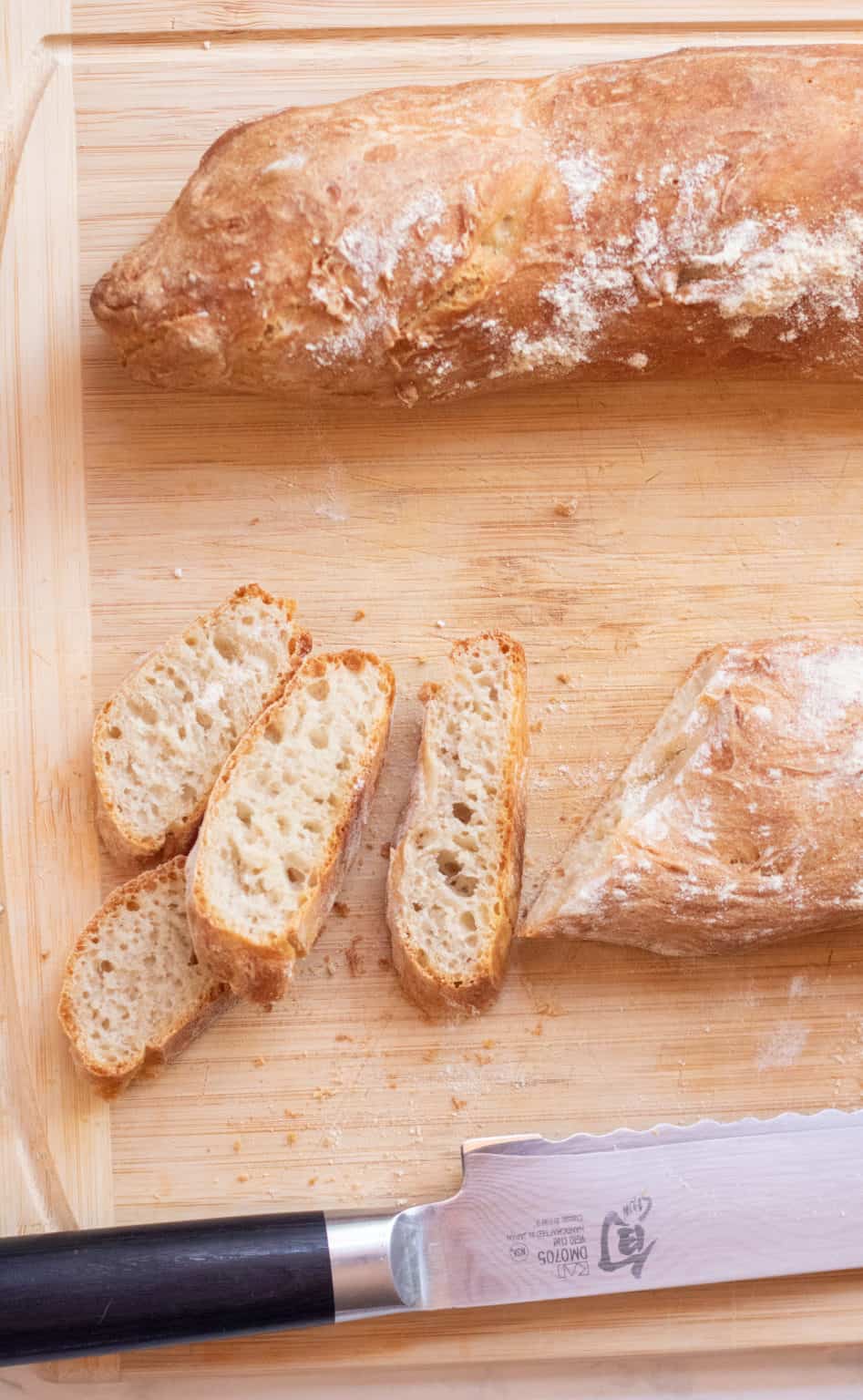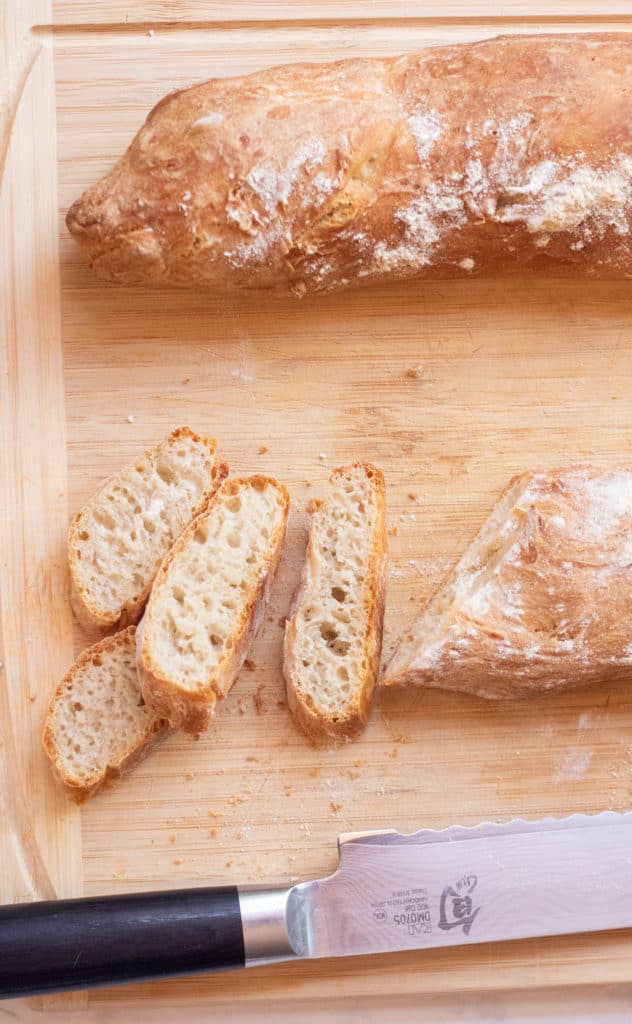 I seriously love this baguette. It is the perfect addition for a wine and cheese afternoon with girlfriends and any cheese board or charcuterie. We love a good baguette.
Favorite Recipes to Serve With:
Fresh, Easy, Pico de Gallo From Scratch
Whipped Feta and Arugula Crostini
Or, hey at this time in life if you just want to sit down with an Easy Crusty French Baguette and some butter with a glass of wine and binge something on Netflix... get it. I'm with you, 100%. Definitely did that with one of these bad boys.
Our Other Favorite Breads
No Knead Rosemary Garlic Bread
Easy Dinner Rolls From Scratch
So my quarantine baker buds, bake on! As always, if you do please let me know!! I love to hear about it on Facebook, Instagram, and Pinterest!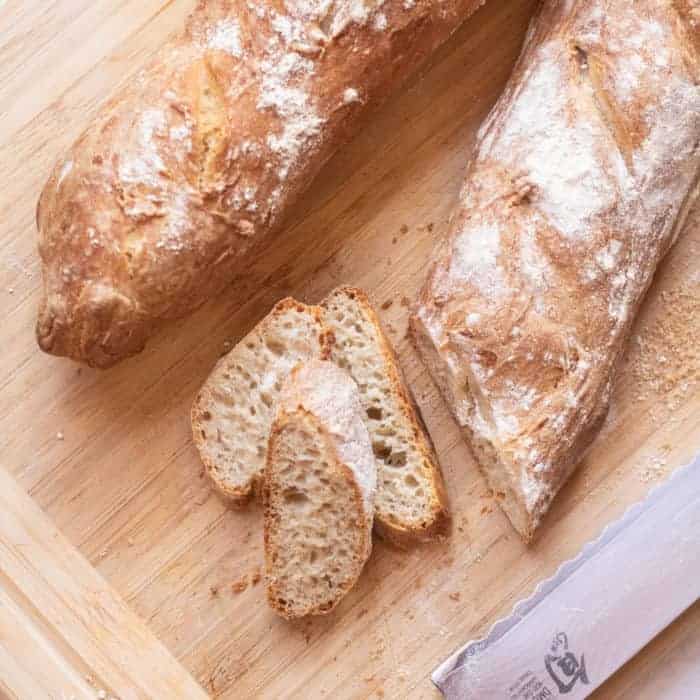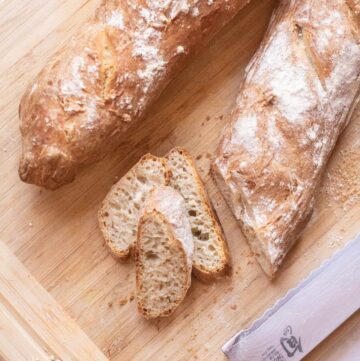 Easy Crusty French Baguette
This Easy Crusty French Baguette is simple enough to be made at home but tastes just like you bought it at your local bakery!
Print
Pin
Rate
Ingredients
49.5

grams

warm water

1.75 fl oz or 1/4 cup

1

teaspoon

quick rise yeast

453.5

grams

bread flour, or all purpose flour

or 3 2/3 cups, or 1 lb of flour

1 3/4

teaspoons

kosher salt

296

grams

water

10 fl oz or 1 1/4 cup
Instructions
Add warm water to a bowl and dissolve the yeast.

In a medium sized bowl, measure out flour, add salt and stir and then add yeast.

Add water (a little at a time) to the dough and mix into a a shaggy dough. The dough shouldn't be sticky, so you may not need to add all of the water.

Cover bowl with plastic wrap and let rest for 30 minutes.

After 30 minutes, add dough to a lightly floured surface and gently knead a couple of times before putting in a lightly oiled bowl to rise. Cover with plastic again and let rise for 1 hr.

Lightly flour surface. Divide dough in half. And then halve again to get 4 equal portions that are about 10 inches long. Shape doughs into long loaves with pointed ends. Cover with oiled plastic wrap or a dry linen towel and let rise again until almost doubled - about 30-45 minutes.

Once doubled, gently transfer loaves to parchment lined baking sheets. Sprinkle with flour and then slash with a bread lame slashing tool.

Spray loaves with water and then add to oven. Set time for 30 minutes. Let bake for 5 minutes (25 min mark) and then spray with water. After another 7 minutes (at 18 min mark) spray again with water.

Bake for a total of 30 minutes or until baguettes are brown and crusty. Remove from oven and let cool. When the bottom is tapped, they should sound hallow.
Notes
If you only have active yeast that's not quick rise, add yeast to water and let activiate for 5-10 minutes until the yeast begins to be foamy.