Homemade feta cheese and cream cheese whipped together and topped with arugula make this Whipped Feta and Arugula Crostini the perfect party appetizer. Not only is it a great finger food idea, but it's also an easy, healthy appetizer for a crowd or party!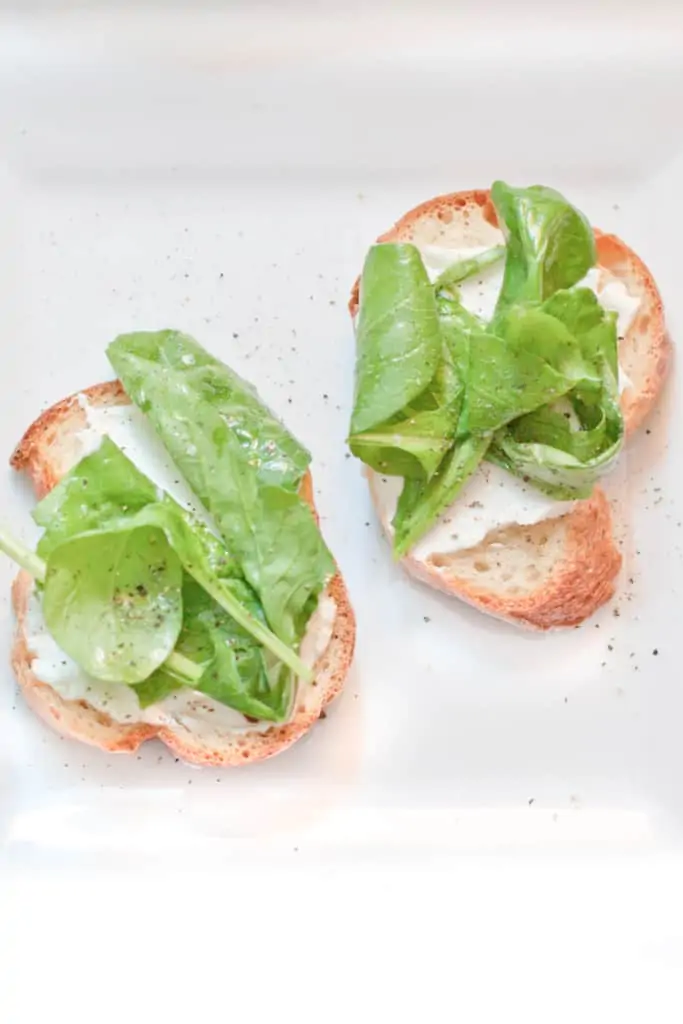 I have two words for you: Whipped. Feta. Say it with me... but feel free to add a "freakin" in-between 'cause that's how I feel about this new hybrid love-child of our homemade feta and our homemade cream cheese. I am so in love, and as many love-child recipes happen, this Whipped Feta and Arugula Crostini was a happy mistake.
We love this easy crostini not only because it's made from homemade cheese and uses a homemade baguette, but also because if you don't have time to make any homemade, no problem. You can still make a delicious, healthy, easy appetizer for a crowd in just minutes using store-bought items. Add as much or as little from scratch flair as you want/can!
Ingredients Needed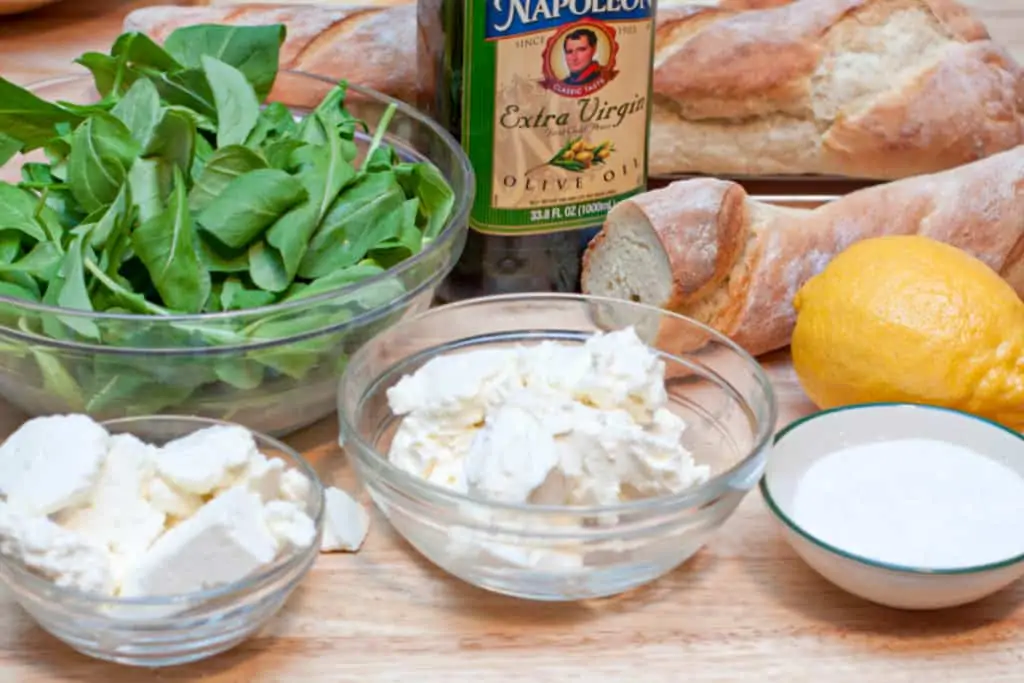 Feta Cheese - Did you know you can make your own?! It's a total labor of love and, I'll be honest, a lot of work. But still, so so cool to make it yourself. Or, of course, use your favorite brand.
Cream Cheese - This cheese we love to make. Not only for our homemade bagels, but also, cream cheese frosting!
Arugula - We love the peppery kick of fresh arugula, but this is also lovely with a fresh spinach, too.
Fresh Baguette - We have a couple of options for this, you could either make our Vietnamese Baguette that's softer, or our Easy Crusty French Baguette which has a more traditional crusty crust. Both are fantastic for this!
Lemon, Olive Oil, Salt, and Pepper - All the dressing that the arugula needs! Be sure to bust out that good olive oil, too. You know, the one that you don't cook with but save just for vinairgrettes or other dressings.
Easy to Make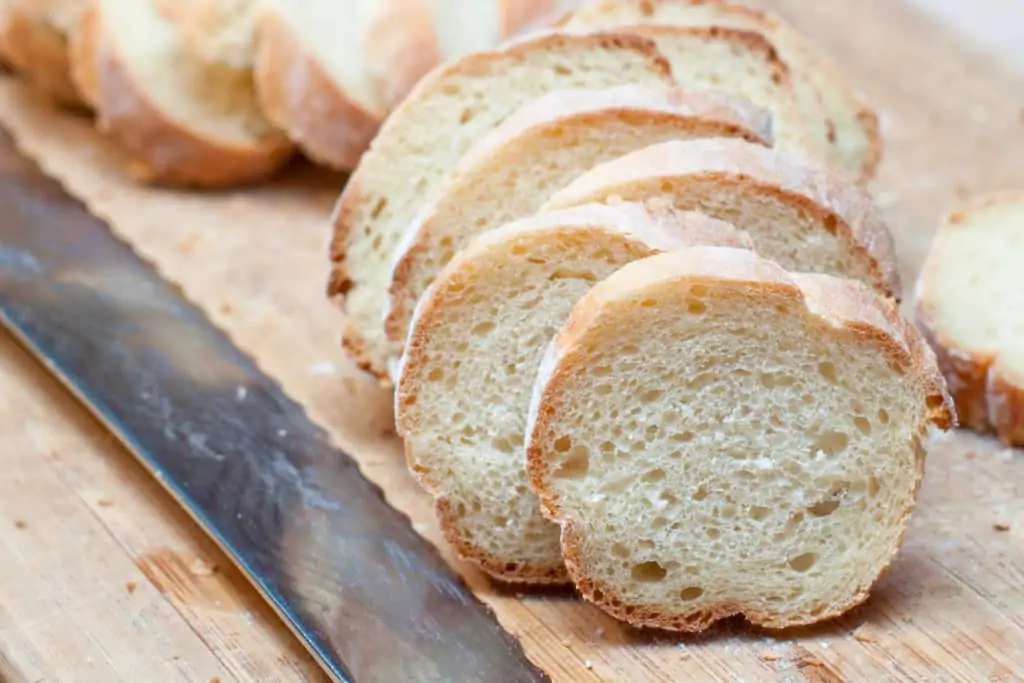 Slice your baguette. Ahh is there anything better than a fresh sliced baguette?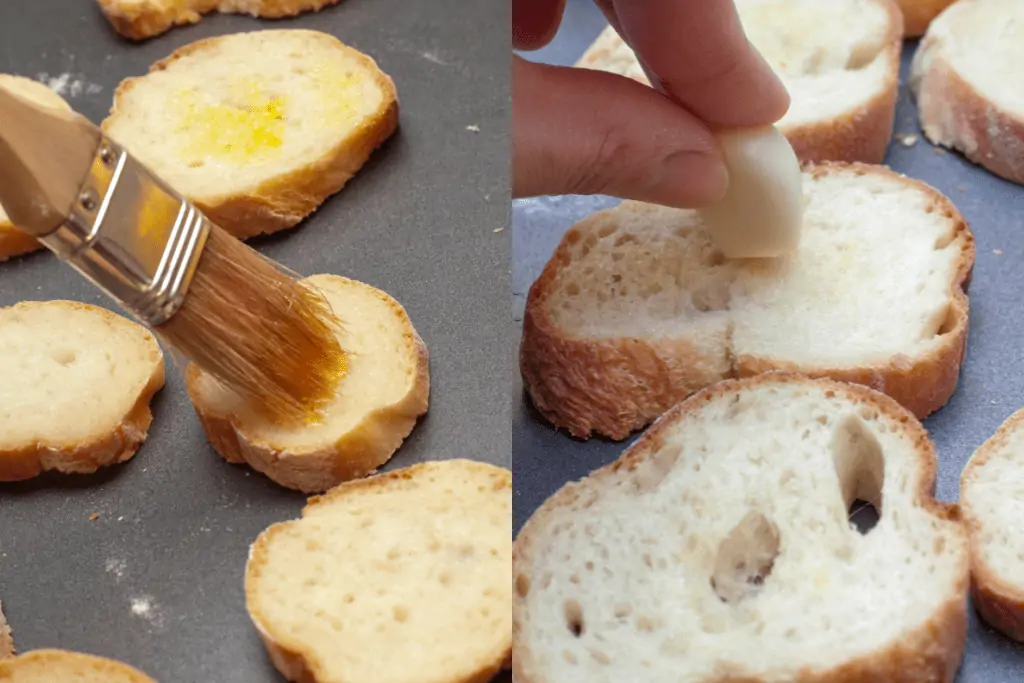 Toast the baguette slices. Key to a crostini appetizer, the toasted baguette. Brush your baguette with a little bit of that good olive oil and toast in the oven.
Pro Tip: Right out of the oven, use a piece of raw garlic and rub it on the crusty warm baguette slices! This gives it just the right kiss of garlic flavor.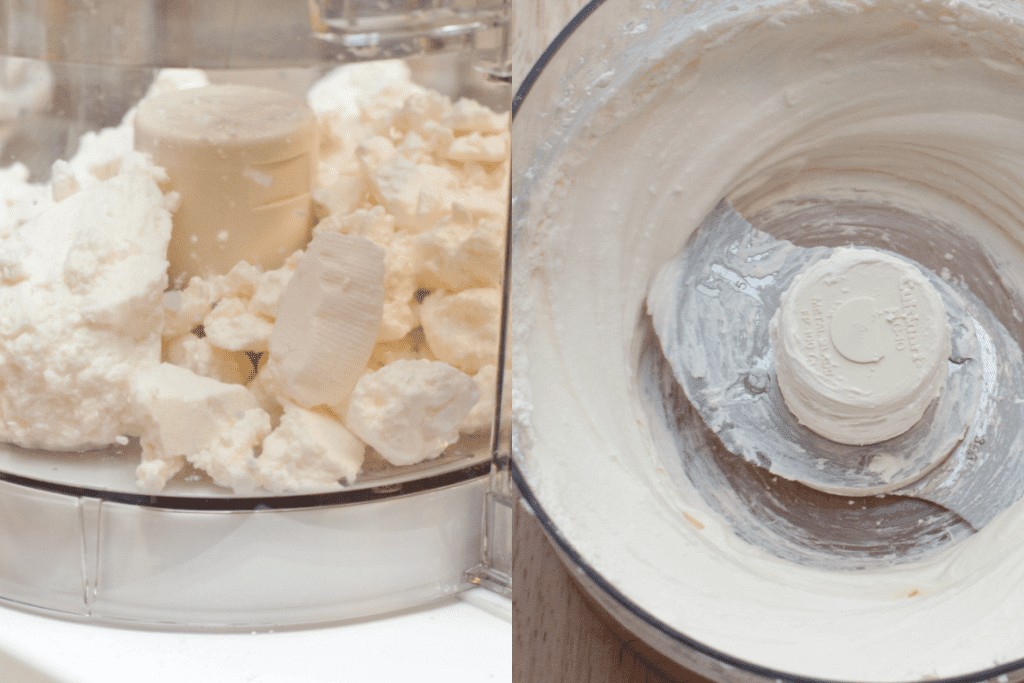 Prep the Whipped Feta. Which is basically just tossing all of the cheese into your food processor and letting it all mix to whipped creamy perfection.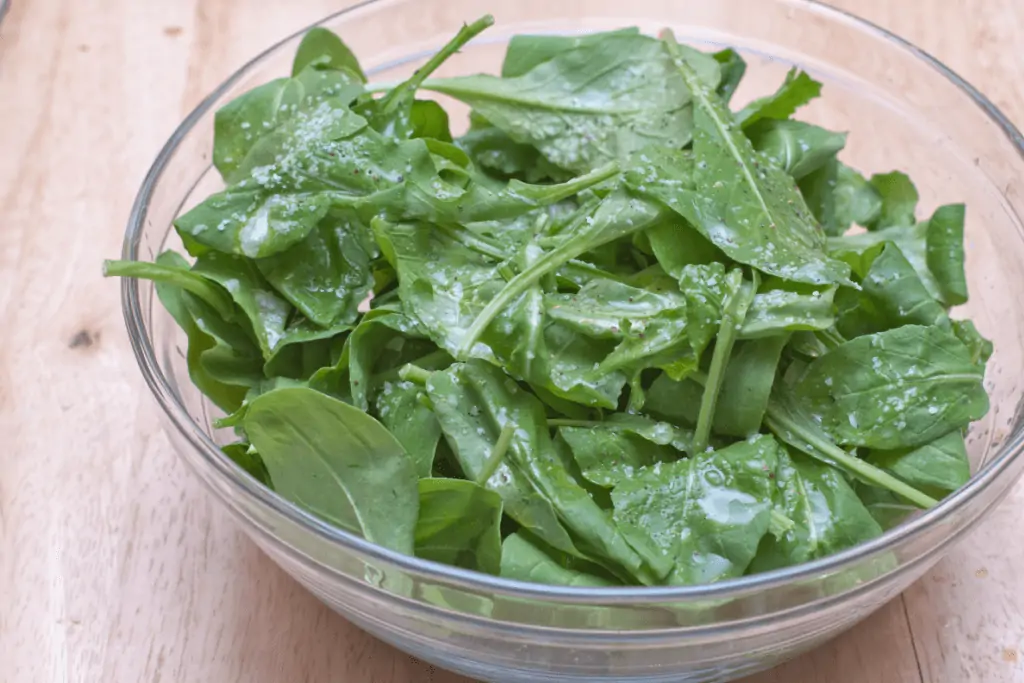 Prep Arugula. But keep it simple. Oil, salt, pepper, and lemon juice.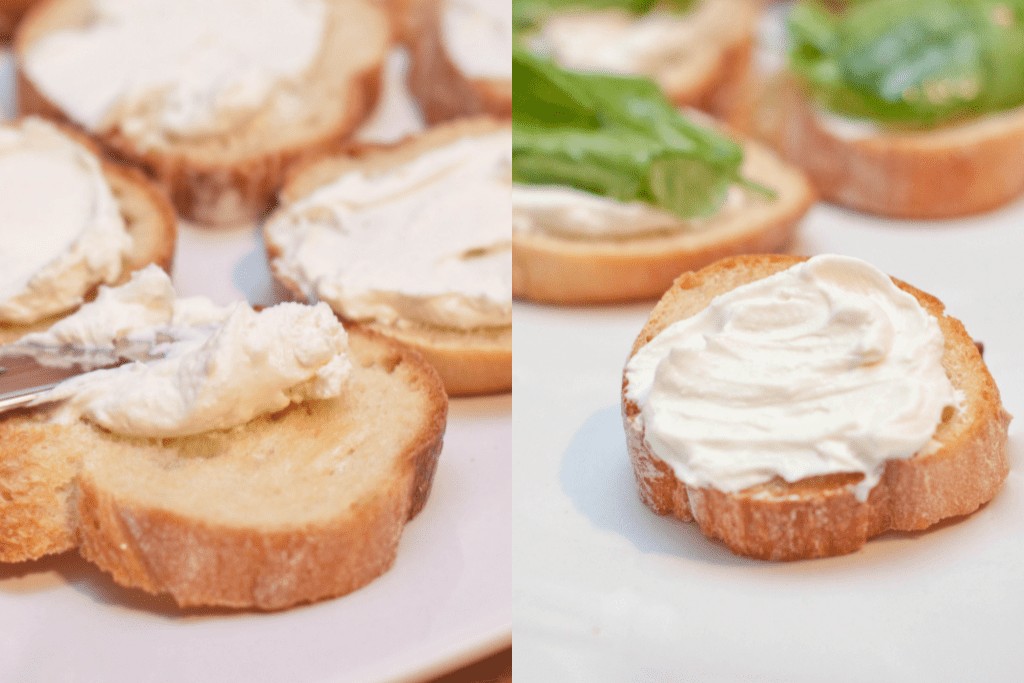 Dress the Crostini. Slather on that whipped cheese.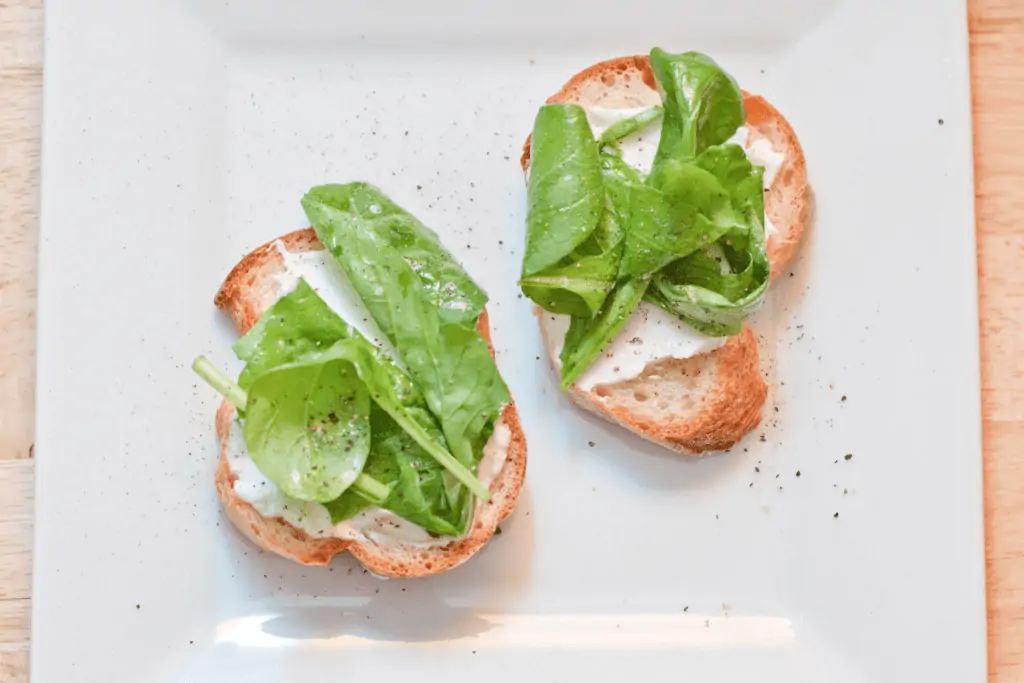 Then top it with the dressed arugula!
How perfect of a little finger food is this? It's healthy. It's ready in under 20 minutes. And it's a perfect appetizer for a crowd!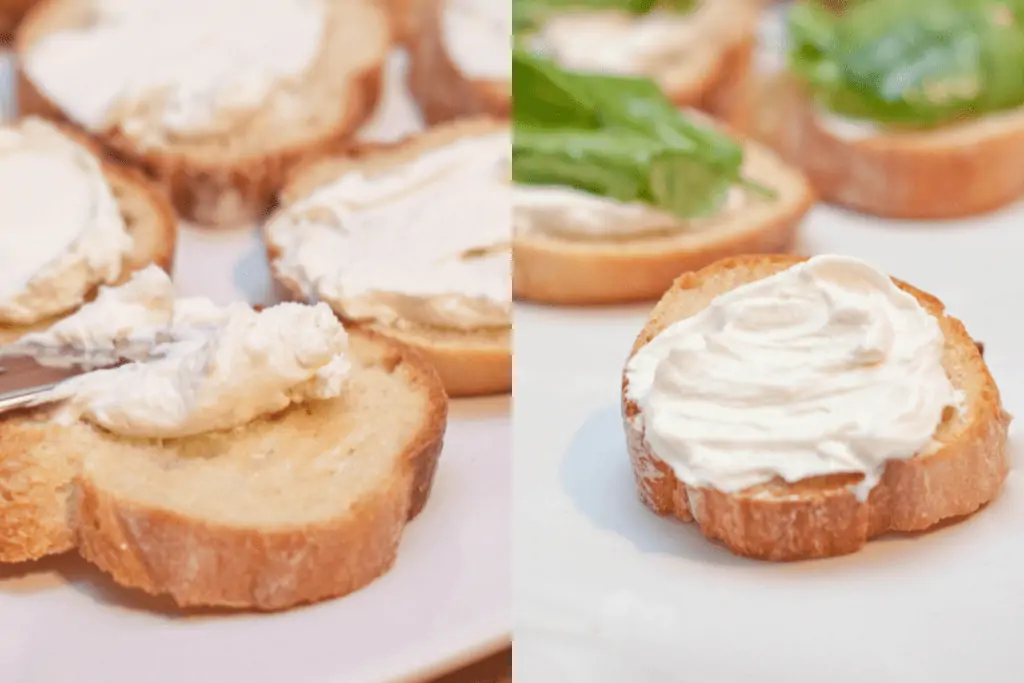 Whipped Feta and Arugula Crostini! Pefrect as is, but also so customizable! Truly, once you have your little crostinis with whipped feta, the toppings ideas are endless. You could also try:
Carmalized Onions
Roasted Cherry Tomatoes
Toasted Walnuts
Drizzle of Honey
Sauteed Mushrooms
Roasted Figs
So many options!
Other Easy Finger Food Appetizers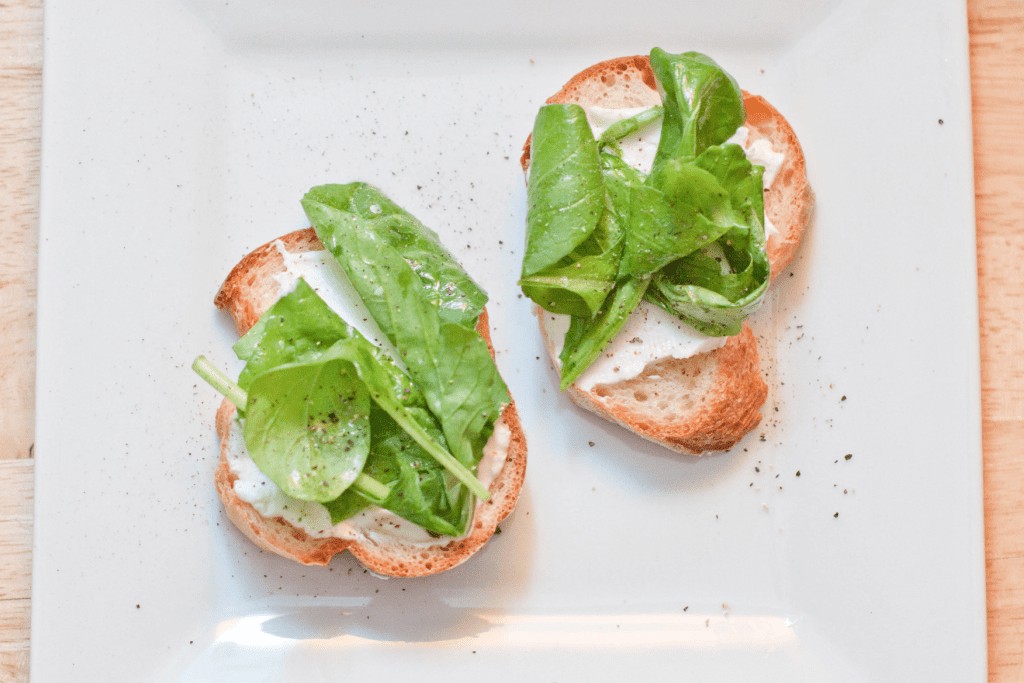 So get your party hosting on with this healthy, vegetarian, easy little appetizer while getting in your greens!
Enjoy! As always, if you make this recipe or any of my others, I love to hear what you think! Leave a comment below, email me, or you can find me on Facebook, Instagram, and Pinterest!
If you want to see more, be sure to sign up for my 5 Easy Ways to Start Cooking From Scratch!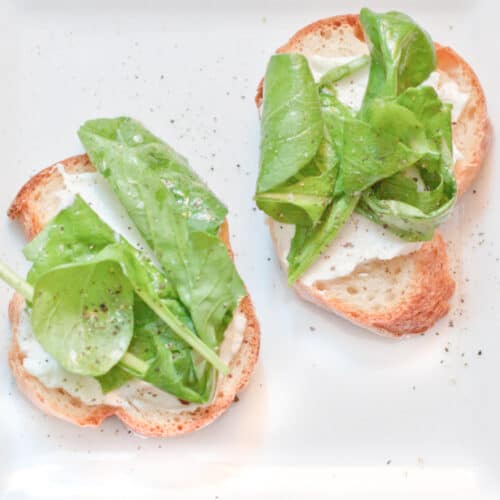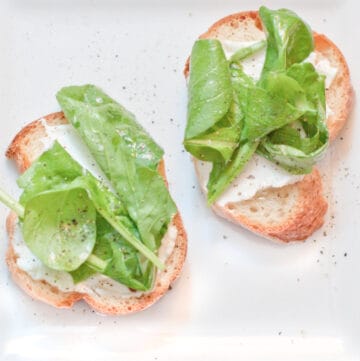 Whipped Feta and Arugula Crostini
A simple yet elegant appetizer!
Print
Pin
Rate
Ingredients
Crostini
1

Baguette

1

tablespoon

olive oil

1

garlic clove

whole with 1/4 sliced off

3

oz

of arugula

1/2

lemon

juiced, about 1 tablespoon of lemon juice

pinch

salt

pinch

pepper
Instructions
Pre-heat oven to 350 degrees.

Slice baguette into about 15-20 baguette slices. Add olive oil to a small dish. Brush with olive oil on each side. Bake for 7 1/2 minutes, flip, and then bake for another 7 1/2 minutes.

Meanwhile, add feta to a food processor and blend quickly to break it down. Then add the cream cheese and blend until creamy.

Mix arugula with remaining olive oil in dish, add the juice from half a lemon and mix. Add about a 1/2 - 1 teaspoon of salt to taste to arugula and a few grinds of a pepper mill. Mix well.

When crostini are toasted, remove from oven and gently rub garlic on each slice of baguette. Vary garlic flavor by amount rubbed on crostini.

Top crostini with a layer of whipped feta and then a few sprigs of arugula.

Enjoy!
Nutrition
Calories:
87
kcal
|
Carbohydrates:
7
g
|
Protein:
3
g
|
Fat:
5
g
|
Saturated Fat:
3
g
|
Polyunsaturated Fat:
1
g
|
Monounsaturated Fat:
2
g
|
Cholesterol:
15
mg
|
Sodium:
218
mg
|
Potassium:
47
mg
|
Fiber:
1
g
|
Sugar:
1
g
|
Vitamin A:
206
IU
|
Vitamin C:
2
mg
|
Calcium:
78
mg
|
Iron:
1
mg