Homemade feta cheese and cream cheese whipped together and topped with arugula for this Whipped Feta and Arugula Crostini, the perfect party appetizer!
Now, I have two words for you: Whipped. Feta. Say it with me... but feel free to add a "freakin" in between 'cause that's how I feel about this new hybrid love-child of our homemade feta and our homemade cream cheese. I am so in love, and as many love-childs happen, this Whipped Feta and Arugula Crostini was a happy mistake. Our feta was at the end of its life expectancy (although it still tasted wonderfully delicious to me), and we still had about 8 1/2 ounces of it left. And I'd just made a toonn of cream cheese for our homemade bagels, but really, how much cream cheese can a couple eat in a week? Even us, not as much as we made. So, I was looking for ways to use said cream cheese. Then I baked a few homemade baguettes for my studly husband's sandwiches this week which made me want crostini... which made me think, mmm feta on crostini... which made me think, but how can I make it nice and creamy and spreadable... and BAM! Whipped. Feta.
So I grabbed a part of a baguette, some baby arugula, lemon, salt, pepper, olive oil, and then our two cheeses.
This was only about 3 oz of the feta that I needed and about 3X the amount of cream cheese I needed.
I used the rest of the feta we had, which was 8 1/2 oz and tossed that in our food processor with only about 3 1/2 oz of cream cheese. I wanted it to be creamy, but still mostly feta with that amazing salty briney feta flavor.
All whipped up... yuuummm.
Then, just a slice of the baguette and a pre-heat of the oven to 350º.
And a brush of the baguette slices with a little bit of olive oil on each side and baked them for about 15 minutes, flipping them half way through for even toasting.
While they toasted I mixed the arugula with some olive oil, probably just a half a tablespoon worth for a good 3 oz of arugula,
and of course lemon juice to cut the bitter pepper arugula flavor,
and then a healthy pinch of salt with just a dash of fresh ground black pepper.
Then, once the crostini were toasted, I added one of my favorite touches of crostini. I sliced a little bit off of a garlic clove, and rubbed the clove on each of the baguette slices so they picked up the garlic flavor.
Then, with a spread of the whipped feta,
and a topping of some of the arugula, we had ourselves a lovely little Whipped Feta and Arugula Crostini! Super simple but super flavorful.
The crunchy baguette had a lovely hint of garlic and the creamy whipped feta was salty and the arugula had the perfect balance of pepper and acid.
So. Good.
The only thing I would have done differently would have been being much much more generous with the whipped feta. Look how creamy. Look how inviting this Whipped Feta and Arugula Crostini is! For the next batch I'm dreaming of caramelized onions... or roasted tomatoes... or figs... The topping choices are literally endless. Even better, it adds versatility to two of our homemade cheeses!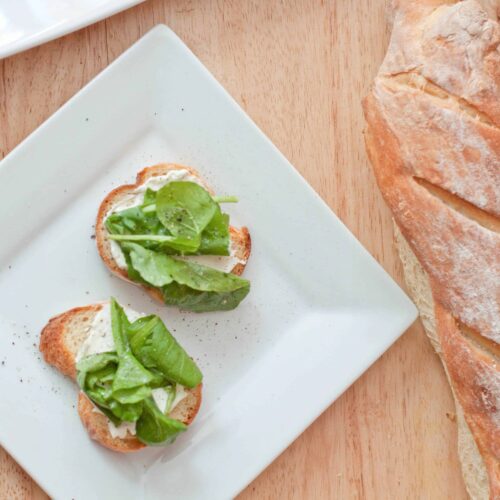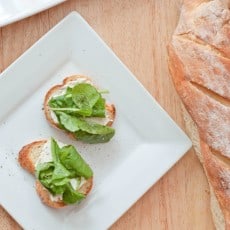 Ingredients
Crostini
1/2

tablespoon

olive oil

1

garlic clove

whole with 1/4 sliced off

3

oz

of arugula

1/2

a lemon

salt

pepper
Instructions
Add feta to a food processor and blend quickly to break it down. Then add the cream cheese and blend until creamy.

Pre-heat oven to 350 degrees.

Pour olive oil in small dish. Slice baguette and brush with olive oil on each side. Bake for 15 minutes, flipping slices halfway through.

Mix arugula with remaining olive oil in dish, add the juice from half a lemon and mix. Add about a 1/2 - 1 teaspoon of salt to taste to arugula and a few grinds of a pepper mill. Mix well.

When crostini are toasted, remove from oven and gently rub garlic on each slice of baguette. Vary garlic flavor by amount rubbed on crostini.

Top crostini with a layer of whipped feta and then a few sprigs of arugula.

Enjoy!