This Super Easy Lemon Vinaigrette is fast to make with simple, whole ingredients and it's much healthier than any store bought dressing.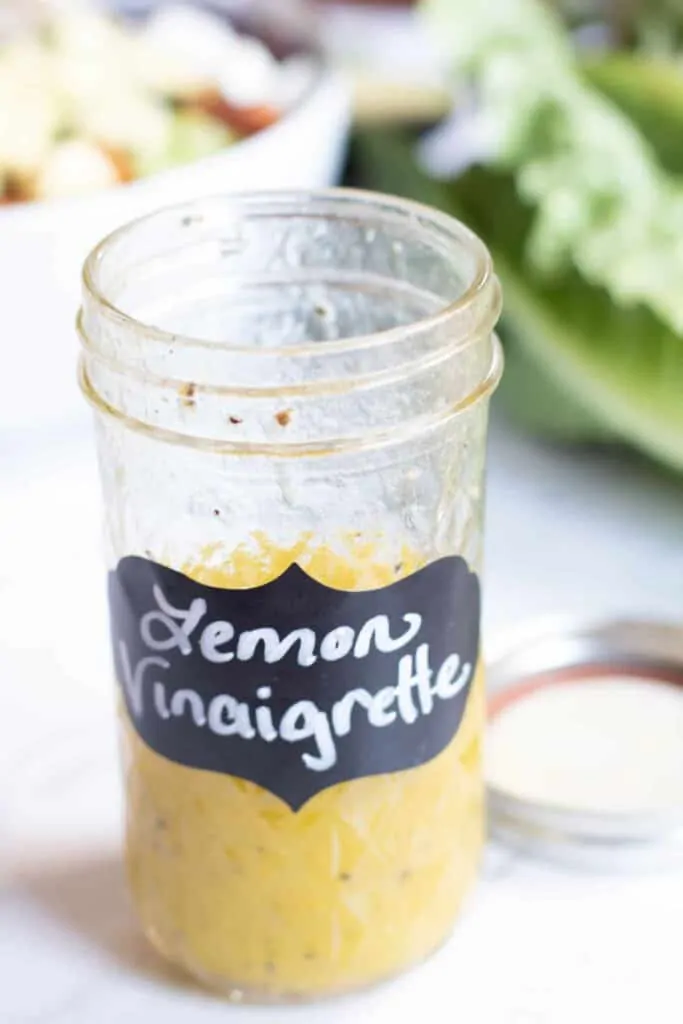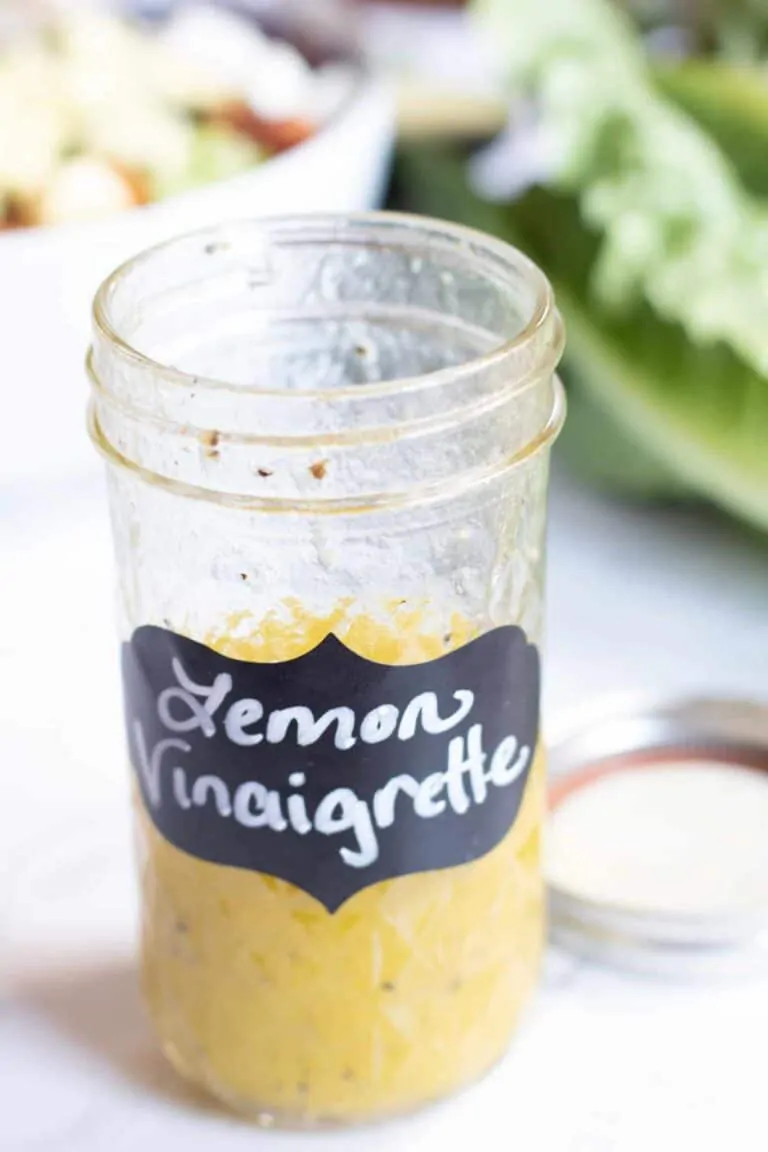 A "gateway" to a from scratch lifestyle? Condiments. They're so easy to make! And hands down one of the easiest? This Super Easy Lemon Vinaigrette that you can whip together in literally minutes.
Ingredients Needed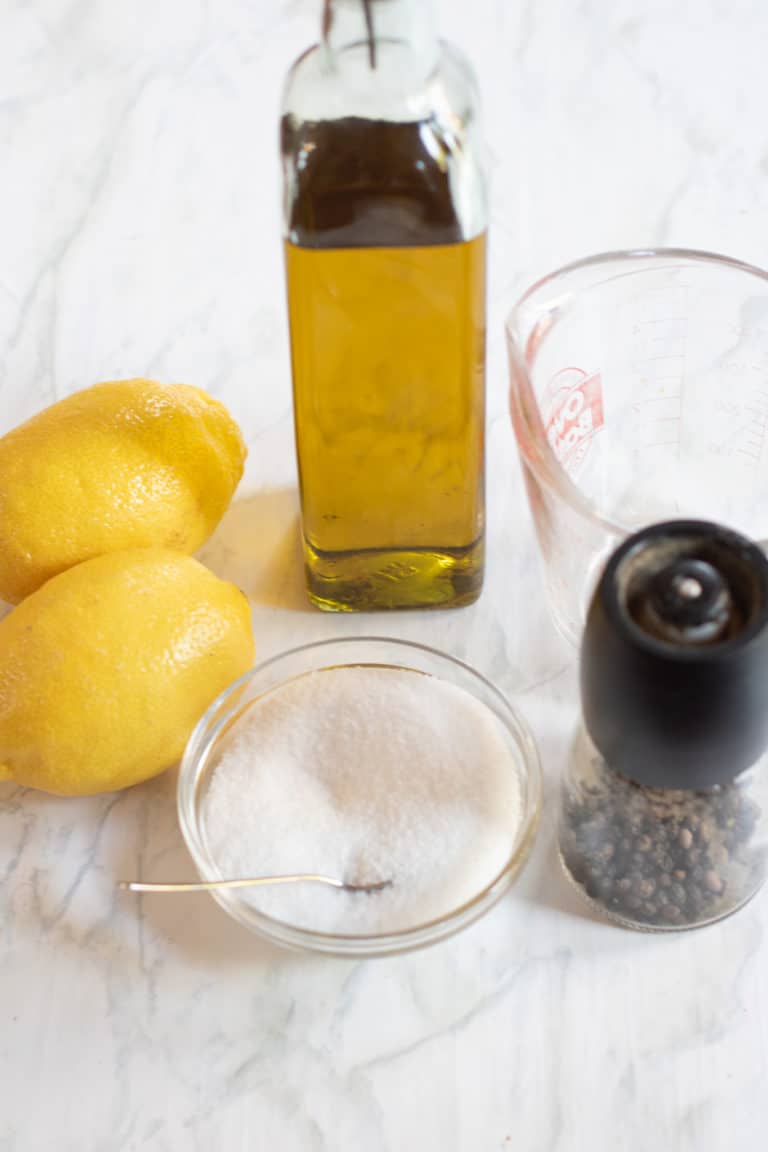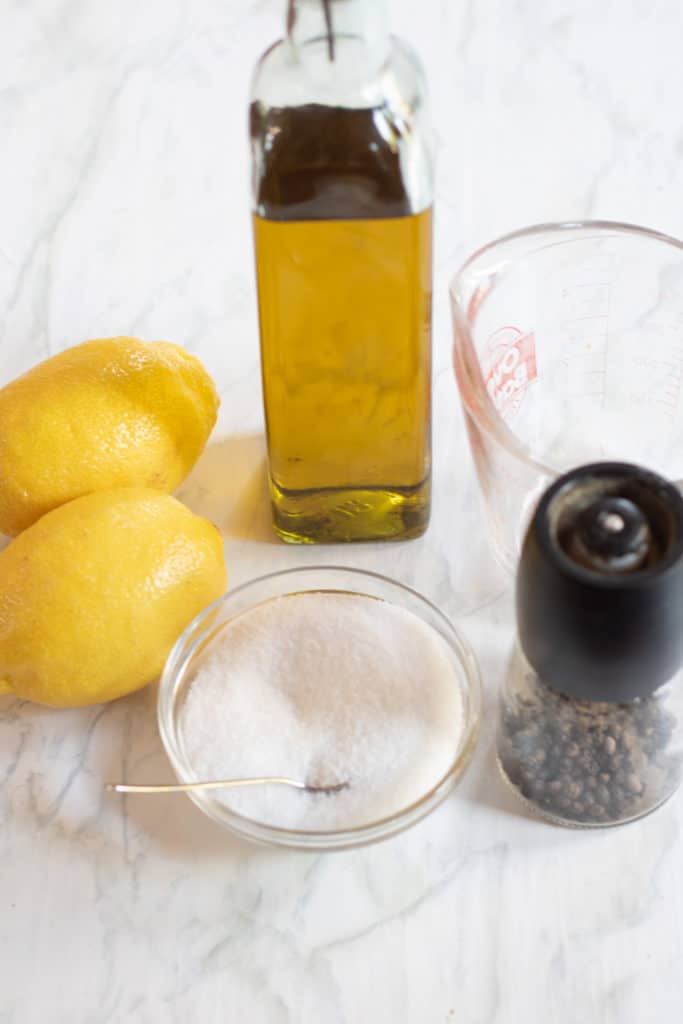 It truly doesn't get much easier, friends.
Extra Virgin Olive Oil
Fresh Lemon Juice
Salt
Pepper
What is a Vinaigrette?
This is just as simple an answer as it is to make. It's basically a mixture of oil (olive) with an acid (lemon juice) enhanced with salt and pepper. From there you can add almost anything you'd like! As long as it has an oil and acid base, you'll have yourself a vinaigrette!
A great vinaigrette has simple ingredients and is so simple and easy to make, but soooo much tastier and better for you than anything you'll buy in a store.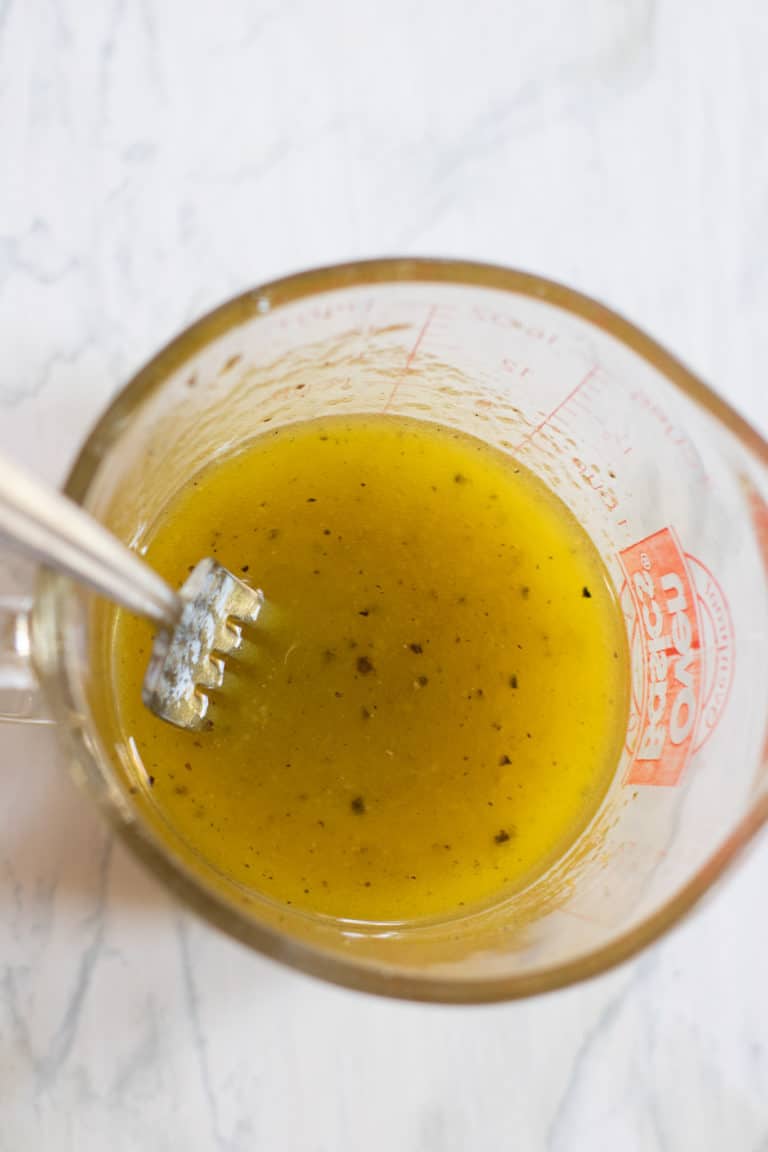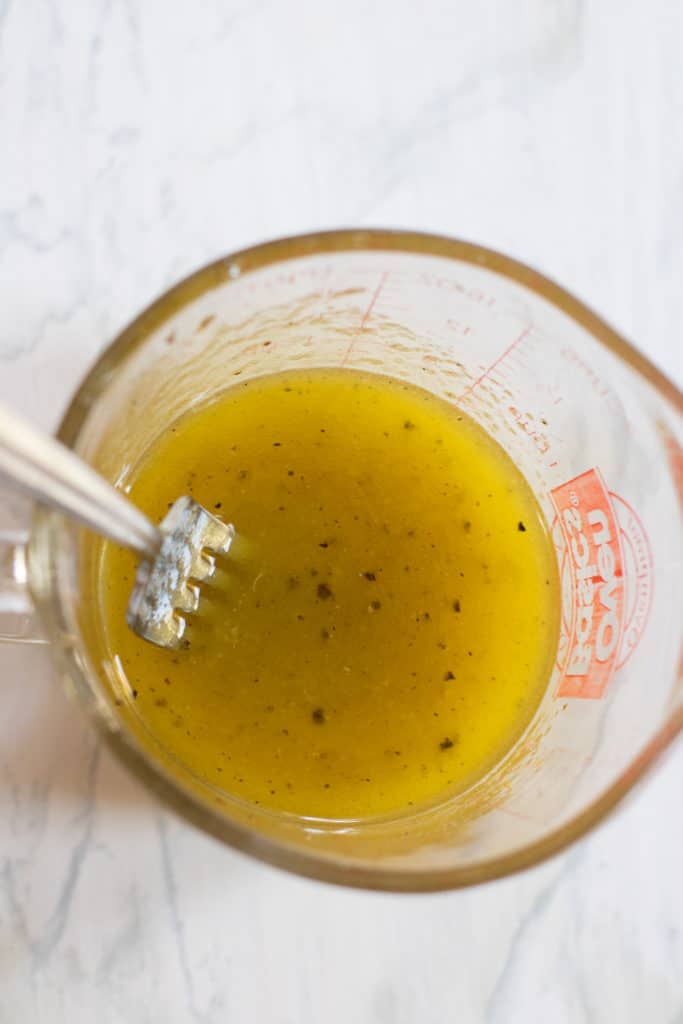 How easy? Well, it's as easy as putting all in ingredients (um, 4) into a dish and mixing. That's how easy.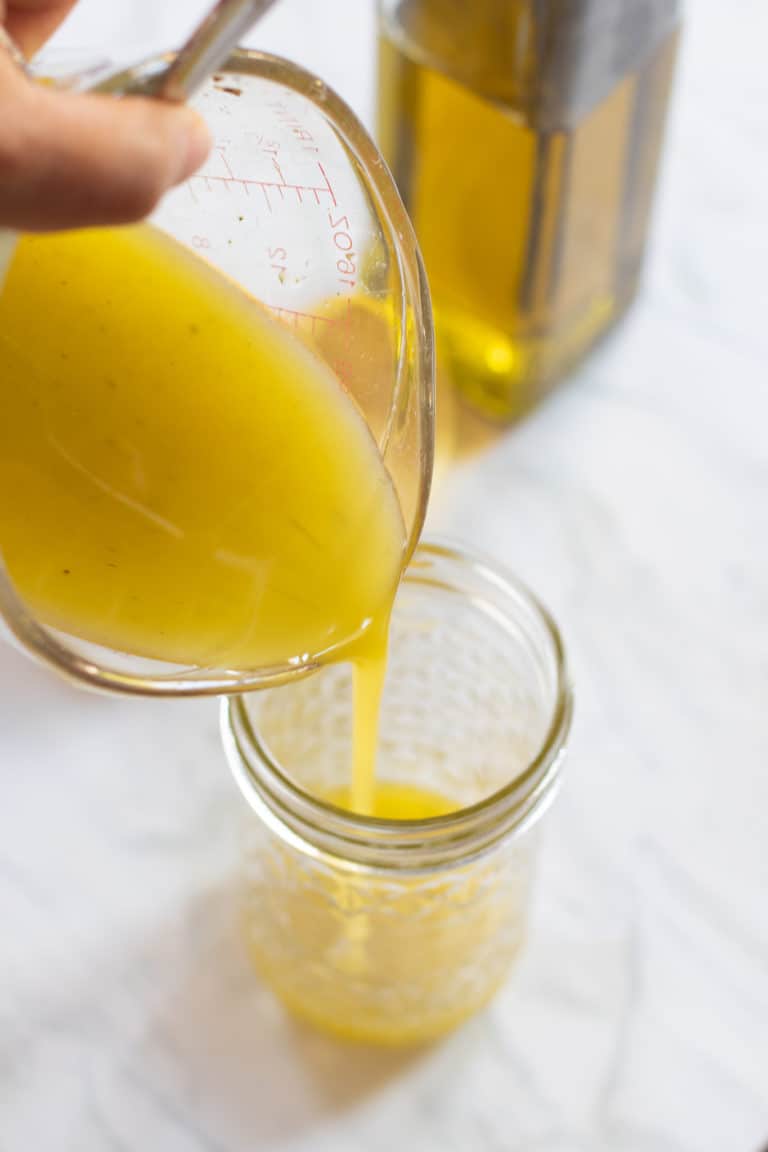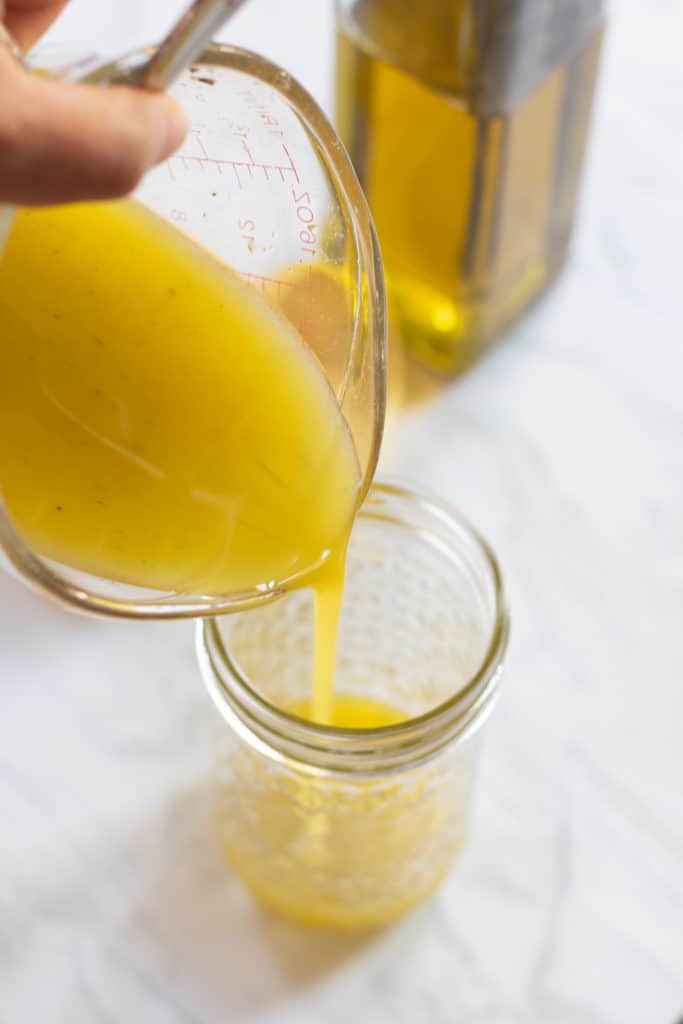 Why Homemade is Healthier
Have you looked at the ingredients list on a jar of salad dressing? Especially one that's low fat or fat free? Follow up question, do you know what half of those ingredients are?
I promise you, whisking together 4 ingredients is almost as easy as opening a jar and is perfect for some of my favorite salads:
Israeli Couscous Cucumber Salad
Roasted Brussels Sprouts and Pomegranate Salad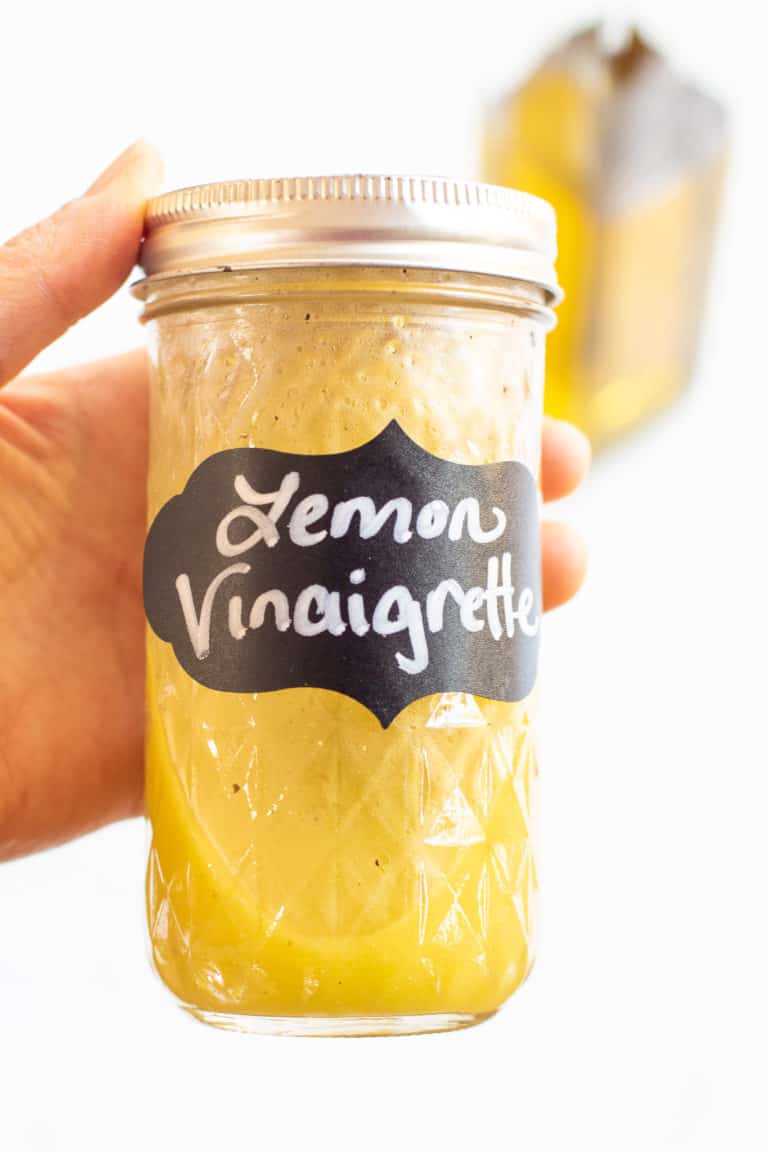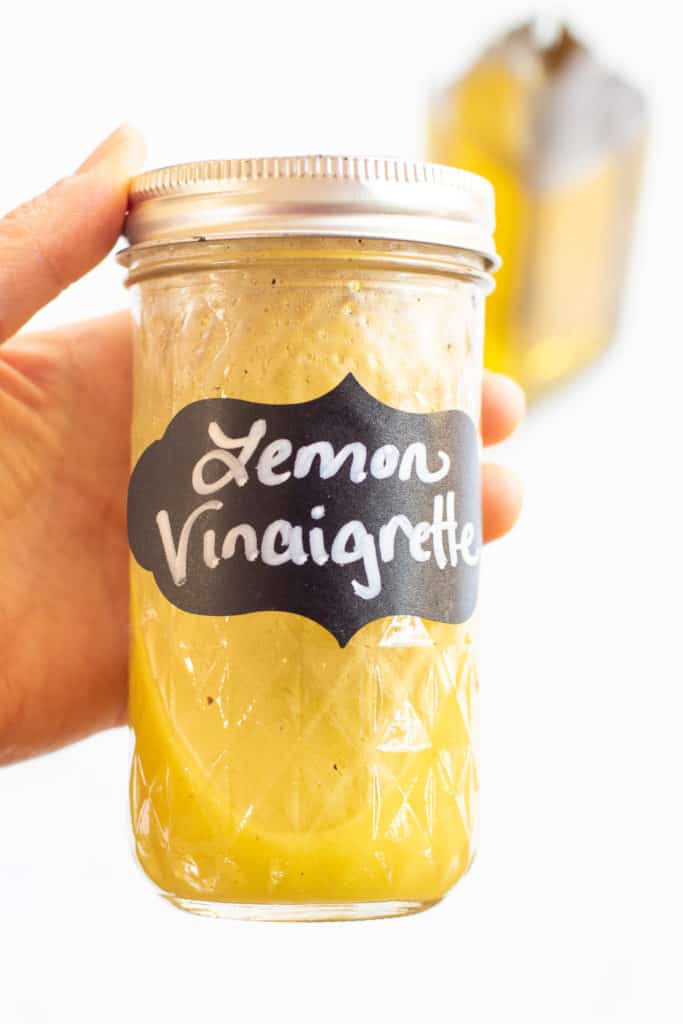 Other Favorite Homemade Dressings:
Blue Cheese Dressing From Scratch
Homemade Ranch Dressing Mix (Just add some Mayonnaise from scratch!)
Easy Caesar Dressing From Scratch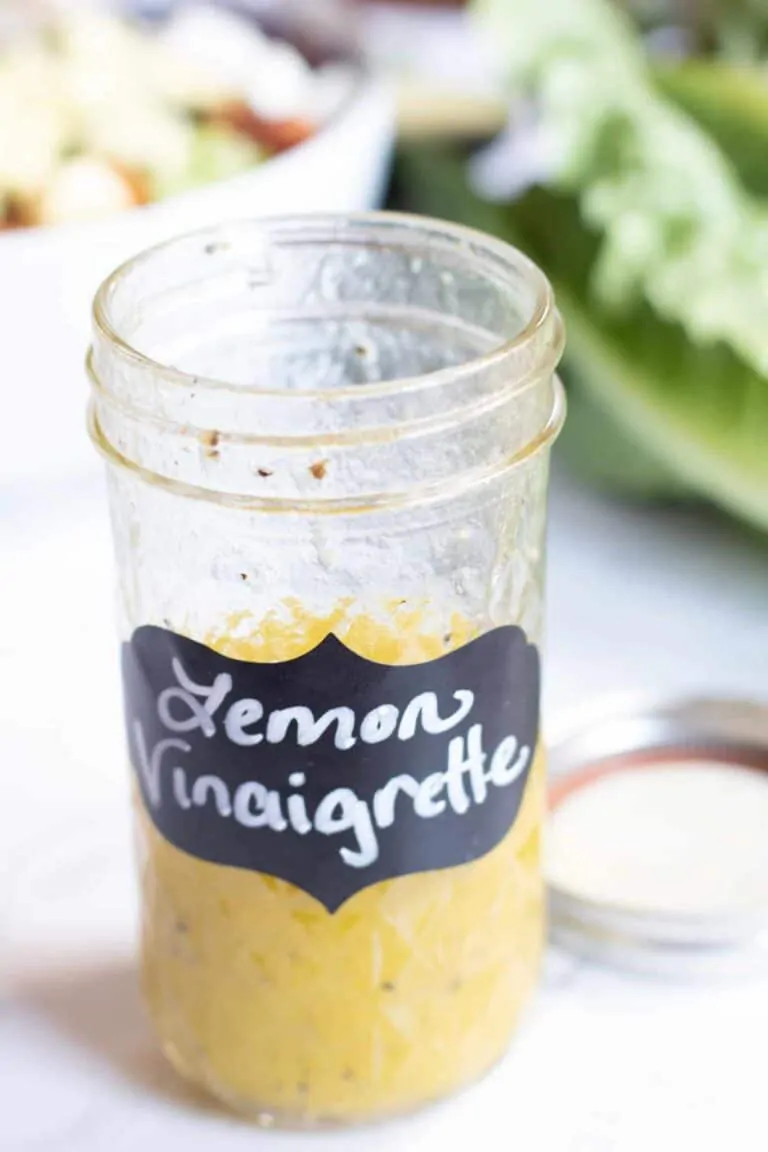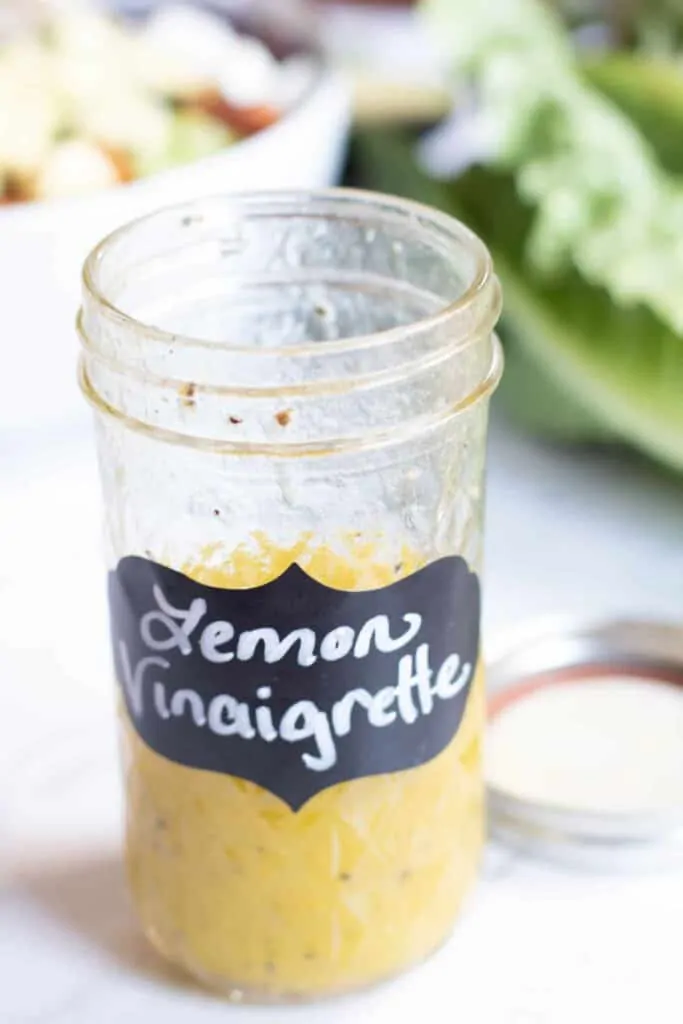 So if you're like me, you're adding a few more salads to your diet to prepare for the delicious holiday season that's rapidly approaching! This Super Easy Lemon Vinaigrette will be balancing out not only Thanksgiving, but the Leftover Turkey Pot Pie and then the holiday party snacks, drinks, and Christmas cookies that are right around the corner!
FAQs
What's the difference between Extra Virgin Olive Oil and other Olive Oils?
Extra Virgin Olive Oil is the top of the line, highest grade, and purest olive oil you can get. It's cold pressed, have no added chemicals, and is 100% pure oil pressed from olives.
Virgin Olive Oil is a step down. It is still an unadulterated oil, but it may have a few flavor and aroma defects and is slightly less healthy because it has higher free fatty acid levels.
Pure Olive Oil or a classic olive oil are basically the leftover oil from the olives that doesn't meet the Extra Virgin Olive Oil standard. It's a much blander olive oil.
Light or Extra Light Olive Oil is the lowest grade olive oil you can get. It will have the dullest flavor, has the highest levels of chemicals in it and the fewer nutrients. So don't be fooled by the "light" meaning that it's in some way healthier, it's quite the opposite!
Can I use lemon juice concentrate?
Of course! Or use a combination, whatever you have.
What's the best salt to use?
Any that has a finer grind as this will allow it to incorporate into the vinaigrette better.
What else can I add?
So many possibilities! Garlic, ginger, sesame, red wine vinegar, honey, rice vinegar, shallots, even some Dijon mustard!
Enjoy! As always, if you make this recipe or any of my others, I love to hear what you think! Leave a comment below, email me, or you can find me on Facebook, Instagram, and Pinterest!
If you want to see more, be sure to sign up for my 5 Easy Ways to Start Cooking From Scratch!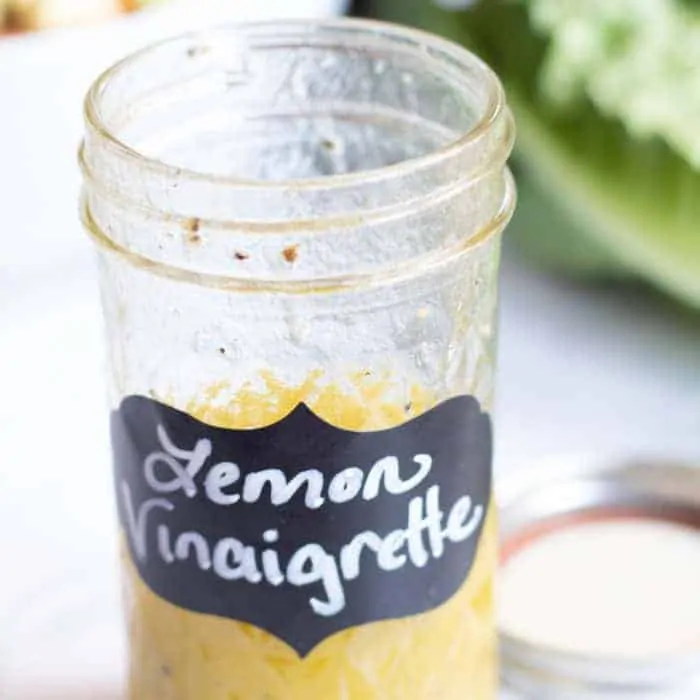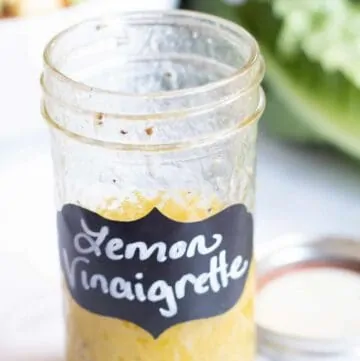 Super Easy Lemon Vinaigrette
This Super Easy Vinaigrette is fast to make is made with simple, whole ingredients, and it's much healthier than any store bought dressing.


Print
Pin
Rate
Ingredients
1/4

cup

fresh squeezed lemon juice

1/2

cup

Extra Virgin Olive Oil

1

teaspoon

salt

1/4-1/2

teaspoon

fresh ground black pepper
Instructions
Whisk together the juice, oil, salt, and pepper in a medium sized bowl, pyrek measuring cup, or mason jar.



Add to your favorite salad!

Store in fridge for up to 1 week.