I love brussels sprouts. And I love pomegranates. Together? Also delicious.Lately, we've been getting a lot of fresh pomegranates, which we've just been happily eating raw, because they're so freakin' delicious. But as we were sharing one a couple of days ago I realized it was time we branched away from our "it's-taken-so-long-to-de-seed-this-I-just-want-to-eat-it-now" pomegranate eating habits. So I decided to make a brussels sprouts pomegranate salad. Cause I love brussels sprouts. And pomegranates.
There are a lot of brussels sprout pomegranate salads out there but many that I found had pomegranate molasses in it. Since we're pretty simplistic when it comes to our cooking I decided to let the flavors of brussels sprouts and pomegranates stand shine on their own and just used a nice simple vinaigrette.
First, a roasting of the brussels sprouts. A drizzle of olive oil, salt, pepper, and then into the oven in a baking dish at 450º for about 20 minutes.
While they roasted, I toasted some walnuts to bring some nutty and buttery flavors to the dish.
Then, I prepped a simple lemon vinaigrette and de-seeded a pomegranate. I'm terrible at this. Like really bad. But my husband's actually gotten really good at it, with the help of some youtube videos. I've already done it wrong by breaking it in half like this, I'm sure. I watched the videos too, and I'm still terrible at it. So he's now our designated pomegranate de-seeder. He does it like this:
[youtube https://www.youtube.com/watch?v=gvhYj-tVTN4&w=420&h=315]
Once the brussels sprouts were roasted to deliciousness, I transferred them from the baking dish to a large bowl
and added the toasted walnuts and about 3/4 of the pomegranate seeds.
Then, after a good mix, I poured in a simple lemon vinaigrette like the one I used for our Greek-ish Salad.
A good mix, and a few slices of Parmesan cheese and we had ourselves a lovely warm winter salad.
So. Good. The only thing I'd change for next time would be more cheese and maybe shredded. The parm added such a nice salty nutty flavor that was delicious with the citrus and tart pomegranates and buttery walnuts. Such a fun warm holiday salad!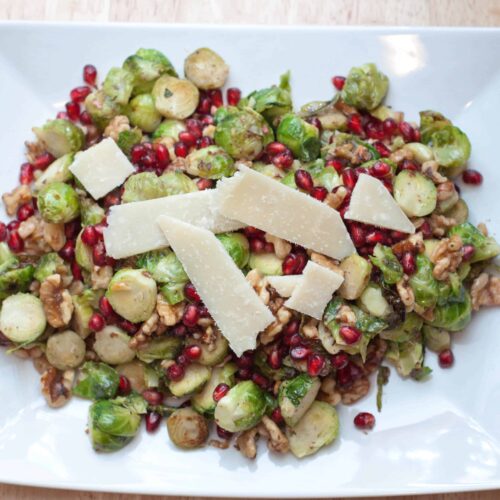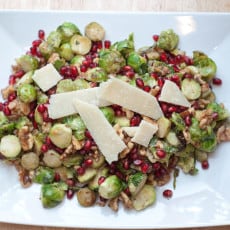 Ingredients
1 1/2

lbs

of Brussels sprouts

Seeds from 3/4 of a pomegranate

1

cup

of walnuts

salt and pepper to taste

1/8

cup

fresh lemon juice

1/4

cup

of olive oil + 1-2 tablespoons

1/2

teaspoon

of salt + more for seasoning

fresh ground pepper

Parmesan cheese

thin slices or 1/3 cup shredded.
Instructions
Pre-heat oven to 450º.

Clean and trim ends and loose leaves off of brussels sprouts and add to a bowl. Drizzle 1 - 2 tablespoons over them and mix well. Sprinkle salt and pepper to taste. Add to a baking dish and bake for 20 minutes, stirring twice.

Meanwhile, toast walnuts in a saute pan over medium heat.

Make vinaigrette by mixing lemon juice, 1/4 cup of olive oil, and 1/2 teaspoon of salt.

De-seed pomegranate.

When brussels sprouts are done, transfer to a bowl and add walnuts and pomegranates. Mix well and then drizzle vinaigrette over top and mix again.

Plate and add sliced or shredded cheese.