Meet the perfect fresh summer salad: Arugula Watermelon and Feta Cheese Salad with a homemade feta cheese and a bright citrus vinaigrette.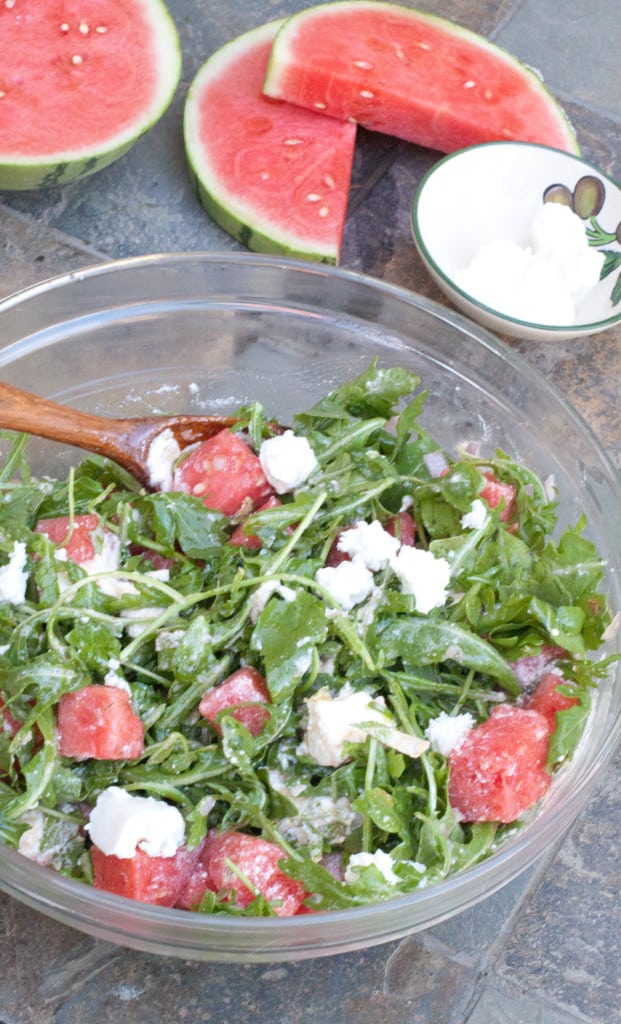 Ah, summer. I love your long days and sunshine. I just wish there were more of you. How is summer already half over and how is it that we're booked solid from now until the middle of September? There just aren't enough days to fit in all the summer fun we want to have. We're getting ready to head up to Whistler, BC for our summer vacation where we'll be celebrating our 2 year anniversary and my studly husband will be doing IronMan! I think I'm more nervous than he is, but that might just be because I'm such a control freak. The fact that there's really nothing I can do to help him prepare is driving me a little crazy. The only thing I can control, at least a little bit, is making sure he's eating the most optimal training diet. Therefore, on our dinner table there's been a ton of chicken, salmon, and as much kale as we can handle, which trust me, it's a lot. Although Dan would happily eat Garlic Kale every single day, I had to switch it up. Plus, I had some homemade Feta I was dying to use and our pineapple mint is growing like crazy!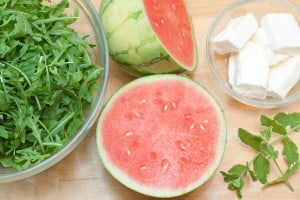 Another one of the many things I love about summer? Summer fruits. Like this delicious watermelon. Which goes so well with mint (and vodka) and as fun as it is to sometimes drink your dinner, we needed something with greens, like this baby arugula.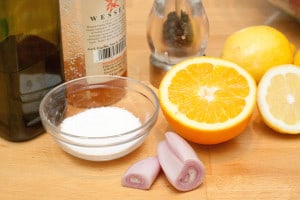 Since the arugula is so wonderfully bitter / peppery, it needed a nice citrus vinaigrette to help balance that out.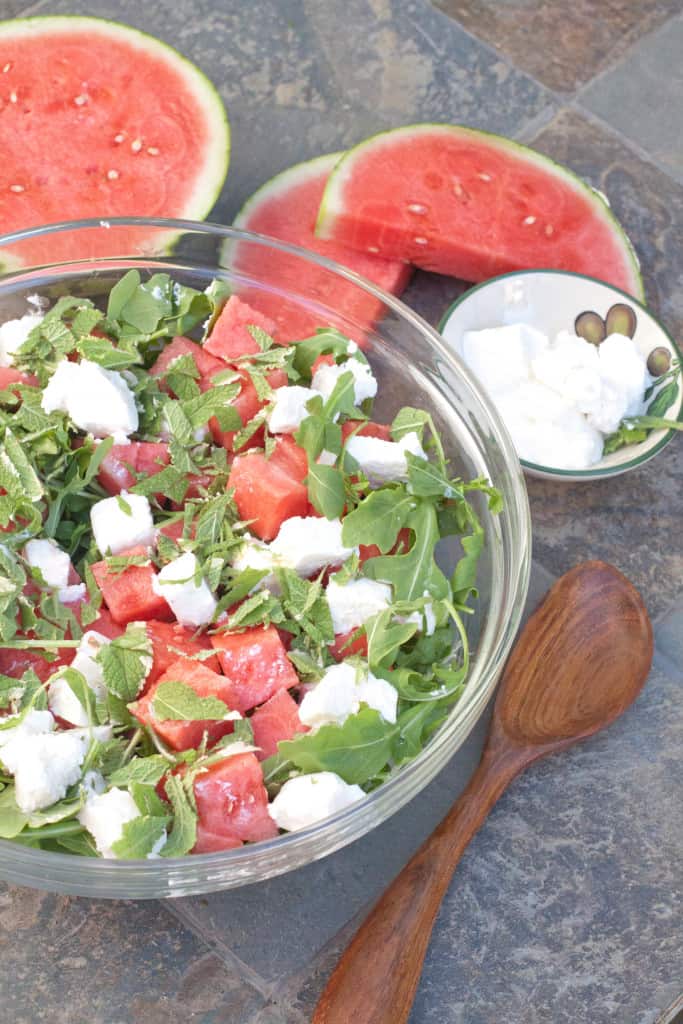 Then it's just arugula, cubed watermelon, feta, and a ton of fresh mint all tossed in a bowl,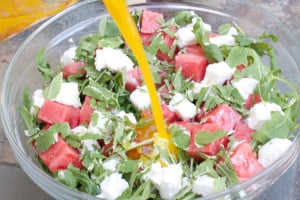 mixed with this super bright vinaigrette,
and then you have a super easy, but uber fancy sounding summer salad, which is seriously amazing. Sweet juicy watermelon, salty briney feta, peppery arugula, fresh mint, and a bright citrus vinaigrette? It's like Summer in a bowl! And a great healthy salad for my training hubby!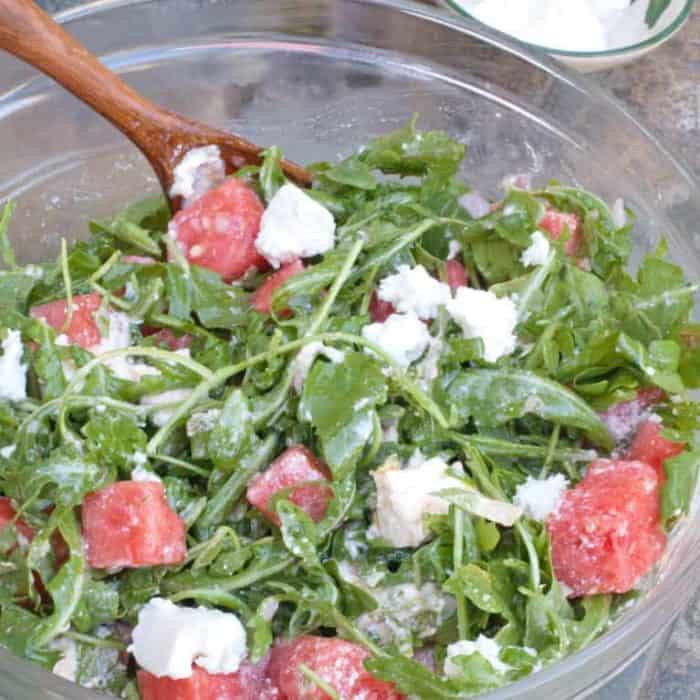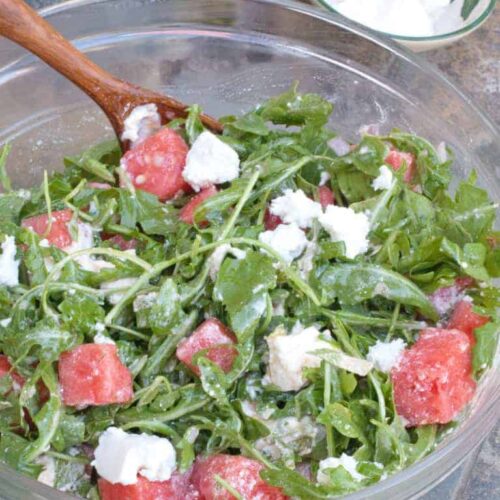 Arugula Watermelon Feta Salad
The perfect summer salad!
Print
Pin
Rate
Ingredients
1/4

cup

freshly squeezed orange juice

1/4

cup

freshly squeezed lemon juice

2 lemons

1/4

cup

minced shallots

1 large

1

tablespoon

honey

1/2

cup

good olive oil*

1

teaspoon

kosher salt

1/2

teaspoon

freshly ground black pepper

6

cups

baby arugula

washed and spun dry

1/8

seedless watermelon

or half a small watermelon rind removed, and cut in 1-inch cubes

12

ounces

feta cheese

1/2-inch diced**

1

cup

4 ounces whole fresh mint leaves, julienned
Instructions
Whisk together the orange juice, lemon juice, shallots, honey, salt, and pepper. Slowly pour in the olive oil, whisking constantly, to form an emulsion. If not using within an hour, store the vinaigrette covered in the refrigerator.

Place the arugula, watermelon, feta, and mint in a large bowl. Drizzle with enough vinaigrette to coat the greens lightly and toss well. Taste for seasonings and serve immediately.
Notes
*Here's my favorite Olive Oil from my friends in Tuscany! http://hadelich.de/en/