This Teriyaki Shrimp Salad with Sesame Ginger Vinaigrette is an easy, flavorful salad that's full of color and a hearty healthy meal!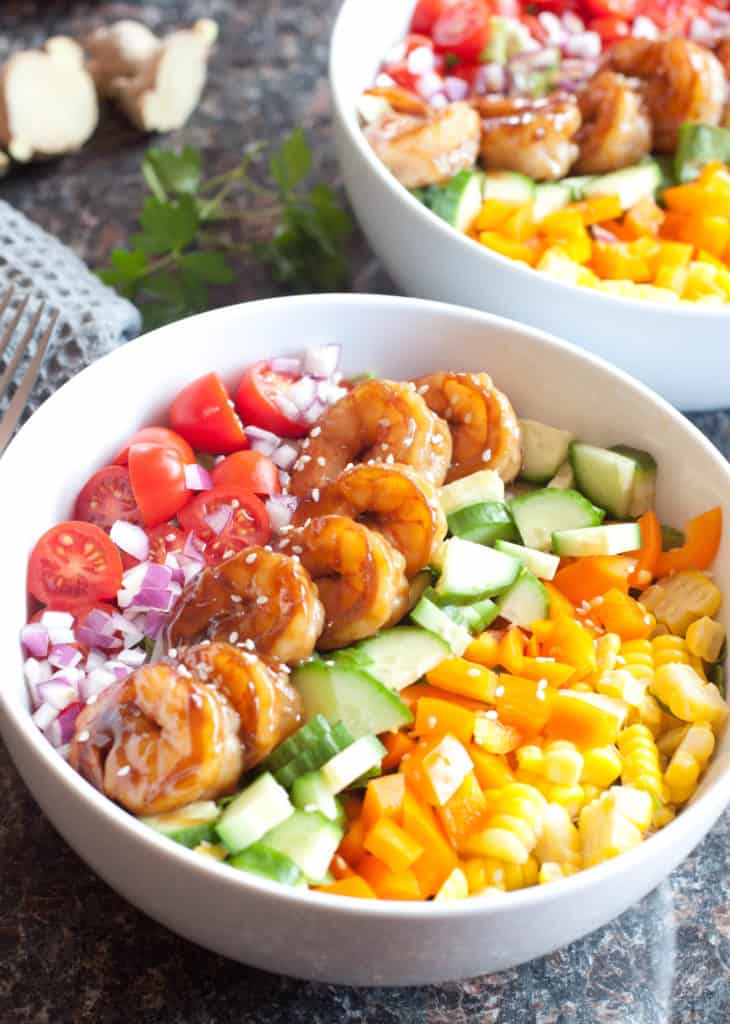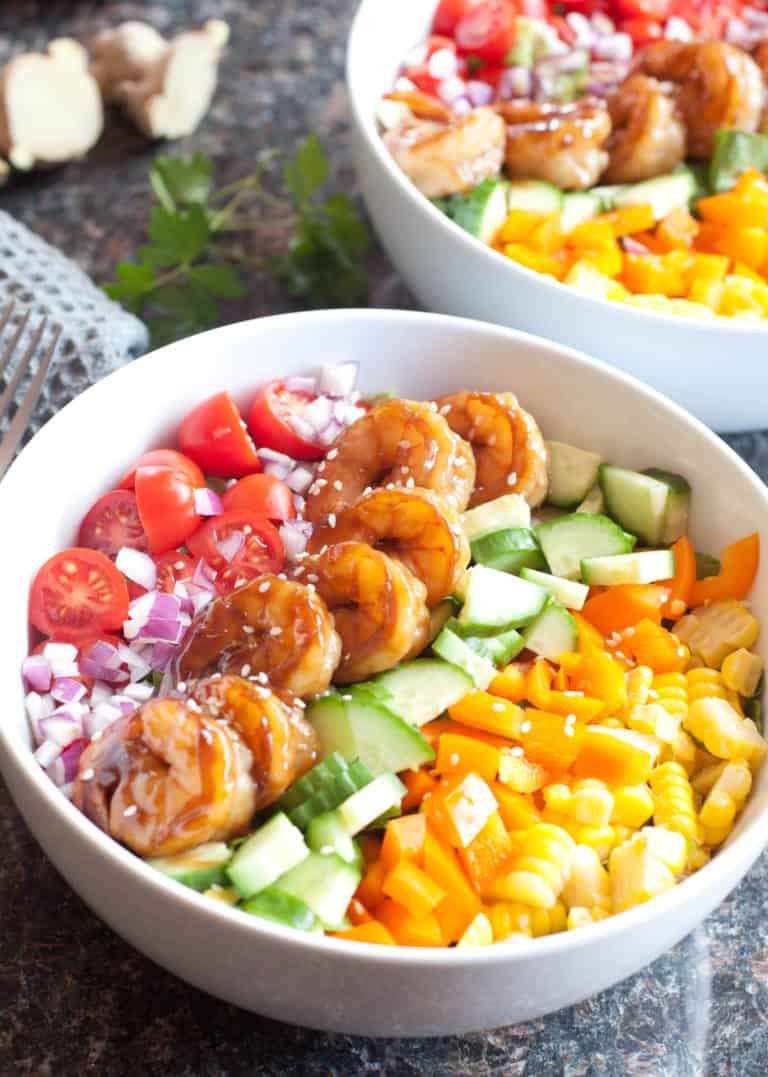 Suuunnn! Oh my gosh I can feel summer coming. We've finally had some glorious summer-like days here in Portland and I am beyond ready. I'm getting ready for summer with salads like this Teriyaki Shrimp Salad with Sesame Ginger Vinaigrette, which is my new favorite.
It's bright, light, packed full of chopped veggies and topped with some teriyaki shrimp! Mixed with a vinaigrette flavored with sesame oil and fresh ginger and this salad is one that hits all the flavors you want and is hearty and satisfying enough for any meal.
Ingredients Needed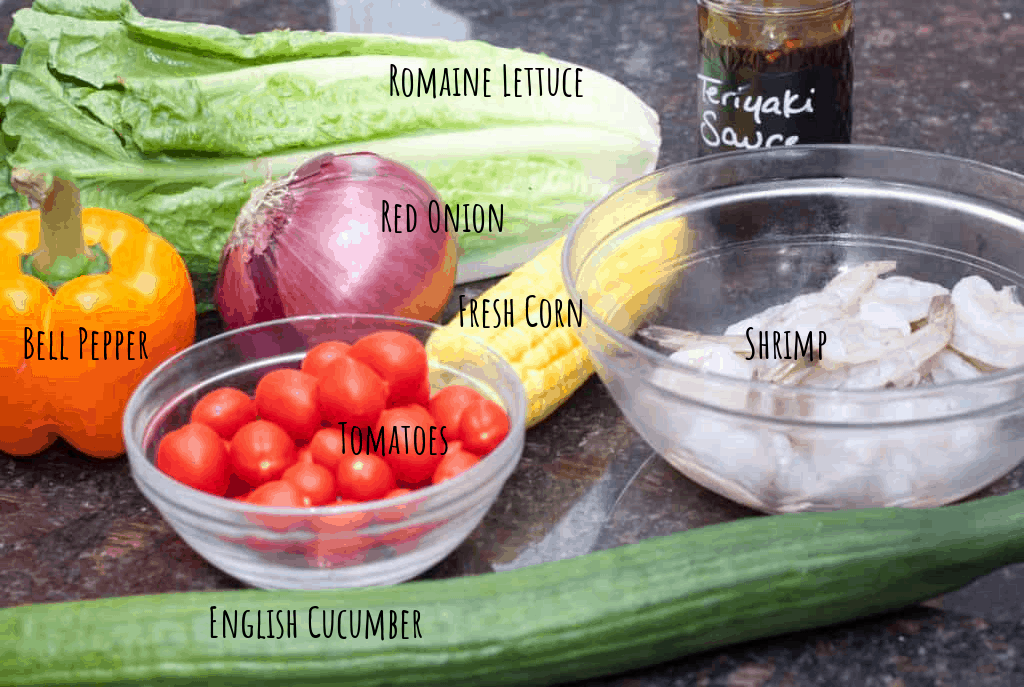 For the base of the salad you can really use any veggies you want / have.
Lettuce - I love a crisp Romaine for this, but a butter or iceberg would also be great.
Cucumber - English Cucumbers are my preferred because of the small seeds, but use what you have!
Tomatoes - Cherry, grape, or cut up romas, whatever you have!
Red Onion - I love the crunch and bite this adds! You could also add yellow, but red is my favorite for salads.
Bell Pepper - A sweet one like orange, red, or yellow is what we prefer.
Corn - Fresh, canned, or frozen works great! We love to use some leftover cooked corn on the cob for this!
Shrimp - Fresh or frozen, just make sure that they're peeled and deveined. I often like to keep the tail on, but you can also remove that to save yourself from having to remove it while eating. See below about freshness of shrimp and how to peel and devein shrimp.
Teriyaki Sauce - None on hand? No problem - you can make your own in just 10 minutes!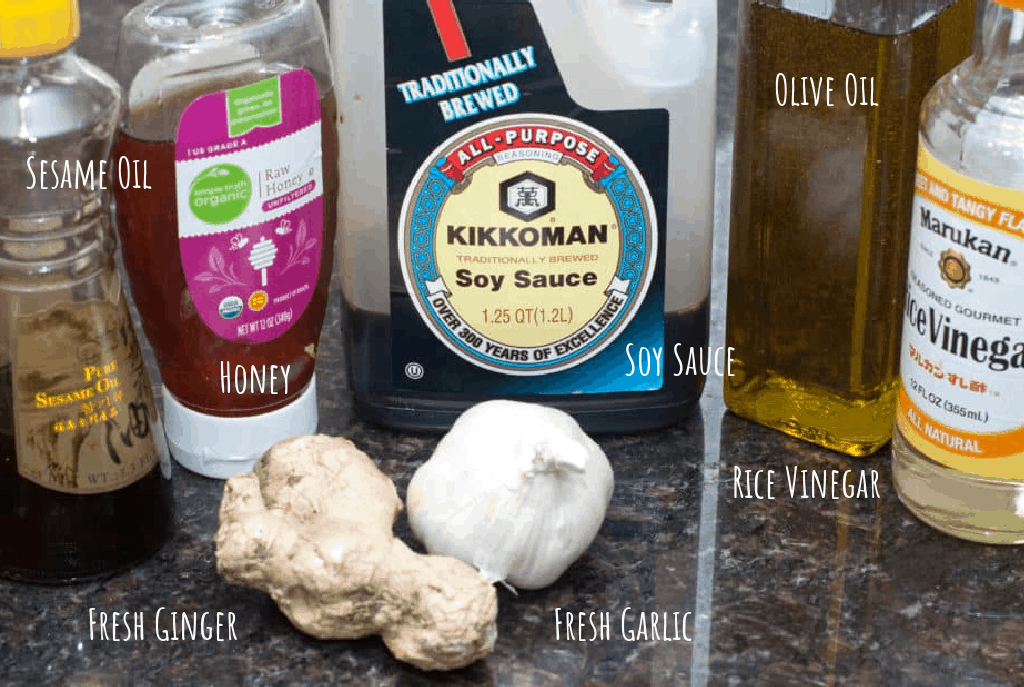 For the Sesame Ginger Vinaigrette:
A Good Olive Oil - You always want a high quality olive oil when you make a vinaigrette. The best is an Extra Virgin Olive Oil.
Soy Sauce
Honey
Sesame Oil
Rice Vinegar
Fresh Garlic and Ginger - You could also use powdered but fresh provides the best flavor. See recipe notes.
I just love how flavorful this vinaigrette is. However, if you want something a little simpler and classic, we also love our Super Easy Lemon Vinaigrette.
Raw, Cooked, or Frozen Shrimp
Which to us? Raw vs. cooked frozen or frozen uncooked shrimp. Well, this is completely up to you! But, if you're going for the most "fresh" then truly, Frozen Uncooked is actually the freshest!
Frozen Uncooked: It seems counterintuitive, however, the frozen uncooked has likely been frozen very close to when it was harvested, which means the time from when they came out of the water to being frozen is very short. This means that they're going to have the freshest flavor.
Fresh from the Seafood Counter: Although this may seem more "fresh" than the bag that's frozen, it's really not! Because every second more that the shrimp is out of the water, it's losing a little bit of it's freshness and shrimp-y flavor. Also, it's likely that this shrimp was previously frozen and then thawed by your supermarket, or they were actually frozen and then thawed for the little ice mound that they're on. This means that if you are buying shrimp from your seafood counter, it's important to use it right away and not re-freeze it.
REAL Fresh: This means that you're lucky enough to have access to a market like Pike's Place Fish Market in Seattle or another fresh fish market where you know that the shrimp have just come off of boat!
Frozen Cooked: This of course would be the least "fresh" option, however, still a good one! Typically all you need to do with this shrimp is thaw and then eat (although make sure it's coming from a reputable source), or you can thaw and heat through.
Easy to Make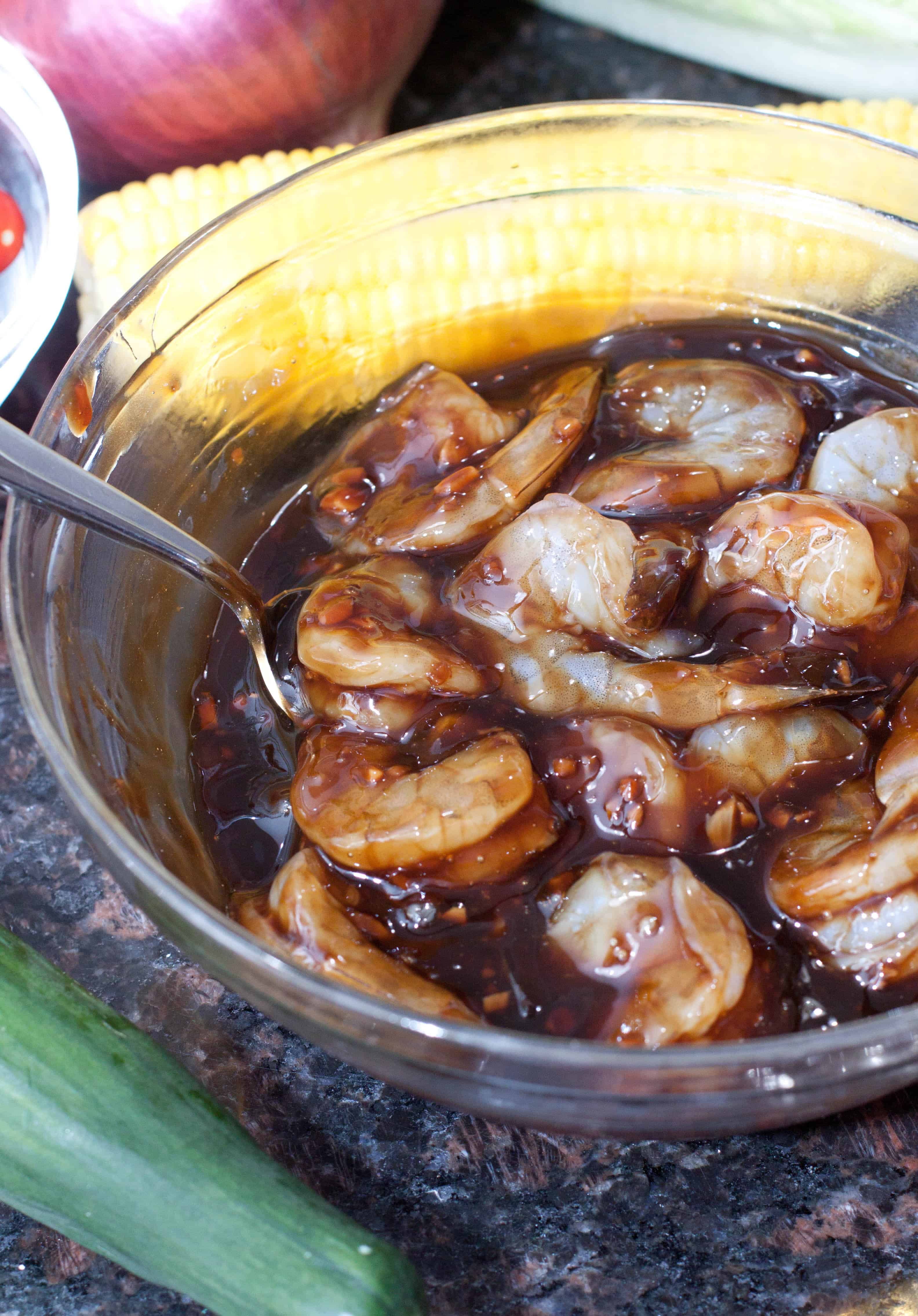 This recipe comes together SO fast. That's one of my favorite things about this salad!
Marinate the Shrimp
Chop your veggies and add to a bowl
Make the vinaigrette
Cook the Shrimp
Add it all to a bowl and top with vinaigrette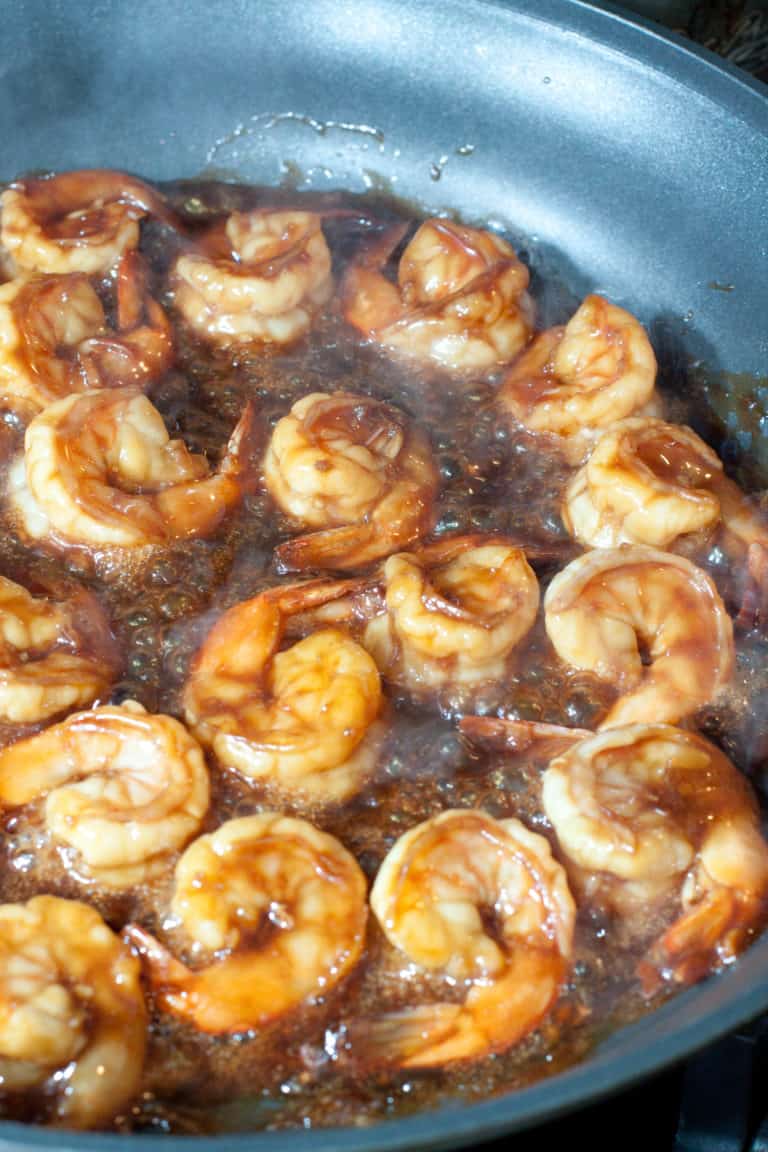 How to Cook The Shrimp
For Fresh from the Seafood Counter: Once they are deveined (which your seafood counter can usually do this for you, otherwise see notes below) just toss in a bowl with the teriyaki. Heat a pan on medium and then cook for about 3 minutes on each side with all of the sauce.
For Frozen Raw: Thaw the shrimp first. You can do this by letting them thaw in the fridge overnight, or place the shrimp in a colander and run cold water over them for a couple of minutes until they're all thawed. Then cook like fresh by heating pan on medium and then cook for about 3 minutes on each side.
For Frozen Cooked: Thaw first like the frozen raw and then cook in a pan just to re-heat and cook with the sauce. About 60-90 seconds on each side.
How to Peel and Devein Shrimp
Peel: If you buy shrimp that is still in the full shell then to peel you just need to pull the main part of the shell off first, and then then tail (unless you'd like to keep the tail on, which I sometimes do).
Devein: This is super important. You need to devein shrimp because that dark little line, that's their waste. Remove it by using a paring knife and cut a slit along the top of the shrimp and then remove the vein. Be sure to get it all. If this makes you nervous or grosses you out - no problem, just ask your seafood counter to do it. Frozen shrimp will mostly come deveined.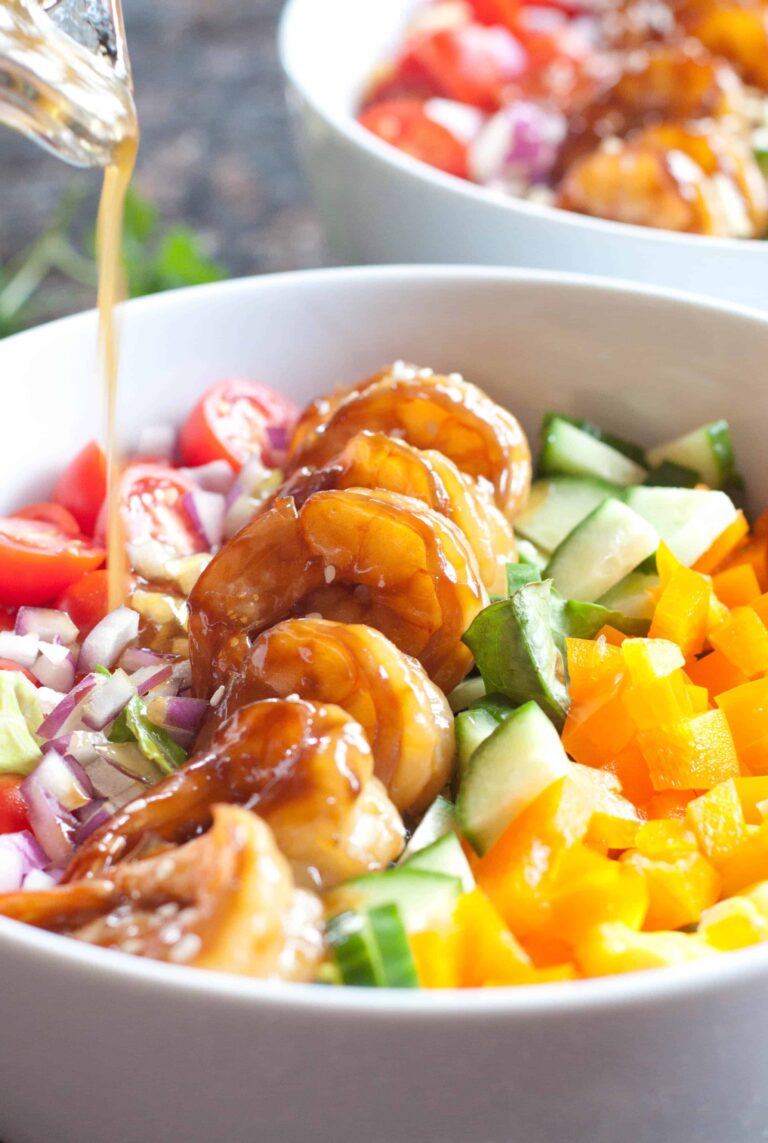 Use as much vinaigrette or as little as you'd like! You'll have a ton of flavor coming from the teriyaki shrimp, too so it's totally up to you.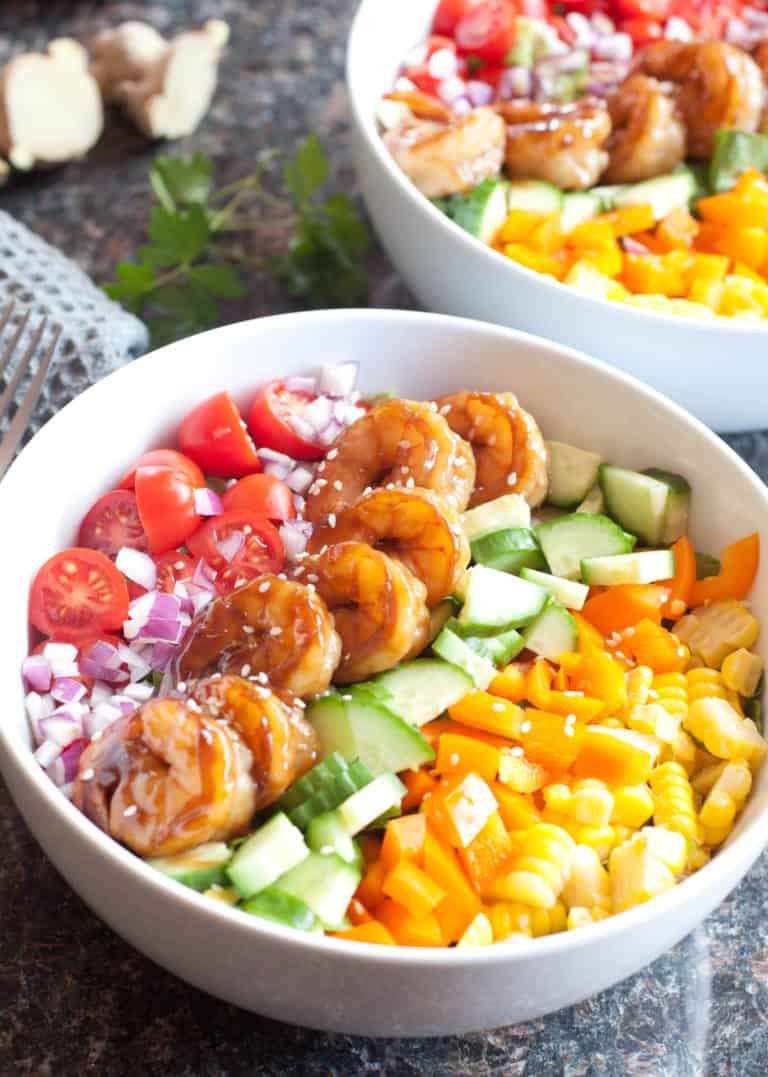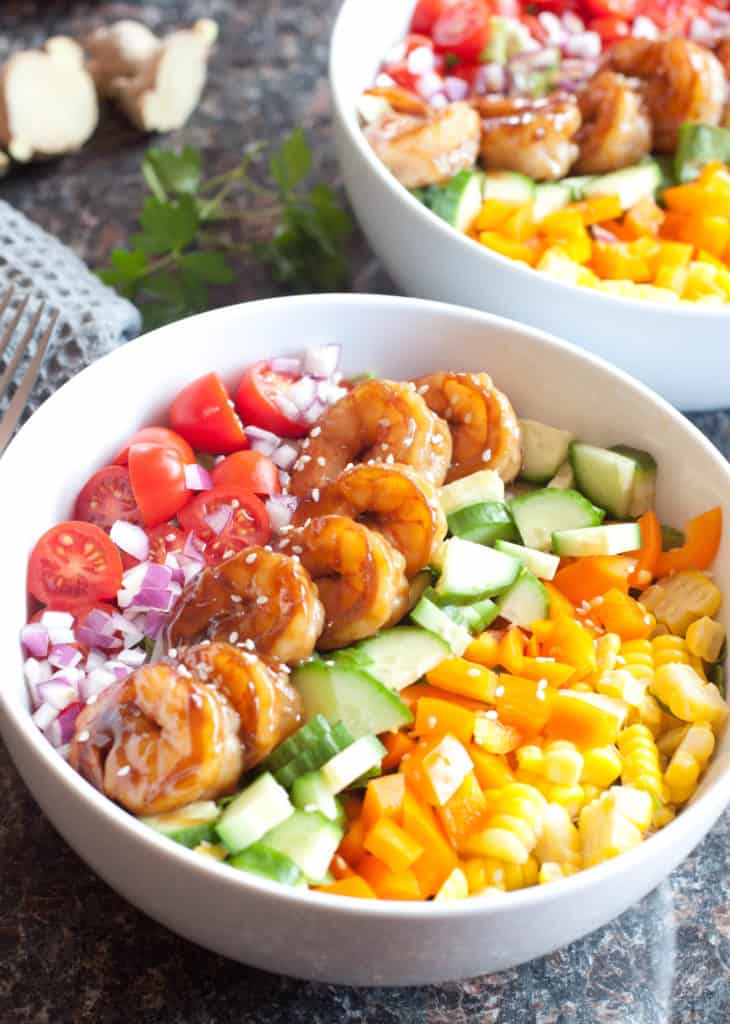 A gorgeous, color, incredibly flavorful salad! The combination of the teriyaki shrimp and the sesame ginger vinaigrette is just downright delicious.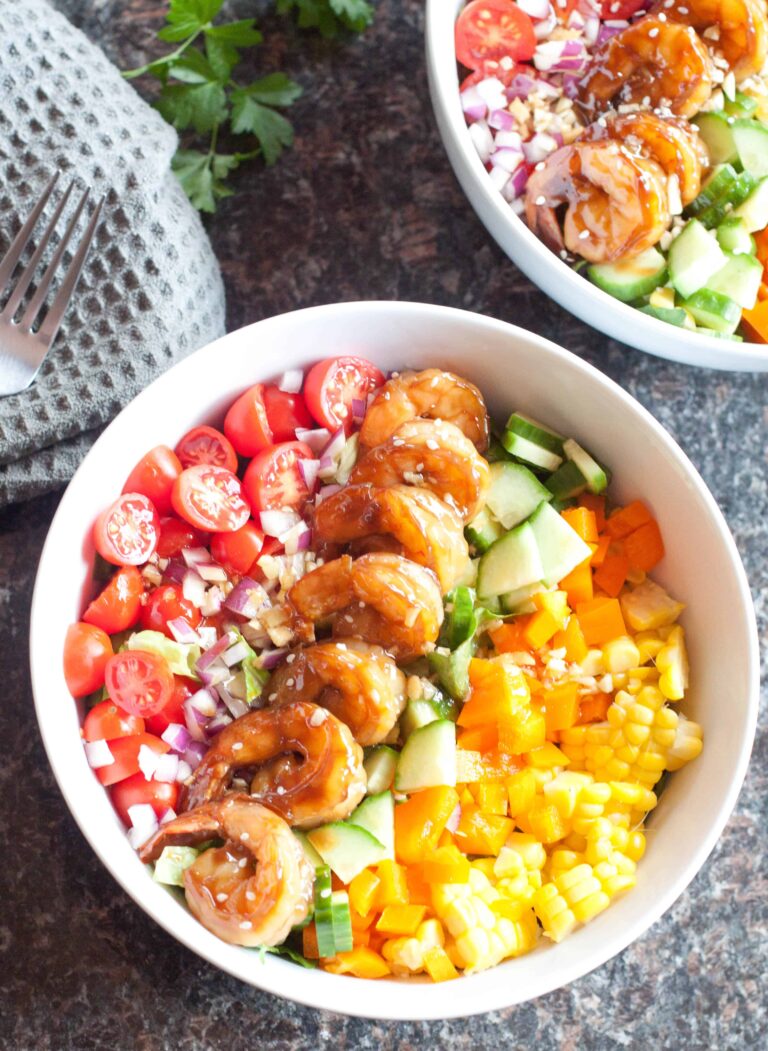 So much color. So much flavor!
FAQs
Can I prep this in advance?
Absolutely! The shrimp marinate up to 8 hours in the fridge and you can prep the vinaigrette and veggies the day before to then just do a quick cook of the shrimp and add it to your bowl.
How far in advance can I make the vinaigrette?
A fresh, homemade vinaigrette will last up to 2 weeks in your fridge.
Can I use another protein?
Of course! Chicken or tofu is great for this salad, too! Just chop the chicken and tofu and cook in teriyaki sauce until fully cooked and toss that on.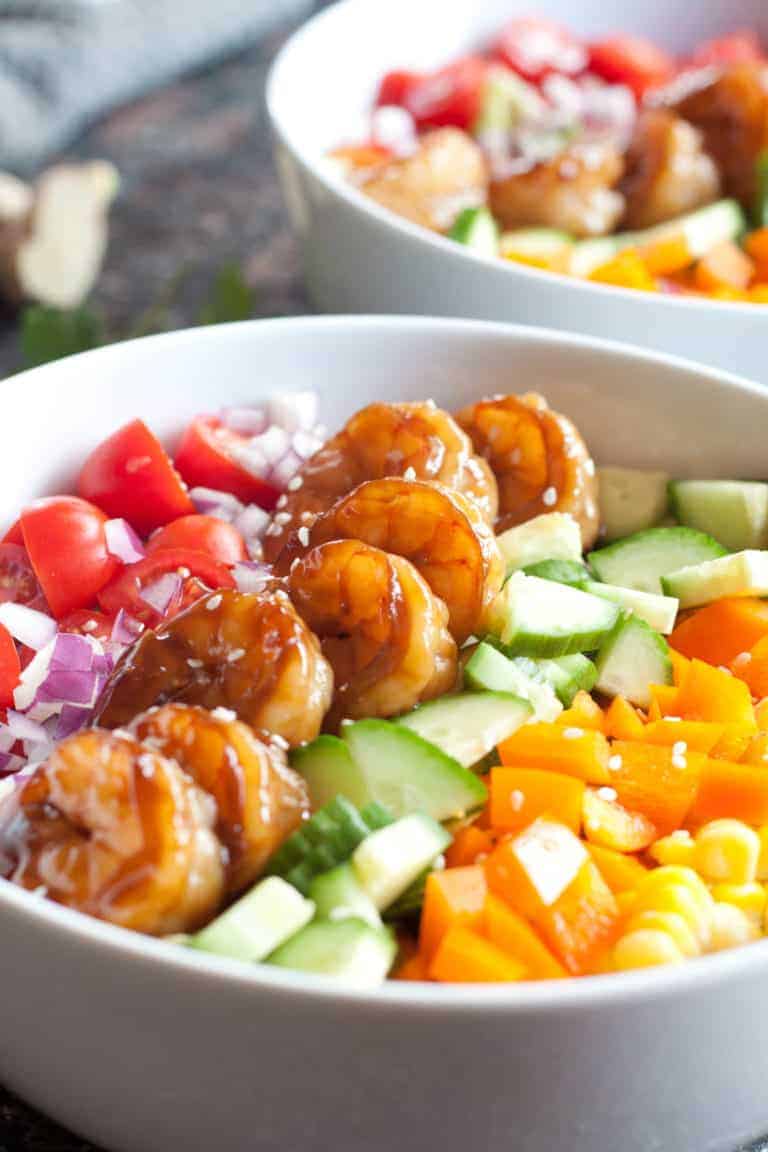 Happy healthy summer salad eating!
Enjoy! As always, if you make this recipe or any of my others, I love to hear what you think! Leave a comment below, email me, or you can find me on Facebook, Instagram, and Pinterest!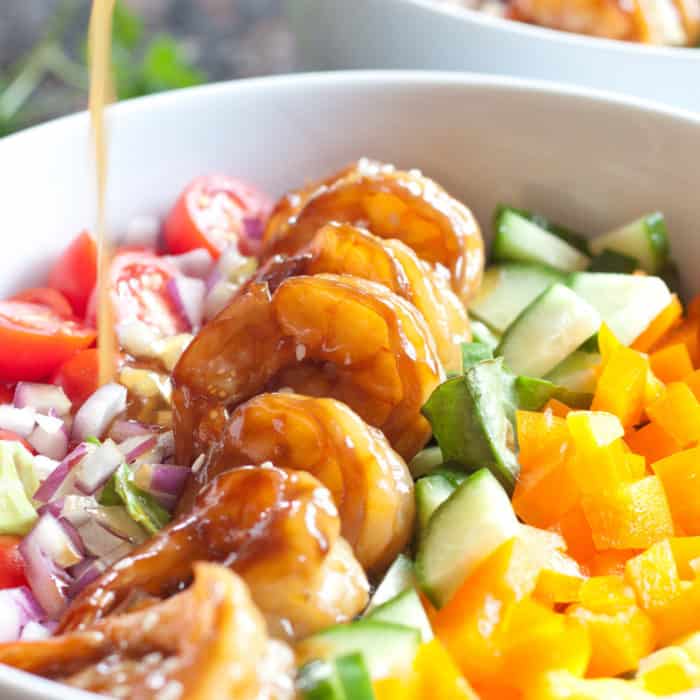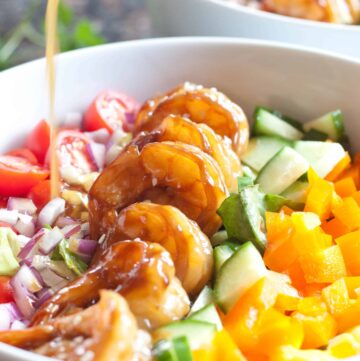 Teriyaki Shrimp Salad with Sesame Ginger Vinaigrette
Bring on Summer with this Teriyaki Shrimp Salad with a fresh light Sesame Ginger Vinaigrette.
Print
Pin
Rate
Ingredients
1

lb

peeled shrimp

deveined

8-10

leaves

romaine lettuce

shredded

1/2 - 1

large

English cucumber

quartered

1 1/2

cups

grape tomatoes

halved

1/2 - 1

large

orange pepper

diced

1/4 - 1/2

cup

red onion

diced

1

ear of fresh corn

cooked and removed from cob. Or 3/4 cup of canned or frozen corn.

1

cup

teriyaki sauce
Sesame Ginger Vinaigrette
2

garlic cloves

minced

2

teaspoons

fresh ginger

minced

2

teaspoons

honey

3

tablespoon

rice vinegar

1

teaspoon

soy sauce

4

tablespoons

olive oil

2

tablespoons

sesame oil
Instructions
Mix shrimp and teriyaki sauce in a bowl to marinate.

Prep the veggies. Add romaine lettuce to two bowls and then layer the remaining veggies on top of each bowl.

Heat a large skillet to medium / medium low and add shrimp. Cook for 3 minutes on one side and then flip each shrimp to cook on other side for another 3 minutes.

Meanwhile, in a medium bowl add all of the ingredients for the vinaigrette and whisk.

When shrimp is done, remove from pan and top on salad.

Dress with vinaigrette, to taste.
Notes
Peel and Devein Shrimp: Pull the main part of the shell off first, and then then tail (unless you'd like to keep the tail on, which I sometimes do). Devein by using a paring knife and cut a slit along the top of the shrimp and then remove all of the vein. Use Raw Frozen or Cooked Frozen Shrimp: Thaw the shrimp by either letting thaw in the fridge overnight or place shrimp in a colander and run cold water of it until thawed. Marinate the same and then cook raw frozen for 2-3 minutes on each side or frozen for 60-90 seconds. Substitute: Whatever veggies you have! Add more or less of anything you'd like and make it your own!
Nutrition
Calories:
668
kcal
|
Carbohydrates:
59
g
|
Protein:
15
g
|
Fat:
43
g
|
Saturated Fat:
6
g
|
Sodium:
5716
mg
|
Potassium:
1543
mg
|
Fiber:
9
g
|
Sugar:
42
g
|
Vitamin A:
14773
IU
|
Vitamin C:
189
mg
|
Calcium:
148
mg
|
Iron:
5
mg