It's my favorite time of the year!! I love love love September. It's still warm but the air has that crisp fall feeling that tells you big sweaters and boots are just around the corner. Even better, it's tomato explosion time. There are few things that I love more than fresh, off the vine tomatoes. Just the smell of tomato plants reminds me of my dad and his gardens. He had huge gardens in the back of our property but then would also grow a few cherry tomatoes around the pool on the patio. As a kid I lived in that pool and having cherry tomatoes to snack on between running from the diving board to water slide, made it all even better.
This year, I went a little nuts with tomato plants. I also started a little late, but that hasn't seemed to be too much of a problem, especially since it's going to be 95 this Saturday! Last year we didn't have a garden since we were busy getting married and honeymooning and all, so this year I went all out. I may have planted 18 tomato plants. And by may have, I totally planted 18 tomato plants... Romas, heirloom beefsteaks, grape, and cherry tomatoes surround our little backyard. And I love it; it makes my backyard smell like my dad. Plus, we're getting soooo many tomatoes every single day.
Personally, I have no problem just snacking on tomatoes, especially these sweet delicious little cherry tomatoes. That means, however, even though we pick this many every day, I haven't made anything with them because between Dan and I, we just eat them raw. Because they're soooo goooooddd.
Then my friend Alicia introduced me to these freakin incredible kale chips she made that had cashews and sun dried tomatoes. I had to make them myself, which gave me the perfect excuse to make a bunch of sun dried tomatoes from our tomato explosion! So I took one days haul of cherry tomatoes and just gave them a quick slice in half.
Then I gave it a good sprinkle of the pink Himalayan salt that Alicia and her hubby gave as wedding favors,
and added a drizzle of some good olive oil and mixed.
Sliced side up into our amazing dehydrator left overnight...
...and in the morning we had these lovely little dried cherry tomatoes!
I packed these little guys into a couple of small jars with some really really good olive oil from our friends in Tuscany, and now we have ourselves our own sun dried cherry tomatoes!
With the tomato explosion just beginning, I can't wait to fill our pantry with sun dried tomatoes to enjoy all year long. These guys 'preserved' in oil will be fine for the next couple of weeks as I'm sure I will use them within that time frame. However, some say this isn't safe for the long term, others say it's fine... For long term storage, I would suggest using a method that includes dipping the tomatoes in vinegar first to bring out more acidity. But like I said, these little guys, they're not lasting long in our kitchen 😉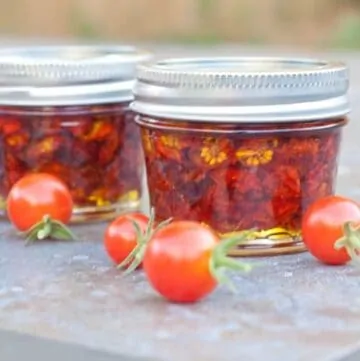 Ingredients
2

cups

of cherry tomatoes sliced in half

1

tablespoon

of extra virgin olive oil

1/2

teaspoon

of salt
Instructions
Mix cherry tomatoes, oil, and salt together in a bowl. Then place the cherry tomatoes (sliced side up) on food dehydrator trays.

Dehydrate at 135 degrees over night or 7-8 hours.

When tomatoes are dried they can be stored in either a plastic bag or packed in a jar with olive oil. If storing for long term, add a 1/2 cup of white vinegar or red wine vinegar to a bowl. Dip tomatoes into vinegar, just for a second, shake excess off, and then store in jar with oil.