Making your own Dijon Mustard From Scratch takes only a few ingredients and little time. It's way easier than you think!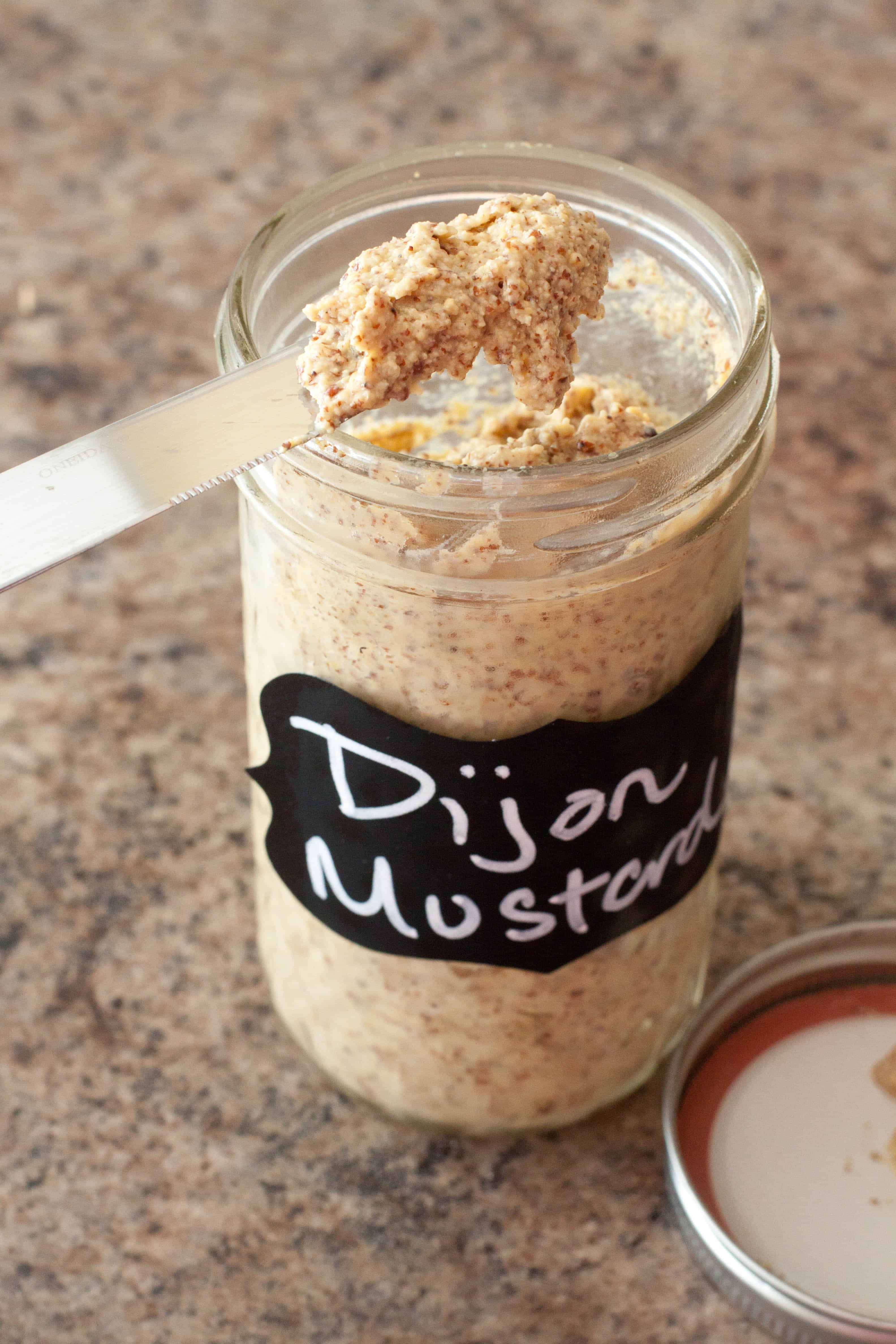 What's a sandwich without mustard? Sad, according to my husband. Mustard is his favorite condiment and a must on his sandwiches. And I'm not talking about the florescent yellow stuff, I'm talking about a deliciously spicy Dijon Mustard From Scratch, which turns out is incredibly easy to make!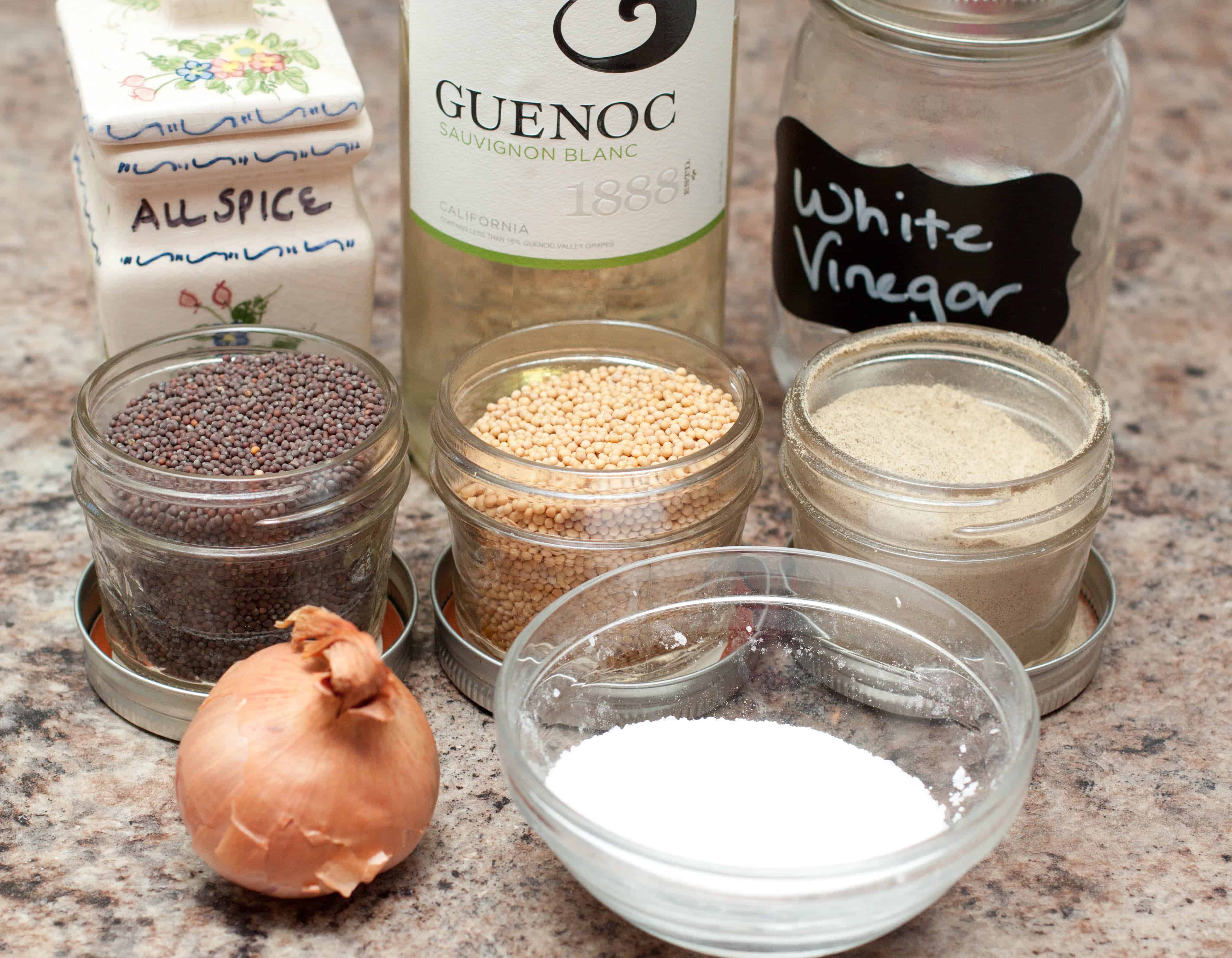 The ingredients are all pretty simple and really cheap. Especially if you buy your spices in the bulk section of your grocery store. Or the all powerful Amazon lets you buy pretty much any spice you want in bulk! So pretty cheap ingredients except maybe the wine, but I love recipes that require wine, because well the bottles already open… might as well have a glass yourself or enjoy it with dinner!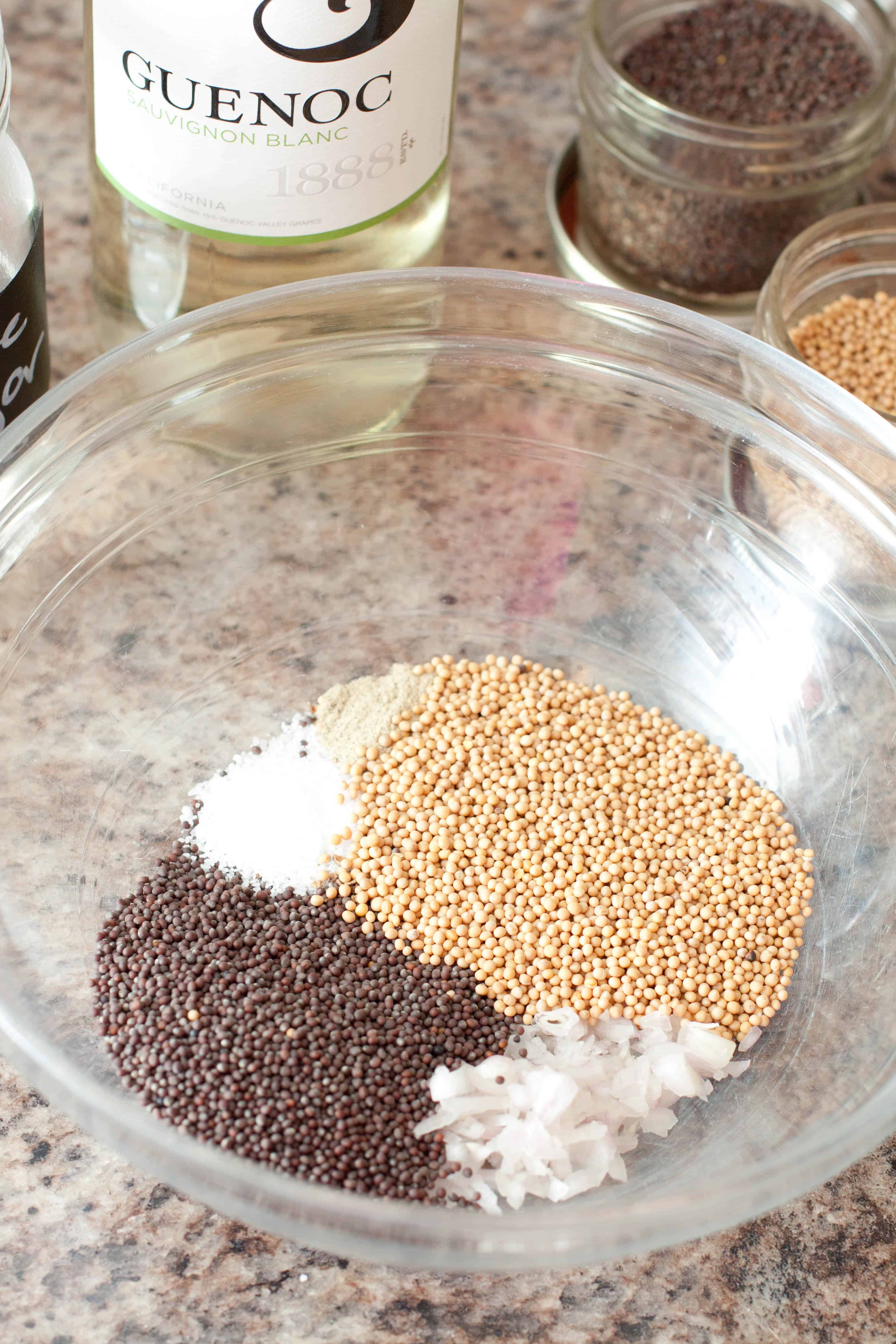 Don't be scared by the total time of this recipe, it's just 8 hrs of chillin' in the fridge after everything's been mixed together.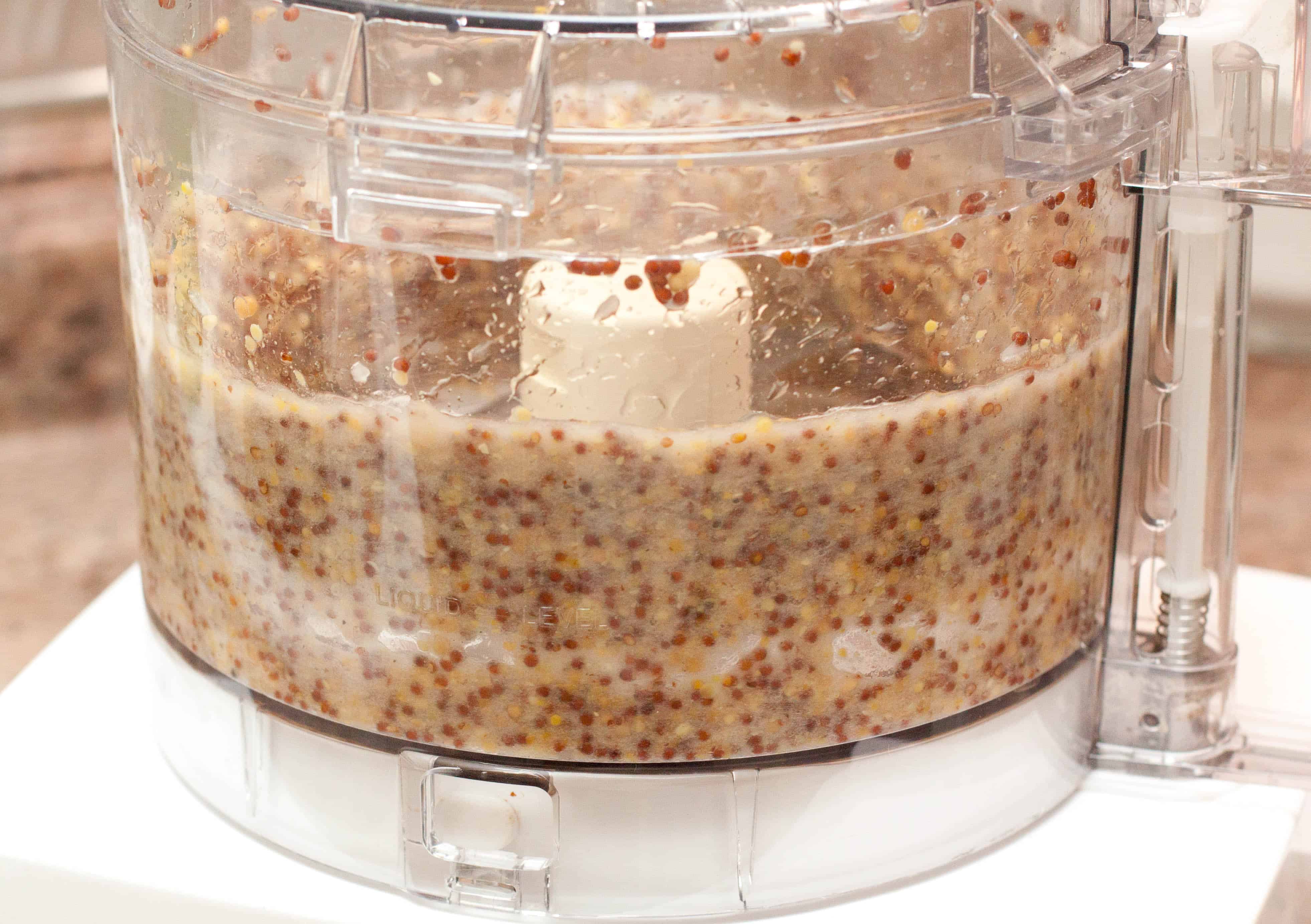 Then when you're ready, just toss it all in the food processor and let it do it's thing. We have this awesome food processor from my mother in law. She was visiting for my husband's birthday a couple of years ago because I had planned a big Birthday BBQ andof course had an array of from scratch condiments, including this mustard. While I was making it I was complaining about what a POS our current food processor was. The next day before the party, she accidentally knocked over the mason jar of dijon and it shattered. No mustard. Oops. I didn't really care since it wasn't the staple ketchup, or the more labor intensive zucchini relish. But my poor MIL felt so badly about it that when she got home, she sent us this replacement food processor so I could make more mustard. 1 jar of mustard for a new amazing food processor? She can come over and break as many condiments as she wants 😉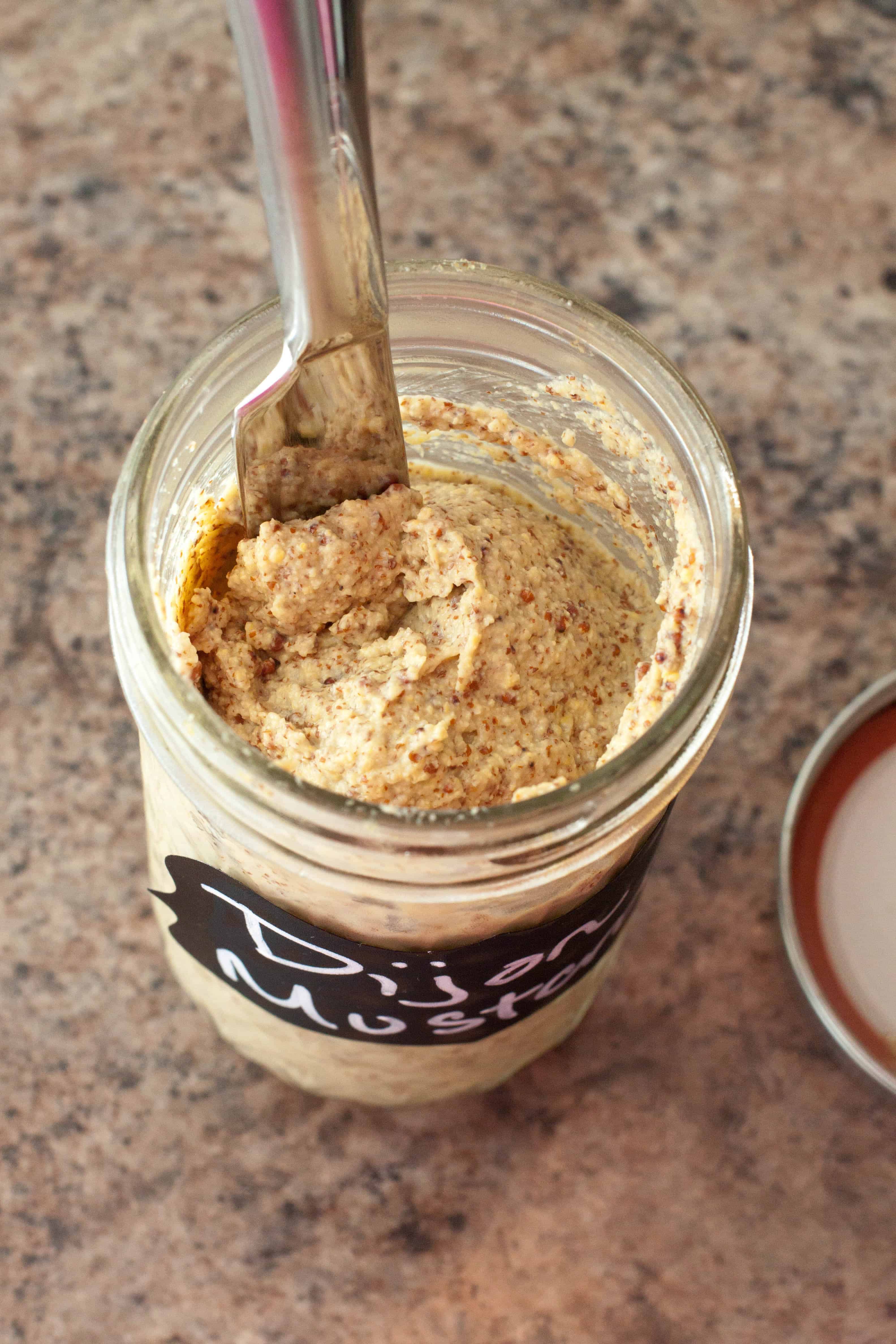 Now that we have a great food processor, I can get a much better blend on everything. Although you can leave it as chunky as your little dijon mustard loving' heart desires.
Fresh Dijon Mustard From Scratch with a little kick! Ready for tons of sandwiches, some from scratch mayo, or Crock Pot Honey Mustard Chicken – coming soon!
Sign up to receive the latest From Scratch recipes to your email and follow me on your social media platform of choice: Facebook, Instagram, Pinterest, or Twitter!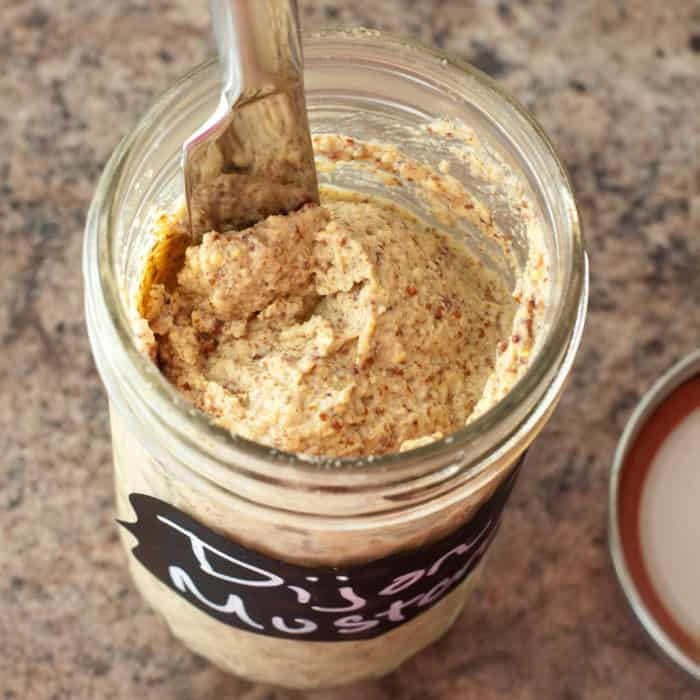 Dijon Mustard from Scratch
Easier than you think, Dijon Mustard from scratch!
Print
Pin
Rate
Prep Time:
8
hours
10
minutes
Rest Time:
8
hours
10
minutes
Ingredients
3

Tablespoons

brown mustard seeds

3

Tablespoons

of yellow mustard seeds

1/3

cup

white wine vinegar

or distilled white vinegar is fine, too

1/3

cup

dry white wine

1

Tablespoon

of minced shallot

3/4

teaspoon

of salt

1/4

teaspoon

of white pepper

pinch

of all spice
Instructions
Add all dry ingredients together and mix: mustard seeds, salt, white pepper, all spice. Add shallot / onion and mix. Add white wine vinegar and mix. Add white wine and mix. Cover with plastic wrap and refrigerate for at least 8 hours.

Add mix to blender or food processor. Blend until thickness and chunkiness desired.

Store in a small mason jar in refrigerator. Emeril says 2 weeks but I think it lasts much longer, 3-4 weeks.