These 15 Minute Mustard Green Beans are for the mustard lover! Cooking these green beans is super fast, frees up oven space, and can be made and on the table in no time!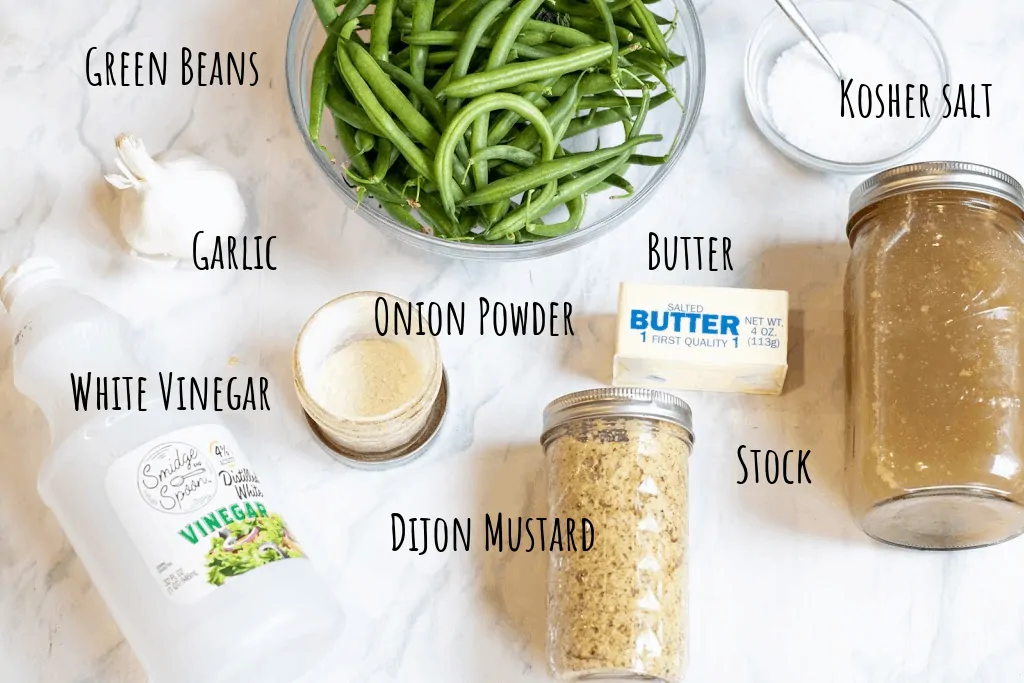 Friends. Let me introduce you to our new favorite green bean side dish. These 15 Minute Mustard Green Beans have been made now 4, 5, maybe 6 times this month? I've lost count. That's how much we love them!
Ok, to be honest, we are also a Dijon Mustard lovin' family. It was one of the first condiments we started making! So if Dijon mustard is not your jam, this dish won't be either. But if you also love the tangy, sharp, spicy flavor of Dijon, then cooking green beans this way is totally for you! They're crunchy, the Dijon mustard flavor is strong, and well, done in 15 minutes? How can it get any better?
Ingredients Needed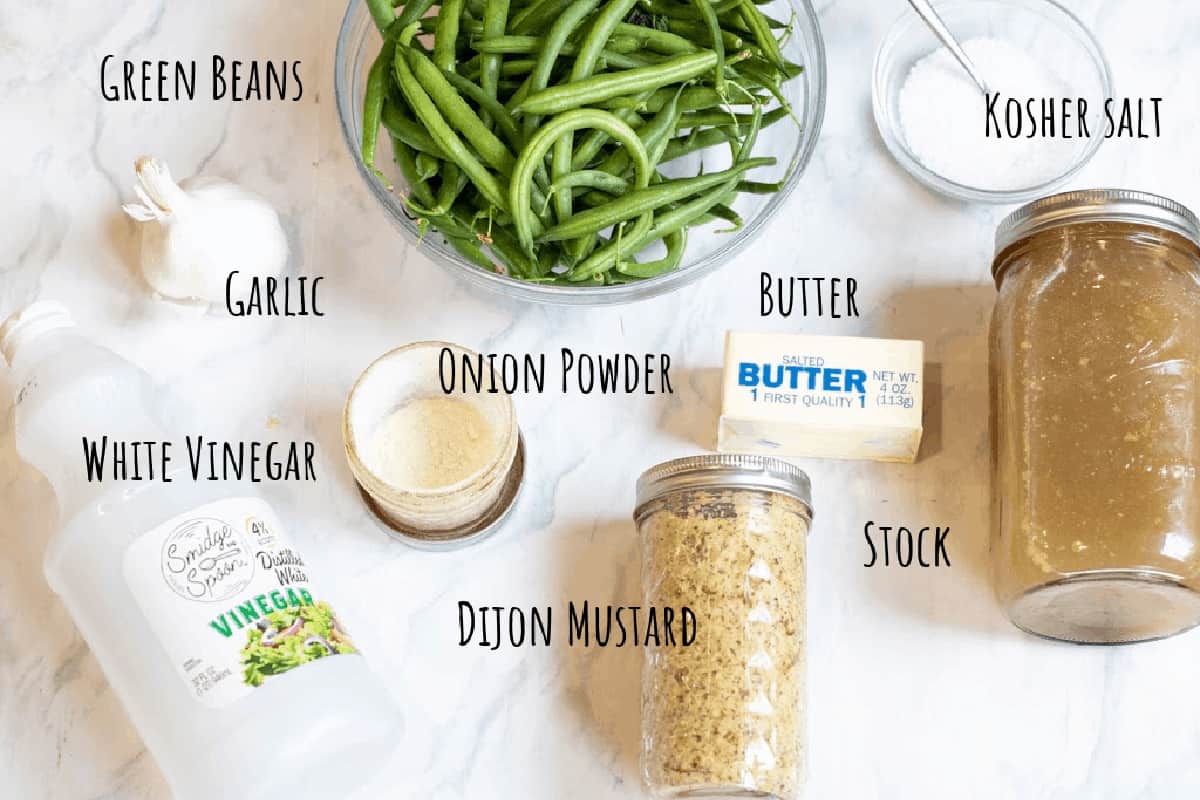 Simple, fresh ingredients. Per uz here.
Green Beans - Fresh is of course best! But see below for notes about frozen.
Dijon Mustard - We love using our own because it's so easy to make!
Stock - Vegetable stock to keep it vegetarian or chicken stock or beef stock if that's what you have! Or course you know you can make your own of any!
Butter - Salted is what we usually use, but if you only have unsalted no problem.
White Vinegar - You could also use brown vinegar or white wine vinegar if that's what you have. White vinegar will have the strongest vinegar taste, but that's what I prefer to use to balance the Dijon.
Garlic - Fresh is of course preferred but you could also use jarred minced or even powdered if that's all you have.
Onion Powder and Salt
Fresh vs. Frozen
Can you use frozen? Of course! We prefer fresh for this recipe, but if you don't have fresh, no problem. You can use frozen, but just keep in mind:
Look For: Haricot Vert or Whole green beans.
Avoid: Cut green beans and French-cut green beans.
What about Canned? Can I use canned green beans? Nope. Doesn't work for this one.
Step-by-Step Instructions
How many steps can there be in a 15 minute recipe? Not many.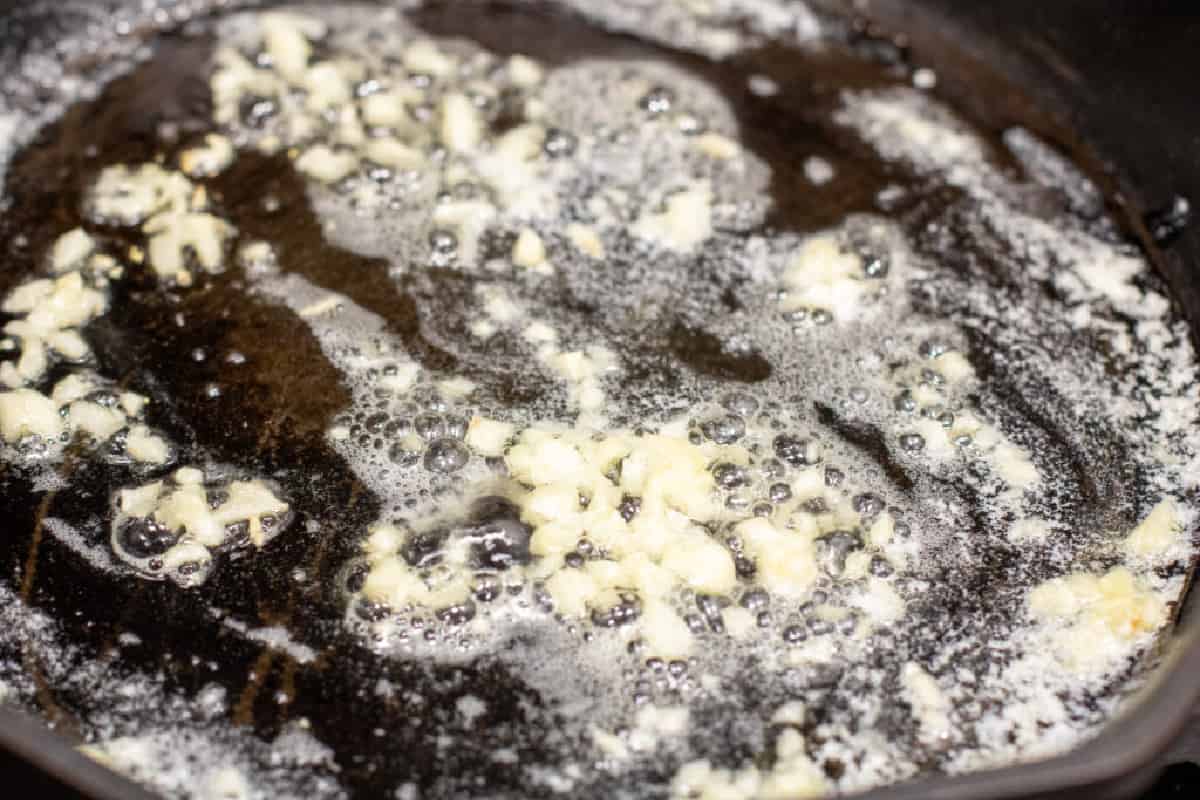 Step 1: Melt butter and cook the garlic. I know you all don't need to know what that looks like, this is just a garlic cooking in melted butter appreciation photo. Can you smell it? Ahhh.
Use your favorite deep skillet or saute pan. Our favorite is of course our trust cast iron, Finex.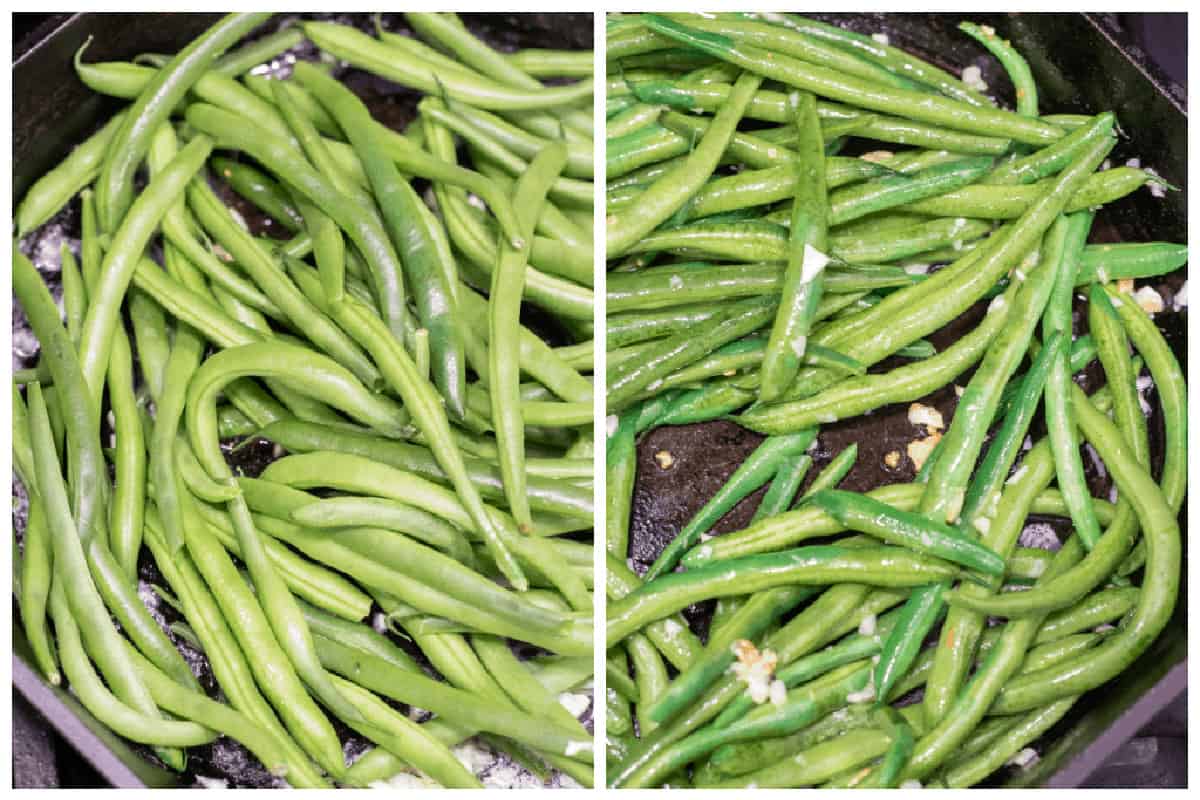 Step 2: Add the freshly cleaned beans to your pan and then with tongs, coat them with the butter and garlic.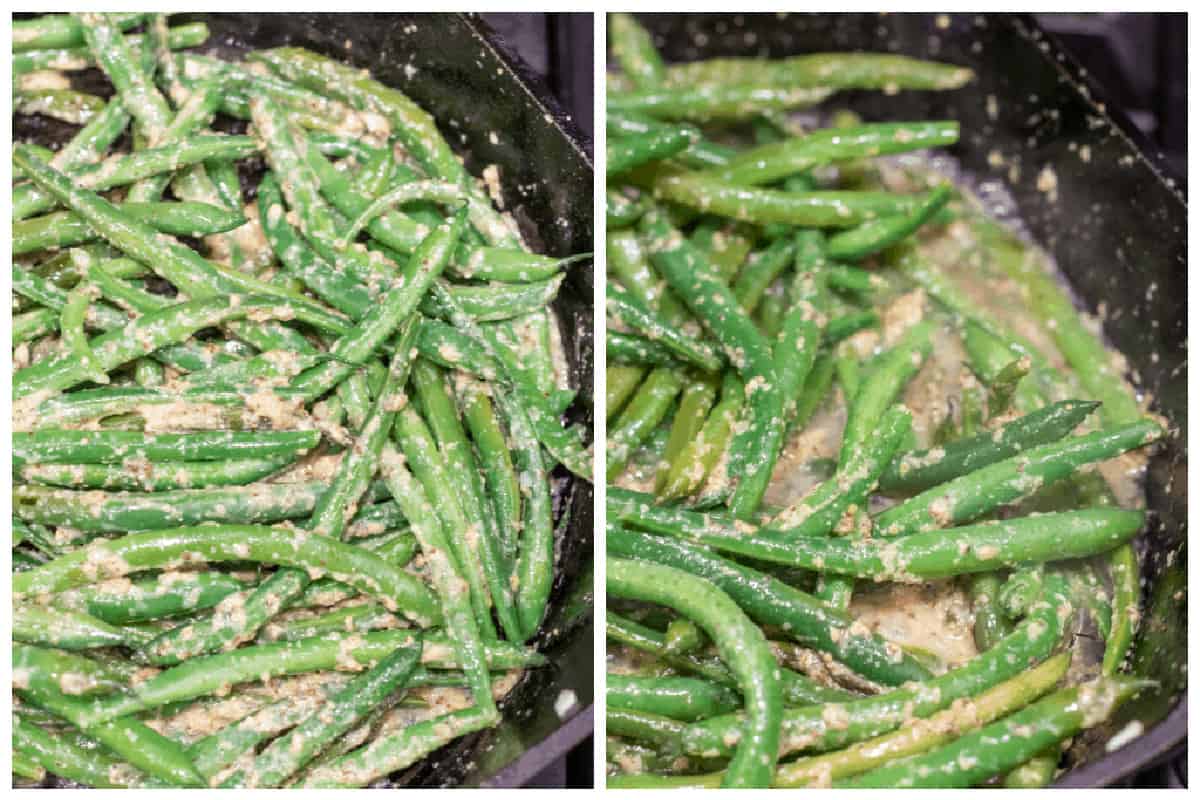 Step 3: Add Dijon, salt, and onion powder and coat the beans and then add vinegar and cook for a few minutes.
Step 4: Add stock and cover with a lid and cook for another 4-5 minutes.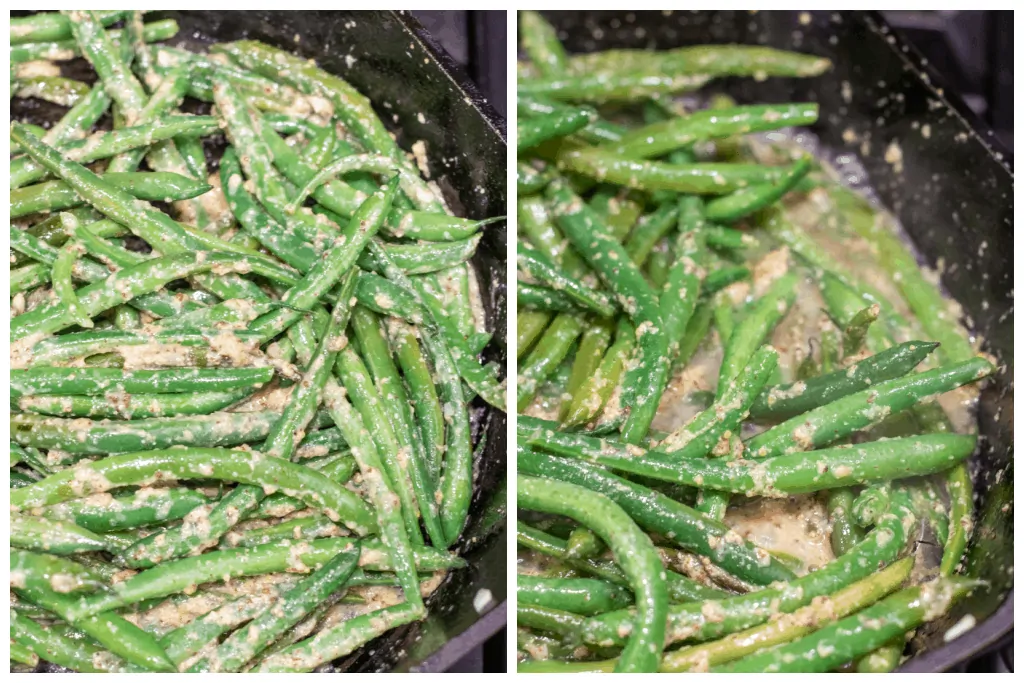 And done! Could cooking green beans get any easier? See all that Dijon mustard? Yup. This is not for the faint of mustard heart. These 15 Minute Mustard Green Beans are packed full of flavor - mostly the Dijon mustard flavor.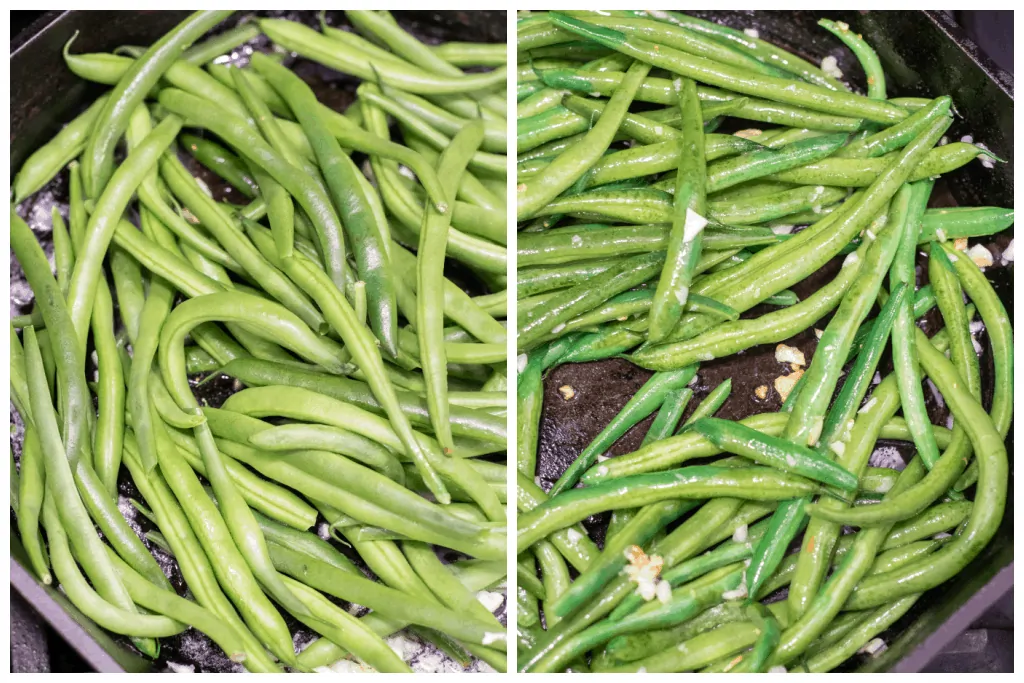 One of my favorite things about this recipe is that these beans are not mushy. They have crunch, flavor, and oh hey have I mentioned how quickly they're made?
If you don't have room in your oven for that classic casserole, then this is your recipe. Made quickly, on the stovetop, and you know what? Re-heated after cooked? No problem. My husband said that he even liked them more the next day. So there ya go.
You Also Might Like
Green Bean Recipes
Other Vegetable Sides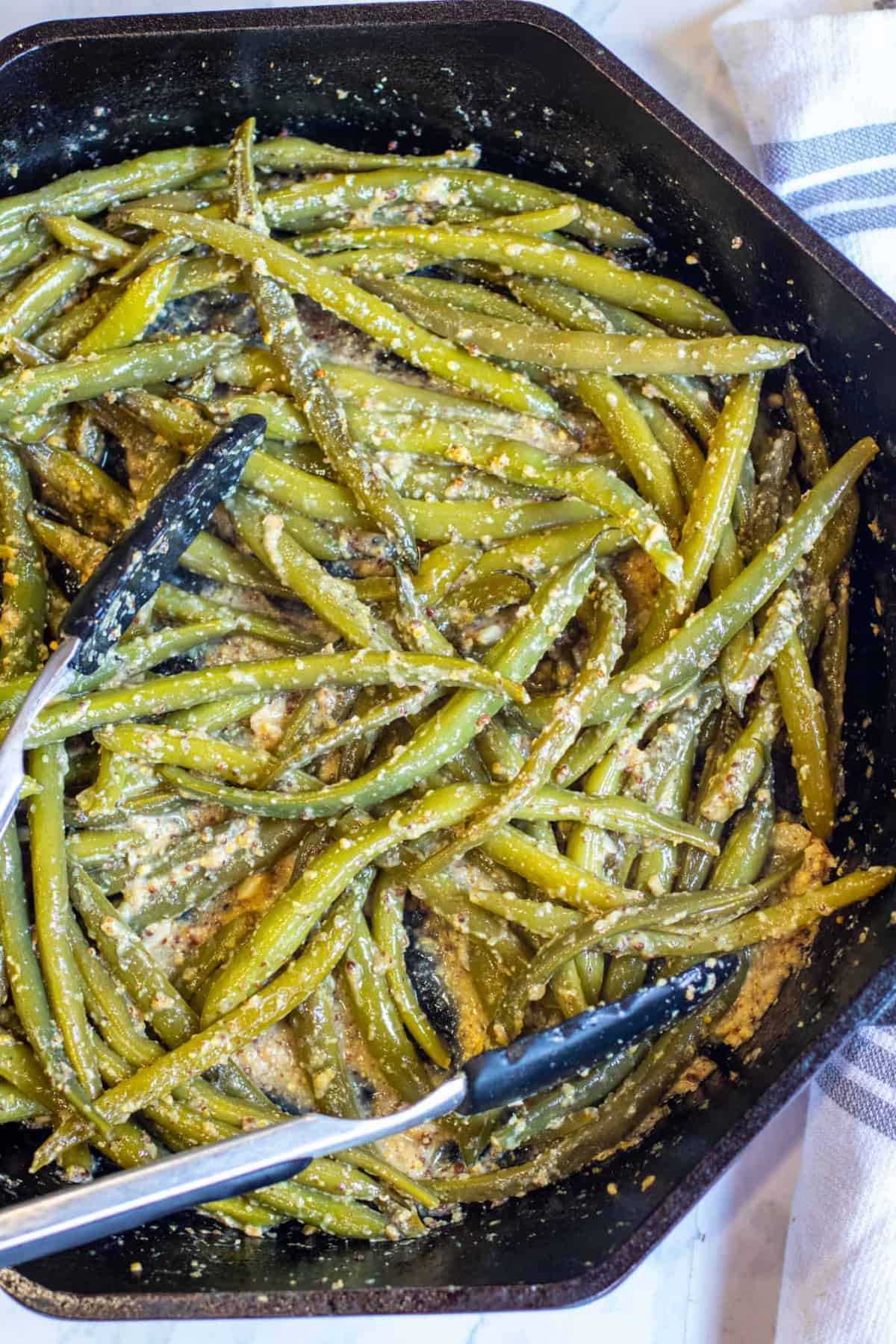 Enjoy! As always, if you make this recipe or any of my others, I love to hear what you think! Leave a comment below, email me, or you can find me on Facebook, Instagram, and Pinterest!
If you want to see more, be sure to sign up for my 5 Easy Ways to Start Cooking From Scratch!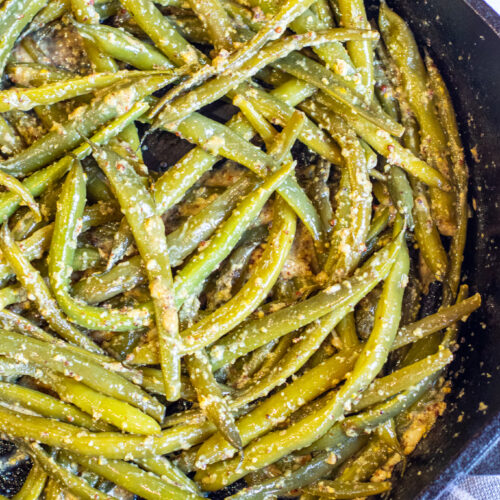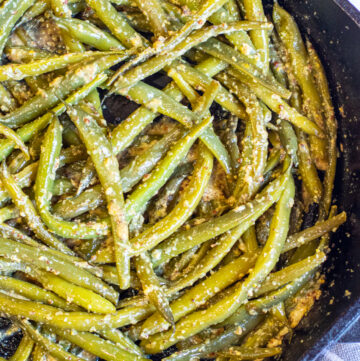 Ingredients
1

lb

green beans

fresh, cleaned

3

cloves

garlic, minced

2

tablespoons

salted butter

3

tablespoons

Dijon mustard

3

tablespoons

white vinegar

1/4 - 1/2

teaspoon

salt

1/2

teaspoon

onion powder

1/2

cup

stock

vegetable, chicken, or beef
Instructions
Melt butter in a large sauté pan or cast iron skillet over medium heat.

Sauté garlic in butter for 60-90 seconds - be sure it doesn't burn!

Add cleaned fresh green beans to the pan and with tongs coat the beans with the butter and garlic.

Add mustard, salt, and onion powder and with tongs coat green beans well. Then add vinegar and let cook for 3-4 minutes.

Add stock and then cover pan with lid and let cook for 4-5 minutes.

Remove lid, stir beans, and serve!
Notes
Nutrition
Calories:
101
kcal
|
Carbohydrates:
10
g
|
Protein:
3
g
|
Fat:
6
g
|
Saturated Fat:
4
g
|
Cholesterol:
15
mg
|
Sodium:
739
mg
|
Potassium:
264
mg
|
Fiber:
3
g
|
Sugar:
4
g
|
Vitamin A:
1020
IU
|
Vitamin C:
15
mg
|
Calcium:
53
mg
|
Iron:
1
mg