When it came to food, I definitely wasn't a picky eater, but I was… weird. I ate more tuna fish sandwiches than peanut butter. And not PB & Js, just straight peanut butter 'cause I refused to touch jelly… or cream cheese… or mayo (unless it was mixed with tuna). I just had a weird aversion to most condiments. But if it was green? I loved it. Broccoli, peas, celery, cucumbers, spinach. Loved. It baffled my parents, but they happily went with it. My most favorite vegetable ever? Asparagus. I used to get sooo excited when my mom would make asparagus and because it was pretty pricy for us, it was such a treat. Now, if it was in season all year, we would totally eat it every day; it's still a favorite in this household.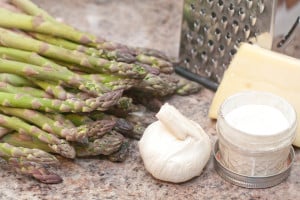 Normally we just do a very quick blanch or toss them in a little olive oil and throw them on the grill. Super easy. But this night, I just happened to have some gruyere and a ton of garlic so I decided to switch it up.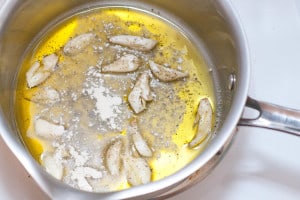 I heated some olive oil with garlic, salt, pepper, onion powder, and lots of garlic…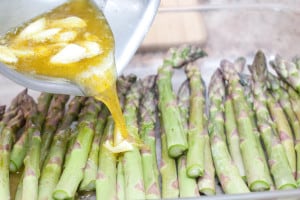 …then poured it over 2 lbs of cleaned, thick beautiful asparagus.
Then topped with some fresh grated gruyere.
Roasted in the oven for 12 minutes and we had some beautiful asparagus!
So delicious and wonderfully al dente- but still not as good as the asparagus my mom made. Even though she made it in the microwave with canned parmesan cheese… as everyone knows, there's just something special that moms add to your favorite childhood dishes that you'll just never be able to recreate 🙂
Garlic and Gruyere Roasted Asparagus
2015-05-24 20:00:34
Garlicy cheesy roasted asparagus!
Ingredients
2 lbs fresh asparagus, trimmed and cleaned
5-6 cloves of garlic, peeled and sliced in half
1 teaspoon of onion powder
1 teaspoon of fresh ground pepper
1/2 teaspoon of kosher salt
1/4 cup of olive oil
1/4-1/2 cup of fresh grated gruyere cheese
Instructions
Pre-heat oven to 400 degrees. Clean and trim asparagus and line in a wide baking dish or sheet, single layered.
In a small pan on medium-low heat, heat olive oil, garlic, salt, pepper, and onion powder. Cook for 3-4 minutes.
Pour oil and garlic mixture evenly over asparagus and sprinkle with cheese.
Roast for 12 minutes until asparagus is cooked and al dente.
Served From Scratch https://www.servedfromscratch.com/