Sautéed mushrooms with loads of garlic and butter make these Butter Garlic Mushrooms a 10 minute, stovetop side dish that's rich, earthy, and delicious!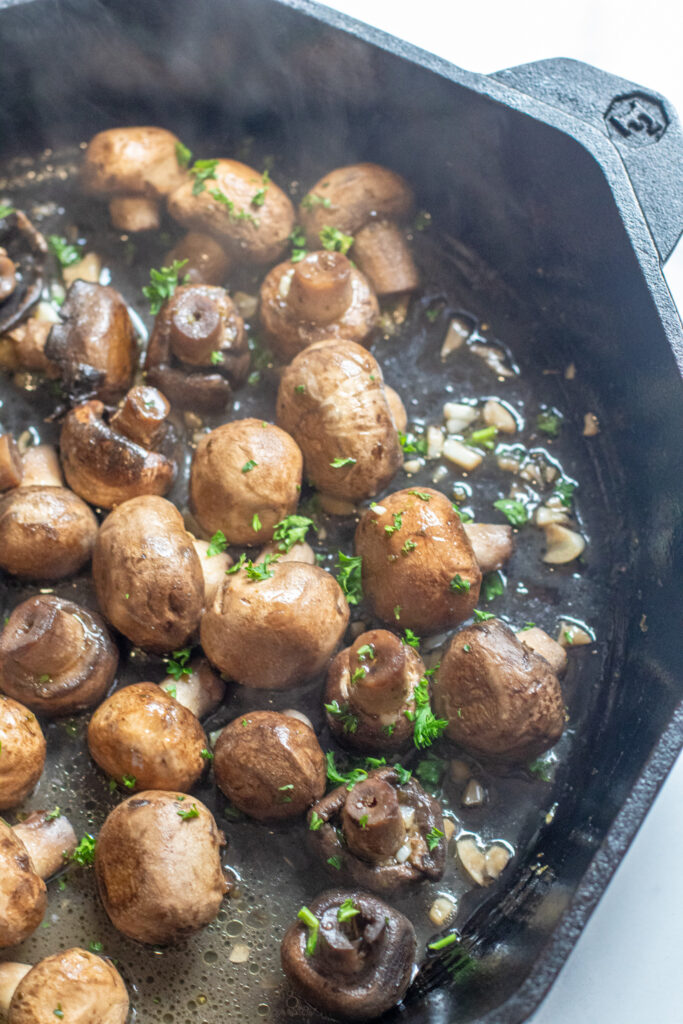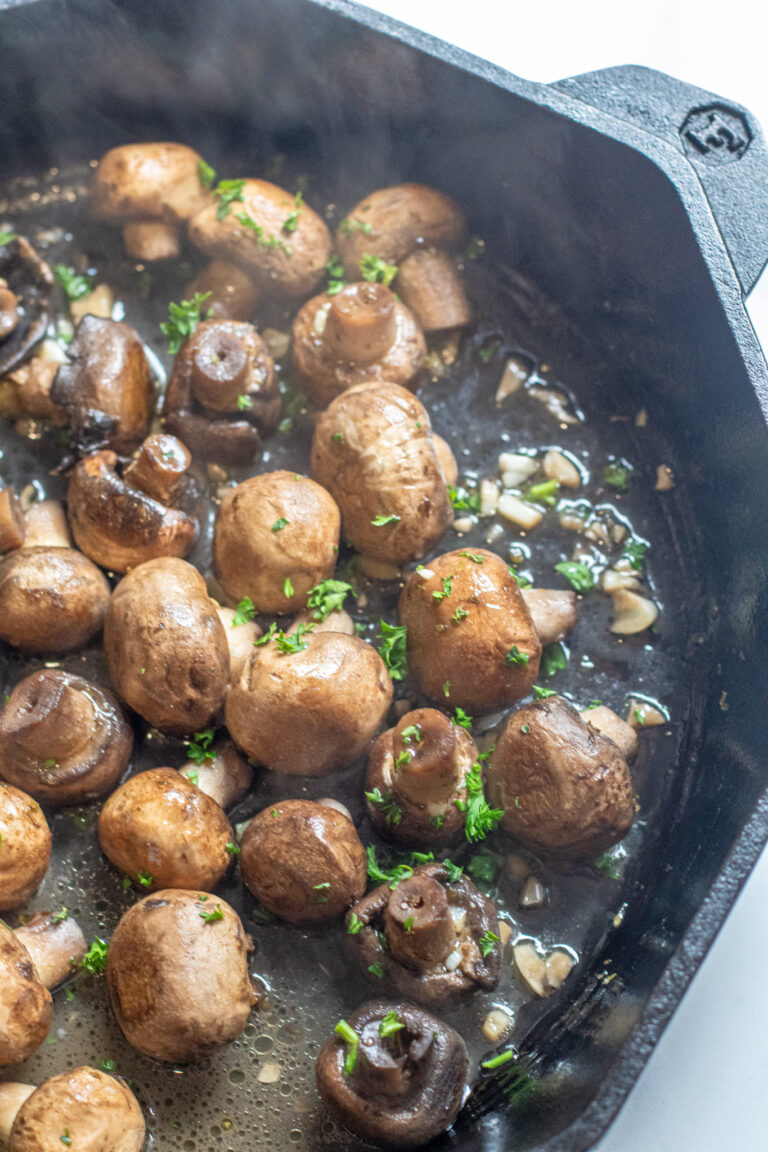 At first, I wasn't quite sure whether these guys were Garlic Butter Mushrooms or Butter Garlic Mushrooms, 'cause there's a lot of both in this uber delicious, super easy side dish. Ultimately, I decided on Butter Garlic because even though there are 6 cloves of garlic, the butter... the rich, smooth, felt like your tongue just got a big ol' hug of all the flavors that get completely absorbed into the sautéed mushrooms, so the butter won.
Ingredients Needed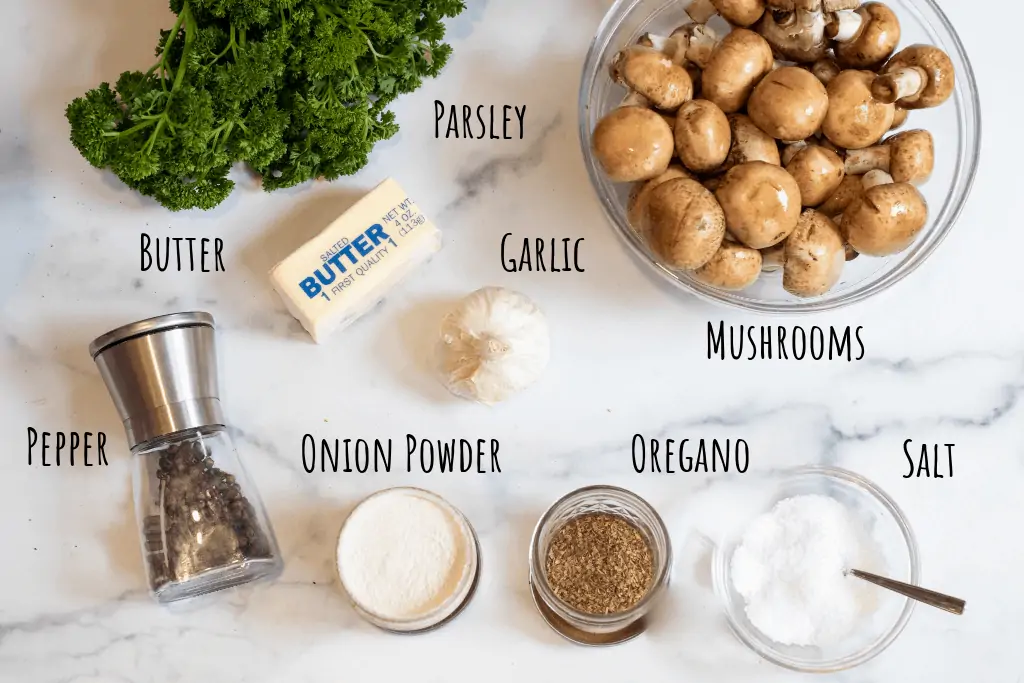 Mushrooms - Use your favorite fungi! We love baby bellas also known as crimini, but a white button is also great or even wild mushrooms if you access or like to forage.
Garlic - Fresh is always our preferred, but you could also just a jarred minced or even just garlic powder if that's all you have.
Butter - Ahh butter. We use salted but you can also of course use unsalted. In that case I would add just a pinch more salt to the recipe.
Onion Powder, Oregano, Salt, and Pepper - To just compliment the rich earthy butter soaked mushrooms.
Parsley - To garnish with at the end for a pop of herbal freshness.
How to Clean Mushrooms
If you're using wild mushrooms, be sure to wash them and then let them fully dry out. But if you're using your favorite variety from the grocery store that's cultivated, there are a couple of options and while you may have heard "never wash mushrooms," Turns out, that's actually not true! Here are a few methods.
Bowl Rinse: Fill a bowl with cool water, add the mushrooms, and then give them a quick toss in the water to clean off the dirt. Remove from bowl and then drain on a paper towel and pat dry.
Colander Rinse - Add mushrooms to a colander and then give them a quick spray with water to clean. Shake off excess water and then drain and pat dry.
Dry-Clean - This method involves using a damp paper cloth to wipe the mushrooms clean. Clearly the much more time consuming, method, but it also keeps the mushrooms the driest.
Any method works for this recipe, as long as you're sure to shake off excess water and pat dry with ether rinse method. Also, avoid rinsing too far in advance because it could cause them to become a little slimy.
Ready in 10 Minutes
This is one of my favorite super quick, easy sautéed mushroom recipes because it takes just minutes to make and it's made right on the stovetop, which means it's a side that's not taking up valuable oven space!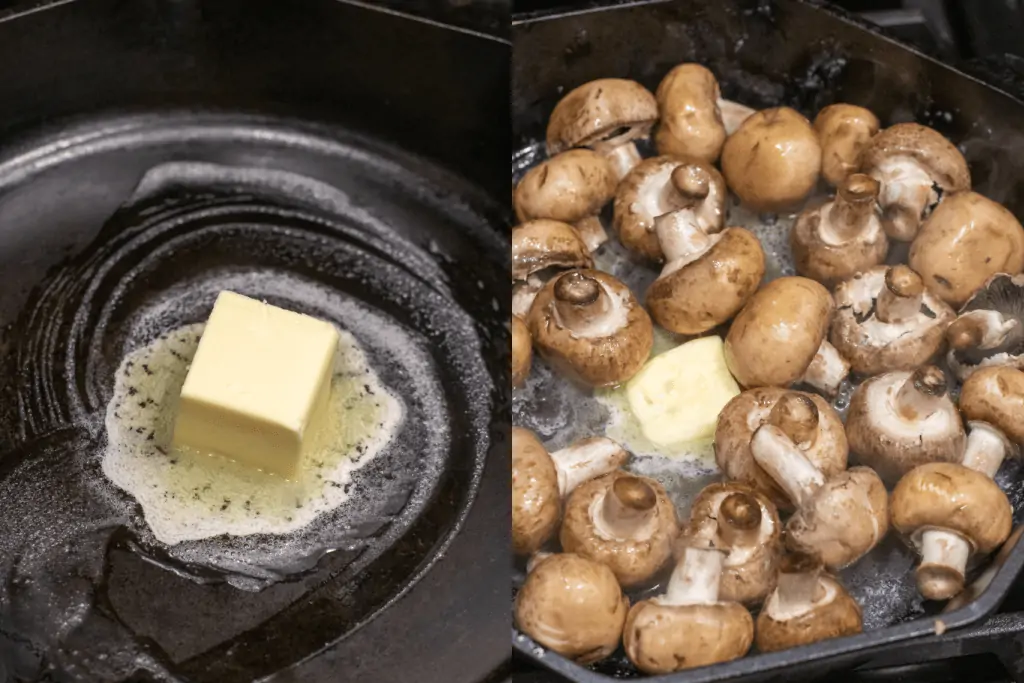 Step 1: Butter! Start to melt that butter in your favorite cast iron (like our favorite, Finex), or sauté pan.
Step 2: Add the mushrooms.
Tip: Add the mushrooms before all of the butter is melted. Let it finish melting while the mushrooms start to sauté.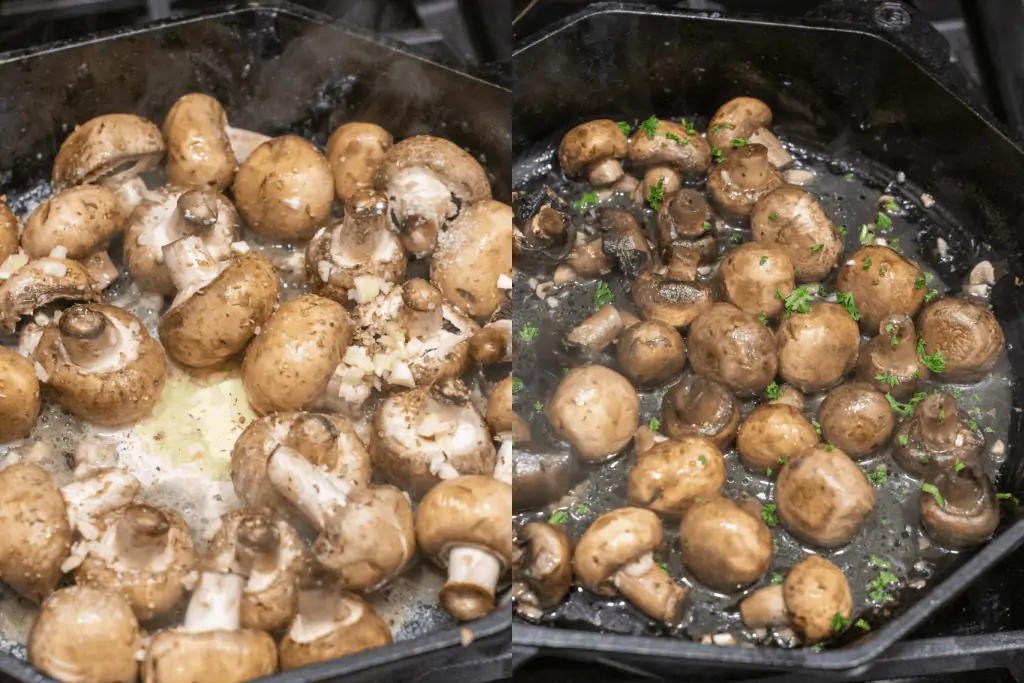 Step 3: After the first couple of minutes, add the garlic, onion powder, and oregano.
Step 4: Cover to finish cooking until the mushrooms have soaked up all of that buttery richness!
Tip: Be sure to add the garlic with only about 4 minutes left of cooking time. Just enough to cook the garlic, but not too much so that the garlic doesn't burn.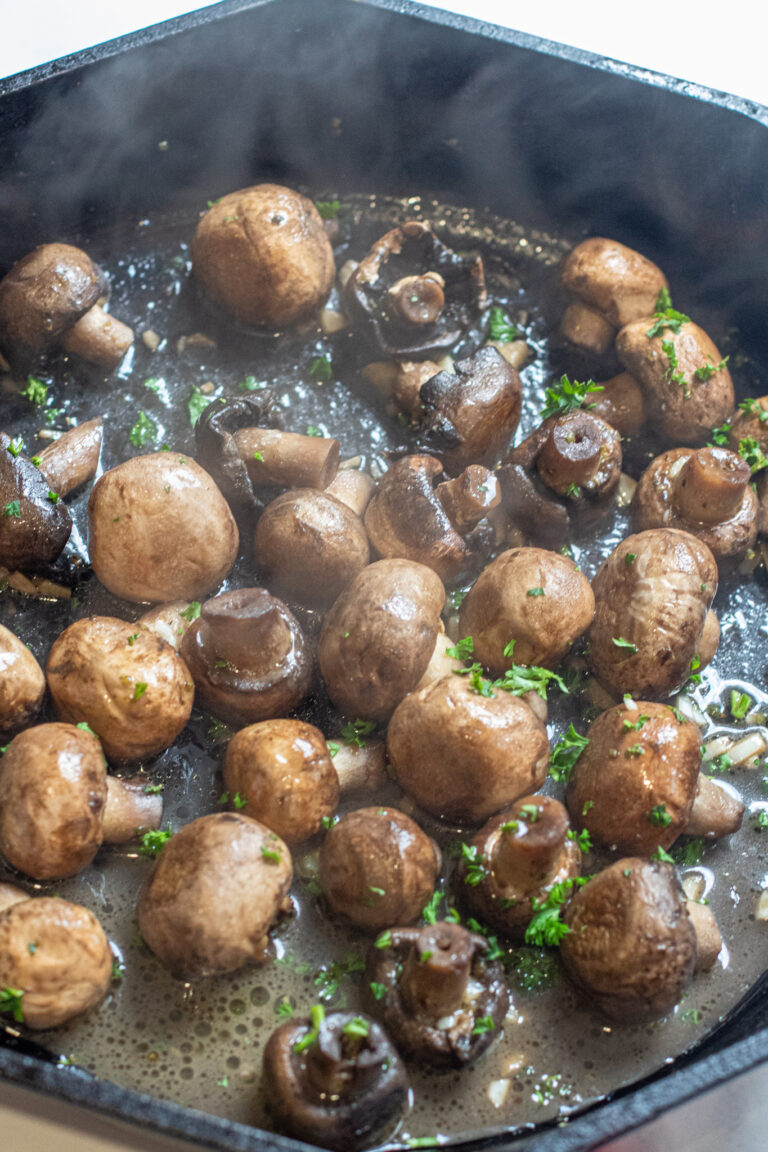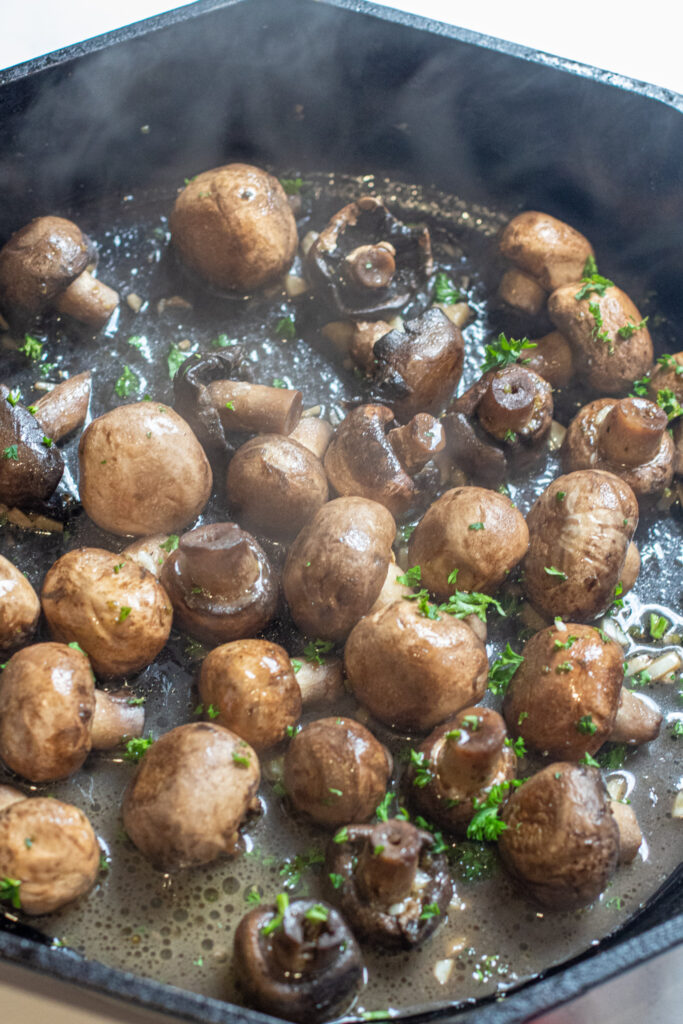 And done! So rich and buttery with plenty of garlic but also maintaining the earthy depth of the mushrooms. In my opinion, the perfect sautéed mushrooms for the true fungi lover!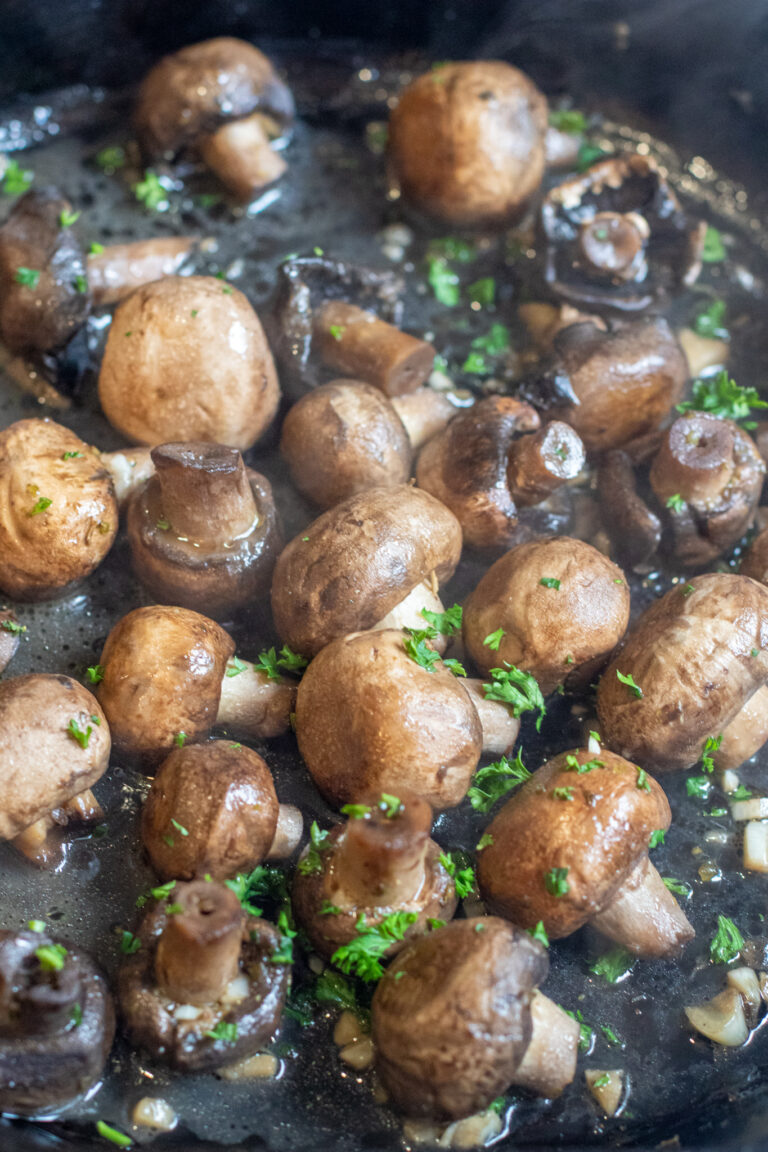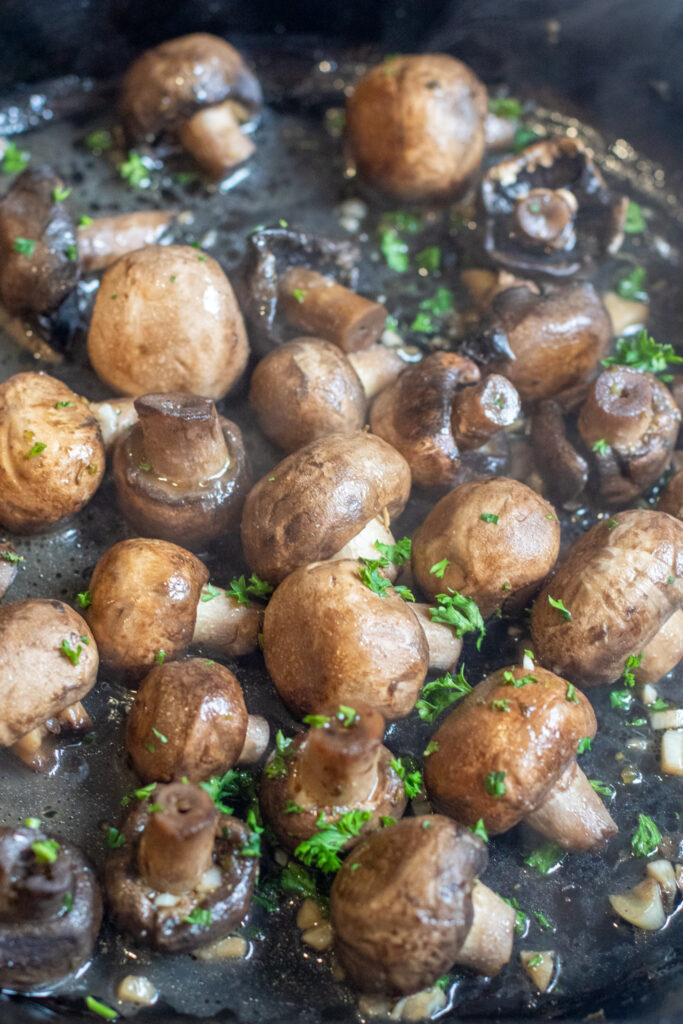 Topped with some fresh parsley, a quick 10 minute side, perfect any dish!
Serve it With
Other Mushroom Favorites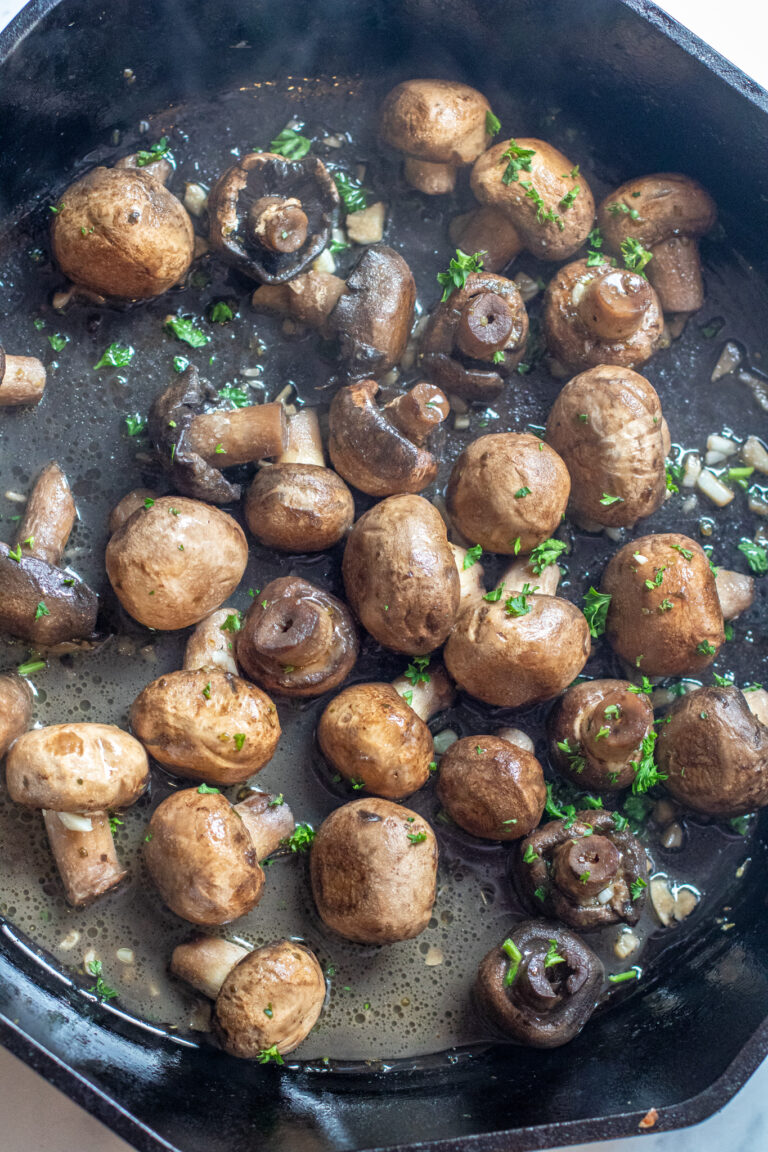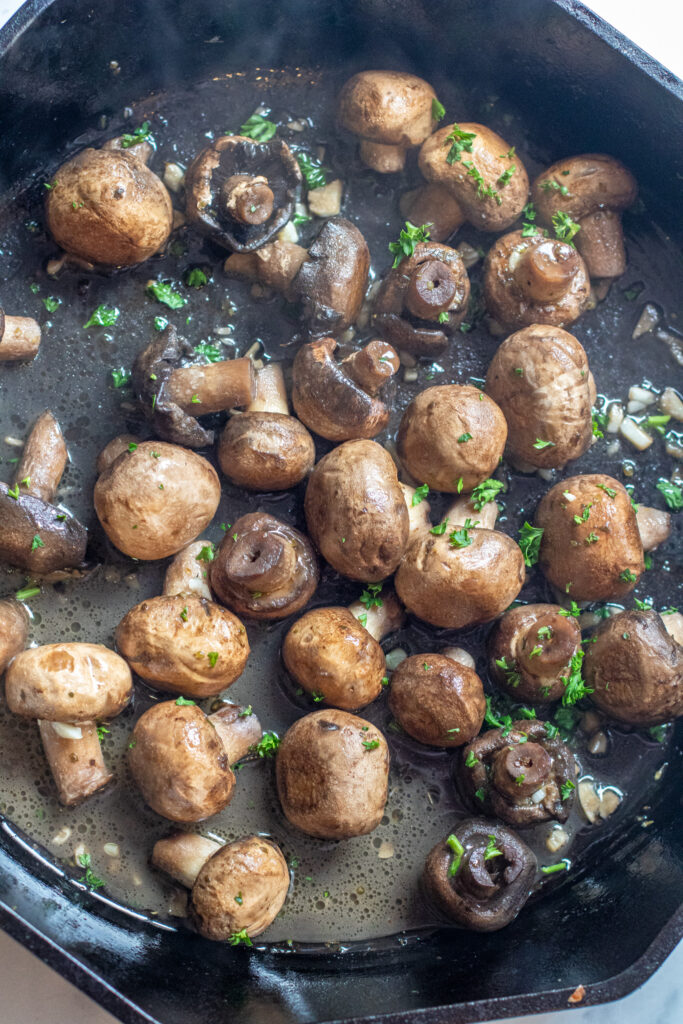 Enjoy! As always, if you make this recipe or any of my others, I love to hear what you think! Leave a comment below, email me, or you can find me on Facebook, Instagram, and Pinterest!
If you want to see more, be sure to sign up for my 5 Easy Ways to Start Cooking From Scratch!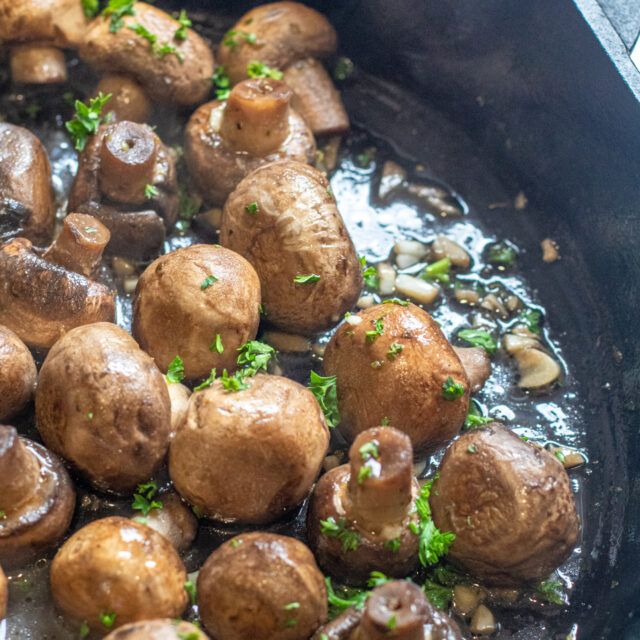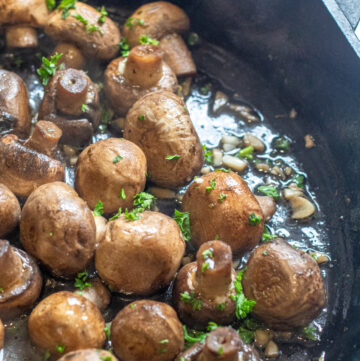 Butter Garlic Mushrooms
Sautéed mushrooms with loads of garlic and butter make these Butter Garlic Mushrooms a 10 minute, stovetop side dish that's rich, earthy, and delicious!
Print
Pin
Rate
Ingredients
1

lb

mushrooms

4

tablespoons

salted

6

cloves

fresh garlic

minced

1/2

teaspoon

salt

1/4

teaspoon

onion powder

1/4

teaspoon

dried oregano

1/4

teaspoon

fresh ground black pepper

chopped fresh parsley / cilantro to taste*
Instructions
Heat a sauté pan or cast iron on medium and add butter.

Add cleaned mushrooms after about all of about 1 tablespoon of butter has fully melted, stir to coat the mushrooms with melted butter and then cover.

After 3 minutes, add garlic, salt, pepper, onion powder, and oregano. Mix, and cover and let cook for another 4 minutes.

Garnish with fresh parsley and serve immediately.
Notes
Substitutions
Butter: Use unsalted butter by adding another 1/8 teaspoon of salt.
Garlic: Use 3/4 teaspoon of garlic powder for the 6 cloves or 3 teaspoons of dried garlic flakes.
Oregano: Use 1 teaspoon fresh oregano for the 1/4 dried.
Cleaning Mushrooms
If rinsing, be sure to drain and pat them dry to remove as much excess liquid as you can.
Nutrition
Calories:
133
kcal
|
Carbohydrates:
5
g
|
Protein:
4
g
|
Fat:
12
g
|
Saturated Fat:
7
g
|
Trans Fat:
1
g
|
Cholesterol:
30
mg
|
Sodium:
397
mg
|
Potassium:
387
mg
|
Fiber:
1
g
|
Sugar:
2
g
|
Vitamin A:
353
IU
|
Vitamin C:
4
mg
|
Calcium:
18
mg
|
Iron:
1
mg