Is there anything better than a tried and true family recipe? My Mom's Swedish Meatballs is exactly that! Flavorful, easy to make, and with a delicious gravy, it's been a family favorite for decades!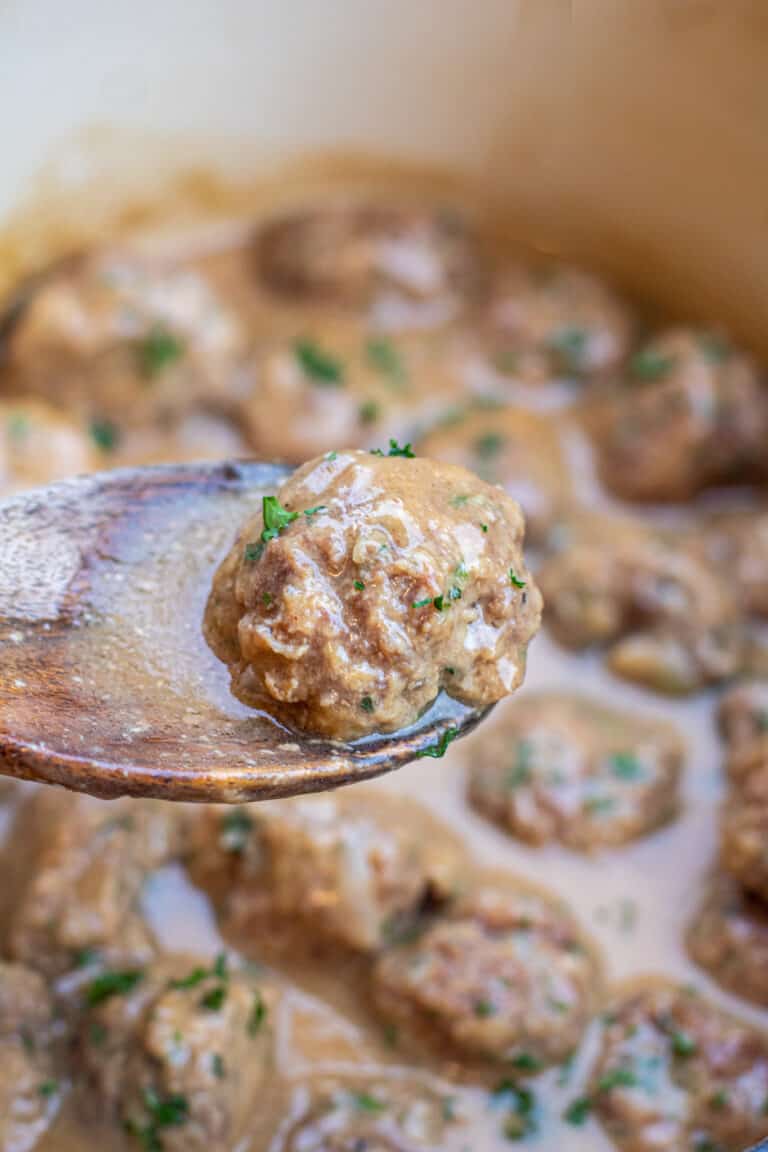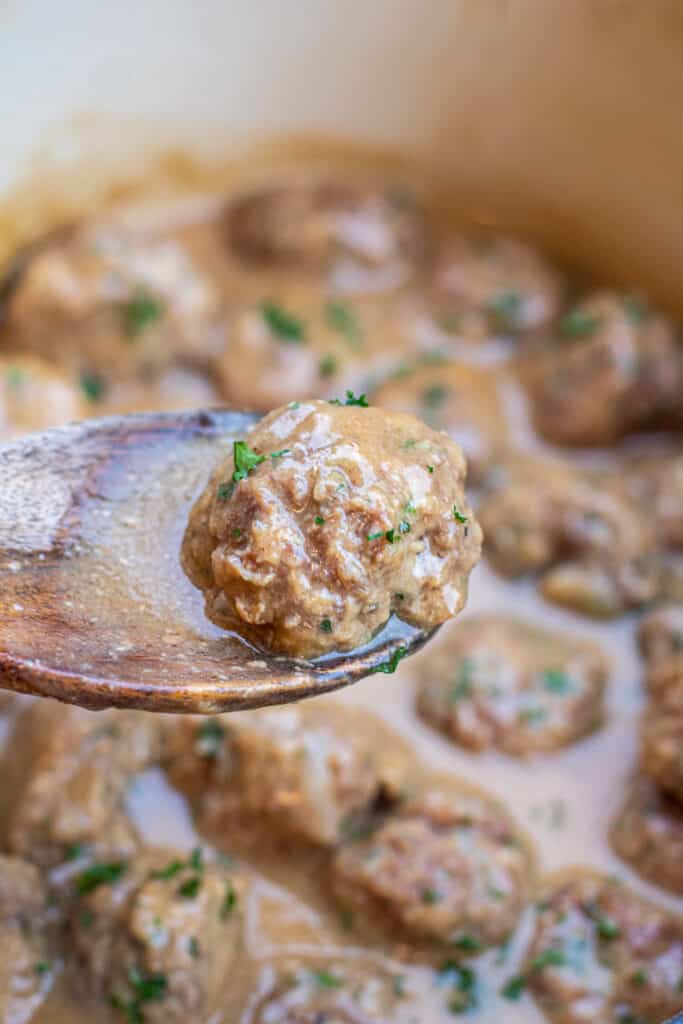 Friends. My Mom's Swedish Meatballs is a recipe that I have wanted to share with you all since the very beginning. It's a recipe that is so incredibly near and dear to my heart. Every single bite brings me back to my childhood. It has always been (and continues to be) my favorite meal, and one that I requested for my birthday dinner every year (even into my 20's). I am so excited to finally share it with you all!
Ingredients Needed
Before you look at the ground lamb and go uh nope, don't worry it's not totally necessary.
For the Meatballs:
Ground Meats - Ground Beef, Ground Pork, and Ground... Lamb, Veal,

OR

you could sub a combo of just ground beef and ground pork. See the recipe notes.
Soft Bread Crumbs - What are soft bread crumbs? Cut up soft bread, that's it. Get a loaf of your favorite basic, simple white bread and there you go. Our favorite that we use for this recipe is our

Easy White Sandwich Bread

.
Onion - I prefer white for this (because that's our household's onion of choice), but yellow would also be fine. Stay away from red though, it wont work in this recipe.
Egg - To bind!
Butter - To saute the onion in and bring in a lot of flavor.
Milk - Just enough to soften up the bread crumbs.
Fresh Parsley - Fresh is really key for this recipe. Yes, you could use dried, but it's not the same. It's still delicious, but fresh is always better.
Spices: Ground Ginger, Nutmeg, Kosher Salt, Pepper
TIP: I'll be honest, I absolutely love this recipe with ground lamb, however, I understand that is can be really hard to come by (the same goes for veal). We got ours from the amazing Flying Fish Company here in Portland, OR. You can absolutely use either all ground beef, or do a mixture of just ground beef and pork. See the recipe notes for my suggestions of ratios. But fear not, lamb and veal are not required to make this recipe delicious. Most of my life we did not have the money to be able to afford lamb or veal so my favorite memories of this recipe are with just ground beef and pork.
For the Gravy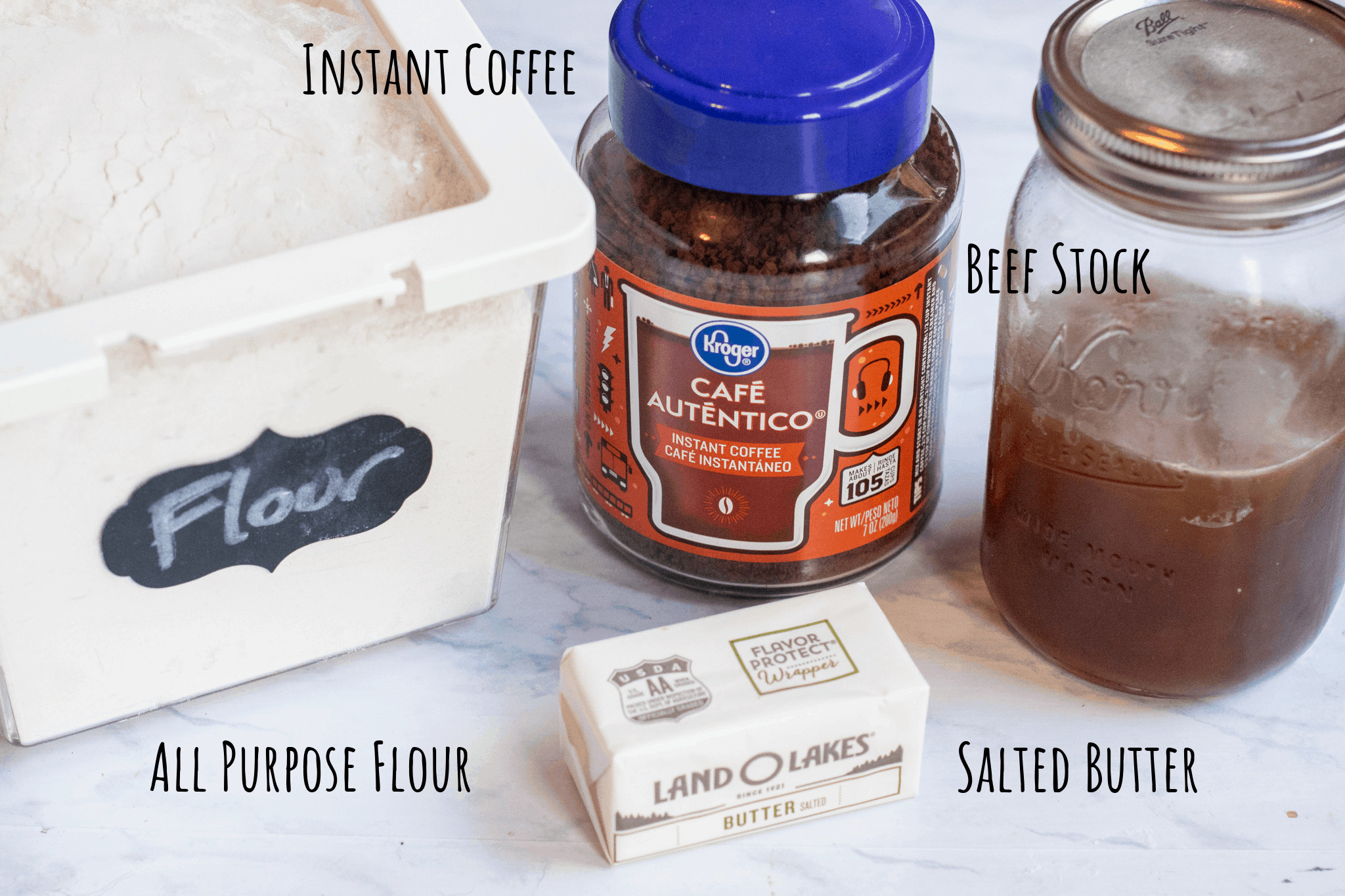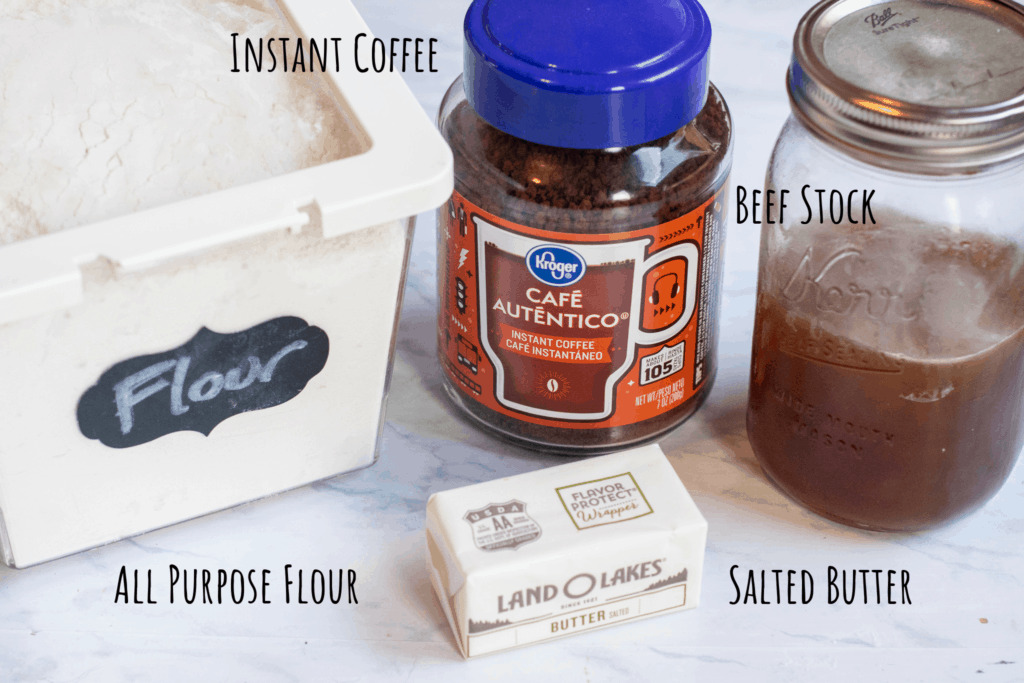 Here's where my family's secret ingredients comes in.
Beef Stock - Make your own with this recipe!
Butter - Salted is my preferred, but unsalted is totally fine.
Flour - To make the roux (what will thicken the gravy).
Instant Coffee: The secret ingredient!
Tips: Instant coffee?! I know. But let me tell you, my husband hates the taste of coffee. He's one of the few people walking on Earth who does not and will not drink coffee or eat anything that tastes like it, like Tiramisu (I know... the travesty). However, he loves these meatballs. There's no taste of coffee in them at all, but it does add a nice richness to the gravy.
Step-by-Step Instructions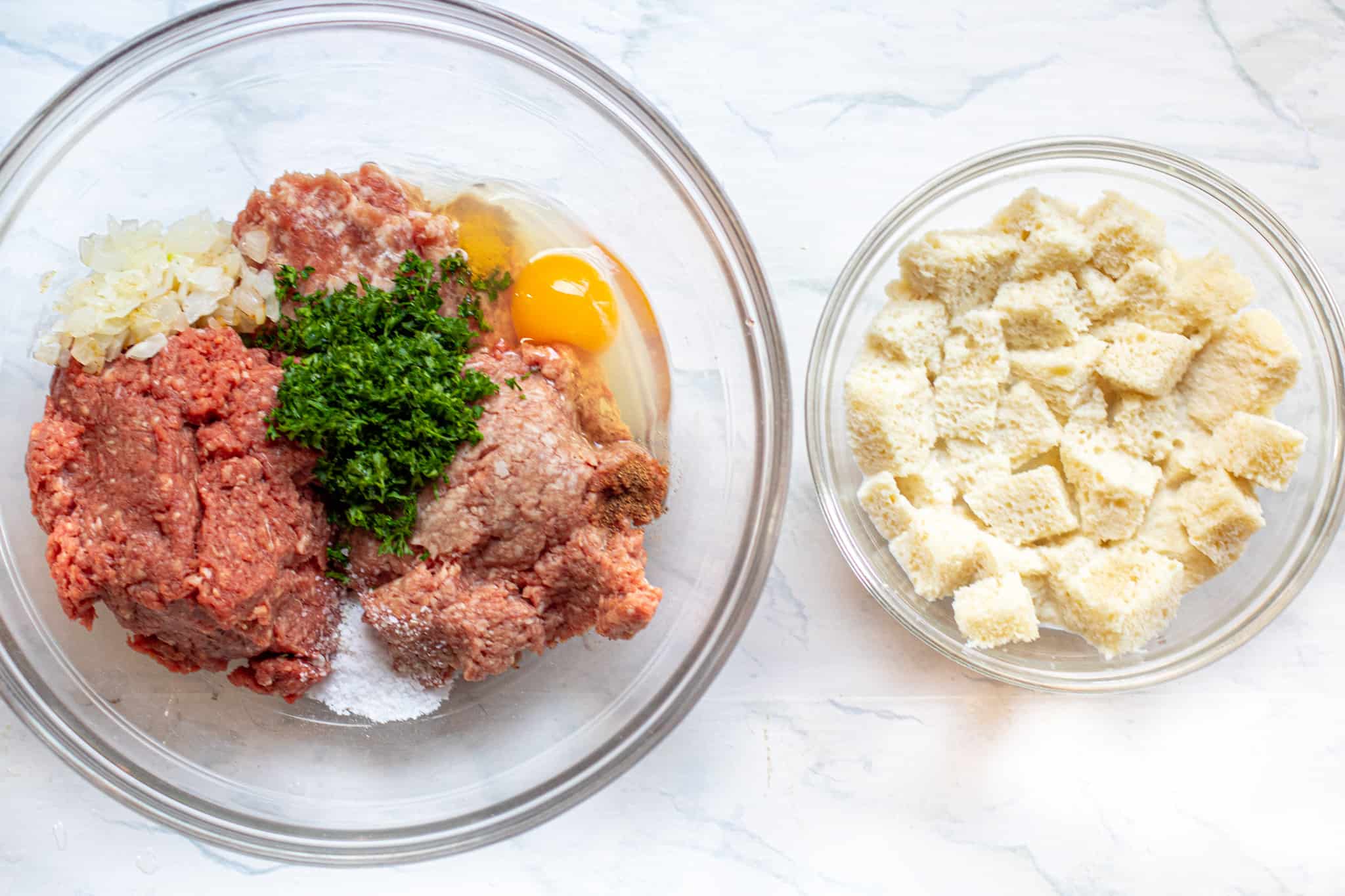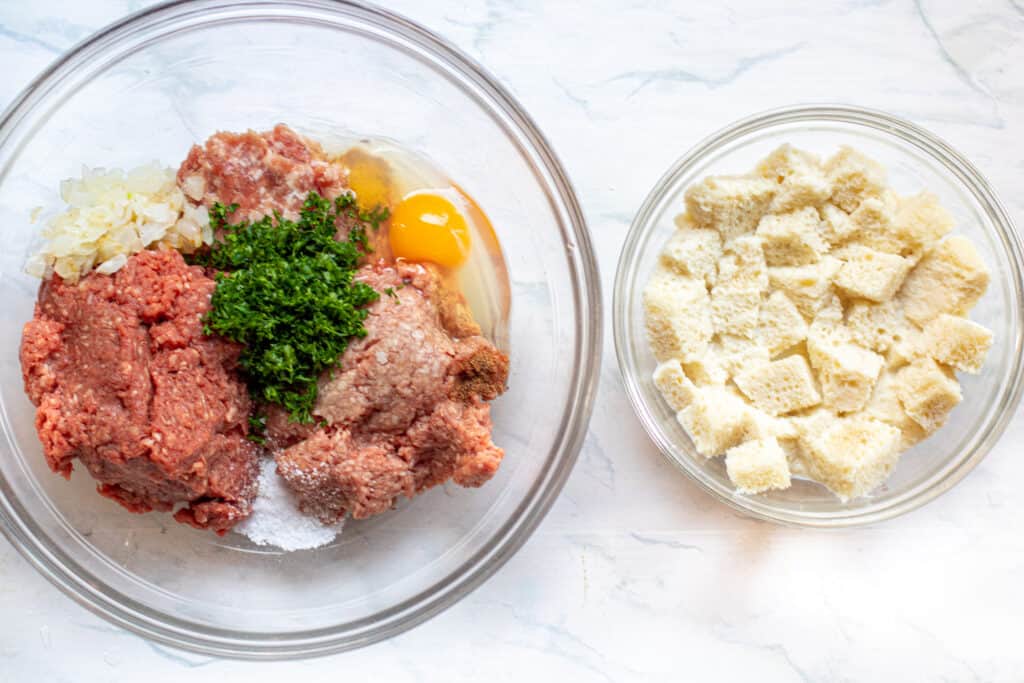 Another reason why I love this recipe, it's actually pretty easy to make because the meatballs are baked instead of pan fried.
Step 1: Sauté onion in butter. It will feel like a lot of butter for the amount of onion, but trust me, you want it.
Step 2: Add bread crumbs to a bowl with milk to soak.
Step 3: Add meats to a large bowl with onion, parsley, egg, and spices.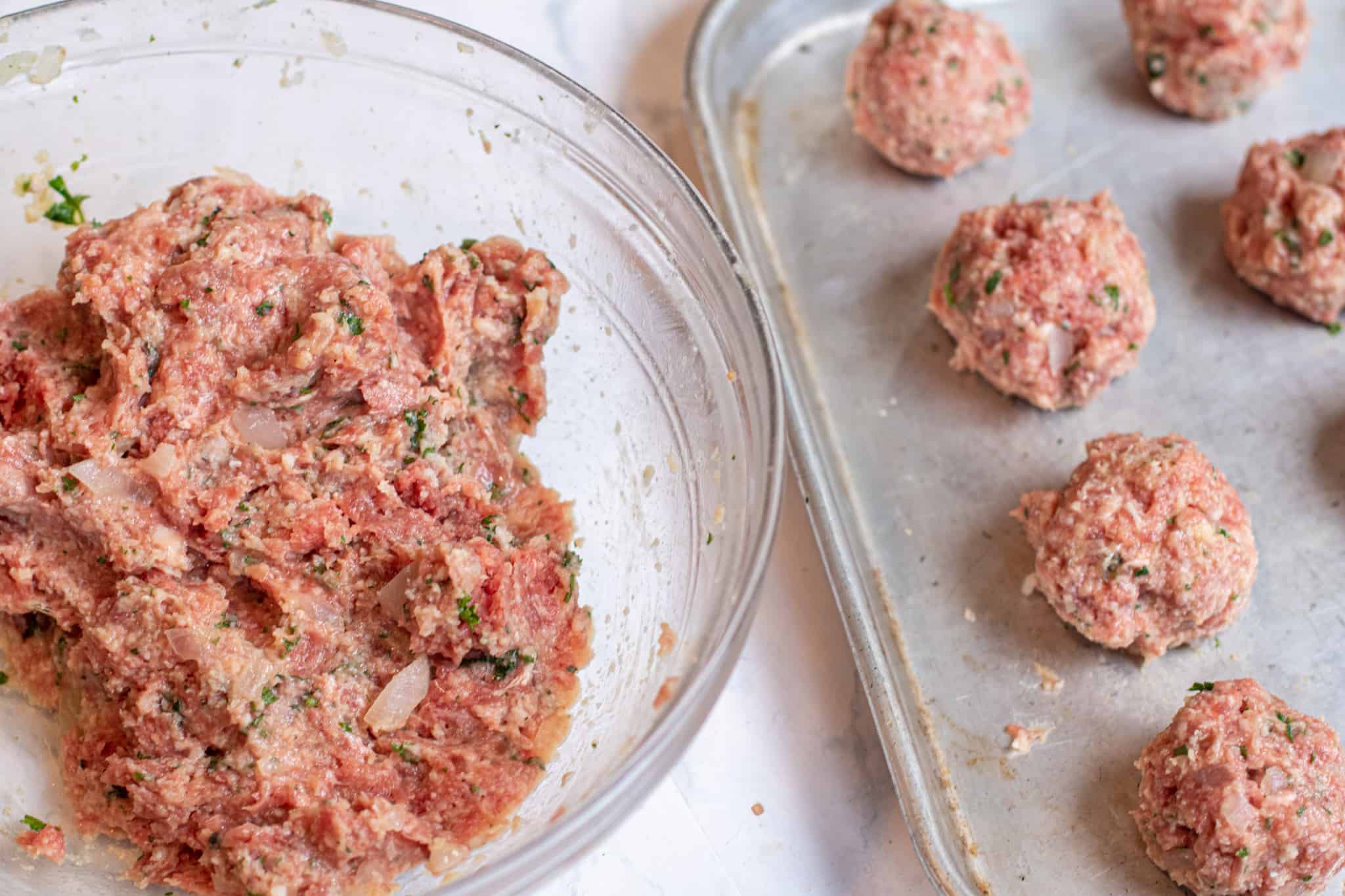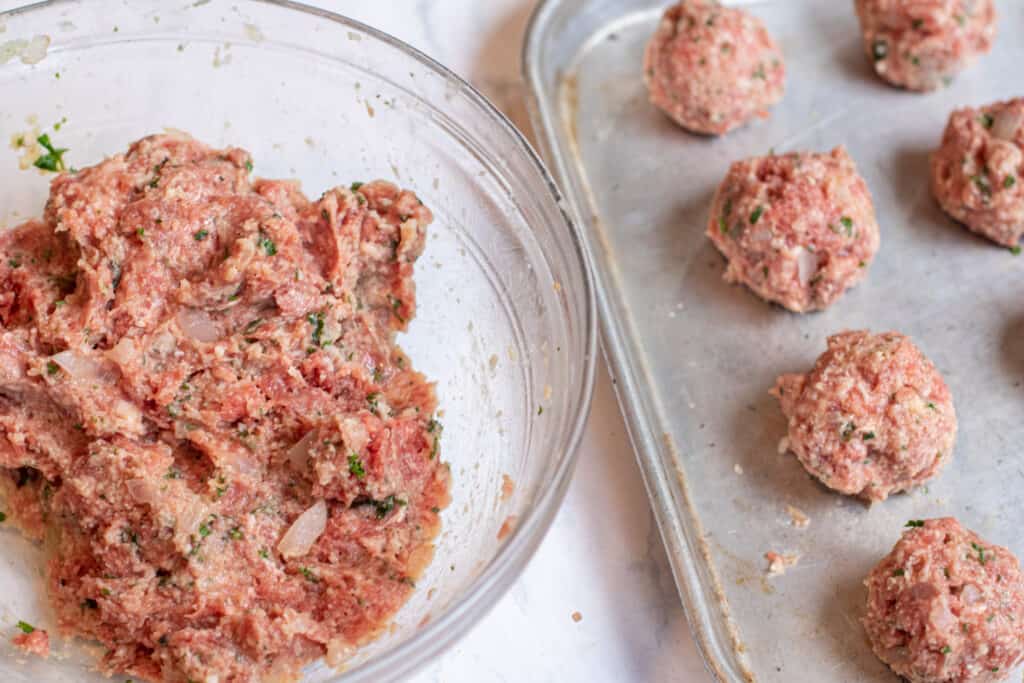 Step 4: Mix the bread crumbs with the meats.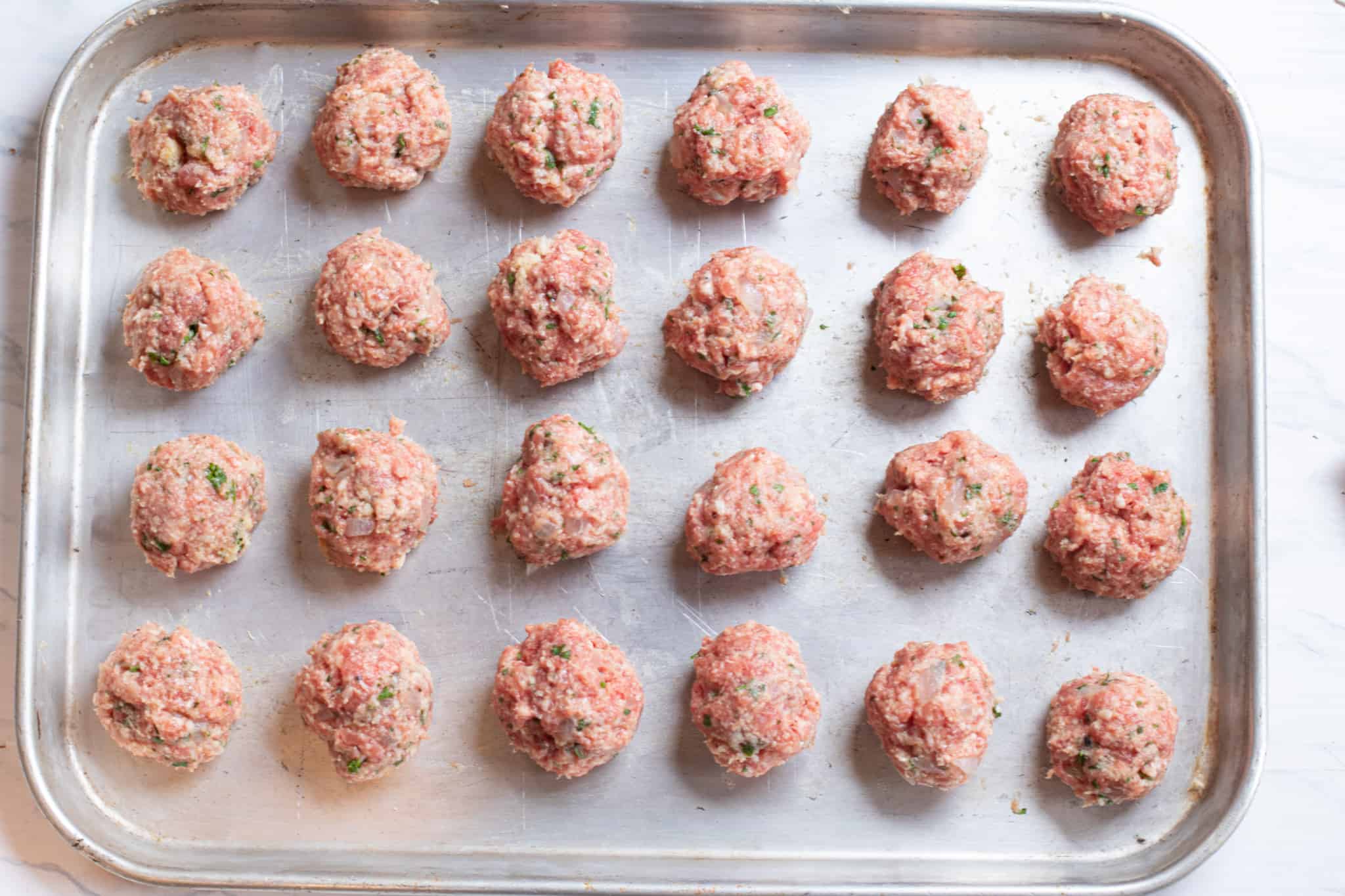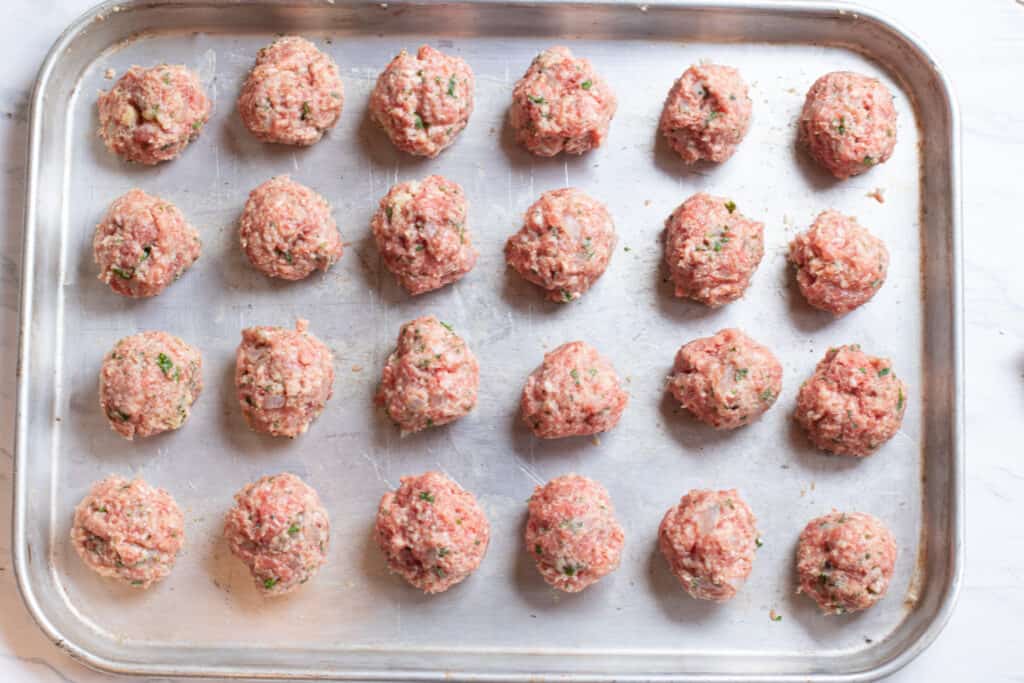 Step 5: Roll out 2 1/2 - 3 inch(ish) balls and add to a rimmed baking sheet.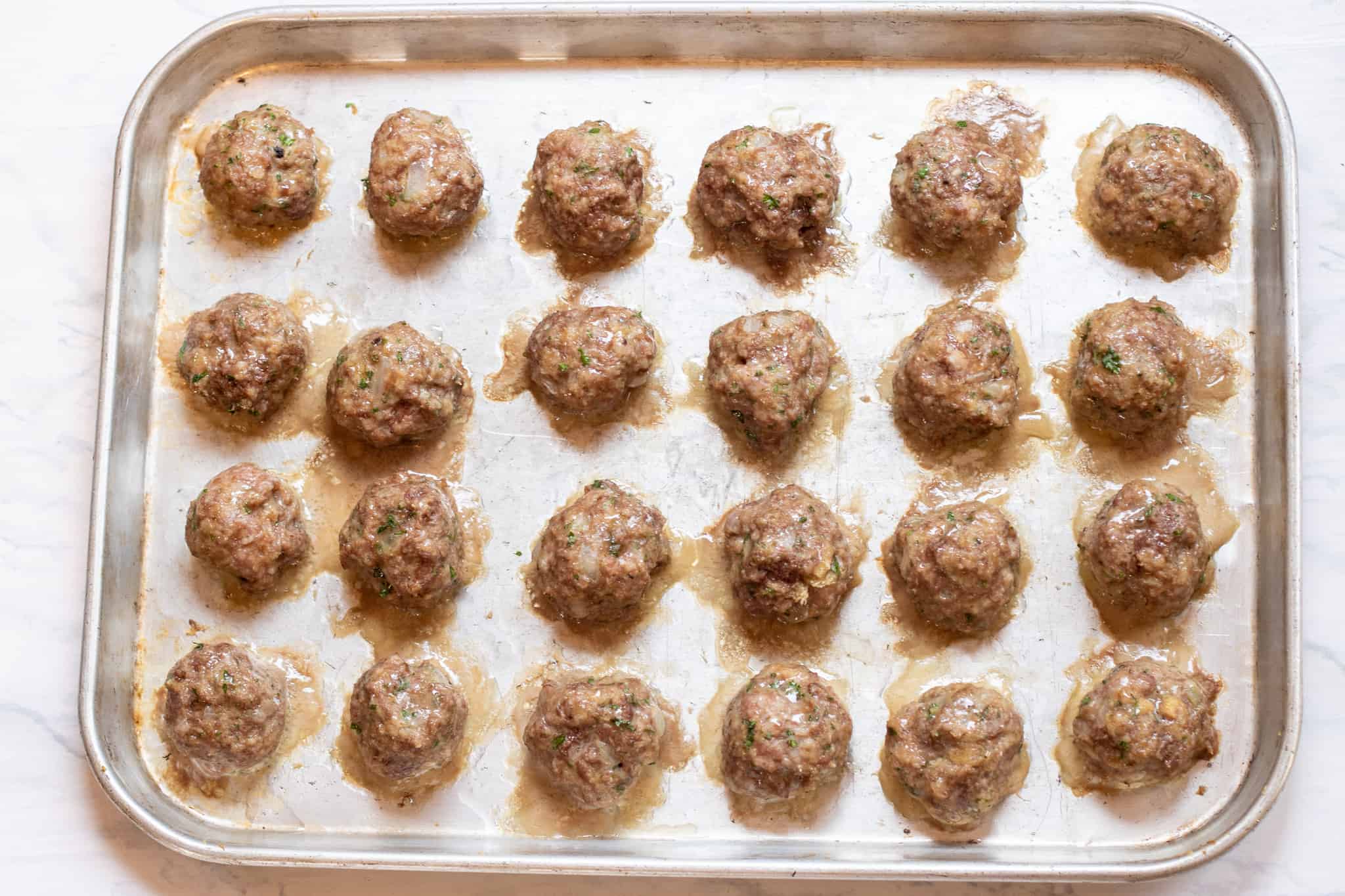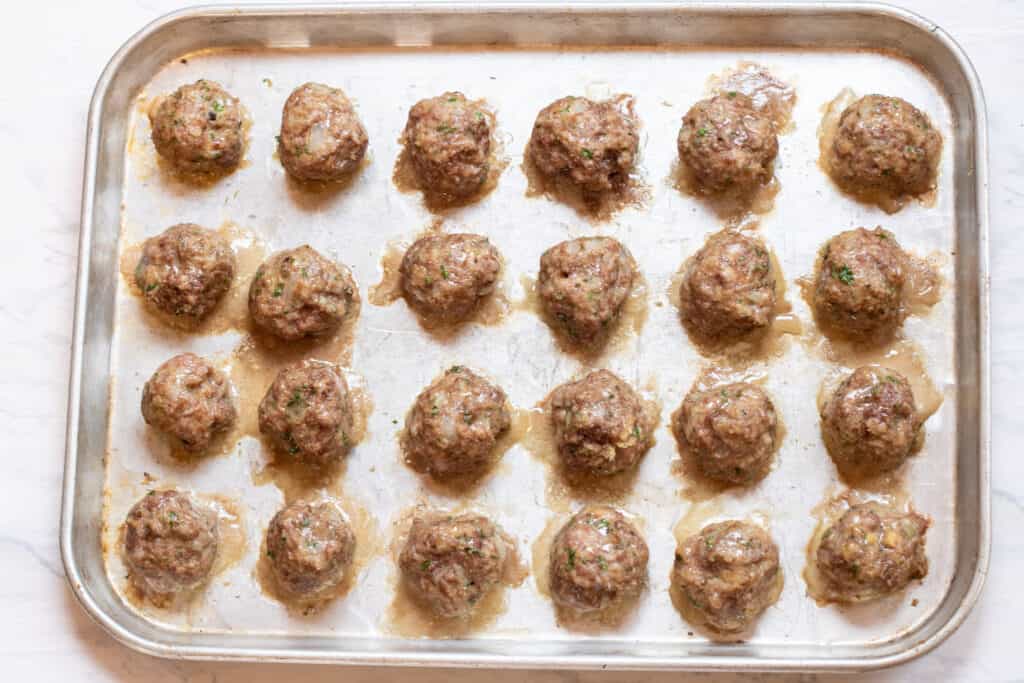 Step 6: Bake!
Mmmm... See those drippings? Keep them for your gravy!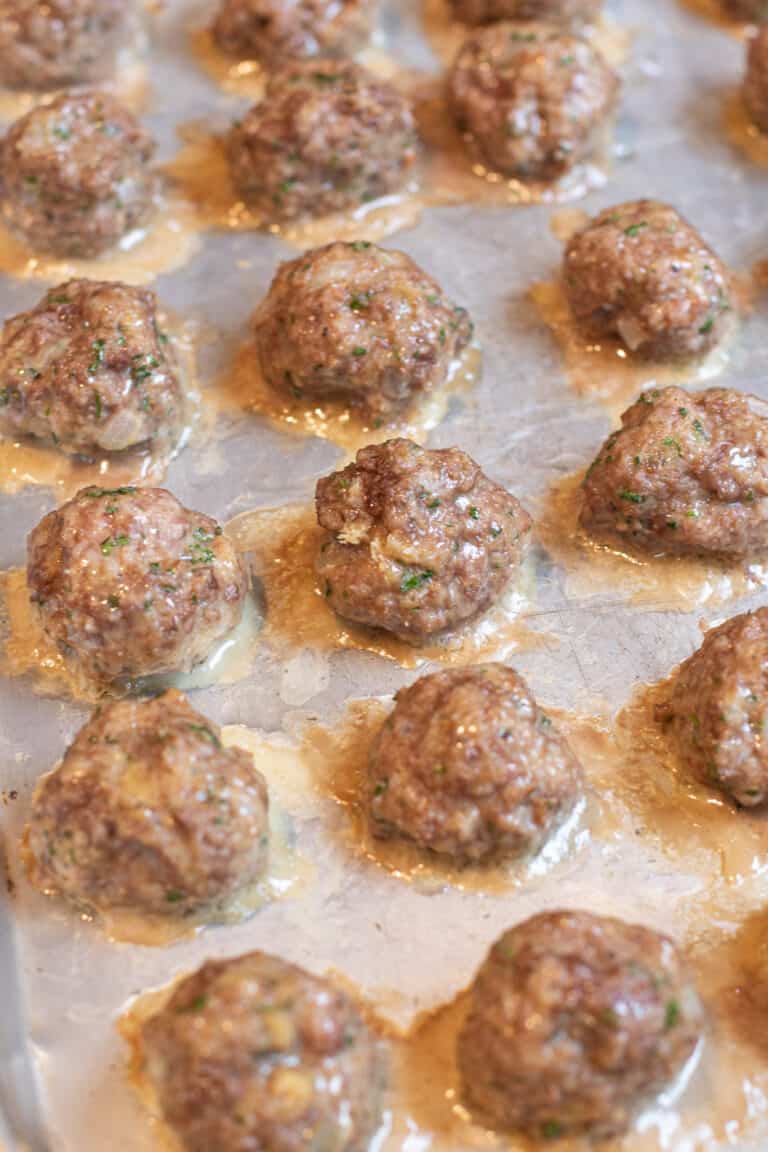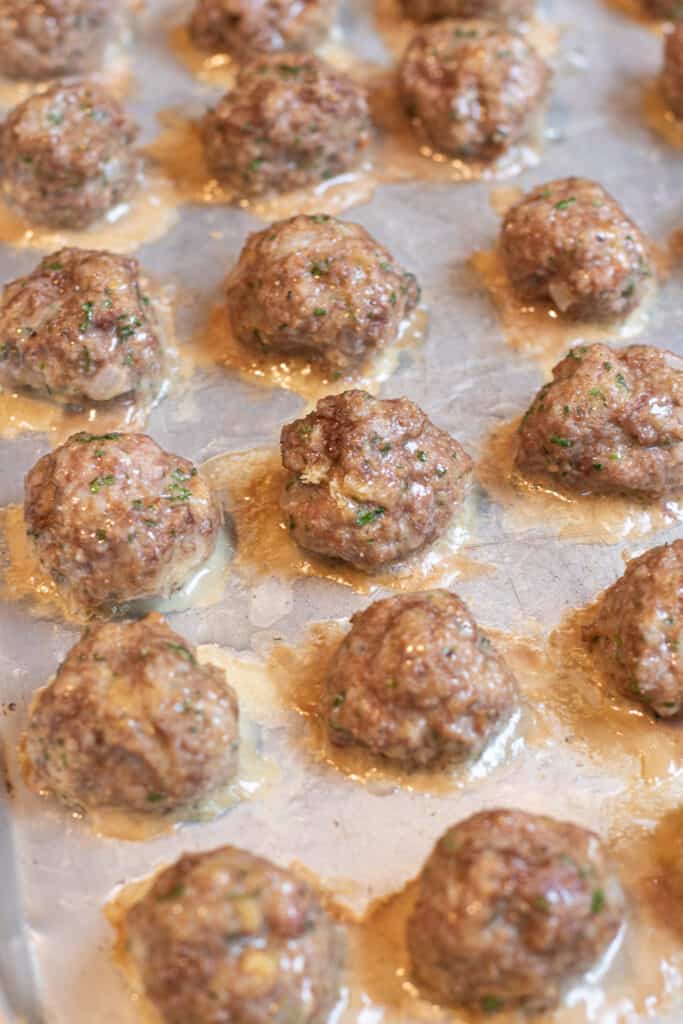 Look at those little beauties.
You could also pan fry them, but let's be honest, that takes more work having to watch over them. Easier is better in our house. So pop these beauties in the oven and let them bake on their own and go about ya life.
Step 7: Make your gravy.
Once your meatballs are done, take those drippings from your pan and scoop them into your pot or Dutch Oven, add the butter and flour and make your roux.
Then add the beef stock and create a delicious gravy to add your meatballs to.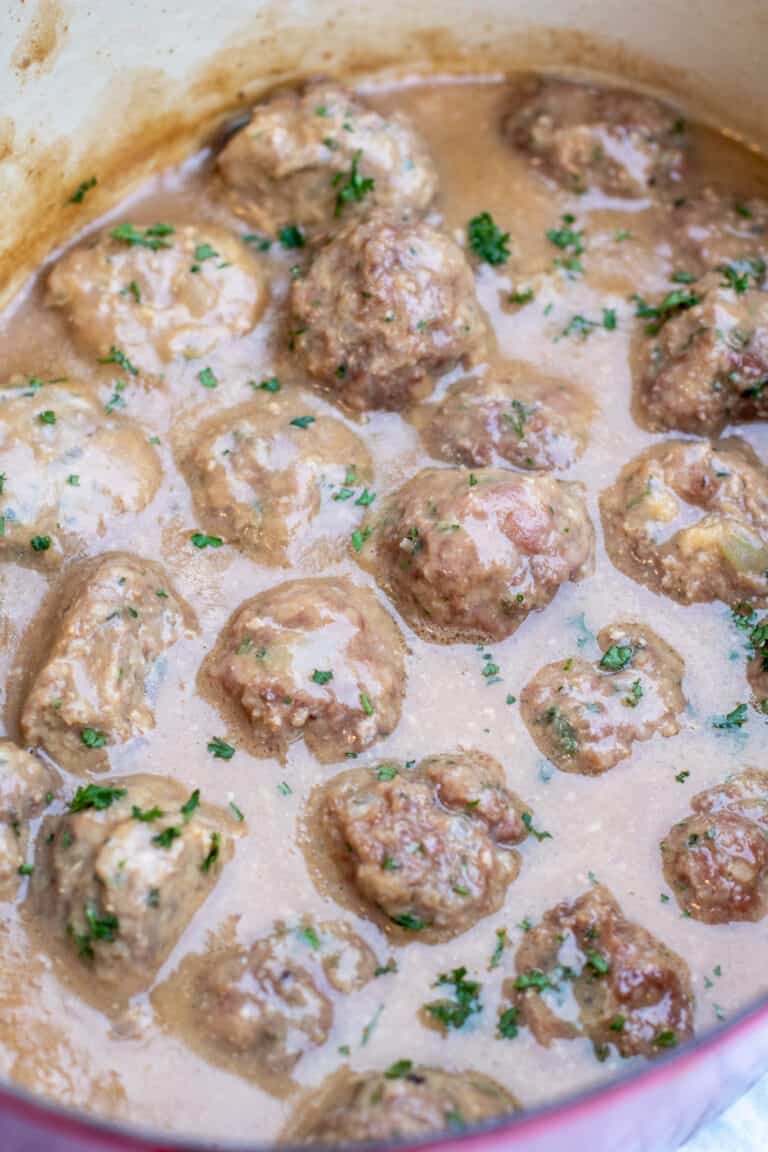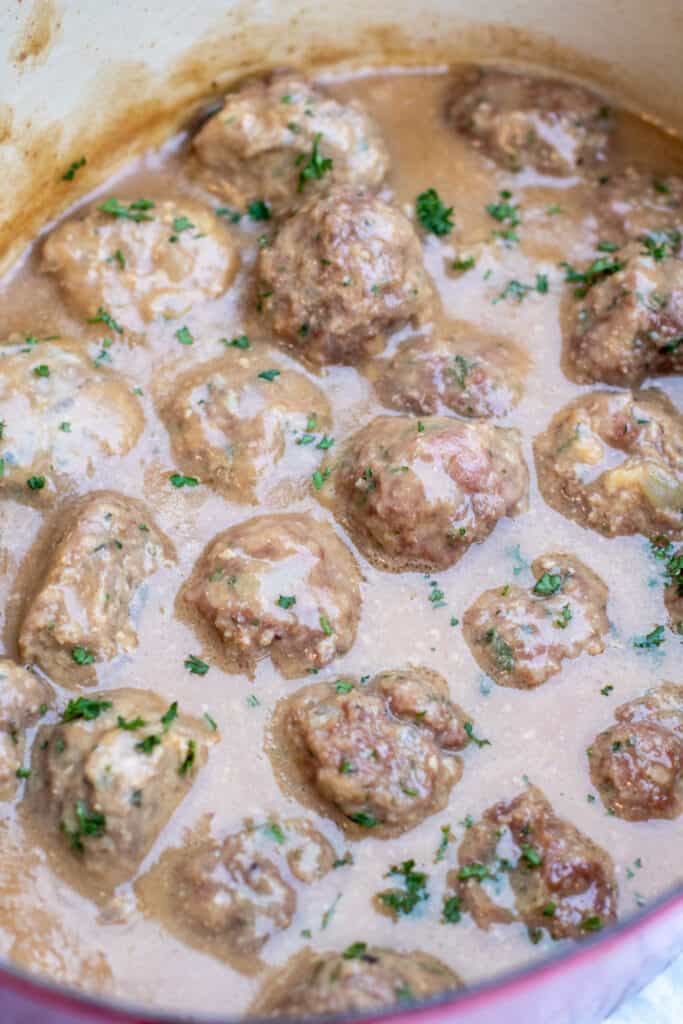 Step 8: Let your meatballs simmer in the gravy until you can't handle it any longer!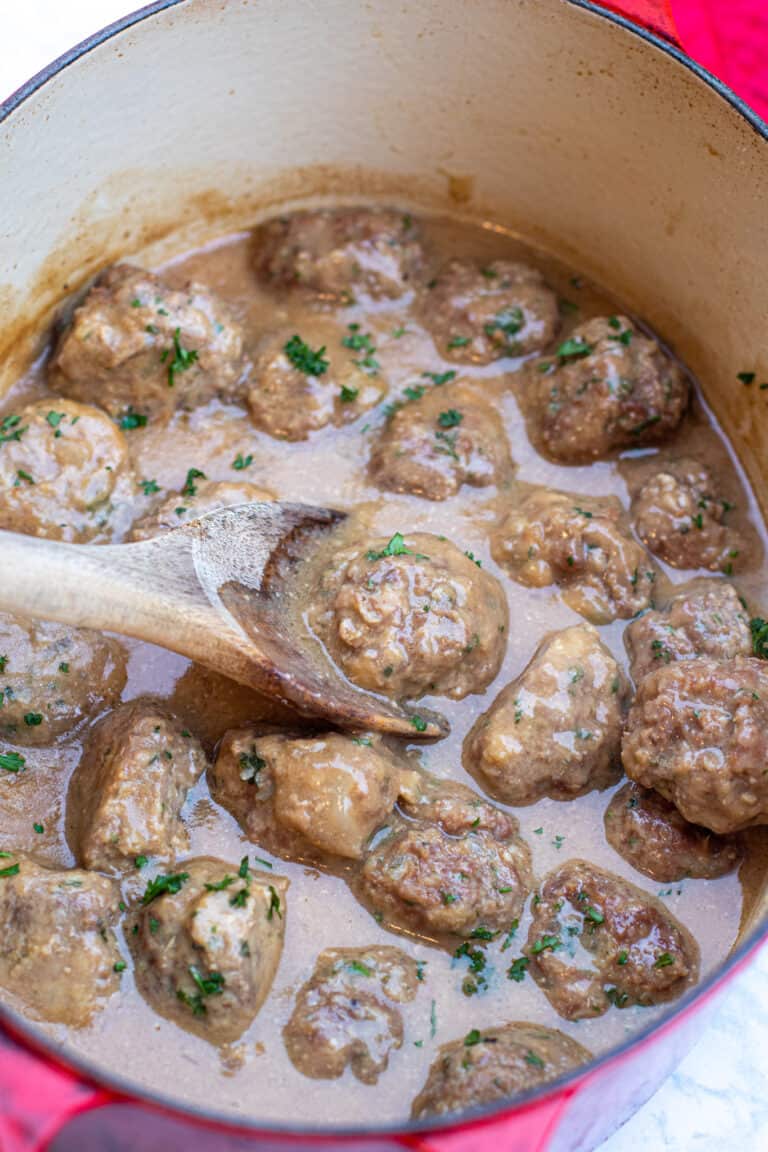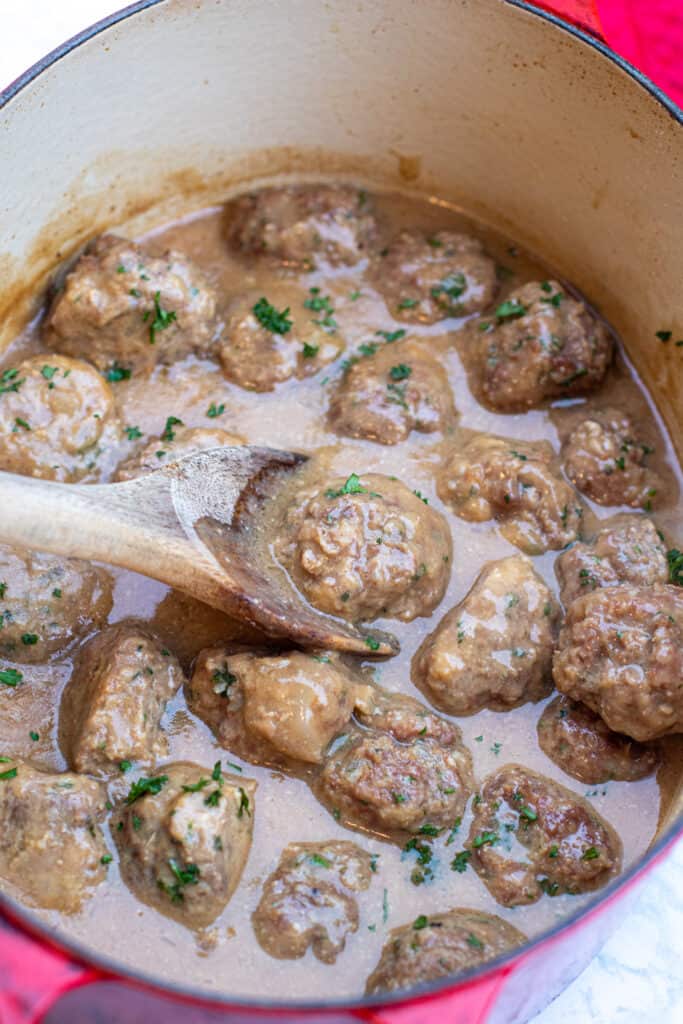 And then Mom's Swedish Meatballs are ready to enjoy!!
We love to serve them on egg noodles (this was my favorite as a kid), but you could also serve over rice or mashed potatoes. Or just straight out of the pot with a toothpick as a delightful appetizer like our Sweet Sesame Ginger Meatballs. Make it a meal with:
Balsamic Spinach and Mushrooms
Garlic and Gruyere Roasted Asparagus
No matter what you serve them with, it will be a delicious meal!
Our Other Ground Beef Recipes
FAQs
Do I have to use lamb or veal?
Nope! You can absolutely use just all ground beef, or use 1 lb or ground beef and 1/2 lb of ground pork. Lamb and veal are not necessary.
My meat mixture is sticky / wet.
Yes, it will be. Pop it in the fridge for 15-30 minutes and then it will be easier to work with. Also, if you clean your hands often, it will also help to form the meatballs.
Can I pan fry the meatballs?
Absolutely. Heat a pan to medium, add a little fat (butter or oil) and then add the meatballs in batches and turn then until they're cooked. It's more work than just baking them, that's why I prefer to bake them.
Can I make this in advance?
Yes! Prep it all and you can have the raw meat mixture in the fridge for up a day before your want to bake them.
Does it freeze well?
Definitely. Bake the meatballs, make the gravy, and then freeze in a freezer friendly container for up to 3-4 months.
Can I substitute regular bread crumbs?
Soft bread crumbs are really best for this recipe because they soak up the milk and add a tenderness to the meatballs.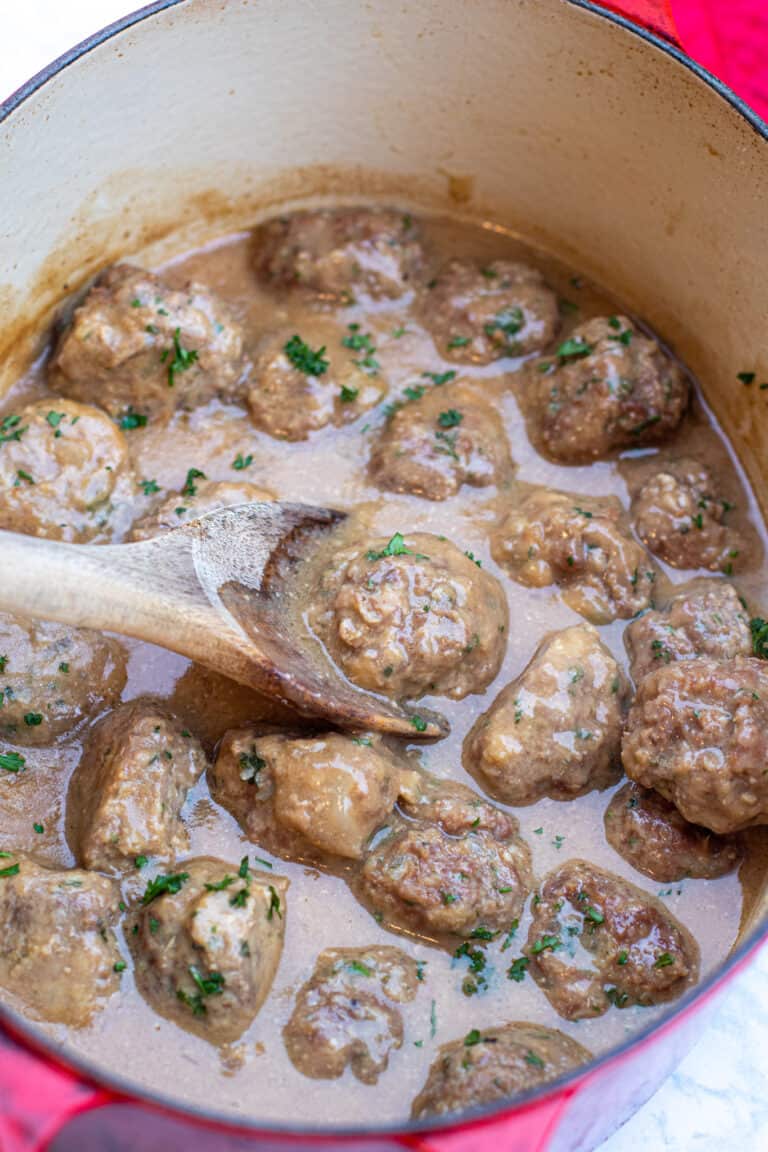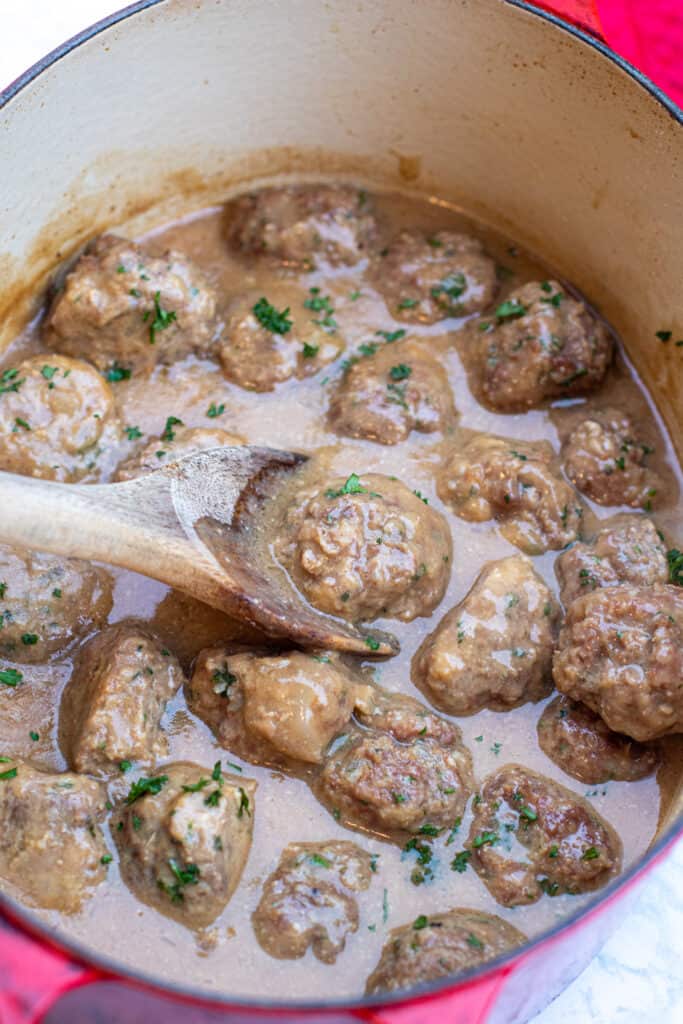 How delicious do these look? Trust me, they taste even better than they look. If ever there's a recipe on this site I hope you make, it's this one, my Mom's Swedish Meatballs.
Enjoy! As always, if you make this recipe or any of my others, I love to hear what you think! Leave a comment below, email me, or you can find me on Facebook, Instagram, and Pinterest!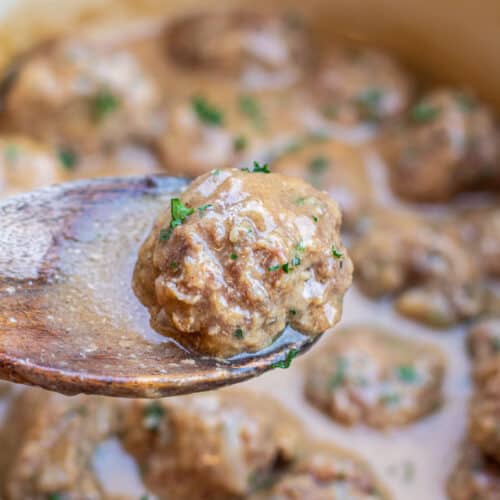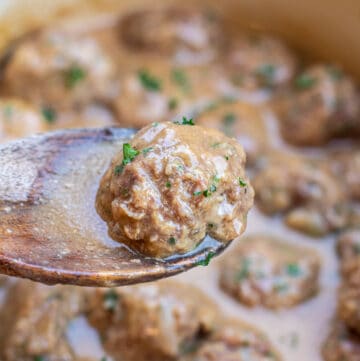 Mom's Swedish Meatballs
My Mom's Swedish Meatballs is a tried and true family recipe that's easy to make and incredibly flavorful with a delicious gravy!
Print
Pin
Rate
Ingredients
Meatballs
3/4

lbs

ground beef

1/2

lb

ground lamb or venison

see notes

1/4

lb

ground mild pork

1 1/2

cup

soft bread crumbs, cubed

1/3

cup

onion, minced

1

egg

1/4

cup

fresh parsley, minced

1/4 - 1/3

cup

milk

2% or 1%

1

tablespoon

salted butter

1 1/2

teaspoon

kosher salt

1/4

teaspoon

ground ginger

pinch

ground nutmeg
Instructions
Pre-heat oven to 325 degrees.

Melt 1 tablespoon of butter in a sauté pan. Add onion and cook for 2-3 minutes until onions are soft. Add to a large bowl.

Add bread crumbs to a medium sized bowl. Add milk, starting with 1/4 cup - just enough to wet all of the bread.

Add meats to large bowl with onions and add the parsley, egg, salt, ginger, and nutmeg. Mix well and then add the milk soaked bread crumbs. If there is any extra milk in the bowl with the bread, do not add.

Add meat mixture to fridge for at least 15 minutes, this will help with shaping the meatballs.

Shape meat into 2 - 3ish inch meatballs and add to a rimmed baking sheet. Don't worry about crowding.

Once meatballs are done, remove meatballs with tongs and add to a plate or bowl. Then use a spatula to scrape all of the drippings from the pan into a large pot or dutch oven.

Heat pot to medium and add 2 tablespoons of butter to the meatball drippings. Add flour and mix flour and butter to create a roux.

Slowly add beef broth, mixing roux with it as it's added until all the broth is incorporated.

Add the meatballs back to pan and let simmer on medium low for 15-20 minutes.

Serve over noodles, rice, or whatever you'd like!
Notes
You can substitute the lamb/veal for ground beef. In that case, use 1 lb of ground beef and 1/2 lb of ground pork.
You can substitute dried parsley for fresh. For the 1/4 cup of fresh you can substitute 1 tablespoon of dried parsley.
Make ahead by prepping meat in advance for at least 1 day before baking meatballs.
Freeze meatballs and gravy for 3 -4 months.
Nutrition
Calories:
144
kcal
|
Carbohydrates:
9
g
|
Protein:
7
g
|
Fat:
8
g
|
Saturated Fat:
4
g
|
Cholesterol:
32
mg
|
Sodium:
334
mg
|
Potassium:
142
mg
|
Fiber:
1
g
|
Sugar:
2
g
|
Vitamin A:
120
IU
|
Vitamin C:
1
mg
|
Calcium:
40
mg
|
Iron:
1
mg