A classic, easy-to-make comfort food, but with some serious Korean flair! Our recipe for these Kimchi Sloppy Joes adds Korean gochujang and crunchy kimchi for a new, more flavorful Asian twist on this classic!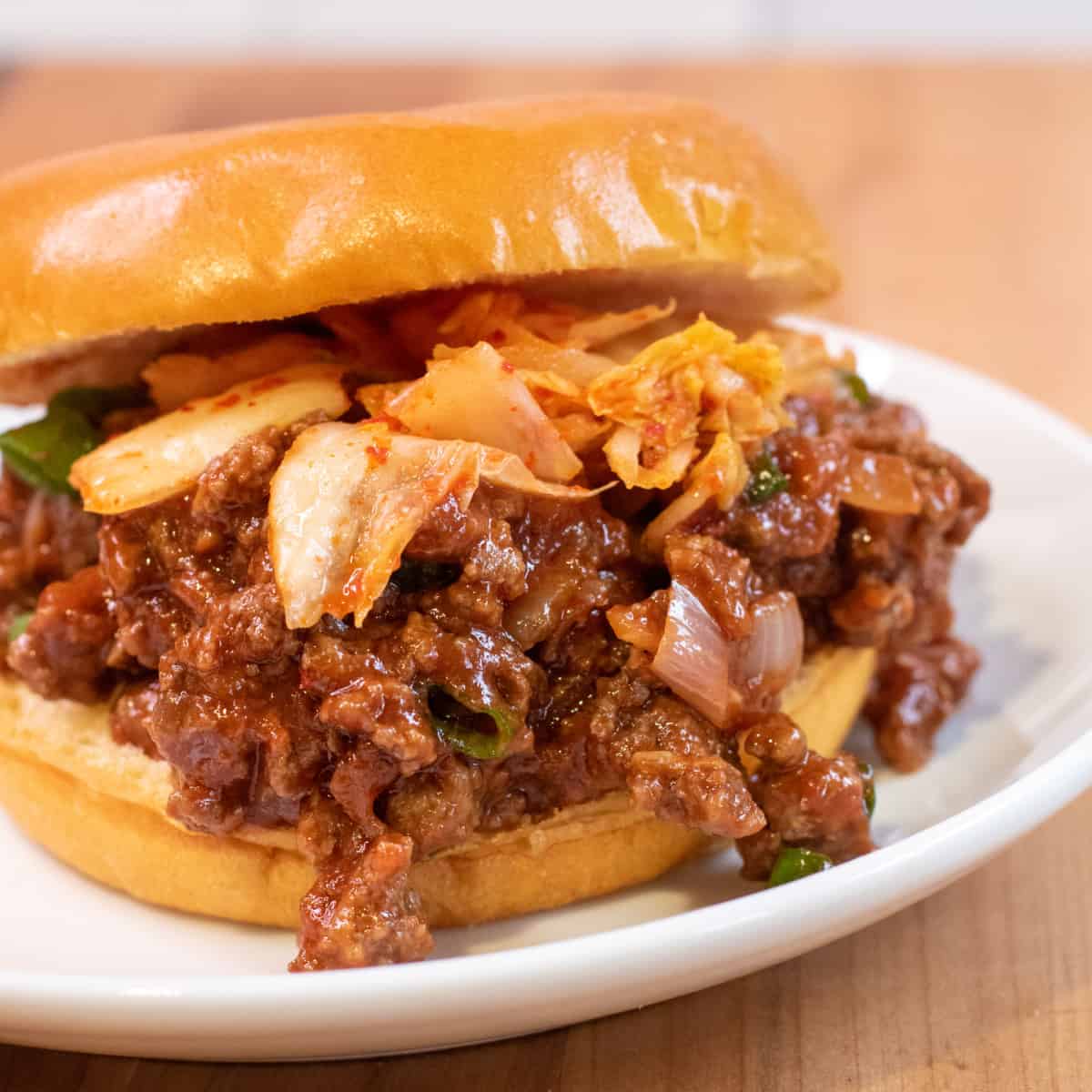 Happy New Year, friends! In 2023, my goal is to explore Korean cooking, something that I haven't done before since, even though I am Korean, I was adopted and raised Polish (stay tuned for my family pierogi recipe this year, too!). First up, these Kimchi Sloppy Joes! This Korean American fusion of the classic comfort sandwich has everything you love about the classic sloppy joe, but flavored with the Korean red chili pasta gochujang and topped with crunchy, sour, and salty, umami-packed kimchi!
Ingredients Needed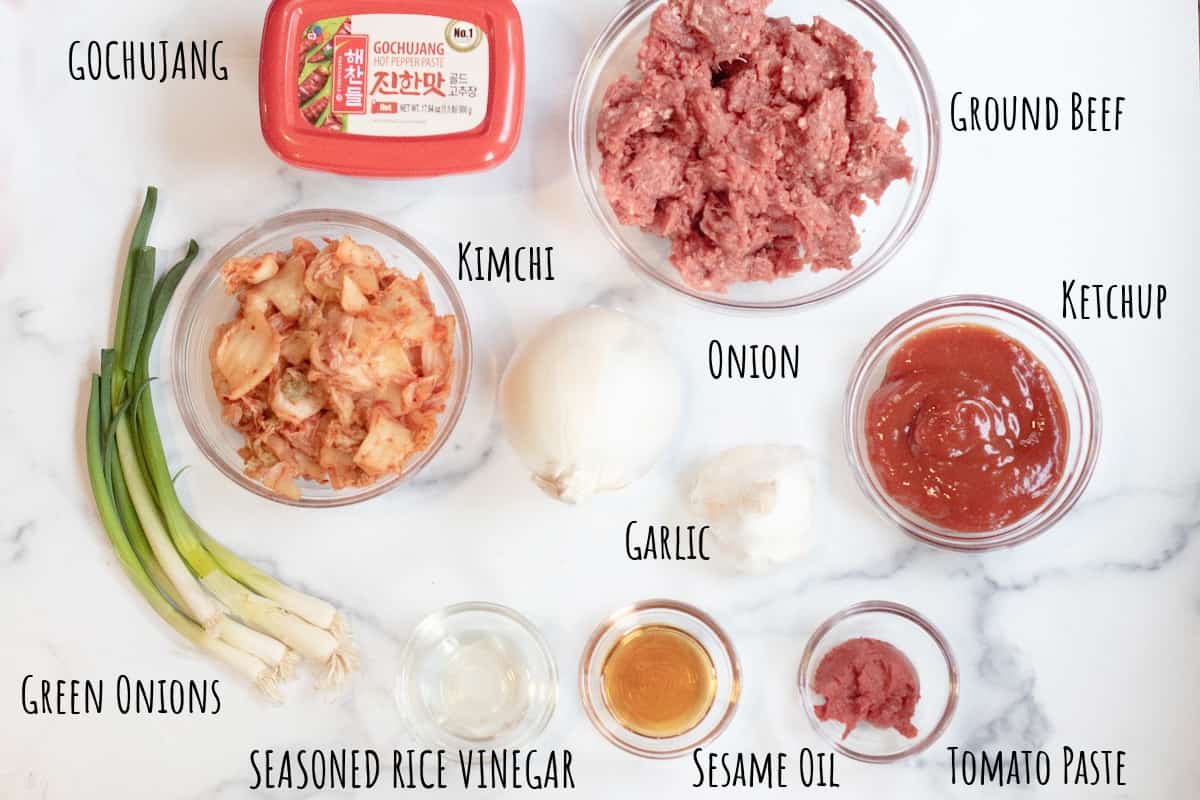 Ground Beef - The base of any sloppy joe recipe and for this one, we really prefer a leaner cut of beef, at least 85% but 90% is best. And of course, while more expensive, a higher quality grass-fed, organic ground beef makes a difference in flavor, too.
Gochujang - A staple in Korean condiments! Its sweet and spicy flavor adds such a great Korean touch to sloppy joes, replacing the sugar that's found in standard sloppy joe recipes.
Ketchup and Tomato Paste - Key ingredients for sloppy joe sauce. Go the extra mile and add some serious from scratch flair by making your own Ketchup From Scratch!
Onion and Garlic - Staples around here, sauteed up in the ground beef.
Seasoned Rice Vinegar - The acidity and sweetness (be sure to use seasoned) balance the gochujang perfectly.
Sesame Oil - Just a hint of sesame flavor that enhances all of the other Korean flavors.
Kimchi - The kimchi of these Kimchi Sloppy Joes! Stay tuned for when we finally make our own, but for now, you can use your favorite from either your local grocery store or your favorite Asian market.
Green Onions - Just enough to add some freshness!
Buns - Not pictured, but you can use your favorite hamburger buns for this one! We love a good brioche bun for these!
What is Kimchi?
Kimchi is a staple in Korean cooking. It is a side dish/condiment that is made of pickled and fermented vegetables, most commonly cabbage. Originally it was used as a way to preserve vegetables for the winter months, but now, it can be found alongside every meal in Korea, even breakfast. There are hundreds of different kinds of kimchi and the recipes vary depending upon region, but in general, you'll find kimchi to have the flavors of sour, spicy, and umami.
What is Gochujang?
Gochujang is another staple in Korean cooking. It is a red chili paste that is made up of red chile pepper flakes, glutinous rice, and fermented soybeans. It is a thick and sticky paste that can be used to add a ton of umami flavor and just the right amount of heat to almost any dish, from entrees to dips and soups. Unlike hot sauces, this is not used as a finishing sauce, but instead during the cooking process to compliment the dish, especially meat dishes, like these Kimchi Sloppy Joes!
Easy to Make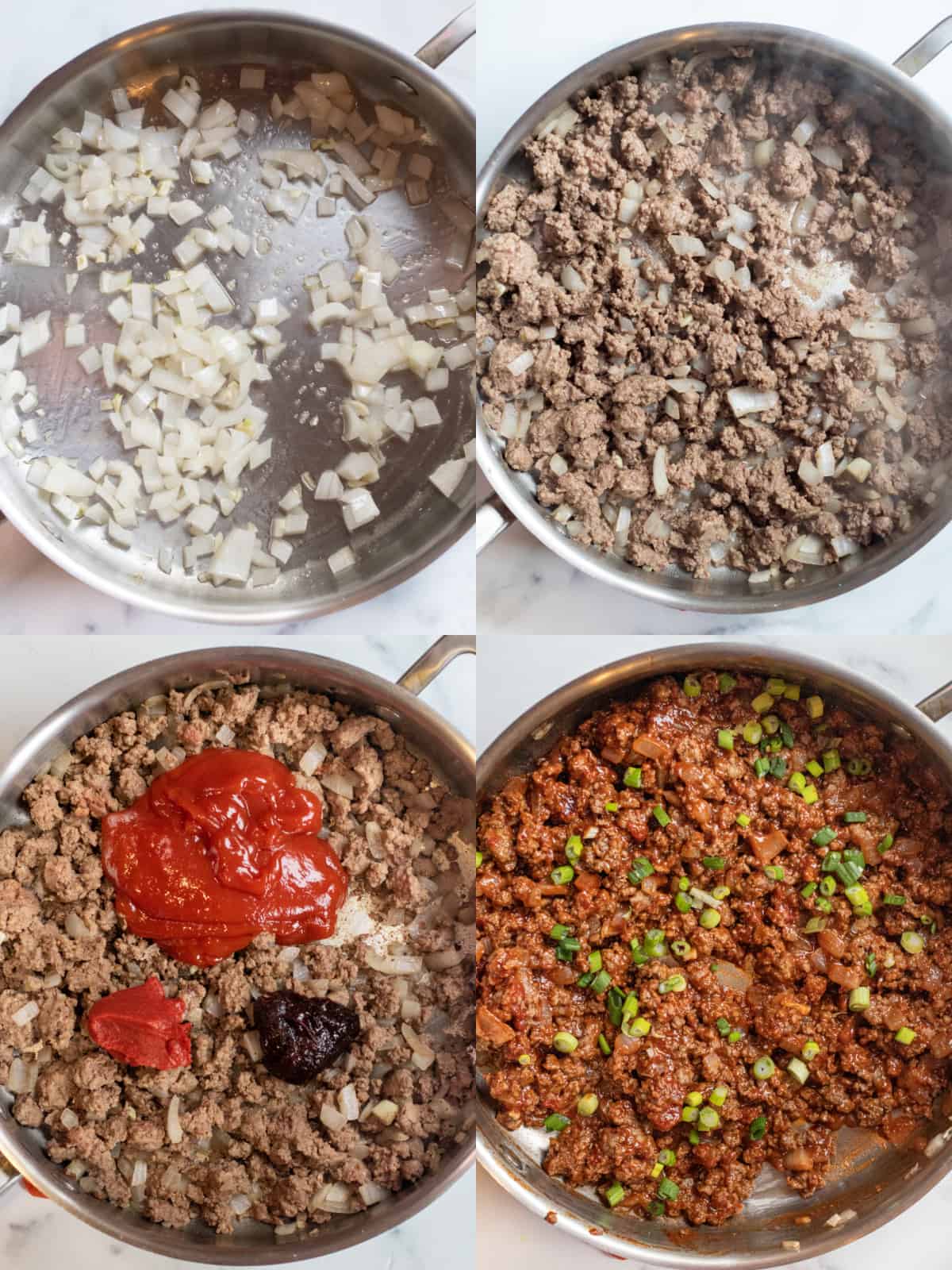 Sloppy Joes come together incredibly fast and this Korean take does as well! It's just a saute of the garlic and onion in the sesame oil, add the beef, then add the ketchup, tomato paste, vinegar, and gochujang.
Assemble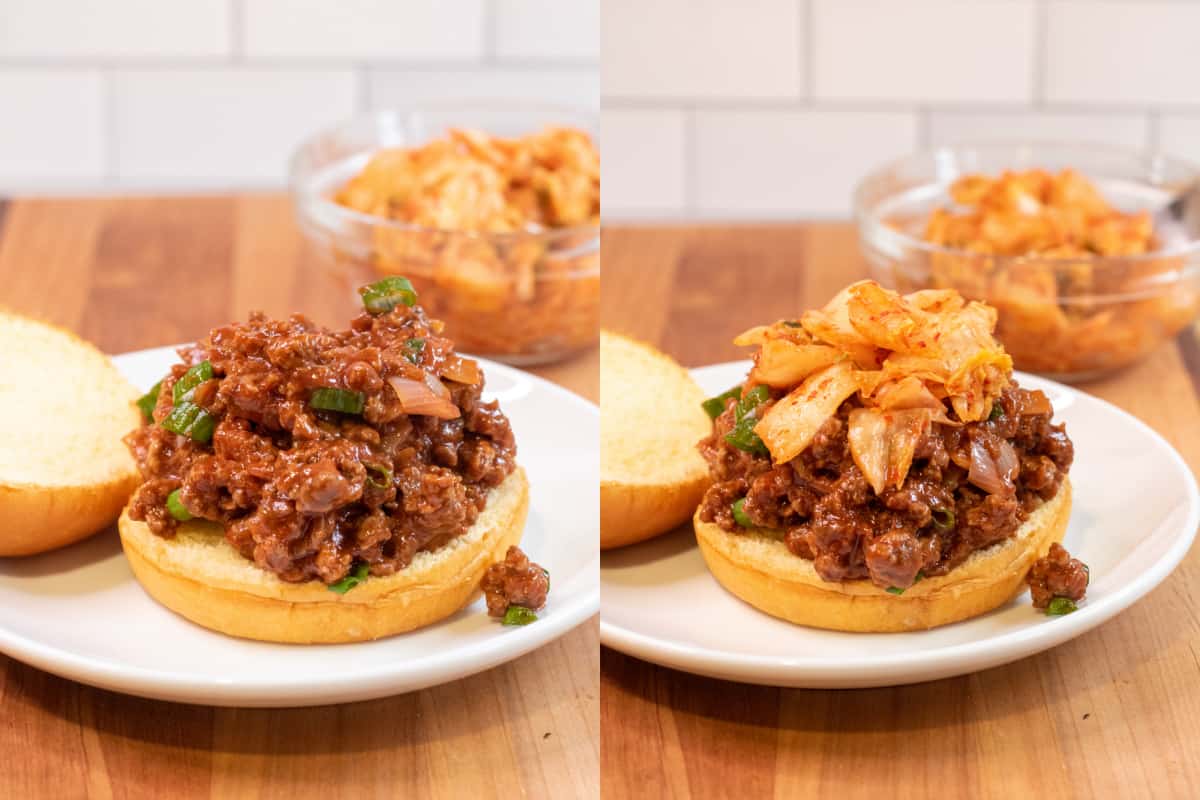 Now it's just a matter of grabbing your favorite hamburger bun (we prefer brioche buns for this one), adding the gochujang flavored beef, and topping it with your favorite kimchi.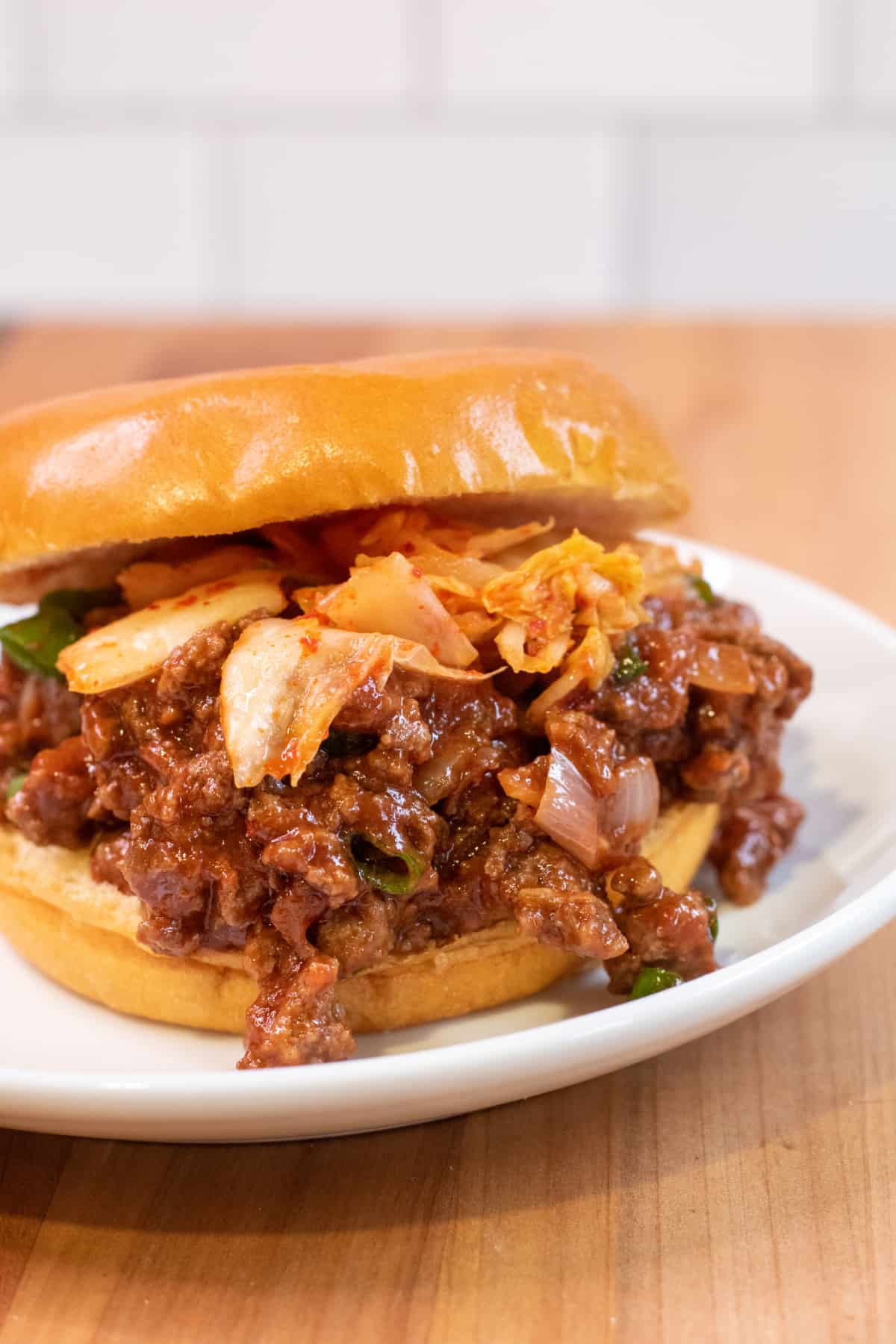 Kimchi Sloppy Joes, a Korean American take on the classic! Incredibly flavored beef that's like taking a bite of a sloppy joe but going oh heeeyy Korea, and then getting a perfect crunchy compliment of flavors from the kimchi. My little half-Korean 6-year-old has declared this her new favorite!
Recipe FAQs
Are these really spicy?
Nope! While there's a little heat, the gochujang gives it a lingering heat, but it's accompanied by a sweetness from the ketchup and vinegar, but I also these are definitely not as sweet as a traditional sloppy joe.
Where can I find gochujang?
A lot of major grocery stores will have it in the Asian food section, but your best bet (and more affordable option) is to go to your local Asian market. You can of course buy it online, too.
Where can I find kimchi?
This should be in your local grocery store too, usually in the refrigerated section of the vegetable department or for sure at your local Asian market. But if this is your first time buying kimchi, then you might want to start at your local market as all of the options at the Asian market might be overwhelming to choose from.
What's the best kimchi to use?
A good cabbage-based kimchi that isn't labeled "spicy", is the best for this recipe. You want "classic" kimchi that's made with cabbage.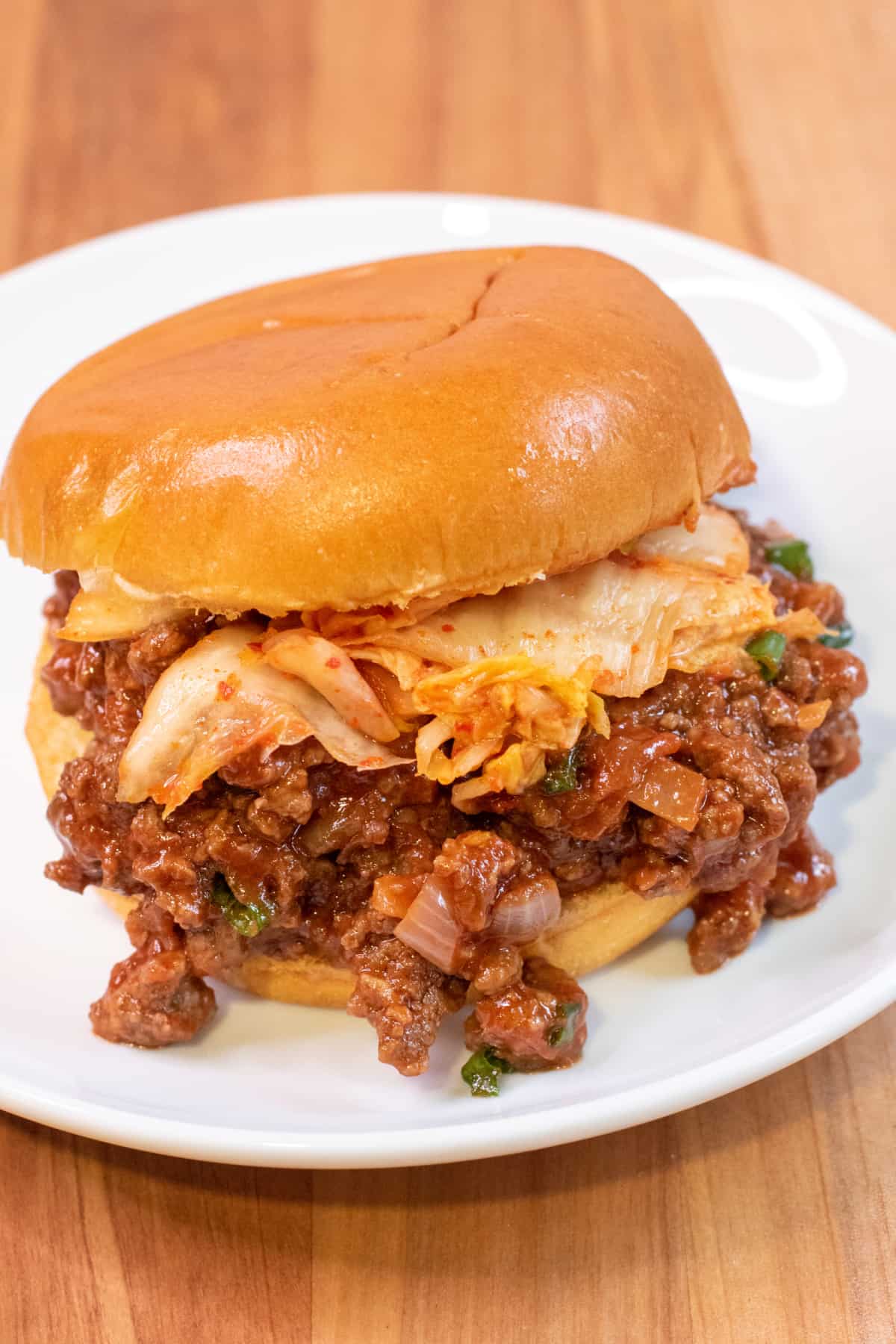 Serve Them With:
Enjoy, friends! As always, if you make this recipe or any of my others, I love to hear what you think! Leave a comment below, email me, or you can find me on Facebook, Instagram, and Pinterest! And stay tuned for more Korean-inspired dishes in 2023!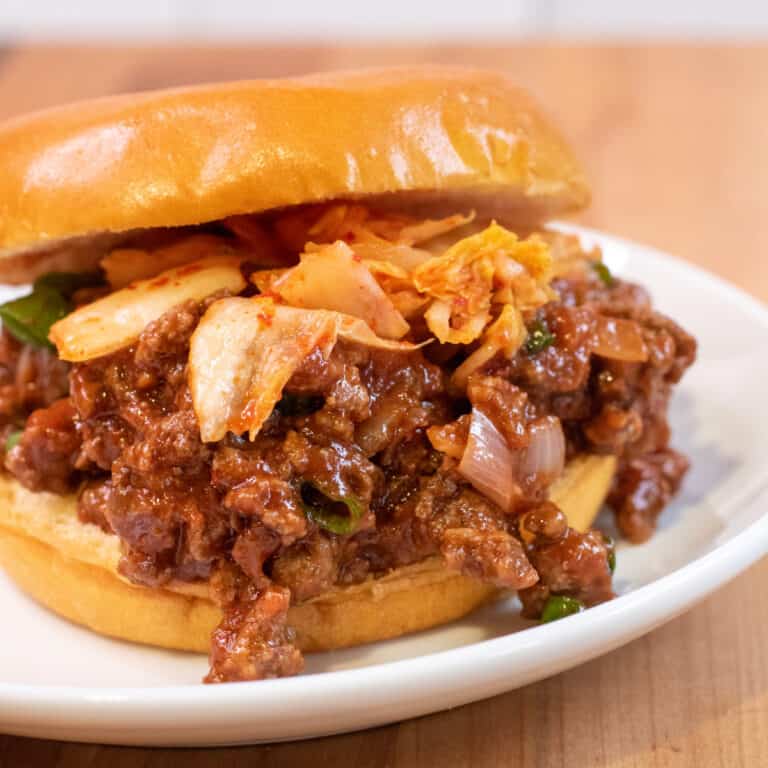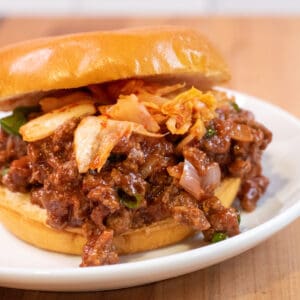 Kimchi Sloppy Joes
Everything you love about the classic sloppy joe, but with some Korean flair!
Print
Pin
Rate
Ingredients
1

lb

lean ground beef

85% - 90%

1

tablespoon

sesame oil

1/2

white onion

diced

3

cloves

garlic

minced

1

cup

ketchup

1

tablespoon + 1 teaspoon

tomato paste

1

tablespoon + 1 teaspoon

gochujang

2

tablespoons

seasoned rice vinegar

1/4

cup

green onions

diced

1 1/2 - 2

cups

kimchi

about 14 oz

4

brioche buns
Instructions
Add sesame oil to a large saute pan and heat to medium. Add onion and garlic and saute for 2 minutes.

Add ground beef and cook until browned, breaking up as it cooks. Saute for 7-8 minutes over medium until most of the pink is gone. Add vinegar, ketchup, tomato paste, and gochujang to the pan and stir well so that it is all mixed well and all of the beef is coated. Cook for another 2-3 and then finish with green onions.

Add a large helping of meat to each bun, top with kimchi and serve!
Notes
Storage Fridge: The cooked beef is great to prepare in advance as it will keep in the fridge for 4-5 days. Freezer: You can make the beef and then store it in the freezer for up to 4 months. Take out of the freezer and let thaw overnight in the fridge before reheating. Substitutions Ground Beef: We prefer a leaner ground beef for this recipe, at least 85%-90%, but you can of course use something lower, but then we would suggest draining the excess fat before adding the ketchup, gochujang, etc. Onion: White is our go-to, but you can of course use yellow. Seasoned Rice Vinegar: It's really best to use seasoned rice vinegar instead of unseasoned because of the added sweetness. You can also use mirin. Kimchi: Use your favorite! We usually use a less spicy kimchi for this (for our kids), but my husband also likes it with a spicy kimchi.
Nutrition
Calories:
622
kcal
|
Carbohydrates:
56
g
|
Protein:
36
g
|
Fat:
29
g
|
Saturated Fat:
14
g
|
Polyunsaturated Fat:
2
g
|
Monounsaturated Fat:
4
g
|
Trans Fat:
0.4
g
|
Cholesterol:
214
mg
|
Sodium:
1357
mg
|
Potassium:
766
mg
|
Fiber:
2
g
|
Sugar:
11
g
|
Vitamin A:
1178
IU
|
Vitamin C:
7
mg
|
Calcium:
114
mg
|
Iron:
7
mg