Reuben Sandwiches from Scratch are made with homemade bread, homemade sauerkraut, homemade Russian dressing, and Guinness corned beef!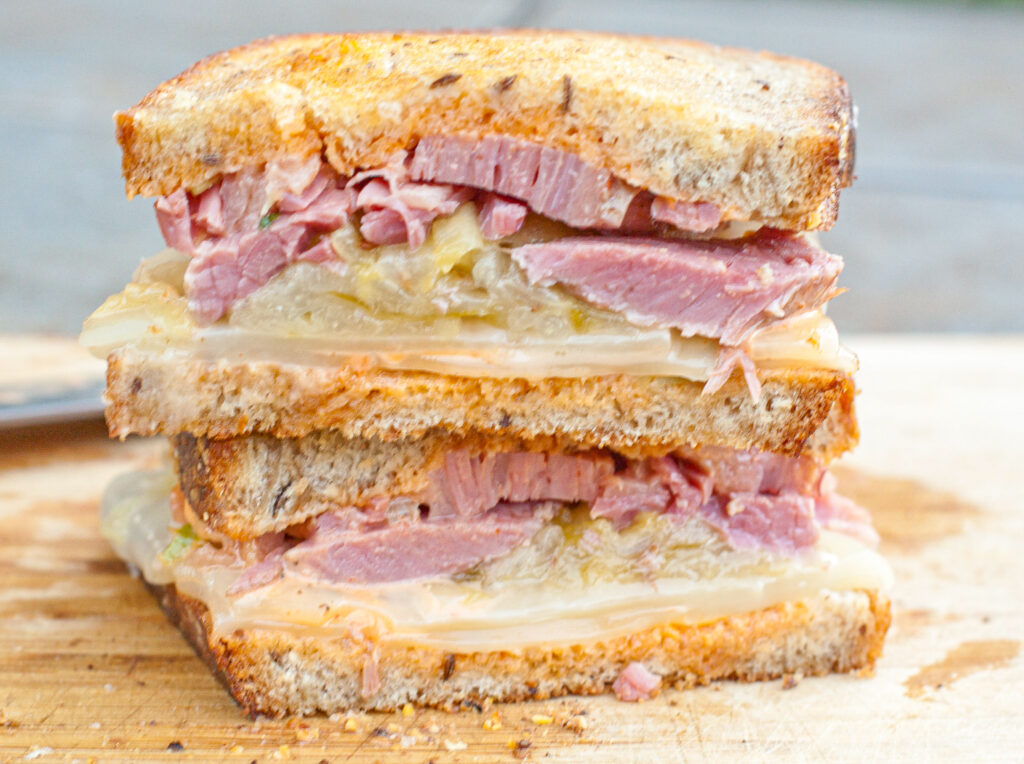 I have been dreaming about these sandwiches for months. My husband loovveess a good Reuben and we decided to try making them from scratch literally 6 months ago and we've finally done it - because of ALL of the From Scratch ingredients!
From sauerkraut to the rye bread down to the homemade mayonnaise in the homemade Russian dressing, basically the only thing that's not from scratch is the swiss cheese! But of course, add the amount of From Scratch Flair you'd like! If I had to say one thing that this definitely needs, our NY Deli Rye Bread!
What is a Reuben?
Basically the best sandwich ever. Or a corned beef grilled cheese, but with rye bread, Russian dressing, and tangy sauerkraut! It can be enjoyed hot or cold, but the best (in my opinion) is a hot one with buttered grilled bread and melty swiss cheese!
Ingredients Needed
To make these bad boys, you do need to do a little planning ahead, not only because of all of the from scratch ingredients, but also because of (another) key to this recipe is the Crock Pot Corned Beef.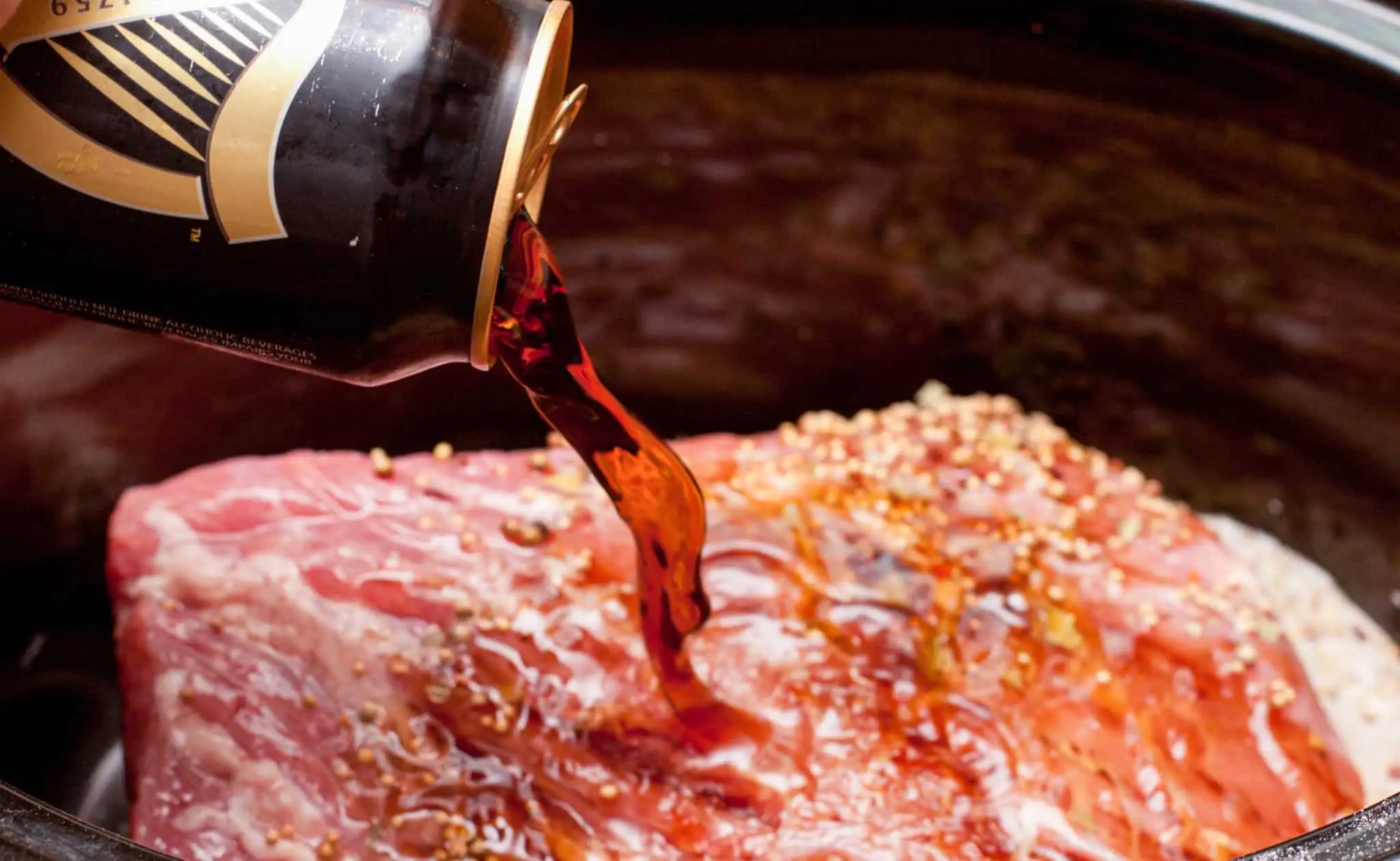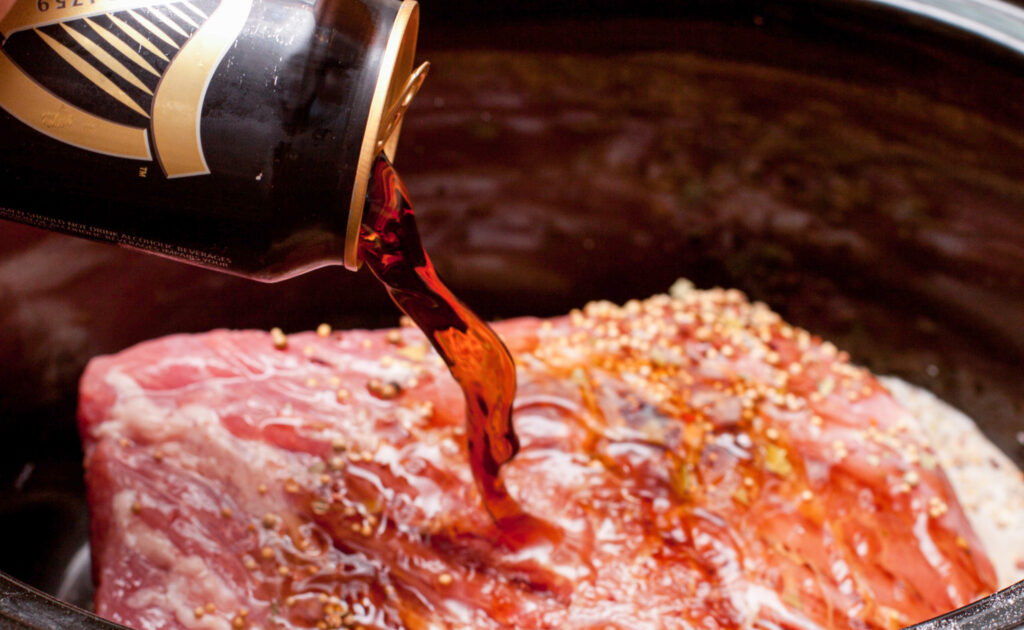 Corned beef and Guinness Beer! Perfect to slice for these Reubens, or also for your St. Patrick's Day dinner!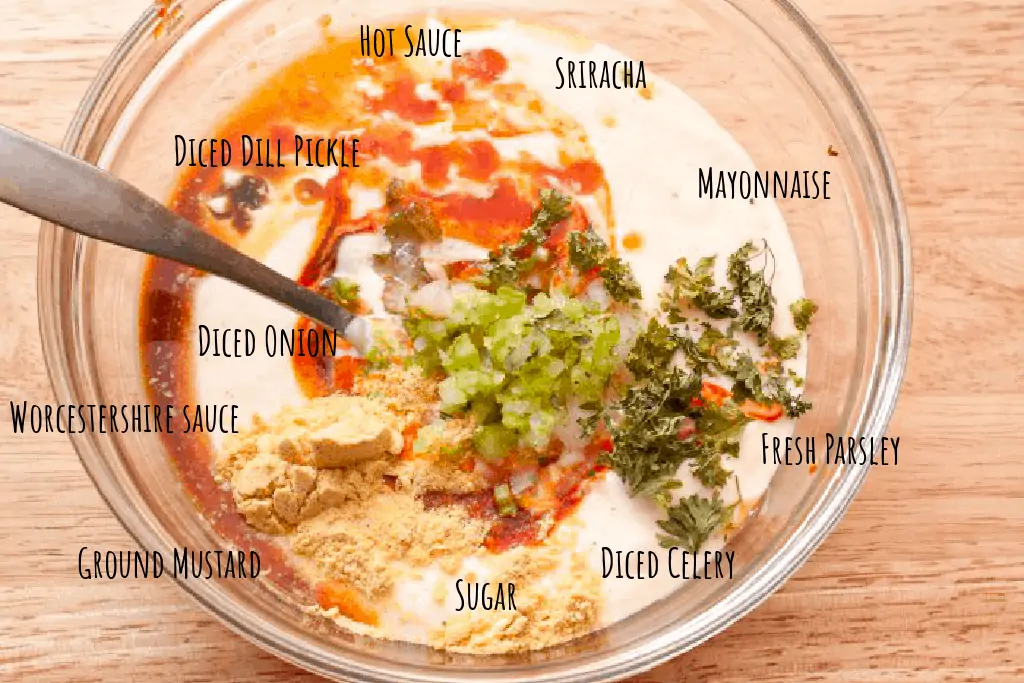 Next, the Homemade Russian Dressing! Easy to make in advance - especially if you're adding some from scratch flair to it!
Mayonnaise From Scratch - Make your

own

!
Dill Pickle - Make your own!
Worcestershire sauce - 10 pts if you can say this correctly the first time!
Diced celery and white onion - White is best for this one, red is a little too sharp of it.
Sugar, ground mustard, fresh parsley - Dried parsley would work, too.
Hot sauce (your favorite) and Sriracha - For a little heat.
You wont need all of this dressing for these sandwiches (or maybe you will, you make your sandwich your way!), so you can store this now in your fridge for up to a week to enjoy on your favorite salads!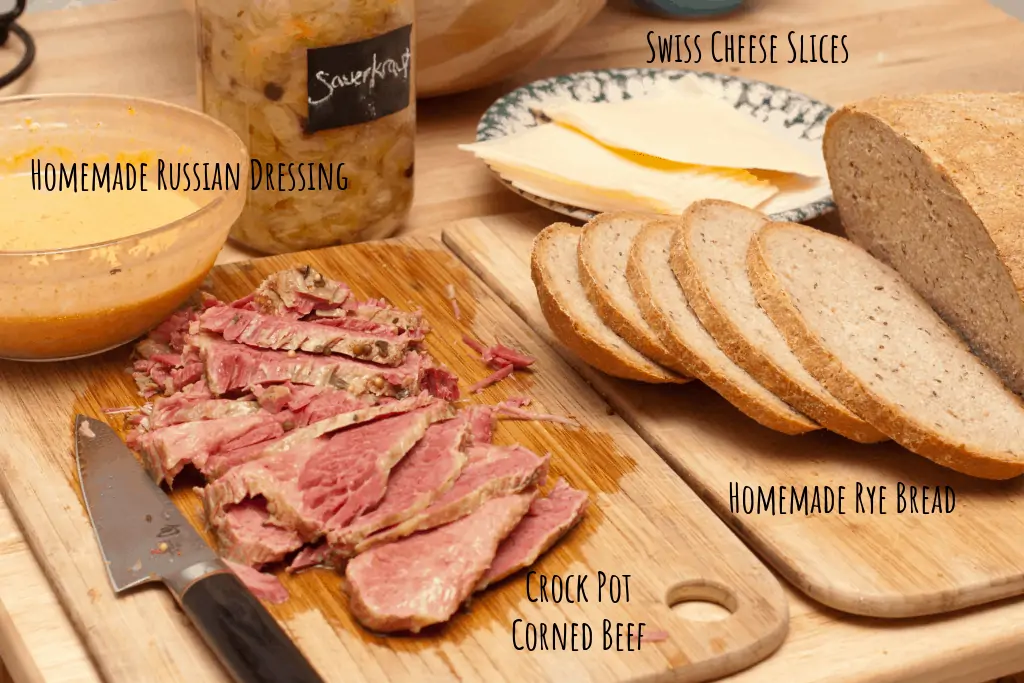 Now, you're ready to get the sandwich ingredients together!
Rye Bread - Use your favorite rye, ours is of course our NY Deli Rye Bread!
Corned Beef - Fresh sliced from the Crock Pot.
Russian Dressing - Fresh made!
Sauerkraut - This is one that's also super fun to make from scratch, but takes quite some time. So use your favorite brand now, and start a batch to be ready in about 6 months for the next ones!
Swiss Cheese - Someday we'll make our own!
Assemble the Sandwich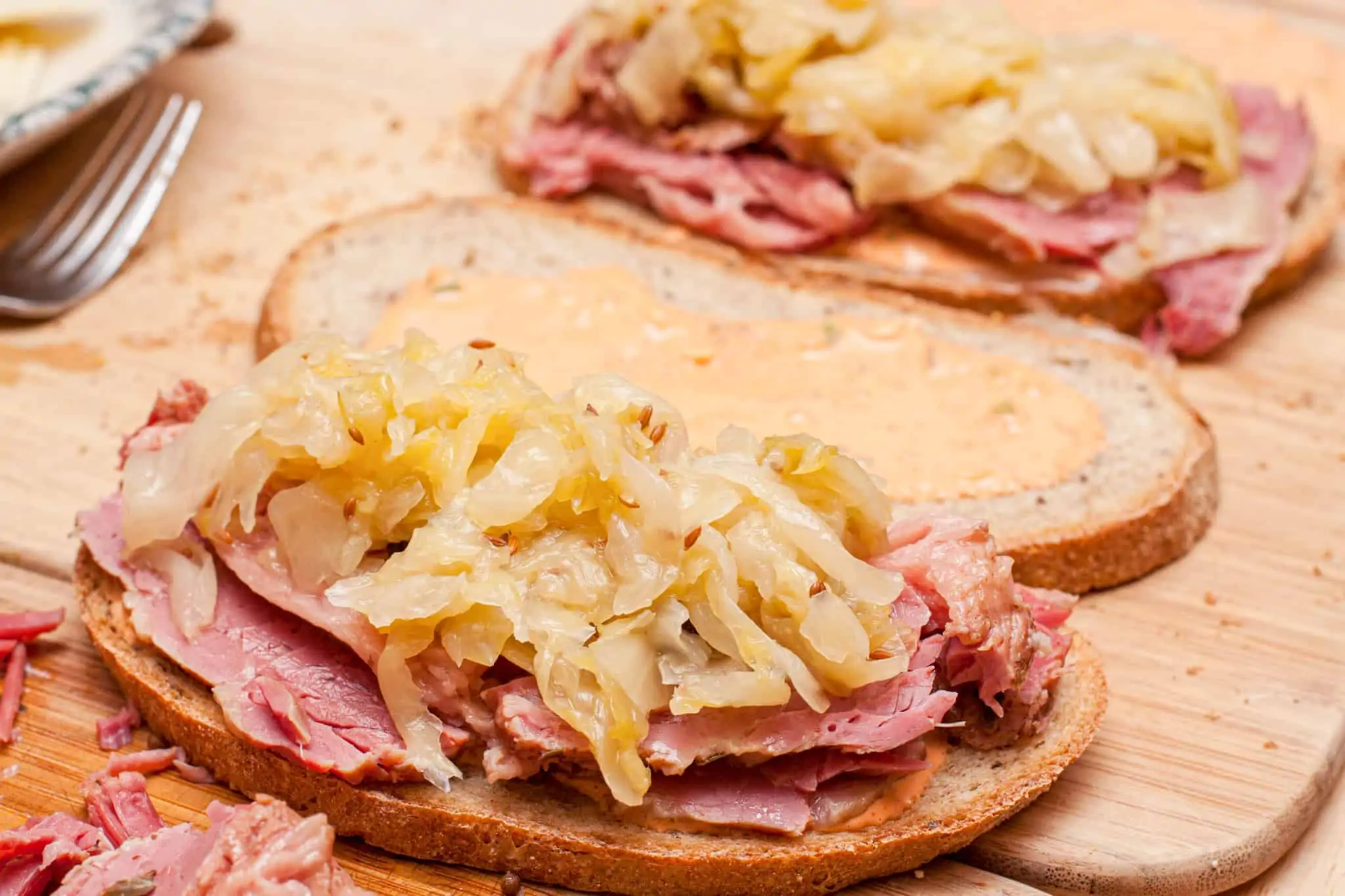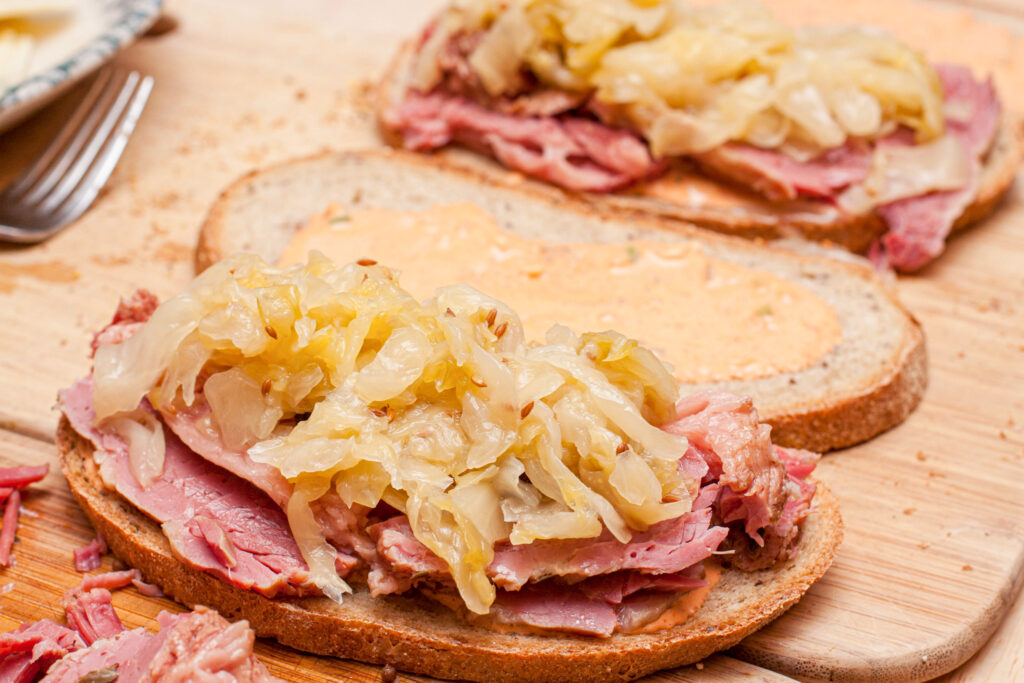 Now the good part. And the easy part. And the customizable part! Heavy on the corned beef? Light on the sauerkraut? Extra cheese? The choice is yours! You do you.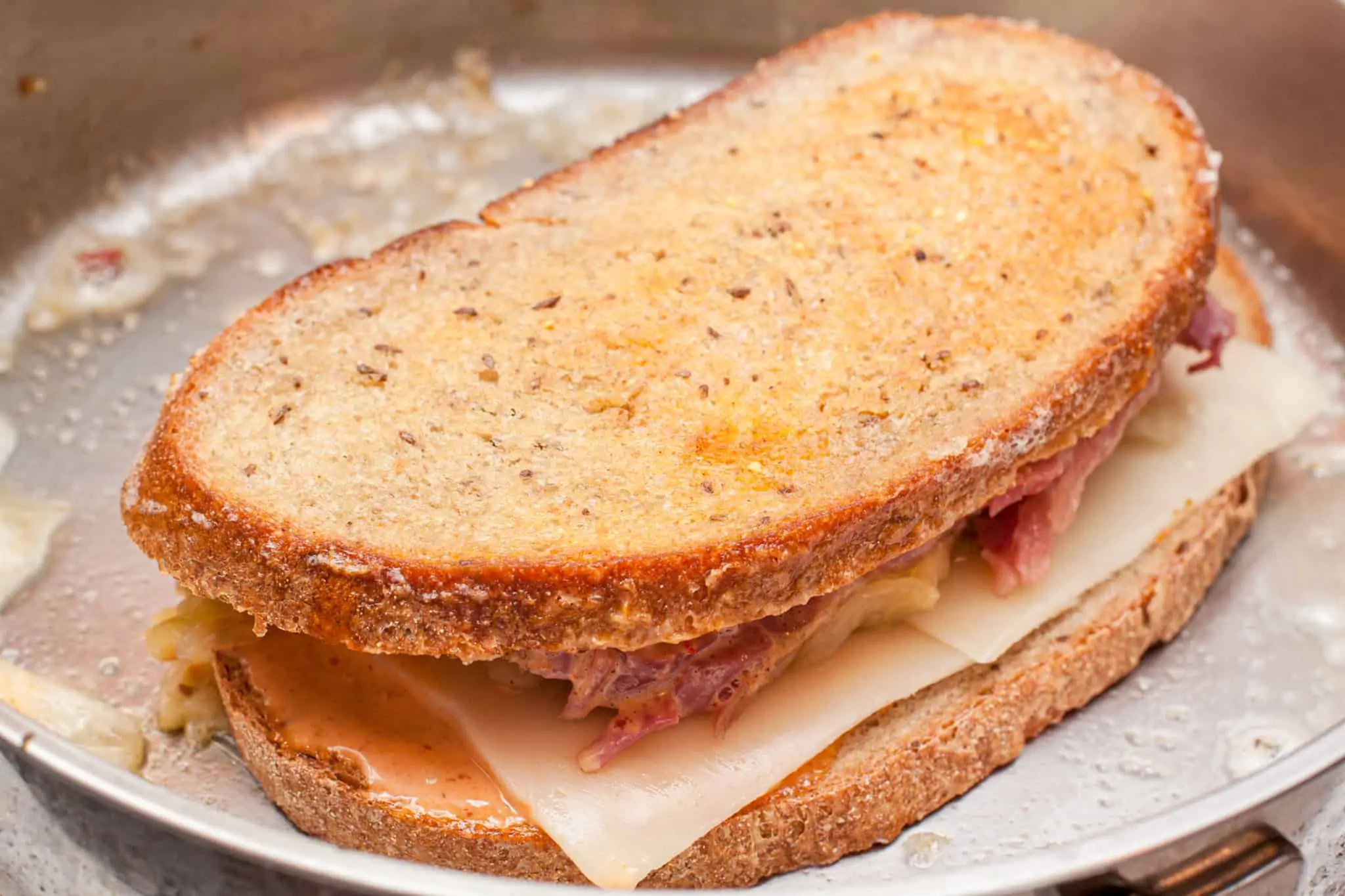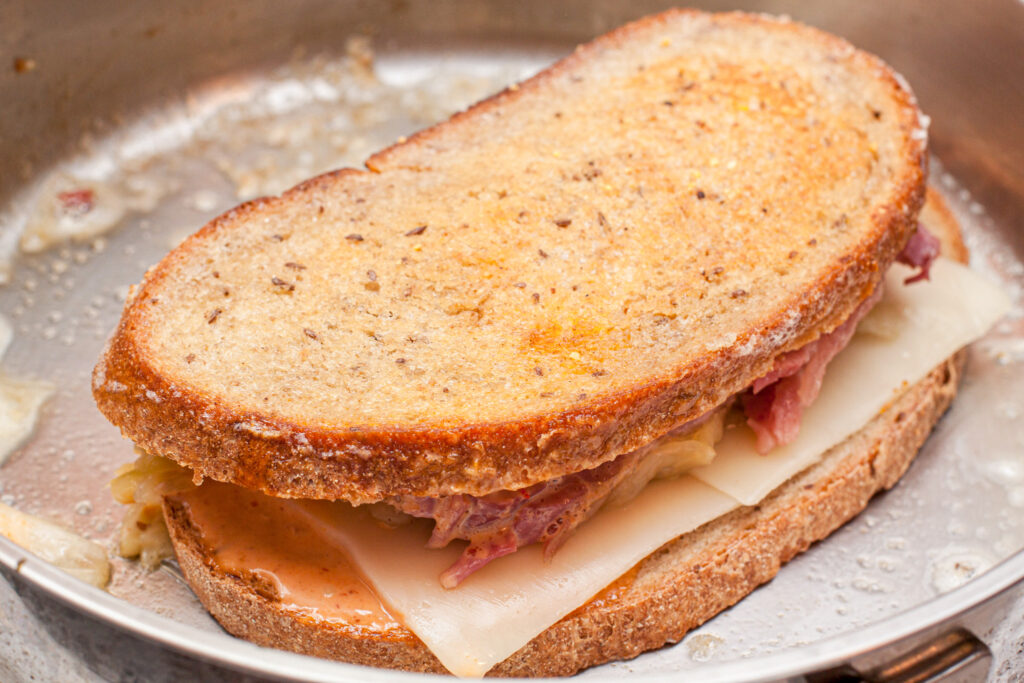 Ok, now maybe this is the best part: grilled in a pan with butter! Let that bread toast with butter and let that cheese melt!
TIP: Don't add the butter to the pan, butter the outside sides of your bread. Otherwise, when you go to (gently) flip your sandwich, the second side won't get the butter that it deserves!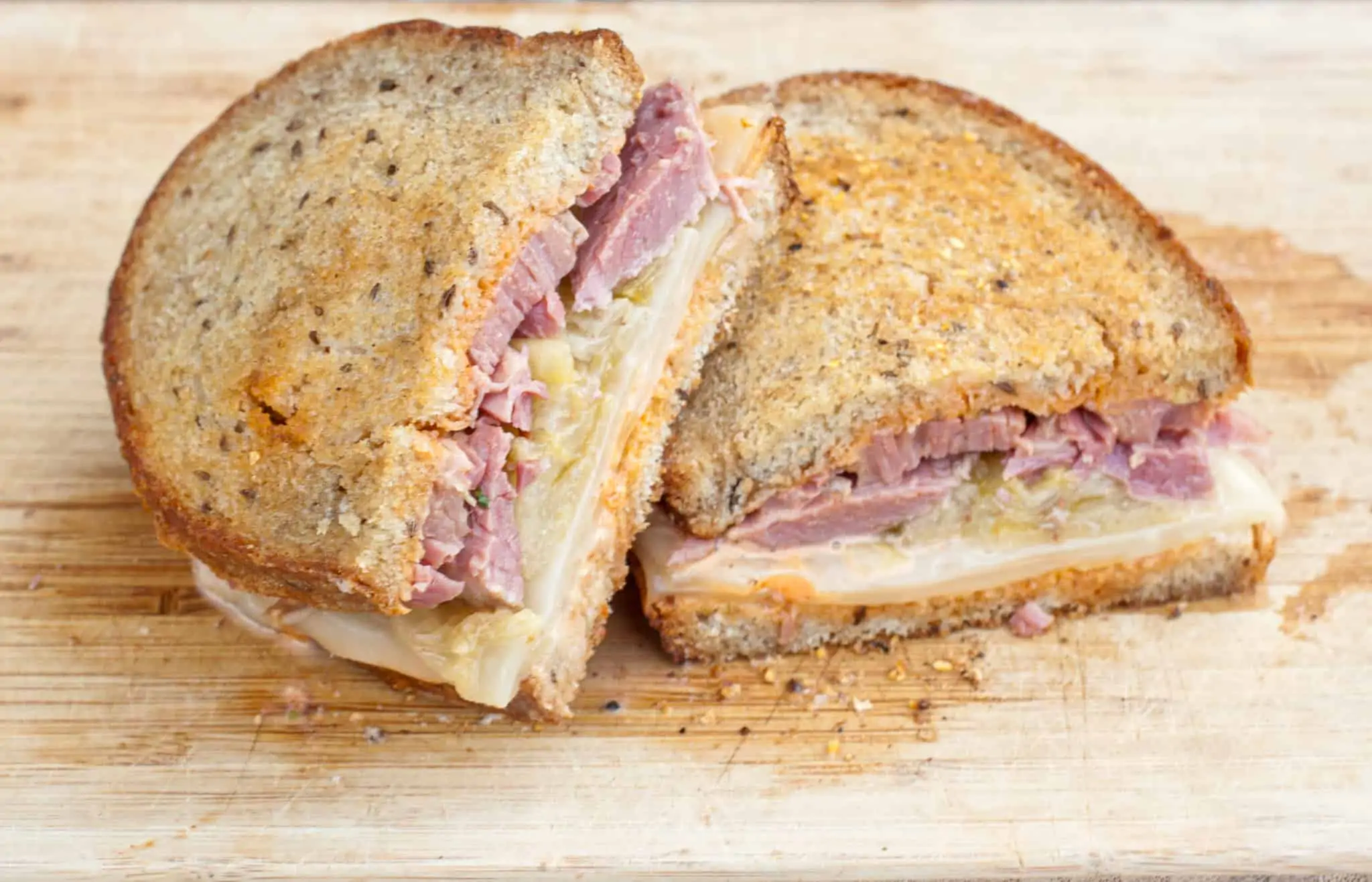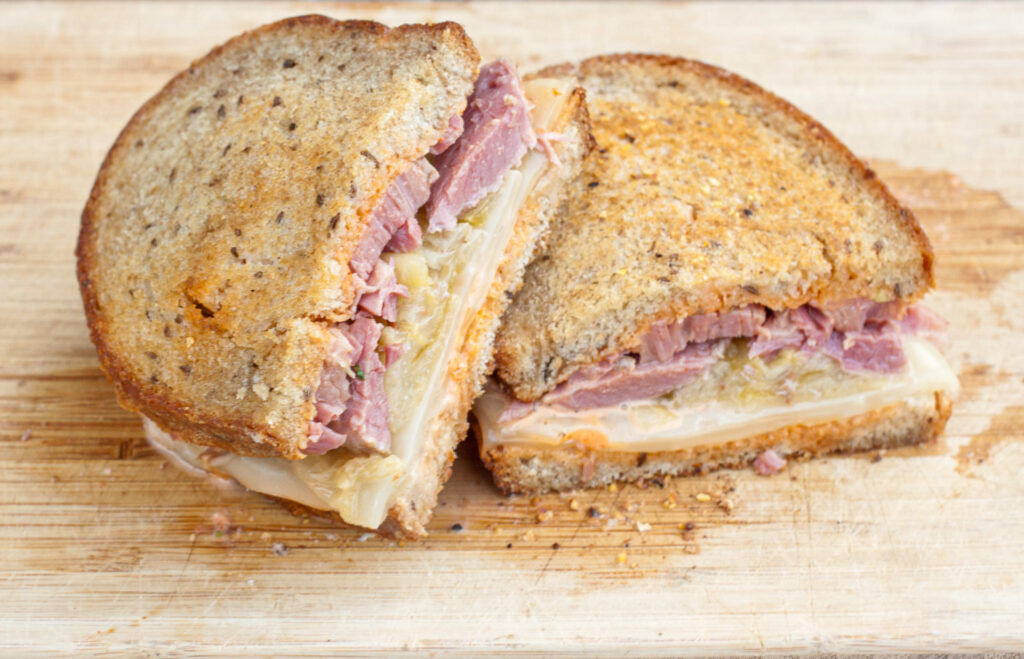 And done! Reuben Sandwiches From Scratch! A hearty man-wich. We had them for dinner that night and my husband had them again for lunch and dinner the next day. I always know it's a winner in our house when my husband's willing to eat it for multiple consecutive meals. He said it was the best Reuben he's ever had- although I think he may be a tad biased 😉 In any case, we finally fulfilled our Reuben cravings and decided we wont be waiting that long to have them again!
Other Favorite Sandwiches
Enjoy! As always, if you make this recipe or any of my others, I love to hear what you think! Leave a comment below, email me, or you can find me on Facebook, Instagram, and Pinterest!
If you want to see more, be sure to sign up for my 5 Easy Ways to Start Cooking From Scratch!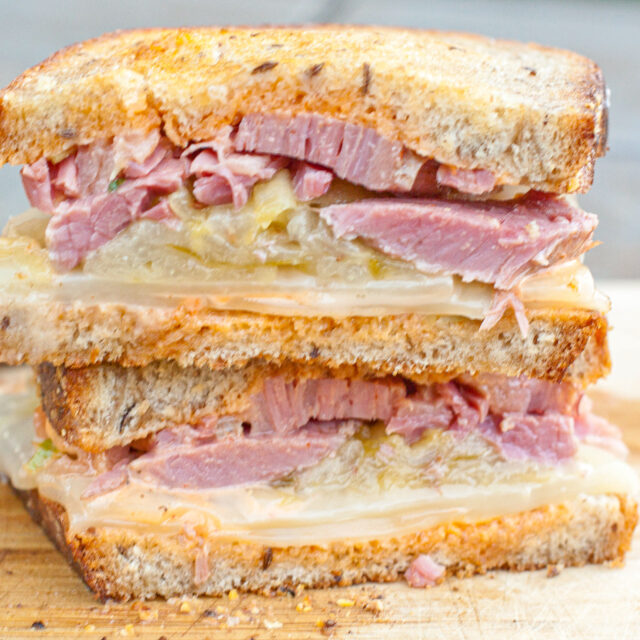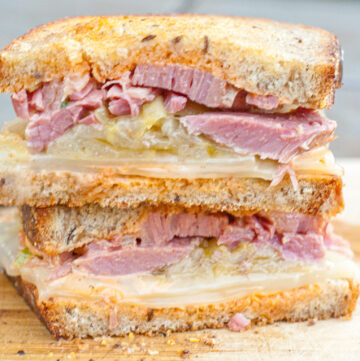 From Scratch Reuben Sandwich
Reuben Sandwiches from Scratch are made with homemade bread, homemade sauerkraut, homemade Russian dressing, and Guinness corned beef!


Print
Pin
Rate
Equipment
Large frying pan or griddle

Large spatula
Ingredients
Corned Beef sliced thinly

deli corned beef, or slow cooker corned beef, recipe follows

1

cup

Sauerkraut

4

slices

of Swiss Cheese

Russian Dressing - recipe follows

2

tablespoons

of butter
Guinness Corned Beef
salt

3

lb

corned beef brisket

1

14.9 oz

can of Guinness beer

water
Russian Dressing
1

cup

mayonnaise

1/8 -1/4

cup

Sriracha

1

tablespoon

white onion, minced

1

tablespoon

Dill pickle, minced

1

tablespoon

Celery, minced

1

tablespoon

fresh parsley

1/2

tablespoon

mustard powder

1/2

tablespoon

hot sauce

1/4

teaspoon

Worcestershire sauce

1/4

teaspoon

white granulated sugar

pinch

salt
Instructions
Crock Pot Guinness Corned Beef
Remove corned beef brisket from packaging and rinse well. Add to slow cooker and sprinkle onto beef the spice packet from the package. Pour Guinness onto corned beef and then add water until brisket is completely covered.

Set to low and slow cook for 8 hours or on high for 4 hours.

When done remove from crock pot and slice thinly.
Russian Dressing
In a bowl, combine all ingredients except salt and whisk until well-blended together. Add salt to taste, cover and refrigerate until ready to serve.
Build the Sandwich
Lay the rye bread slices on a clean work surface and spread 1 side of each slice with some of the Russian dressing. Layer 1/2 of the slices with some of the corned beef. Divide the sauerkraut evenly over the meat, then top the sauerkraut with the slices of cheese. Place the remaining bread slices on top, dressing sides down, and set aside.

Lay out the rye bread on a clean work surface. Assemble the sandwich by adding Russian dressing to each slice of bread and then layer 1/2 of the slices with the corned beef. Split the sauerkraut and layer on top of the meat. Add 2 slices of cheese on top of the sauerkraut and then top with bread slice.

Heat a large frying pan or griddle on stove top on medium. Gently butter one side of each sandwich, and then place that side of the bread down in the hot pan. Cook until slightly browned, bout 4 minutes.

Spread the rest of the butter on the unbuttered top side of the sandwich. Gently flip the sandwiches to cook on the second side until golden brown, crispy, and the cheese is melted, 3 to 4 minutes longer.

Slice sandwich in half and serve hot!
Notes
Substitute
Dried parsley for the fresh. Substitute 1 teaspoon of dried for 1 tablespoon of fresh.
Use your favorite deli cut corned beef instead of making it in the Crock Pot.
Use your favorite hot sauce.
Russian Dressing
This recipe will make about 1 1/4 cup of dressing.
Store Russian Dressing in an airtight container for up to a week.