Reuben Sandwiches from Scratch are made with homemade bread, homemade sauerkraut, homemade Russian dressing, and Guinness corned beef!
I have been dreaming about these sandwiches for months. My husband loovveess a good Reuben and we decided to try making them from scratch literally 6 months ago and we've finally gotten around to it. The sauerkraut took about a month to ferment, but I had that done in May. Then I kept making Rye Bread loaves specifically to make Reubens but I kept forgetting to buy corned beef. Then our kitchen aid mixer started making funny noises and Dan didn't want to use it until we got it into an appliance store to have it checked out (which I never even knew you could do), and then we kept forgetting to bring it to the appliance store. Then when we did it took them two weeks to fix it, and then when it was fixed I kept forgetting to pick it up because the stupid store had stupid hours on the way other side of town. Theennn this summer's been just too damn hot to be in the kitchen that long kneading out a rye bread dough by hand (and I hate kneading bread doughs by hand because I'm way too impatient to do it long enough), so I needed the kitchen aid to make the bread. Phew. 4 months later, we finally had our kitchen aid working and all was right in the world to make these Reubens.
Since these bad boys have been so long in the making, we actually set a night specifically for them. We decided to do our weekly date night at home eating Reubens and drinking wine enjoying one of the last nights we'd be able to eat outside. That morning before work, after finally remembering to buy corned beef (and by remembering I mean totally forgetting to go to the store so I texted my husband to pick some up on the way home from the gym), I put the corned beef in the crockpot with a can of Guinness. Because, well, why not. I like Guinness coated meat.
Then I quickly whipped up some Russian Dressing. I'd made homemade mayo the day before so then it was just adding all the rest of the goodness: chopped dill pickles, sriracha, hot pepper sauce, Worcestershire sauce, sugar, mustard powder, parsley, chopped onion and celery, and sugar.
All tossed into a bowl,
and mixed together. BAM! Russian dressing. Thanks, Emeril!
When I got home from work, my house smelled of delicious delicious corned beef.
Then we were ready to assemble! Sadly, the swiss cheese was store bought because swiss cheese is waayyyy out of our cheese making realm right now. For now...
To make the sandwiches, I added a nice layer of the Russian dressing on each side of bread, then a good helping of the corned beef, topped with sauerkraut...
...into a pan with butter for a few minutes on each side...
And finnaalllyyyyy. From scratch Reubens!! We ate these with a bottle of a fruity silky Merlot from the Pines 1852 Vineyard which was a nice medium bodied red, which made this a lovely pairing for this hearty manwich. We had them for dinner that night and my husband had them again for lunch and dinner the next day. I always know it's a winner in our house when my husband's willing to eat it for multiple consecutive meals. He said it was the best Reuben he's ever had- although I think he may be a tad biased 😉 In any case, we finally fulfilled our Reuben cravings and decided we wont be waiting that long to have them again!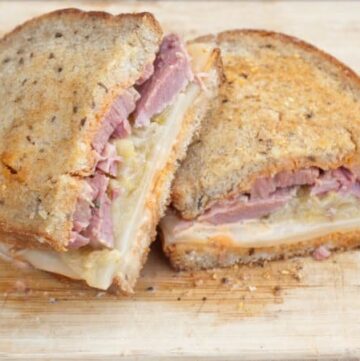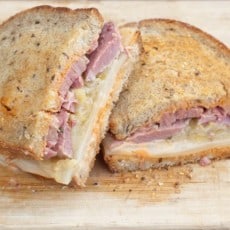 From Scratch Reuben Sandwich
Reuben Sandwiches from Scratch are made with homemade bread, homemade sauerkraut, homemade Russian dressing, and Guinness corned beef!


Print
Pin
Rate
Ingredients
Corned Beef sliced thinly

deli corned beef, or slow cooker corned beef, recipe follows

1

cup

Sauerkraut

4

slices

of Swiss Cheese

Russian Dressing - recipe follows

2

tablespoons

of butter
Guinness Corned Beef
salt

3

lb

corned beef brisket

1 14.9

oz

can of Guinness beer
Russian Dressing
1

cup

of mayonnaise

1/4

cup

of chili sauce

1

tablespoon

of minced onion

1

tablespoon

of minced dill pickle

1

tablespoon

of minced celery

1

tablespoon

of minced parsley

1/2

tablespoon

of mustard powder

1/2

tablespoon

of hot pepper sauce

1/4

teaspoon

of Worcestershire sauce

1/4

teaspoon

of sugar
Instructions
Build the Sandwich

Lay the bread slices on a clean work surface and spread 1 side of each slice with some of the Russian dressing. Layer 1/2 of the slices with some of the corned beef. Divide the sauerkraut evenly over the meat, then top the sauerkraut with the slices of cheese. Place the remaining bread slices on top, dressing sides down, and set aside.

Heat 2 heavy large skillets over medium heat. When hot, brush 1 side of each sandwich with some of the butter and place in the hot pans, buttered sides down, and cook until crispy and golden brown, about 4 minutes. Spread the unbuttered, top sides of the sandwiches with the remaining butter and turn the sandwiches to cook on the second side until golden brown, crispy, and the cheese is melted, 3 to 4 minutes longer.

Guinness Corned Beef

Remove corned beef brisket from packaging and rinse well. Add to slow cooker and sprinkle onto beef the spice packet from the package. Pour Guinness onto corned beef and then add water until brisket is completely covered.

Set to low for 8 hours.

Russian Dressing

In a bowl, combine all ingredients except salt and whisk until well-blended. Add salt to taste, cover and refrigerate until ready to serve.