With some time and patience, it's easier than you think to make your very own delicious No Knead NY Deli Rye Bread at home!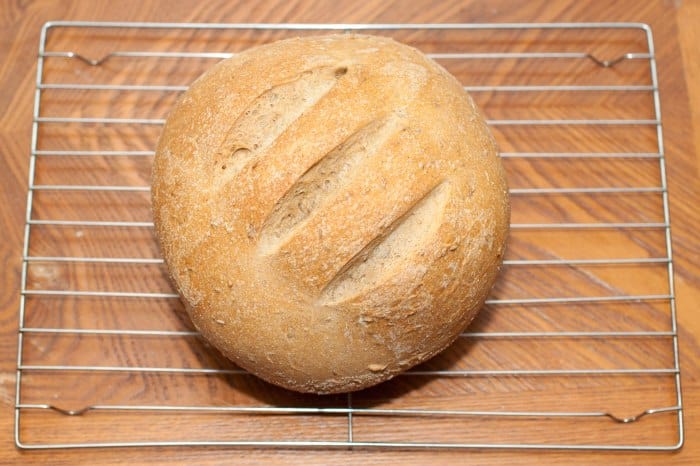 What a lovely 3 day weekend. If only all weekends were so long. We had a perfect blend of productivity and fun. Our gardens are all planted, our backyard finally looks like a backyard, my house is clean, we got errands and shopping done, and we still squeezed in a BBQ. It's just what we needed before our summer gets crazy. This bread though is certainly one of the highlights of this weekend… whoa this bread. Not only was it super easy (just time consuming), but hot damn it really does taste like a NY Deli Rye Bread.
So. easy. Thank you kitchen aid mixer and the incredible Smitten Kitchen for another amazing recipe. This bread does take quite a bit of time, but, it's not the babysit type time, it's the cover and leave to do its thing time, so I scrubbed floors, did laundry, weeded, and took Nigel for a walk between all the risings.
First there's a sponge that ferments with a flour mixture (1-4 hrs), then there's 3 subsequent rises, each an hour or two. But look at how pretty the dough is when it's ready for the oven!
It took great restraint to not cut into this bread the minute it was out of the oven.
It had the perfect airy texture with all the lovely rye and caraway seed flavors you'd expect from a rye. It is soooo good. And did I mention there's no kneading? One of the last pieces to our from scratch reubens!! 😀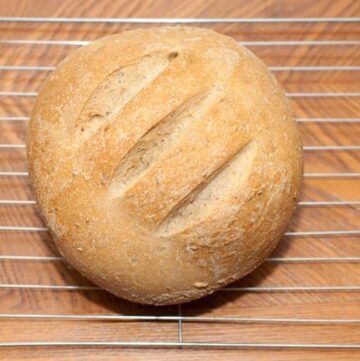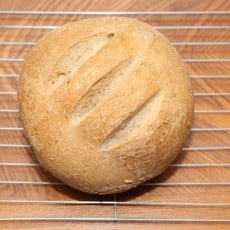 NY Deli Rye Bread
Make your own, NY Deli Rye Bread at home without having to do any kneading!
Print
Pin
Rate
Ingredients
Sponge
3/4

cup

bread flour

4 ounces, 117 grams

3/4

cup

rye flour

3.3 ounces, 95 grams

1/2

teaspoon

instant yeast

1.6 grams

1 1/2

tablespoons

sugar

0.6 ounces, 18.7 grams

1/2

tablespoon

malt powder

4.6 grams, (or barley malt syrup or honey (10.5 grams), or sugar (6.2 grams))

1 1/2

cups

water, room temperature

12.5 ounces, 354 grams
Flour Mixture
2 1/4

cups

bread flour

12.5 ounces, 351 grams

1/2

teaspoon

plus 1/8 teaspoon, instant yeast

2 grams

2

tablespoons

caraway seeds

0.5 ounces, 14 grams

1/2

tablespoon

coarse salt

0.3 ounces, 10.5 grams
Dough and Baking
1/2

tablespoon

vegetable oil

0.25 ounces, 6.7 grams

2

teaspoons

cornmeal for sprinkling

about 0.5 ounces, 16 grams
Instructions
Make the sponge:
Combine sponge ingredients in a stand mixer bowl and whisk until super smooth. By doing so you want to intentionally incorporate air — this will yield a thick batter. Cover and set aside
Make the flour mixture
In a separate large bowl, whisk together the flour mixture.

Combine the flour mixture and sponge by gently scooping it over the sponge to cover it completely.


Cover the bowl tightly with plastic wrap and allow it to ferment for 1 to 4 hours at room temperature. (The sponge will bubble through the flour mixture in places.)
Mix the Dough
After the mixture has fermented, add the oil and mix with the dough hook on low speed for about 1 minute, until the flour is moistened enough to form a rough dough. Then raise the speed to medium and mix it for 10 minutes. The dough should be very smooth and elastic, and it should jump back when pressed with a fingertip; if it is sticky, turn it out on a counter and knead in a little extra flour.
Let the dough Rise:
Place the dough in a lightly oiled bowl and then oil the top of the dough as well. Allow the dough to rise until doubled, 1 1/2 to 2 hours. Flip the bowl over and let the dough fall out on to a lightly floured counter, press it down gently, fold or form it back into a square-ish ball and allow it to rise a second time, back in the (re-oiled) bowl covered with plastic wrap for about 45 minutes.

Shape it and wait out the final rise: Turn the dough out onto a lightly floured counter and gently press it down again. Round it into a ball and set it on a cornmeal sprinkled baking sheet. Cover it with oiled plastic wrap and let it rise until almost doubled, about 1 hour to 1 hour 15 minutes. [Skim ahead to preheating your oven, which you should do soon.] When it is gently press with a fingertip, the depression will very slowly fill in.
Bake the Dough:
Preheat the oven to 450°F. On a shelf at the lowest level, place a baking sheet or bread stone.

With a sharp knife or singled-edged razor blade, make 1/4- to 1/2-inch-deep slashes in the top of the dough. Mist the dough with water and quickly but gently set the baking sheet on the hot stone or hot baking sheet.

Bake for 15 minutes, lower the temperature to 400°F and continue baking for 30 to 40 minutes or until the bread is golden brown and a skewer inserted into the middle comes out clean. Or test with a thermometer so that the center reads 190 degrees.

Cool the bread on a wire rack.
Recipe by Smitten Kitchen