With some time and patience, it's easier than you think to make your very own delicious No Knead NY Deli Rye Bread at home!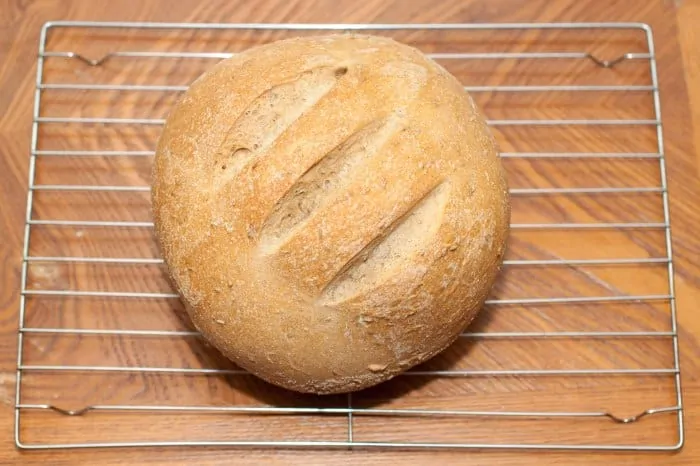 What a lovely 3 day weekend. If only all weekends were so long. We had a perfect blend of productivity and fun. Our gardens are all planted, our backyard finally looks like a backyard, my house is clean, we got errands and shopping done, and we still squeezed in a BBQ. It's just what we needed before our summer gets crazy. This bread though is certainly one of the highlights of this weekend… whoa this bread. Not only was it super easy (just time-consuming), but hot damn it really does taste like a NY Deli Rye Bread.
This recipe is so easy. Thank you kitchen aid mixer and the incredible Smitten Kitchen for another amazing recipe. This bread does take quite a bit of time, but, it's not the babysit type time, it's the cover and leave to do its thing time, so I scrubbed floors, did laundry, weeded, and took Nigel for a walk between all the risings.
Ingredients Needed
You'll likely need to do a special shopping trip to get everything you need, but again, trust me, it's worth it.
Flours - Rye Flour and Bread Flour
Instant Yeast
Sugar - White granulated. Brown would add a molasses flavor.
Barley Malt Syrup - You could also just add more sugar or use honey, but I prefer the flavor of the barley malt syrup.
Caraway Seeds - The heart of the rye bread flavor!
Kosher Salt
Vegetable Oil
Cornmeal
Step-by-Step Instructions
Make the Sponge
This is what helps take this recipe to the next level by adding more flavor and texture.
Create Flour Mixture for the Sponge
Then let it all ferment for an hour (or 4, dependent upon the time you have and/or flavor you want to develop).
Create the Dough
After you've let the sponge do its thing, then it's time to mix it all into a dough.
Let It Rise
There are 3 rises, each an hour or two. Then look at how pretty the dough is when it's ready for the oven!
Bake!
It took great restraint to not cut into this bread the minute it was out of the oven, but it's important to resist that urge! Starch retrogradation is occurring as the bread cools - slicing into that bread too early can interrupt that causing a gummy crumb texture.
But when it was ready, it had the perfect airy texture with all the lovely rye and caraway seed flavors you'd expect from a rye. It is soooo good. This bread was one of the last pieces to our from scratch reubens!! 😀
Other Homemade Bread
Enjoy! As always, if you make this recipe or any of my others, I love to hear what you think! Leave a comment below, email me, or you can find me on Facebook, Instagram, and Pinterest!
If you want to see more, be sure to sign up for my 5 Easy Ways to Start Cooking From Scratch!