Spinach, Ham, and Cheddar Quiche, the perfect breakfast, brunch, or even dinner meal. It's everything you need in one delicious pie dish!
I don't know where it came from or why, but I had a serious hankering for some quiche. Specifically a Spinach, Ham, and Cheddar Quiche.
I can't even remember the last time I had a quiche, never mind make one. But since we had a ton of leftover ham that needed to be used, some spinach, and of course we always have some extra sharp cheddar in our house, we were all set for a Spinach, Ham, and Cheddar Quiche!
So have I mentioned lately how studly my husband is? He has his own, memorized, go-to pie crust recipe, which he whipped up and put in the fridge to rest before heading to the gym the other night. I love that man.
He is totally the baker in our house, not me. I usually leave the pastry making up to him so I was going to wait for him to get home to roll out the pie crust like he so expertly does. But then I realized after that it would have been over an hour before it'd be done. So rolled it out myself. Which turned out not nearly as pathetic as I thought it would!
Edges trimmed and baked for 10 minutes, and hey, it actually looks like the pie crust!
While it cooked, I put together everything else. I chopped up the last of this ham which I thought would have been perfect in the quiche. Right after Easter, spiral cut hams went on sale at our grocery store for .49 cents a lb!! I know. So I bought three and put them in our freezer. It's been the most amazingly cheap but delicious lunch meat for some hearty ham and cheese sandwiches. .Sooo much better than the $8 a lb we would have otherwise spent on deli lunch meat!
Then a dice of half a white onion and some garlic into a pan with some spinach for a quick saute.
Then a super hearty whisk of eggs and milk
and then the sauteed goodness mixed in with the eggs and a cup of shredded cheese all poured into the pie crust,
And we're in business.
In the oven for about an hour, and we have this Spinach, Ham, and Cheddar Quiche deliciousness. Ham, cheddar, spinach, and cheese all baked into a buttery flaky pie crust? Yes, please!
Yummm. Some people say to layer the ingredients, I like to have them all mixed together.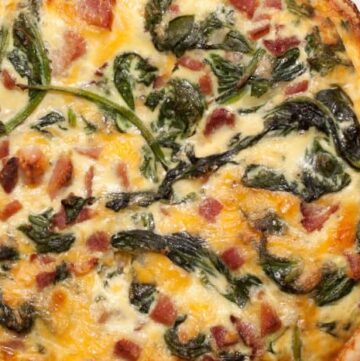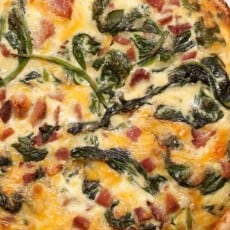 Ingredients
1

cup

cubed cooked thick cut ham

1

cup

shredded extra sharp cheddar cheese

1

bunch of cleaned spinach

1/2

cup

of diced white onion

2

minced garlic cloves

1

cup

of milk

4

eggs

salt and pepper to taste
Pie Crust
1 1/4

cups

of all purpose flour

2

tablespoons

of cold water

1/2

cup

of slightly chilled butter, cubed

1/2

tsp

of salt
Instructions
To make pie crust: sift flour, add salt, and then cut in the butter until dough is a consistency similar to bread crumbs. Slowly add the cold water and once combined shape into a smooth ball (don't over work), wrap in foil, and put in fridge to cool / rest for at least 30 minutes.

Pre-heat oven to 350 degrees. After 30 minutes, remove from fridge and roll out into a large circular shape on a floured surface. Gently place the dough over and into a pie pan and then cut off excess around the edges. Bake for 10 minutes.

Meanwhile, add garlic and onions to a saute pan with a little bit of olive oil.  Saute until onions are translucent.  Add ham and then spinach and cook until spinach is wilted.  In a large bowl, add eggs and milk and whisk vigorously.  Then add ham, onions, and spinach and mix, then add cheese and mix all together.

Slowly pour the mixture into the pre-baked pie crust and then add to oven.  Bake for 50-55 minutes until middle is done and set.  Let cool for at least 10 minutes and then enjoy!