Avocado Baked Eggs are an incredibly delicious, hearty, and easy breakfast to make a healthy, nutritious tasty start to your day!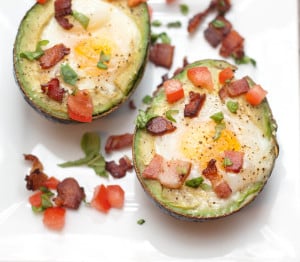 I don't know about you all, but I am a long time sufferer of OBS, also known as Overactive Brain Syndrome. Which only seems to kick in when I want to go to sleep. Worse, it's not like I'm awake trying to find the cure for cancer, World Peace, or even anything remotely productive. Last night, Dan had mentioned something about reading Curious George as a kid to me. From there, I went, Curious George... the Man with the Yellow Hat... I wonder what his name was... I could see him as an Elliot...Maybe an Ethan... I wonder what color that yellow was... sunshine yellow? No, that's too obvious, I bet it had a more creative name like egg yolk yellow... egg yolks... breakfast... what should I make for breakfast... STOP THINKING ABOUT BREAKFAST IT'S MIDNIGHT... I love eggs... I want chickens... I wonder how long it will make a coop... OMG SHUT UP AND GO TO SLEEP.
Seriously. It's bad. I eventually ended up finally getting to sleep by counting our future chickens hopping over our chicken coop fence. But then when I got up at 4:30 am to use the restroom, my brain said HEY! We never answered that breakfast question! Good grief. That ended up taking me down another rabbit hole around egg yolks until I finally acquiesced and got up. At 5:00 am. On my day off. Damn you, Brain!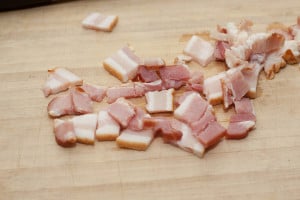 However, despite the insanity of this sequence of events, this is how these baked eggs were born! During one of my many spirals, I remembered how baked eggs and avocados had exploded on Pinterest awhile ago and everyone was making them. Being the type of person that usually holds out on doing (and eating) things when they're popular just to be obstinate (see: Kale and Quinoa), I hadn't tried them yet. And as usual, I now regret holding out so long. Especially when I realized I could add bacon...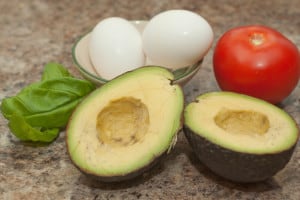 ...and some fresh tomato and basil.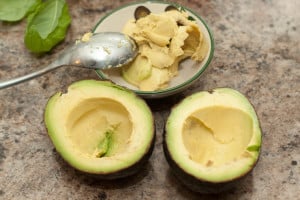 Then, I scooped out some extra avocado meat to make room for the egg 'cause I could totally see myself cracking the egg into the pit hole and having the egg overflow all over the place. Sometimes I do actually think ahead.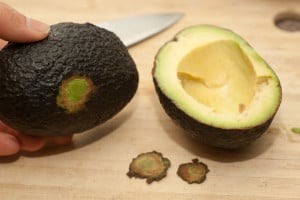 Then, I went on to surprise myself even more by cutting the tiniest pieces off of the bottom of each of the avocado halves so that they would rest flat and not tip over. Who knew my brain worked so well so early in the morning!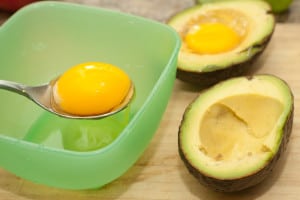 It gets better, then I actually cracked the egg into a bowl and carefully scooped out the yolk with a spoon to place it, and only the bit of the egg white that would fit, into the hole.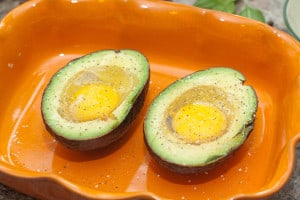 It's like my brain was rewarding me for forcing me awake at 5 am on my day off!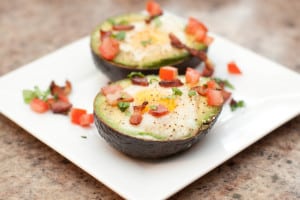 I baked these guys in the oven at 425 degrees for 24 minutes until the whites were cooked...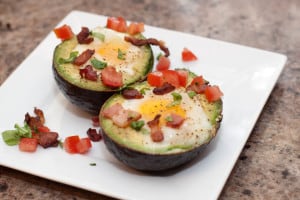 ...then sprinkled on some bacon, tomatoes, and fresh basil.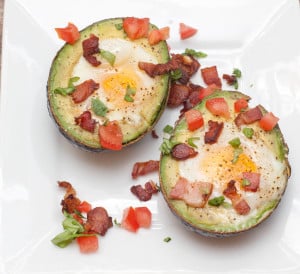 Needless to say my husband was pretty stoked to wake up to the smell of bacon and breakfast ready and waiting for him. Thanks Curious George! 😉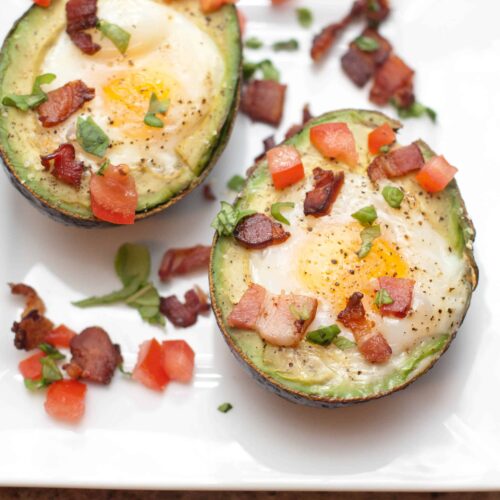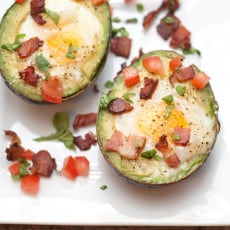 Avocado Baked Eggs
Avocado Baked Eggs are an incredibly delicious, hearty, and easy breakfast to make a healthy, nutritious tasty start to your day!
Print
Pin
Rate
Ingredients
1

large Haas avocado

2

medium to large eggs

2

slices

of thick cut bacon

chopped

1

tablespoon

of diced tomato

2

large basil leaves diced

salt and pepper to taste
Instructions
Pre-heat oven to 425 degrees.

In a saute pan over medium heat, cook chopped bacon, stirring often, until crispy. Approximately 5-7 minutes.

Remove bacon from pan and let cool on a paper towel.

Halve the avocado and remove pit.

With a small spoon, gently scoop out a little more of the avocado meat to create a large hole for you egg.

With a sharp knife, cut a very small flat piece off of the bottom of each avocado half. This will ensure your avocado sits flat and even in your baking dish.

Place avocado halves on baking sheet or in a small baking dish.

Crack egg one at a time into a small bowl. With a spoon gently lift the yolk, being careful to not break it, and place it into the hole of one avocado half. If there is extra room, add some of the additional egg white. Repeat with second half.

Sprinkle with salt and pepper.

Bake for 20-25 minutes, until egg yolk is white and cooked but yolk still runny. This time will depend upon the sizeof your eggs / avocado.

Remove from oven and sprinkle with bacon, tomato, and basil.

Enjoy!