Avocado Baked Eggs are an incredibly delicious, hearty, and easy breakfast to make a healthy, nutritious tasty start to your day!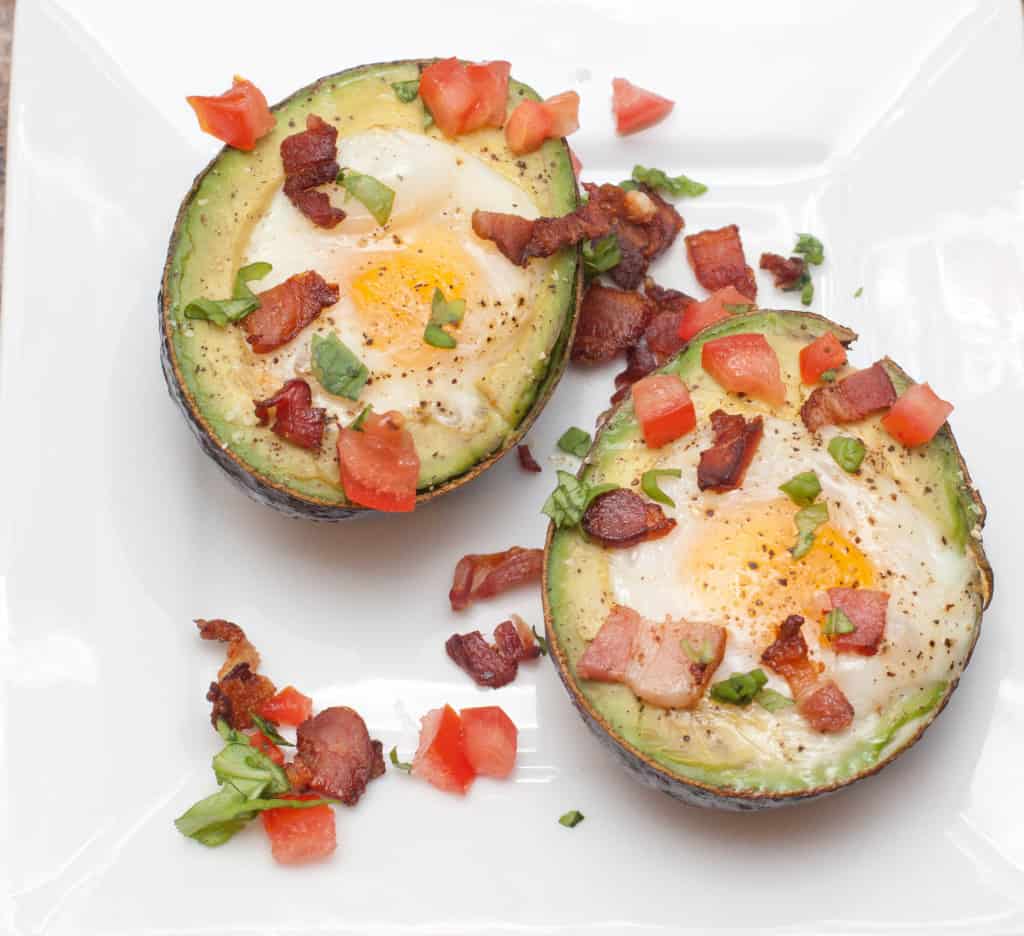 I don't know about you all, but I am a long-time sufferer of OBS, also known as Overactive Brain Syndrome. Which only seems to kick in when I want to go to sleep. While my brain will run through the gamut, inevitably, it will always end with, "What should I make for breakfast...?" And this particular night, my brain went to eggs. Eggs and avocados. Enter, Avocado Baked Eggs!
We love this healthy, hearty, super delicious breakfast because it takes everything we love. Avocados. Eggs. BACON. And fresh basil and tomatoes. All with simple prep and an easy bake, making these avocado eggs the perfect breakfast!
Ingredients Needed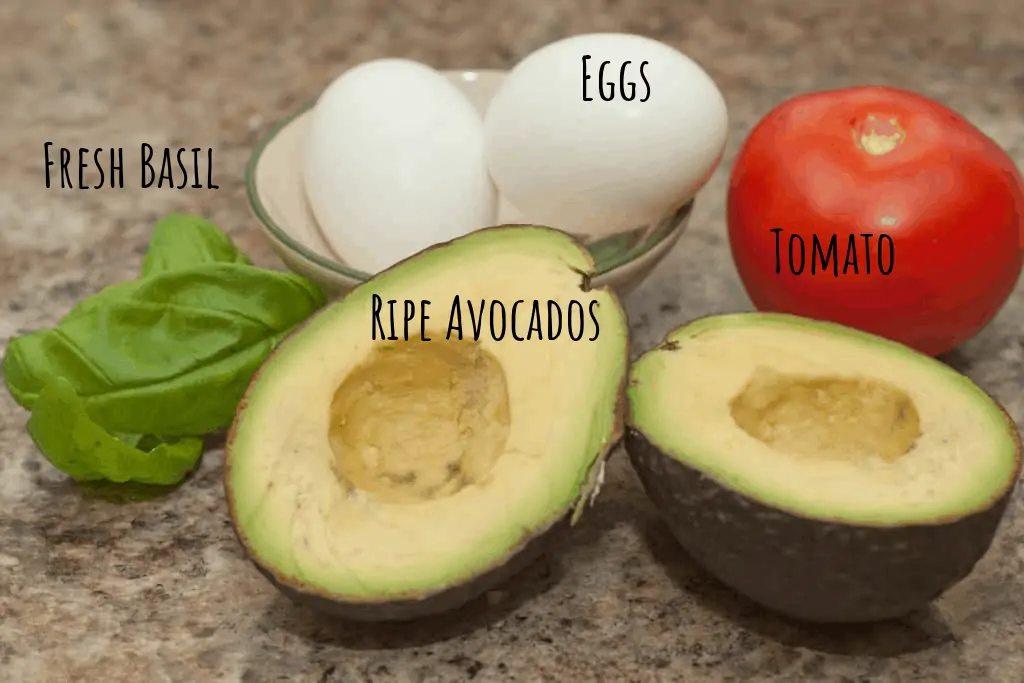 One of the things I love about this recipe is how customizable this is. The basis, eggs baked in avocados. From there, you can do whatever you want! Here's what we love, but you do you and whatever's in your fridge!
Eggs - White, brown, whatever!
Avocados - Ripe, halved and pit removed.
Additions: Tomatoes, basil, bacon, salt, pepper, or anything else you have!
Picking Avocaods
Oh avocados... they're basically not ready, not ready, not ready and then BAM! Ready!!
The Perfect Avocado
Feels kind of soft, but not mushy.
Overripe Avocado
These will feel "mushy" to the touch and may have a darker yellow or brownish color.
Underride Avocado
These will still be pretty firm. But if you're buying in advance, then you can just put them in a brown paper bag (for 4-5 days) until they're soft and perfect!
Step-by-Step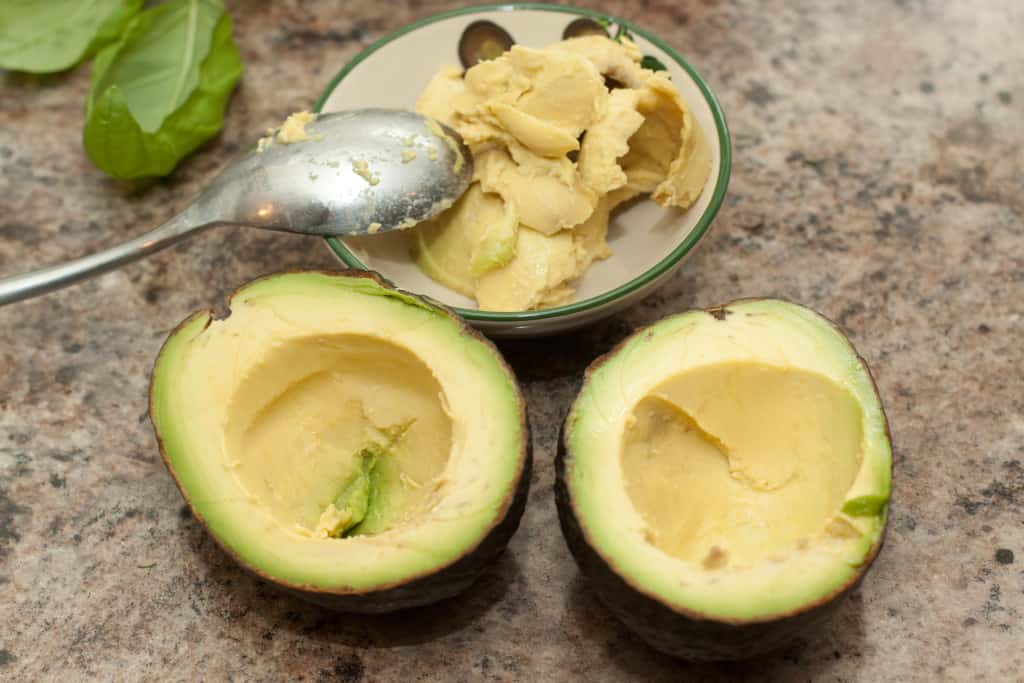 Step 1: Scoop a little extra out of your nice, ripe avocados. This will make a little extra room for your egg.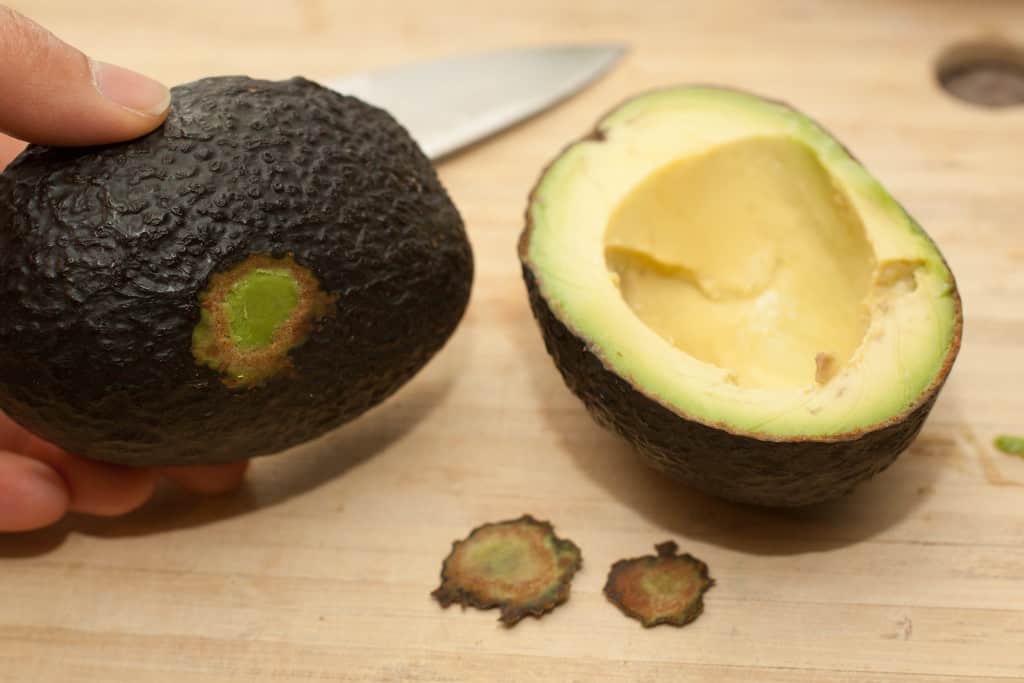 Step 2: Prep those avocados for baking by slicing aa little bit off of the bottom half of your avocado so that it sits nicely on your pan.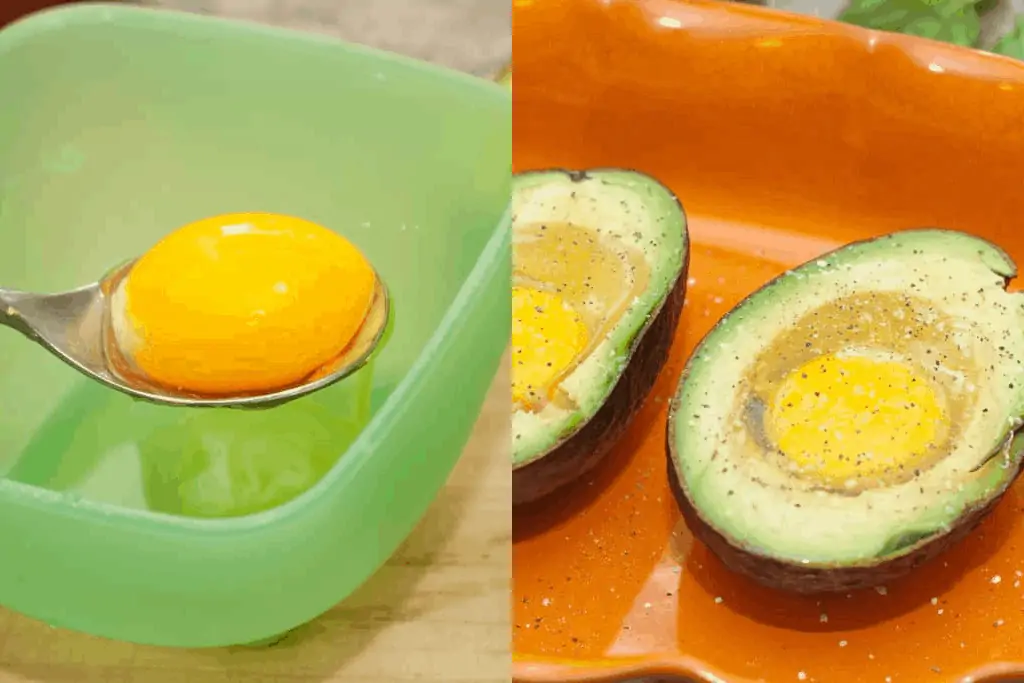 Step 3: Crack your eggs into a bowl and then use a spoon to scoop out the yolk and some white to place into the halved avocado.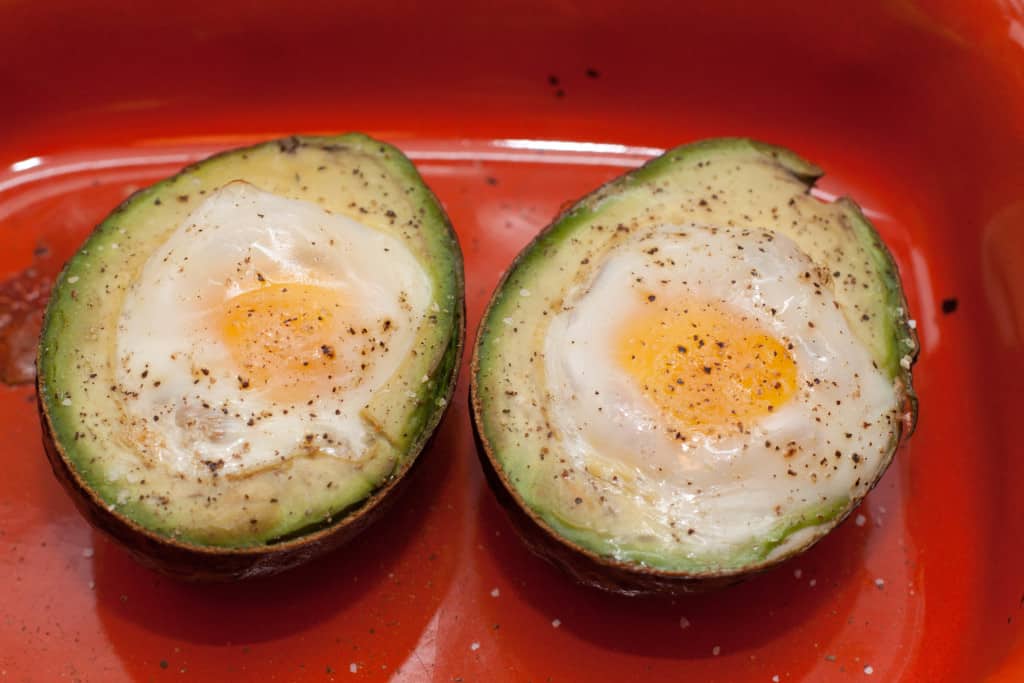 Step 4: Baked until the whites are cooked but the eggs are still runny!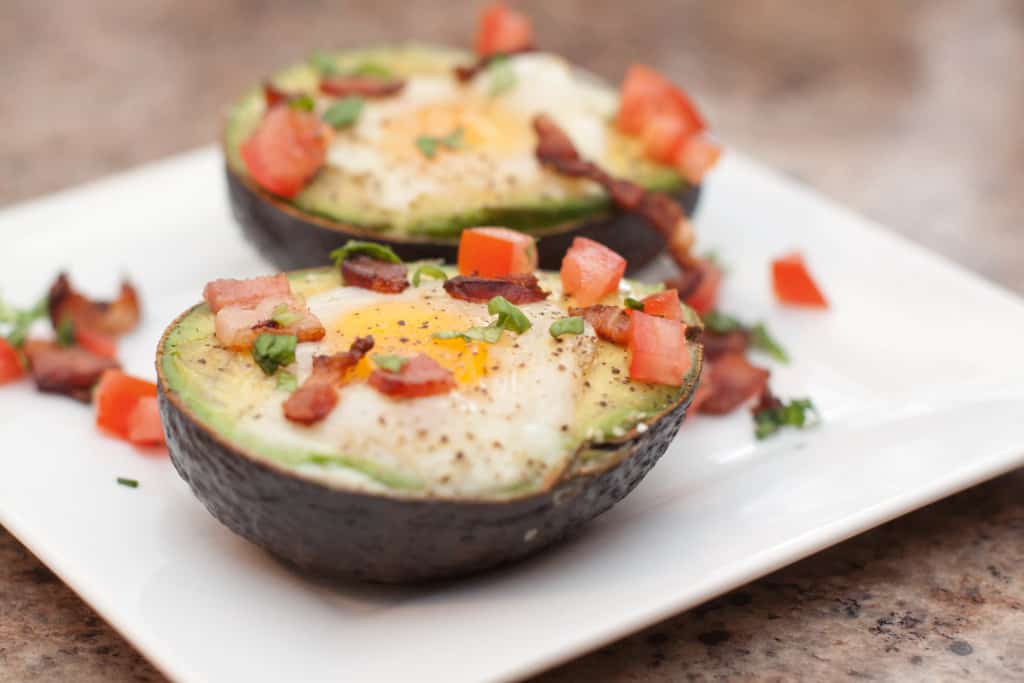 Step 5: Top with whatever you want! Crumbled bacon, diced tomatoes, basil... whatever you have!
It's almost like my brain was rewarding me for forcing me awake at 5 am on my day off!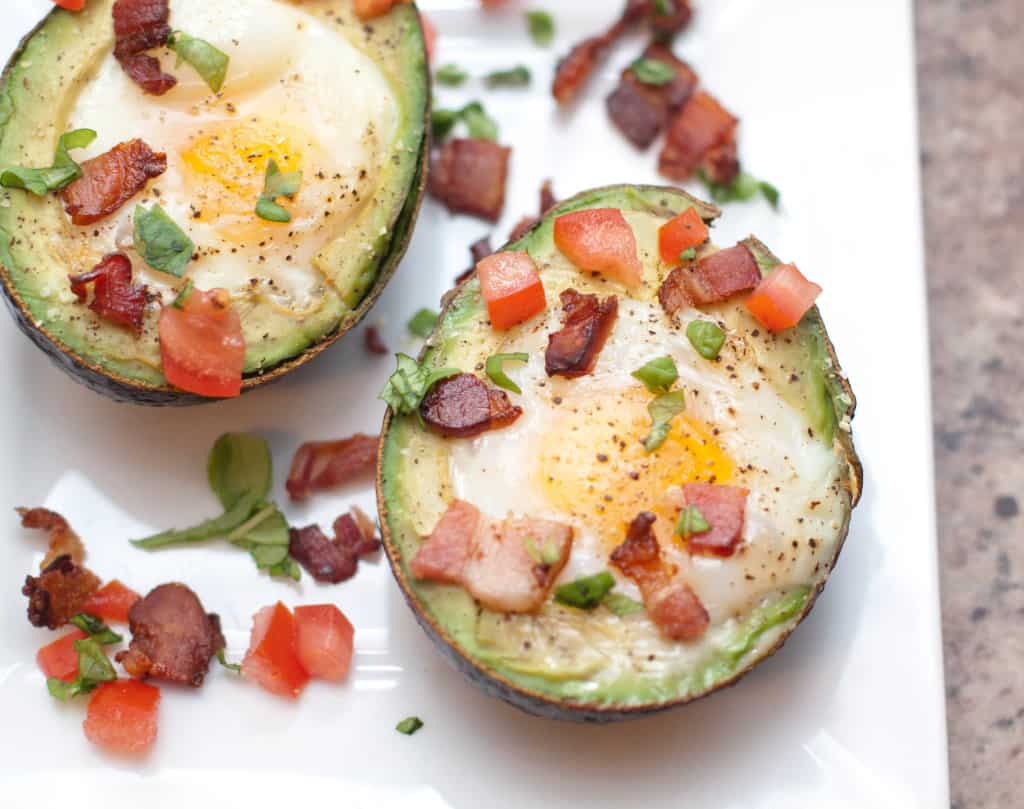 Enjoy! As always, if you make this recipe or any of my others, I love to hear what you think! Leave a comment below, email me, or you can find me on Facebook, Instagram, and Pinterest!
If you want to see more, be sure to sign up for my 5 Easy Ways to Start Cooking From Scratch!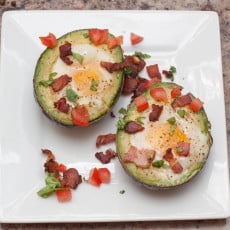 Avocado Baked Eggs
Avocado Baked Eggs are an incredibly delicious, hearty, and easy breakfast to make a healthy, nutritious tasty start to your day!
Print
Pin
Rate
Ingredients
1

lg

Avocado

2

lg

eggs

2

slices

bacon

chopped

1

tablespoon

Tomato

diced

2

lg leaves

basil

diced

salt and pepper to taste
Instructions
Pre-heat oven to 425 degrees.

In a saute pan over medium heat, cook bacon until crispy and then chop.

Remove bacon from pan and let cool on a paper towel.

Halve the avocado and remove pit.

With a small spoon, gently scoop out a little more of the avocado meat to create a large hole for your egg.

With a sharp knife, cut a small flat piece off the bottom of each avocado half. This will help your avocado to sit flat.

Place avocado halves on baking sheet or in a small baking dish.

Crack egg one at a time into a small bowl. With a spoon gently lift the yolk, being careful to not break it, and place it into the hole of one avocado half. If there is extra room, add some of the additional egg white. Repeat with second half.

Sprinkle with salt and pepper.

Bake for 20-25 minutes, until egg yolk is white and cooked but yolk still runny. This time may adjust based on your eggs / avocados.

Remove from oven and sprinkle with bacon, tomato, and basil.

Enjoy!
Nutrition
Calories:
26
kcal
|
Carbohydrates:
1
g
|
Protein:
1
g
|
Fat:
2
g
|
Saturated Fat:
1
g
|
Cholesterol:
9
mg
|
Sodium:
7
mg
|
Potassium:
49
mg
|
Fiber:
1
g
|
Sugar:
1
g
|
Vitamin A:
241
IU
|
Vitamin C:
2
mg
|
Calcium:
6
mg
|
Iron:
1
mg