Chocolate pudding. Chocolate Raspberry pudding! Whoa. Even though I'm not a huge chocolate fan, this pudding reminds me of the days in elementary school when I would be super jealous over my friends little pudding packs when my parents had sent me with crackers and fruit. Pudding snacks were non-existent in our house when we were young. Now, I'm not a huge pudding fan and have never even thought about making it before. Until I found myself with 4 egg yolks leftover from making my mother-in-laws amazing meringues (recipe soon!). My first thought was making mayo, since we were out. But then I realized that would be 4 cups of mayo and unless I made a ton of mayo based salads, it would all just go to waste. So no mayo... but still stumped on what to do with them, I asked Google. And Martha answered. Pudding!
Even better, I had just gotten a bunch of cacao powder for the Cashew Cacao Bliss Balls, so chocolate pudding it was! Super easy ingredients: the egg yolks, sugar, butter, milk, corn starch, cacao powder, and vanilla extract.
Next, in my saucepan off the oven, I mixed the sugar, cornstarch, cacao powder, and a pinch of salt. Then, very very slowly, I added the milk. Just a little bit at a time so that everything dissolved together well.
Once it all was dissolved (especially the cornstarch), I whisked in the egg yolks on onto the burner it went on medium heat.
Now here's where I was like, uh... huh? Martha said to "Whisk constantly on medium heat until the first large bubble forms and sputters," So I stood over this pot looking at all of the bubbles that were forming (like had formed when I whisked in the eggs) and went, "Is that a large enough bubble??" "Could that be considered a 'sputter'?" "What the hell, Martha!" Uunnnttilll this happened. See how thick it is? That's what you want. And then you'll get not really a bubble, but more of a little 'burp' of the thickened sauce. You know like in a really cheesy horror movie when people are trudging through some thick disgusting swamp and then the swamp-thing-monster is underneath and then they see the blurp in the thick swamp water right before they get sucked under?? Yea, like that. That's what you're looking for. I should submit that as a recipe edit to Martha.
Once you get the pudding burp, it's nearly ready. With a sieve, I poured in the sauce and let it strain into a large bowl.
Then, while it was still super hot, I mixed in the butter and the vanilla and gave it a good stir.
Then, as a why the heck not, I stirred in a couple of tablespoons of Chambord too. Because, well, why the heck not.
Into the fridge it went for a few hours and when it was cool, we had ourselves a deliciously creamy rich chocolate pudding with just a touch of raspberry!
Yum!! Best pudding I've had in like a decade. Ok, it's probably the only pudding I've had in the past 10 years but whoa it was good. A great treat to bring to Angie's Fiesta Friday!!
Yum!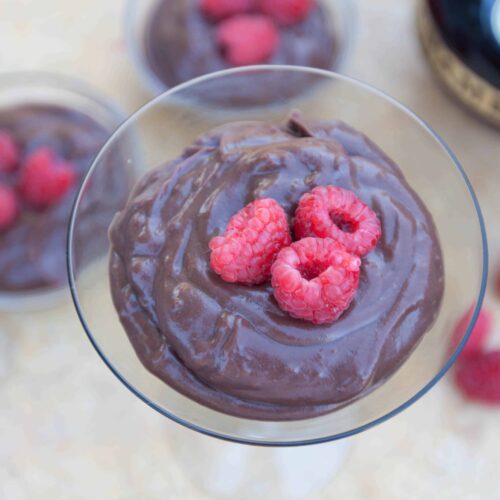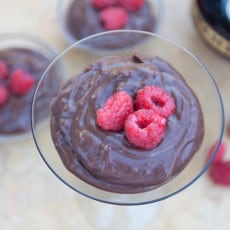 Ingredients
2/3

cup

sugar

1/4

cup

cornstarch

1/4

teaspoon

salt

1/3

cup

cacao powder

2 1/2

cups

milk

4

large egg yolks

2

tablespoons

unsalted butter

cut into pieces

1

teaspoon

vanilla extract

2

tablespoons

of Chambord
Instructions
Place a fine-mesh sieve over a medium bowl; set aside.

In a medium saucepan, off heat, whisk together sugar, cornstarch, and salt. If making chocolate pudding, add cocoa powder. Very gradually (a few tablespoons at a time) whisk in milk, taking care to dissolve cornstarch. Whisk in egg yolks.

Whisking constantly, cook over medium heat until the first large bubble forms and sputters. Reduce heat to low; still whisking, cook 1 minute. Remove from heat; immediately pour through sieve into bowl. Stir butter and vanilla into hot pudding.

Let cool a few minutes then stir in Chambord.

Place plastic wrap directly on surface of pudding (to prevent skin from forming); chill at least 3 hours and up to 3 days. Before serving, whisk pudding until smooth; divide among four serving dishes.