These Easy Homemade Apple Fritters are packed full of fresh apples, easy to make with simple ingredients, and can be ready in just 30 minutes! They're destined to be a new family favorite!
Next, be sure to try our Easy Homemade Peach Fritters!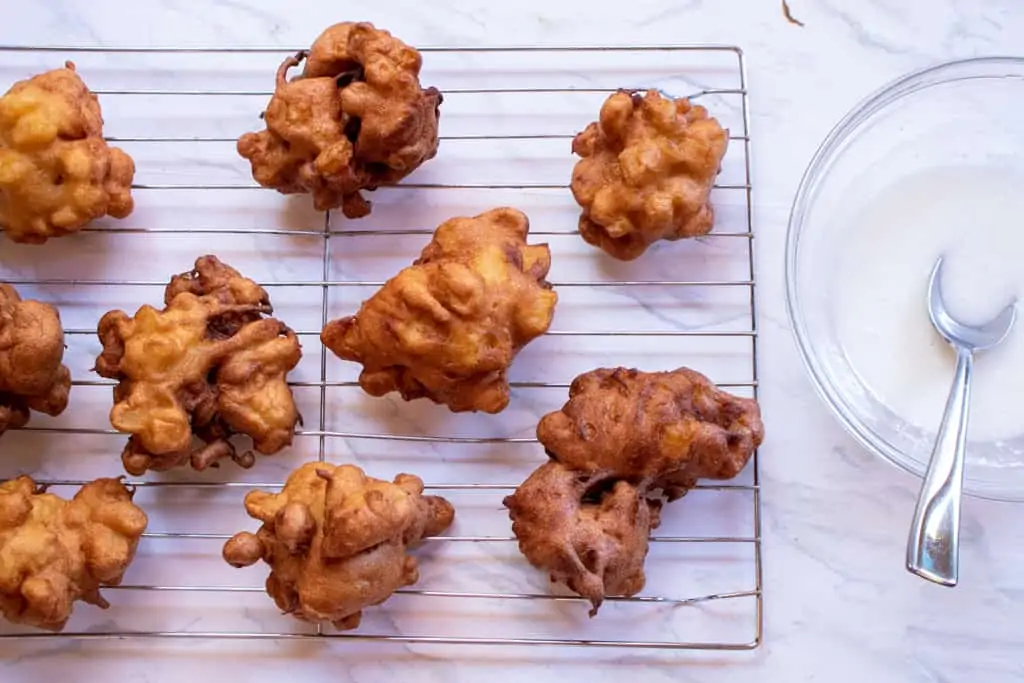 Here's a super quickie for you all! These Easy Homemade Apple Fritters were a spur of the "I really want some fritters," moment kind of delicious creation and they were sooo tasty I had to share! Not only are they ready in just about 30 minutes, but they're an apple fritter where you're not searching for the apples! Plus, that glaze? They're the perfect sweet breakfast treat! Perfect for fall and fresh picked apples!
Recipe Video
Ingredients Needed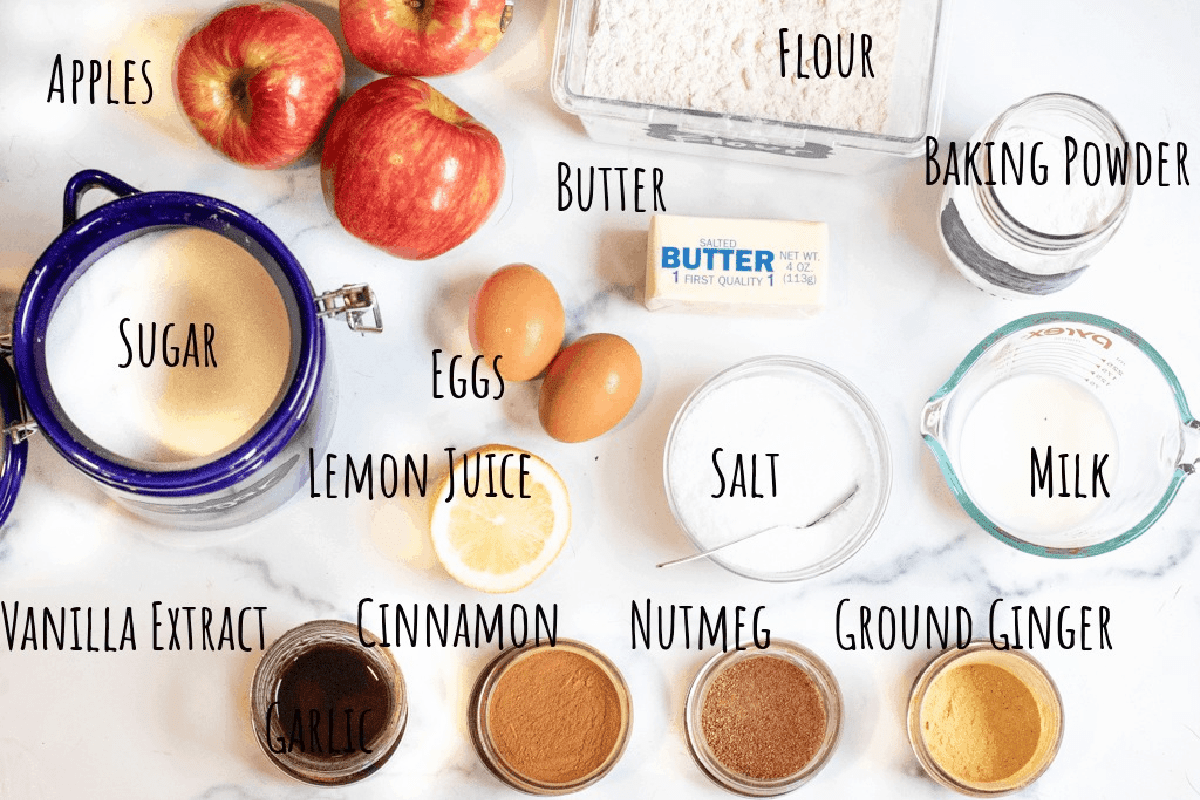 Apples - Honeycrisp are a favorite (mainly because they are just an overall favorite apple) but Granny Smith is also great in this recipe. An apple that's more crisp and tart will work best.
Lemon Juice - This helps to keep the apples from browning after they've been diced, but also helps highlight the acidity.
Flour, Baking Soda, and Sugar- You can use all purpose or a gluten free flour or nut flour. We have not made these with whole wheat flour.
Eggs, Milk, Butter - We usually use 2% milk but you can absolutely use whatever you have. Almond milk works great, too!
Cinnamon and Nutmeg - Just a pinch of nutmeg adds a great flavor. But you could also use a touch of apple pie spice!
Ground Ginger - Totally optional but a fun touch! I love the flavor ground ginger brings to sweet treats, I always use it in our homemade granolas.
Vanilla Extract - Have you made your own, yet?
Then for the glaze, you'll need some confectioner's sugar, too!
Easy to Make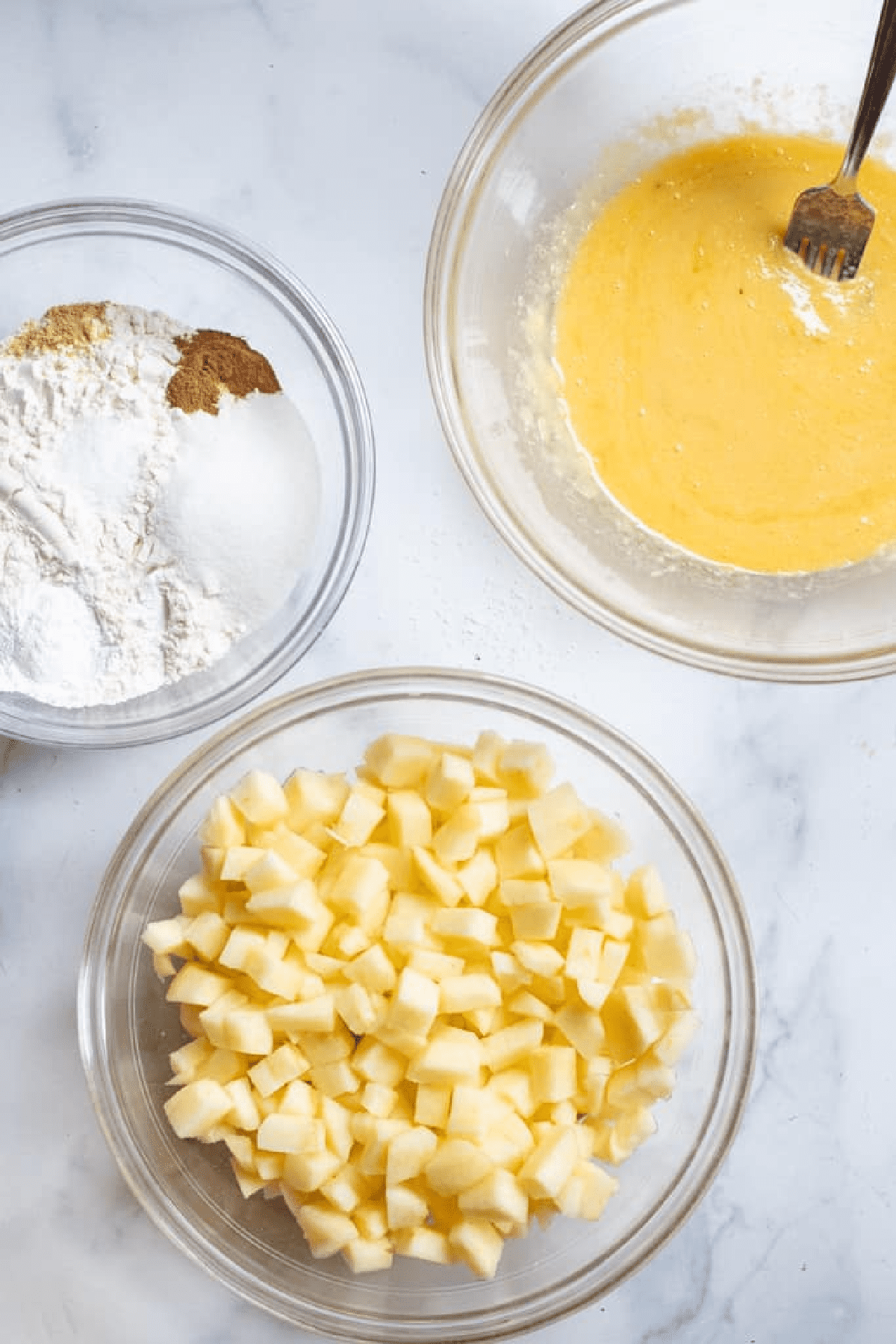 1. Step 1: Dice apples, mix dry ingredients and wet in separate bowls.
2. Mix into a batter.
3. Fry!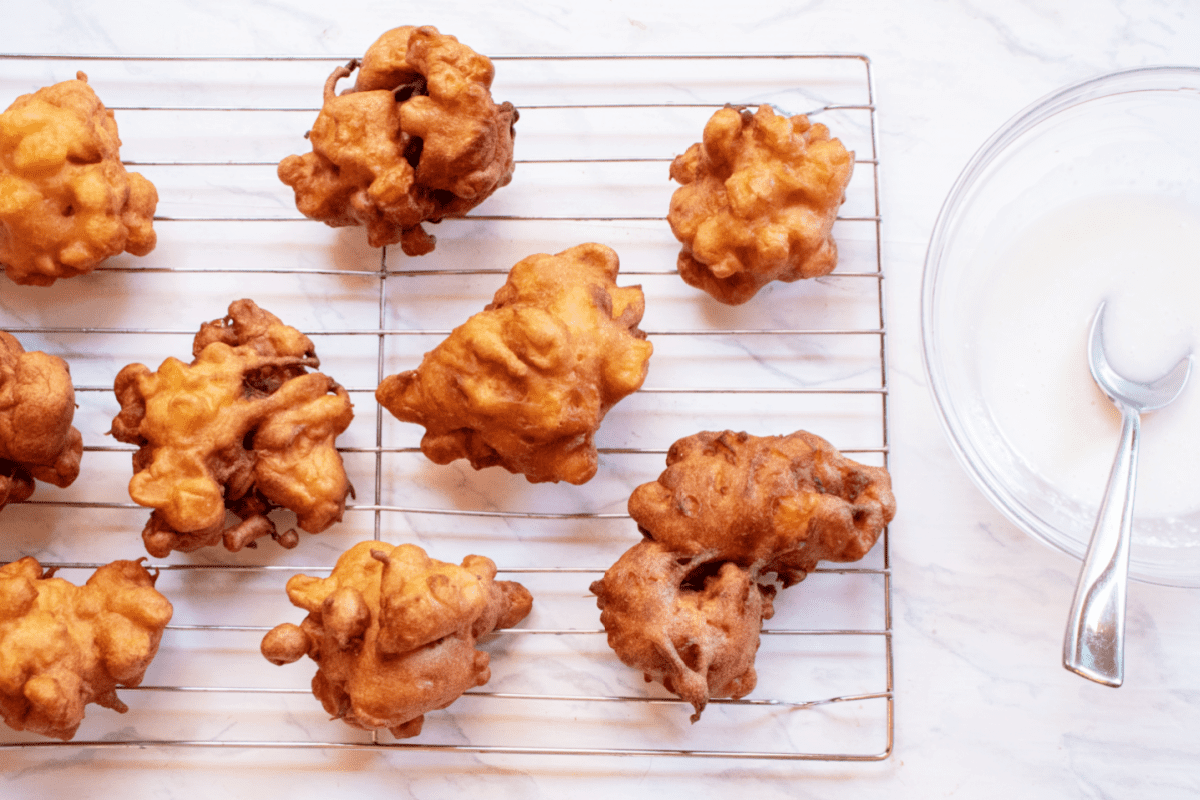 Tips for Making Apple Fritters
Apples:
Be sure to dice those apples small. Especially since we pack 'em into these fritters. These are truly apple fritters with a serious emphasis on apples, because in my opinion, there's nothing worse than getting an apple fritter and searching for the apple.
Frying:
Make sure that your oil is hot enough. If you don't have an instant-read thermometer (although if you don't have one, trust me you won't regret buying one) but you can also do the wooden spoon test. See recipe notes.
Oil Temp:
You want to bring your oil up to temp, but then make sure that the temp stays there. So once your oil has reached 375 degrees, turn your burner down just a little to ensure that it doesn't get too hot. If your oil is too hot, you'll burn your fritters. But also, if your oil gets too cool, the inside of the fritters won't fully cook. That's where an instant-read thermometer comes in handy!
Fritter Size:
We love a slightly larger fritter, which is more of an overflowing 1/4 cup or small 1/3 cup of batter size. If you're not sure if they're done yet, use a sharp knife and insert it into the center of the fritter. If it pulls clean, you're good. But if it doesn't that means it's still doughy and needs to cook longer.
Toppings!
One of the most fun parts! While we love this glaze, we also love a cinnamon and sugar blend, but also to add a fun maple touch, you could coat them with our Maple Sugar Glaze!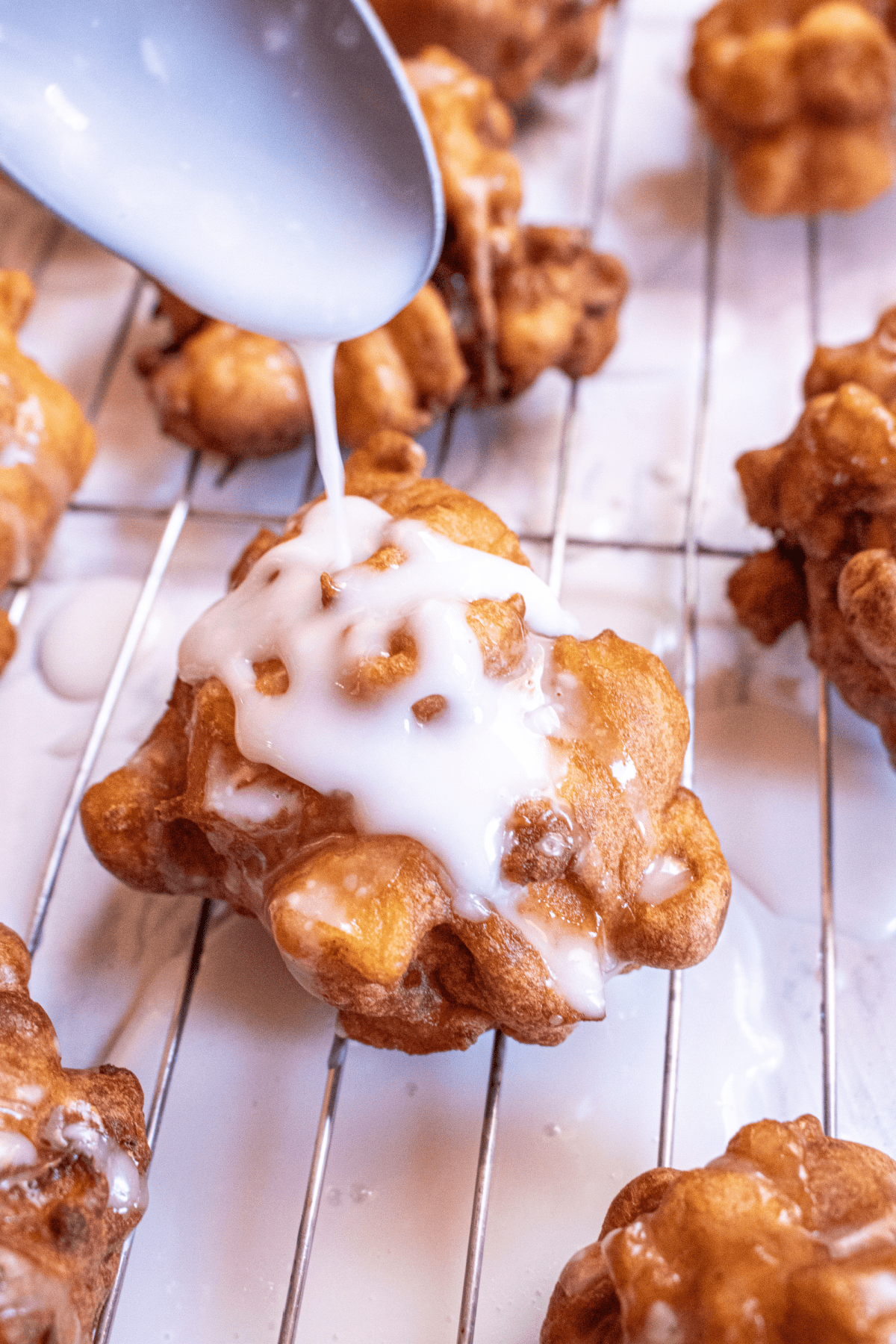 Brunch plans? Secured with these Easy Homemade Apple Fritters! Or try one of these other sweet brunch treats!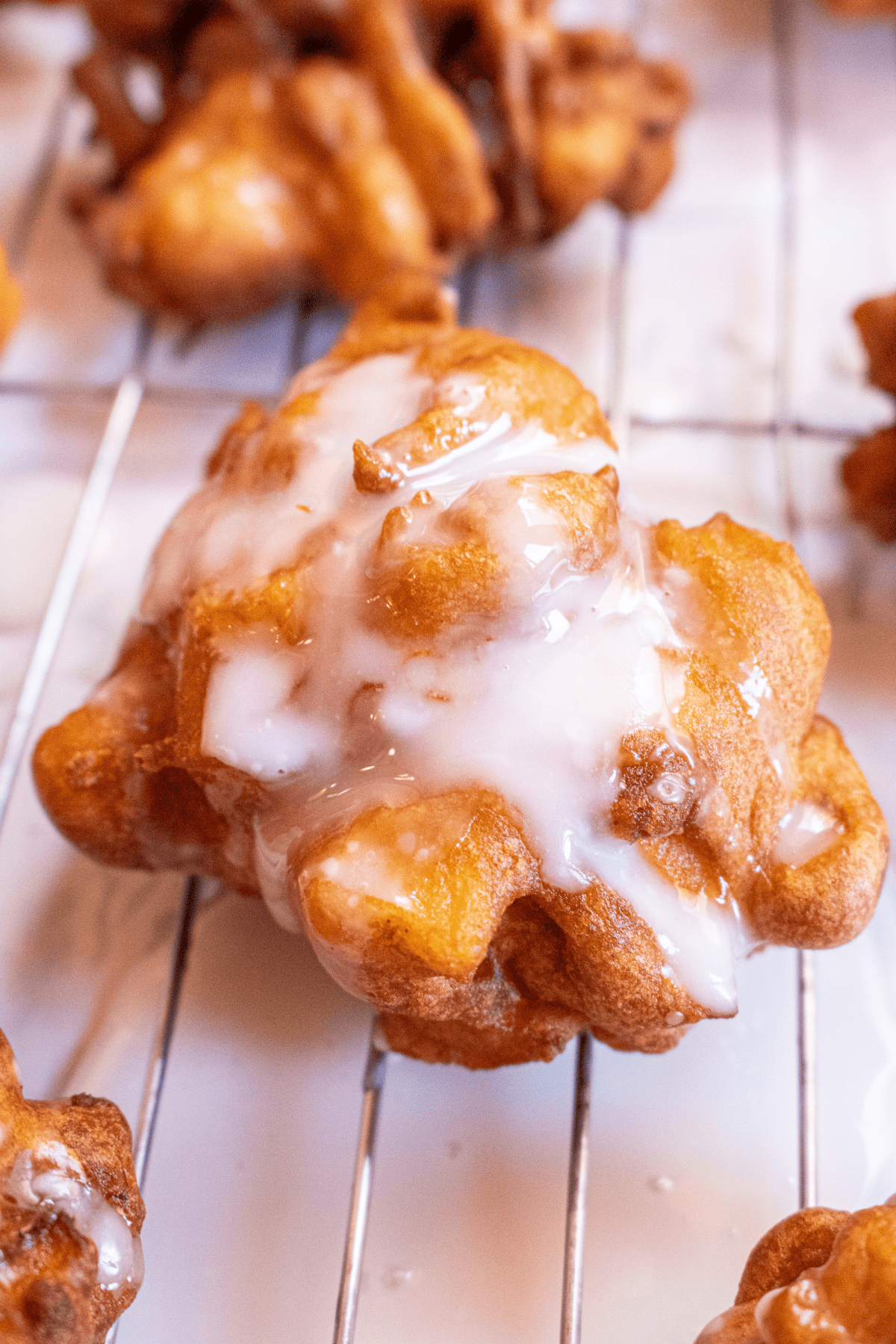 Enjoy! As always, if you make this recipe or any of my others, I love to hear what you think! Leave a comment below, email me, or you can find me on Facebook, Instagram, and Pinterest!
If you want to see more, be sure to sign up for my 5 Easy Ways to Start Cooking From Scratch!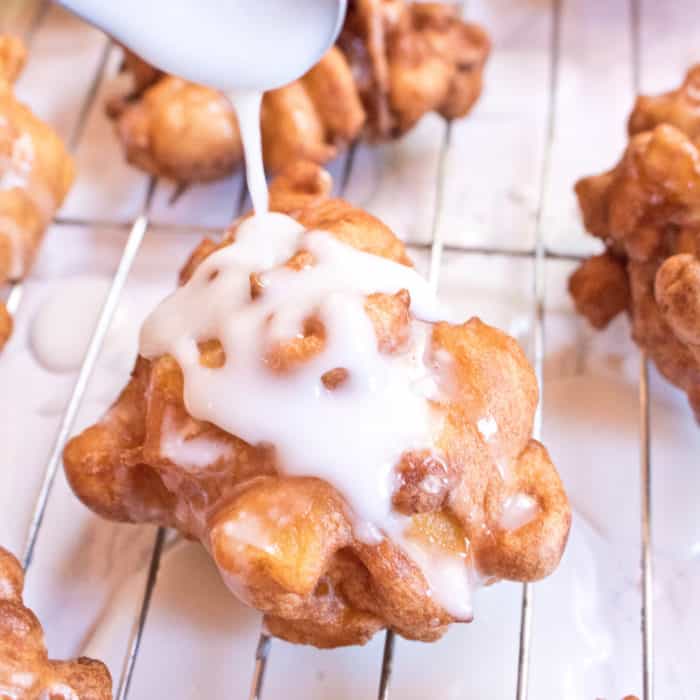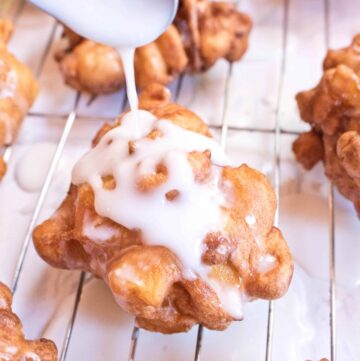 Easy Homemade Apple Fritters
These Easy Homemade Apple Fritters are packed full of fresh apples, simple to make, and can be ready in just 30 minutes!
Print
Pin
Rate
Ingredients
APPLE FRITTER
3-4

cups

apples, diced

about 2-3 apples, peeled and diced into bite-size pieces (honeycrisp or granny smith)

1

tablespoon

lemon juice

fresh

1 1/4

cup

all purpose flour

1

teaspoon

ground cinnamon

1/4

teaspoon

salt

2

teaspoons

baking powder

pinch

nutmeg

or apple pie spice!

pinch

ground ginger

(optional)

1

tablespoon

granulated sugar

2

large eggs

at room temperature

1/3

cup

milk

1

tablespoon

melted butter

cooled

1

teaspoon

vanilla extract

Vegetable oil for frying
GLAZE
1

cup

confectioner's sugar

1/2

teaspoon

vanilla extract

2-5

teaspoons

milk

or water
Instructions
Dice your apples, place in a bowl and add lemon juice. This will prevent the apples from browning.

In a large bowl, whisk eggs. Add milk, vanilla, and cooled melted butter (don't add it hot, you'll cook your eggs!) Whisk together with a fork until it is all combined.

In another medium sized bowl, combine the flour, sugar, baking powder, cinnamon, salt, nutmeg, and ground ginger.

Add dry ingredients to wet and mix well until a loose dough is formed. Fold in the apples.

Fill a frying pan or sauce pan with about 3-4 cups of oil or so that you have about 3-4 inches of oil in your pan. Heat oil over medium heat until the oil reaches 375°F with a candy thermometer or an instant read thermometer. If you don't have a thermometer, use the wooden spoon test (see notes).

Use a measuring cup to drop batter into oil, 1/4 cup or 1/3 cup. Fry until the outside is golden brown. Flip and fry other side until golden brown, for a total of about 4-5 minutes. You'll know they're done if you insert a small knife into the center and it comes clean. If not, fry a little longer so that the center is fully cooked. This time will depend on the size of your fritter.

Use a slotted spoon to transfer to a paper towel-lined cooling rack and let cool. Repeat with all the batter.
GLAZE
In a small bowl, combine the sugar, vanilla, and 2 teaspoons of milk (or water). Add more milk, 1 teaspoon at a time, until you have the consistency you want. Think thick by drizzly.

Drizzle the glaze over the cooled fritters and let dry.
Notes
Wooden Spoon Test
To test to see if your oil is hot enough for frying without a thermometer, grab your wooden spoon a put the end of it into the oil. If the oil bubbles around it, it's ready! If it bubbles too hard, it's too hot and you will want to cool the oil a little and then test again.
Substitutions
Flour: Gluten-free, and nut flours work great, too.
Milk: Use whole, 2%, 1% or nut milk.
Vanilla Extract: Use an almond extract for a yummy almond flavor!
Glaze: Add a little cinnamon or apple pie spice to the confectioner's sugar for the added flavor.
Frying Tips
The size of your fritter will alter the cooking time. Whatever size cup you use, keep the size of the fritters consistent, at least the ones that are in the pan together to ensure even cooking.
Be sure that your oil doesn't get too hot. This will burn your batter and leave you with undercooked fritters. Keep the temp at a medium-low once it reaches 375 degrees.
Storing
These fritters are the best freshly made and eaten within 24 hrs. Lightly cover with a paper towel on the counter, if you have any leftover!
Nutrition
Calories:
210
kcal
|
Carbohydrates:
37
g
|
Protein:
3
g
|
Fat:
14
g
|
Saturated Fat:
10
g
|
Trans Fat:
1
g
|
Cholesterol:
37
mg
|
Sodium:
178
mg
|
Potassium:
89
mg
|
Fiber:
1
g
|
Sugar:
6
g
|
Vitamin A:
89
IU
|
Vitamin C:
3
mg
|
Calcium:
73
mg
|
Iron:
1
mg