When you want a sweet and delicious dessert, but one that's simple to make and will also impress, these Maple Walnut Baked Apples are it! This healthy baked apples recipe has all the sweetness, flavor, and texture you want, making them one of our favorite easy healthy desserts!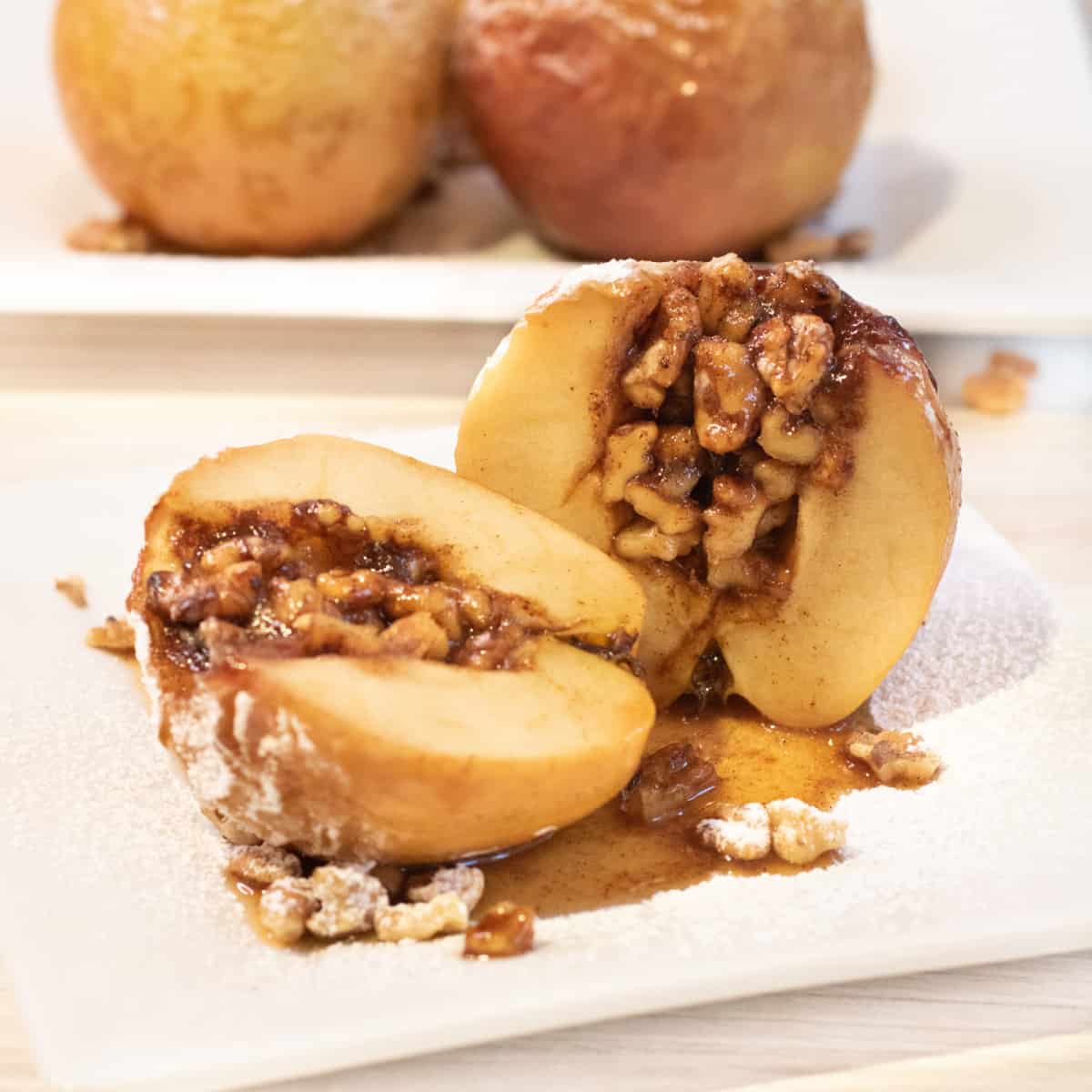 This has been one of our go-to, simple, and healthy desserts for many years, I can't believe it's taken so long for us to finally share it! Our Maple Walnut Baked Apples are one of our favorite easy healthy desserts that are outside of the norm, beautiful to present, but still just a simple healthy baked apples recipe. With just the right amount of added sweetness that allows the sweet apples to shine and the added buttery crunch from walnuts, this is a dessert that's great to serve when you're over all of the holiday cookies and cakes, but still want something sweet!
Ingredients Needed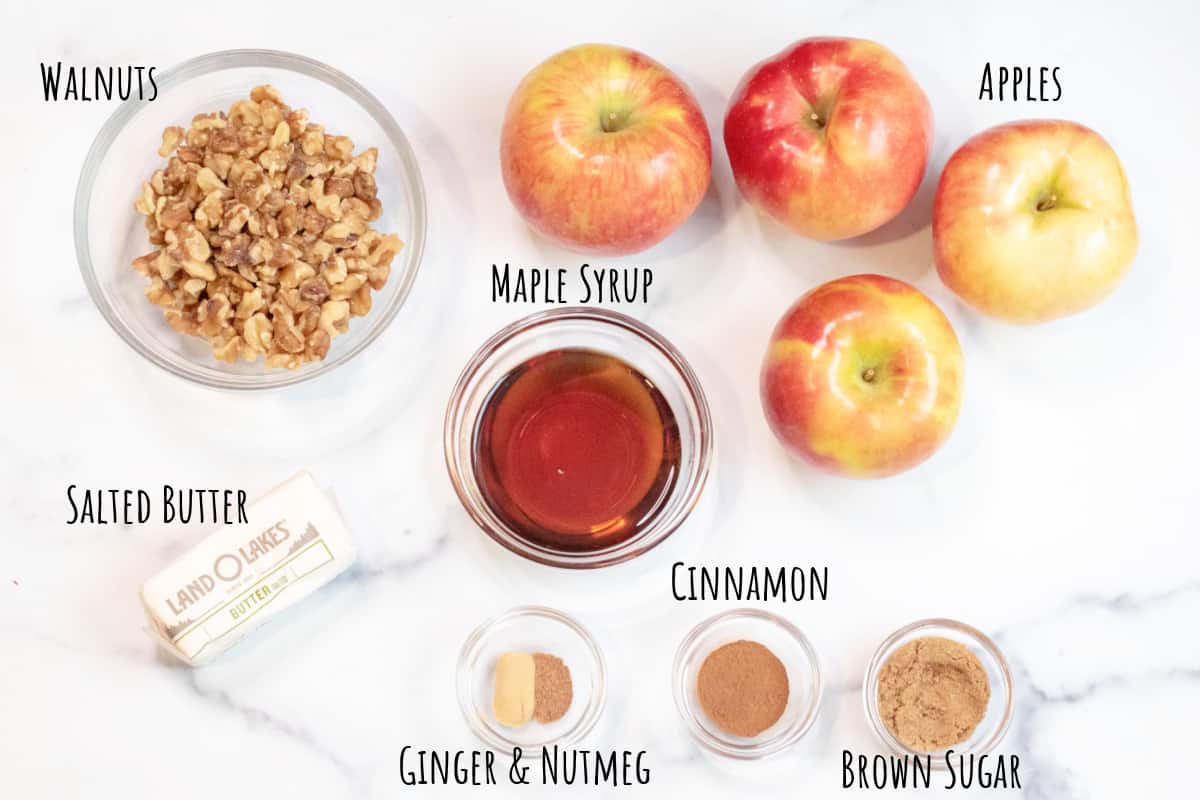 Apples - The key to baked apples, clearly! See below for our favorites for this recipe.
Walnuts - We love the buttery flavor of walnuts for this recipe, but pecans would also be a delicious choice!
Maple Syrup - Be sure to use good, real syrup. Our go-to is an amber and being from NH, this is the syrup that we love!
Salted Butter - Just a little to add to the syrup mixture. We prefer salted for this recipe to add just a hint of salt.
Brown Sugar - Just a touch to enhance all of the other flavors. I like to use a dark brown sugar because of the added molasses flavor of it, but you can also use light, whatever you already have is great. By the way, did you know that you can make your own??
Cinnamon, Ginger, and Nutmeg - This combination of spices is one of my favorites with apples! Ground ginger really adds a lovely complimentary flavor to this recipe -we use it in a lot of our sweet recipes!
The Best Apples for Baked Apples
There are thousands of apple varieties out there, so which are best for these Maple Walnut Baked Apples? Well, the two things you want to take into consideration for this recipe: sweetness and texture. You want an apple that's higher on the sweet scale and lower on the tart scale, and firmer and crisper in texture. Some of our favorites to use: Honeycrisp, Sweet Tango, Braeburn, Cosmic Crisp, Jazz, and Pink Lady. While Granny Smith apples are our usual go-to for baking when it comes to recipes like our German Apple Pancake and are delicious in our Cast Iron Apple Crisp, for this healthy baked apples recipe, we find that a less tart apple works best, so save the Granny Smith for your pies, instead.
Easy to Make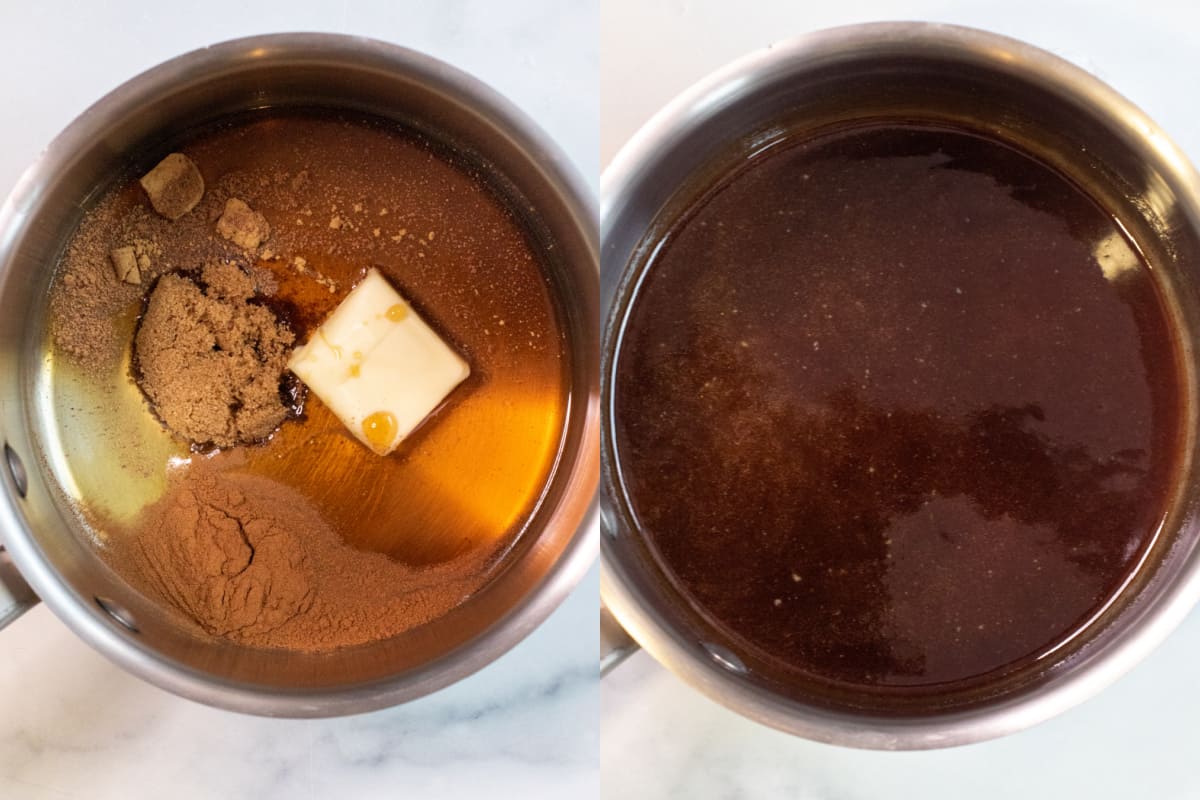 Maple Sauce
The first step, make a super simple, yet incredibly flavorful maple sauce. Add your maple syrup, butter, cinnamon, sugar, ginger, and nutmeg to a small saucepan and heat over medium heat until all of the butter has melted and the sugar dissolved and you have a nice dark rich, flavorful sauce.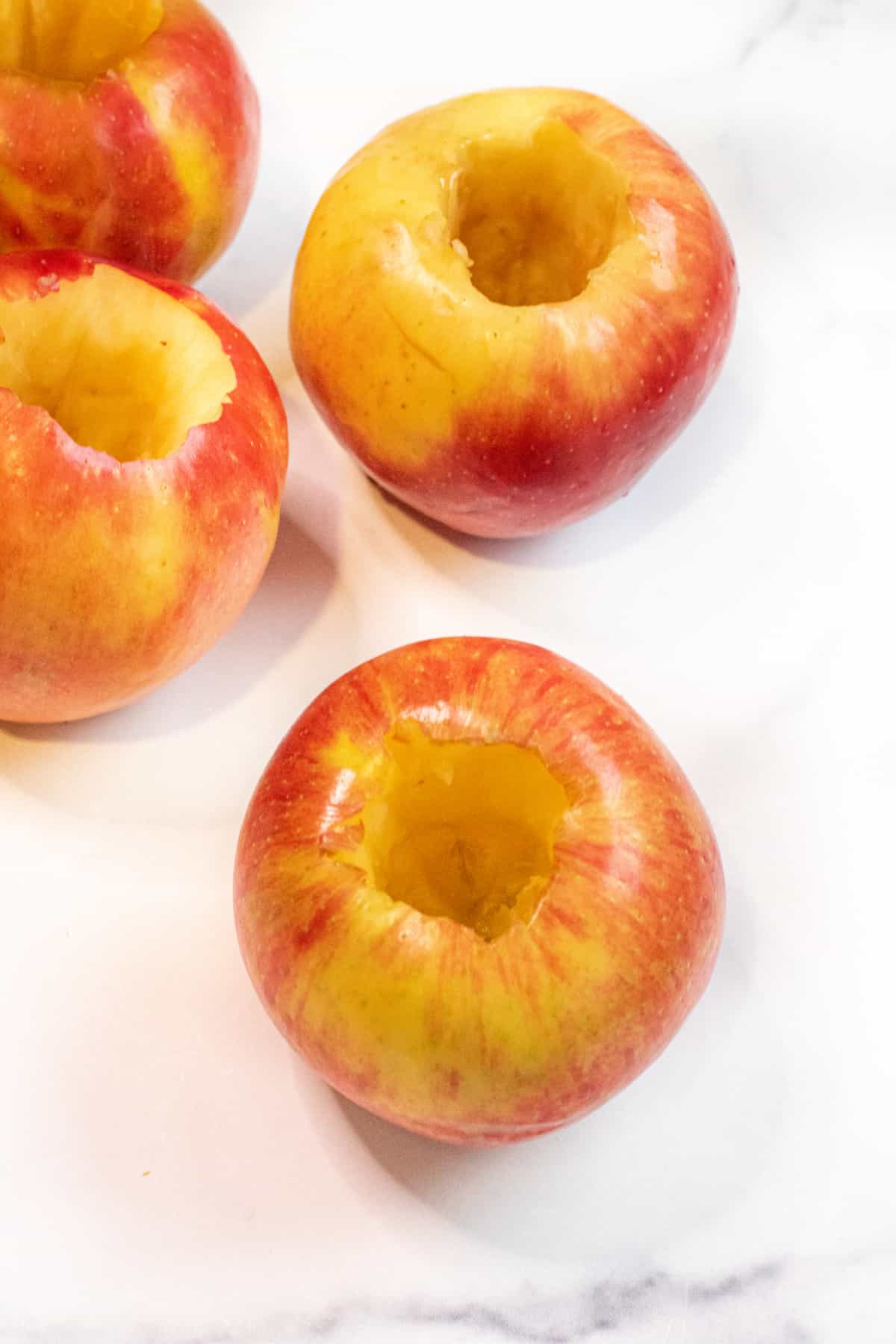 Core the Apples
This is probably the most "difficult" part of this recipe. Although if you have a handy dandy little apple corer, it's a breeze. Since we don't have a corer, I use a pairing knife to cut around the stem of the apple and down into the core, and then a spoon to scoop it out.
Important tip: You want to get all of the core out except the bottom. This will keep all of the maple syrup inside of the apple.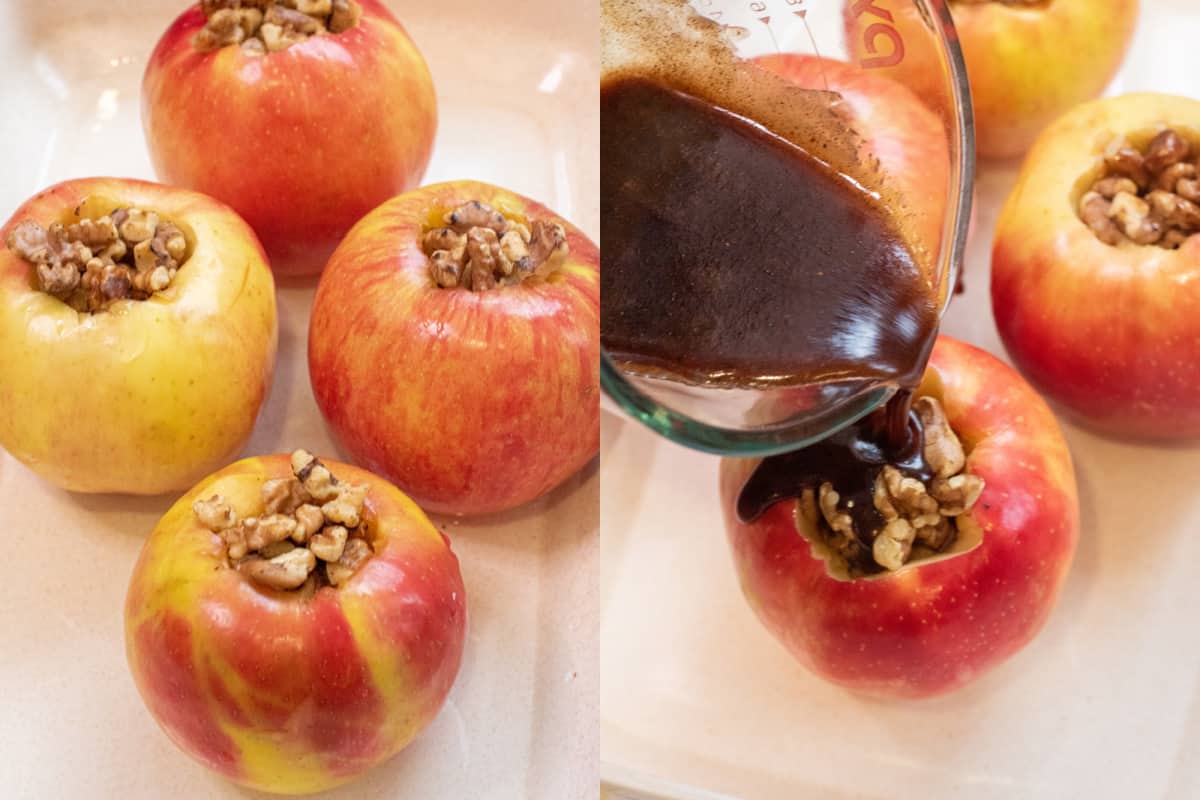 Fill with Walnuts and Maple Syrup Sauce
Once your apples are cored, now you can fill them with the walnuts (give them a gentle chop) and then pour in your maple syrup sauce.
Tip: Transfer your sauce into a spouted pyrex measuring cup for easier pouring.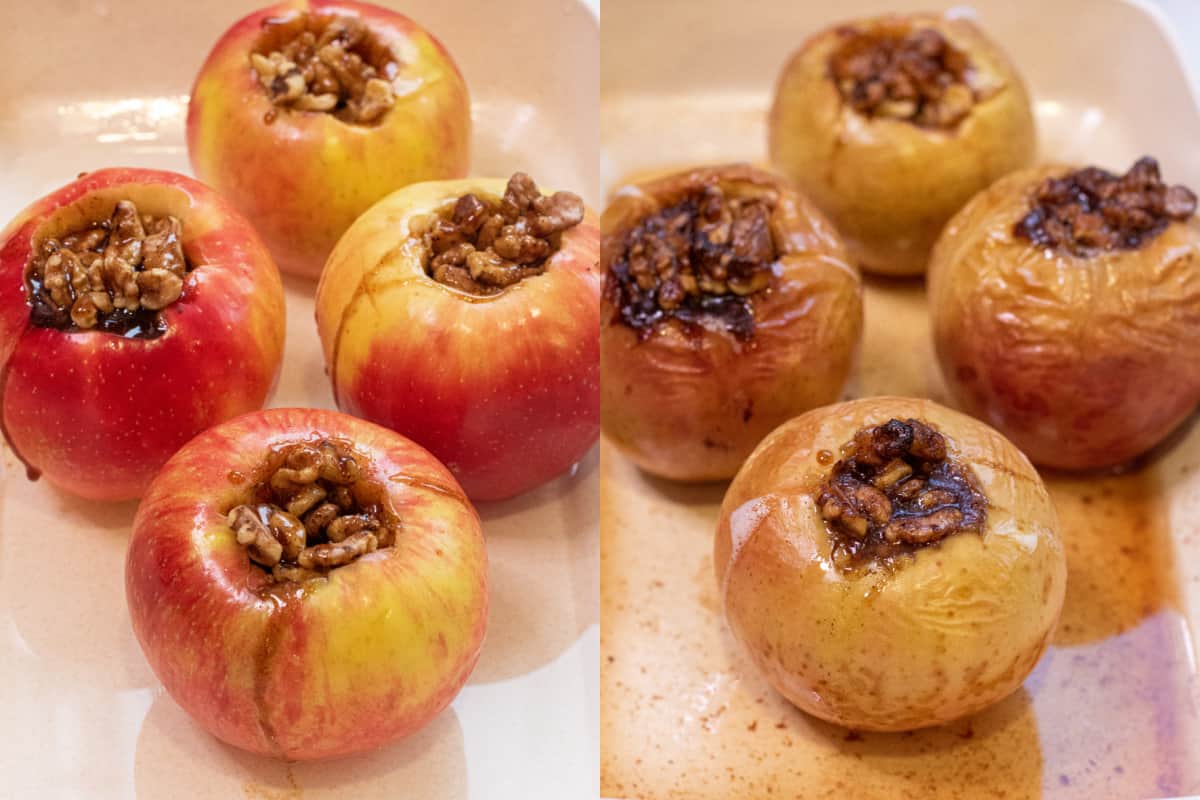 Bake!
Pop 'em in the oven and bake for about 40 minutes and you'll have a tender (but not mushy), sweet maple, and walnut-easy healthy dessert!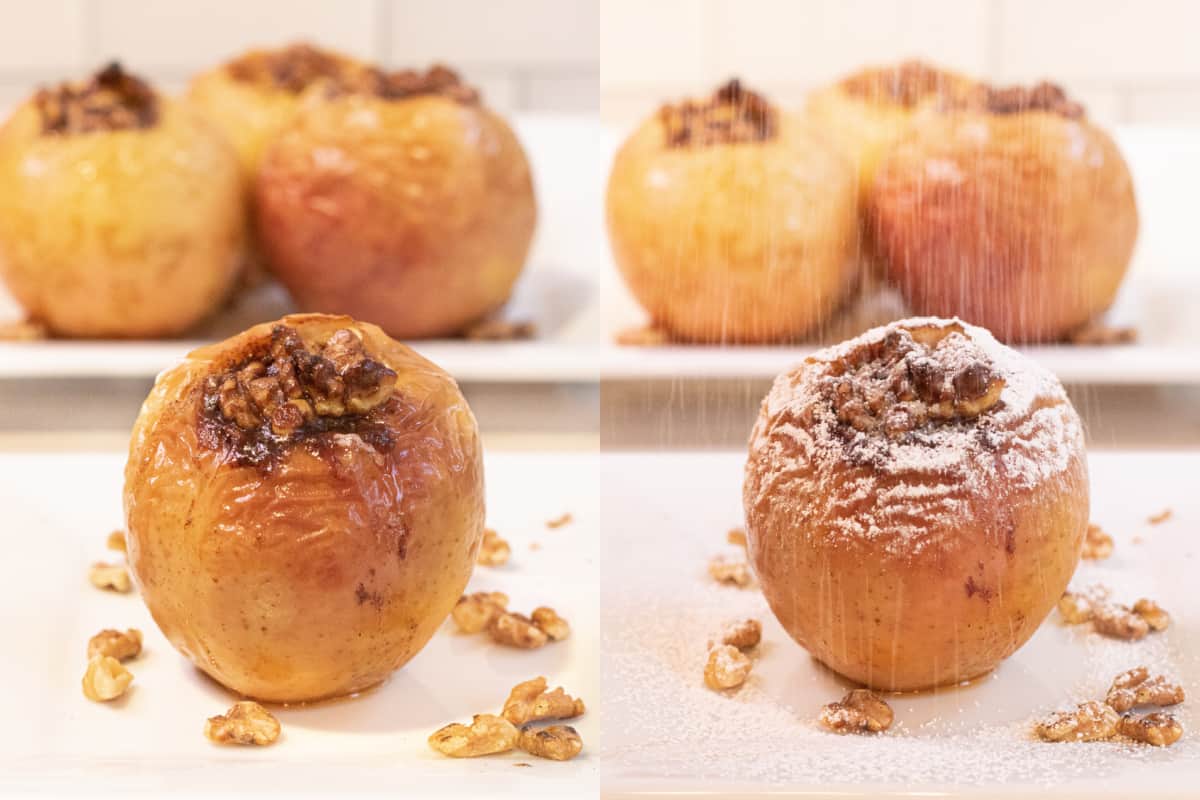 These Maple Walnut Baked Apples are absolutely delicious on their own, or add a little dusting of powdered sugar!
Other topping options: Whipped cream, chocolate sauce, caramel sauce, go wild!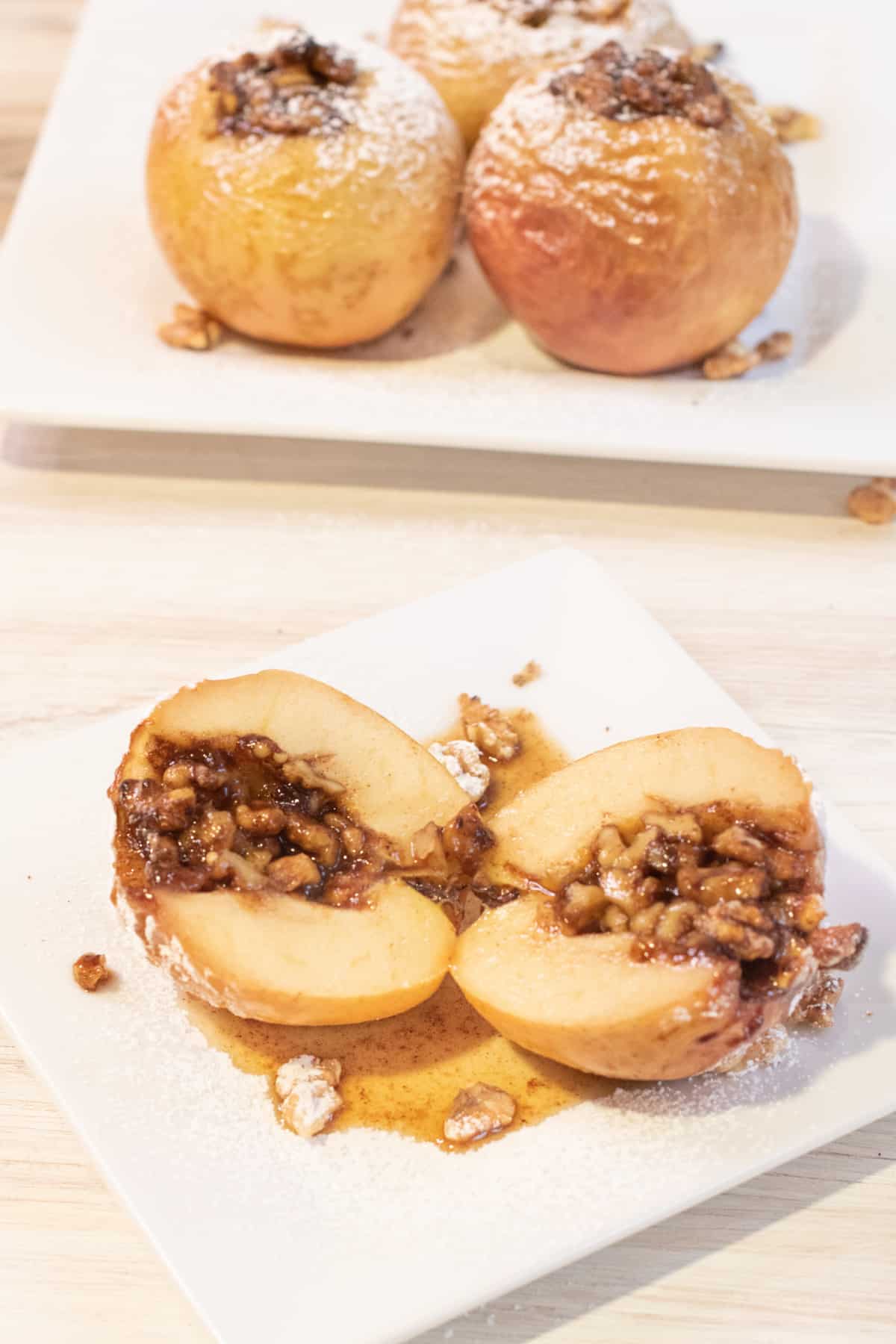 Slice these baked apples in half to really showcase the maple walnut deliciousness inside! This healthy baked apples recipe is a lovely one to serve at a holiday dinner party that takes minimal effort and can be prepped in advance!
Tips for the best Baked Apples
Don't Core All the way Through
While some baked apples recipes call for this, ours you really want to keep the bottom of your apple intact to be able to hold all of that sweet maple goodness. Scoop out as much as you can of the core, but be sure to leave the bottom.
Prep in Advance
This is a great recipe to prep in advance and then assemble and pop in the oven while everyone is eating so that they're ready just in time for dessert.
How Much in Advance can I Core Apples?
Once you cut into an apple, the flesh of the apple will start to oxidize and turn brown. However, this browning does not affect the taste and how the apples bake, it's really just aesthetics. But, if that bothers you, just a little bit of lemon juice will help prevent that browning. You can core the apples up to a day in advance and store them in your fridge in sealed ziplock bags. Add some lemon juice to a paper towel and gently pat inside the apples with the juice to add just enough to help prevent the browning, if that bothers you, but the browning effect will not affect the taste or texture of the baked apples at all.
Do I have to add the Water?
Yes! This is a key step because the water in the baking dish while the apples bake will help prevent them from burning in the dish. But you don't have to use water, you could also use some apple cider!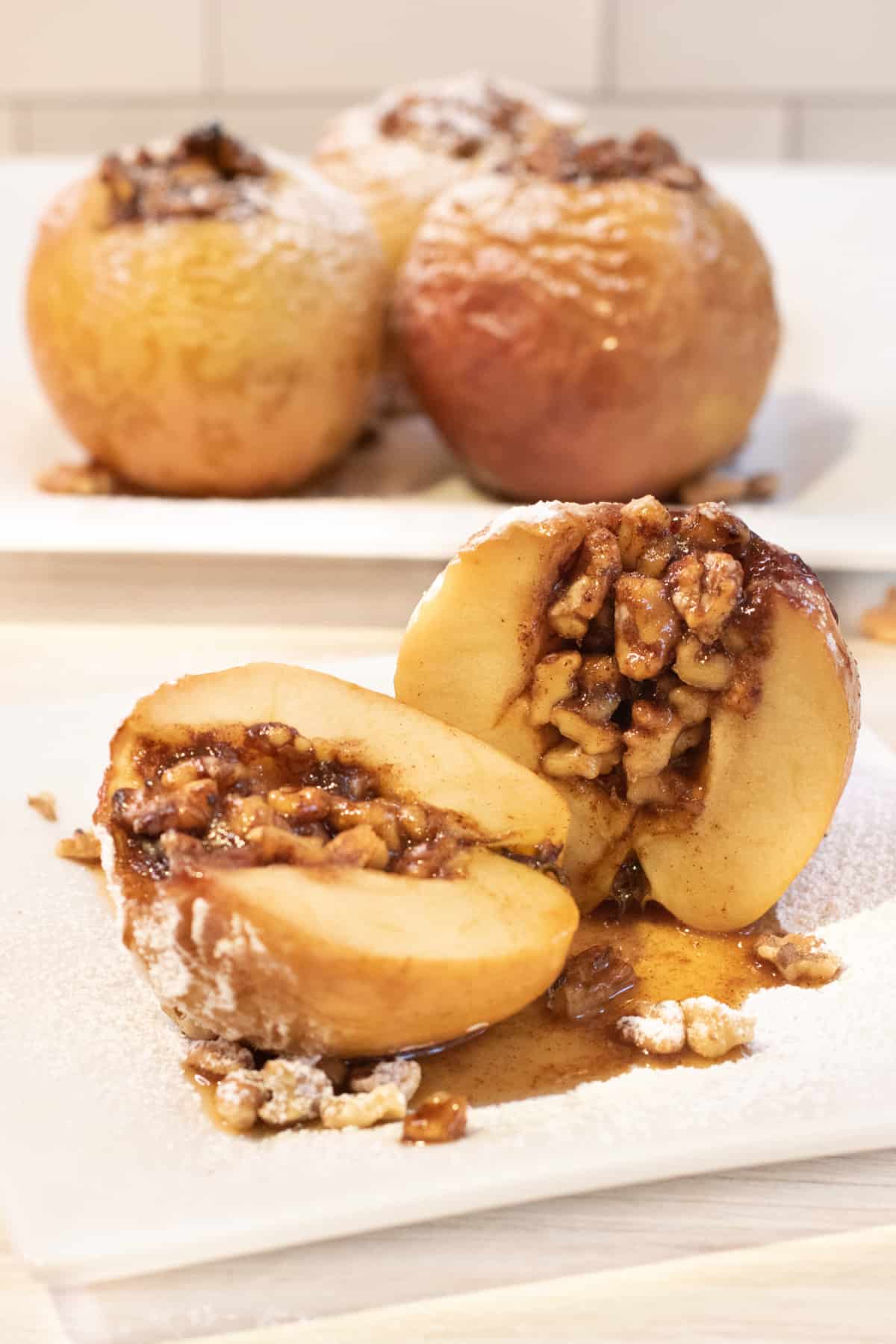 Maple Walnut Baked Apples, one of our favorite easy healthy desserts recipe for the holiday cookies, cakes, and pies break you need!
Other Favorite Apple Recipes
Enjoy! As always, if you make this recipe or any of my others, I love to hear what you think! Leave a comment below, email me, or you can find me on Facebook, Instagram, and Pinterest!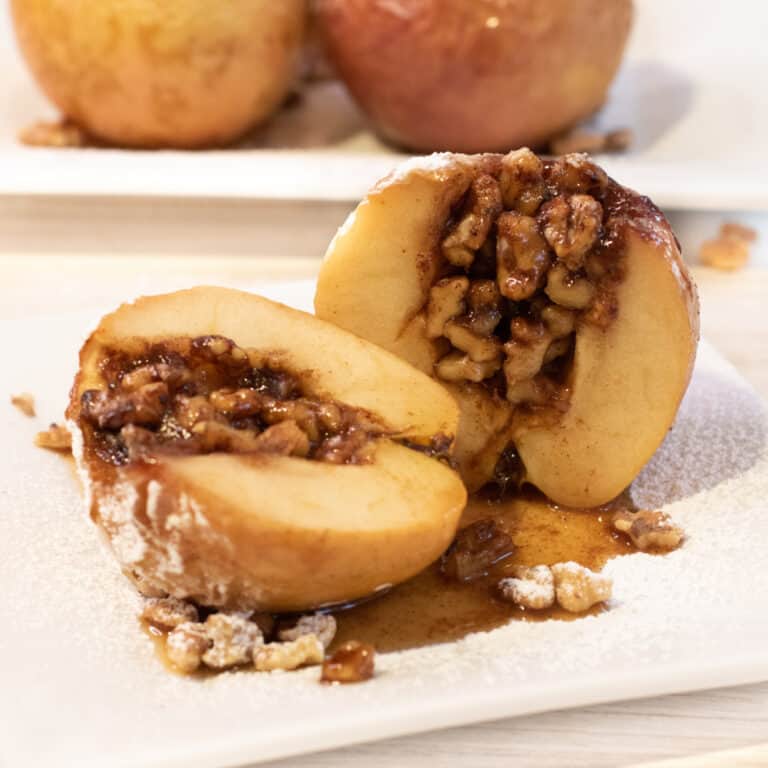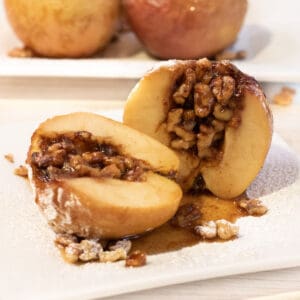 Maple Walnut Baked Apples
A delicious gluten-free dessert that's easy to make and a healthier option when you want something sweet!
Print
Pin
Rate
Equipment
baking dish

pour spout Pyrex

(optional)

sugar duster
Ingredients
4

large

Honeycrisp apples

1/3

cup

maple syrup

amber

2

tablespoons

salted butter

1

tablespoon

brown sugar

either dark or light

1

teaspoon

cinnamon

1/2

teaspoon

ground ginger

1/4

teaspoon

nutmeg

2/3

cup

walnuts

halved or pieces

3/4

cup

warm water

lemon juice

optional

confectioner's sugar
Instructions
Preheat oven to 375 degrees.

In a small saucepan, add butter, maple syrup, brown sugar, ginger, nutmeg, and cinnamon, and heat over medium-low to melt the butter. Whisk until all of the sugar is dissolved. Pour into a pyrex or another small dish with a pour spout and set aside.

Use either a pairing knife and a spoon or an apple corer to core apples, but be sure to not cut through the bottom. Place apples in a baking dish.

Add walnuts to cored apples and then slowly pour maple mixture into the apples, filling each a little at a time until all of the syrup is poured into the apples.

Add warm water to the dish and bake for 40 minutes until the apples still maintain their structure but are soft.

Dust with confectioner's sugar and serve!
Notes
Apple Coring Tips
If you have an apple corer, great. But just be sure to not go through the whole apple. You want to keep the bottom intact so that all of that walnut maple goodness will stay within the apple.
To use a pairing knife, cut a circle around the stem of the apple and then diagonally into the core. Use a small spoon to then scoop out the stem piece and gently scoop out the core, creating a well inside of the apple. Again, be sure to keep the bottom of the apple intact.
Browning Apples
Once you cut into an apple, it will start to turn a little brown. If this browning bothers you, you can use a little lemon juice on a paper towel to pat the inside of the apples to help reduce that browning. However, it does not affect the taste or how the apples will bake. Once the walnuts and maple syrup mixture is in and they're baked, you'll never notice it.
Substitutions
Apples: The best apples for this recipe are ones that have a firmer texture but a sweeter taste. We also like to use Cosmic Crisp, Braeburn, Jazz, Sweet Tango, or Pink Lady apples. We don't like more tart apples like Granny Smith or apples that don't have as firm of a texture like Red Delicious.
Walnuts: Pecans are another great choice!
Butter: We use salted butter for this, but you can of course use unsalted and then just add a little pinch of salt.
Confectioner's Sugar: Whipped cream, chocolate sauce, caramel sauce, or anything you like on top of apples would be a delicious topping!
Nutrition
Calories:
380
kcal
|
Carbohydrates:
55
g
|
Protein:
4
g
|
Fat:
19
g
|
Saturated Fat:
5
g
|
Polyunsaturated Fat:
10
g
|
Monounsaturated Fat:
3
g
|
Trans Fat:
0.2
g
|
Cholesterol:
15
mg
|
Sodium:
53
mg
|
Potassium:
397
mg
|
Fiber:
7
g
|
Sugar:
43
g
|
Vitamin A:
301
IU
|
Vitamin C:
11
mg
|
Calcium:
73
mg
|
Iron:
1
mg