These homemade Pumpkin Pie Apple Crisps are an easy, healthy, vegan, gluten free way to eat a sweet fall inspired treat from the dehydrator!

Our new favorite snack! Have I talked about how amazing our dehydrator is? Between the kale chips, beef jerky, and even the sun dried tomatoes, this is by far our favorite kitchen gadget. But now, now we have our new fall snack. Pumpkin Pie Apple Crisps!
Even better, they are SO easy! Just apples (I chose some beautiful local Honey Crisps), some fresh lemon juice, and some pumpkin pie spice. Ok, honestly, I had wanted to just use cinnamon, but all we had were cinnamon sticks and I did not feel like grating it all down. Then, I found this pumpkin pie spice and thought, why not? Cinnamon, ginger, nutmeg, all spice, and cloves already mixed together. Ideally, I would have liked to make our own spice blend, but I figured we might as well use up this blend first.
So with my mandolin I just sliced the apples about a 1/6 of an inch thick into a bowl. Then I squeezed half a lemon over the slices and sprinkled about a tablespoon of the pumpkin pie spice.
Then I mixed well(ish) and lined in the dehydrator for them to dry overnight.The next day, we had these lovely, crisp, sweet, pumpkin pie flavored apple crisps!
Seriously, the best fall snack eveerrr. They're super healthy, gluten free, and vegan! We are officially obsessed with them; I have another 4 apples in the dehydrator now!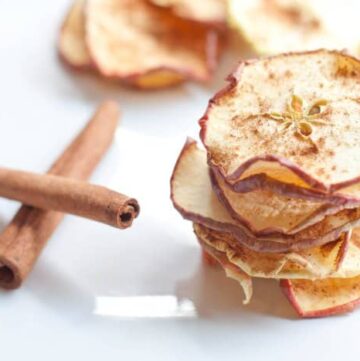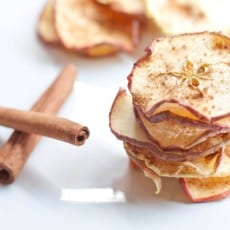 Ingredients
4

honey crisp apples

Fresh lemon juice from half a lemon

1

tablespoon

of pumpkin pie spice
Instructions
Add lemon juice to apples and mix, then sprinkle pumpkin pie spice slowly over the apples while continuing to mix so spice is evenly distributed.

In dehydrator, line apples on racks and dry over night (8-10 hours) at 135°. When they first come out, they wont be super crispy, but they will in time, at least an hour. Place crisps in ziplock or tupperware to store.

Apples can also be baked on baking sheets. Pre-heat oven to 225° and bake for 45 min to an hour.