It's an apple season favorite. This Easy Cast Iron Apple Crisp is one of the simplest apple desserts that you can make with all of the classic apple crisp flavors!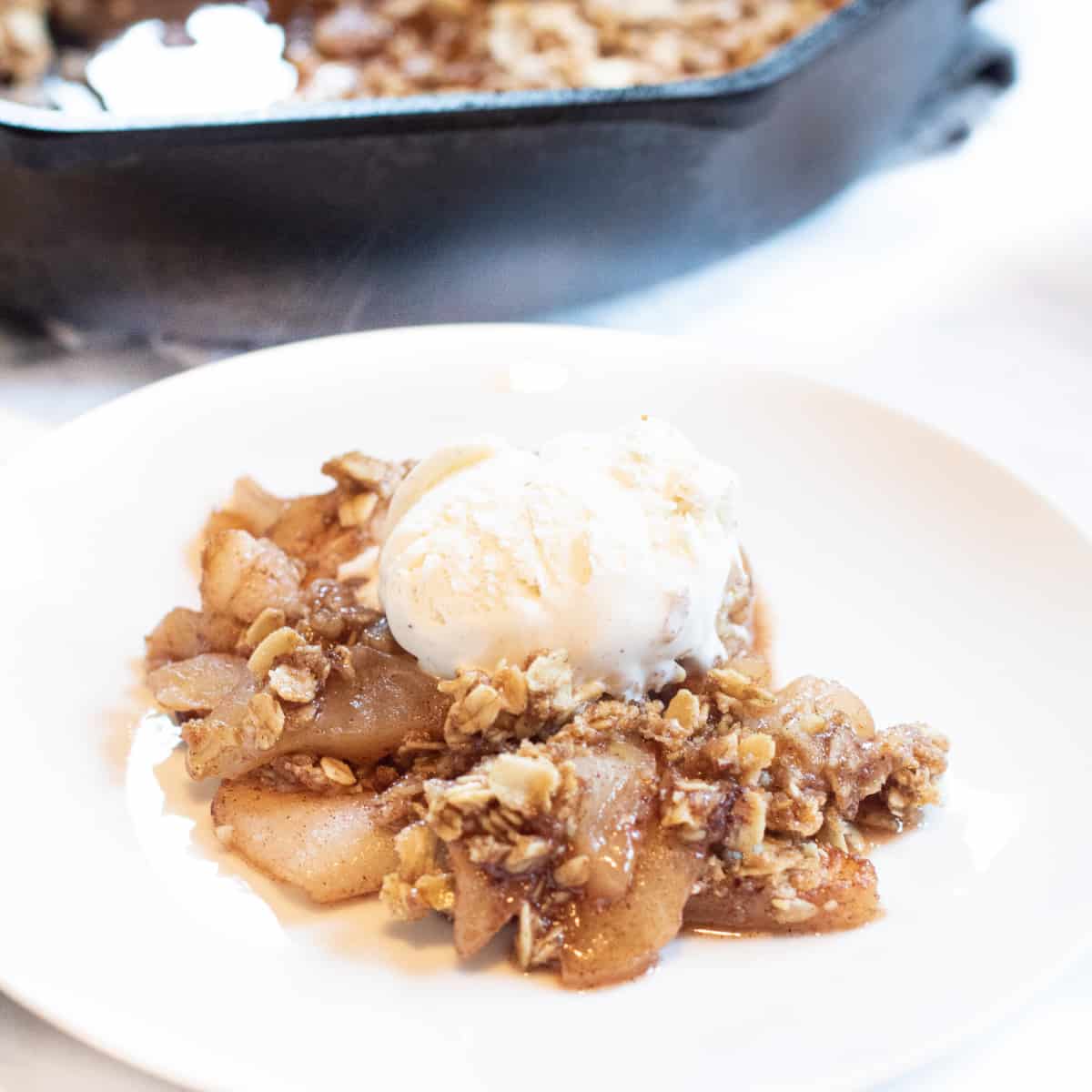 Welcome to apple season, friends! Is there anything more classic than an apple crisp? Ok enough with your pie talk. You know what a crisp has that a pie doesn't? The ease of not having to make a pie crust, that's what! Enter my Easy Cast Iron Apple Crisp!
7 Simple Ingredients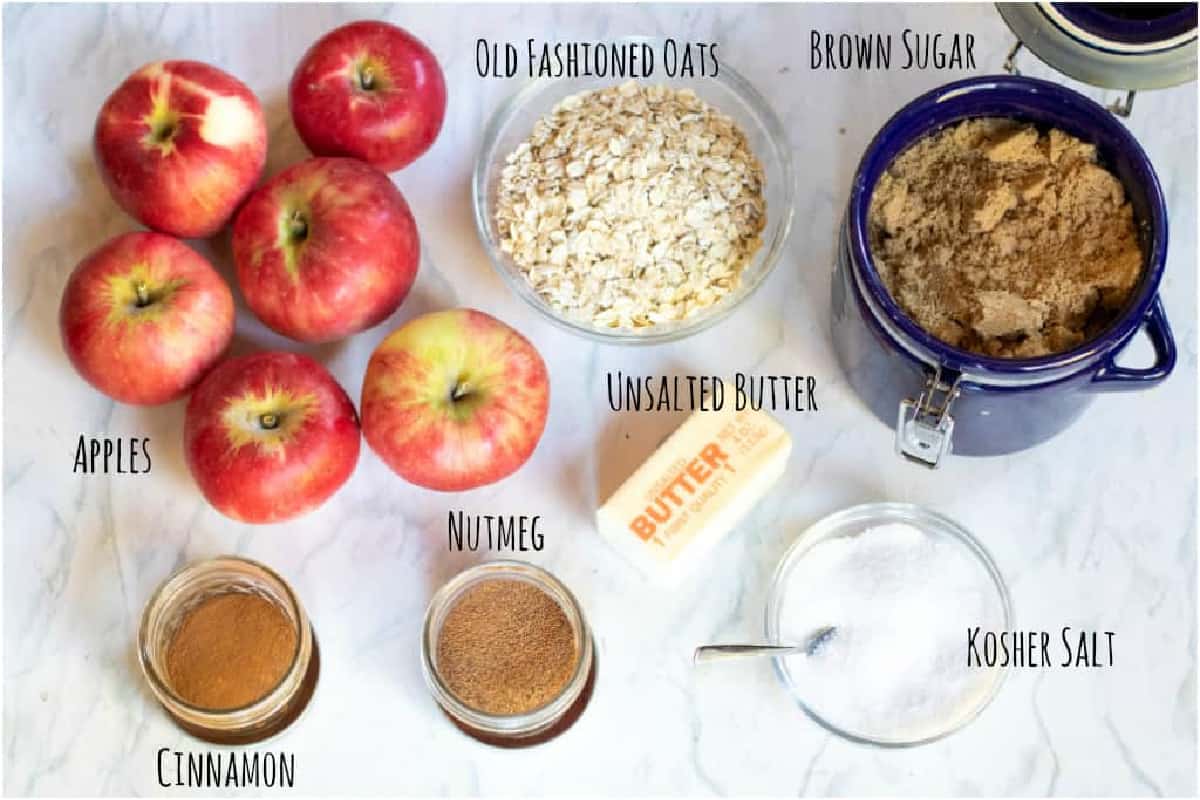 Classic flavors. Nothing crazy, nothing too fancy, just like the apple crisp that your grandma made. And again, no pie crust to make! 😉
Apples - See below my notes about our favorites to use.
Oats - You want Old Fashioned Oats, not instant.
Brown Sugar - I use light but you could also use dark which will give it a richer and deeper flavor.
Unsalted Butter - You could also use salted butter, just adjust your pinch of salt.
Flour - For the crumble
Cinnamon, nutmeg, and salt
The Best Apples to Use
The best apples for baking are ones that are a little bit more tart in flavor and also ones that keep their structure best so that when you bake them they don't turn into a mushy mess.
For this recipe, I used an apple called Akane or Tokyo Rose. Not readily available in grocery stores, but if you find them at your local orchard, I thought it was an excellent choice because they're a little tart, and fragrant, and kept their structure beautifully.
Our favorites that can be readily found in a grocery store: Granny Smith, Jonagold, Honeycrisp, Braeburn, or Pink Ladys.
How Easy is it to Make?
Easy as 1. Cook apples; 2. Add crumble on top; 3. Bake!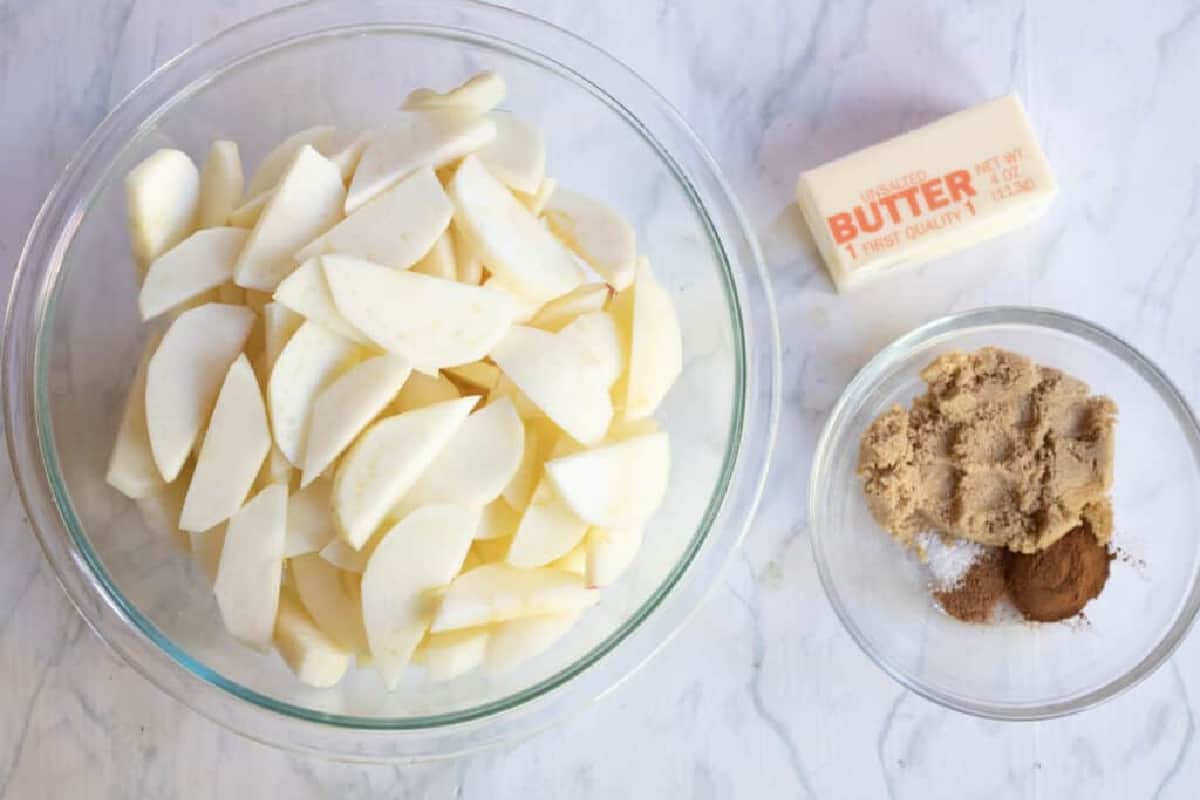 Honestly, the "hardest" part is peeling and slicing the apples. If you want to really make your life even easier - here's an apple peeler and corer in one!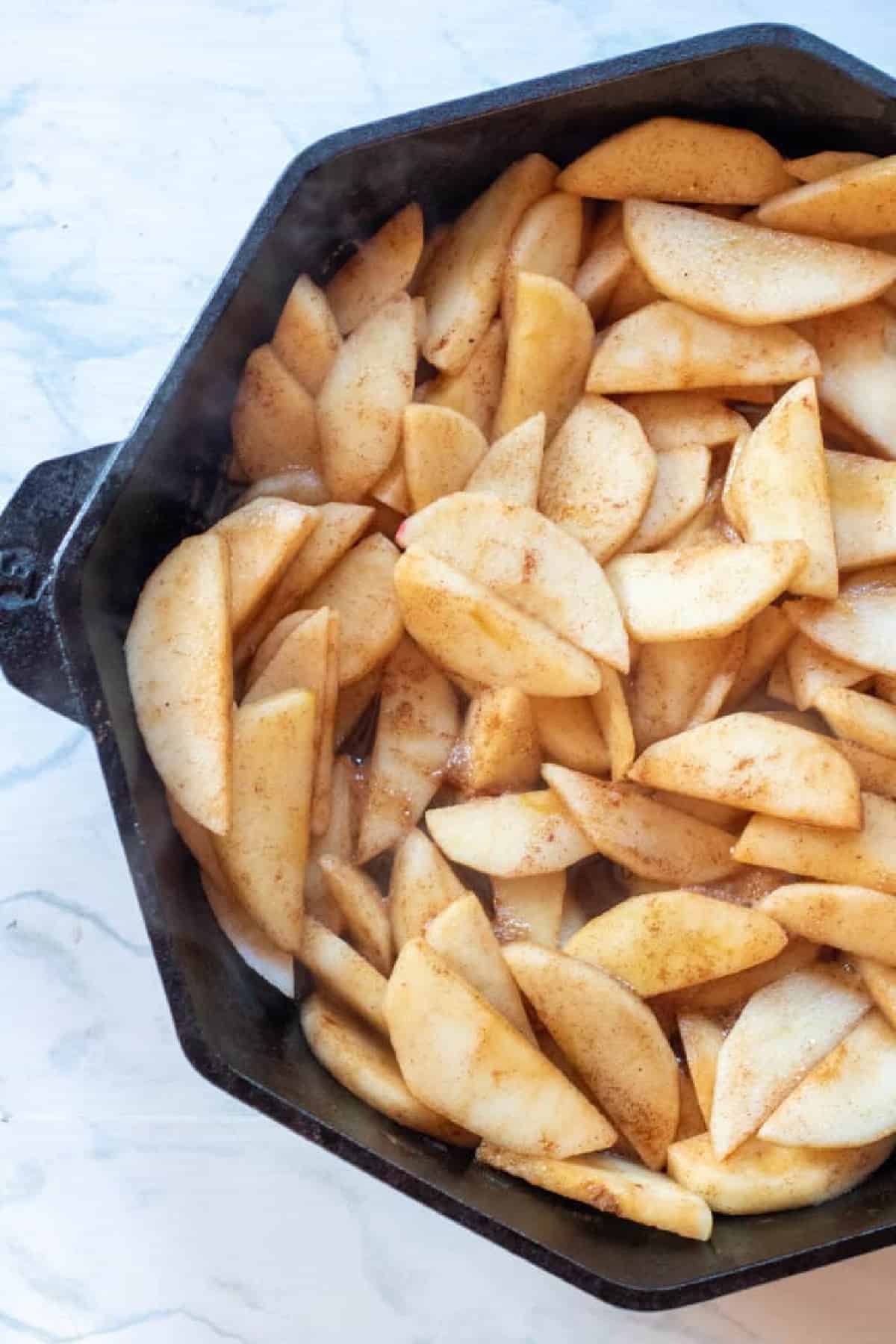 Although most crisps are baked in a baking dish, I personally love it in a Cast Iron Skillet. Not only does it just add a lil' touch of fancy but there are also some additional benefits.
Benefits of Baking with a Cast Iron
Control. Instead of a traditional Apple Crisp which is baked in a baking pan, with a cast iron you can cook the apples first on the stovetop to ensure that they are all soft before being baked - without messing up another pan!
Even Cooking. One of the top benefits of a cast iron is that it provides an even, steady heat which results in even, steady cooking.
Style Points. Let's be honest, which looks better on a table? A baking pan or a cast iron? Exactly.
The cast iron that we love is a local Portland, OR brand, Finex.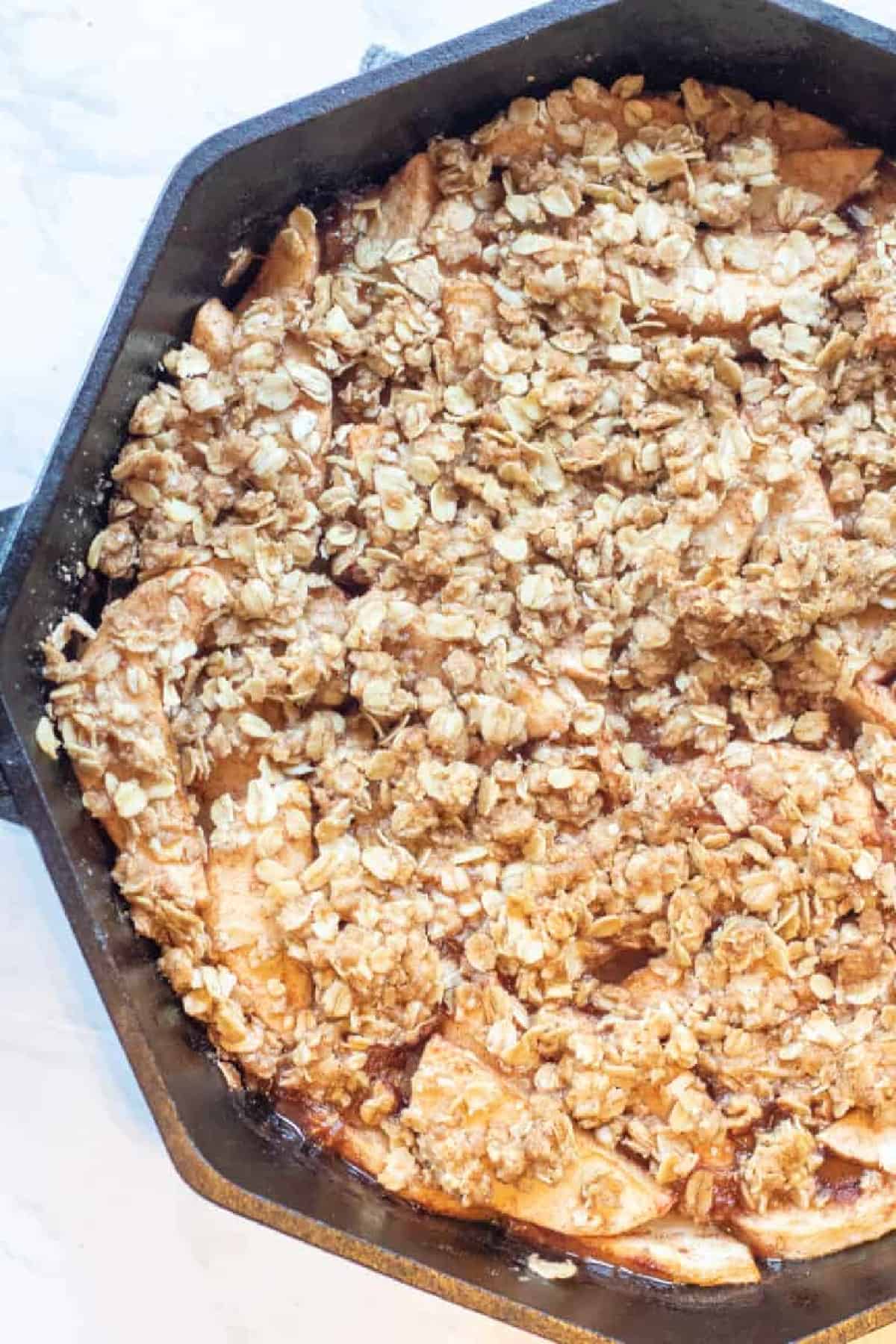 Topped with a super easy crumble and baked to perfection!
To make the crumble, you can use either a pastry cutter, (like this one) or a food processor. Personally, if you have a food processor and don't have a pastry cutter, get yourself a pastry cutter. It's so much less cleaning! This is our favorite:
Tip: We love prepping this in advance so that it all can be thrown together fast so that it can be baked during dinner so that it's fresh for dessert! To do this, see recipe notes.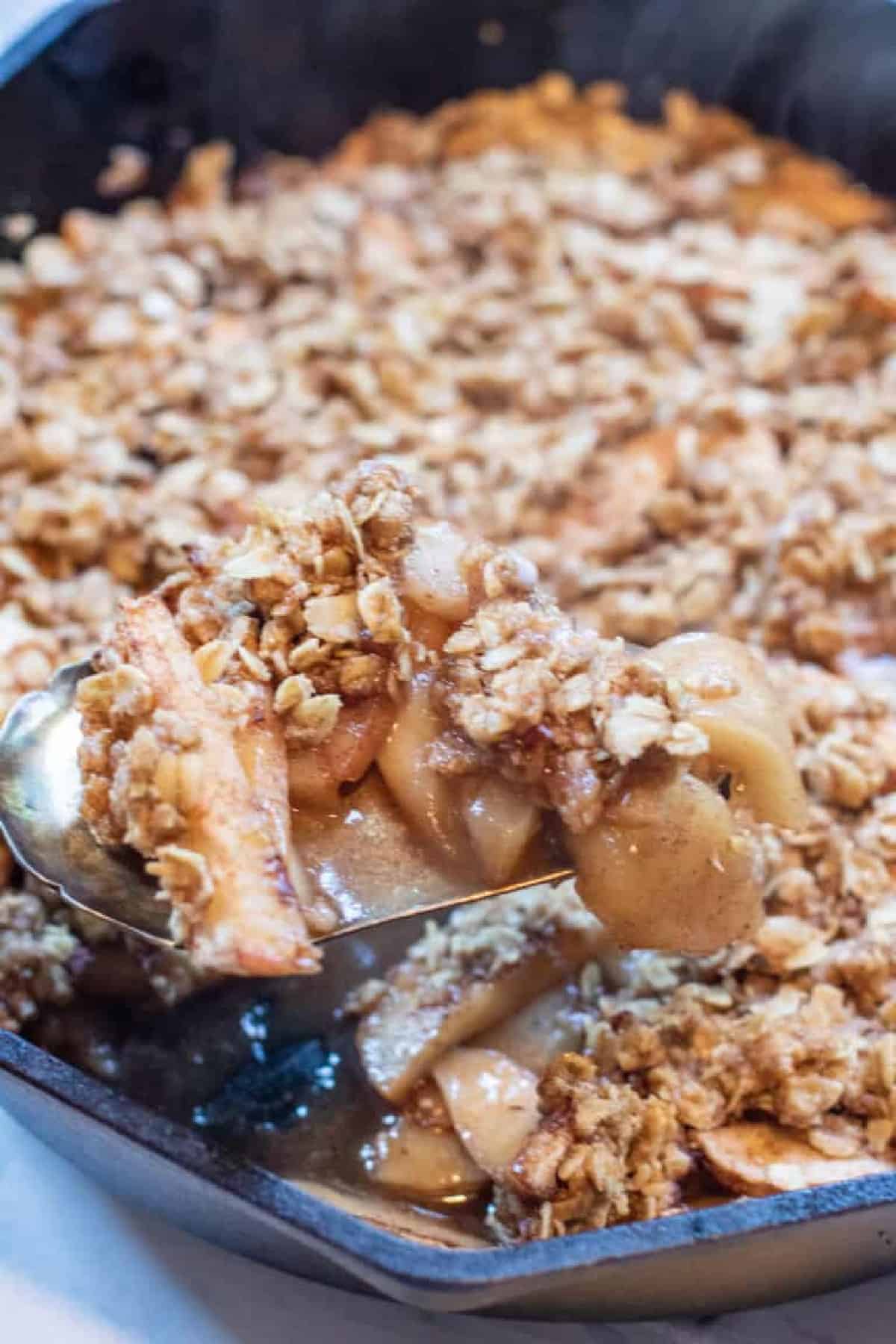 Serve This With:
Ice Cream. Like our No Churn Caramelized White Chocolate and Chocolate Chip Ice Cream)
Caramel Sauce. Like our Super Easy Caramel Sauce From Scratch.
Our favorite is ice cream!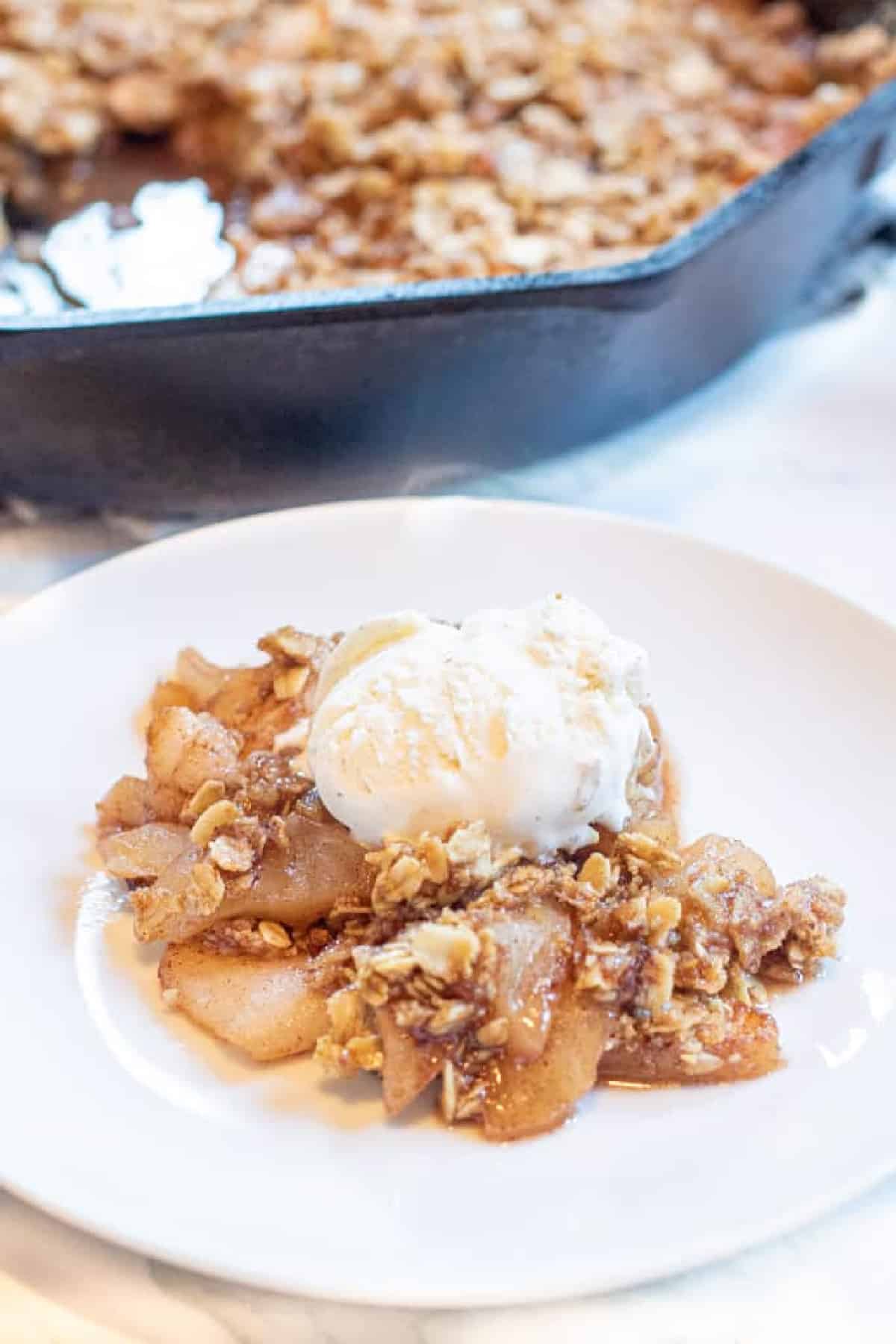 Our Other Apple Recipes
FAQs
Do I have to peel the apples?
You don't have to. But I prefer this recipe with them peeled. If you don't, then just make sure that your apples are cooked completely, which may take a little bit longer with the skins on.
Can I prep the apples in advance?
Yes! I often do this when I know I want to throw this together to be fresh out of the oven after dinner. To prep them in advance, add the apples to a large bowl, pour 1/4 cup of lemon juice on them and then fill the bowl with water so that it covers the apples.
Can I make this in a smaller cast iron?
Absolutely. We use a 12-inch but you could definitely use a smaller one, it will just make a thicker crisp.
Enjoy, friends! As we continue on into the "new normal" that is absolutely crazy and stressful time, just remember, there's always Apple Crisp.
Enjoy! As always, if you make this recipe or any of my others, I love to hear what you think! Leave a comment below, email me, or you can find me on Facebook, Instagram, and Pinterest!
If you want to see more, be sure to sign up for my 5 Easy Ways to Start Cooking From Scratch!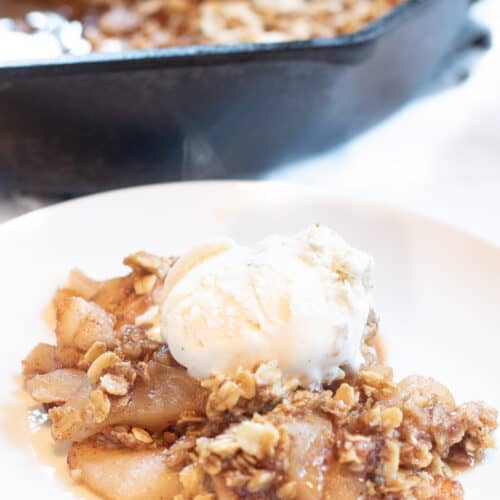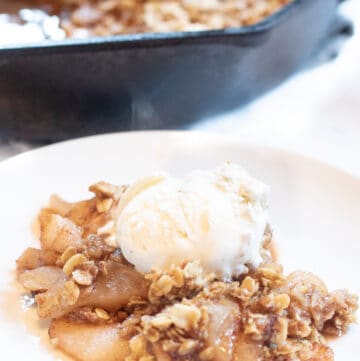 Easy Cast Iron Apple Crisp
This Easy Cast Iron Apple Crisp is one of the simplest apple desserts that you can make with all of the classic apple crisp flavors!
Print
Pin
Rate
Ingredients
6

apples

peeled and sliced

3

tablespoons

unsalted butter

1/4

cup

light brown sugar

1

teaspoon

ground cinnamon

pinch

nutmeg

pinch

salt
Topping
1 1/4

cups

old fashioned rolled oats

2

tablespoons

all purpose flour

5

tablespoons

unsalted butter

1/4

cup

light brown sugar

1/2

teaspoon

ground cinnamon

pinch

salt
Instructions
Pre-heat oven to 350 degrees.

Prep apples by washing, peeling, and slicing them.

Heat cast iron over medium low heat. In a small bowl, mix sugar, cinnamon, nutmeg, and salt.

Add to butter and stir. Add apples and coat with butter and cook for 5 minutes until apples are softened.

In a medium bowl, add oats, cinnamon, flour, sugar, cinnamon, and salt and mix well. Add cubed cool butter and cut in with a pastry cutter or pulse with a food processor.

Sprinkle on top of apples in cast iron.

Place in center rack in oven and bake for 40-45 minutes.

Serve with ice cream or caramel sauce!
Notes
Prep recipe in advance! Add brown sugar, cinnamon, and nutmeg to a small container. Prep apples and add them to a large bowl and add 1/4 lemon juice and cover apples in bowl with water and cover. Add oats, flour, cinnamon, and salt to a medium bowl and cover. Drain apples before using. Cook apples while you're prepping your dinner, and then put it all in the oven when you sit down for dinner so that it's ready when you're ready!
If you choose not to peel apples, just make sure that you cook the apples in the cast iron until they are soft, which may take a little bit longer.
Nutrition
Calories:
372
kcal
|
Carbohydrates:
57
g
|
Protein:
3
g
|
Fat:
17
g
|
Saturated Fat:
10
g
|
Cholesterol:
40
mg
|
Sodium:
10
mg
|
Potassium:
280
mg
|
Fiber:
6
g
|
Sugar:
37
g
|
Vitamin A:
565
IU
|
Vitamin C:
8
mg
|
Calcium:
43
mg
|
Iron:
1
mg