A rich, creamy, and EASY No Churn Caramelized White Chocolate and Chocolate Chip Ice Cream is an incredibly indulgent treat!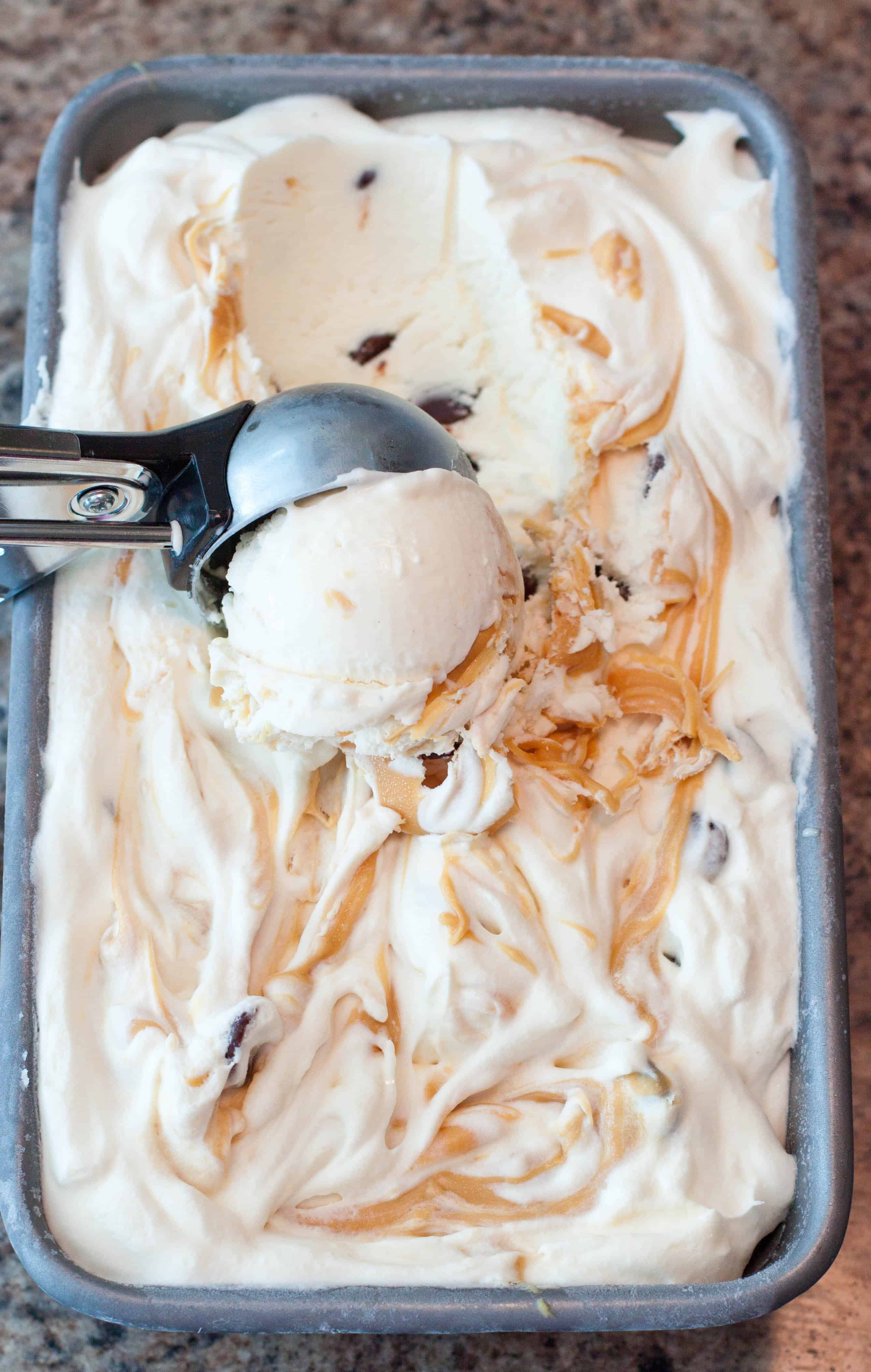 Maybe it's because I'm 39 weeks pregnant... Or maybe it's because it's going to be in the 90's here in Portland this week... Or maybe it's because I've eaten so well all throughout this pregnancy and only gained 26 lbs. But I can't stop thinking about ice cream. It's as if my body's finally like, "Ok, we got this, now release the preggo cravings!" Whatever the reason for the sudden cravings, my husband certainly hasn't been complaining, especially when I announced I was making ice cream. But not just ice cream, No Churn Caramelized White Chocolate and Chocolate Chip Ice Cream, to be exact.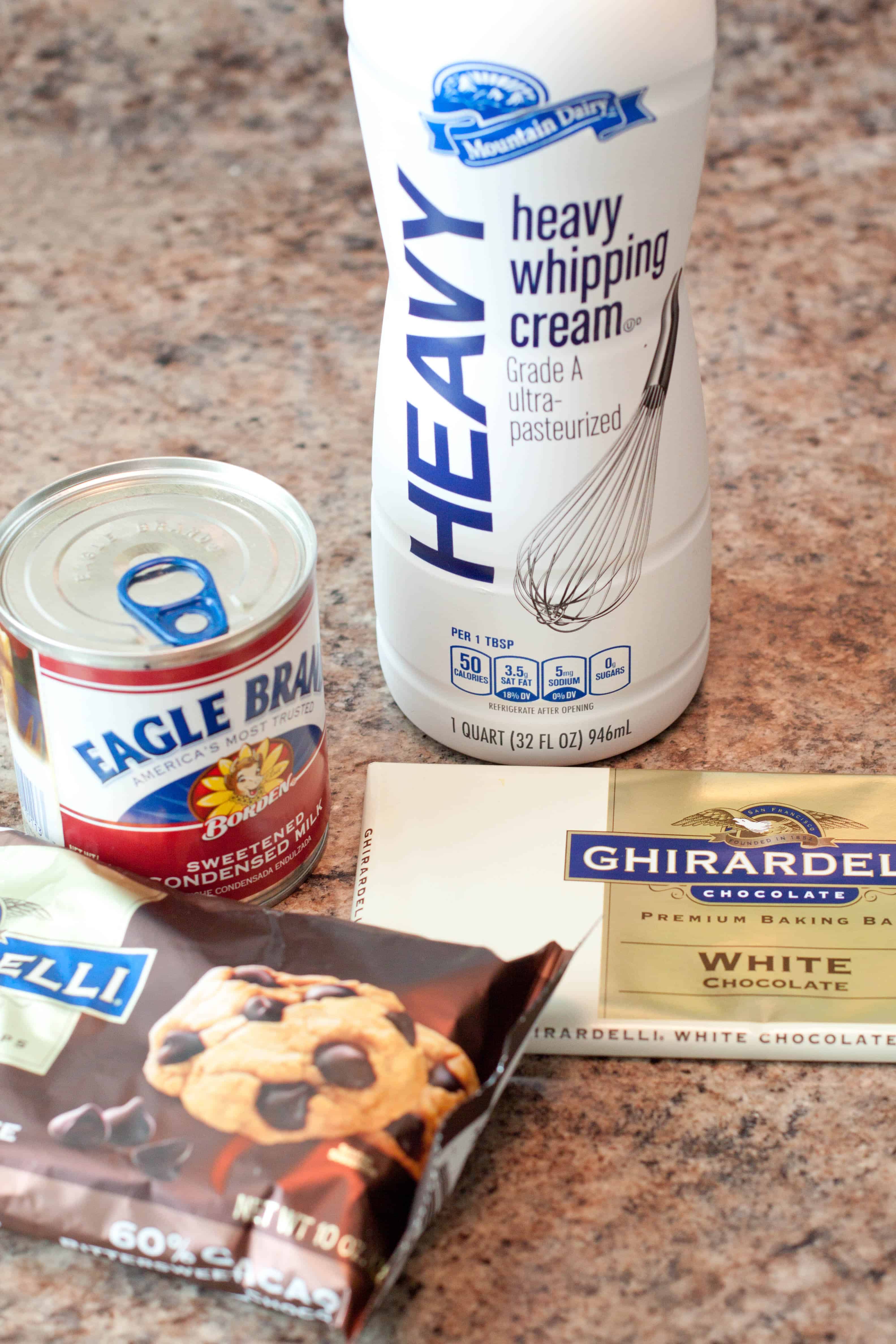 This stuff is dangerously easy to make. I found the recipe on Delicious Everyday and then instantly had to have it. My husband's not the biggest white chocolate fan so I added some chocolate chips in for him. Next time, I think I'll make my own chocolate chips though, that way I can make them a little bit smaller than the typical store bought ones.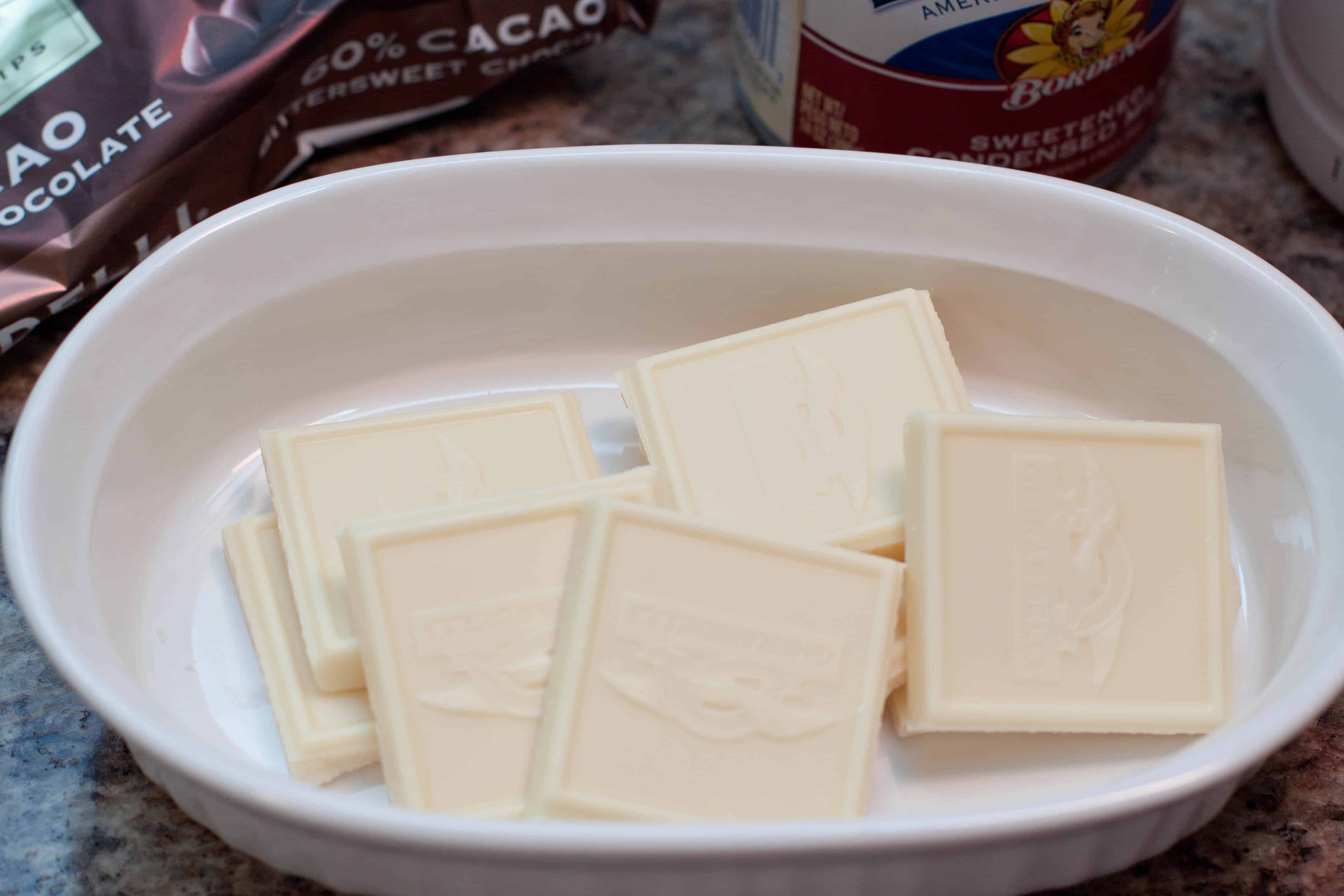 The first part, and really the only work that goes into this recipe, is caramelizing the white chocolate by baking it in the oven for an hour at a low temp and stirring it every 10 minutes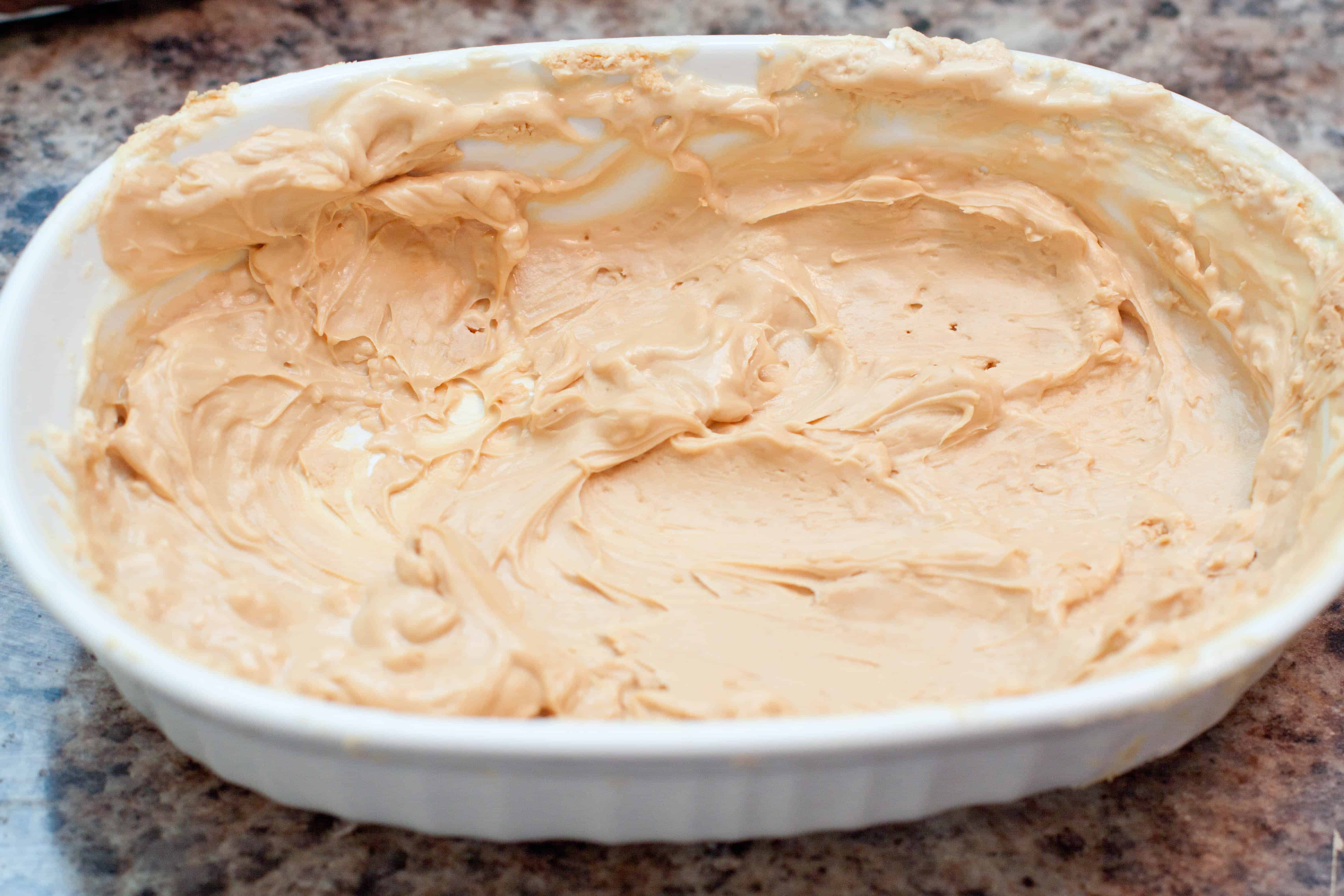 until you get a nice melted, creamy, golden, caramelized white chocolate.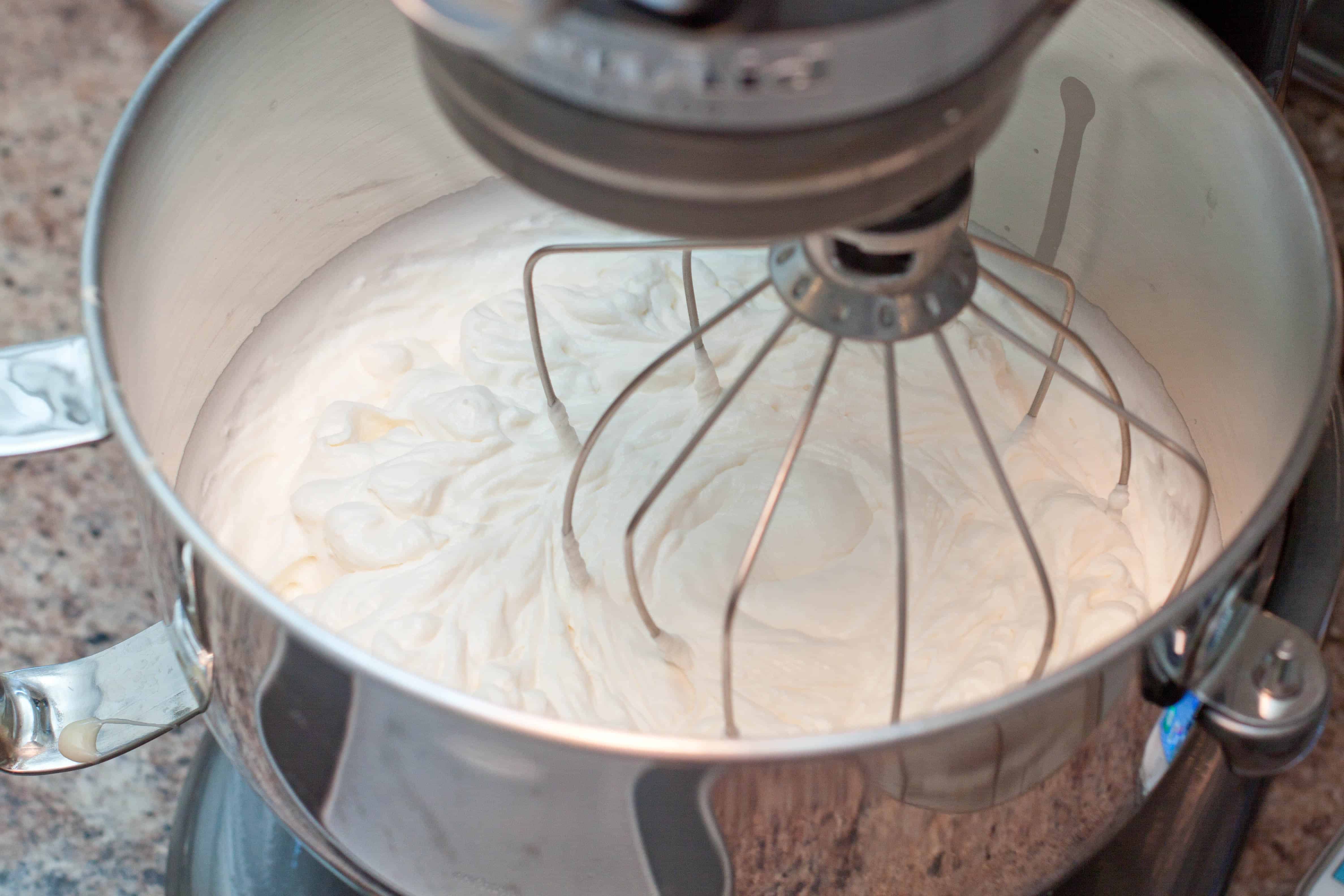 While the white chocolate is in its final 10 mins or so, whisk together the condensed milk and heavy cream in either a stand mixer or hand mixer until soft peaks form.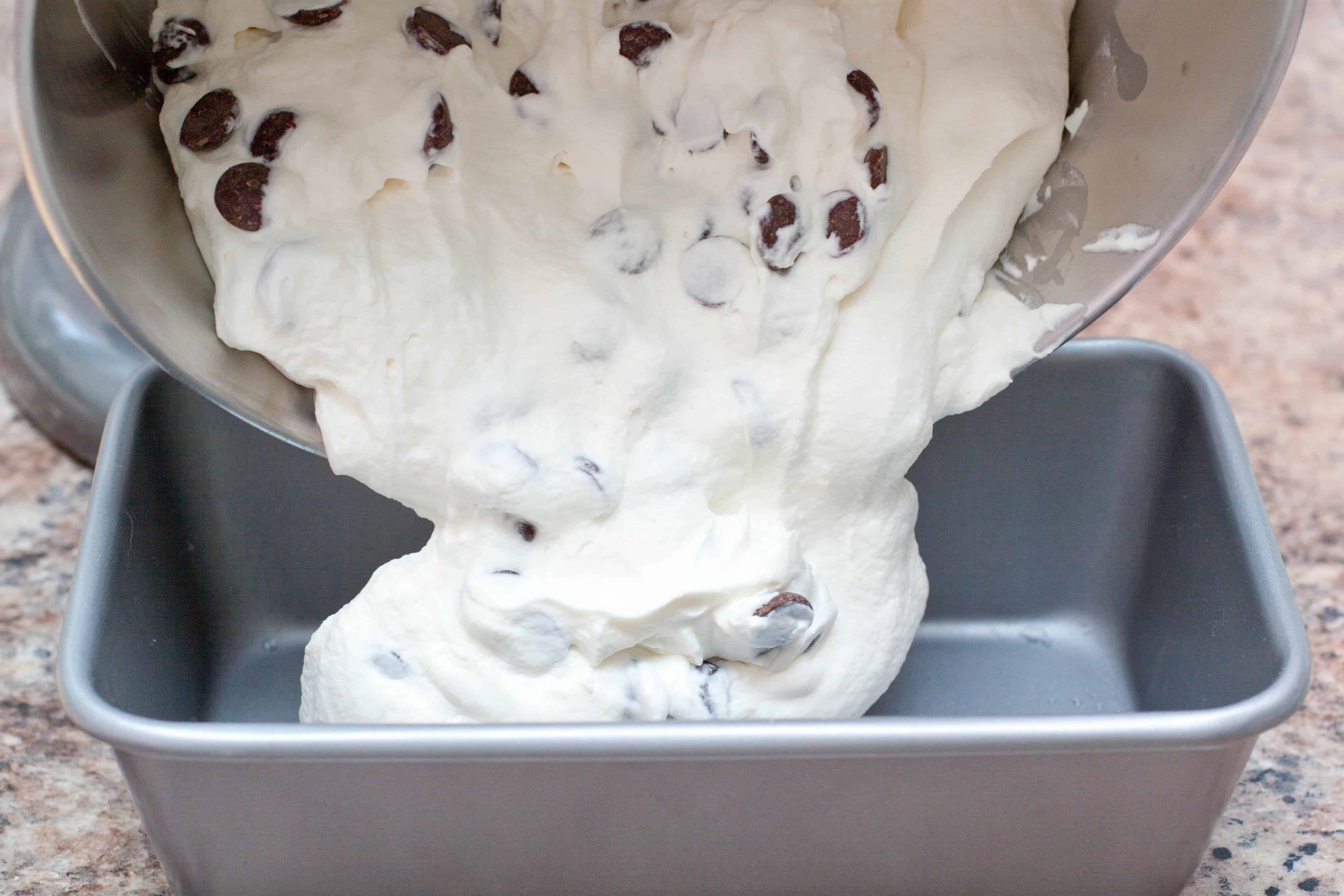 Then I just folded in the chocolate chips and half of the white chocolate and poured all the creamy deliciousness into a 9X5 loaf pan. Once it was all in the pan, I added the rest of the white chocolate to the top and swirled it around with a chopstick (any skewer would work, the chop stick was just the first long pointed thing I grabbed out of the drawer) to give it a pretty swirled look. Then, just cover it and toss it into the freezer overnight!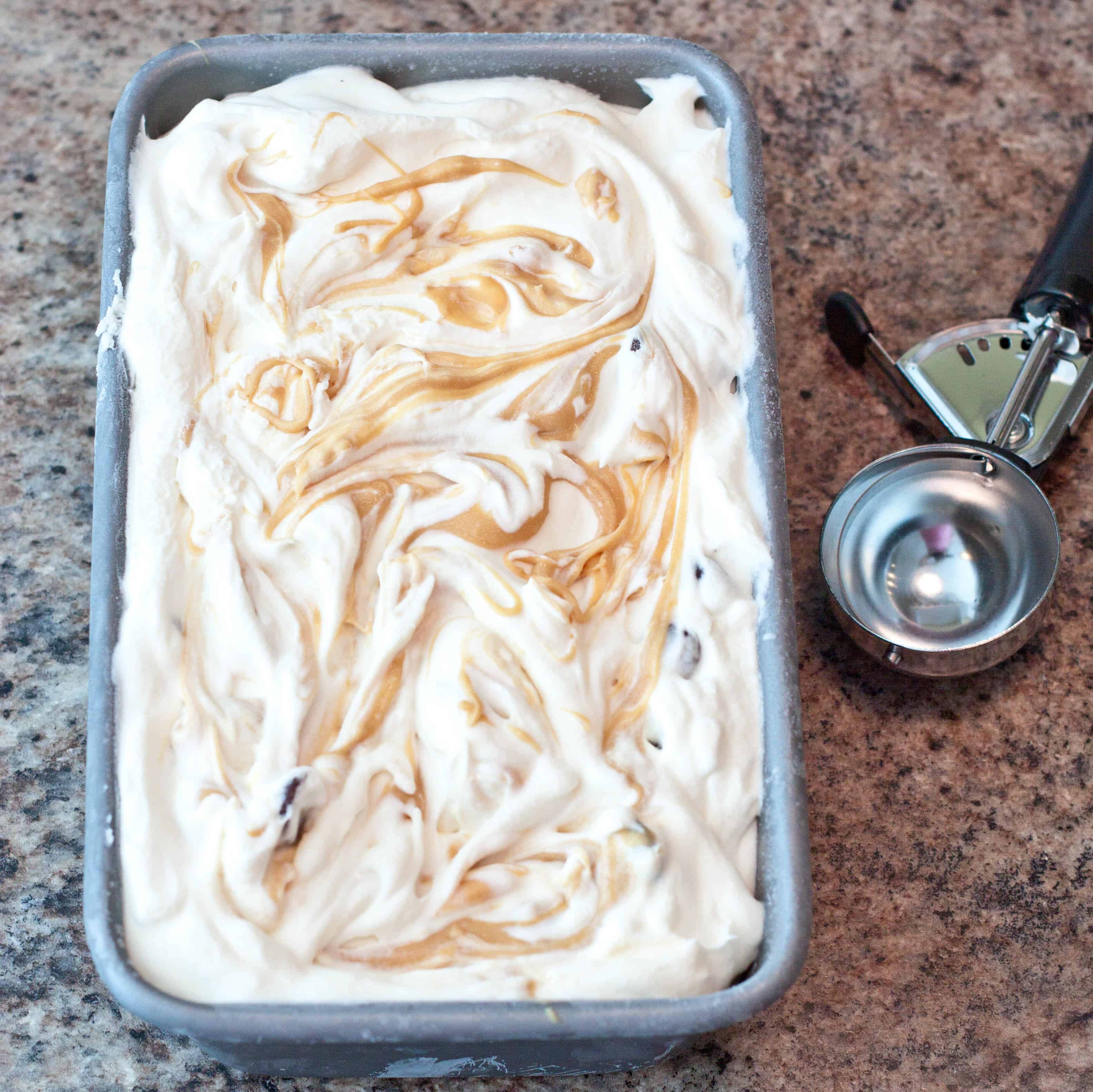 The next day... whoa.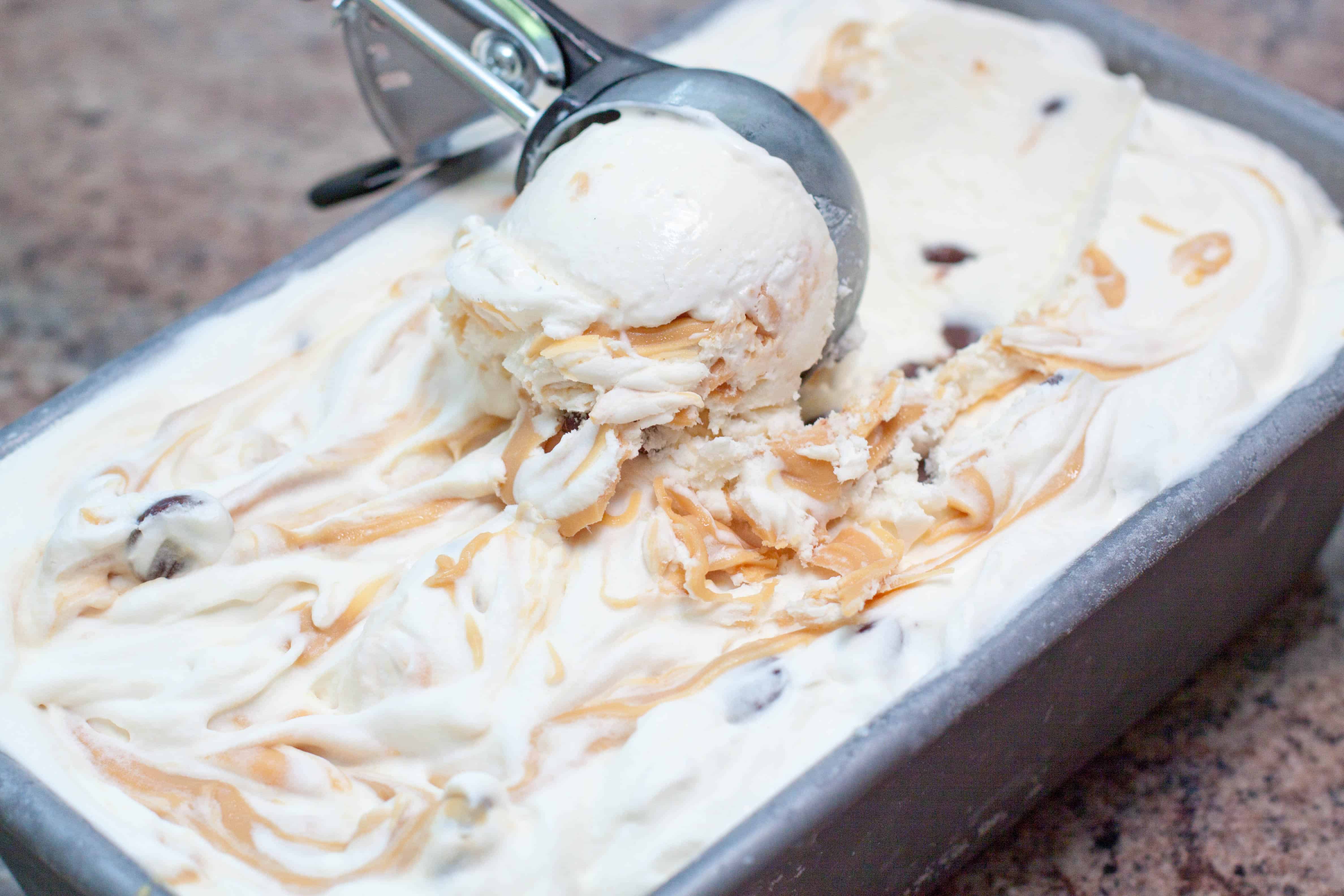 Homemade No Churn Caramelized White Chocolate and Chocolate Chip Ice Cream! And trust me, it is GOOD. Too good. Even BETTER with some of our Super Easy Caramel Sauce From Scratch on top! It may be the opposite of low fat. But hey, at 39 weeks I totally earned it. And so did my husband, for you know, dealing with me for the past 39 weeks 😉
Now, we just wait for this little girl to arrive!
Our Other Favorite Summer Desserts
4 Ingredient Peach Sorbet
Strawberries and Cream Scones
Cherry Pecan Galette
Lemon Ricotta Cookies
Easy Cast Iron Apple Crisp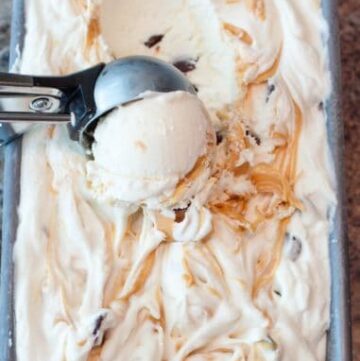 No Churn Caramelized White Chocolate and Chocolate Chip Ice Cream
A super easy, creamy, rich no churn ice cream with caramelized white chocolate and chocolate chips!
Print
Pin
Rate
Ingredients
2 1/2

cups

heavy whipping cream

14

oz

sweetened condensed milk

4

oz

white chocolate

8-10

oz

chocolate chips
Instructions
Pre-heat oven to 250 degrees to roast the white chocolate.

Add white chocolate to a small baking dish and bake for 60 minutes. Every 10 minutes, stir as it melts to keep it smooth. It should turn a nice caramel color.

In a stand mixer or with a hand mixer, whip the cream and condensed milk until soft peaks form.

Remove white chocolate from oven and let cool slightly.

Mix into the cream half of the white chocolate mixture and then fold in the chocolate chips.

Transfer to a 9X5 loaf pan and then add the remaining white chocolate and with a skewer, swirl it through the cream.

Cover and put in freezer to set overnight or at least 6 hours.

Enjoy!