Cut out another canned good from your pantry or save yourself a last-minute trip to the store for a forgotten ingredient by making your own Homemade Sweetened Condensed Milk!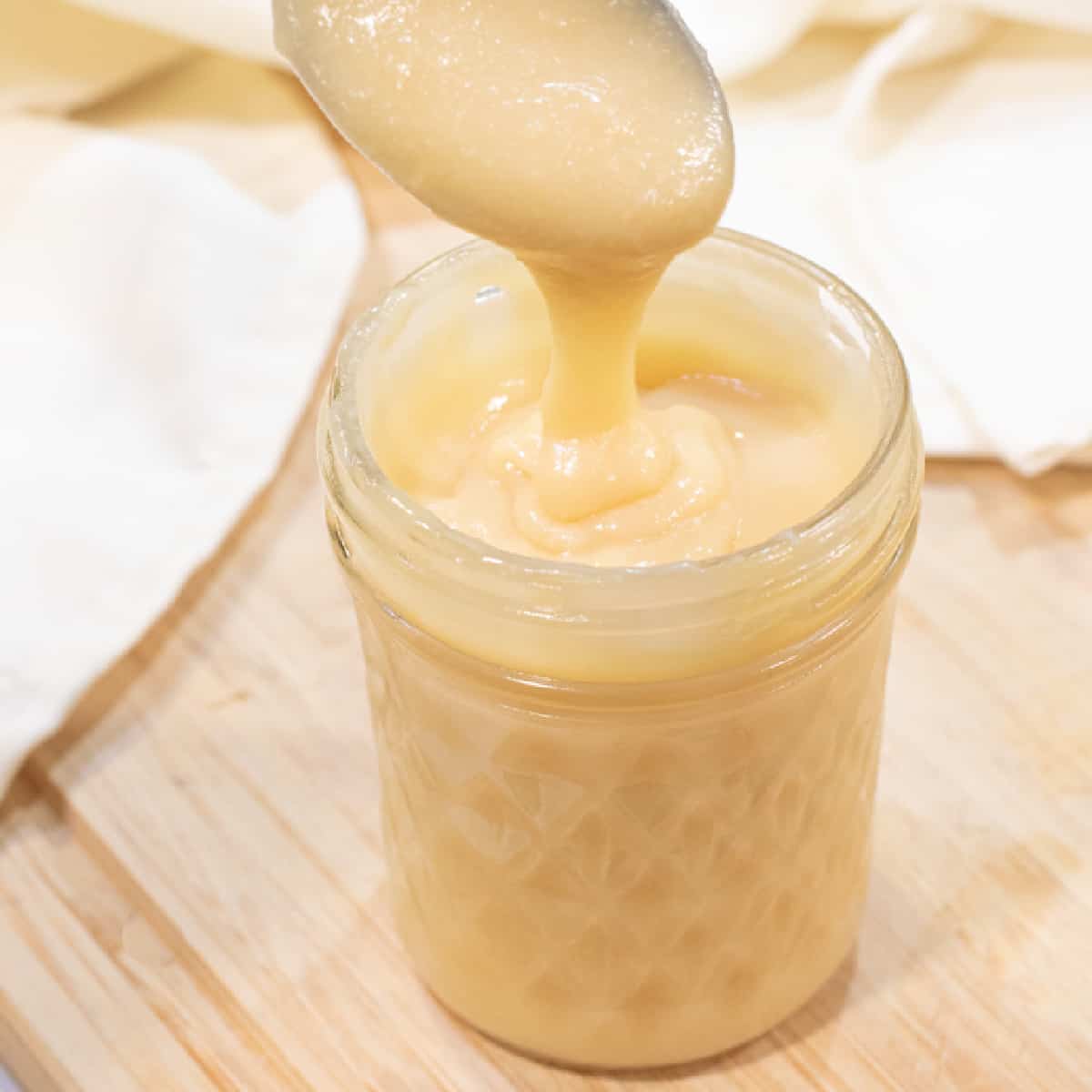 This is one we've been wanting to make for a long time, and now that we have (a few times!), I'm so surprised that it's taken so long because it is SO easy! Plus, any time that we have a recipe to cut out a pantry item, we are in. This Homemade Sweetened Condensed Milk recipe is exactly that!
It's made with easy, whole ingredients and, while it may take a little bit of time, it's perfect for when you come across a recipe that calls for it, but you don't have any in your pantry!
What is Sweetened Condensed Milk?
Very simply, it's milk with a majority of the water content removed. By doing this, it reduces the volume and thickens it. What makes it sweet is added sugar. Sweetened condensed milk is used for baking sweets and desserts and it's also a major component of flavored creamers for coffees.
Evaporated Milk is basically sweetened condensed milk, well, without the sweetness. It's milk with a majority of the water content removed, but without adding any sweeteners.
Ingredients Needed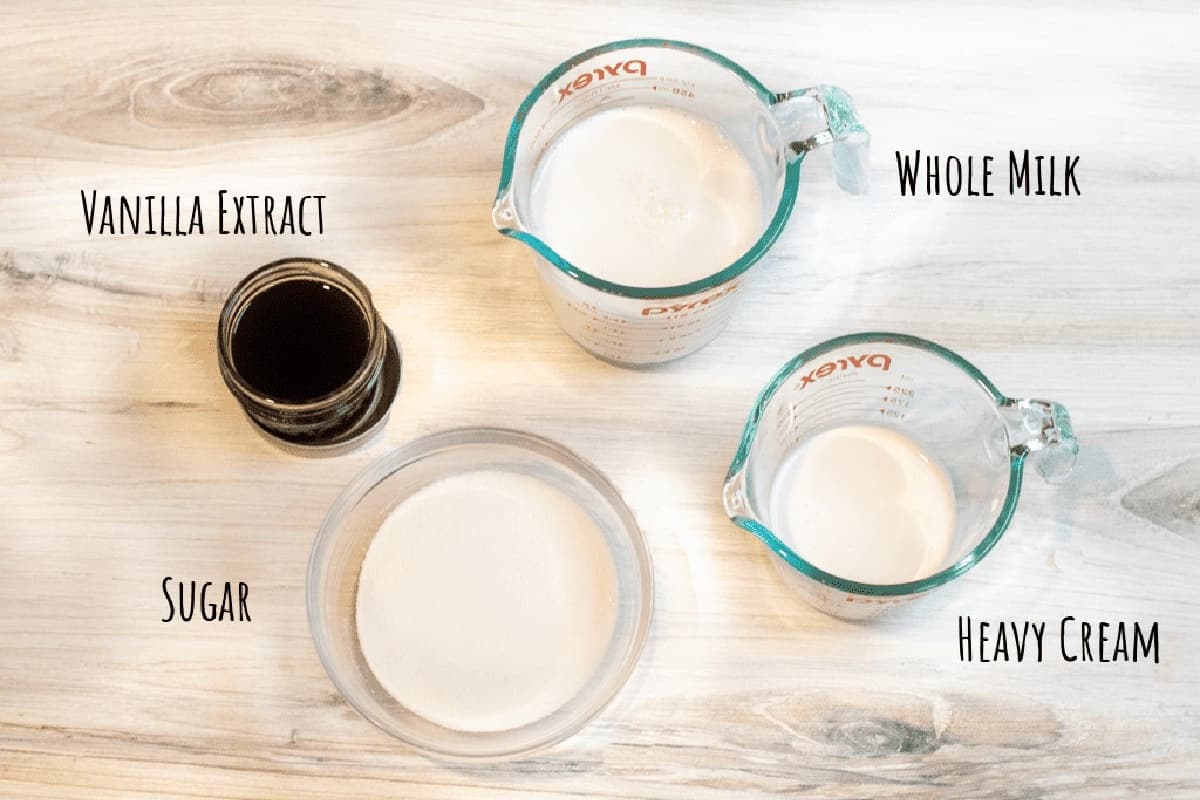 Just 4 is all you need! We've recipe tested this a lot of different ways and these core four were the hands-down winners.
Whole Milk - Also totally doable with 2% milk, or a combination of whole and 2%.
Heavy Cream - This added a richness and creaminess to it. While a lot of recipes out there add butter, I tried that and I prefer Homemade Sweetened Condensed Milk with heavy cream instead.
Sugar - The sweetened part of it all. You can absolutely use another sweetener, too. We recipe tested this with honey as well and it works just as great, although it produces a much more golden-colored condensed milk. So we prefer using regular ol' granulated sugar because, in the end, it looks the most like what you get from the can.
Vanilla Extract - Just a touch for a little kiss of vanilla. Add even more from scratch flair by making your own!
How to Make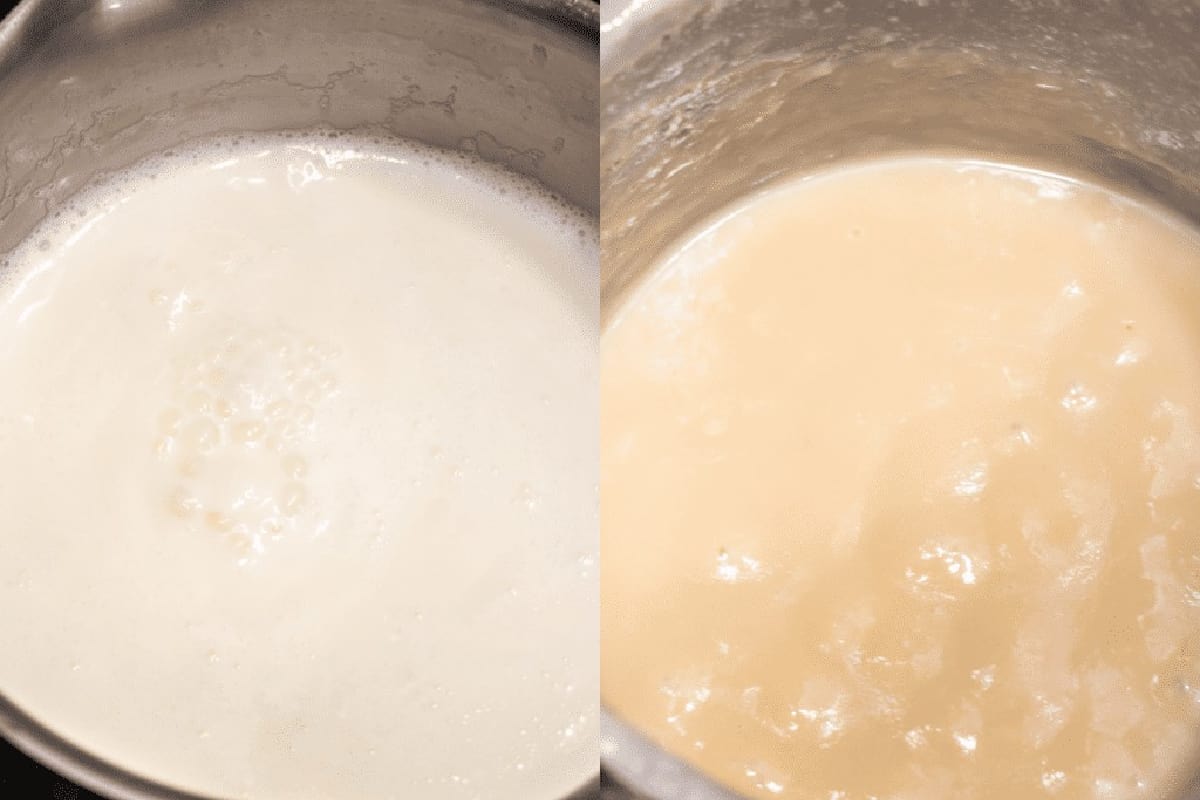 As with a lot of our from-scratch pantry staples, making this sweetened condensed milk recipe at home is actually so incredibly easy!
Add it all (except vanilla) to a pot and bring it to a boil. Yup. Just toss it all in and bring that milk, cream, and sugar to a boil.
Cook and Reduce. And then it's just a matter of it cooking down and reducing and allowing a majority of the water content to cook off.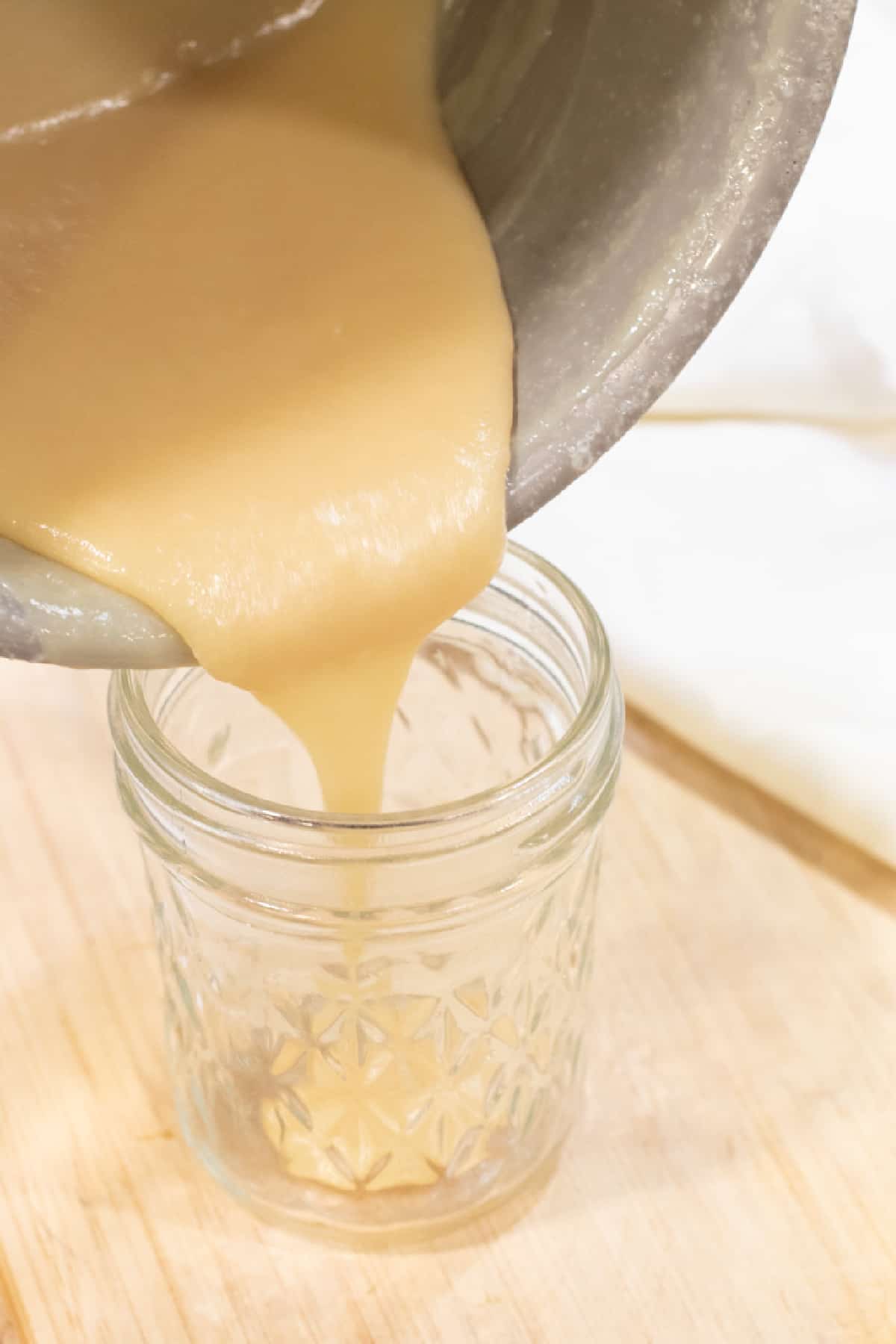 Add Vanilla at the End. Once it has reduced as much as you'd like, then it's just a quick whisk of the vanilla extract in and you're ready to add it to your jar.
See how thick and creamy that is? Exactly what you want homemade condensed milk to be!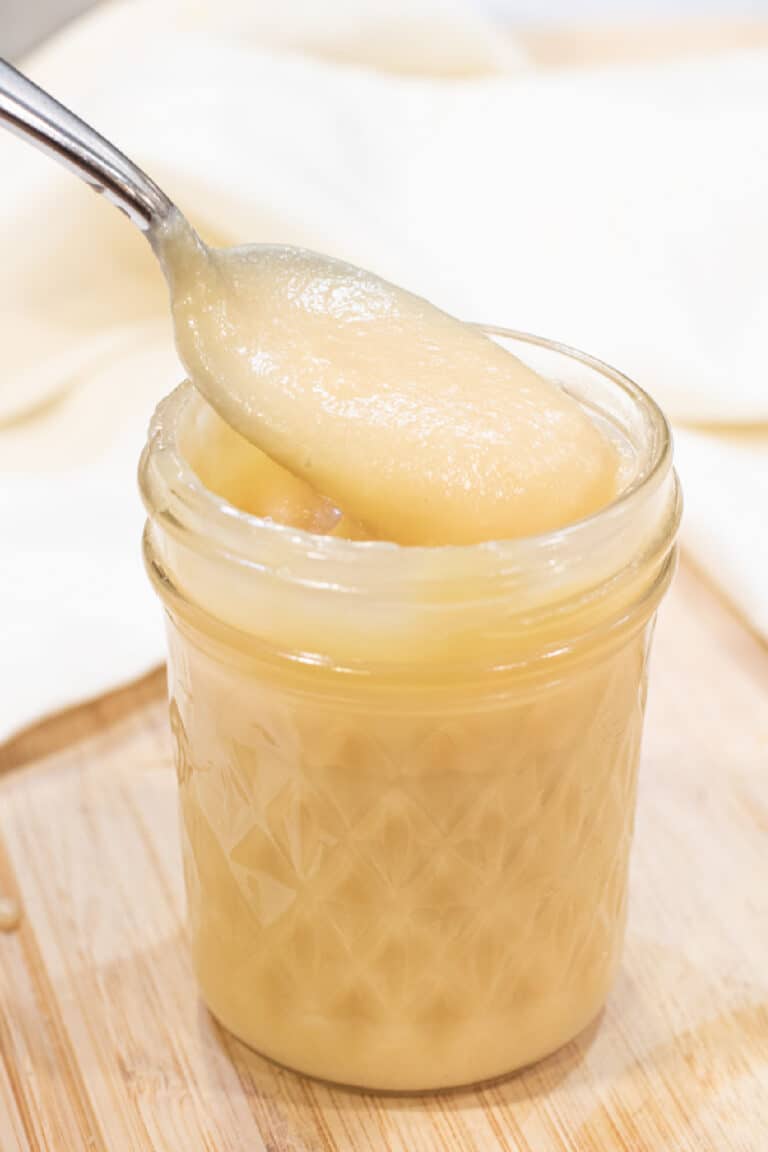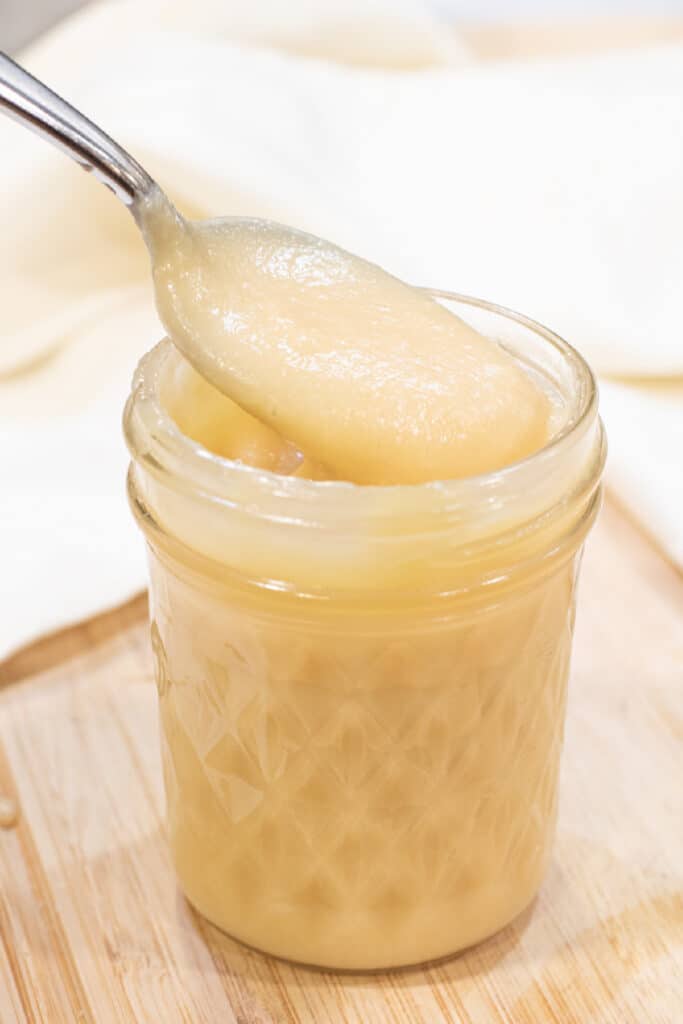 Just look at how creamy and dreamy! Oh AND sweet!
Tips to Make Homemade Condensed Milk
Don't be afraid of the heat! This is the biggest tip to making sure that you great this creamy, thick texture. I made a lot of batches of this that failed because, well, I was just too afraid of burning my milk. The result? Not getting this thick texture.
Keep the heat up and watch it. This is really key to letting the milk and cream cook down. Keep that heat up at just right around medium, but don't go far and keep a whisk nearby to whisk it down if it starts to boil over.
Add the vanilla last. Just finish the condensed milk with it.
Store it in the fridge. This homemade version is not shelf-stable so be sure to store it in an airtight container in the fridge. It will last up to a week.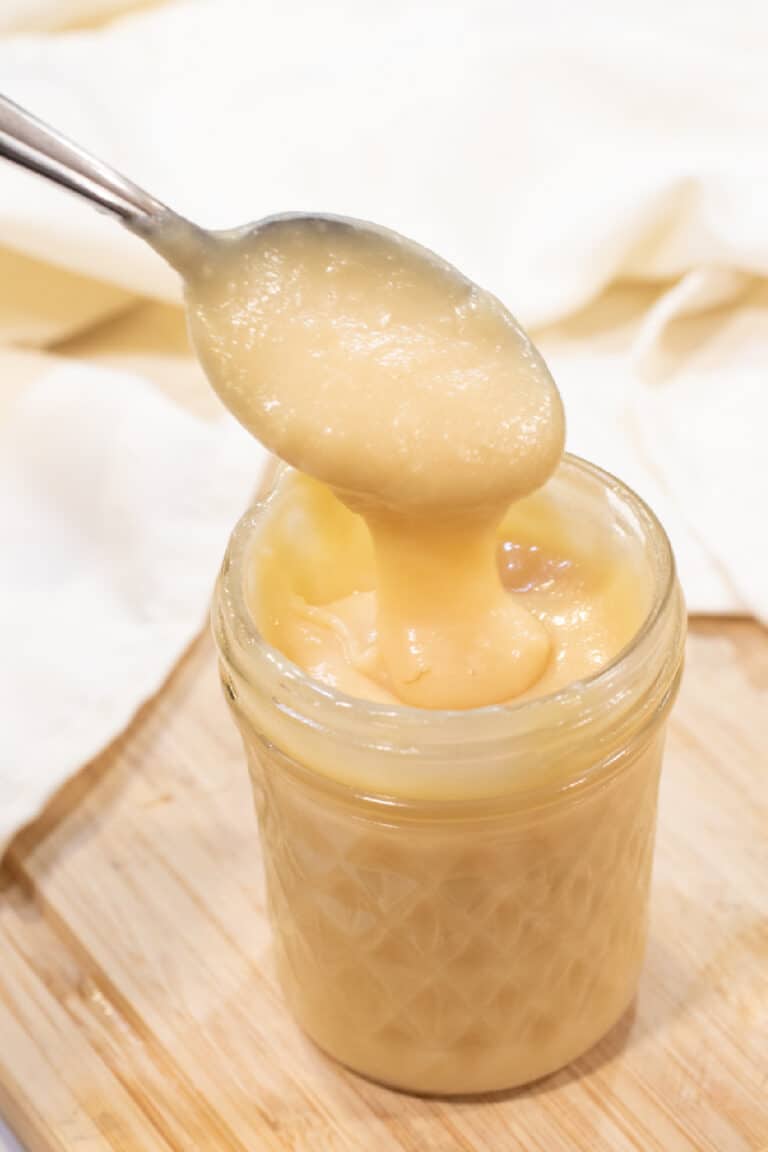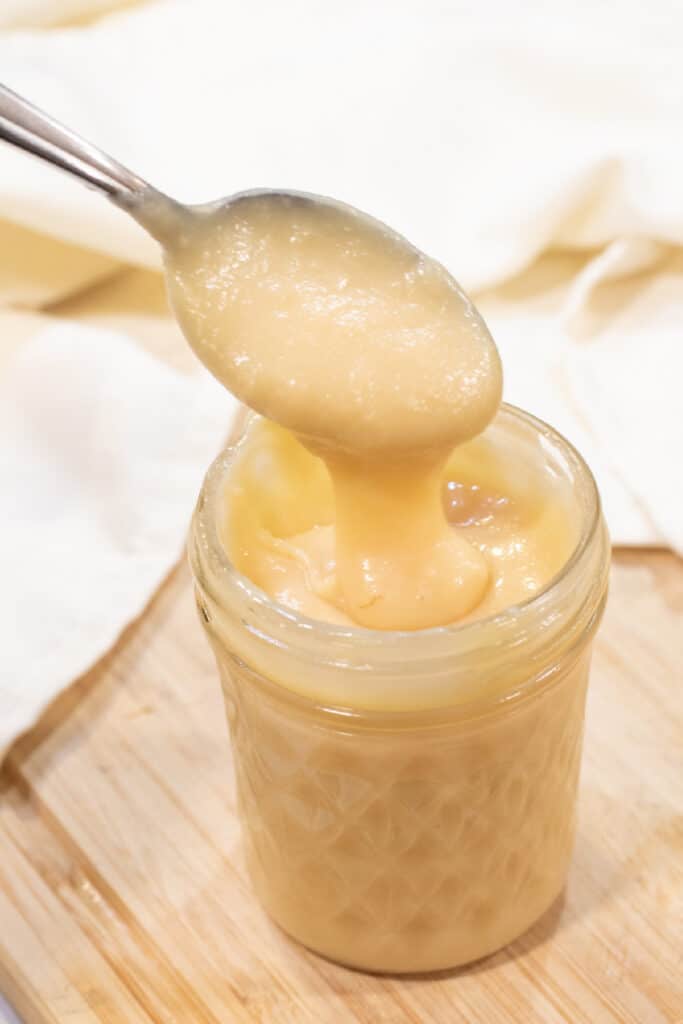 Get baking, friends! This holiday season you can add a little wow factor to some of your favorite recipes (and earn some bragging rights) by swapping out the store-bought for this Homemade Sweetened Condensed Milk recipe!
FAQs
How much does this recipe yield?
This recipe makes about 7 oz or half a large can of the Eagle brand sweetened condensed milk.
Can I double the recipe to make more?
Yes, of course. But I would suggest instead, making two batches in two separate pots as that will keep the total cook time to reduce, low.
My milk isn't thickening.
That means that your heat isn't high enough. You need to keep the heat closer to medium than not and then just keep a good eye on it, whisking it down if it starts to boil over. You want a strong simmer, almost boil for it to cook down and reduce within the time frame.
Can I freeze it?
Yup, for up to about 3 months. It won't freeze solid because of the sugar content and it may separate, but just thaw it in the fridge overnight and give it a good little whisk before using it.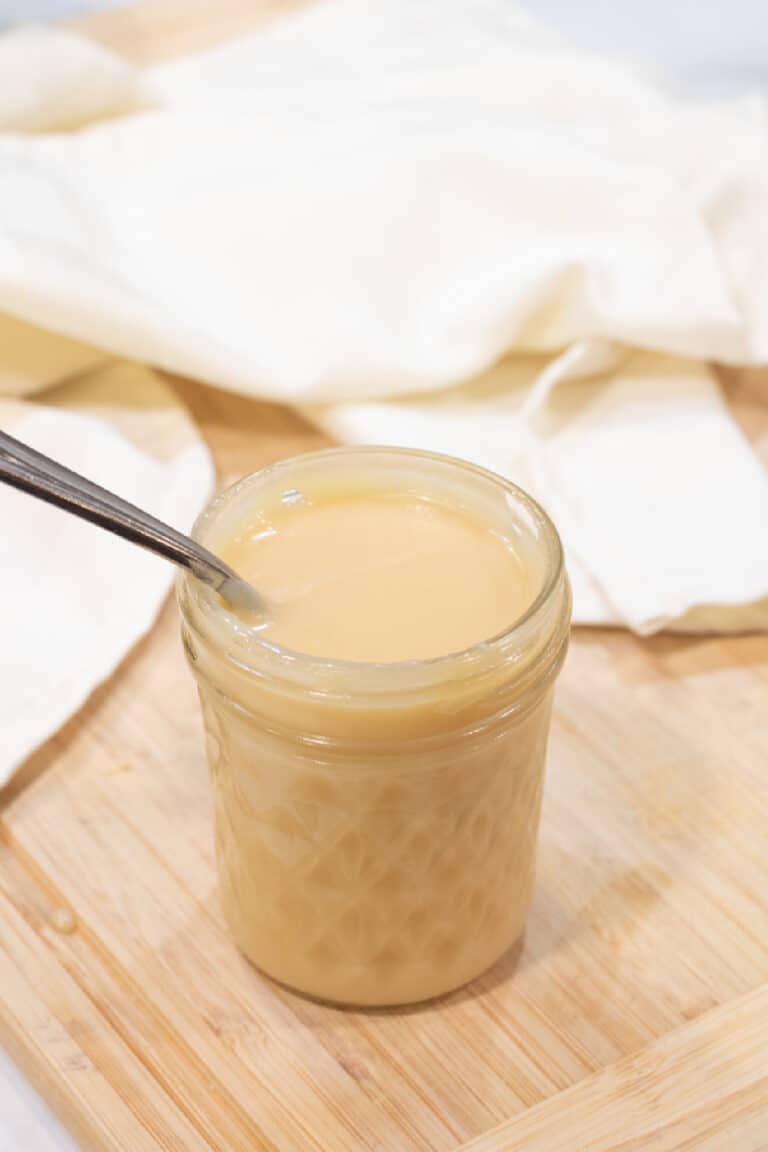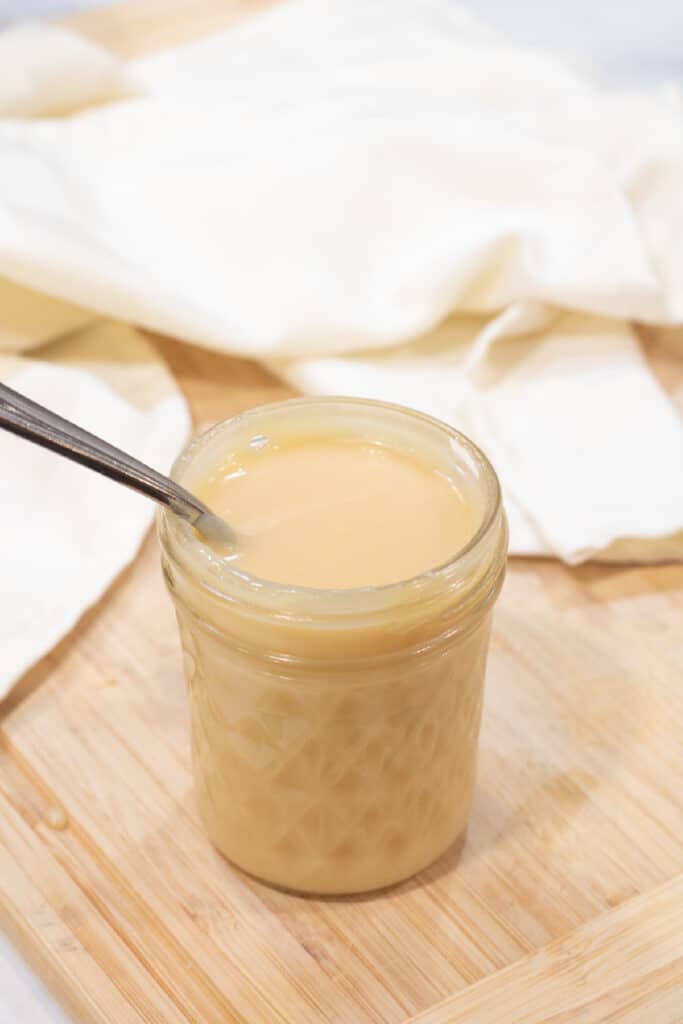 Enjoy! As always, if you make this recipe or any of my others, I love to hear what you think! Leave a comment below, email me, or you can find me on Facebook, Instagram, and Pinterest!
If you want to see more, be sure to sign up for my 5 Easy Ways to Start Cooking From Scratch!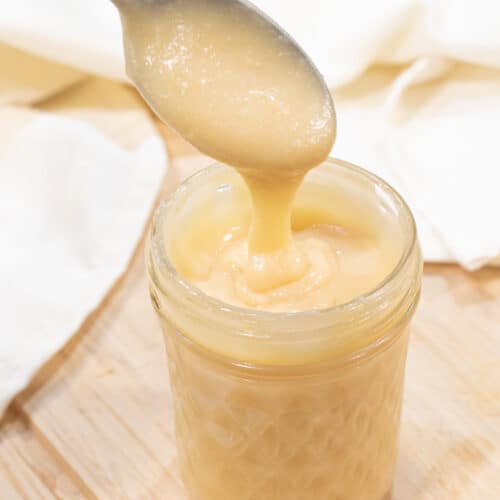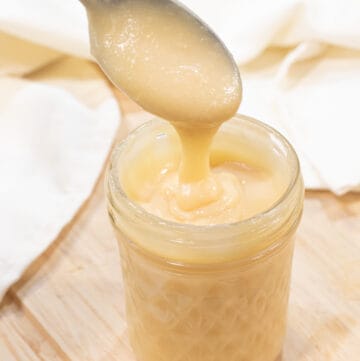 Homemade Sweetened Condensed Milk
Add some from scratch flair to your favorite baked good!
Print
Pin
Rate
Ingredients
2

cups

whole milk

1/3

cup

heavy whipping cream

2/3

cup

granulated sugar

1/2

teaspoon

vanilla extract
Instructions
Add milk, cream, and sugar to a small saucepan and heat over medium. Whisk to combine and dissolve sugar. Bring to a boil.

Turn heat down slightly so that mixture is at a gentle boil / strong simmer. Cook to reduce, checking on it and whisking it often. If it starts to boil over, give it a whisk, but don't turn down the heat too much. Keep the heat at medium/medium low, but closer to medium. You need the heat to reduce it.

Once the mixture is thick and creamy, add vanilla extract and whisk to combine.

Pour into a small mason jar or bowl and let cool before using.
Notes
Yield
Approximately 7 oz if left to reduce for about 40-45 minutes. This is about 1/2 of a large Eagle brand sweetened condensed milk.
Doubling Batch
If doubling to get a full 14 oz, I would suggest making two batches, instead of doubling in one pan. This will keep the total cook time about an hour.
Storing
Fridge: Store in an airtight container in the fridge for up to 1 week.
Freezer: Store in freezer in a freezer-safe container for up to 3 months. Thaw in the fridge overnight before using, whisk to combine if it separates.
Substitutions:
Milk: You can also substitute up to 1/2 cup of 2% milk for whole.
Sugar: You can substitute honey for the sugar, although it will make for a much darker, golden-colored condensed milk.
Nutrition
Calories:
156
kcal
|
Carbohydrates:
23
g
|
Protein:
2
g
|
Fat:
6
g
|
Saturated Fat:
4
g
|
Polyunsaturated Fat:
1
g
|
Monounsaturated Fat:
2
g
|
Cholesterol:
22
mg
|
Sodium:
35
mg
|
Potassium:
101
mg
|
Sugar:
23
g
|
Vitamin A:
280
IU
|
Vitamin C:
1
mg
|
Calcium:
86
mg
|
Iron:
1
mg