These Strawberries and Cream Scones are the perfect sweet treat for any brunch! Use summer fresh or even frozen strawberries to enjoy these all year long!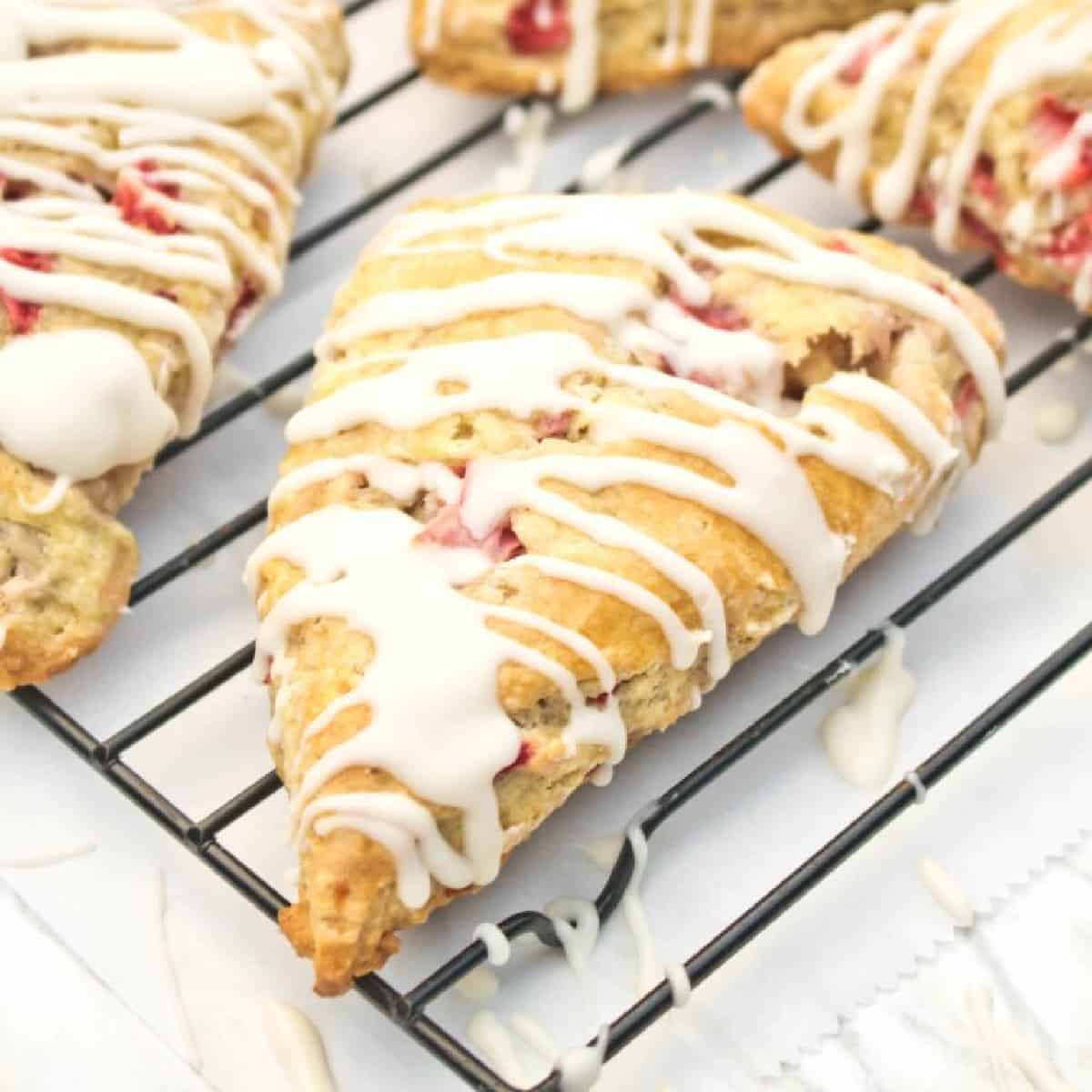 Isn't it wonderful all of the socially acceptable ways there are to eat dessert for breakfast? Like pancakes! They are literally pan-fried cakes smothered in syrup. Scones? They're basically a single-serving biscuit-esq pastry. Which is what makes them so delightful! These Strawberries and Cream Scones with a simple sweet glaze just scream brunch and mimosas! Perfect for the fresh-picked summer strawberries, or any weekend treat!
Ingredients Needed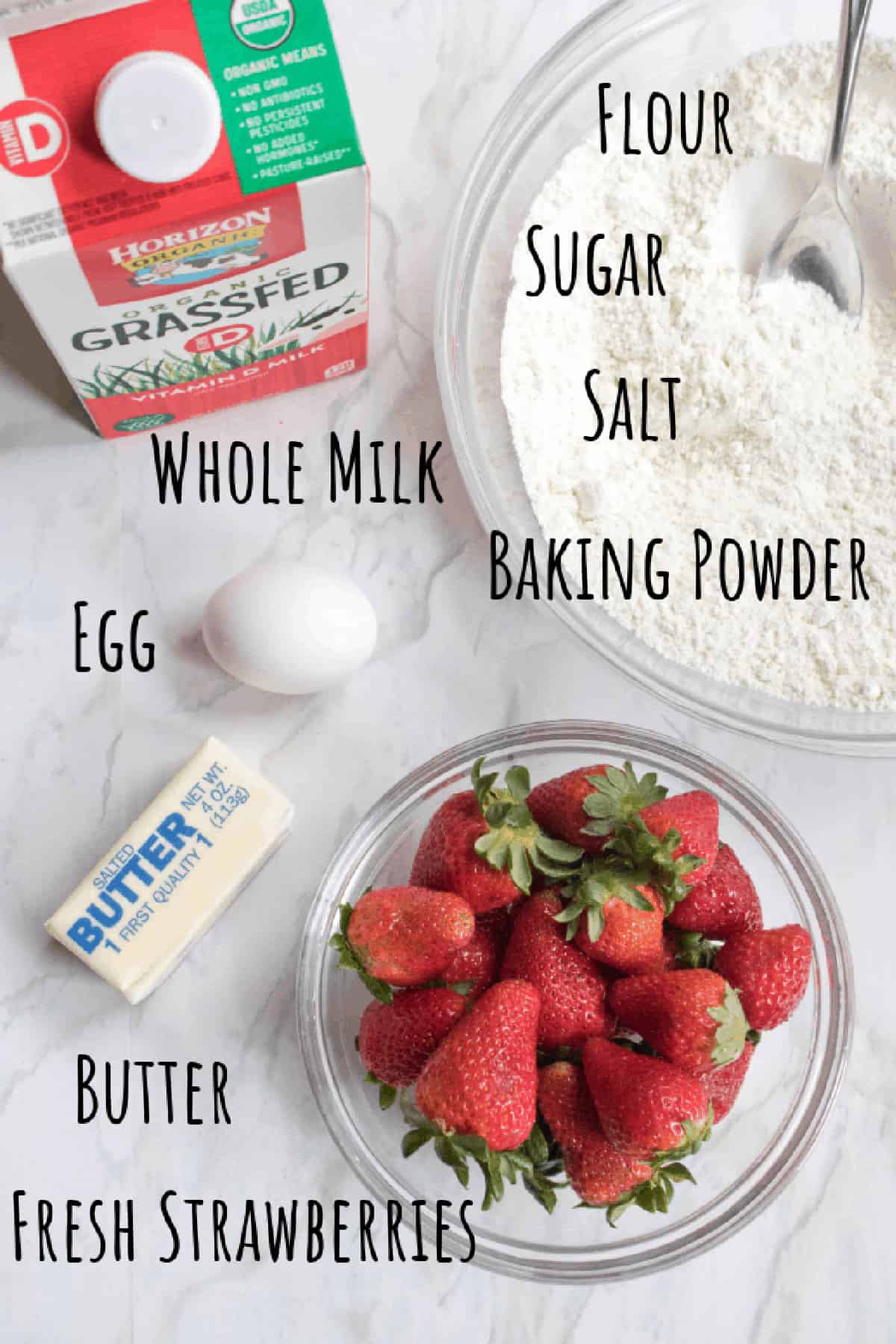 It's a pretty basic scone recipe, but with a delicious strawberries and cream touch!
For the Dough - Flour, baking soda, salt, sugar, and butter.
Milk and Cream - Or our preference is to use all cream to add an even richer flavor!
Vanilla Extract - Have you

made your own

, yet?
Strawberries - Fresh is best but if they're not in season, you can absolutely use frozen, too.
Glaze: Confectioner's Sugar, cream, vanilla, and salt.
Egg: For an egg wash
Tip: As with all baking, be sure to either spoon and level your flour or weigh your ingredients. This means using a spoon to scoop your flour one spoonful at a time into your measuring cup and then level it off with the flat edge of a knife or using your handy-dandy kitchen scale to ensure that you're using the right amounts. Just scooping the flour with your measuring cup will mean the flour will be too dense and you'll use too much flour.
Step-by-Step Instructions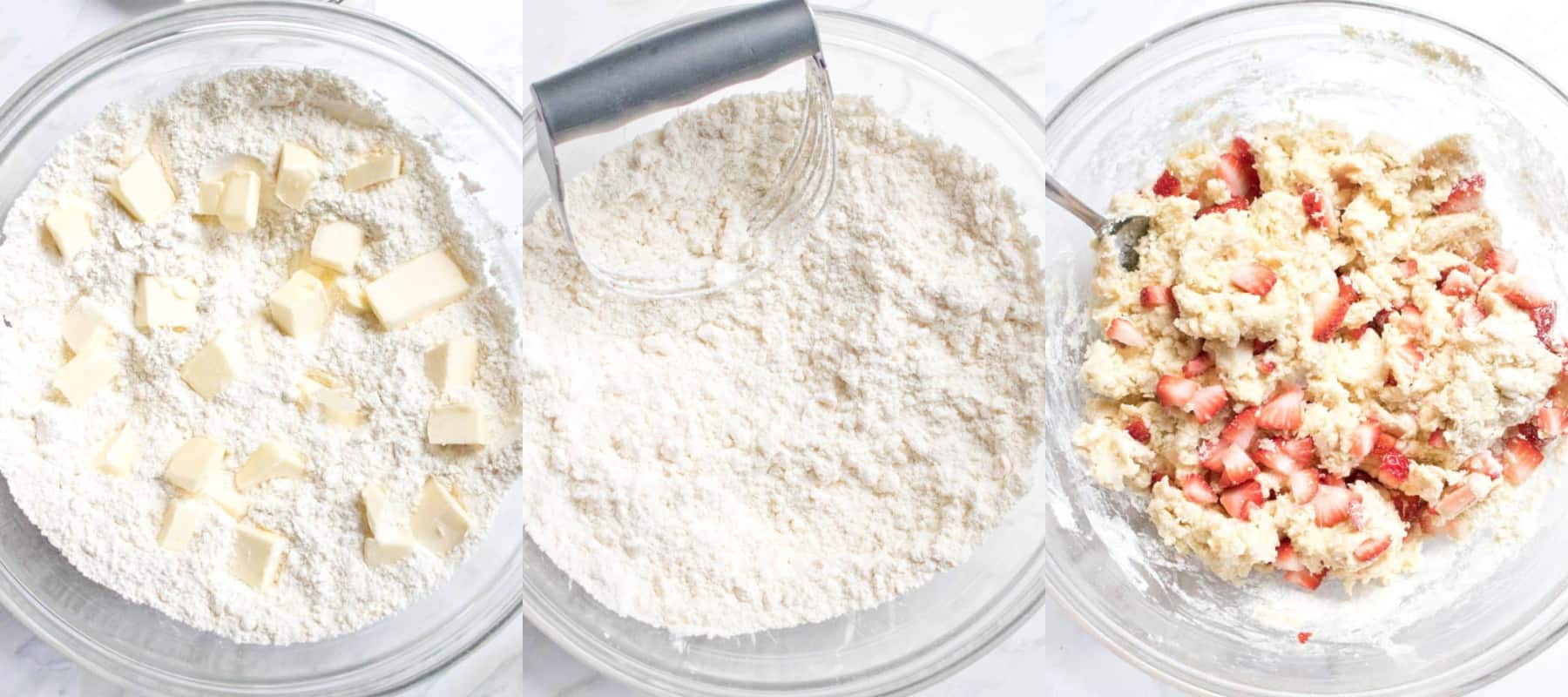 Step 1: Mix all of your dry ingredients together in a large bowl.
Step 2: Cut in the butter.
Be sure that your butter is nice and cold! Like right out of the fridge or even just a few minutes in the freezer, cold because otherwise, if it is softened, it will not cut into the butter correctly. Plus - cold butter makes scones rise higher.
When it comes to scores, I don't trust a recipe that doesn't use butter. And a good amount of it. Don't get me wrong, there are some delicious vegan recipes out there that use coconut oil, but they're "Scones," not Scones, in my opinion.
Cutting in the butter is key to getting that right flaky crumbly scone texture. I love this pastry cutter for proper butter and flour cutting.
Step 3: Whisk the egg, milk, cream, and vanilla extract in a small bowl and then mix it in with the flour and butter. Then fold in the strawberries.
Don't over-mix! Just mix the wet ingredients in until everything is moistened and then fold in the fruit. You don't want to over-mix the dough because this will take away from that delightful crumbly texture you expect from a scone and will make them tough.
Now you could store in the fridge overnight! The perfect way to fast prep for a sweet brunch treat in the morning!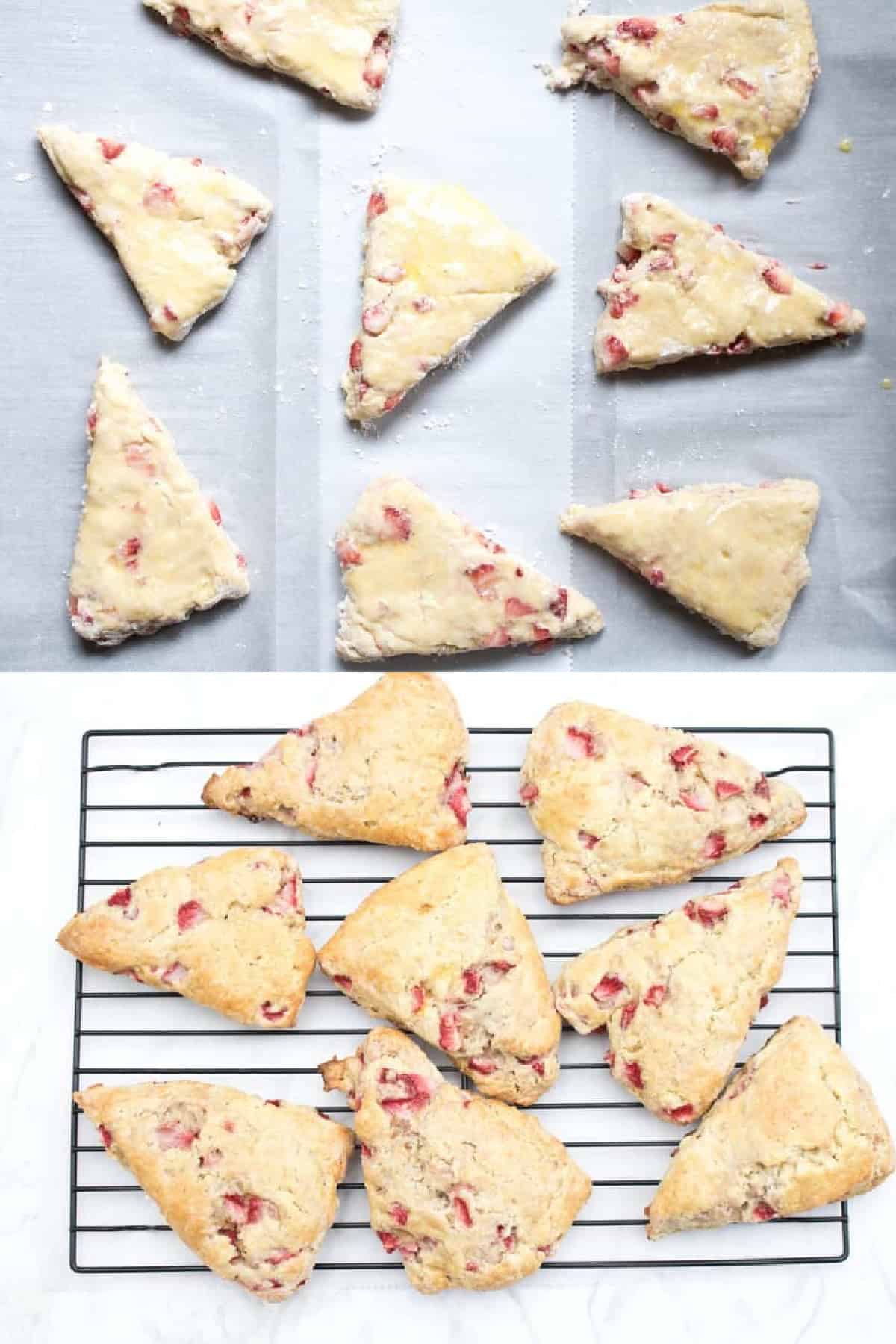 Step 4: Gently roll your dough out into an 8-inch round disc and then cut them into 8 even triangles and add to a parchment paper lined baking sheet.
Tip: The colder the dough, the more the scones will rise! If during the dough-making process, it's gotten warm at all, pop the dough in the fridge for 10-15 minutes. It should be a cold dough - this will prevent your scones from spreading.
At this point, you can freeze them! Pop the cut scones in the freezer for about 10 minutes until they've hardened, and then transfer to an airtight container to store in the freezer.
Step 5: Brush with a light egg wash and bake for about 18-20 minutes.
Why use an egg wash? This will help add a little golden touch to your scones. Totally optional, though.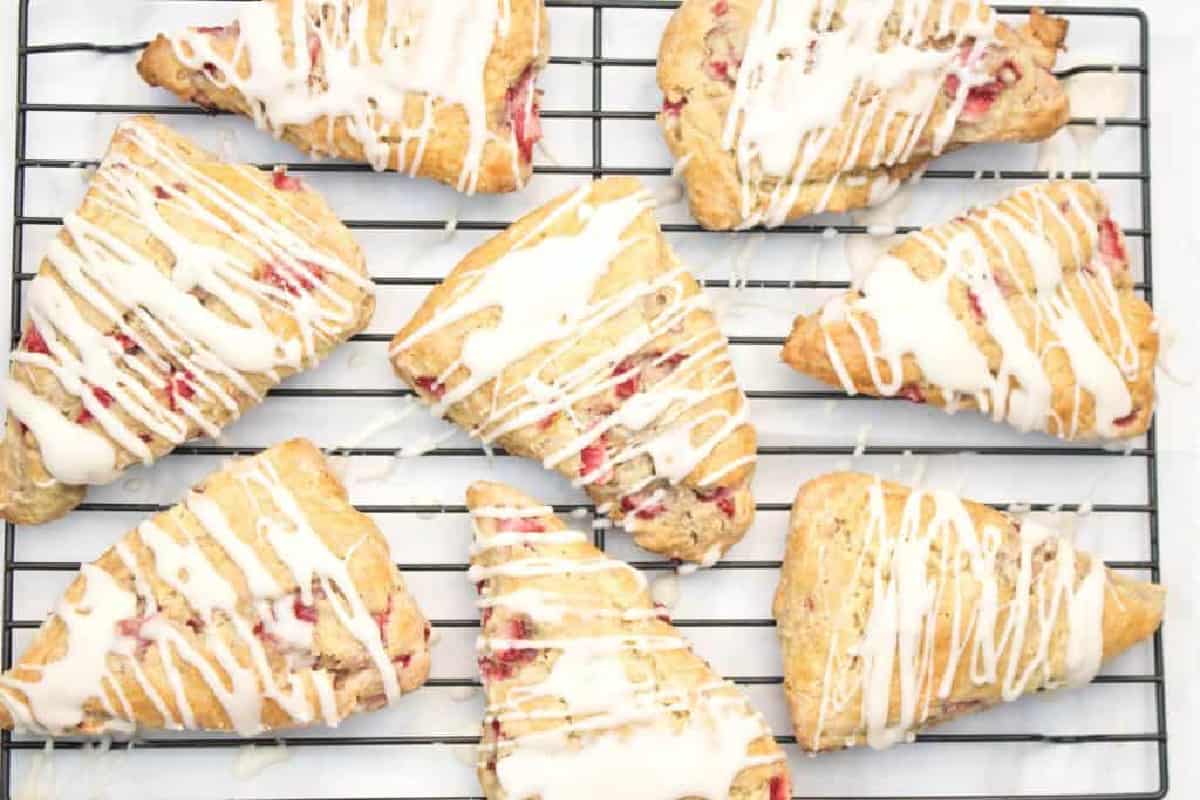 Step 6: Meanwhile, make your glaze by whisking together the confectioner's sugar, vanilla, cream, and a touch of salt.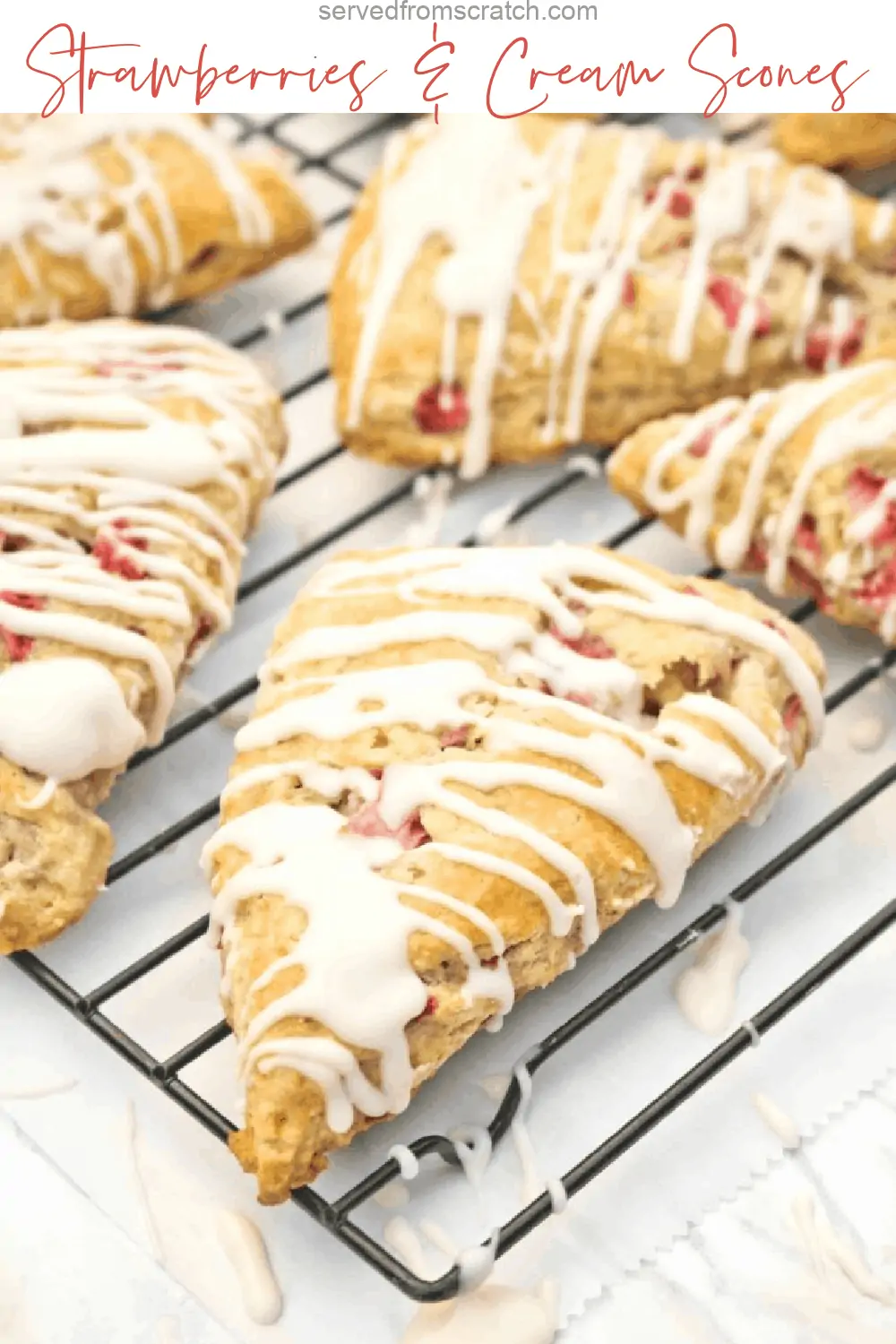 Step 7: Let your scones cool for a few minutes after they come out of the oven and then glaze!
If these Strawberry and Cream Scones don't scream Brunch to you, then I don't know what kind of brunch you're eating, but I want none of it. Kidding... kind of.
These are definitely on my Make Again Once The Baby is Born and Enjoy with a Mimosa list. Yes, that is a list and it's getting longer every day. This mama's ready for a proper mimosa brunch!
FAQs
Can I use self-rising flour?
Yes. Just be sure to omit the salt and baking powder.
Can I use frozen strawberries?
Yup! And no need to thaw, just give them a little chop and then add them right before you're ready to cut them because you don't want any moisture from the frozen berries to melt into your dough.
Can I prepare the dough in advance?
Yes! Mix dough and store in the fridge overnight and shape and cut them in the morning for a fast brunch treat!
Can I freeze the dough?
Absolutely! After you've shaped the dough into the 8 wedges, pop them on a plate or tray in the freezer for 10 minutes. Then transfer them to a freezer-safe container and store them for up to 3 weeks in the freezer. See recipe notes for how to thaw.
Can I freeze the cooked scones?
Of course! For up to 2-3 months. See recipe notes for how to thaw.
Other Sweet Brunch Treats
Happy dessert-ing for breakfast, friends!
Enjoy! As always, if you make this recipe or any of my others, I love to hear what you think! Leave a comment below, email me, or you can find me on Facebook, Instagram, and Pinterest!
If you want to see more, be sure to sign up for my 5 Easy Ways to Start Cooking From Scratch!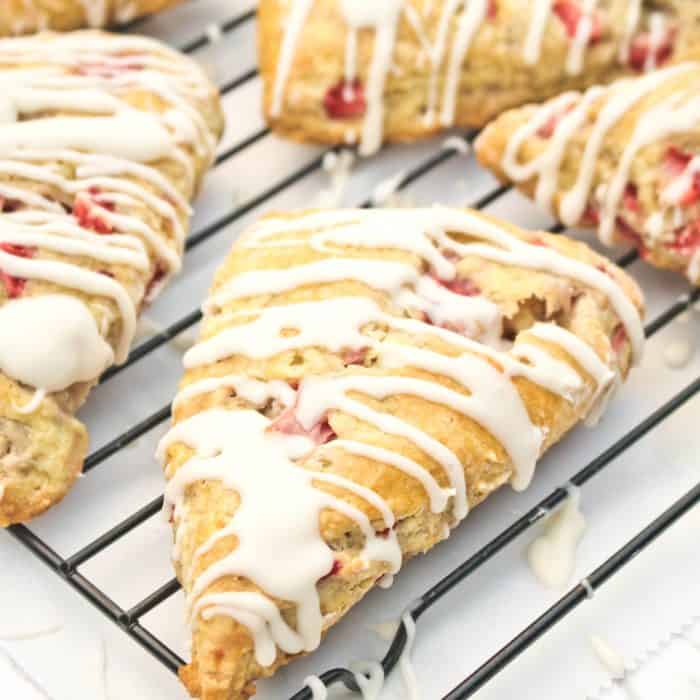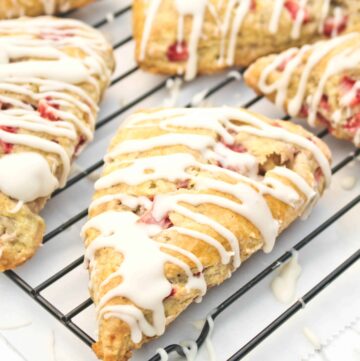 Strawberries and Cream Scones
These Strawberries and Cream Scones are perfect for any brunch and to celebrate all of those gorgeous summer strawberries!

Print
Pin
Rate
Ingredients
2 1/2

cup

all purpose flour

spooned and leveled or 350 g

2

tsp

baking powder

8 g

1/3

cup

granulated sugar

70 g

1/2

tsp

salt

2 g

1/2

cup

un-salted butter

cold

1/2 + 2

cup + tablespoons

heavy whipping cream

or a mixture with whole milk

1

teaspoon

vanilla extract

1

large

egg

1

cup

fresh strawberries

chopped
Instructions
Pre-heat oven to 400 degrees and prep a large baking sheet by lining it with parchment paper.

In a large bowl, whisk together the flour, baking powder, sugar, and salt.

Cut the butter into cubes and add to the bowl with flour. Cut it into the flour using a pastry cutter or a fork until it's all incorporated and is like a coarse meal.

In a medium bowl whisk egg, cream, and vanilla extract. Slowly add to the large bowl with flour and mix gently, just enough to incorporate it all. Some may still be a little flaky, but that's ok, you don't want to overmix.

Gently fold in strawberries with a large spatula.

On a large clean surface, place the parchment paper down and add the dough. Gently knead it a couple of times so that the dough comes together enough to shape it into an 8-inch round. Cut into 8 even triangles.

Brush the triangles with egg wash.

Bake for 18-20 minutes until they are light golden brown.

Remove from oven and let cool. While they cool, make the glaze by mixing heavy cream, confectioner's sugar, vanilla extract, and salt. Drizzle over scones and enjoy!

Store at room temperature for 2 days or in the fridge for up to 5 days.
Notes
Substitutions:
Flour: Use self rising flour 1:1 but omit the baking powder and salt.
Strawberries: Use frozen, just chop and only add right before you're ready to shape and cut dough to prevent added moisture being added to dough.
Butter: Use salted butter and then omit the added salt.
Prevent Spreading: Make sure that your dough is very cold. To ensure, cool dough in fridge for 10-15 minutes before shaping and cutting.
Prepare in Advance: Make dough and before cutting, you can cover and store in fridge overnight and bake the next morning.
Freeze Dough: Shape and cut scones and then on a plate or tray add to freezer for 10-15 minutes. Then transfer them to a freezer safe container and store for up to 3 weeks. Bake straight from freezer by adding a little time to baking time, or let thaw overnight in fridge and then bake.
Freeze Scones: Once scones are glazed and cooled, add to freezer safe container and freeze for up to 2-3 months. To thaw, remove from freezer and let sit out on the counter for a few hours or overnight in the refrigerator. You could also warm them in the microwave for about 30 seconds or in the oven on a baking sheet at 300 degrees for 10 minutes.
Nutrition
Calories:
371
kcal
|
Carbohydrates:
53
g
|
Protein:
10
g
|
Fat:
19
g
|
Saturated Fat:
11
g
|
Cholesterol:
179
mg
|
Sodium:
316
mg
|
Potassium:
140
mg
|
Fiber:
1
g
|
Sugar:
10
g
|
Vitamin A:
687
IU
|
Vitamin C:
11
mg
|
Calcium:
114
mg
|
Iron:
3
mg