Classic Banana Walnut Bread made from scratch. Nothing too fancy, just the way your mama likes it!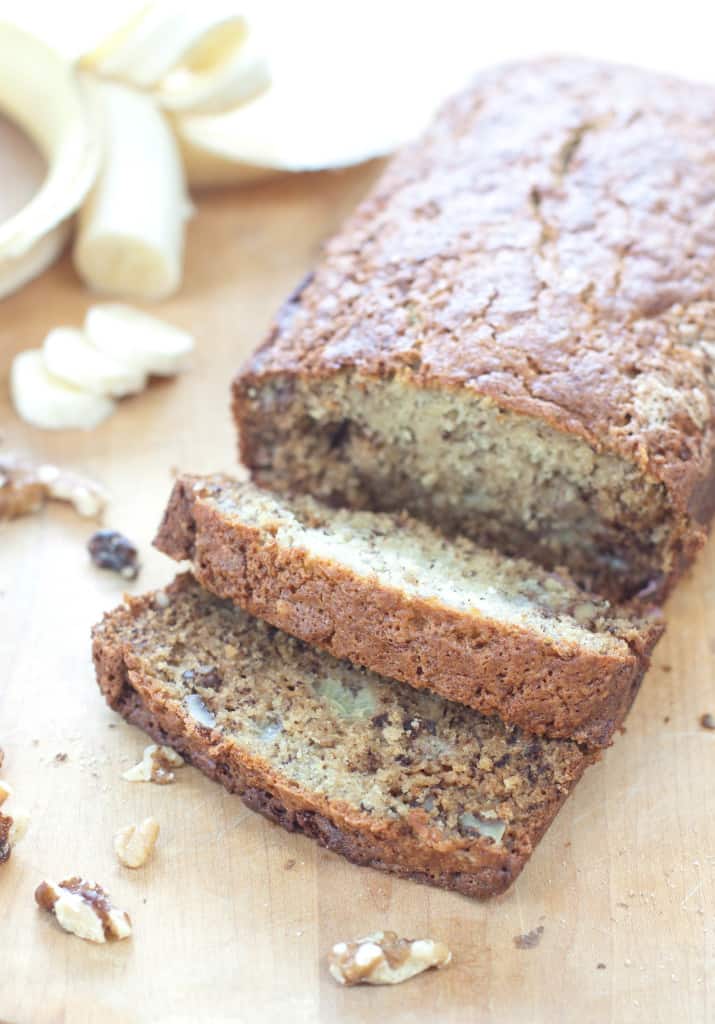 Classic Banana Walnut Bread! Everyone loves a classic right? I mean you don't get the term 'classic' without being worthy. And that's what this banana bread is. Worthy. As anyone who has read this blog at least a little bit knows, my husband and I have a slight obsession with bananas. My mom, she doesn't share that obsession. While I've been here I've been sure to pick myself up some bananas on my grocery trips because they're not a staple in this house. But coming from a household where at least 2 bananas a day are consumed, I overestimated how many I needed and had a few that went way overripe before I could get to them. Where's my husband when I needed him?!
No problem, I had just created this amazing recipe roundup of 21 Delicious Ways to use Overripe Bananas! Perfect! So I started reading them off to my mom:
"Oatmeal Banana Chocolate Chip Muffins?"
"Naw."
"How about Chocolate Almond Banana Bread?"
"No."
"Oooh, Peanut Butter Cup Banana Bread?!"
"What?"
"Oh oh what about Banana Beet Nut Bread?"
"…"
Yeaaa. My mom's a classic meat and potatoes kind of a gal and I shouldn't have been surprised when she said, "What about just a regular banana walnut bread?" Classic; of course.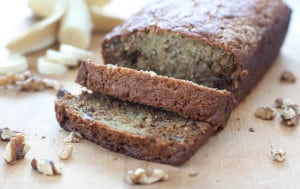 So here you are, friends. A classic Banana Walnut Bread. Just the way your mama likes it, or at least my mama! 😉
Other Sweet Brunch Treats
Easy Homemade Apple Fritters
Glazed Chocolate Munchkins
Ricotta Pancakes
Sourdough Walnut Cinnamon Rolls
Banana Waffles
Other Favorite Quick Breads:
Butterscotch Snickerdoodle Bread
Maple Apple Nut Bread
Easy Buttermilk Cheddar Cornbread From Scratch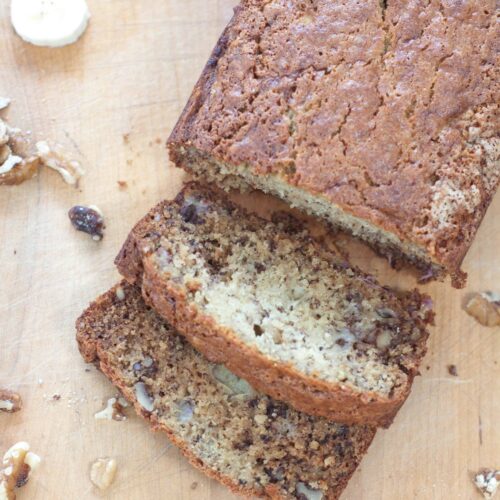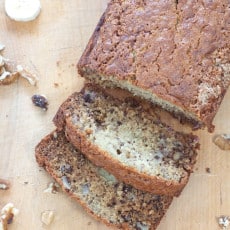 Classic Banana Walnut Bread
Classic Banana Walnut Bread made from scratch. Nothing too fancy, just the way your mama likes it!

Print
Pin
Rate
Ingredients
1 1/4

cups

unbleached all-purpose flour

sifted

1

teaspoon

baking soda

1/2

teaspoon

fine salt

2

large eggs

at room temperature

1/2

teaspoon

pure vanilla extract

1/2

cup

1 stick unsalted butter, at room temperature, plus more for preparing the pan

1

cup

sugar

3

very ripe bananas, mashed

about 1 cup

1/2

cup

toasted walnut pieces
Instructions
Sift the flour, baking soda and salt into a medium bowl; set aside. Whisk the eggs and vanilla together in a liquid measuring cup with a spout; set aside. Lightly brush a 9-by 5- by-3-inch loaf pan with butter. Preheat the oven to 350 degrees.

In a standing mixer fitted with the paddle attachment or with an electric hand-held mixer, cream the butter and sugar until light and fluffy. Gradually pour the egg mixture into the butter while mixing until incorporated. Add the bananas (the mixture will appear to be curdled, so don't worry), and remove the bowl from the mixer.

With a rubber spatula, mix in the flour mixture until just incorporated. Fold in the nuts and transfer the batter to the prepared pan. Bake for 55 minutes or until a toothpick inserted into the center of the bread comes out clean. Cool the bread in the pan on a wire rack for 5 minutes. Turn the bread out of the pan and let cool completely on the rack. Wrap in plastic wrap. The banana bread is best if served the next day.