Ahh Banana Pecan Muffins. In case you didn't already know, my husband and I love bananas. We each eat one every single morning. Therefore, we always have bananas in the house because together, we go through 14 bananas in a week. At least. Sometimes, my studly husband will eat two. Maybe three in one day. I know. The man loves bananas. It's bananas (sorry, I couldn't resist).
Anywho, 14 bananas in a week. This means we're buying them at least a few times through out the week because you can't just buy over a dozen bananas on Sunday to last until the next Sunday, especially when you have a husband who has a preference for a slightly firm, under-ripe, twinge of green banana. It just doesn't work. But sometimes I try. I try just hoping that if I buy them green enough it'll work and I won't need to make banana runs in the middle of the week. But, it never does. And what usually ends up happening is that we have a bunch of over ripe bananas and I still need to go to the store to buy more less ripe bananas. Luckily, this amazing soft serve banana ice cream has come into our lives which means we not only have a use for these bananas now, but we have an incentive to buy even more! But this past Sunday, I found myself with, yet again, some over ripe bananas that needed to be used. And my studly husband was flying out in the morning to do some on site meetings out of state, and since he started traveling for work, I started baking him a flight treat to take with him. Last time it was Rosemary Lemon Scones, and so this time, since ice cream wouldn't work, I decided on these banana muffins.
I found a super easy recipe using the bananas and pecans which I just happened to have. The recipe said though to only fill the tin half way... but there was so much batter that I filled them all of the way and crossed my fingers.
Luckily it worked. Top of the muffin to you!
Yum. These muffins were not super sweet at all so you could totally taste the banana flavor. They were nice and moist and soft with the perfect little pecan crunch.
They turned out to be a great flight snack for Dan and a great snack to bring to a work meeting. Our list of delicious banana treats is only going mean we keep buying more and more to make these Banana Pecan Muffins!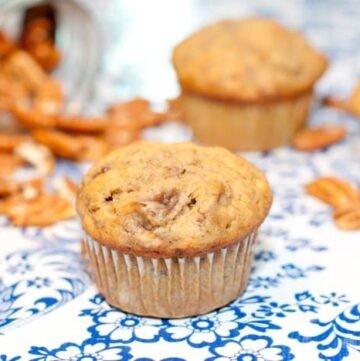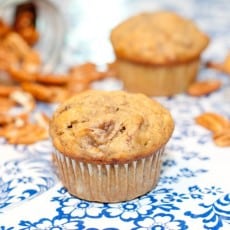 Ingredients
2

cups

all-purpose flour

1 1/2

teaspoons

baking soda

1/2

teaspoon

salt

4

overripe bananas

1

cup

brown sugar

1 1/2

sticks unsalted butter

melted and cooled

2

eggs

1

teaspoon

pure vanilla extract

1/2

cup

pecans

chopped
Instructions
Preheat oven to 375 degrees F.

In a large bowl, combine the flour, baking soda, and salt; set aside. Mash 2 of the bananas with a fork in a small bowl so they still have a bit of texture. With an electric mixer fitted with a wire whisk, whip the remaining bananas and sugar together like you mean it, for a good 3 minutes. Add the melted butter, eggs, and vanilla and beat well, scraping down the sides of the bowl once or twice. Mix in the dry ingredients just until incorporated. Fold in the nuts and the mashed bananas with a rubber spatula. Spoon the batter into the muffin tins to fill them. Give them a rap on the counter to get any air bubbles out.

Bake until a toothpick stuck in the muffins comes out clean, 18 to 20 minutes. Let cool for a few minutes before turning the muffins out. Serve warm or at room temperature.