These Healthy Oat Banana and Strawberry Pancakes are a super fun and incredibly healthy way to have pancakes with strawberries! Gluten-free thanks to the whole oats and naturally sweetened, these pancakes are kid-loved and mom-approved!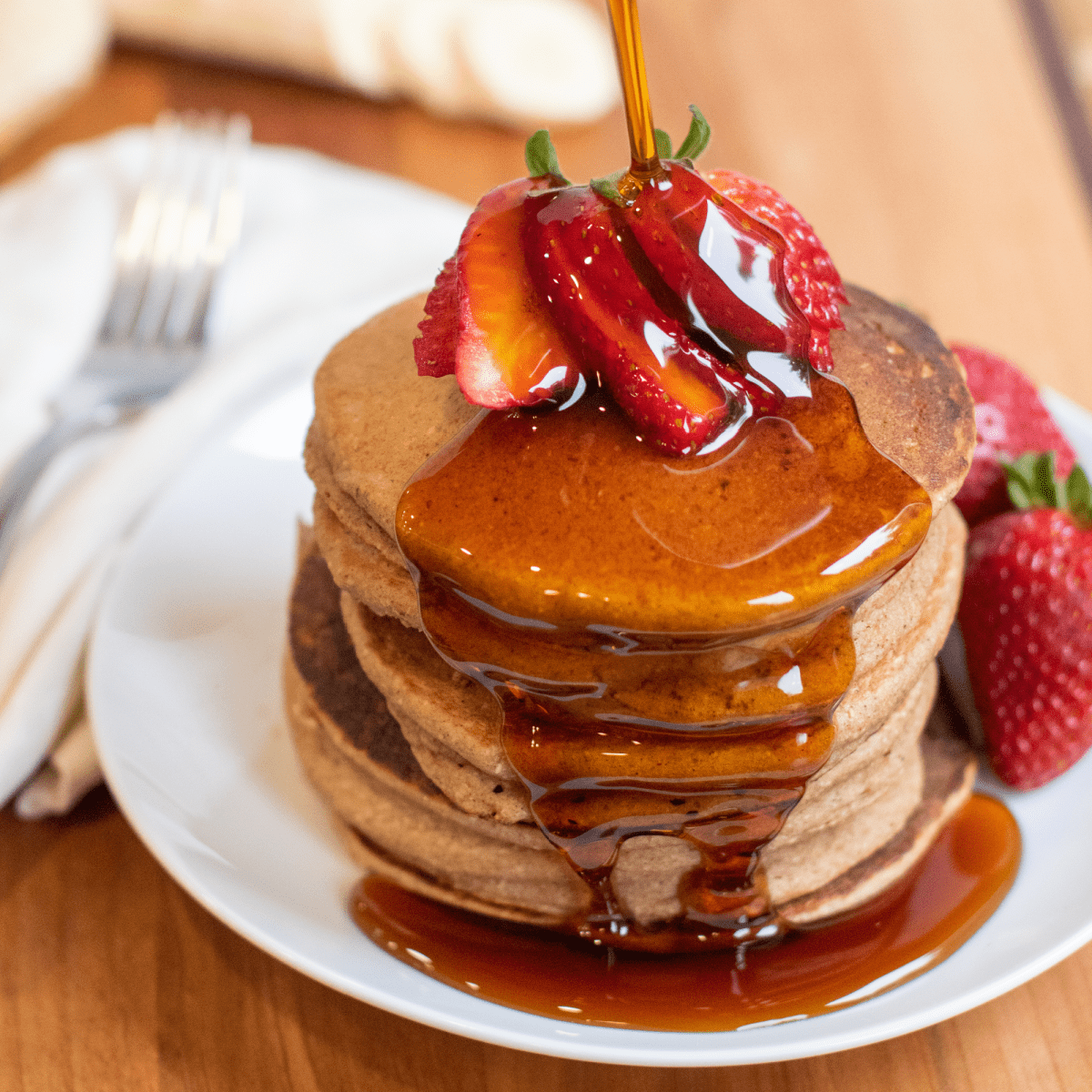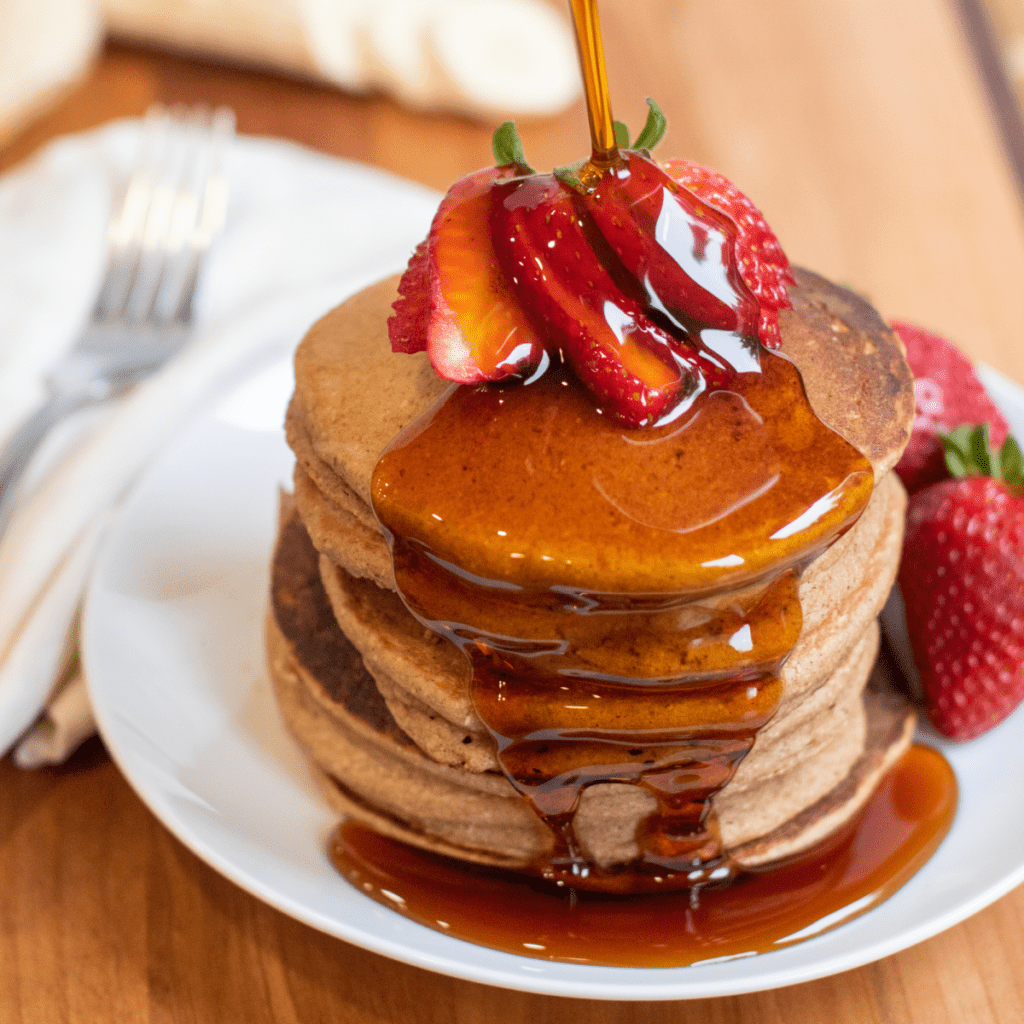 Here's a fun and healthy Valentine's Day treat for you all! These Healthy Banana and Strawberry Oat Pancakes are as healthy as they are quick, easy, and tasty! Naturally sweetened and packed with complete and balanced nutrition thanks to the whole oats, tons of fresh fruit, and eggs, these are some of my kids' favorite breakfasts and are one of my favorites to pull out of the freezer for a quick and easy breakfast for dinner!
I love these gluten-free pancakes because of the subtle nutty flavor of the oats and the subtle but classic banana and strawberry flavor! Plus, you know we love naturally sweetened treats and because the pancakes themselves aren't super sweet, that makes these healthy oat pancakes the perfect vessel for all the indulgent toppings!
Ingredients Needed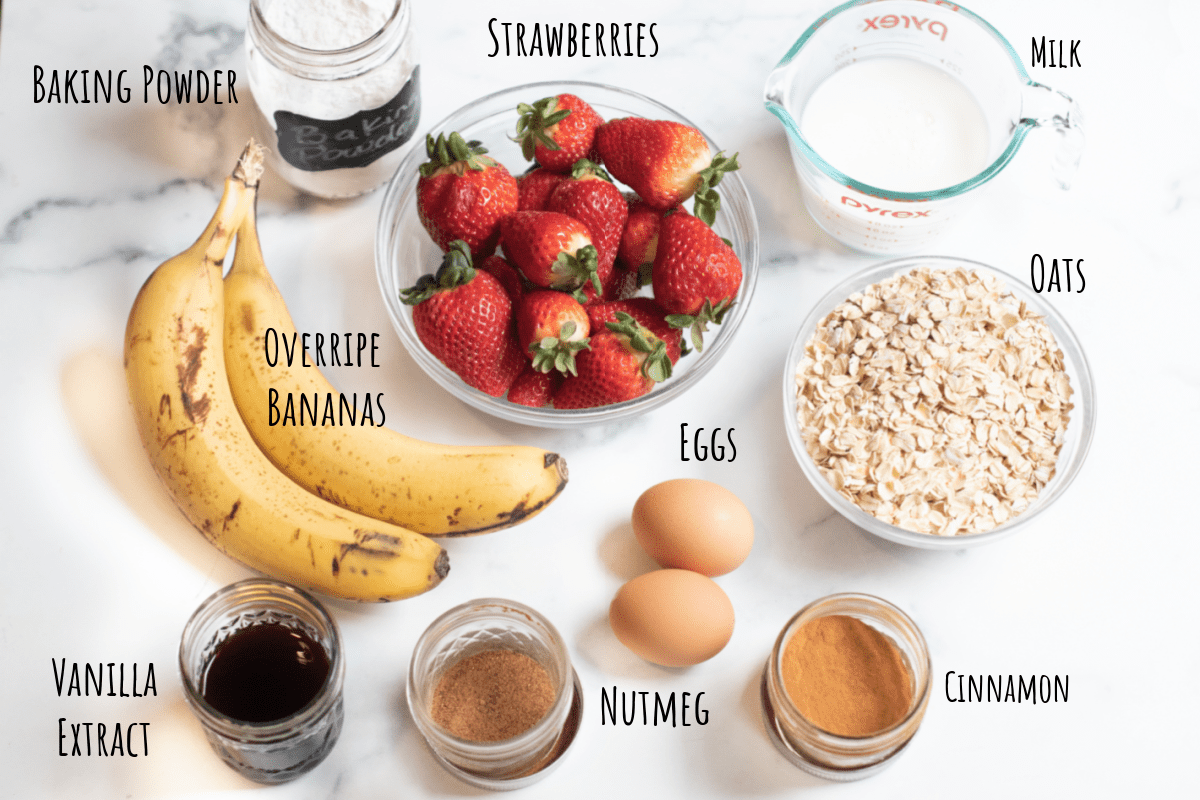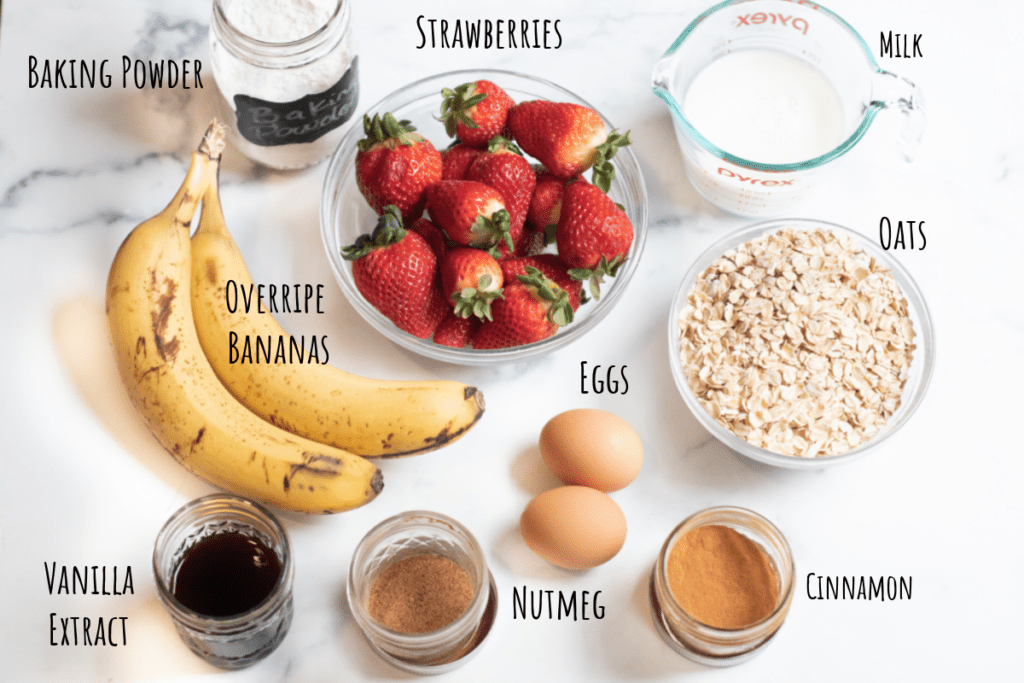 Even better? With a blender or (our favorite) a Vitamix, this gluten-free batter comes together in a breeze!
Oats - We always have old fashioned rolled oats in our house because between oatmel, muffins, and cookies, we use it all of the time. We use the oats whole to make our own oat flour, however, you can totally use store bought oat flour, or really your favorite flour of choice. See Receipe Notes for conversions.
Overripe Bananas - Super important that these bananas are at least a touch overripe and brown because otherwise they won't impart enough sweetness to the pancakes. The browner the better!
Strawberries - Fresh is our preferred, but frozen works great, too!
Milk - 2% is what's always in our fridge, but any kind is fine. Lean on in and use an oat milk.
Eggs - For the necessary added structure (and protein!)
Baking Powder - The levening agent to help these pancakes rise.
Vanilla Extract - Have you made your own, yet? Almond extract is also delicious in this!
Cinnamon and Nutmeg - We sometimes also add a touch of ground ginger, too!
Honey - Optional to add a little more sweetness to the batter.
Salt - Just a pinch!
Step-by-Step Instructions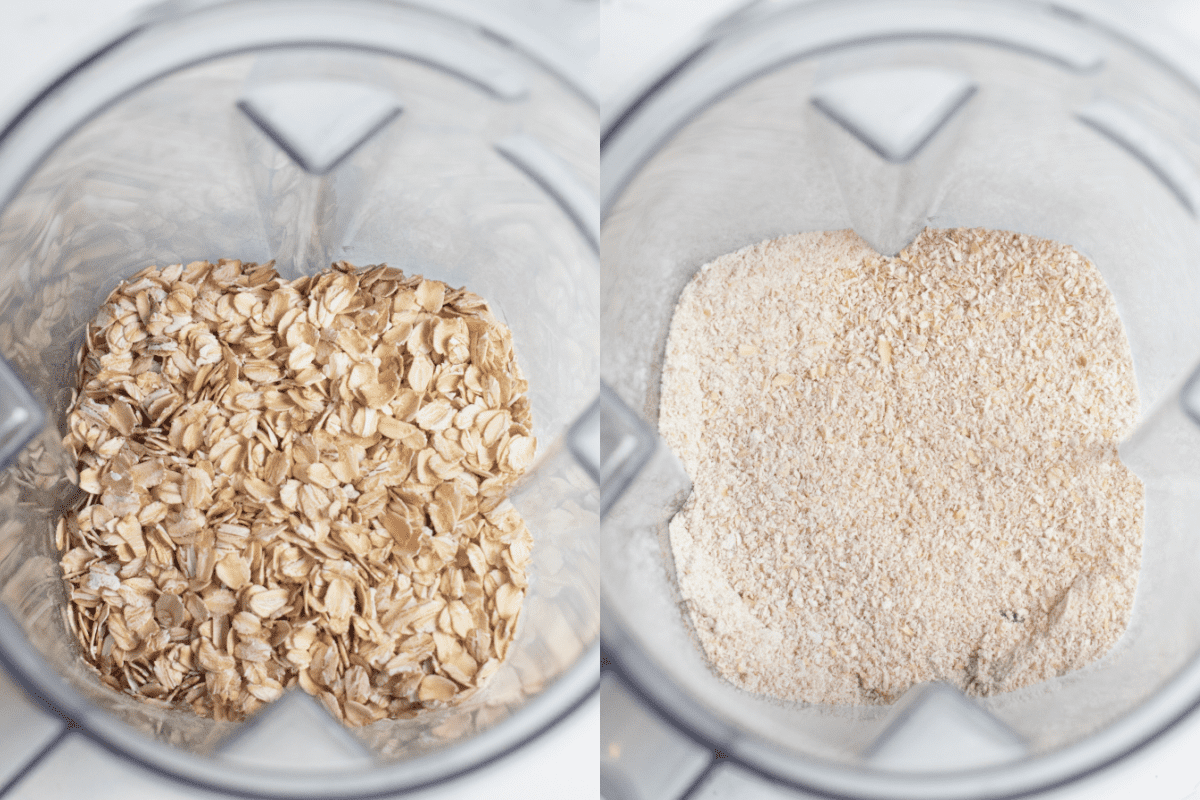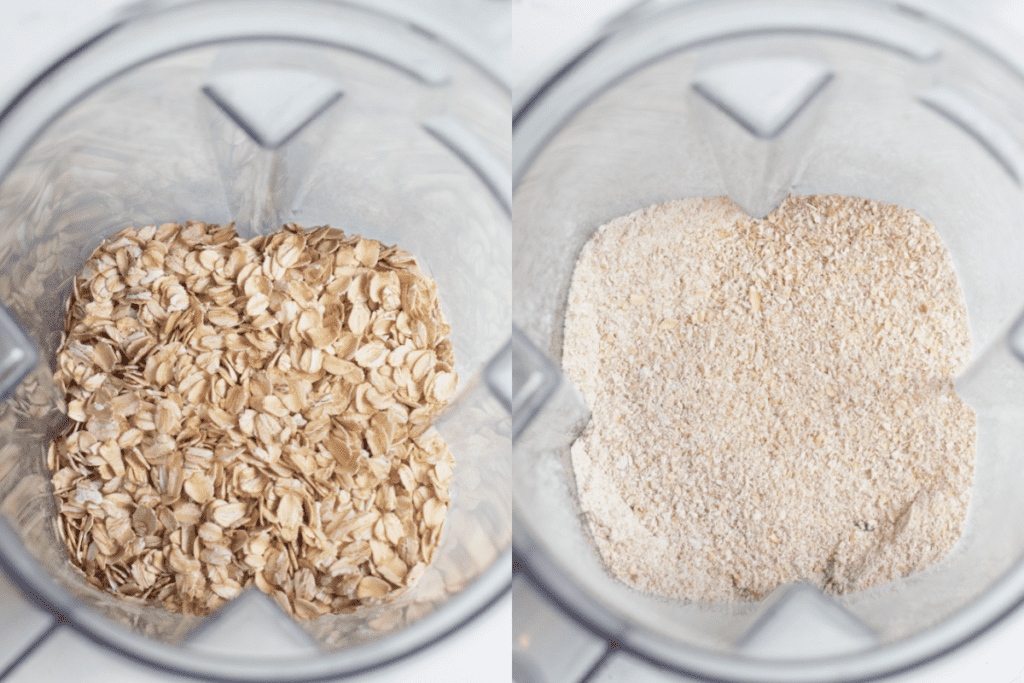 Create Oat Flour
This is of course optional as not all blenders are as powerful as a Vitamix. Plus, if you already have oat flour, then that's even easier and you can just add it straight to your blender. You could also use a food processor to make your flour, but then transfer it to your blender for the rest of the batter.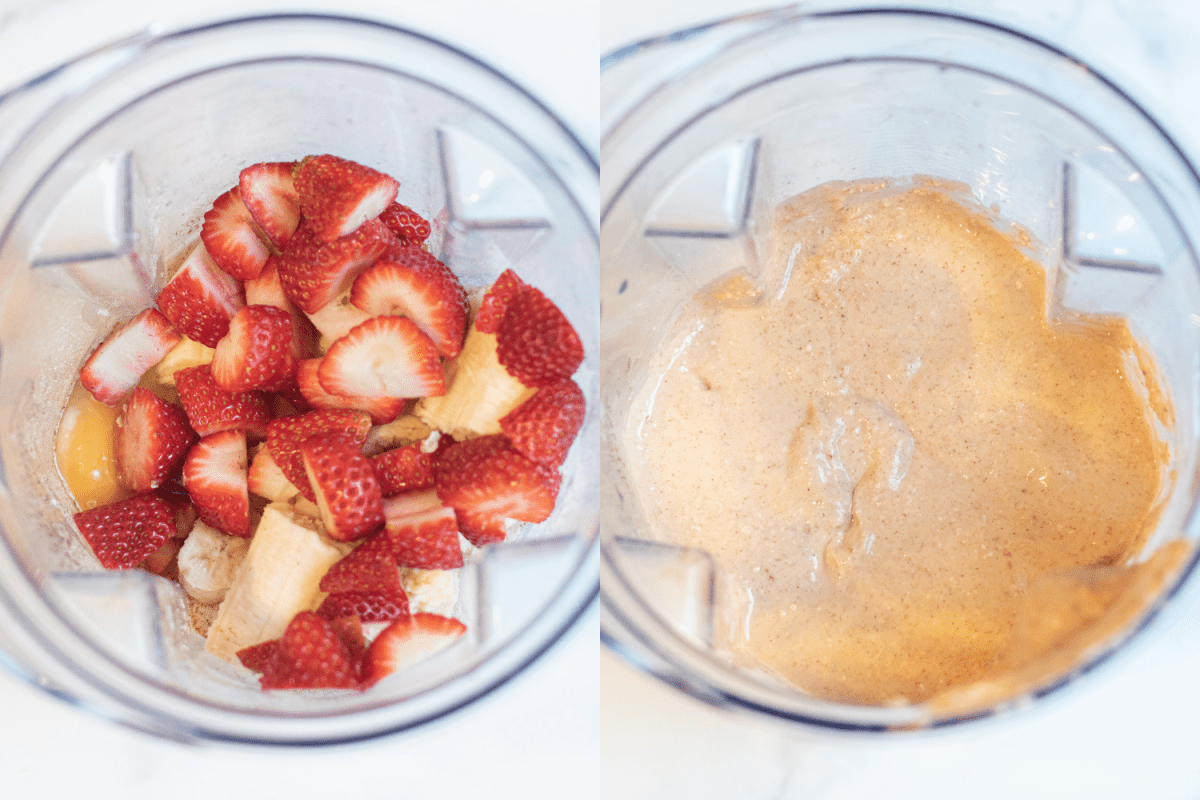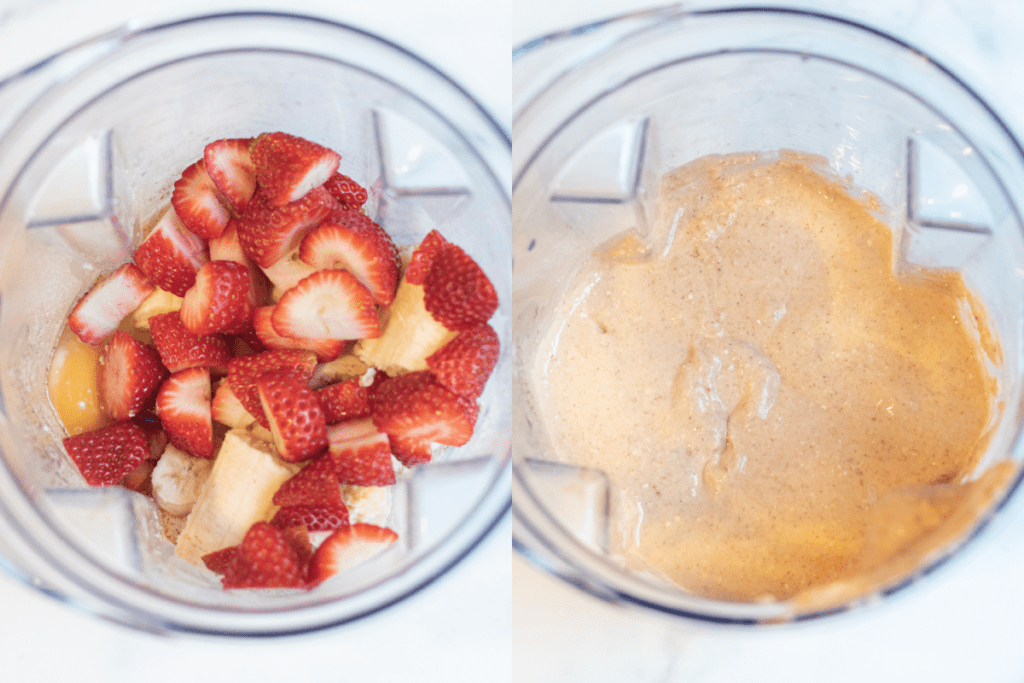 Create the Batter
Then it's just a matter of adding the rest of the ingredients to your blender and blending until a nice smooth pancake batter is formed.
Tip: Dependent upon the strength of your blender, you may want to add a little bit at a time and blend after each addition. With the workhorse that is the Vitamix, you can just add it all in at once and go.
Let the batter REST.
Rest? YES. Trust me on this, and it only needs about 10 minutes, but by giving that batter some times, it'll allow the oat flour to hydrate, fully mix, and ultimately will make for a better batter.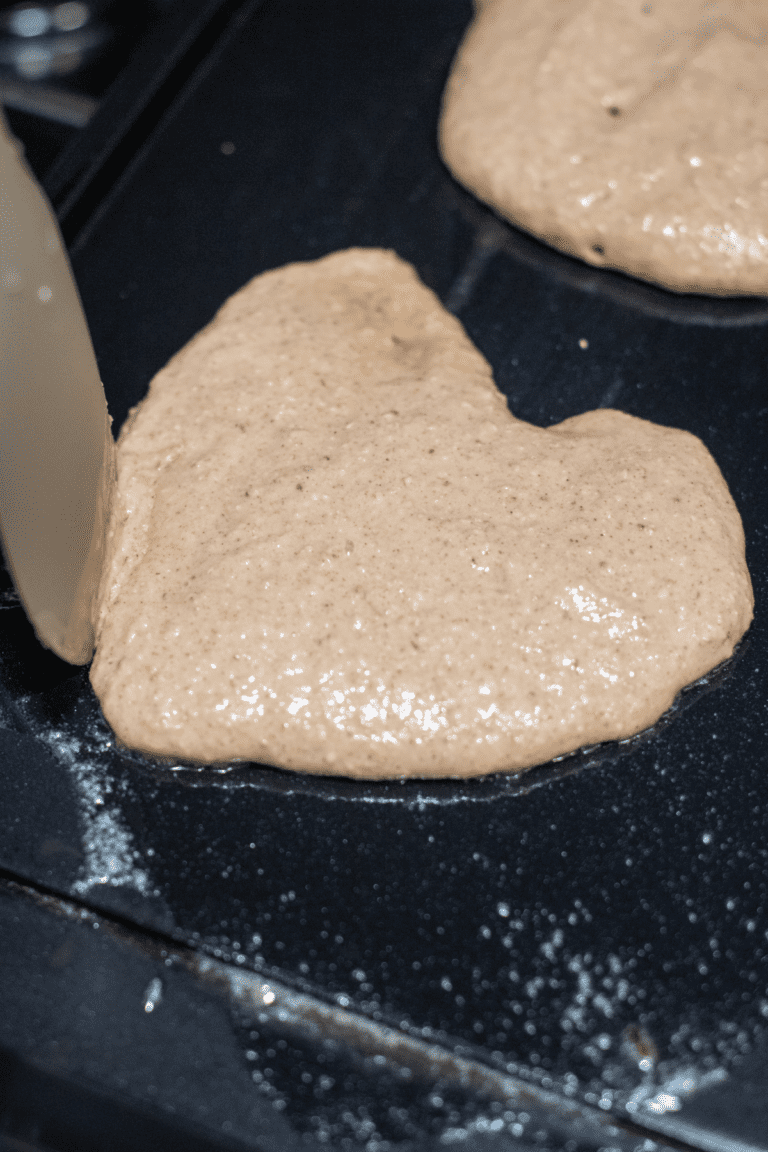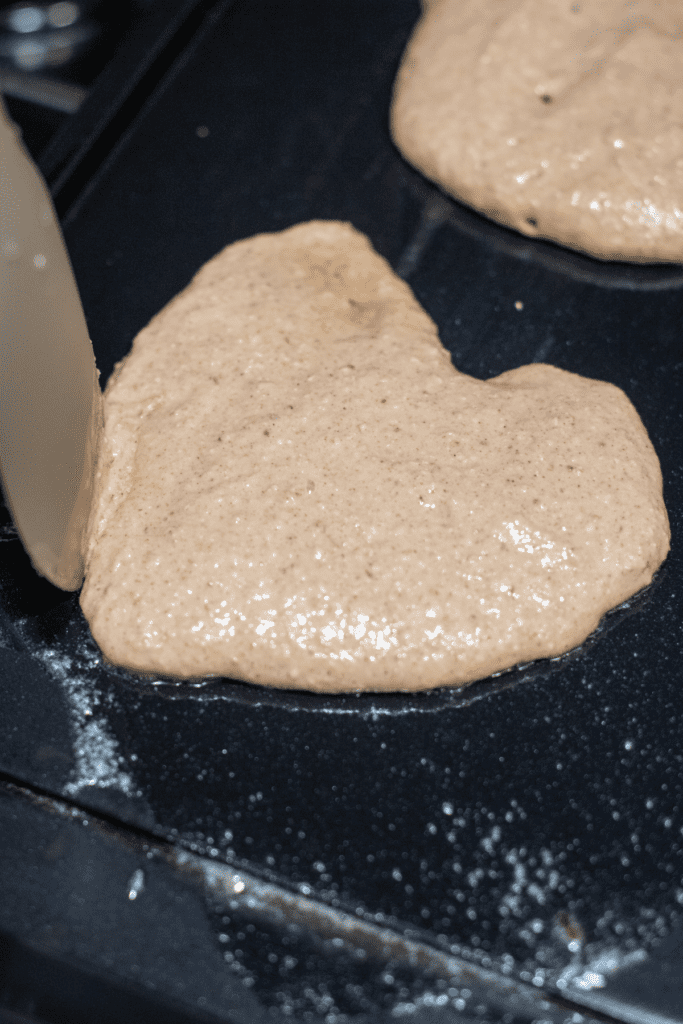 Cook
Grease your griddle top or favorite pancake makin' pan and then you're ready to shape out your little Healthy Banana and Strawberry Oat Pancakes!
For the month of February, pancakes in our house are always in a Heart Shape but of course, you can create more traditional pancake rounds, too! Whatever your little heart desires.
Shaping Heart Pancake Tips
If you do want to go full Valentine's Day, then here are some of our pancake shaping tips!
Add your batter in the general shape you want. If you go into the batter pouring expecting a perfect shape straight onto the griddle, then you're just most likely setting yourself up to be disappointed - unless you're just a master artist. When you first add the batter, just try to get it in the general shape that you want. For a heart, add one circle and then a little bit to each top corner, for the top parts of the heart.
Use a rubber spatula to shape. Once you have your rough shape, then you can use a rubber spatula to help shape those edges a little bit. Use it to smooth the edges or spread a little more batter into the top parts of the heart, or use it to create the V in the top center of the heart shape.
Clean the spatula frequently. Keep a plate or a paper towel handy to be able to wipe that spatula clean after each shaping. This will help keep those edges clean as you're using the spatula in different areas of the pancake.
Don't worry if they're not perfect! If my kids can at least see the general shape of the heart, they get excited. As with most things, it's the thought that counts!
Use a "Pancake Pen." If you're lucky enough to have one of these cool gadgets (or want to get one), then you can really go crazy with your shapes!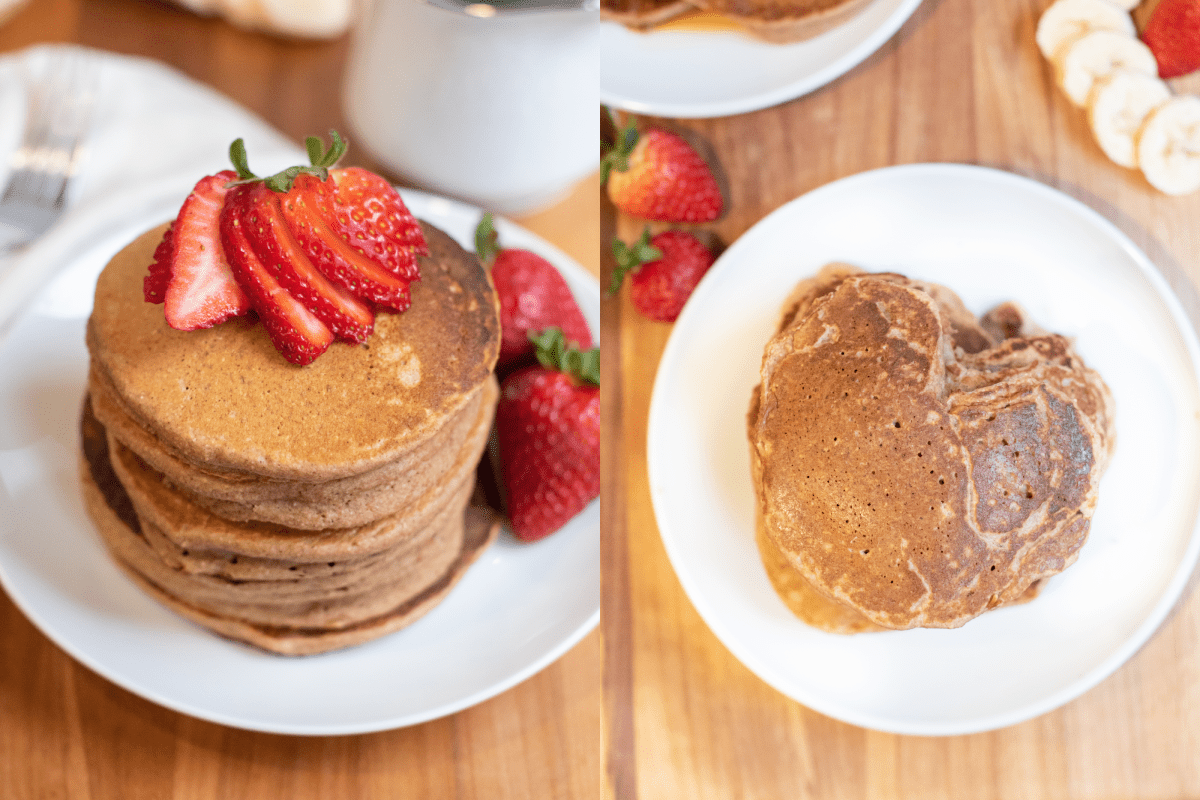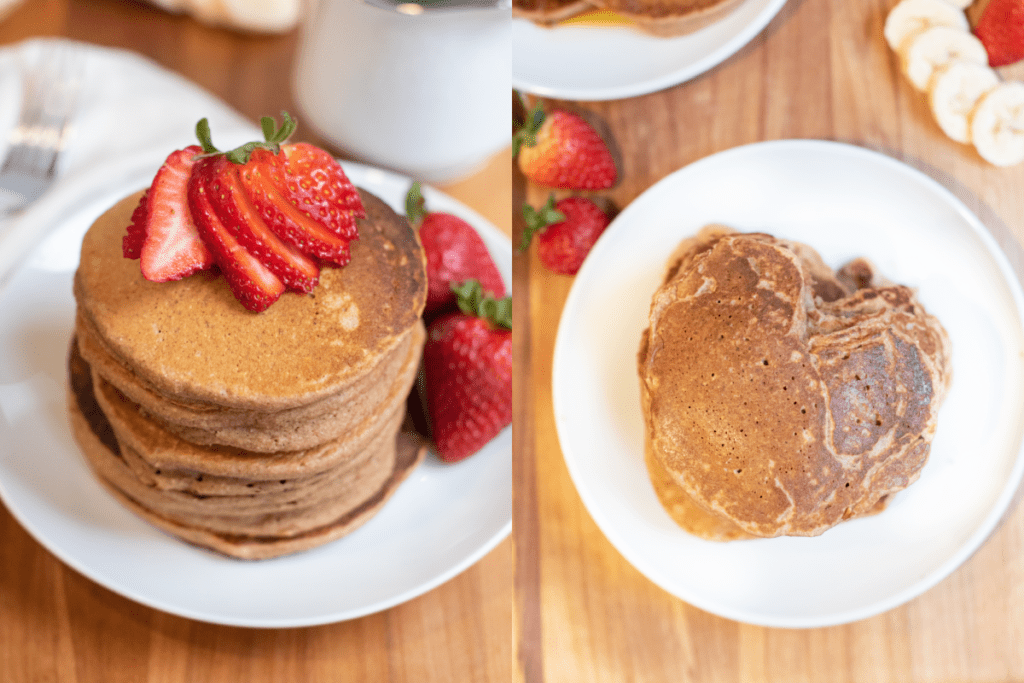 No matter the shape, round, or heart, these banana, and strawberry packed pancakes sure are tasty, and ready for your toppings of choice!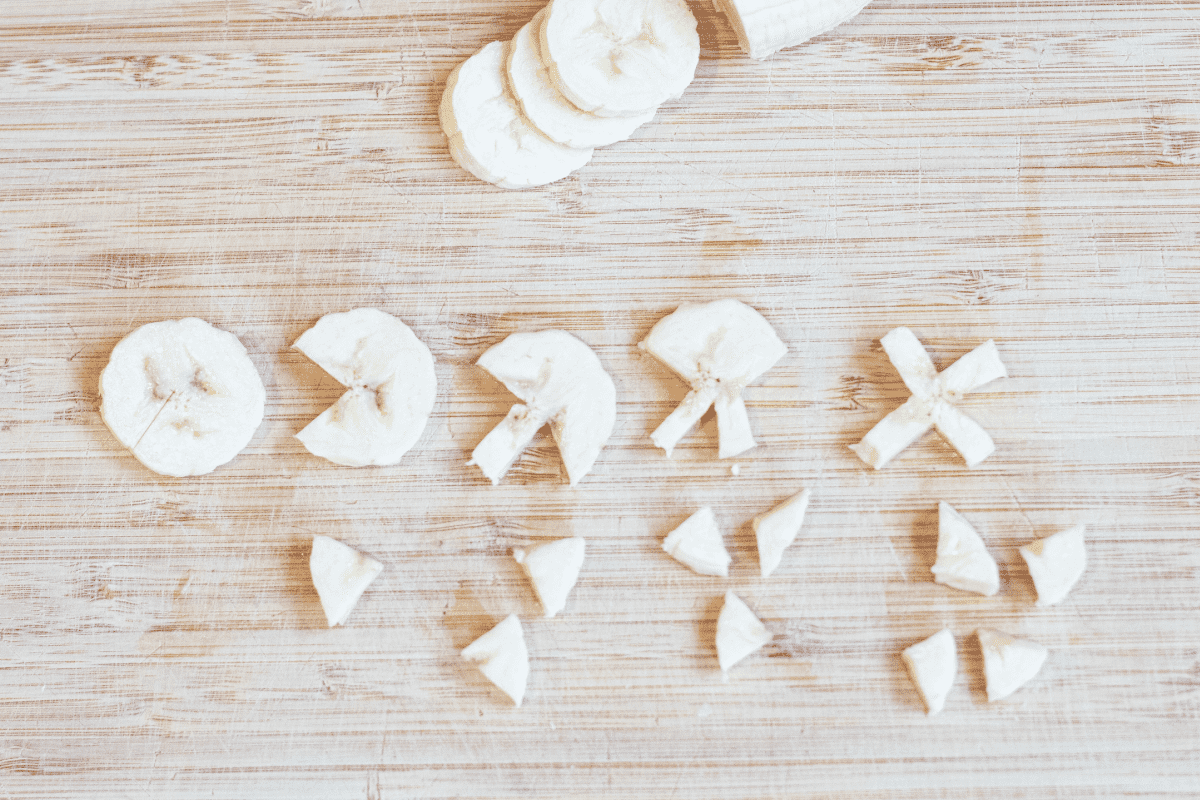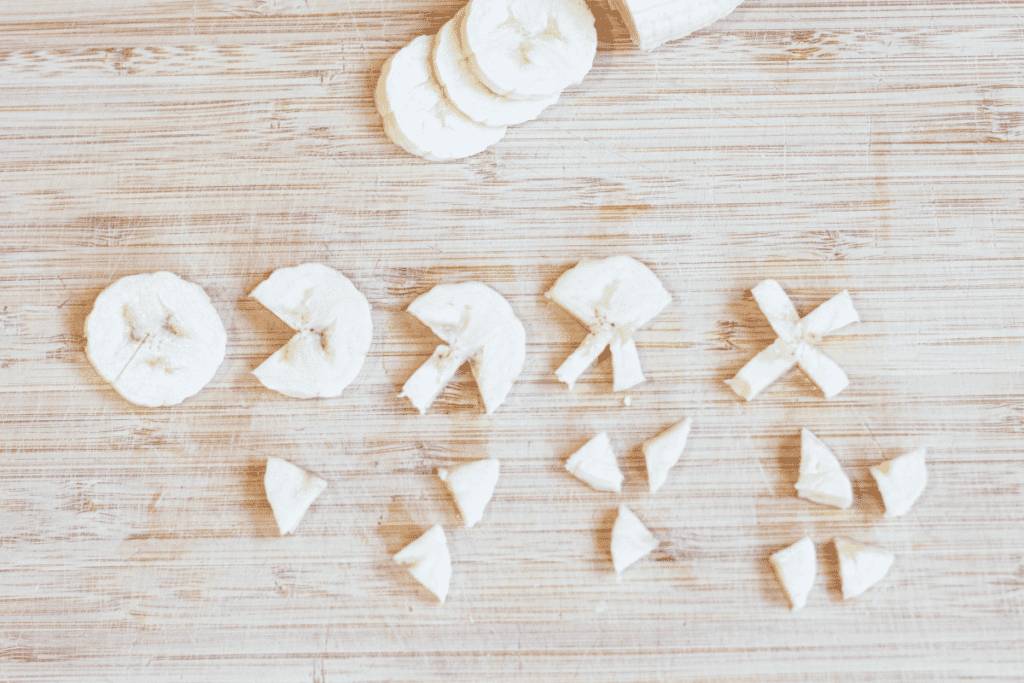 What do some Valentine's Day healthy oat pancakes need? Some Xs and Os of course! Super easy to do and it made the girls giggle.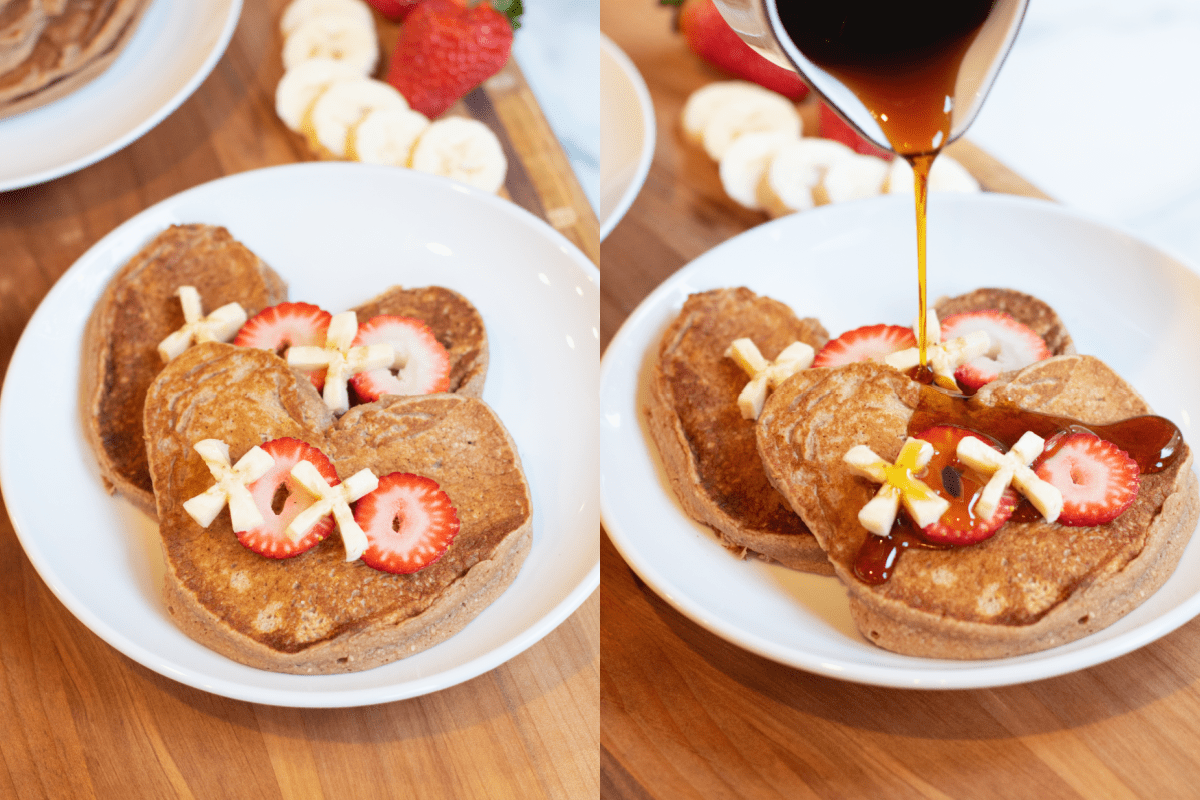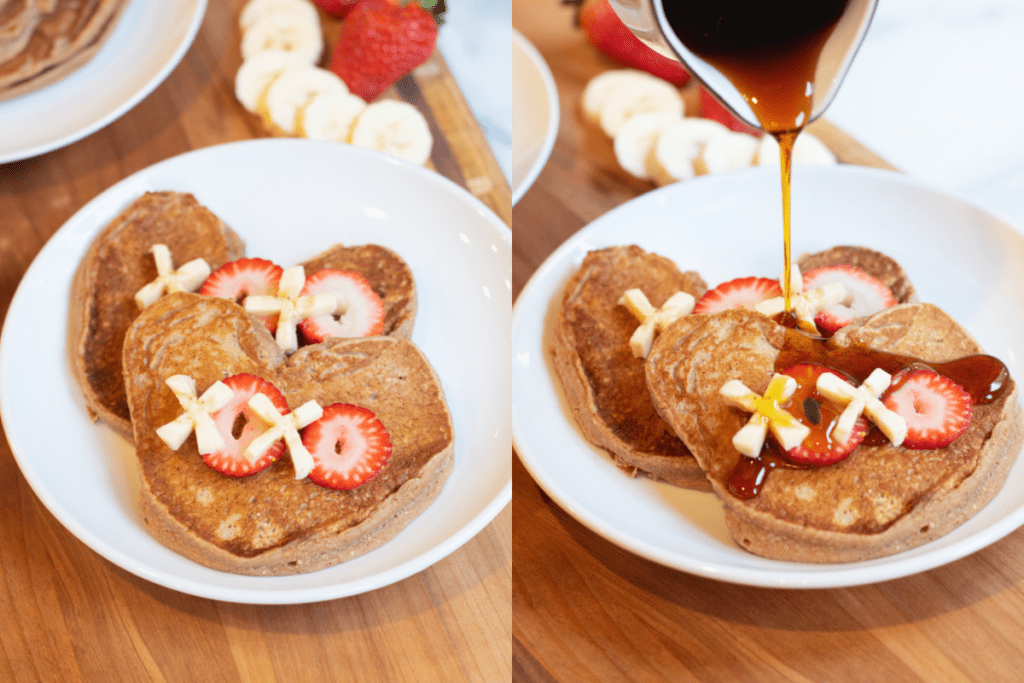 A strawberry pancake with banana and strawberry AND strawberries on top for natural sweetness and fresh fruit flavor, perfect with some real NH maple syrup.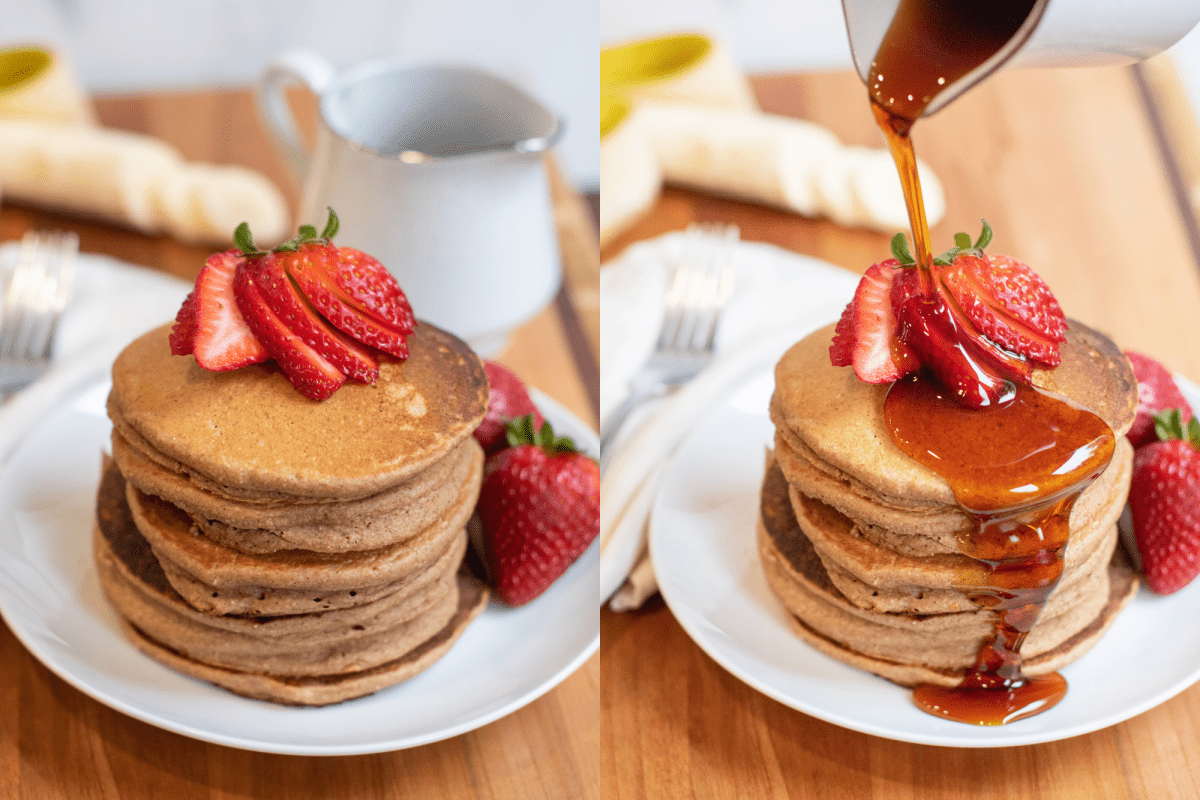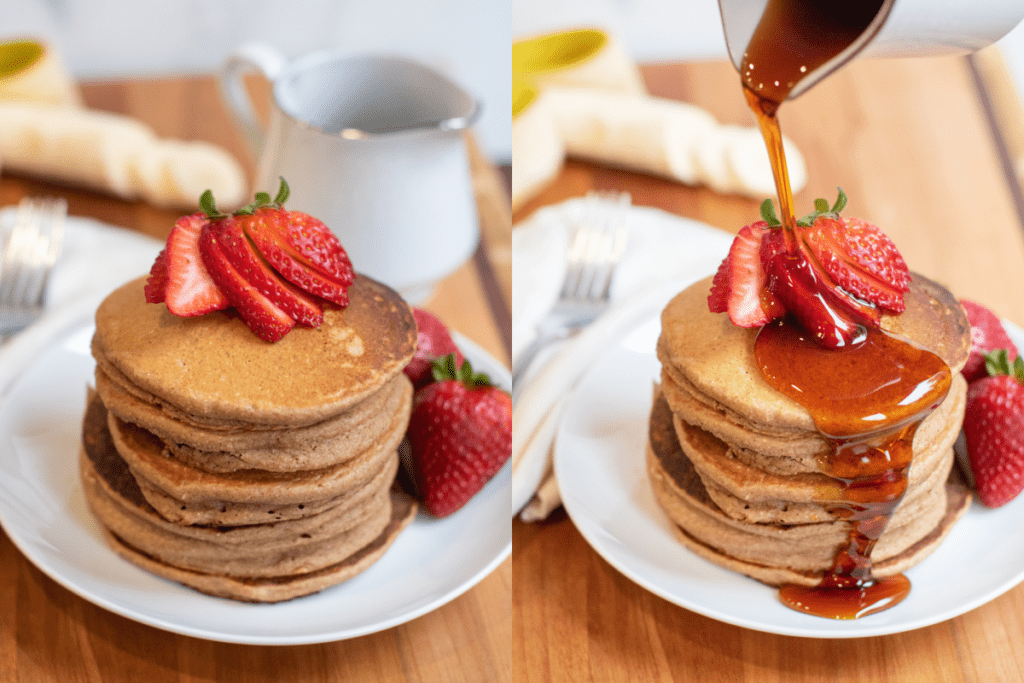 No interest in trying to mess with some heart shapes or cut out bananas? I get it. Trust me, these pancakes are just as tasty round, too!
Top Them With
With the healthy oat base, that totally means you should go nuts with the toppings! Here are some of our favorites:
Whipped Cream
Pecans
Walnuts
More fruit!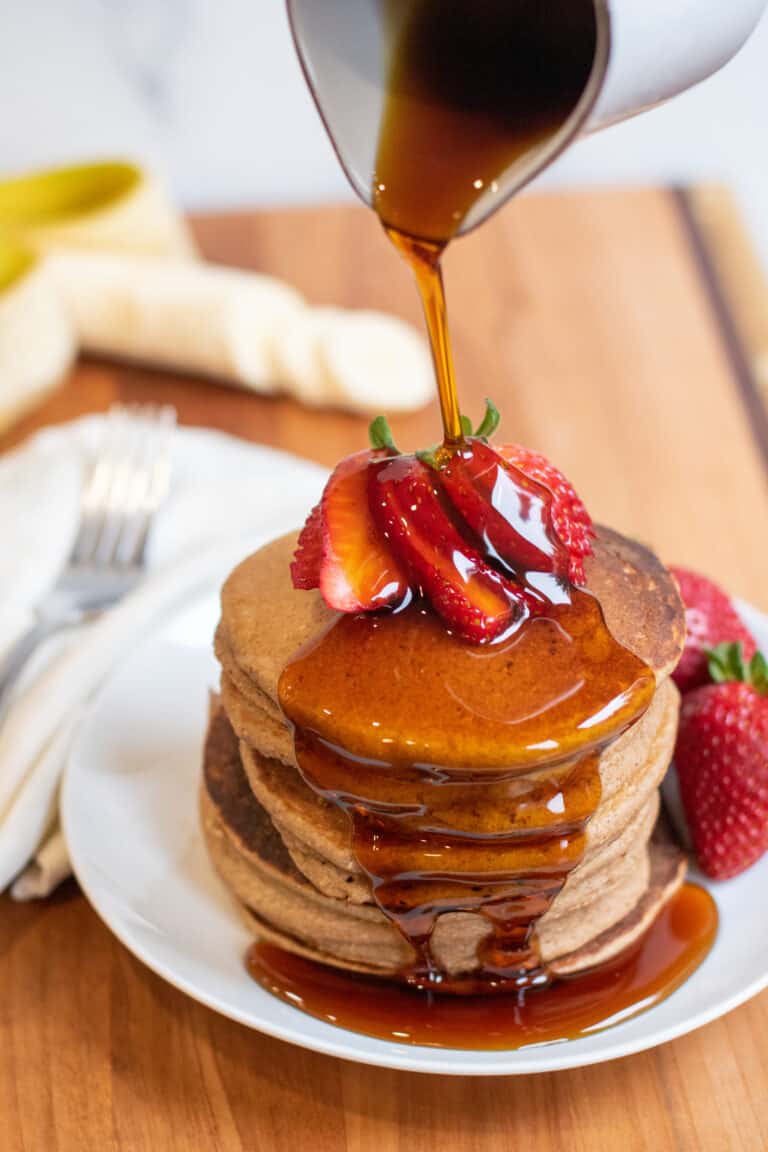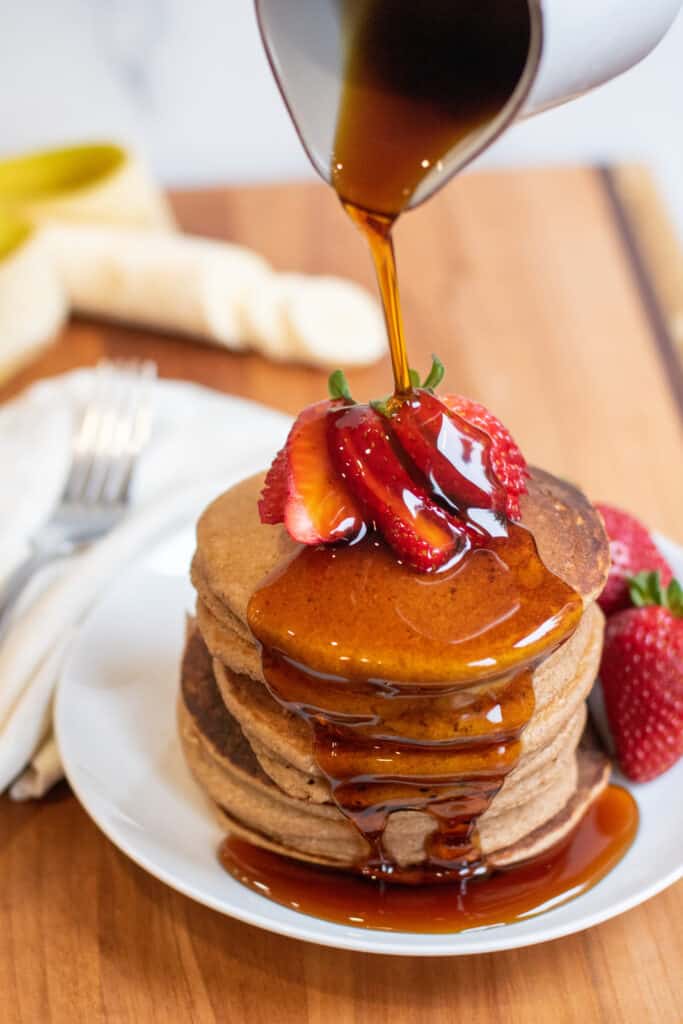 Super Healthy Banana and Strawberry Oat Pancakes! Because really, is there anything better than a big ol' stack of pancakes? Only pancakes that are also healthy and packed full of balanced nutrition!
Recipe Tips
I want to make these, but my bananas aren't overripe.
You really need the added sweetness that the overripe bananas have, so try to make sure you're using those sweet brown bananas. You can quickly brown some bananas by adding them to a brown paper bag or a perforated plastic bag. That should speed up the browning process.
What kind of oats do I use?
Whatever you have will make oat flour: large rolled, steel-cut, instant, flaked. Any will make great oat flour - just check the label if these pancakes need to be gluten-free. Also, if using a different kind of oat other than whole, be sure to measure it out by weight, not by volume (cups). This is a great kitchen scale for that.
Can I use another flour?
Yes, although keep in mind that oat flour is much lighter than other flours. So in order to get a correct conversion, it's important to convert by weight and not by volume (cups). A kitchen scale is your friend!
My pancakes aren't "bubbling."
Because this pancake batter is made up of much more fruit than your standard pancake batter, you're not going to get the same "bubbling." You may see a couple of bubbles, but not what you would normally see. To ensure that these pancakes are cooked through, you'll need to cook each side at least 3 minutes and you may need to turn your heat down a little to prevent them from burning. See recipe notes.
Can I use frozen strawberries?
Yes! And if you have a more powerful blender, just toss 'em in frozen. They will add a touch more moisture to your batter though so we recommend reducing your milk by 2 tablespoons.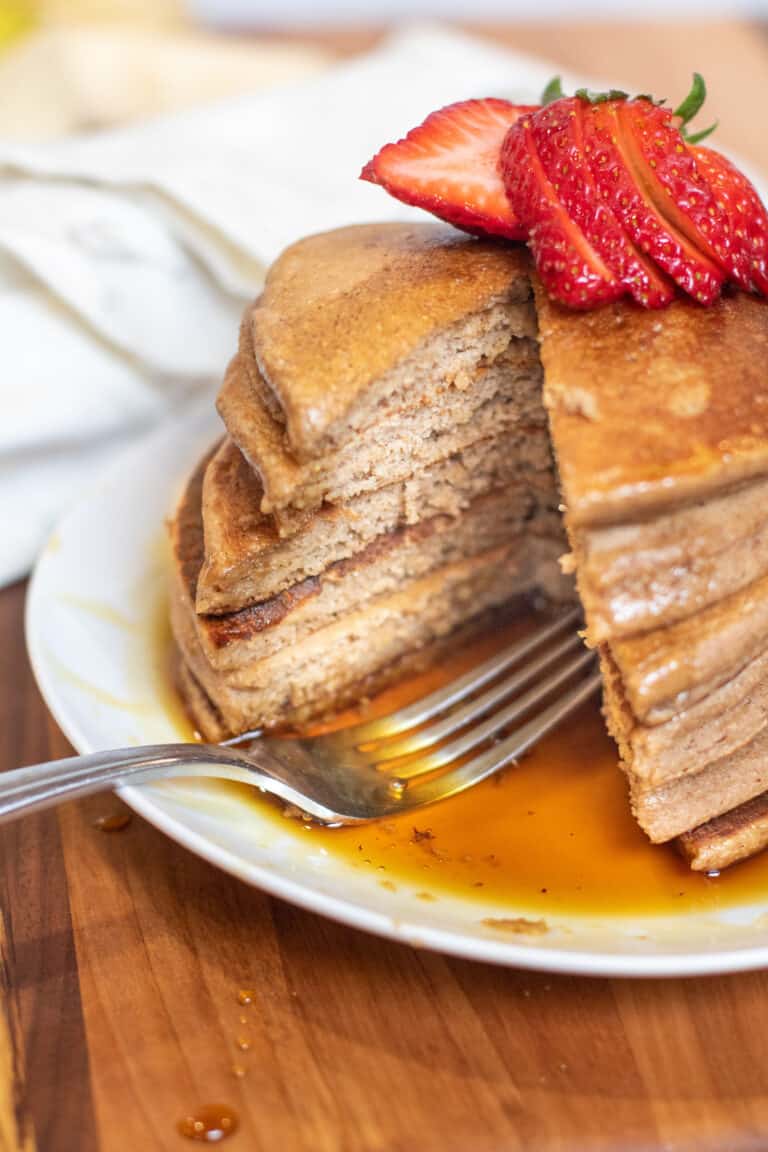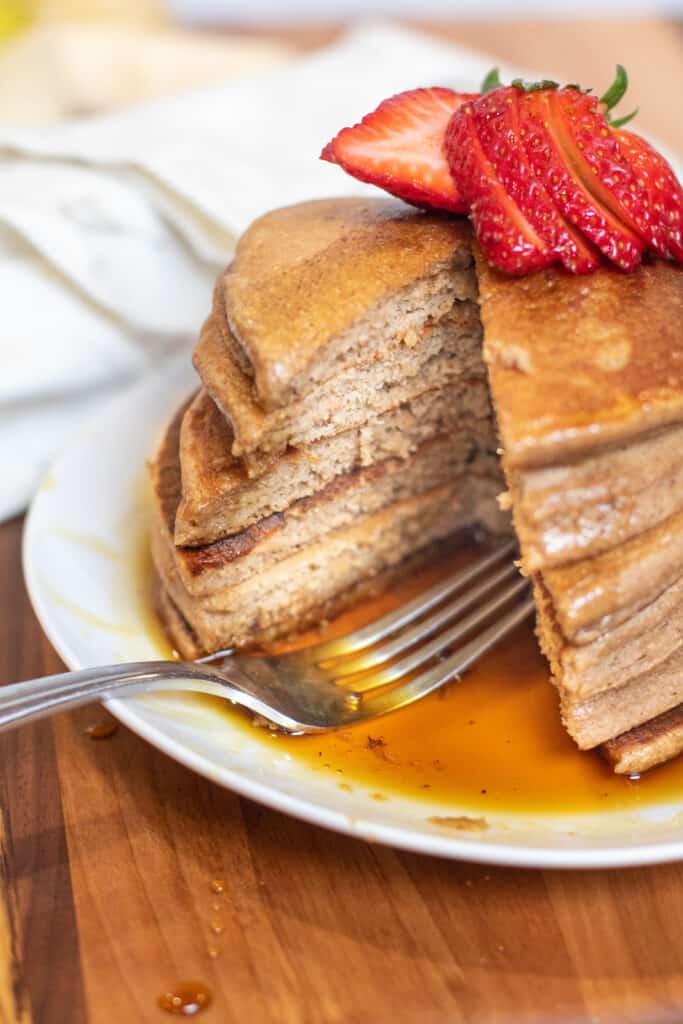 Enjoy! As always, if you make this recipe or any of my others, I love to hear what you think! Leave a comment below, email me, or you can find me on Facebook, Instagram, and Pinterest!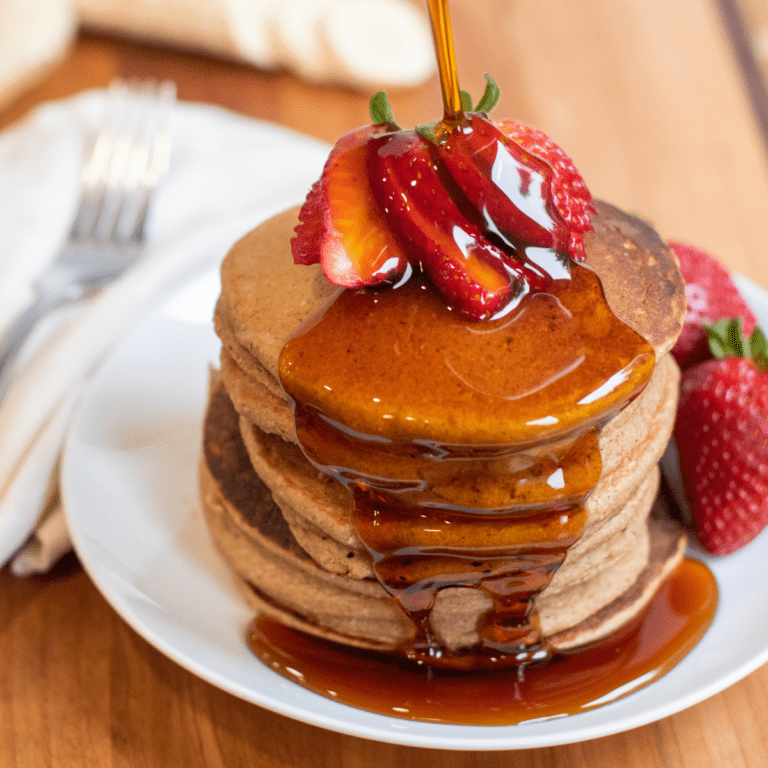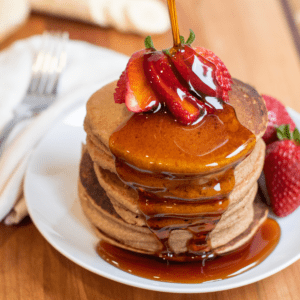 Healthy Banana and Strawberry Oat Pancakes
Gluten free, healthy, naturally sweetened pancakes!
Print
Pin
Rate
Ingredients
3

cups

whole oats

gluten-free, 275 grams

2 1/2

teaspoons

baking powder

11 g

2

teaspoons

ground cinnamon

7 g

1/4

teaspoon

nutmeg

2

overripe bananas

about 1 cup mashed

1/2

lb

strawberries

3/4

cup

milk

2

eggs

1

teaspoon

vanilla extract

1/4

teaspoon

kosher salt

1-2

tablespoon

honey

optional for a touch more added sweetness
Instructions
In a blender, add oats and blend or pulse until a flour forms.

Add baking soda, cinnamon, nutmeg, and salt and give a quick blend to mix.

Add bananas, strawberries, milk, eggs, vanilla extract, and honey (if using) and blend until a creamy batter forms.

Remove batter from blender and add to a large bowl. Let it rest for about 10 minutes. This recipe will produce about just under 4 cups of batter.

Meanwhile, heat and grease with butter a large flat saute pan or griddle over medium heat.

Use a 1/3 cup measuring cup to ladle batter for pancakes to hot griddle in whatever shape you'd like. See recipe notes for shaping tips.

Lower temp to just under medium, and cook for 3 minutes, check to see if the bottom is lightly browned, and then flip. Note: these pancakes will not bubble as much as a traditional pancake batter. Flip and then cook for another 3 minutes. If they're browning too quickly before the 3 minutes is up, lower temp to medium low. Repeat with the remaining batter.

Plate and serve with your favorite toppings!
Notes
Nutritional value is for approximately 1 pancake.
Storage
Fridge: Store in an airtight container in the fridge for up to 2 - 3 days.
Freezer: Place cooked and cooled pancakes on a baking sheet in a single layer. Flash freeze for 30 minutes, and then add to a freezer-safe bag or container and freeze for up to 3 months.

No time to flash freeze

? Add cooled pancakes to a freezer-safe container and separate each with a piece of parchment paper.
Substitutions
Oats: Use your favorite pre-made oat flour. 2 cups of whole oats equals approximately 168 grams. This will make 168 grams of flour or 1 1/2 cups of flour.

If using a different kind of oat, be sure to measure out the oats to make into flour by weight NOT by volume (cups)

.
Flour: Substitute another flour by using equivalent weight - not volume (cups). because oat flour is a lot lighter than all-purpose or whole wheat.
Strawberries: You can use frozen, but if you do, reduce the milk volume by 2 tablespoons due to the added moisture the frozen strawberries will add. You can add directly to a high-powered blender and blend, or let defrost first.
Vanilla Extract: Almond is delicious too - it highlights the nutty flavor of the oat flour!
Honey: Add additional sweetness to the batter with honey or maple syrup, although we just prefer to finish the pancakes with sweetness.
Heart Shaping Tips
Use a measuring cup and first add a dollop in a circle to the pan and then add two smaller dollops to the top corner of the circle for a rough heart shape. Use a rubber spatula to shape and smooth the edges of the heart. Clean the spatula after every use so that you're shaping with a clean spatula. Or, use a pancake pen.
Nutrition
Calories:
147
kcal
|
Carbohydrates:
25
g
|
Protein:
5
g
|
Fat:
3
g
|
Saturated Fat:
1
g
|
Polyunsaturated Fat:
1
g
|
Monounsaturated Fat:
1
g
|
Trans Fat:
1
g
|
Cholesterol:
35
mg
|
Sodium:
187
mg
|
Potassium:
246
mg
|
Fiber:
4
g
|
Sugar:
5
g
|
Vitamin A:
96
IU
|
Vitamin C:
15
mg
|
Calcium:
106
mg
|
Iron:
1
mg