Bring on all of the holiday cookies! These easy, five Ingredient, no-bake Christmas Wreath Cookies are the perfect addition to your holiday cookie plate!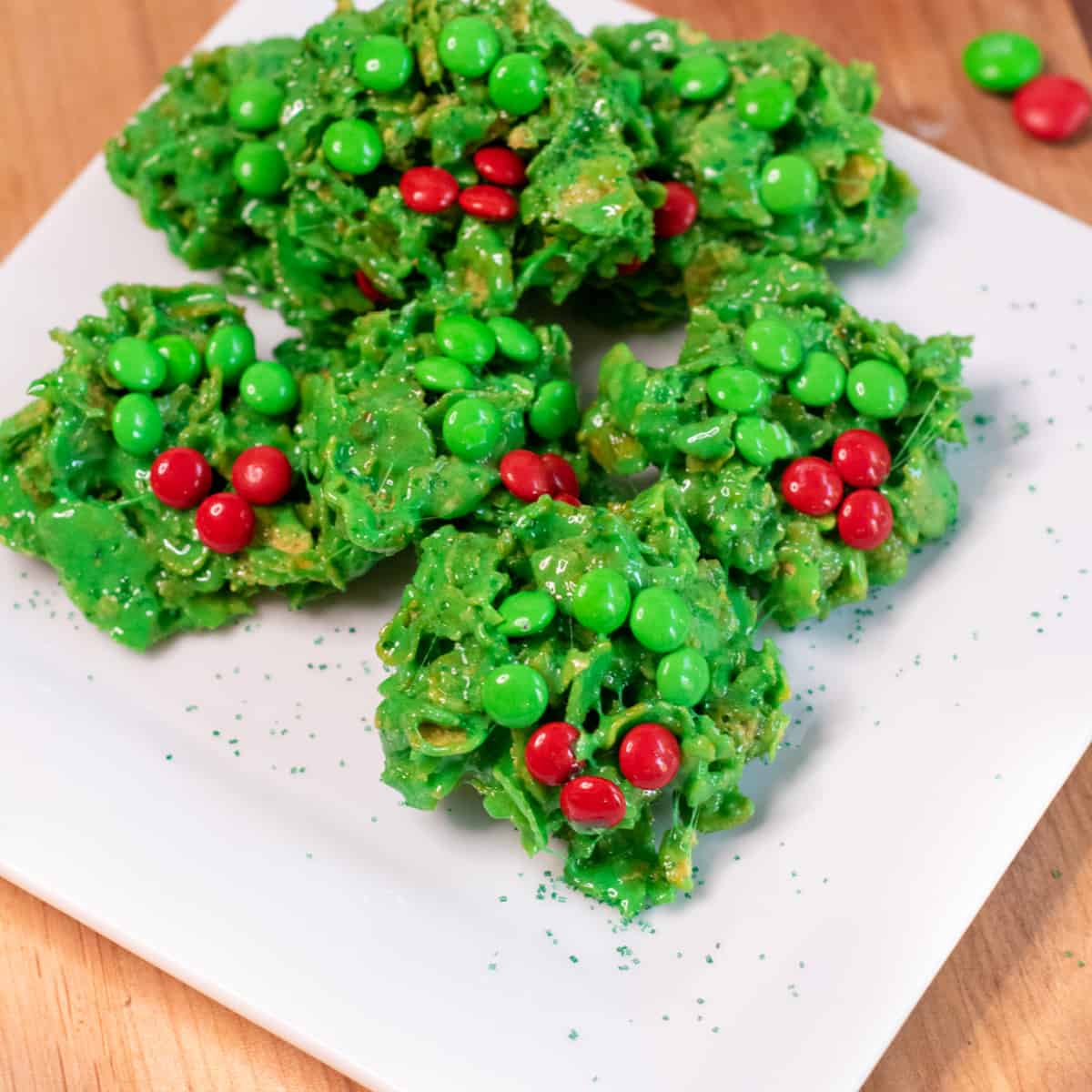 Happy December, AKA Christmas Cookie Season, friends! Here's a nostalgic Christmas cookie for you, our No Bake Christmas Wreath Cookies! Made with just a few simple ingredients and a little bit of time, these festive little cookies will add some holiday cheer to any Christmas cookie tray!
Ingredients Needed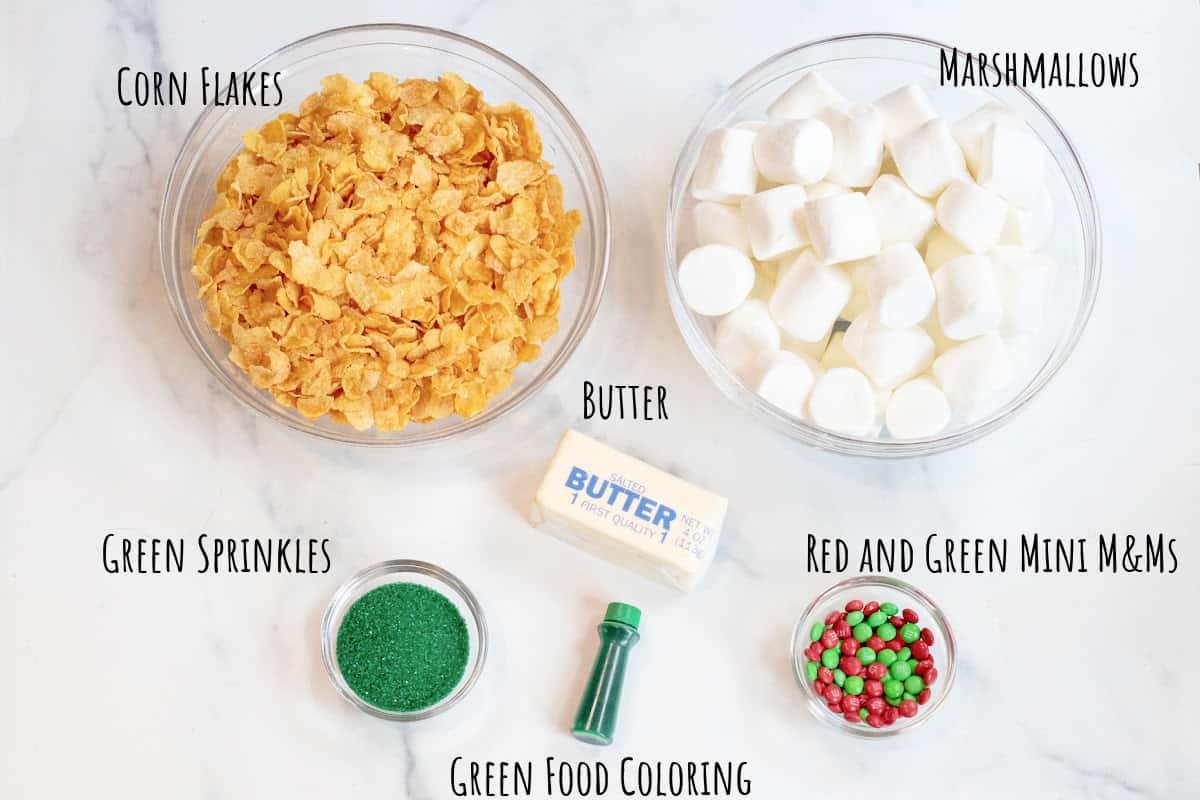 Corn Flakes - Use the classic Corn Flakes or you could even use a healthier bran flakes cereal, too.
Marshmallows - A whole lot of 'em, a full 10 oz bag, which is about 35-40 marshmallows.
Butter - This is what helps bind it all together.
Green Food Coloring - Crucial for getting that nice rich green Christmas wreath color!
Sprinkles and mini M&Ms - To decorate the wreaths! Growing up we also used to use little red hots, but I prefer mini M&Ms, now.
Easy to Make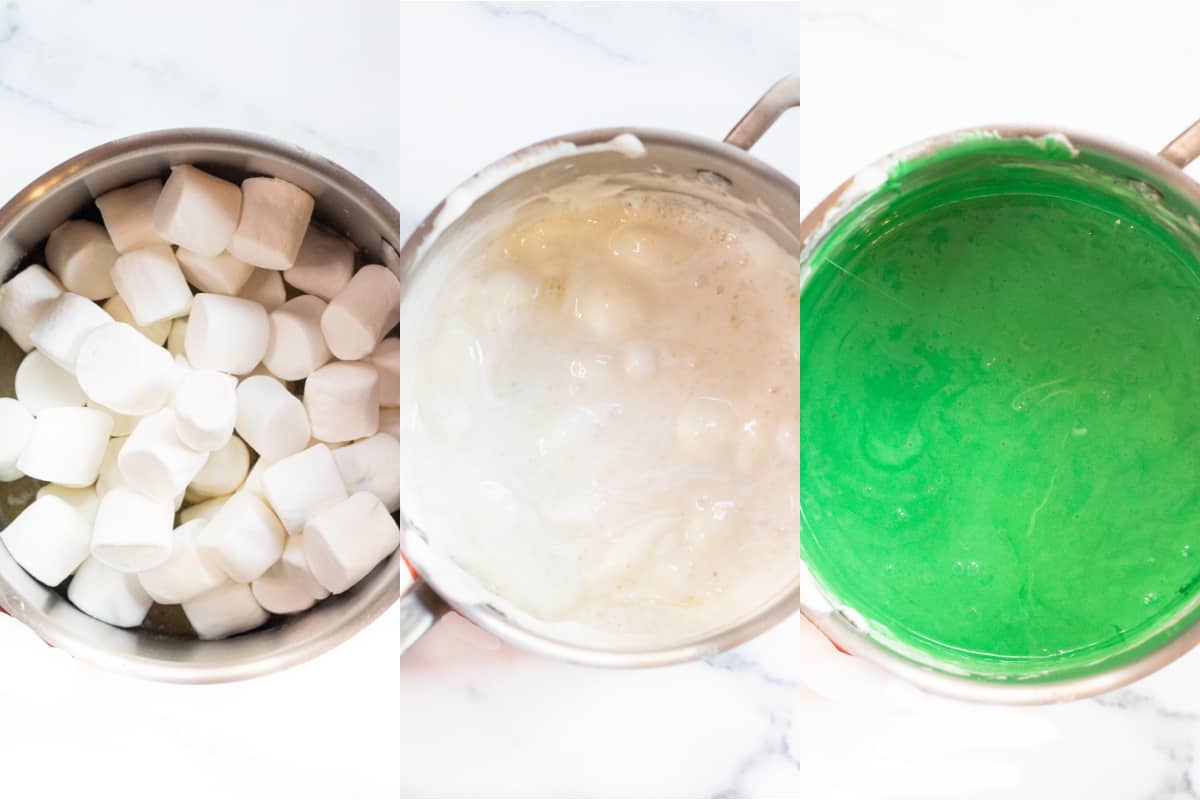 Melt the Marshmallows and Butter
Create your sticky green binder by just melting the butter and marshmallows together and then adding the green food coloring.
The amount of food coloring you will need is dependent upon how deep of a green you want. We used about 10-15 drops.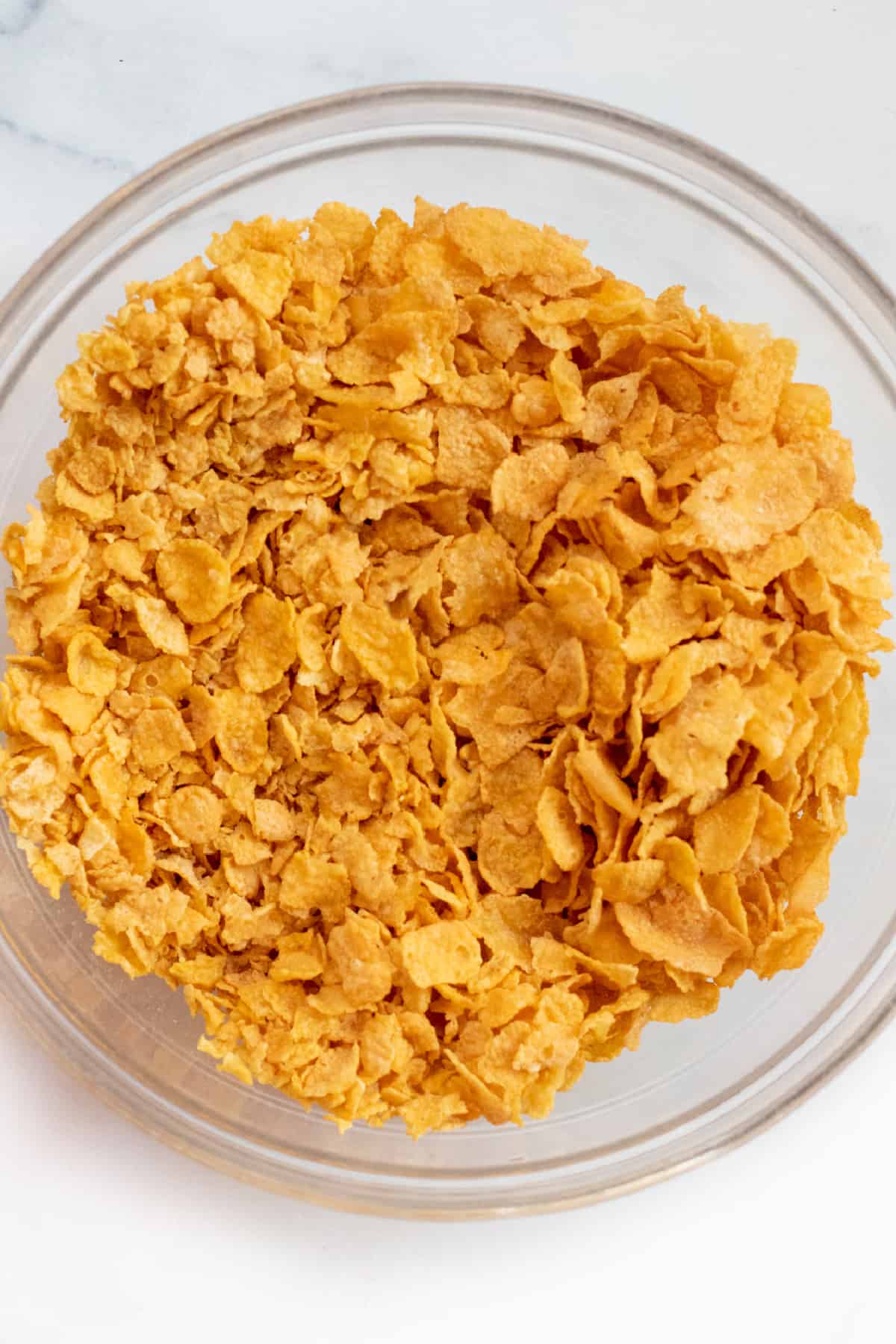 Prep the Corn Flakes
For these little No Bake Christmas Wreath Cookies, I like to crush about half of the corn flakes and leave the other half whole to allow better mixing of the sticky marshmallow and shaping.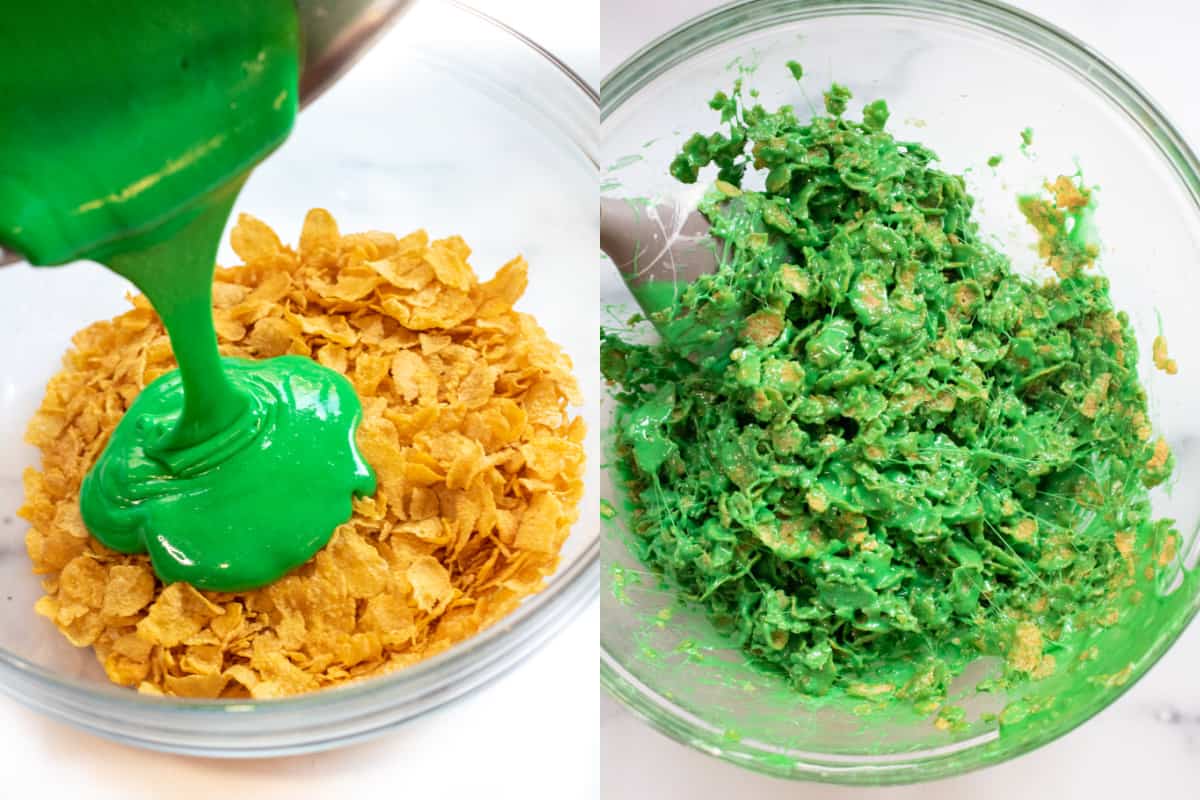 Mix!
Once ready, add that sticky sticky butter marshmallow mixture with your cornflakes and give a good mix so they're all nice and greenly coated.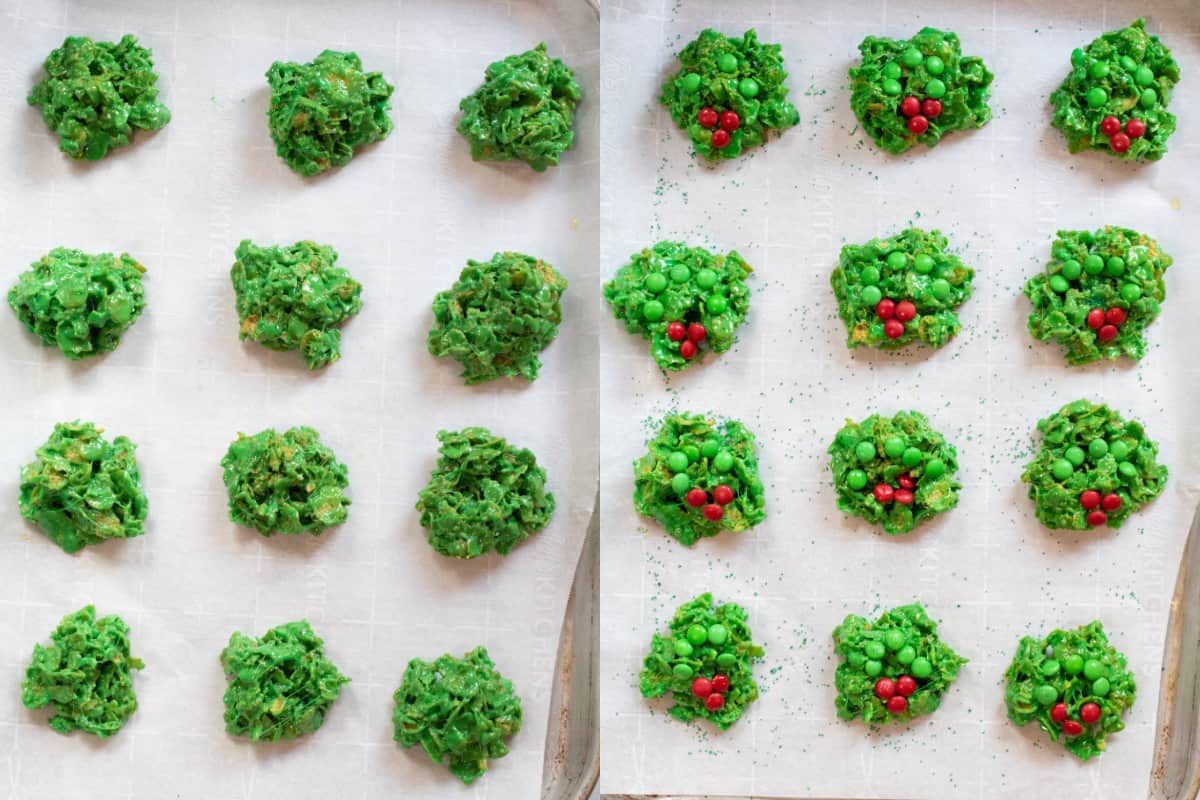 Shape and Decorate
On a parchment paper-lined baking sheet, scoop out small rounds of your sticky corn flakes and add your decorative touches! A little touch of green sprinkles (because anything with sprinkles is immediately 1000% more fun to my kids) and some green and red mini M&Ms.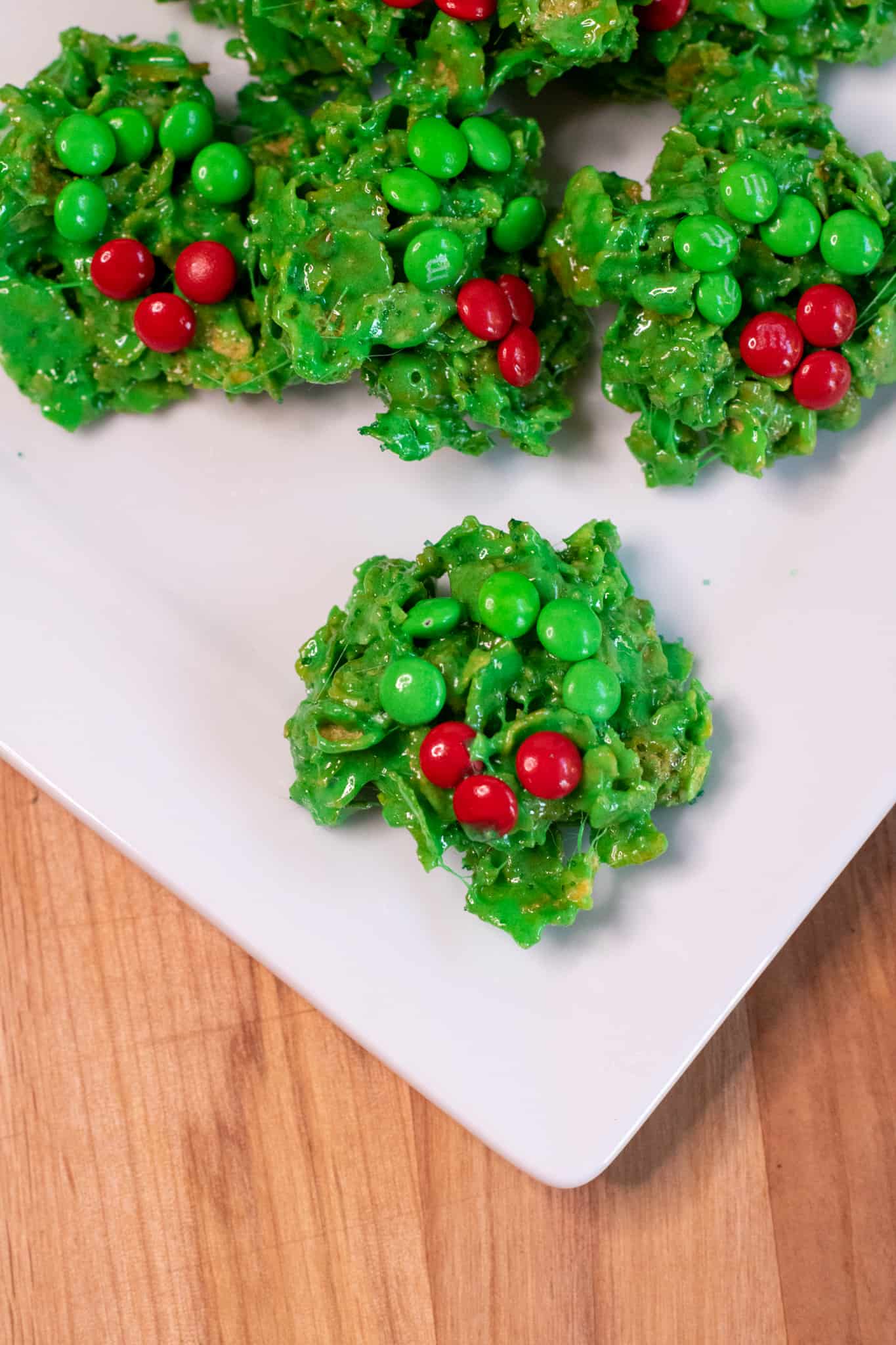 Let them set to cool (or pop 'em in the fridge) and your little No Bake Christmas Wreath Cookies are ready to go!
Pro Tips
Use Oil / Cooking Spray
These little cookies are super super sticky. Use a little bit of oil or cooking spray to make shaping easier by spraying your spoon or fingers to handle the sticky corn flakes when shaping and adding to your parchment paper. We love our little misto for this!
Add the M&Ms Quickly
Be sure to utilize the stickiness before it sets and add those mini M&Ms quickly. This makes these cookies fun to make with kids as you can scoop out the sticky cornflakes and the kiddos can then decorate them!
Keep the "Dough" Warm
Because as the marshmallows begin to cool it will all become less pliable, you can help keep it all warm by setting your bowl over a pot of hot water. This will help keep the marshmallows sticky for easier shaping.
Storage Tip
Store these little cookies in an airtight container on the counter for 3-4 days or longer in the fridge and freezer. Give the container you're going to be storing them in a little spray with oil to prevent sticking and then separate cookie layers with parchment paper to prevent them from sticking together.
Make Ahead and Freeze
These cookies freeze well for about 2 months. Great to make in advance to cut down on the holiday baking. Wrap the individual wreaths in plastic wrap and store them in a freezer-safe container. Just be sure to let them come to room temperature before serving.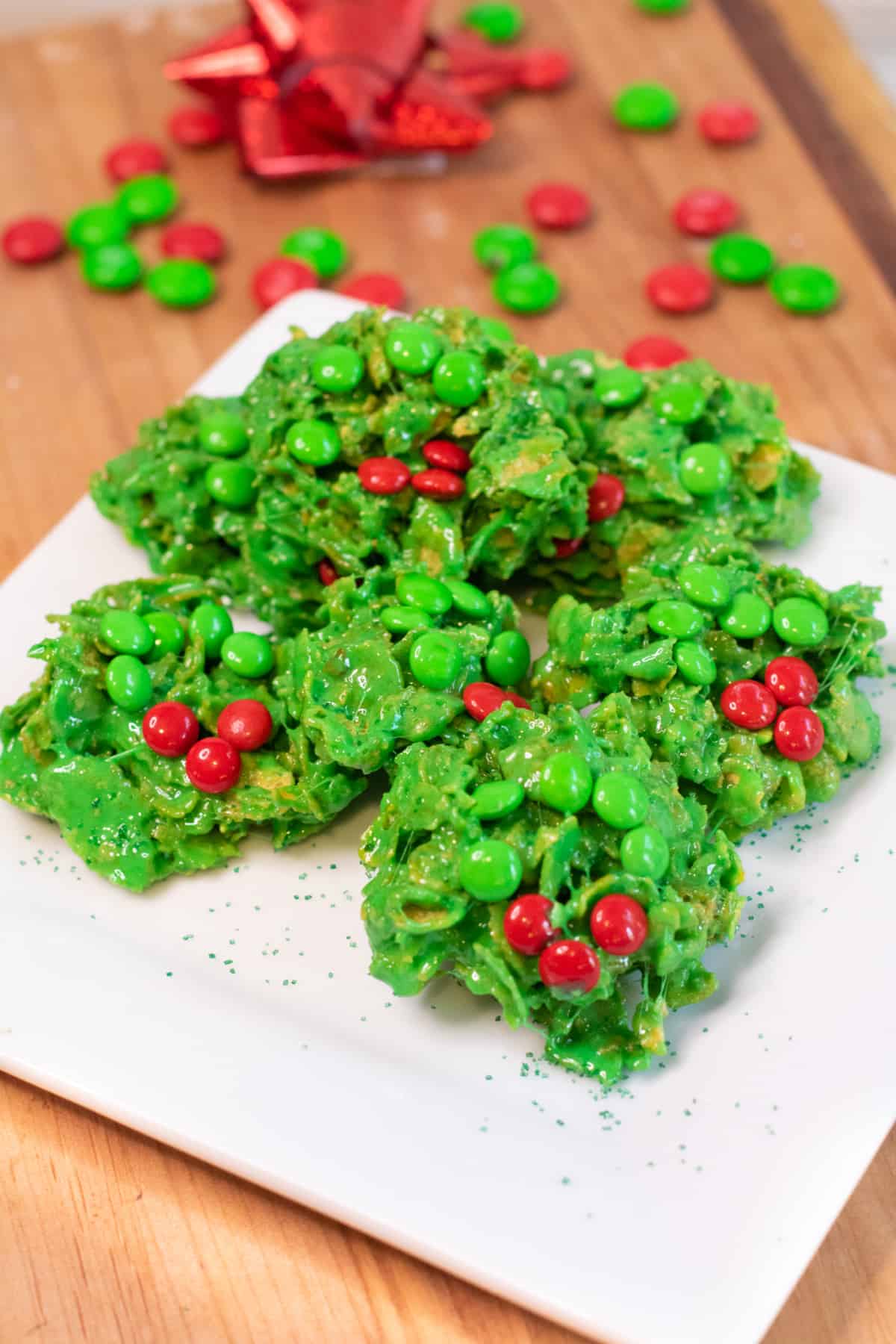 Happy Holidays, Friends! May this holiday season be a healthy, happy, love, and good food-filled season for you and your families and loved ones!
Enjoy! As always, if you make this recipe or any of my others, I love to hear what you think! Leave a comment below, email me, or you can find me on Facebook, Instagram, and Pinterest!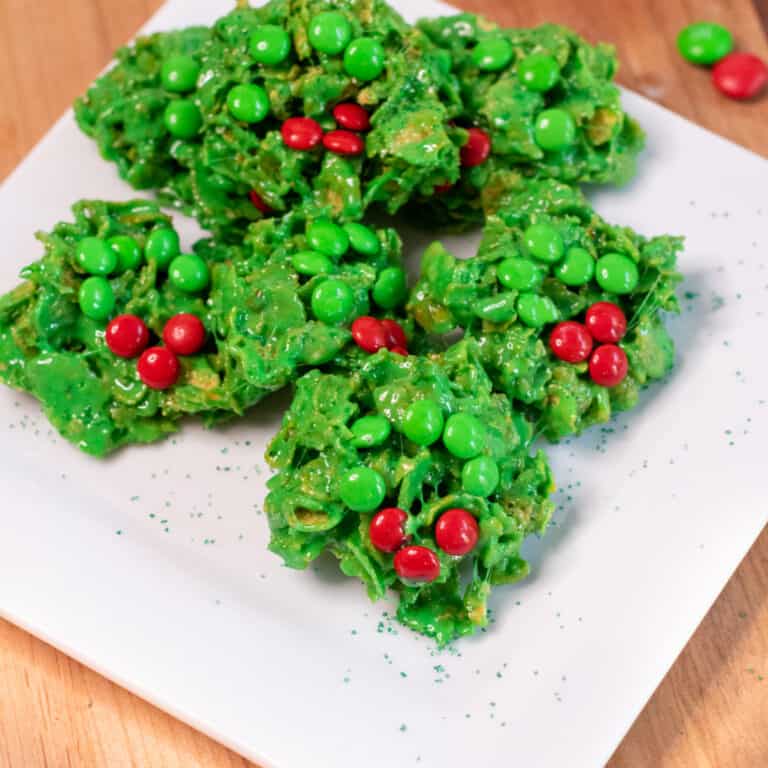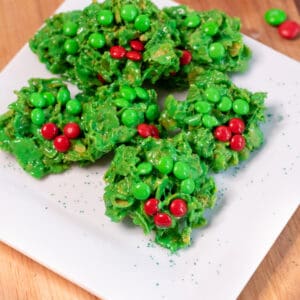 No Bake Christmas Wreath Cookies
Festive holiday cookies that require no baking and is ready fast!
Print
Pin
Rate
Equipment
saucepan

parchment paper
Ingredients
10

oz

marshmallows

35-40 marshmallows

4

cups

corn flakes

6

tablespoons

salted butter

10

drops

green food coloring

mini green and red M&Ms

green sprinkles

optional
Instructions
Set aside a baking sheet with parchment paper.

Add 2 cups of corn flakes to a large bowl. With your hands, gently crush the corn flakes into smaller pieces. Add the other 2 cups of corn flakes and gently mix them all to combine.

Melt the butter in a medium-sized saucepan over medium heat and add the marshmallows. Stir to melt and add 10-15 drops of green food coloring and mix well to combine. Add more food coloring for a deeper green color.

Once marshmallows are all well melted and combined, pour it all into the large bowl with the corn flakes. Mix well until all of the corn flakes are well combined.

Spray a spoon or your hands with some cooking spray or oil and scoop out small palm-sized rounds of corn flakes and place them onto parchment paper. Add green sprinkles and green and red mini M&Ms. Repeat with all cornflakes.

Let cool for at least 15 minutes before removing from parchment paper.

Store in an airtight container for 3-4 days on the counter or up to 2 months in the freezer.
Notes
Storage
Store in an airtight container on the counter for 3-4 days. Tip: grease your container to prevent sticking, and use either parchment or wax paper to separate layers of cookies.
Freeze for up to 2 months.
Shaping/Decorating Tips
You will want to work fast to be able to get the M&Ms to stick while the cookies are still tacky. This is great to do with kids so they can decorate right after cookies are placed on parchment. But if doing alone, you can keep the "dough" warm and sticky by placing the bowl over a pot of hot water. This will help keep the marshmallows sticky and pliable.
Substitutions
Marshmallows: Large or mini work fine.
Butter: Unsalted is fine too - just add a lil pinch of table salt to the marshmallows while they melt.
Corn flakes: Use your favorite, or even bran flakes if you'd like.
Decorations: Use red hot candies or any other favorite decorative red and green candies!
Nutrition
Calories:
127
kcal
|
Carbohydrates:
22
g
|
Protein:
1
g
|
Fat:
5
g
|
Saturated Fat:
3
g
|
Polyunsaturated Fat:
0.2
g
|
Monounsaturated Fat:
1
g
|
Trans Fat:
0.2
g
|
Cholesterol:
12
mg
|
Sodium:
106
mg
|
Potassium:
15
mg
|
Fiber:
0.3
g
|
Sugar:
12
g
|
Vitamin A:
273
IU
|
Vitamin C:
2
mg
|
Calcium:
2
mg
|
Iron:
2
mg