Welcome Fall by bringing autumn flavors to your protein balls with this Cashew "Pumpkin" Bliss Balls recipe! These adorable little pumpkins are super healthy, packed full of protein, vitamins, minerals, and your favorite fall pumpkin spice flavors!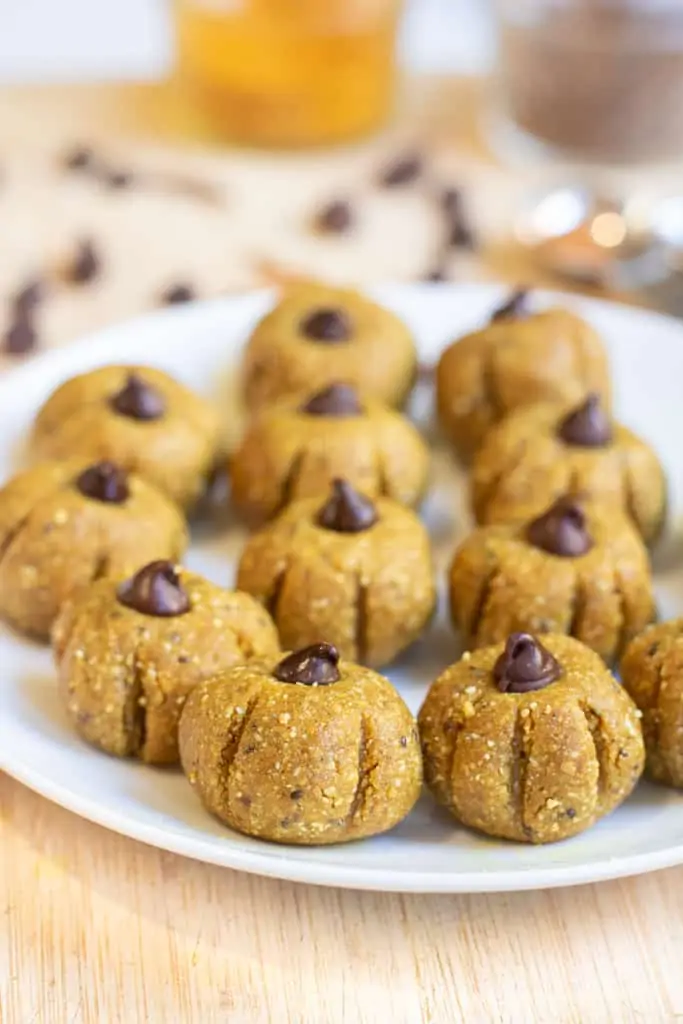 Welcome, October!! Gosh, you look good. I just love these cool mornings and sunny warm afternoons. And while I know most of the world is team pumpkin spice, I am typically team apple. But these little adorable, healthy, energy-packed Cashew "Pumpkin" Bliss Balls are the first step towards swaying me to the pumpkin side!
These little protein balls are "Pumpkin" because while they obviously look like adorable lil' pumpkins and have your classic pumpkin spice flavors, they are actually pumpkin-free. Mainly because I don't like the texture that pumpkin puree brings to a bliss balls recipe. My girls love these little pumpkin-shaped energy balls and had a ton of fun adding the chocolate chips. I love them because, not only are they fun, but they're also hearty and healthy - just like most of the SFS snacks in our house!
Ingredients Needed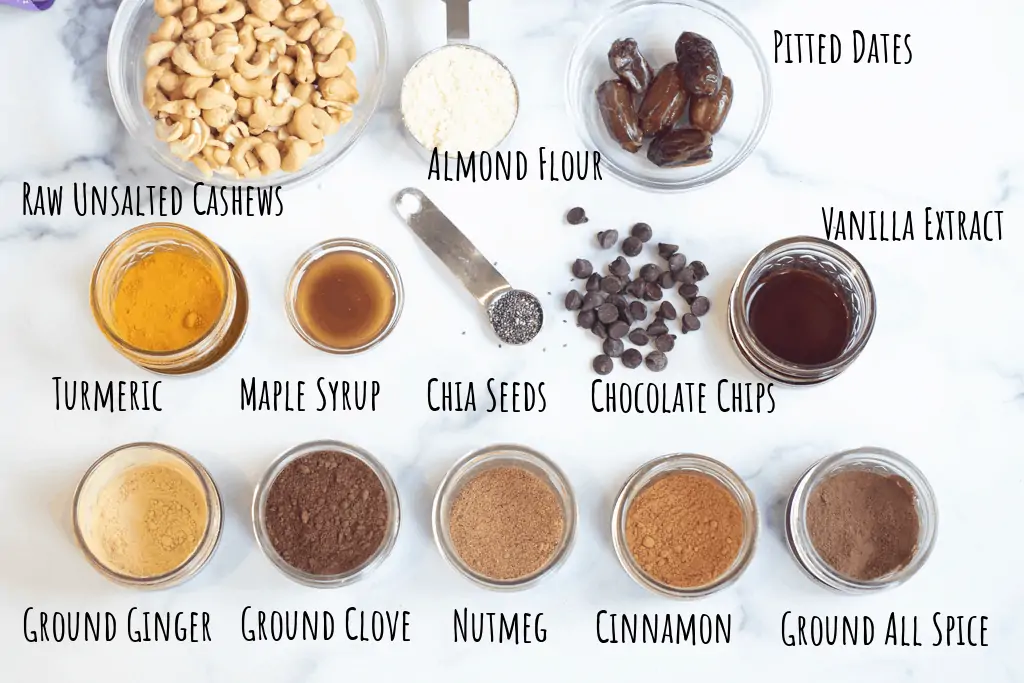 Cashews - This is the base of these bliss balls, full of healthy energy and protein.
Flour - We like nut-based almond flour for this recipe to keep it gluten-free and add an additional nutty flavor, but you could also use all-purpose flour or any other kind of flour.
Natural Sweetener - Maple syrup is our favorite (as it's our go-to natural sweetener) but you could also use another natural sweetener or honey if you don't need them to be vegan.
Dates - A naturally sweet, gluten-free, vegan binder.
Chia Seeds - I love sneaking these fiber-packed seeds into our recipes!
Turmeric - Not only does this add a little orange color, but in addition to its deep earthy flavors, it's packed full of anti-inflammatory antioxidants.
Pumpkin Spice - If you have your own/favorite pumpkin spice blend, great! Otherwise, you can easily whip up your own with Cinnamon, Ground Clove, All Spice, Ground Ginger, and Nutmeg.
Chocolate Chips - Use your favorite brand and flavor, which can easily be gluten-free or vegan.
One of the reasons I love little energy bliss balls? They're so customizable. In a real pumpkin spice mood? Kick it up a notch! If you're using a pre-made pumpkin spice blend, this recipe is for using 1 tablespoon, but you can adjust that to fulfill your pumpkin spice-loving heart.
Made in Minutes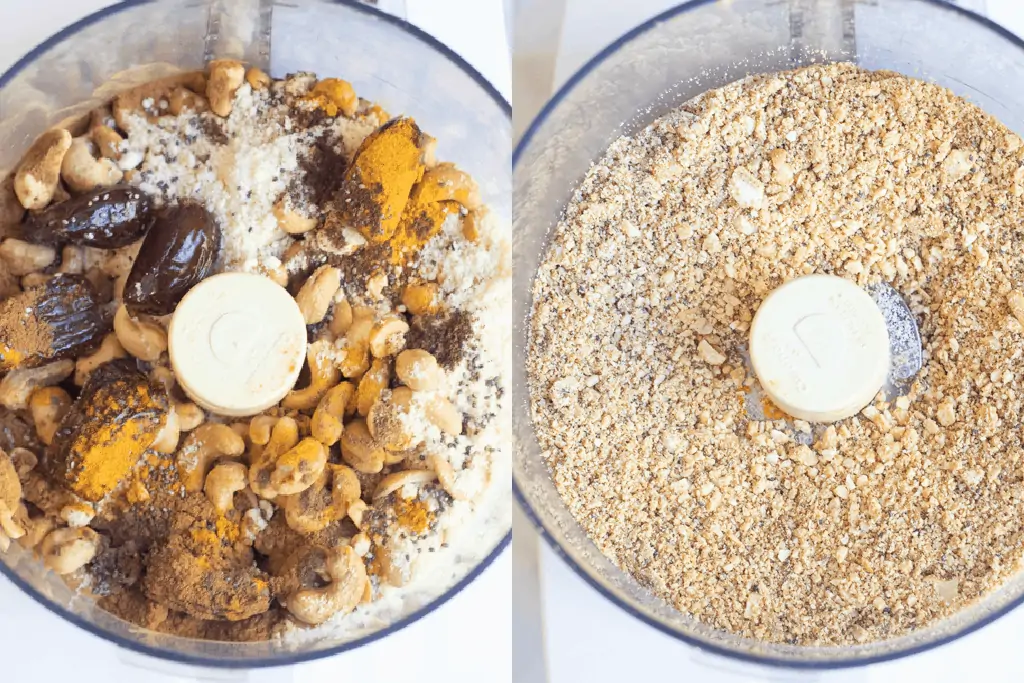 With a food processor (or blender), this bliss ball recipe takes no time at all.
Blend dry ingredients: By doing this first, you'll ensure of a good even mixture of all of your spices.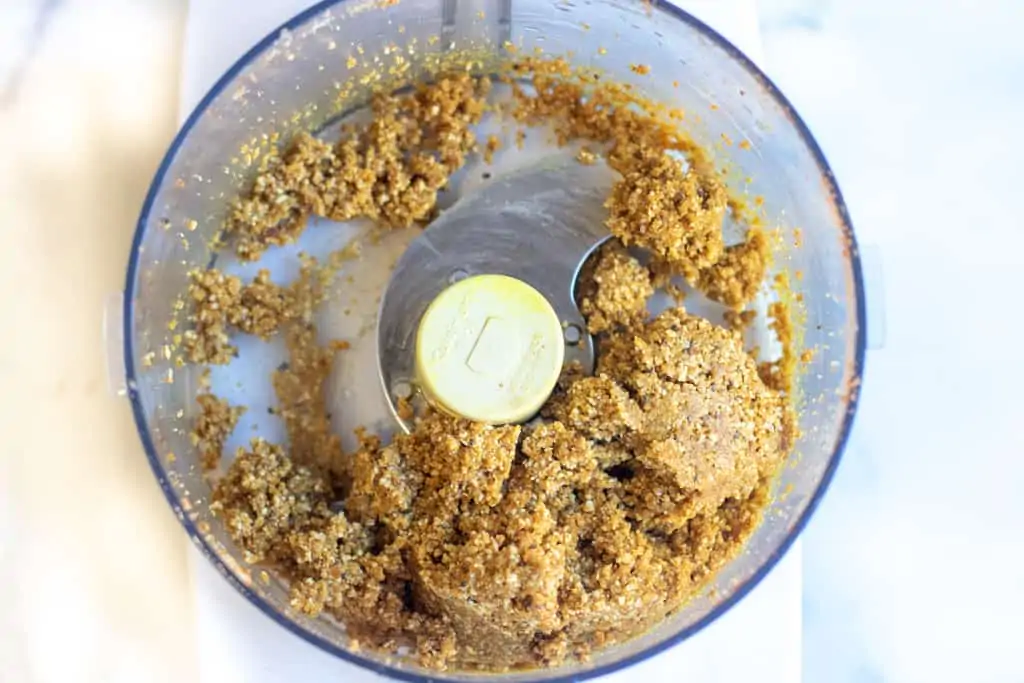 Add the liquid ingredients last: Add the maple syrup, vanilla extract and then just a teaspoon of water until a shaggy dough just begins to form.
Then they're ready to be pumkin-fied!
Shaping the "Pumpkins"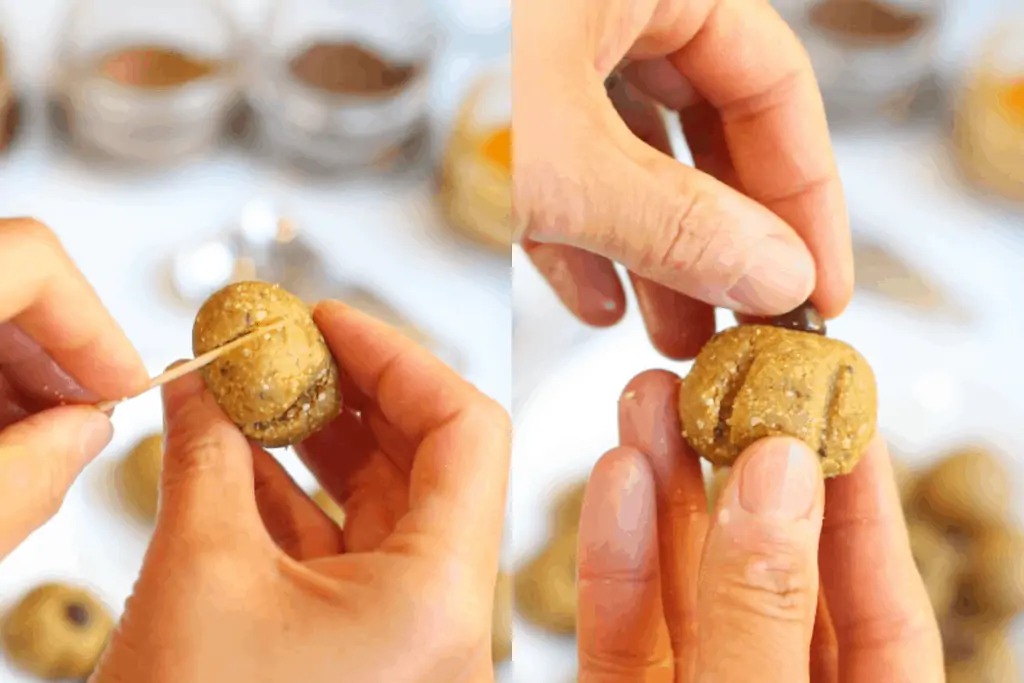 Now, the fun part! While a normal protein ball is just that, a ball. What makes these Cashew "Pumpkin" Bliss Balls oh so perfect for fall, their adorable little pumpkin shape!
Just grab a toothpick and use it to create little "dents" around your bliss ball. With your fingers, change the circular shape of a ball, to more of a wider, oval pumpkin shape.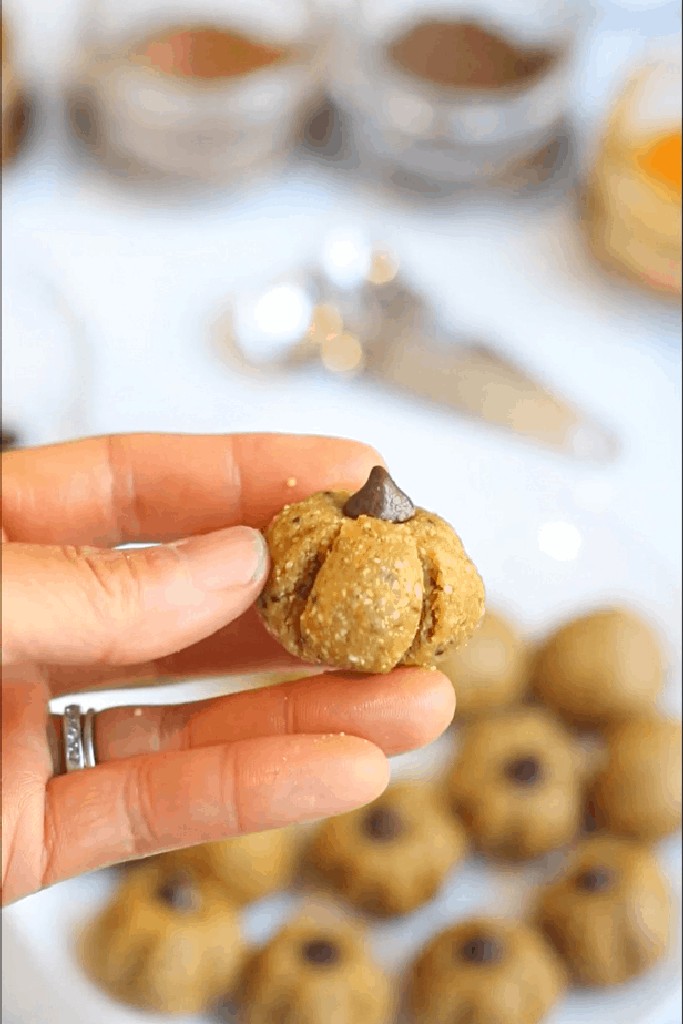 Finally, top with your favorite chocolate chip to create a delicious little "stem."
Does it get much cuter?!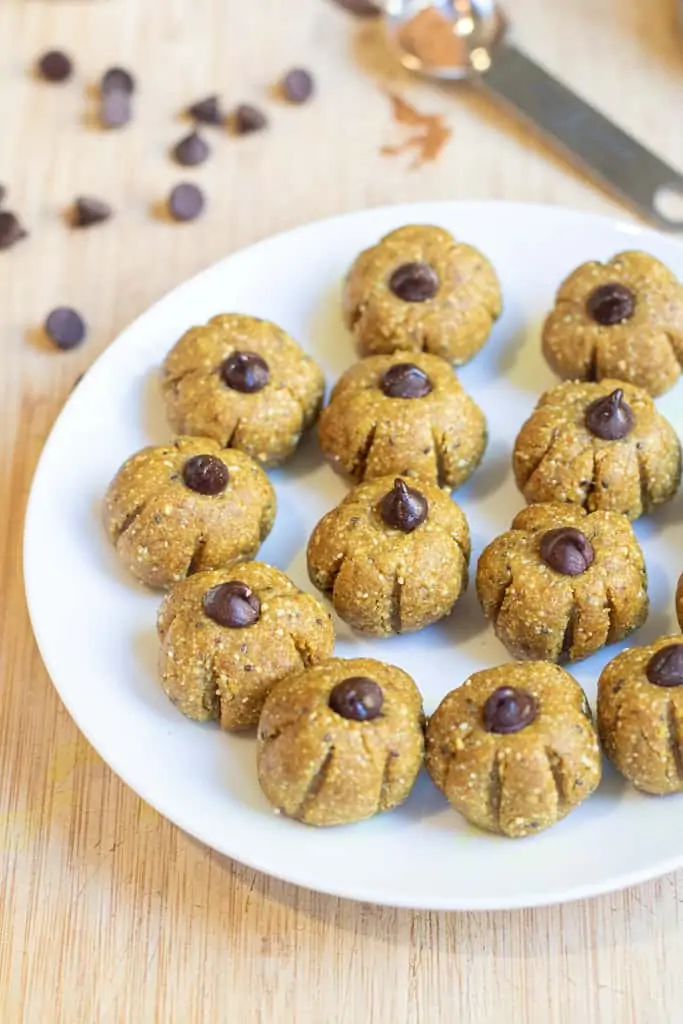 Cashew "Pumpkin" Bliss Balls! Perfectly fall festive for the pumpkin spice fan - but also for those (like myself) who are team apple.
Healthy and Energy Packed
The reason why I love bliss balls and energy balls is because not only are they incredibly fast and easy to make, but also they are the perfect little bite for a quick burst of protein and energy!
Cashews: Rich in plant protein, fiber, and heart-healthy fats!
Dates: Dates are not only naturally sweet, but they're packed full of antioxidants, fiber, and potassium.
Turmeric: This spice is proven to have health benefits for your body and brain thanks to its anti-inflammatory and antioxidant properties.
Just 90 calories each with healthy fat, tons of fiber, and potassium but low sugar, these are one of my girls' new favorite snack and are in the lunchbox rotation with some of these other bite-sized snacks: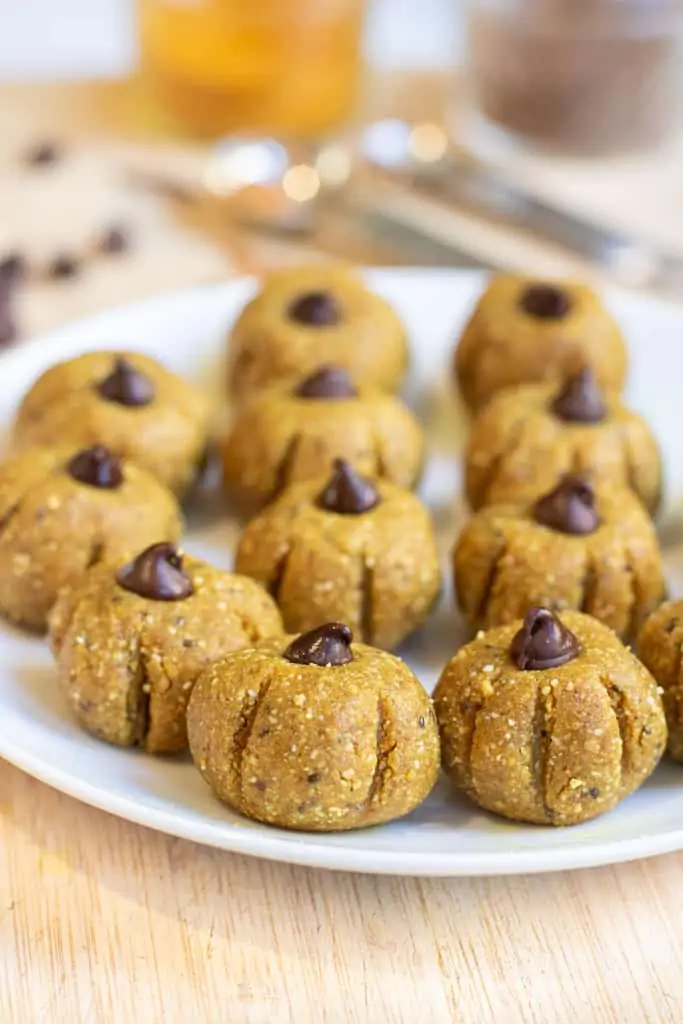 Enjoy! As always, if you make this recipe or any of my others, I love to hear what you think! Leave a comment below, email me, or you can find me on Facebook, Instagram, and Pinterest!
If you want to see more, be sure to sign up for my 5 Easy Ways to Start Cooking From Scratch!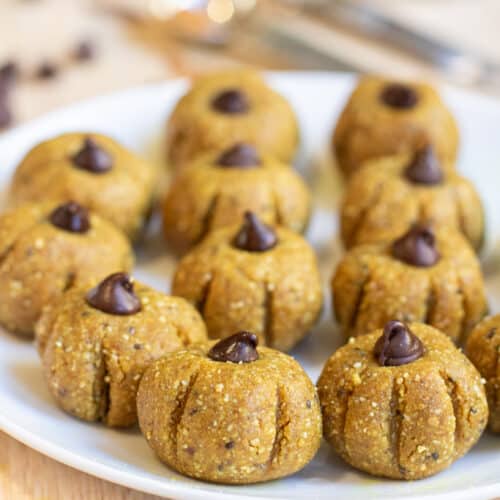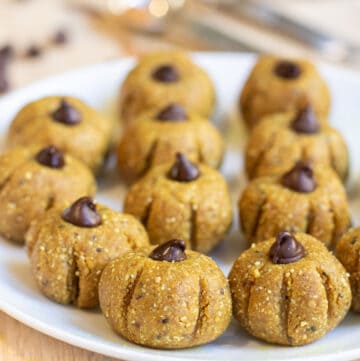 Cashew "Pumpkin" Bliss Balls
A fast and easy energy ball perfect for fall, shaped and spiced like pumpkin!
Print
Pin
Rate
Ingredients
5

oz

raw, unsalted cashews

a scant cup

1/3

cup

almond flour

or other flour of choice

6

whole

dates

pitted

1/2

teaspoon

turmeric

1/2

teaspoon

chia seeds

2

tablespoons

maple syrup

1/2

teaspoon

vanilla extract

1

teaspoon

water

12-13

chocolate chips
Pumpkin Pie Spice
1 1/2

teaspoon

ground cinnamon

1/4

teaspoon

nutmeg

1/4

teaspoon

ground all spice

3/4

teaspoon

ground ginger

1/4

teaspoon

ground clove
Instructions
Add cashews, dates, flour, all of the spices, and chia seeds to a food processor and pulse until all of the cashews are well blended and a crumbly mixture (the size of breadcrumbs) forms.

With food processor running, add maple syrup, vanilla, and water until a dough begins to form. It's ok if it still seems a little crumbly, you'll be able to form balls and you don't want the mixture to be too moist.

Form into 12-13 one inch sized balls.

Hold a ball in your hand and with a toothpick, press into the ball all around the edges to indent sides to look like sides of a pumpkin. Use your fingers to gently squeeze ball down from a circular shape to more of an oval pumpkin shape.

Top with a chocolate chip and enjoy!
Notes
Storage:
Fridge: Store in an airtight container in the fridge for 1-2 weeks. The longer they are stored the more they may dry out.
Freezer: Store in a freezer-safe container/ziplock bag for 3-4 months.
Substitutions:
Flour: Use your favorite gluten-free flour or all-purpose flour. The almond flour adds a subtle nutty flavor that compliments the cashews, but a standard gluten-free flour works well, too.
Maple Syrup: Use honey or your other favorite natural sweetener, although maple definitely adds a lovely fall flavor.
Pumpkin Spice: Use your favorite pumpkin spice blend or use this recipe to make your own. If using a premade, use 1 tablespoon. Add a dash more for an even stronger pumpkin spice flavor.
Orange Color

:
These bliss balls are subtly colored orange thanks to the turmeric. If you want a more vibrant colored orange, you could also add a drop or two of orange food coloring to the teaspoon of water before adding to the food processor.
To naturally brighten, you could increase the turmeric by 1/4 teaspoon, any more will make the turmeric flavor overpowering.
Nutrition
Calories:
91
kcal
|
Carbohydrates:
7
g
|
Protein:
3
g
|
Fat:
6
g
|
Saturated Fat:
1
g
|
Polyunsaturated Fat:
1
g
|
Monounsaturated Fat:
3
g
|
Cholesterol:
1
mg
|
Sodium:
2
mg
|
Potassium:
88
mg
|
Fiber:
1
g
|
Sugar:
3
g
|
Vitamin A:
1
IU
|
Vitamin C:
1
mg
|
Calcium:
18
mg
|
Iron:
1
mg