Making your own granola is so incredibly easy and fully customizable! This Healthy Maple Pecan Granola is one of my family's favorites, a healthier option, and is super fun to make with the kids!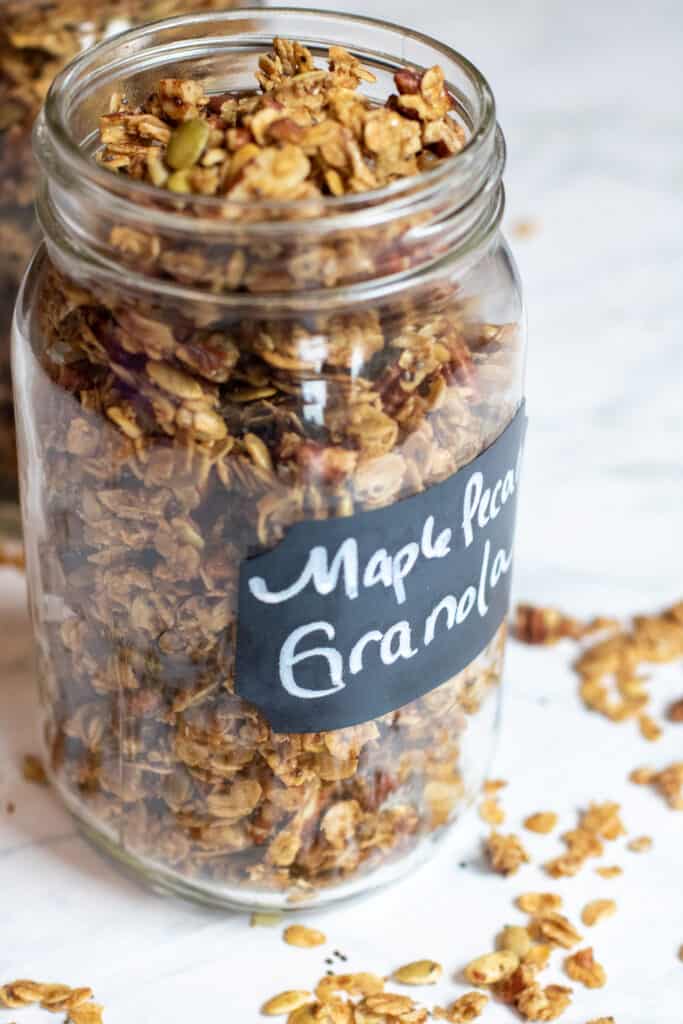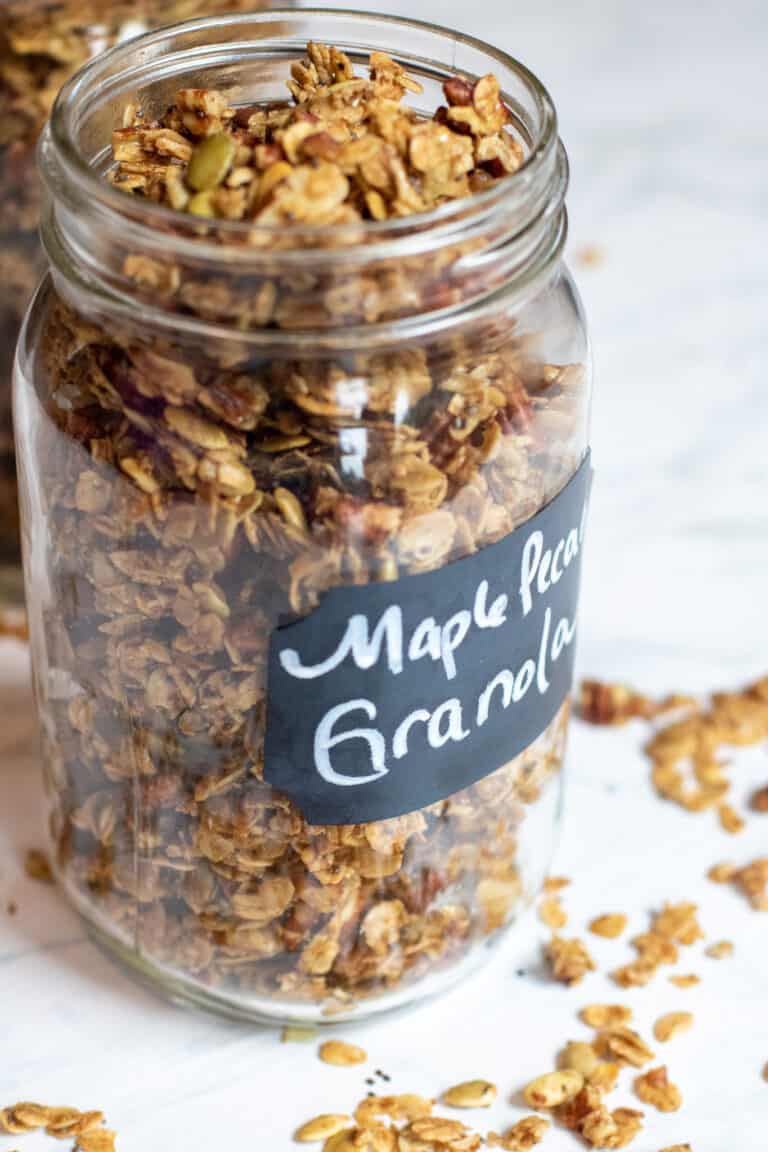 Homemade granola is one of those foods for me that hits all the notes. It's crunchy. It's just the right amount of sweet. It can be a hearty breakfast and perfectly snackable. Bonus: it's healthy and packed full with a ton of good nutrition! This Healthy Maple Pecan Granola is no exception!
Ingredients Needed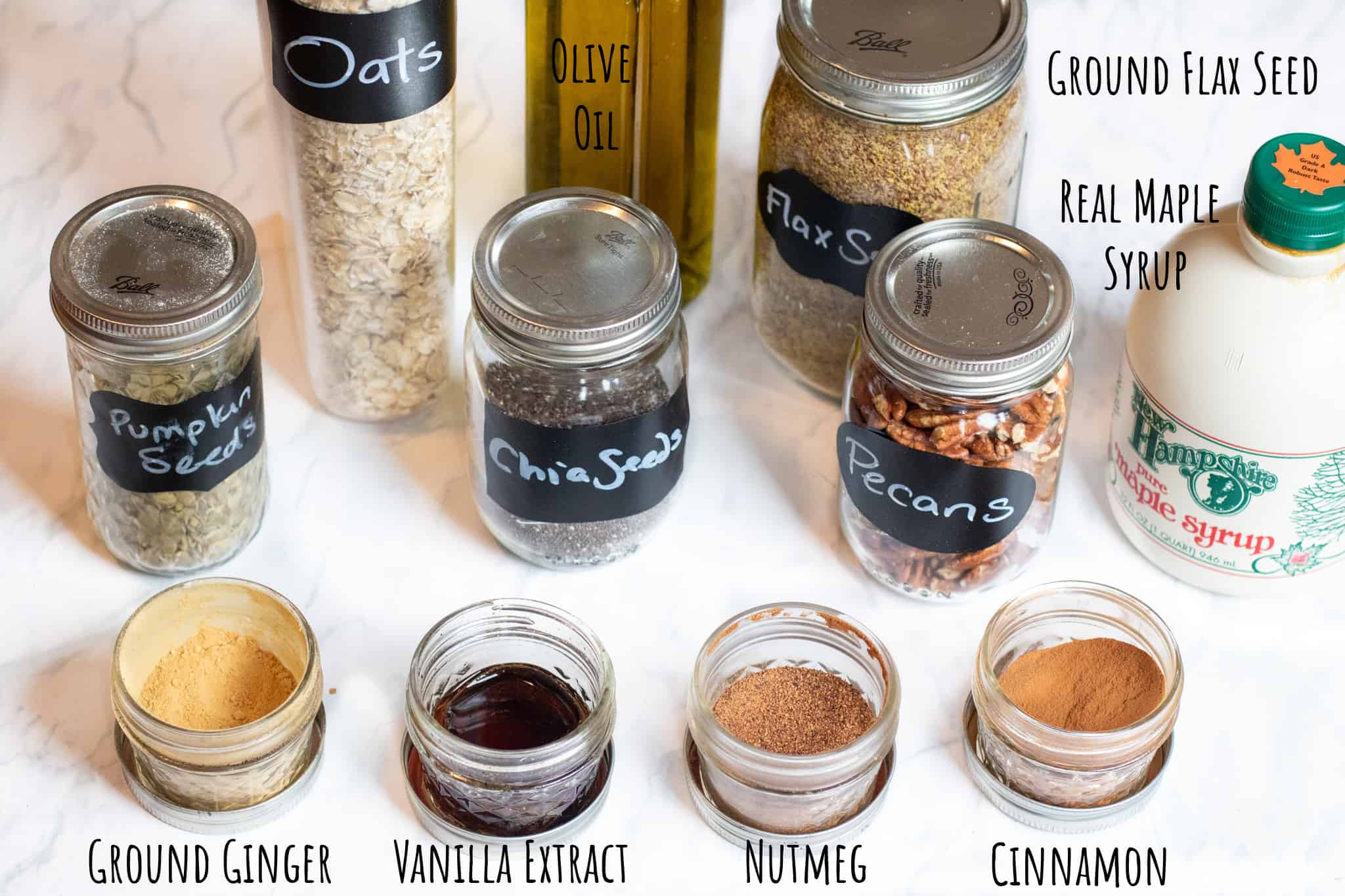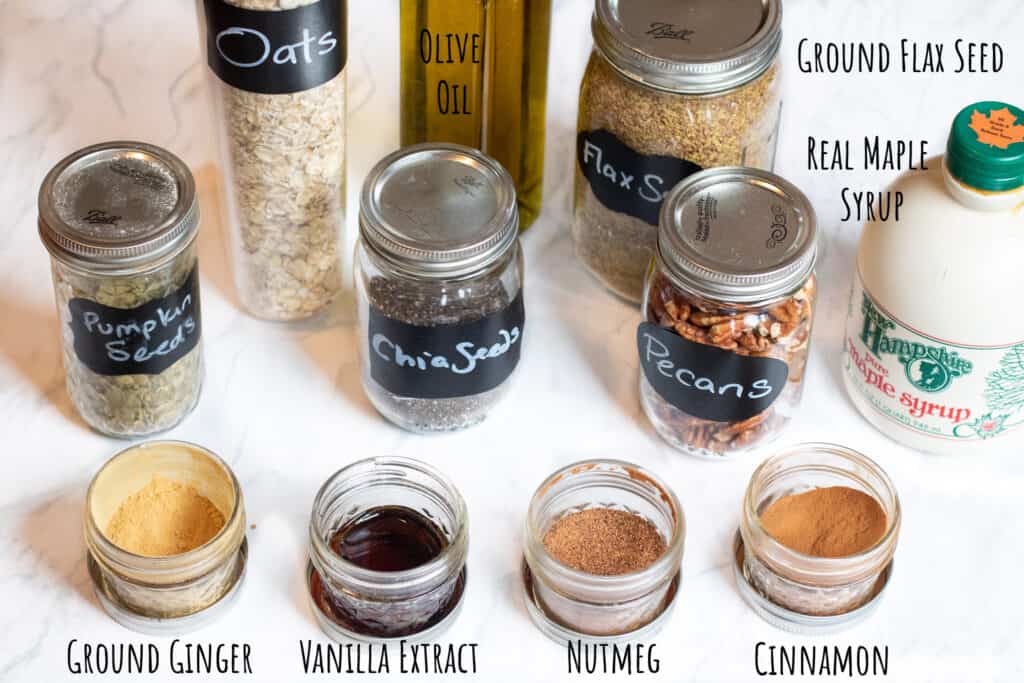 I think one of my favorite things about making your own granola is that you can really make it your own with whatever ingredients you have, as long as you stick to a basic formula:
Oats - Good old fashioned rolled oats. Your base.
Oil - This is your fat and what helps make your granola nice and crunchy. We prefer extra-virgin olive oil but we've also made it with coconut oil, too.
Nuts and Seeds - Pecans are one of my favorites in oatmeal but you can also use almonds or walnuts! Pumpkin seeds and Chia Seeds are always in our pantry, but you could also use sunflower seeds.
All Natural Sweetener - Being a New Englander, Real Maple Syrup is always my go-to. Honey would also be a great option, although would of course mean that you'd miss out on the maple flavor.
Add-Ins - For flavor or for nutrition. I love to add Ground Flax Seed (high in protein and good for your heart!), Vanilla Extract for flavor, just a touch of Ground Ginger for a fun kiss of flavor. Other great additions, wheat bran, almond extract, or even some dried fruit or chocolate chips.
Cinnamon, Nutmeg, and Salt - To enhance and round out all of the flavors.
Dried Fruits - Blueberries, dates, cranberries, whatever you have!
Again, totally customizable. Go take a look in your pantry and see what you have.
Those dredges of some walnuts that aren't quite enough for a recipe or just a few almonds? Perfect.
Some sunflower seeds you've been meaning to use but weren't quite sure what for? Now you know!
Make it nuttier. Make it seedier or even make it sweeter. Whatever your fancy, you can do it with a homemade granola.
Step-by-Step Instructions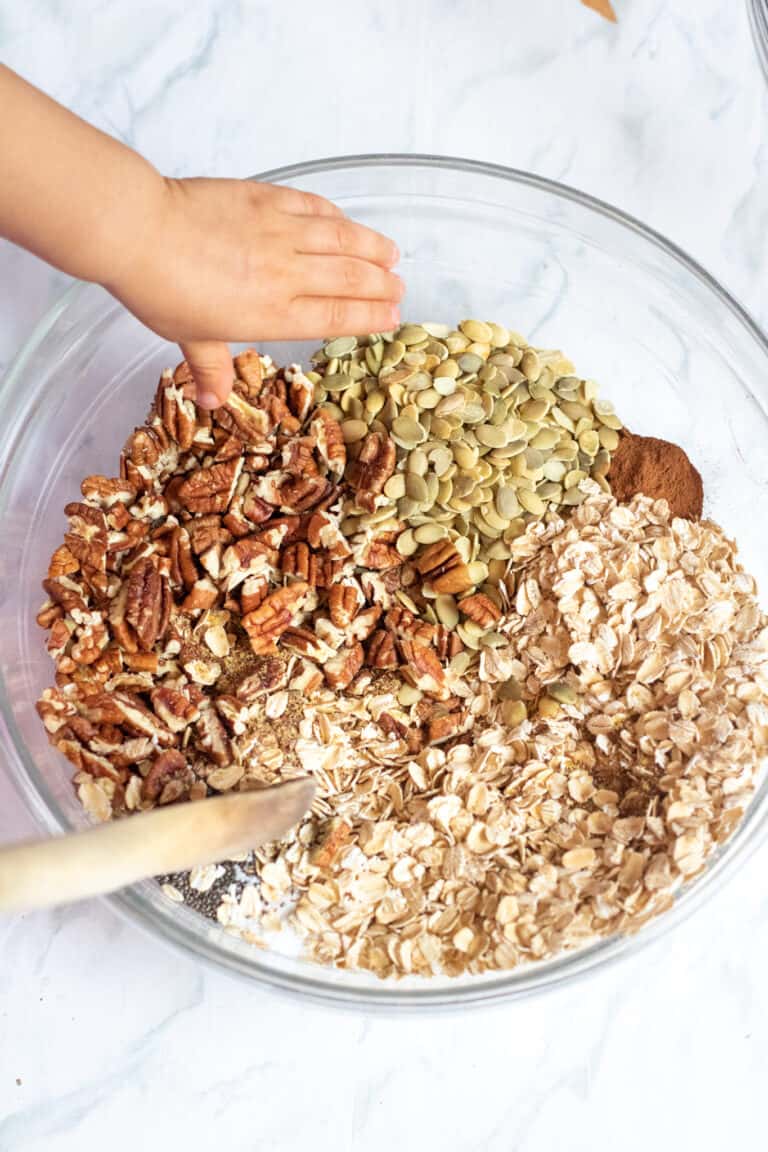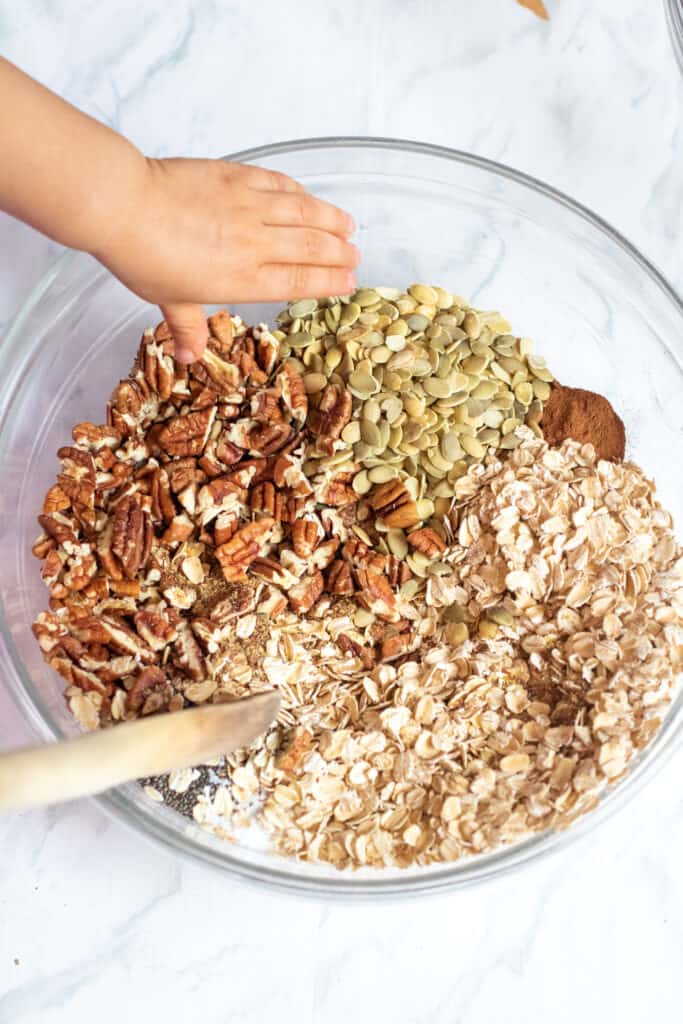 Also great about making granola? It's easy and fun for kids to make, too. It's one of my girls favorite recipes!
Step 1: Mix all of the dry ingredients in a bowl.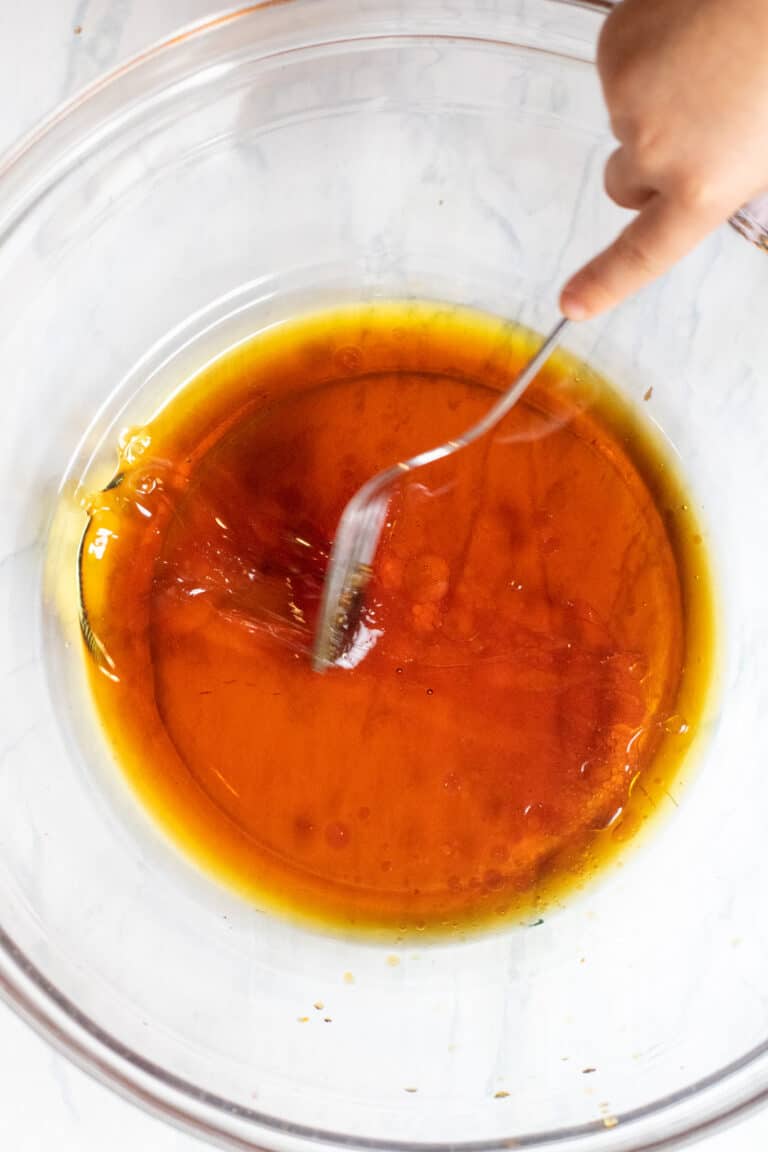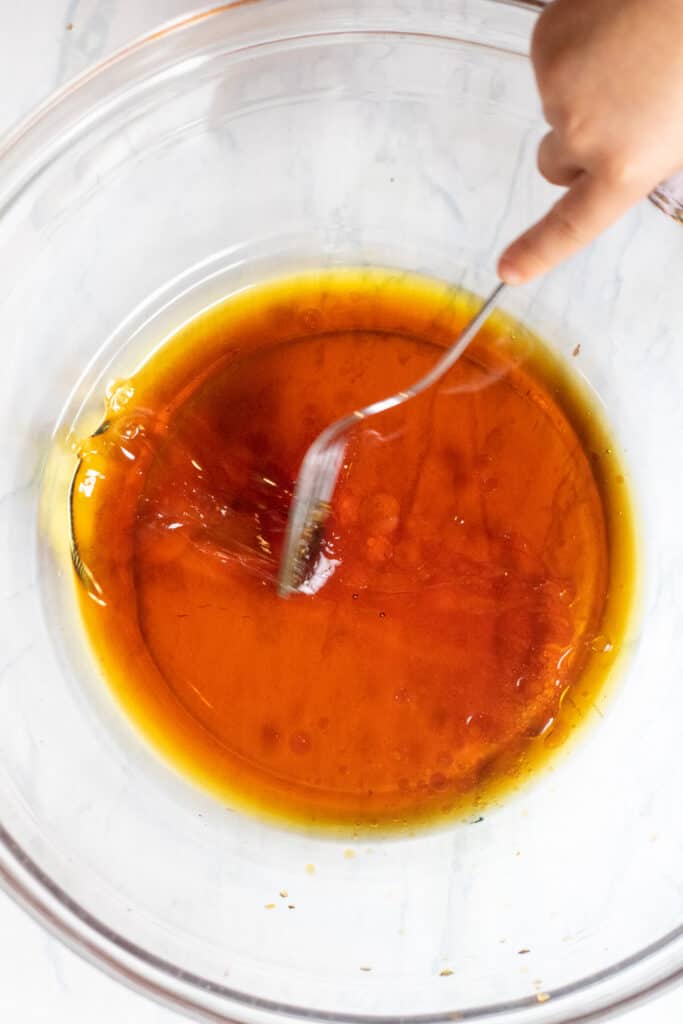 Step 2: Add the wet ingredients to a large bowl and whisk.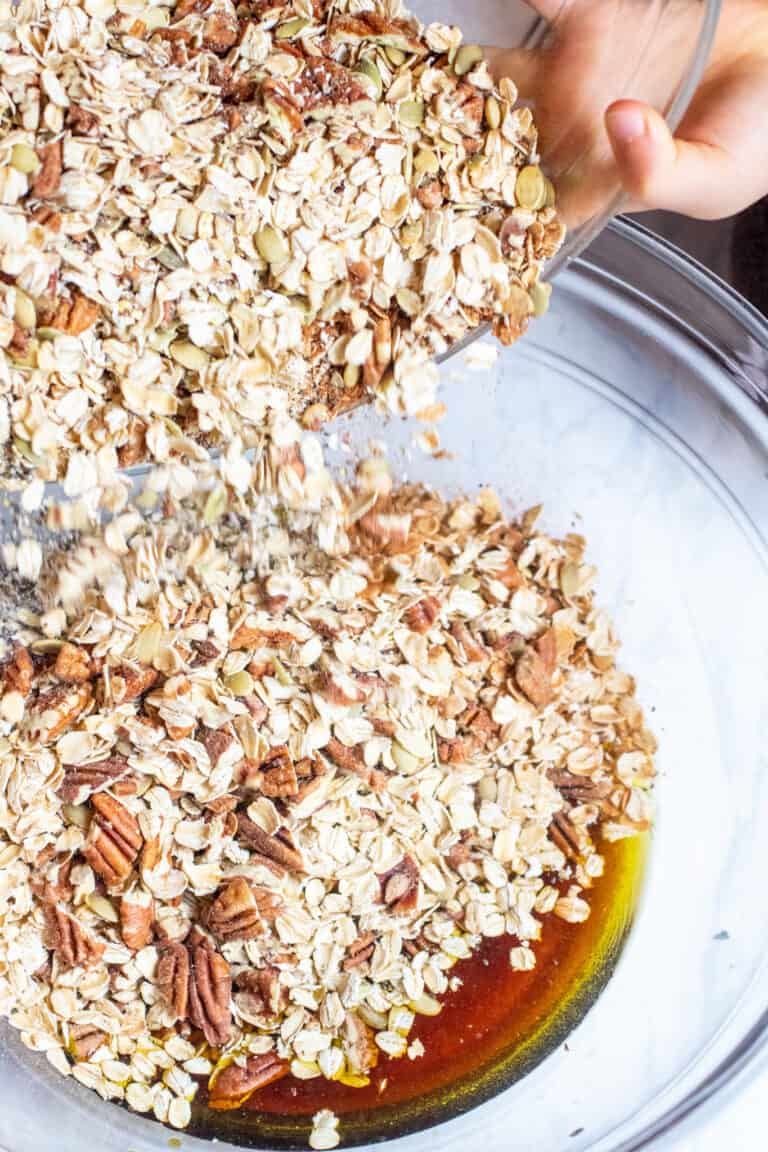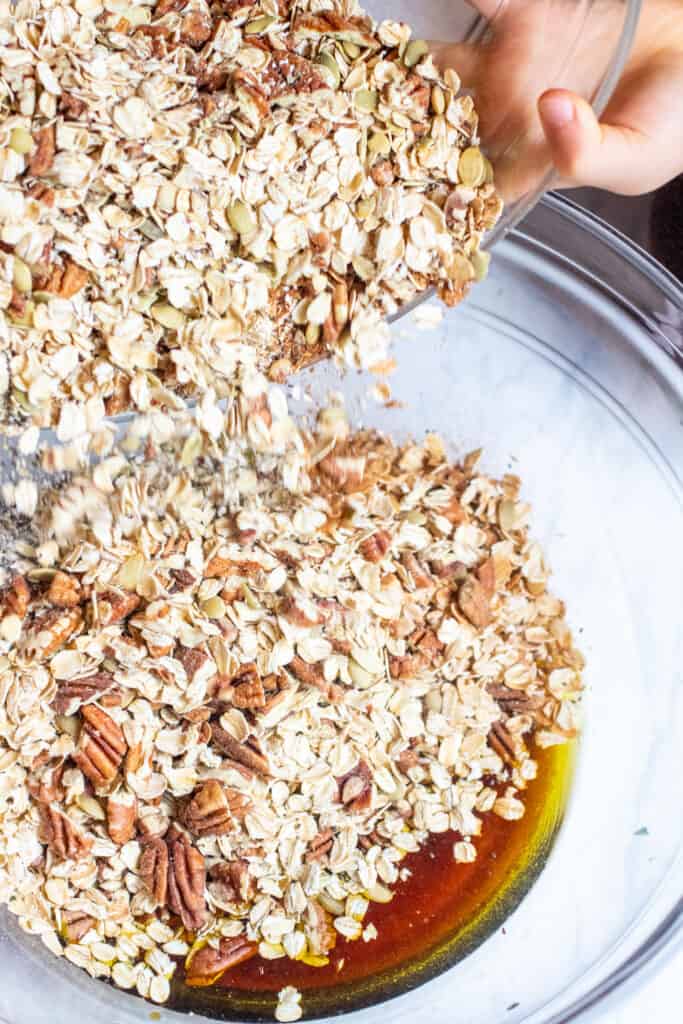 Step 3: Add the dry ingredients to the wet.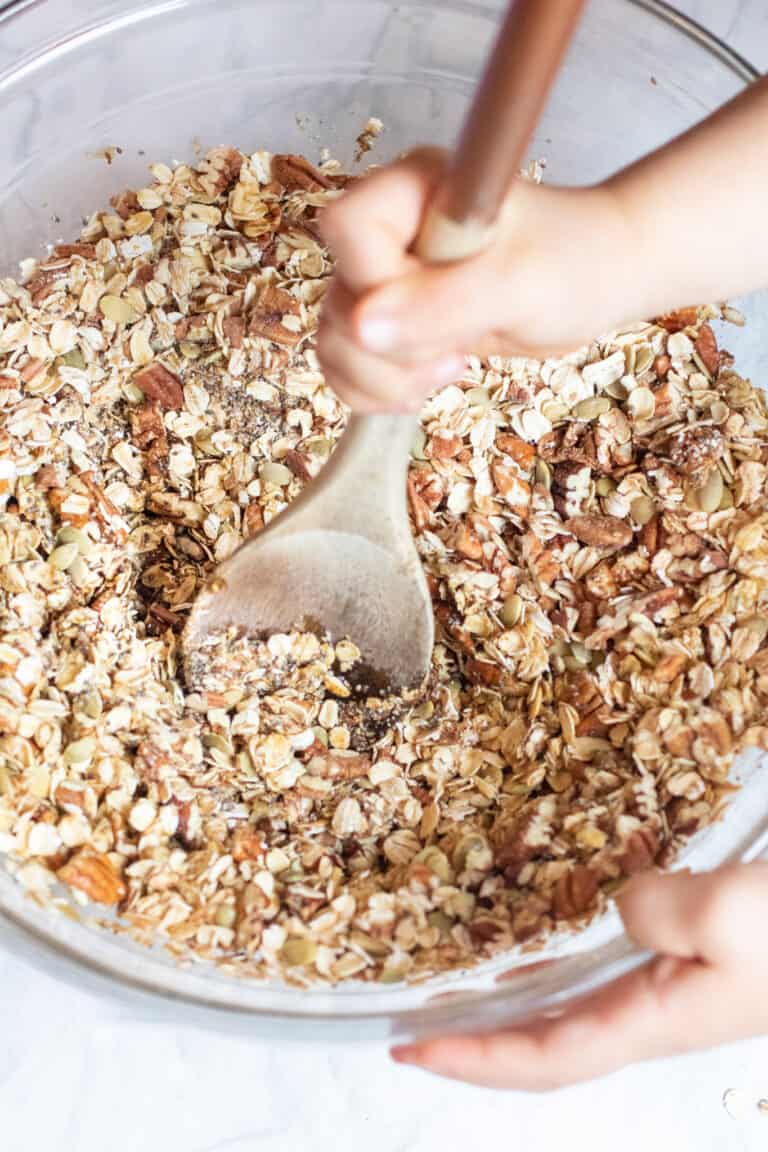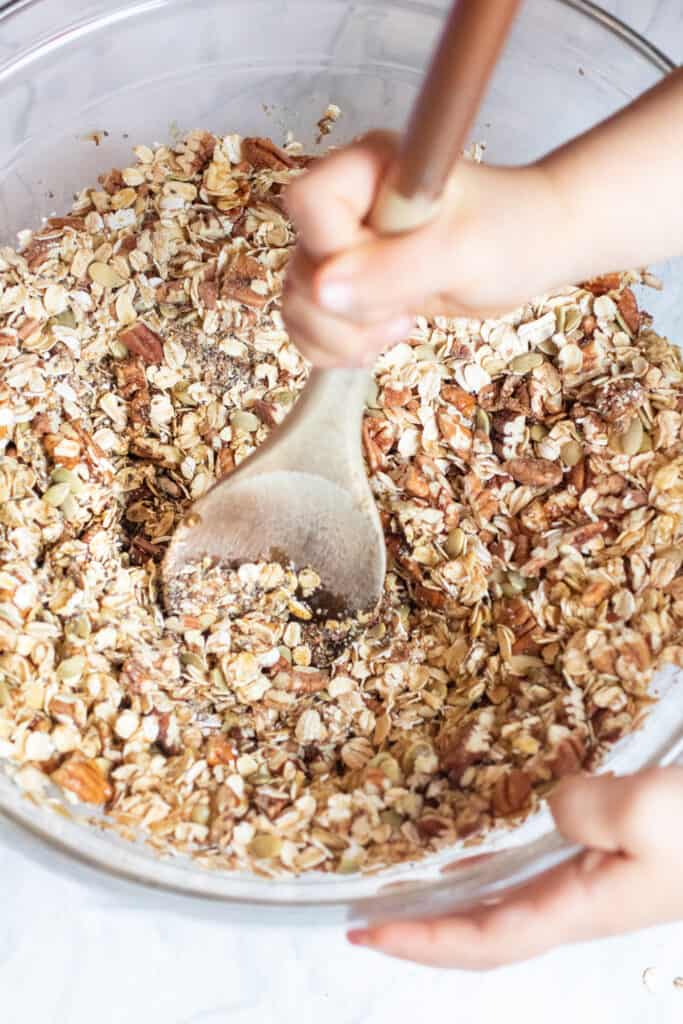 Then let your little assistants give it all a good mix!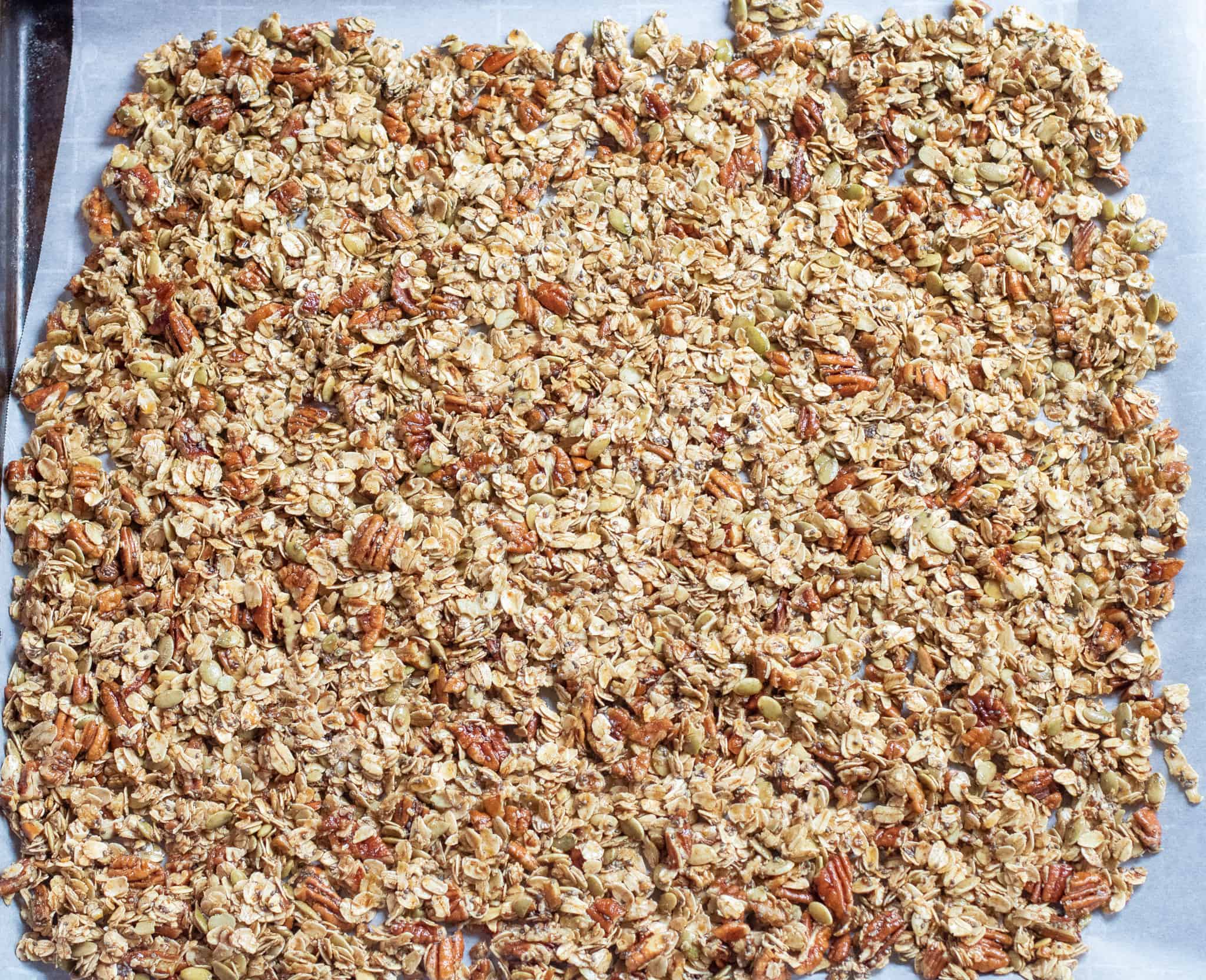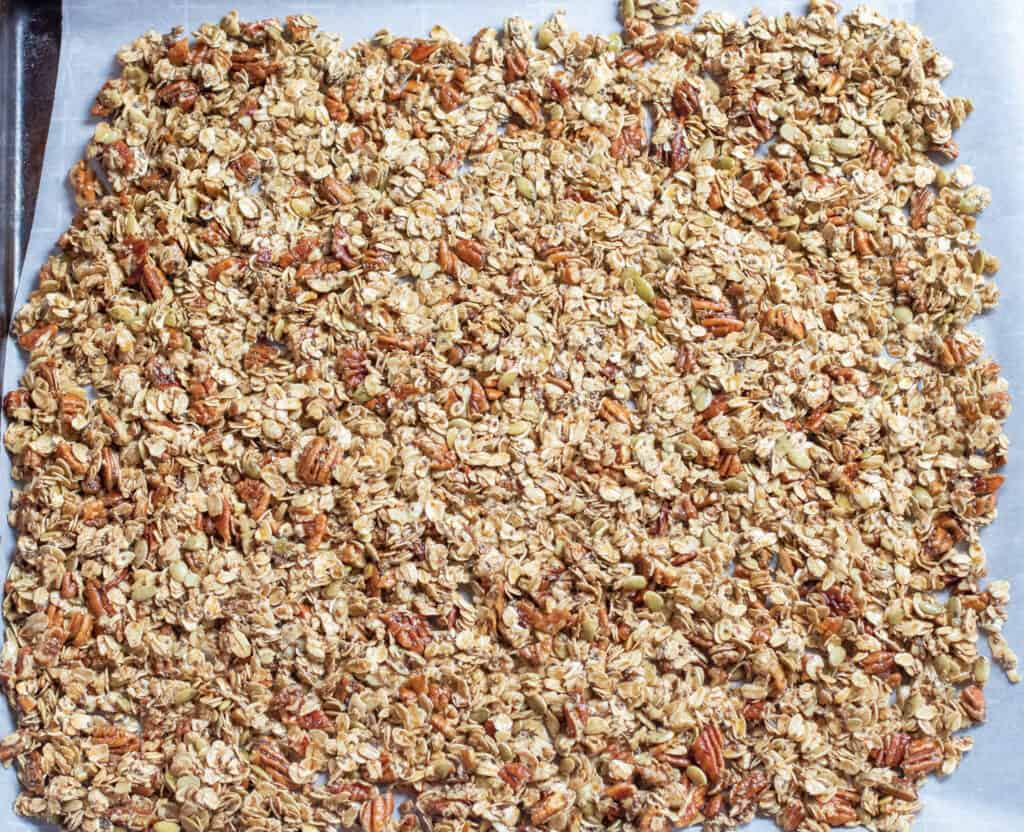 Step 5: Once it's all well combined and coated, it's onto a parchment lined baking sheet and ready for the oven.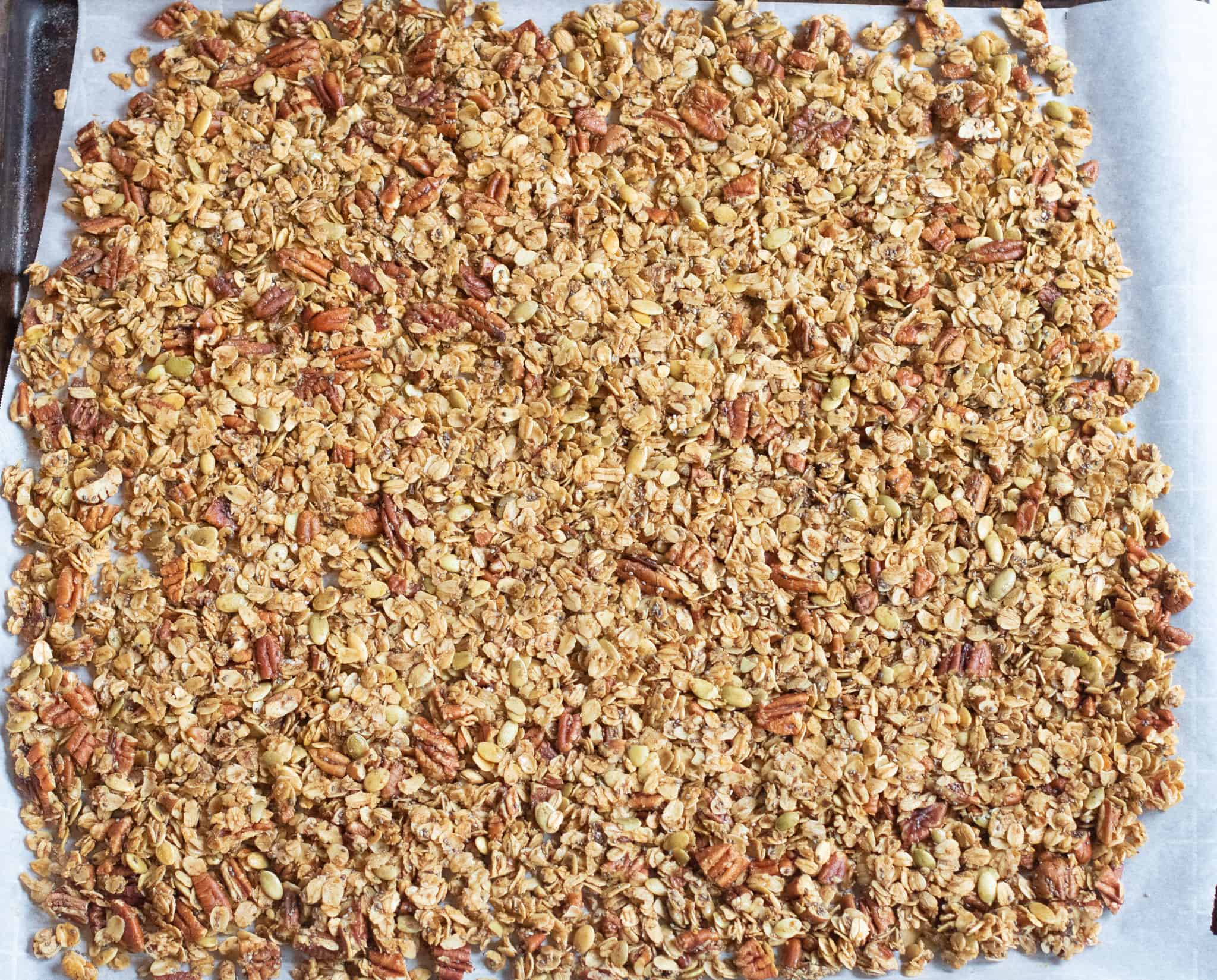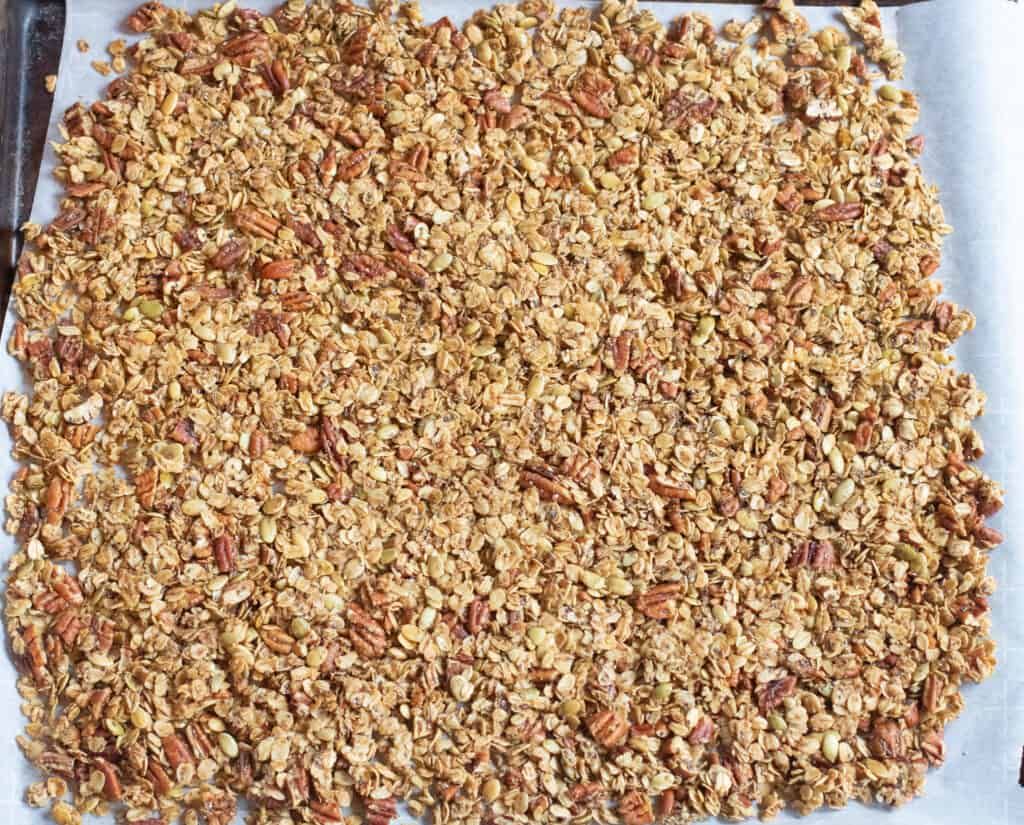 Step 6: Baked!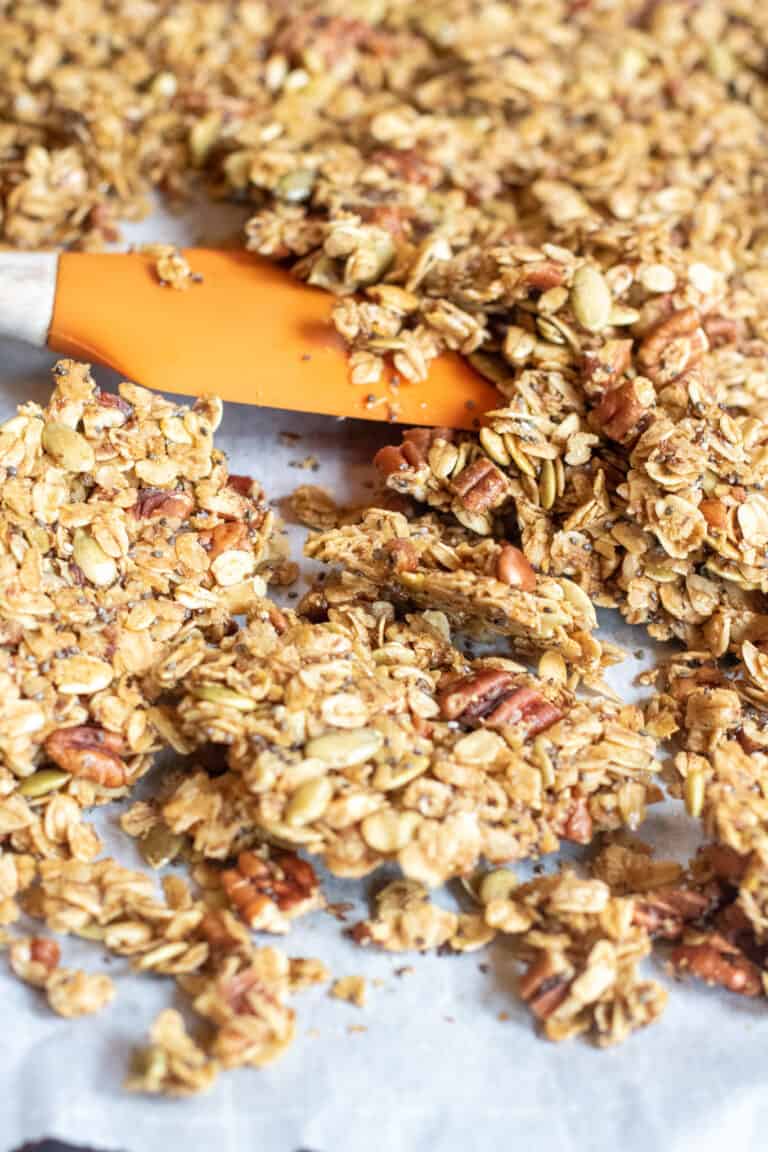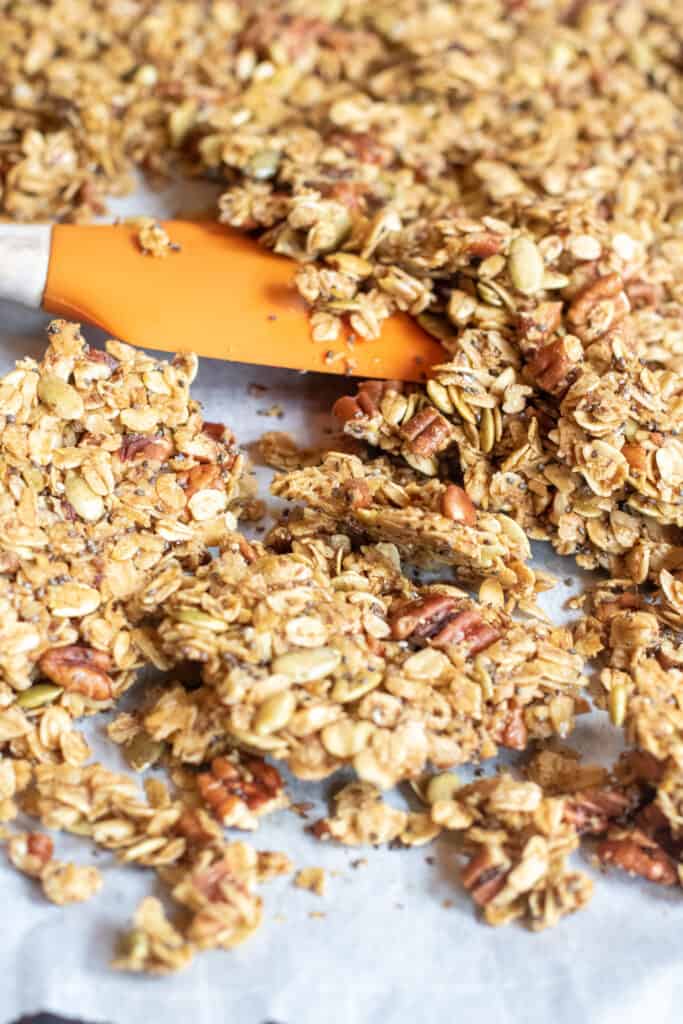 Done! Look at those beautiful clusters! One of my favorite parts of a good healthy granola are the clusters, so this recipe is for ultimate clustered granola!
Tips
What good is granola if it's not crunchy? For super crunchy granola with those big crunchy clusters, here are a few tips!
Don't Over or Under Crowd the pan. You want to make sure that everything toasts evenly so that it's all not too overcrowded, but also if they're not close together, then they won't clump together.
Press it! When you add it all to the baking sheet, use a spatula to spread it all into an even layer and then press it all nice and flat. Pressing it down will help it all bake together in large pieces which you can then break into those yummy clusters.
Don't Over Bake It. You'll take it out of the oven before you think it's done because it won't look crunchy. But it will continue to cook and firm up and overcooking will break the sugar bonds.
Let it Completely Cool. This is the most important step to crunchy granola. This will let it fully set. Once it's cool, then you can break it up into clusters.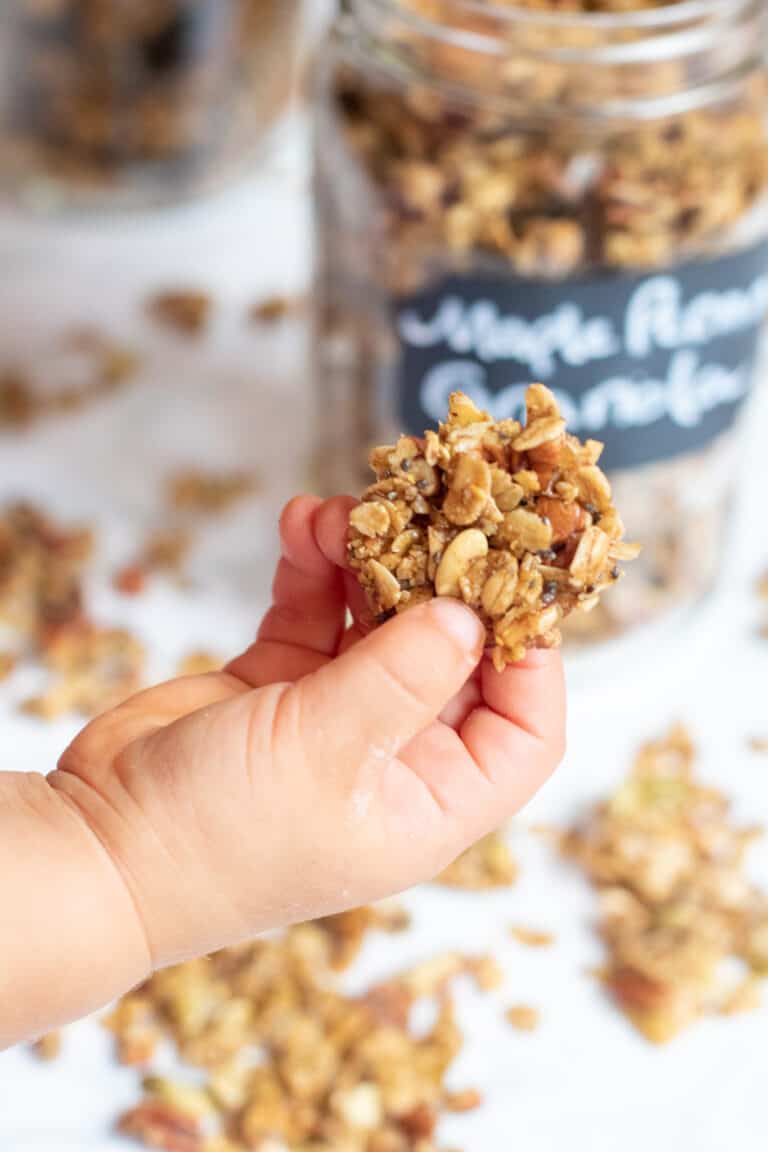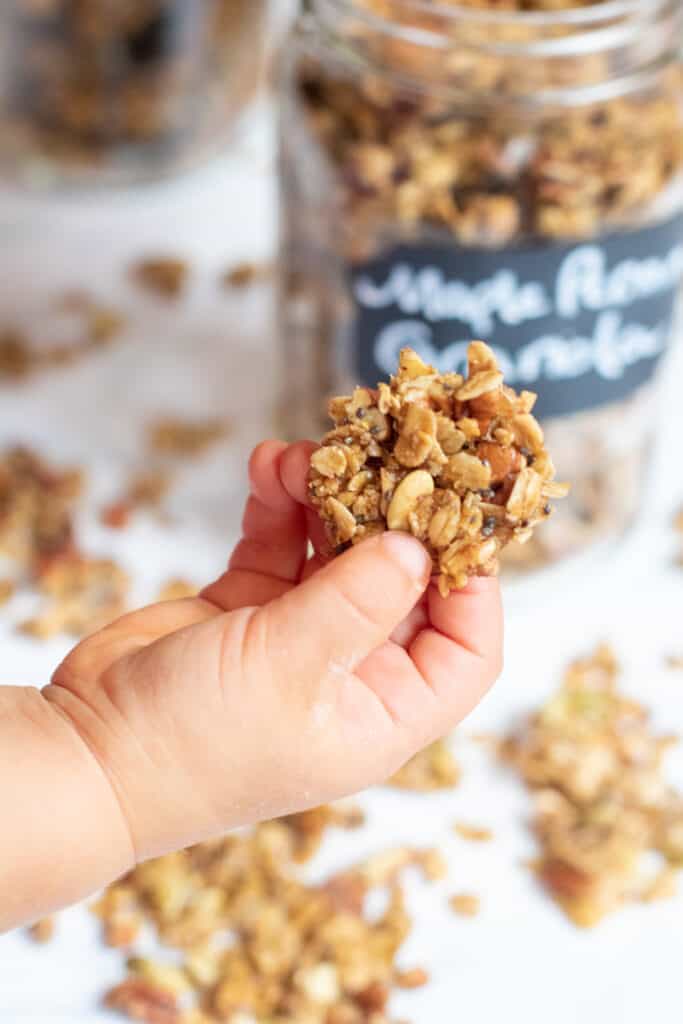 See those crunchy clusters? Oh yeah. My little 2 year old sure did!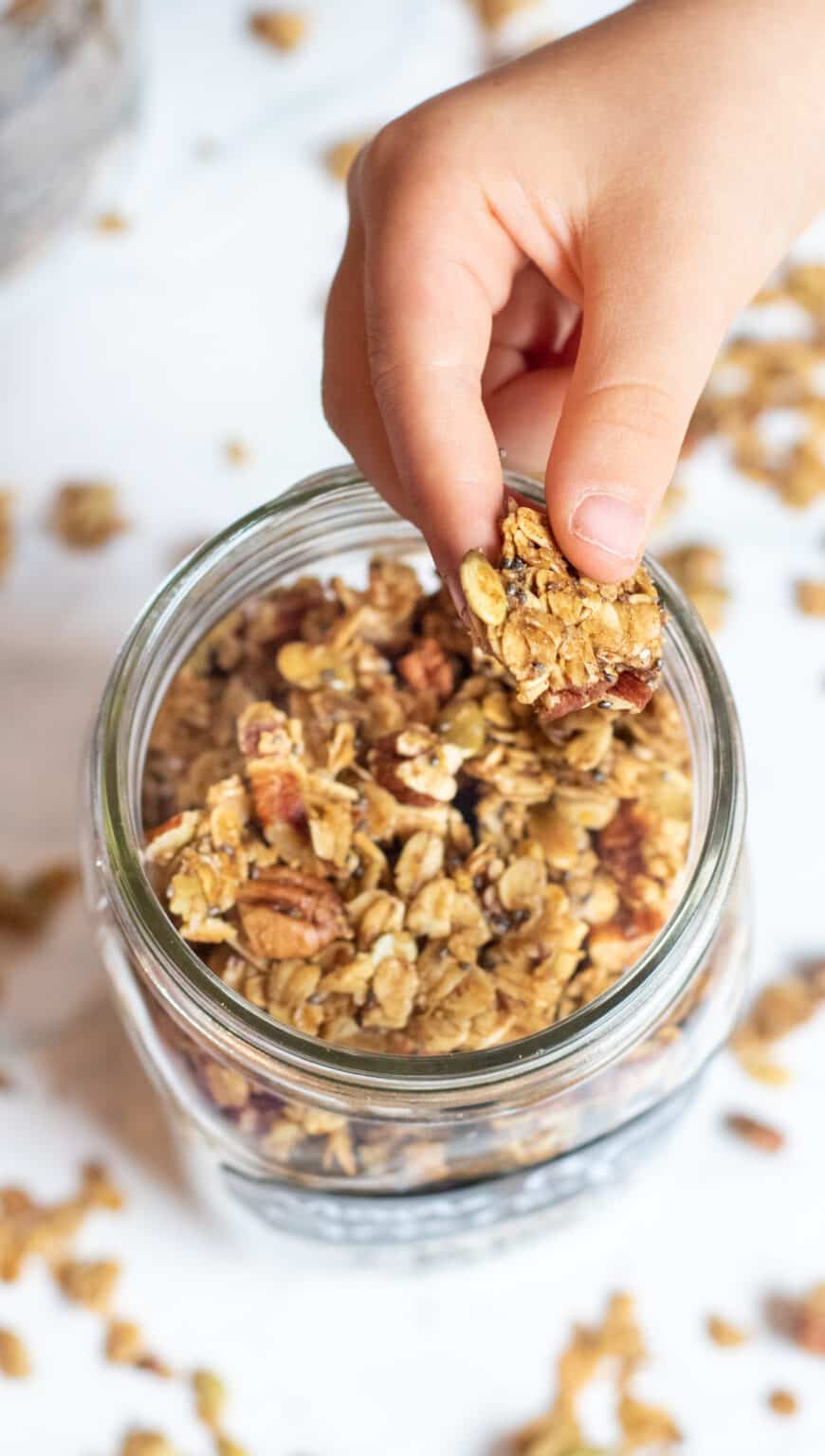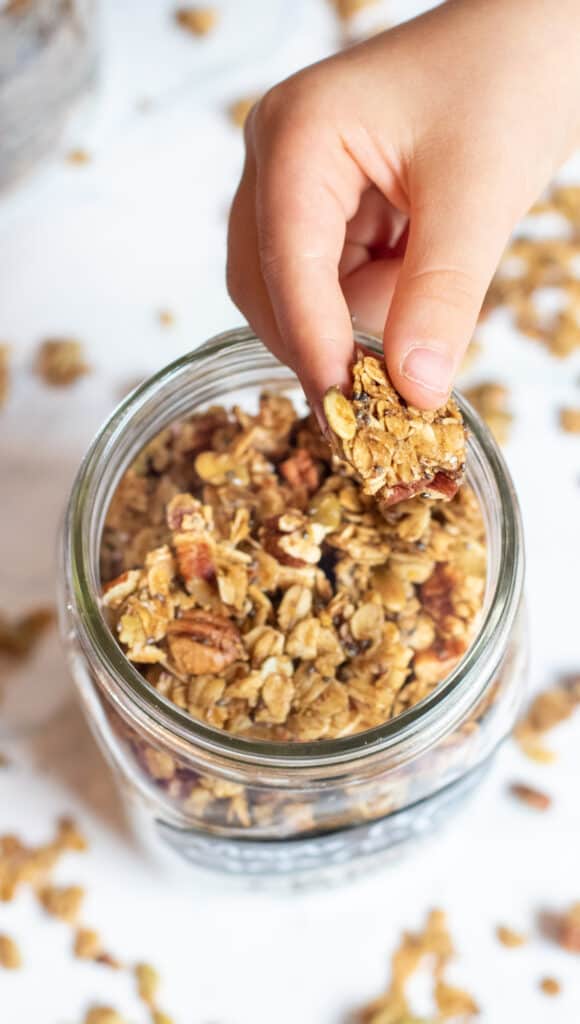 And I couldn't keep my 4 year old out of it, either! Because honestly, what's the best part of making homemade granola? Taste testing!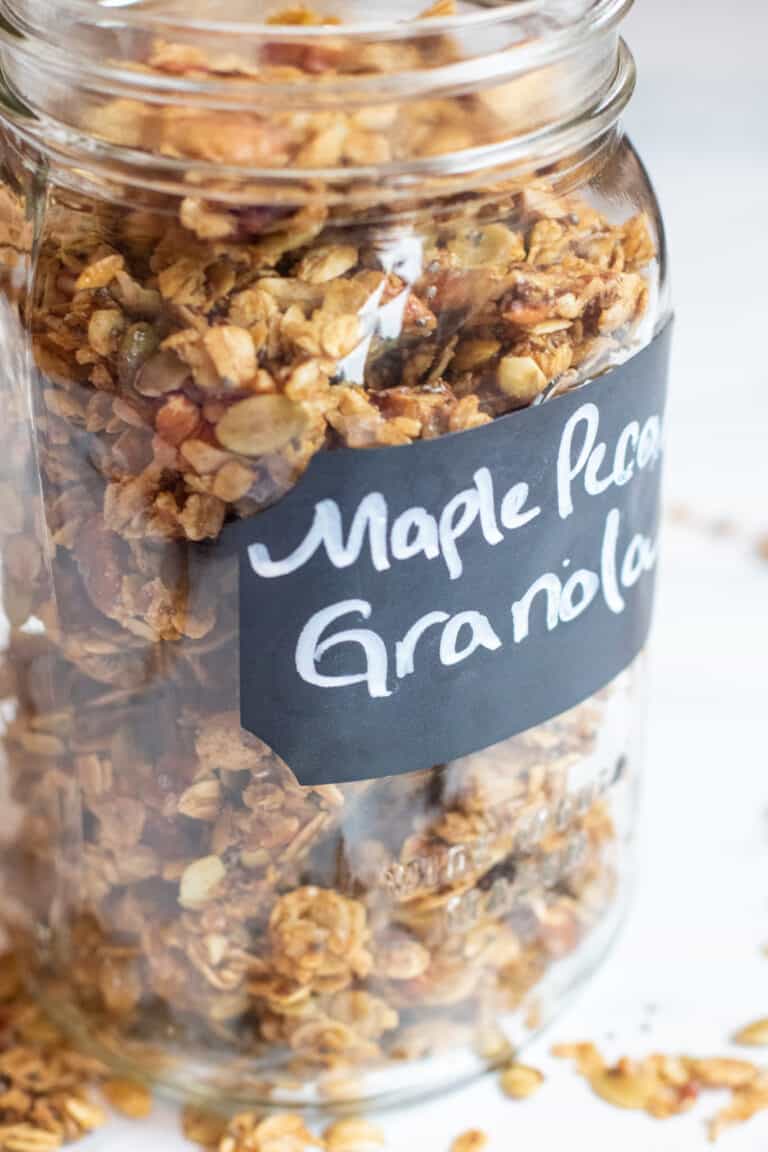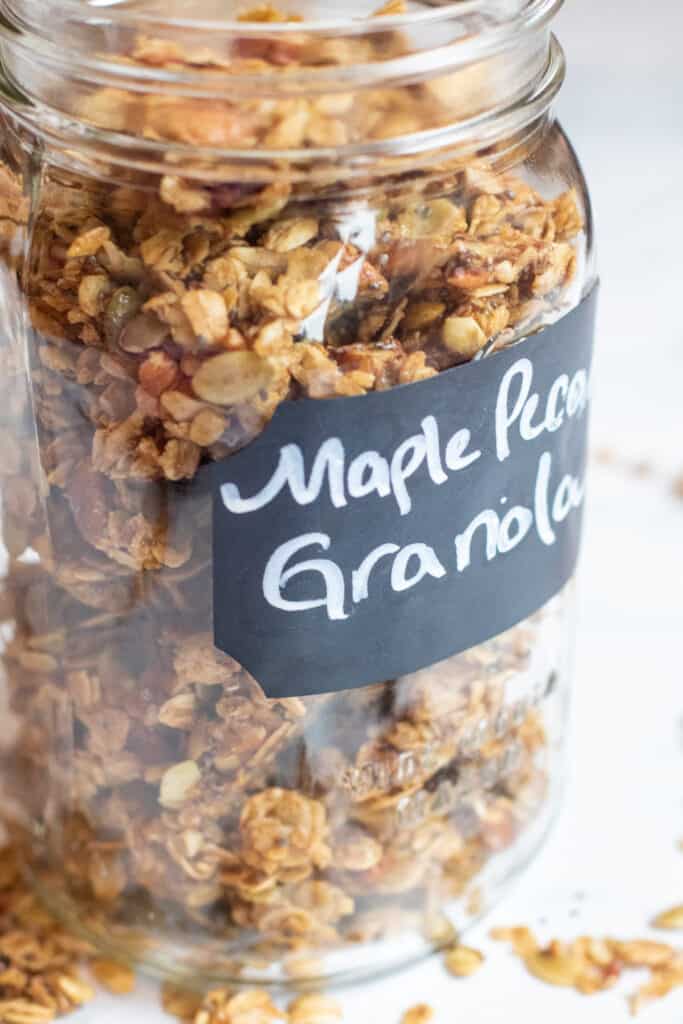 So add some milk or yogurt. Add some fresh fruit. Or just eat it as a crunchy, nutty, sweet snack!
Other Breakfast Favorites
Peanut Butter Chocolate Chip Granola Bars
Copycat Kashi Go Lean Crunch Cereal
Healthy Toddler Banana Oat Muffins
FAQs
How can I tell it's done?
It won't look crunchy yet and you're not looking for browned edges, just very lightly golden on top and it will smell like toasted maple. Don't worry if it doesn't look like it's fully crunchy, that's ok - it will get there as it cools!
Can I add dried fruit?
Yes! Dried fruits or shredded coconut is a great addition. Add it all at the end, after it's all cooled.
How do I store it?
In an airtight container for up to a month or freeze for up to 3 months. Defrost by taking it out and warming it for about 10 minutes at room temperature.
Can I use instant oats or steel cut oats?
No, this recipe is best with old fashioned rolled oats.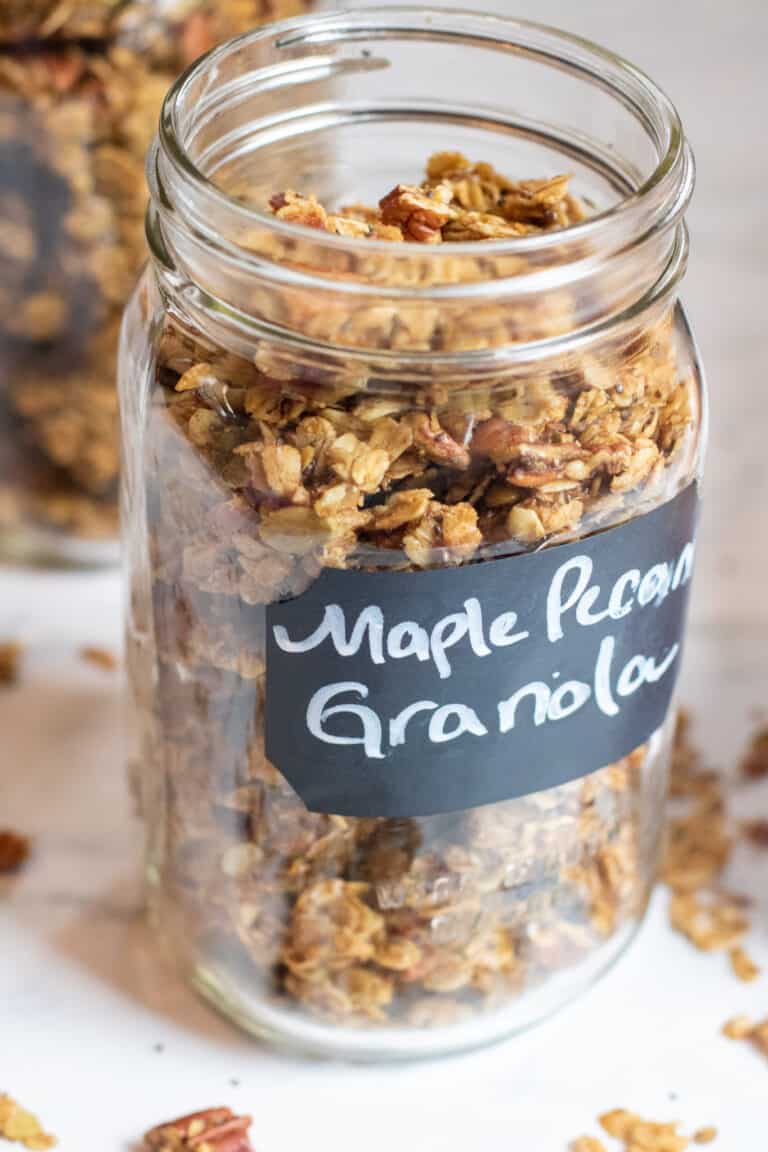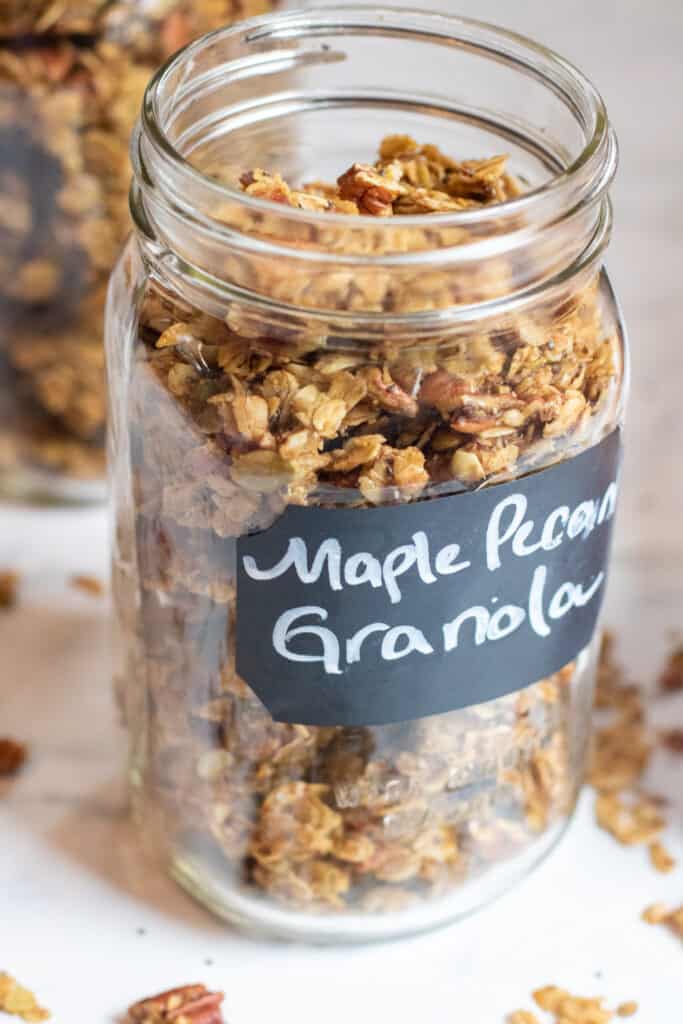 Healthy Maple Pecan Granola for the breakfast win!
Enjoy! As always, if you make this recipe or any of my others, I love to hear what you think! Leave a comment below, email me, or you can find me on Facebook, Instagram, and Pinterest!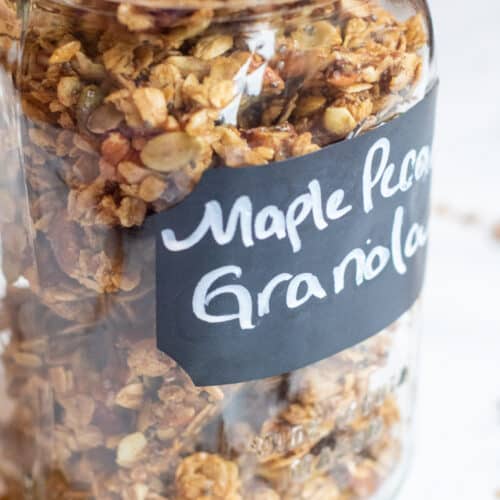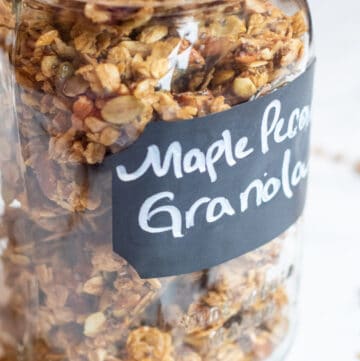 Healthy Maple Pecan Granola
This Healthy Maple Pecan Granola is one of my family's favorites and is so incredibly easy and fully customizable!
Print
Pin
Rate
Ingredients
3

cups

old fashioned rolled oats

1 1/2

cup

pecans

6.5 oz

1/2

cup

pepitas

1/8

cup

chia seeds

3/4

teaspoon

kosher salt

1/8

cup

ground flax seed

1/2

teaspoon

cinnamon

1/8

teaspoon

ground nutmeg

1/8

teaspoon

ground ginger

1/2

cup

real maple syrup

1/4

cup

extra virgin olive oil

1

teaspoon

vanilla extract
Instructions
Pre-heat oven to 300° and line a rimmed baking sheet or jelly roll pan with parchment paper.

In a large bowl, whisk together oil, maple, and vanilla extract.

In another medium sized bowl, mix remaining dry ingredients.

Slowly add dry ingredients to wet and stir it all together, ensuring that it is all well coated.

Add an even layer to parchment paper, flattening it with a spatula and pressing it down gently.

Bake for 20 minutes and then give a quick stir and another gentle press.

Bake for another 20 minutes.

Remove from oven, give another gentle press and let cool completely. At least for 20 - 30 minutes.
Notes
Store in an airtight container for up to a month or freeze for up to 3 months. Defrost by taking it out and warming it for about 10 minutes at room temperature.
Nutrition
Calories:
653
kcal
|
Carbohydrates:
63
g
|
Protein:
12
g
|
Fat:
41
g
|
Saturated Fat:
5
g
|
Sodium:
357
mg
|
Potassium:
472
mg
|
Fiber:
11
g
|
Sugar:
21
g
|
Vitamin A:
17
IU
|
Vitamin C:
1
mg
|
Calcium:
121
mg
|
Iron:
4
mg