These Peanut Butter Chocolate Chip Granola Bars are an easy to make, crunchy, kid friendly mom approved snack that's naturally sweetened and packed full of protein and superfood nutrients from cacao powder and flax seed!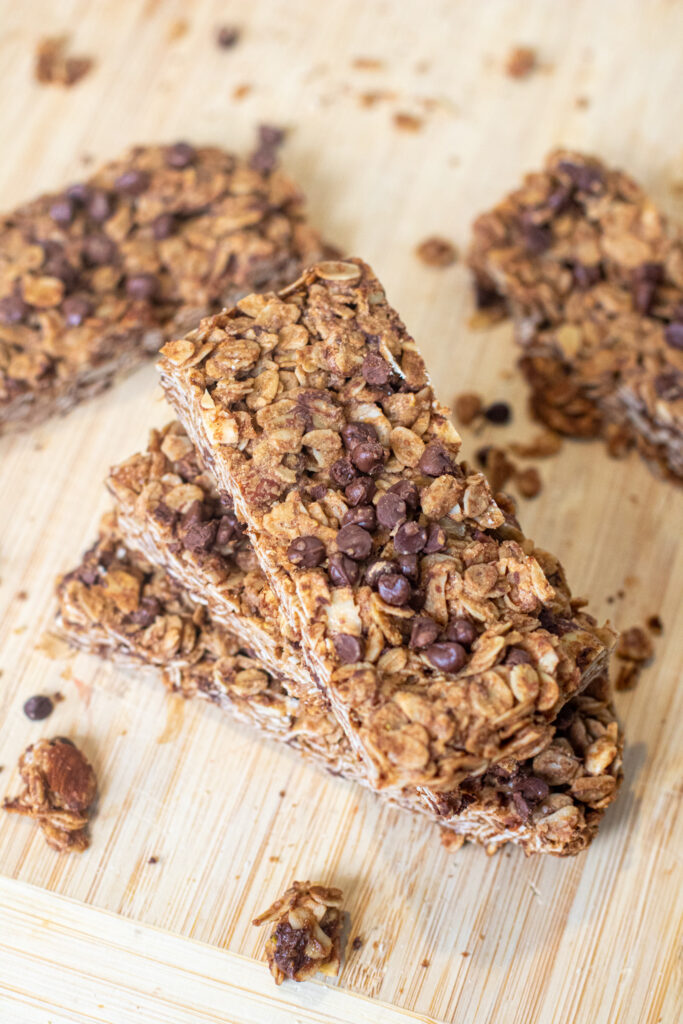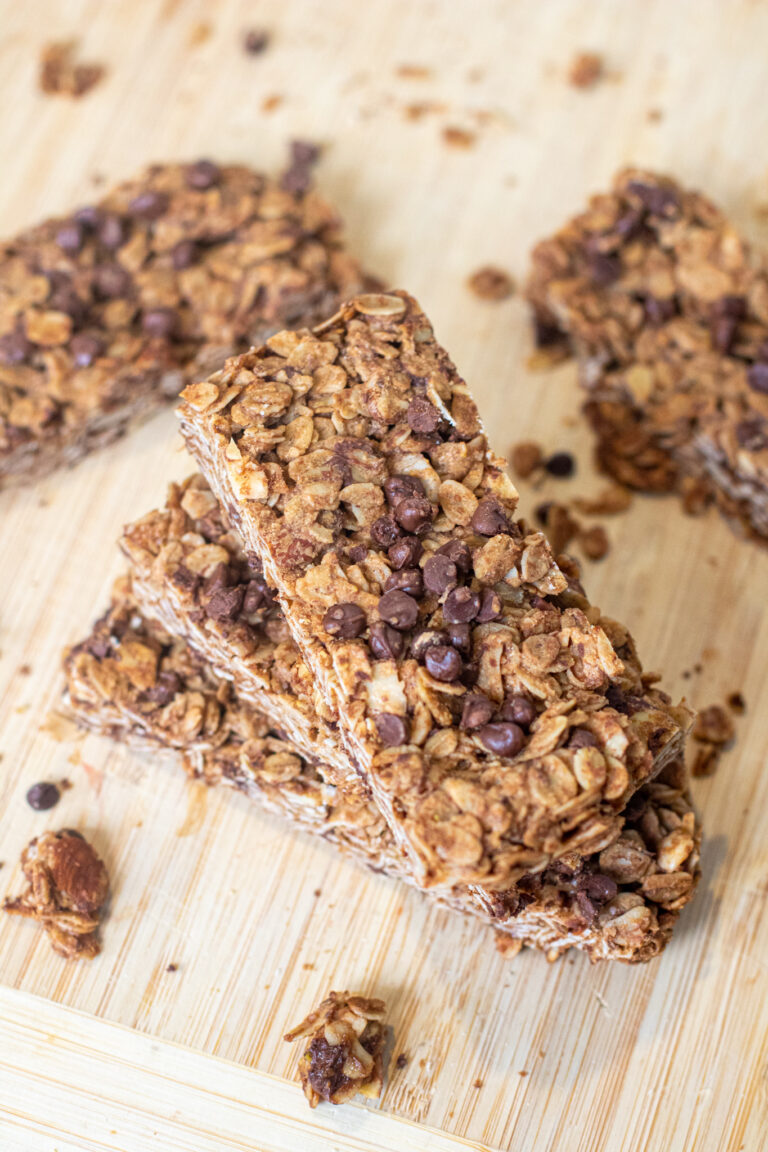 Is there anything better than chocolate and peanut butter together? Definitely not. I feared that my girls would be allergic to peanut butter which would mean they'd never get to experience this heavenly combination. Thankfully neither of them have a peanut allergy - which means that I can make alllllll the peanut butter chocolate snacks for them. Including our latest, these Peanut Butter Chocolate Granola Bars!
Ingredients Needed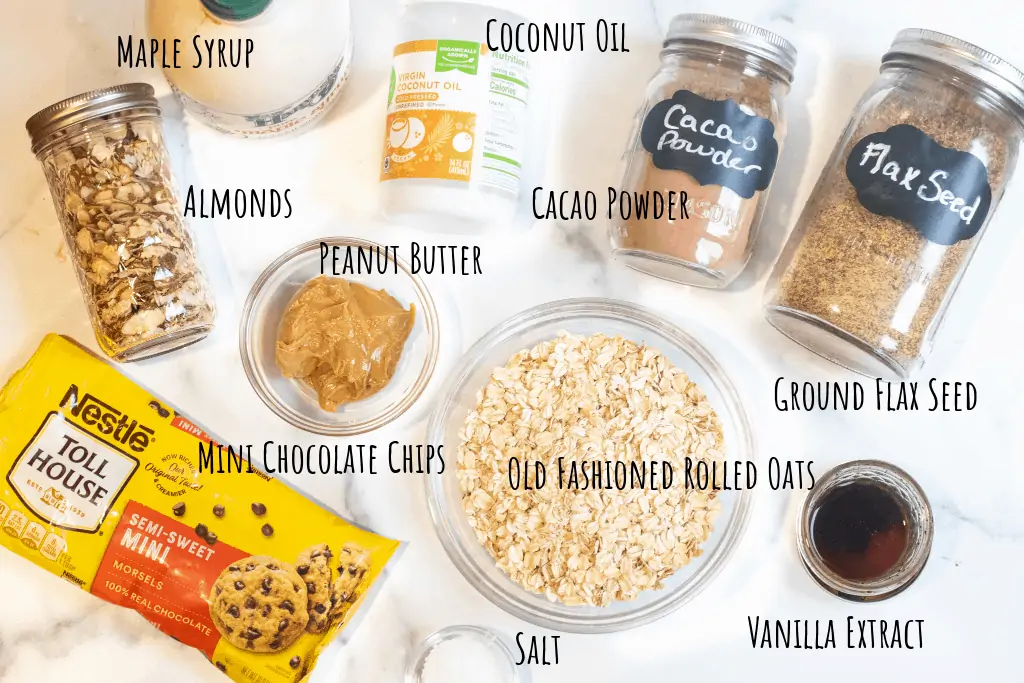 Peanut Butter - Have you

made your own yet

? It's easier than you think! You could also use your other favorite nut butter.
Cacao Powder - You could also use all cocoa powder (or a mixture!) but I love using cacao powder because it's a superfood packed full of that nutrients that are great for lowering blood pressure and good for your heart and brain!
Oats - Old Rolled Fashioned is what you want. Quick and steel cut wont work the same for these.
Maple Syrup - This is our favorite natural sweetener. But you could also use honey or agave.
Coconut Oil - Fat needed to keep it all together, but it's also another superfood! No coconut oil? You could also use butter.
Flax Seed - Another superfood full of fiber and antioxidants.
Almonds - Or whatever other nuts you prefer. We've also used pecan pieces and chopped walnuts.
Vanilla Extract - Have you

made your own

yet?
Chocolate Chips - We prefer mini for these, but you could use your favorite!
Peanut Butter Tip: For this recipe I've found that the looser and creamier the peanut butter is the best for making everything stick. If buying peanut butter, the peanut butters with added oil are the best. When making our own peanut butter, I'll add a touch more peanut oil/water while blending to loosen it up.
Step-by-Step Instructions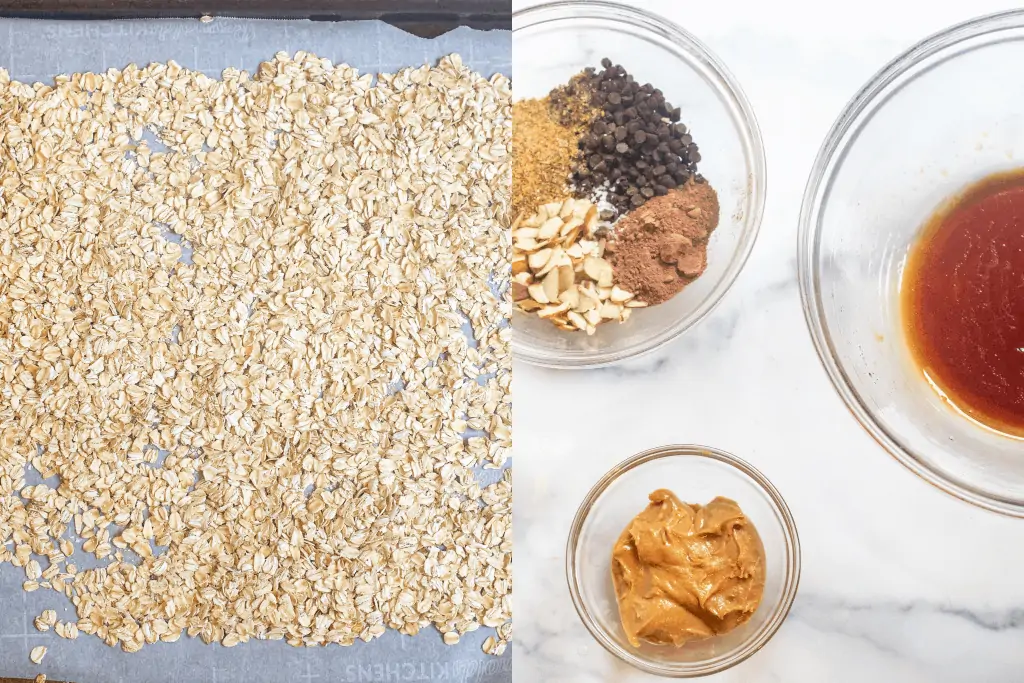 Step 1: The first step for these oats is to give them a quick toast. While this step is optional, but I highly recommend it because brings out their nutty flavor!
While they roast, that's when you prep your wet and dry ingredients, but hold some of the chocolate chips to sprinkle on top.
Tip: Bake the oats on parchment paper. It's not needed for sticking, but it will make quickly pouring the oats into the bowl once they're done much easier. Also, you'll need some parchment paper to line your baking pan too so you can just reuse this parchment paper and cut it to fit into the pan.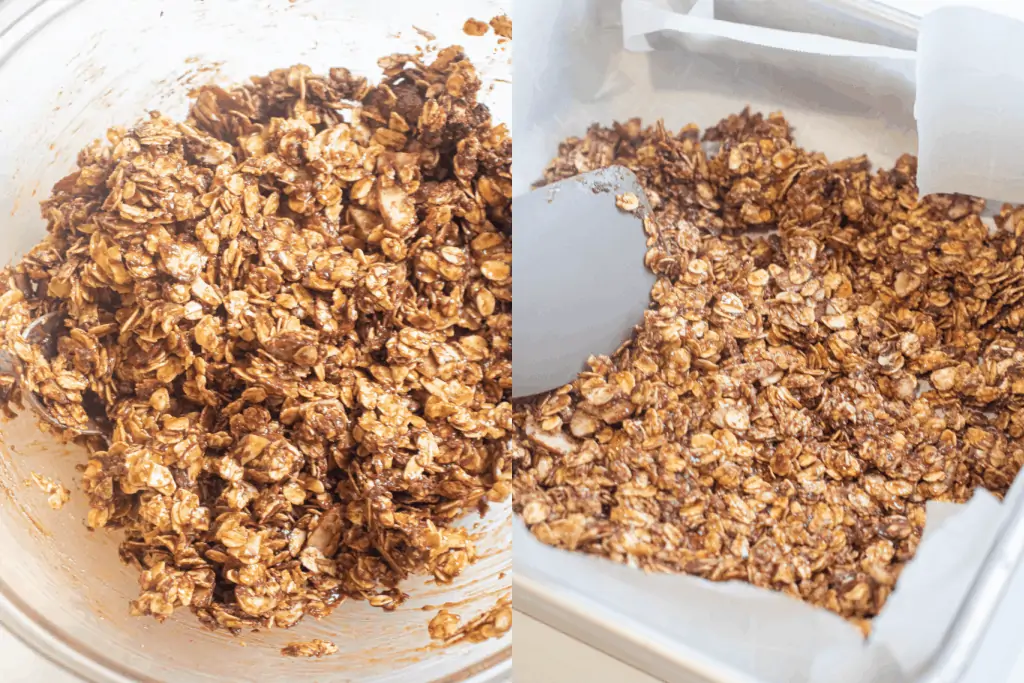 Step 2: Whisk the peanut butter in a bowl and when the oats are done, add then to the dry ingredients and then mix it all together.
Step 3: Spread it into a parchment paper lined baking pan and spread it evenly.
Tip: Use a spatula to spread it evenly or the flat edge of a measuring cup with also work well to make that sure you get a nice even layer.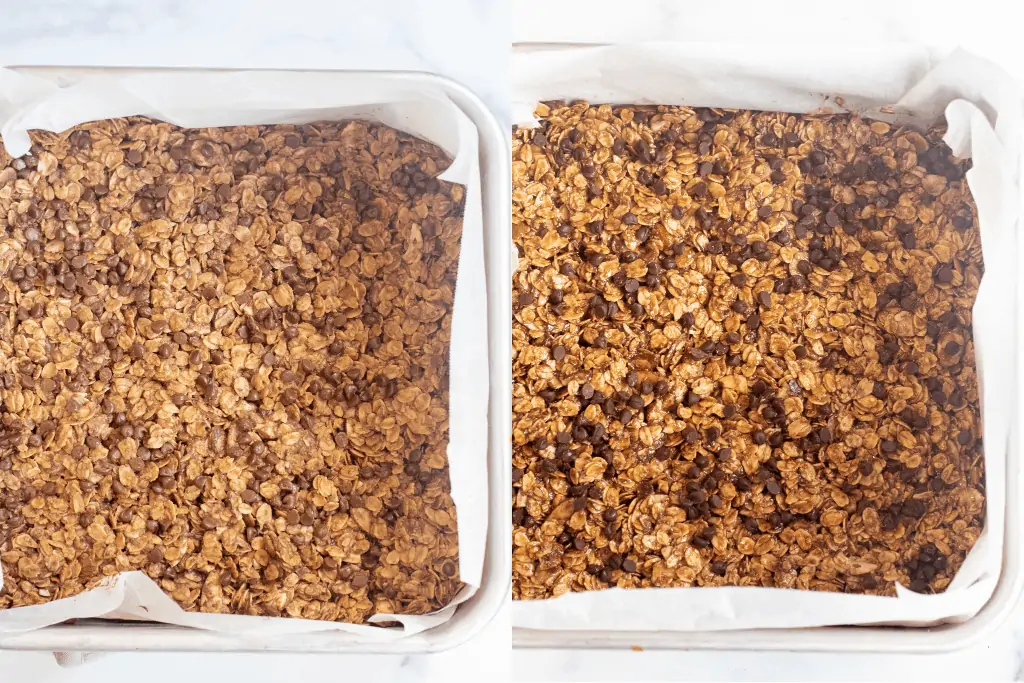 Step 4: Bake!
Reserve some of those chocolate chips to sprinkle them on top otherwise most will get lost in the center of the bars and you wont get them on top. Which, if you have kids, you know how important it is to have those chocolate chips up and center if you're calling them chocolate chip granola bars!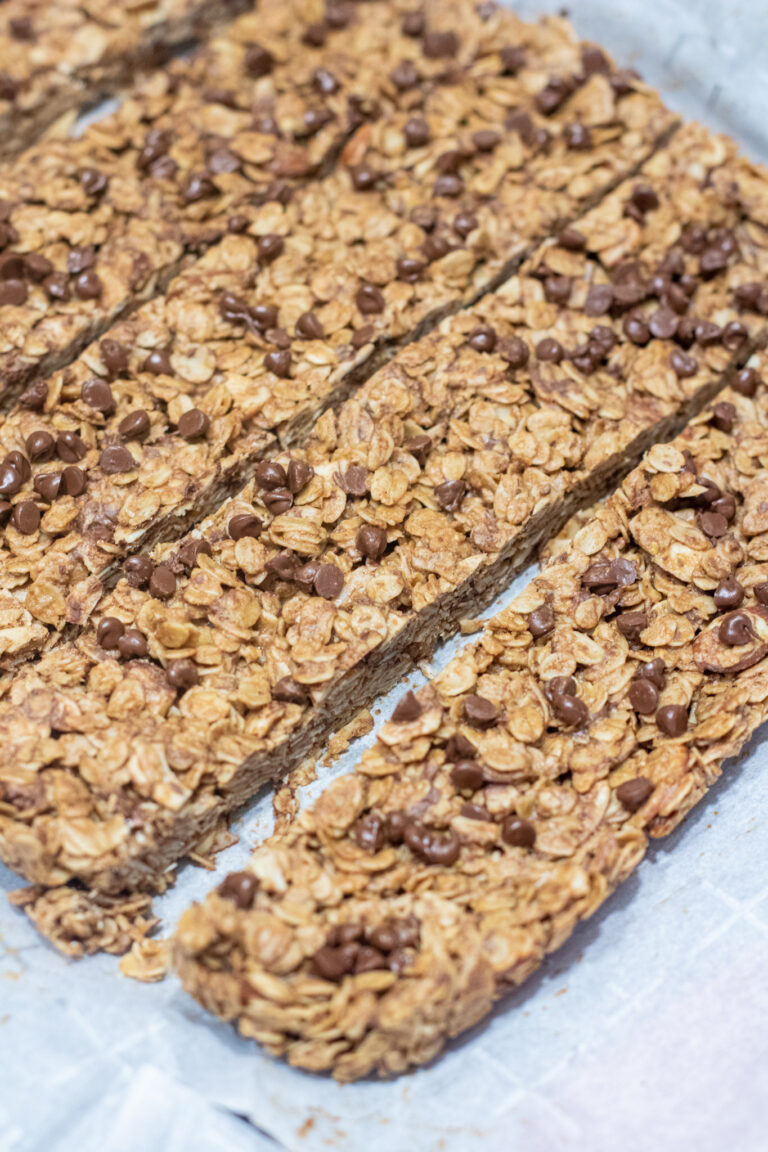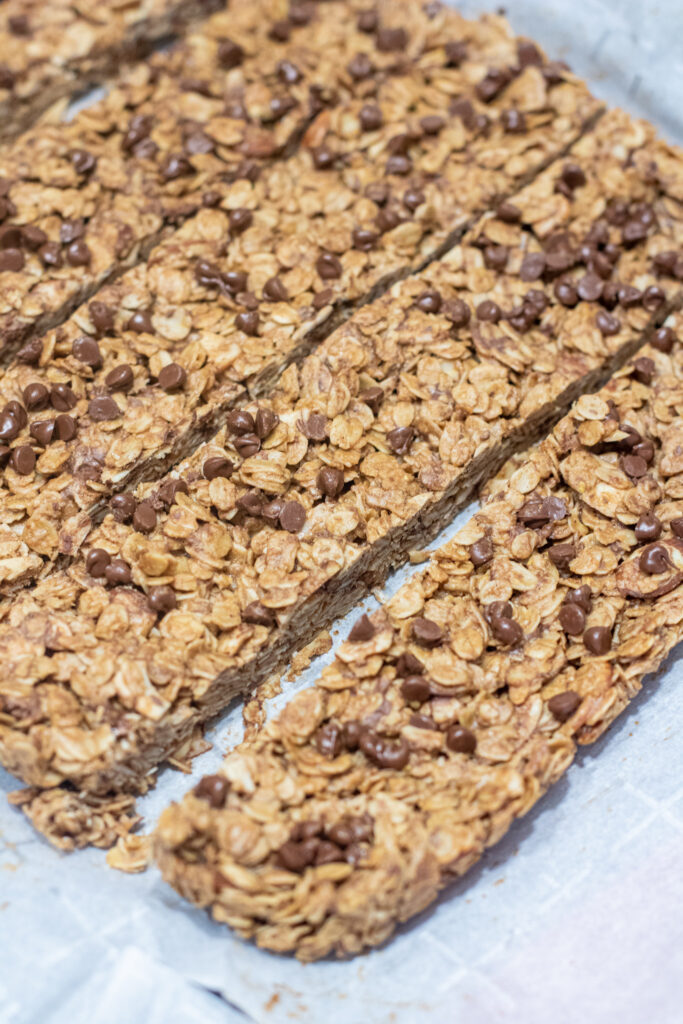 And done! Now this is important - make sure they're completely cool before cutting! While they cool is when they set.
Also, to ensure the most crunch, once they're cooled and cut, bake them again for another 10 minutes. This is called the Biscotti Bake. This is what will really set them and ensure the have a little crunch!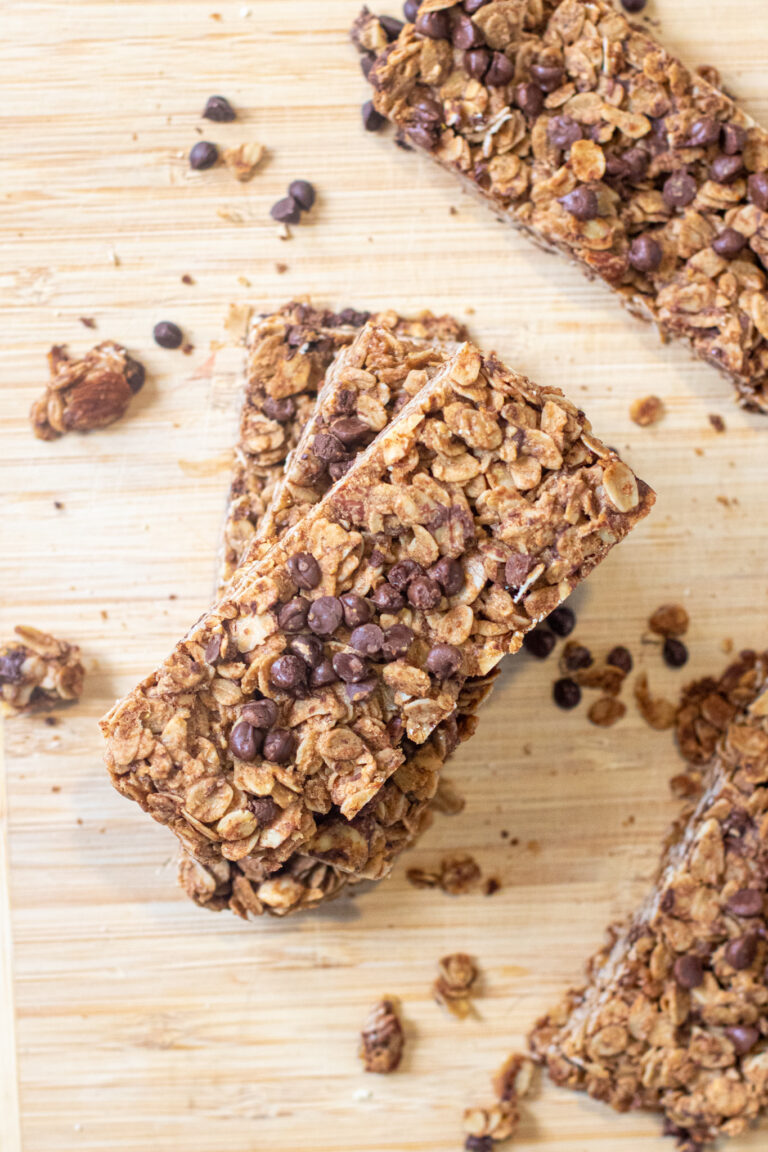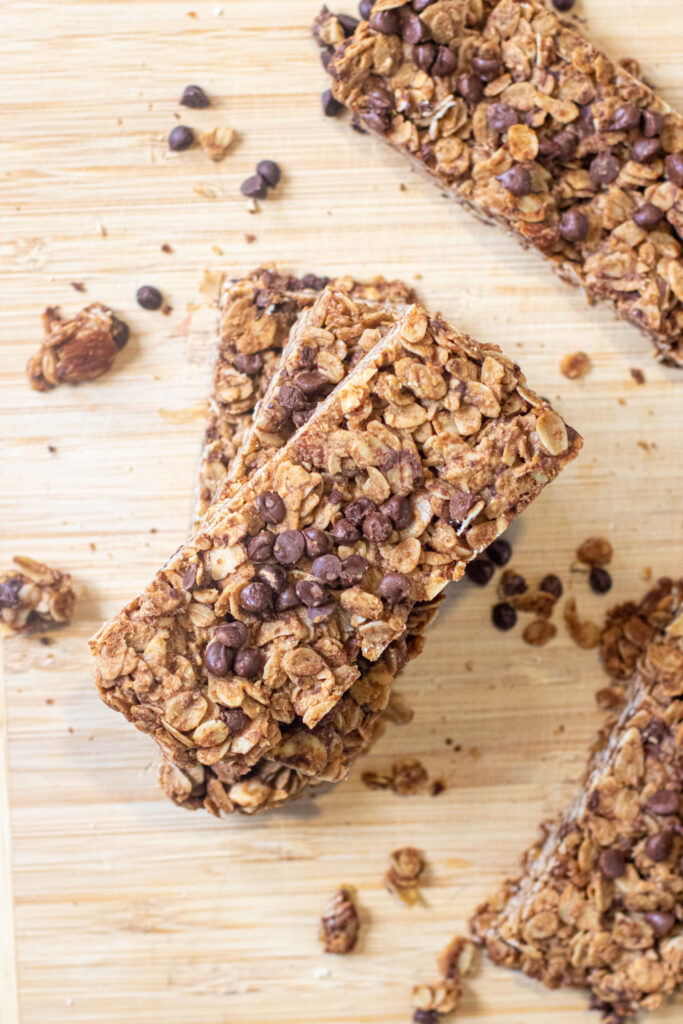 Once done then you have these delightful crumbly slightly crunchy Peanut Butter Chocolate Chip Granola Bars!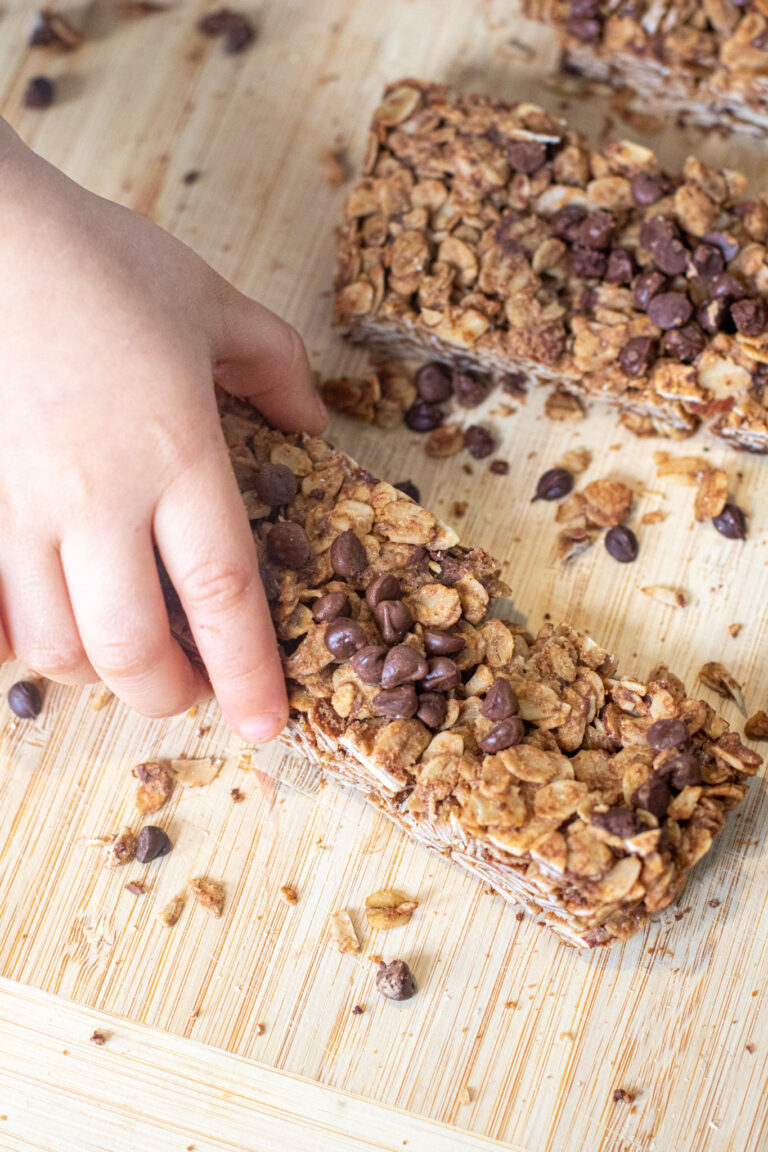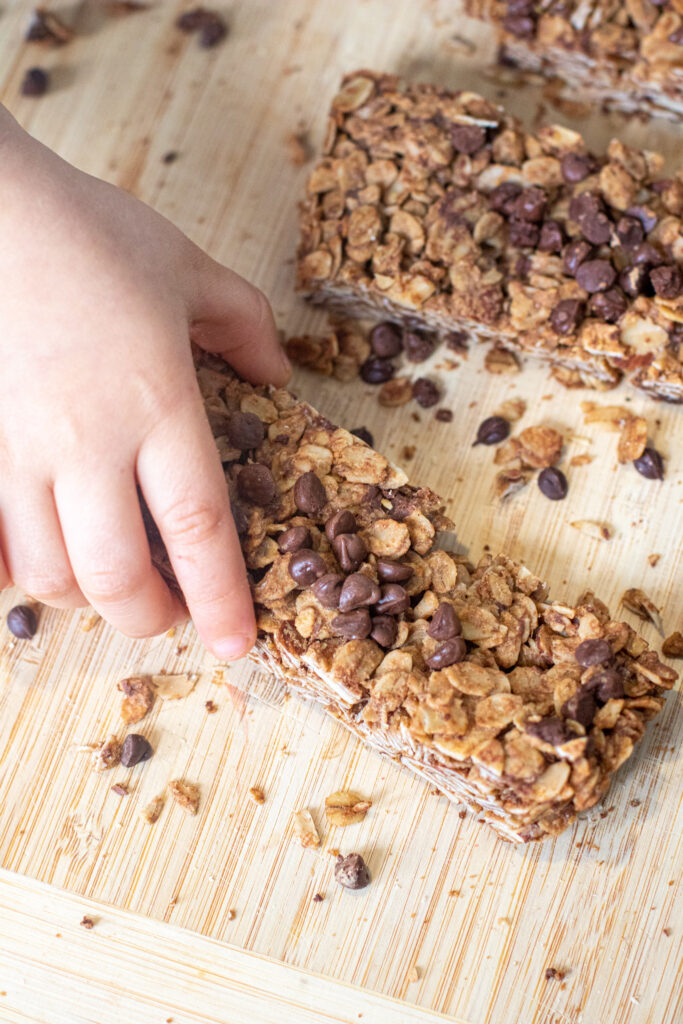 Mom tested and kid LOVED. My girls ask for these granola bars all of the time! Packed FULL of multiple superfoods! These granola bars are delicious and healthy!
Customizable
Swap out the chocolate chips for some dried fruit to make a fruit and nut bar! Or use mini M&Ms or white chocolate chips! Here are some great substitutions.
Pecan pieces
Walnut pieces
Dried cranberries
Raisins
Sunflower seeds
Pepitas
M&Ms
White Chocolate chips
Shredded coconut
Almond Butter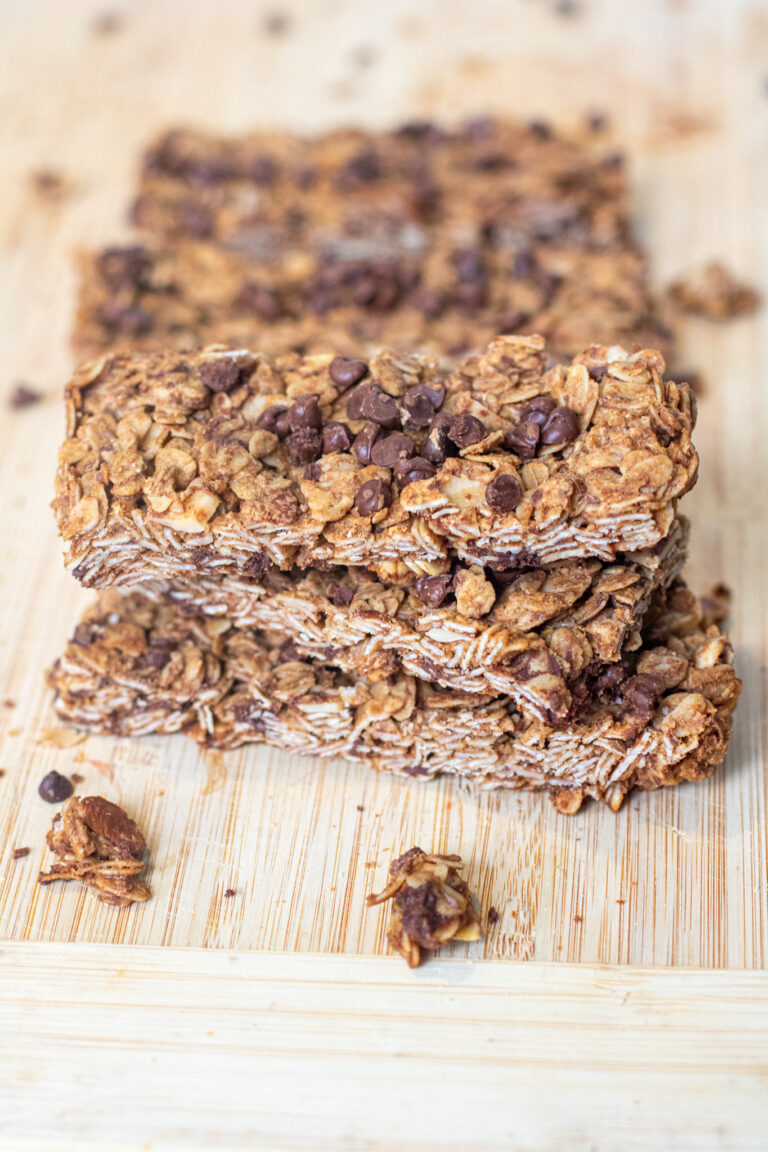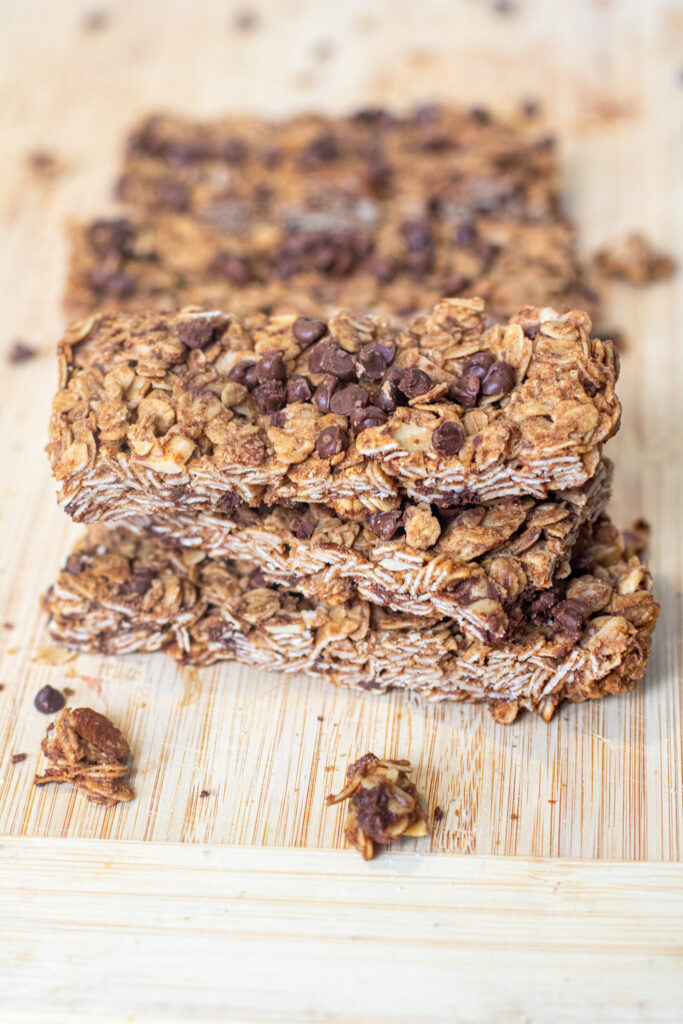 Some of our Other Favorite Snacks
FAQs
My bars aren't sticking together.
This could be from a couple of different things. 1. You haven't mixed in the binders (peanut butter and maple syrup or honey) to the oats well enough. You want to make sure that everything is mixed well and that the oats are well coated. 2. Your peanut butter is too thick. Key to this recipe is a looser creamier peanut butter. If you're making your own, that means we usually add a touch of peanut oil / water while blending to loosen it. Also, very important is to let them cool for at least 20 minutes before cutting as they set and crisp while they cool. You can also increase the amount of peanut butter up to 1/2 - 2/3 of a cup. I keep it at a full 1/3 of a cup to keep the calories down, but the more peanut butter, the more they will become a chewier granola bar.
Are these gluten free?
While oats and flaxseed are naturally gluten free, you want to make sure to check the label because some are processed in plants with gluten products and there's a risk for cross contamination. Also most chocolate chips are gluten free, but always check the label.
Are these vegan?
If you use a vegan chocolate chip, then yes! We love the Enjoy Life brand for vegan friendly chocolate chips.
Can I use other nuts?
Of course! Use your favorites or whatever you have on hand.
How long do these last?
These stay fresh and crunchy stored in an airtight container at room temperature for about a week. After that they're still ok to eat, just not as fresh.
Can I freeze them?
Definitely! Store for up to 2 months in the freezer.
Enjoy! As always, if you make this recipe or any of my others, I love to hear what you think! Leave a comment below, email me, or you can find me on Facebook, Instagram, and Pinterest!
If you want to see more, be sure to sign up for my 5 Easy Ways to Start Cooking From Scratch!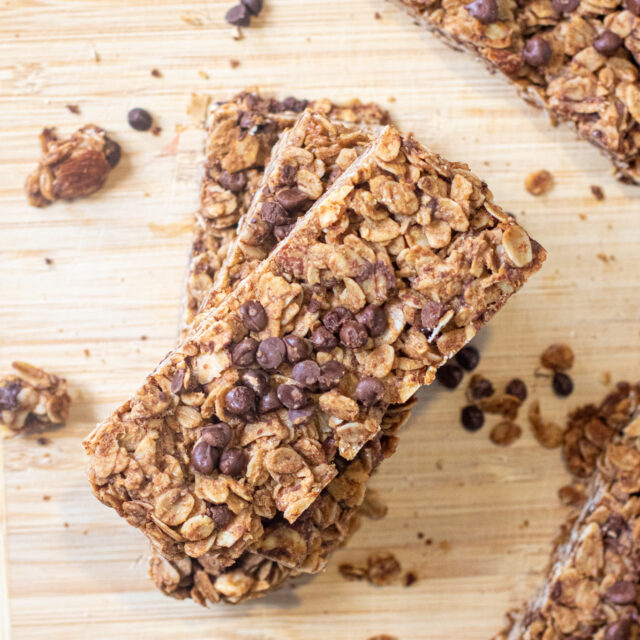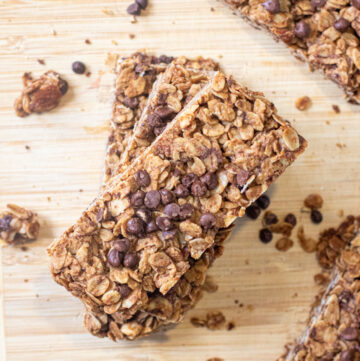 Peanut Butter Chocolate Chip Granola Bars
These Peanut Butter Chocolate Chip Granola Bars are an easy to make, crunchy snack that's naturally sweetened and packed full of protein, and superfood nutrients from cacao powder and flax seed!
Print
Pin
Rate
Instructions
Line a large baking sheet with parchment paper and toast oats for 10 minutes.

Meanwhile, in a large bowl mix coconut oil, vanilla and maple syrup. Whisk in peanut butter until it is all well incorporated.

In another small bowl, mix together the almonds, cinnamon, flax seed, salt, and 1/2 of the chocolate chips.

When oats are baked, use parchment paper to pour them into the large bowl with coconut oil and maple syrup. Add the rest of the dry ingredients and mix until it's all well combined.

Use that same parchment paper to line an 8X8 square baking pan. Cut the corners so that it all fits in the pan.

Pour mixture into parchment paper line pan and use a spatula or bottom of a measuring cup to create an even layer.

Remove from oven and let cool in pan for 5 minutes. Then gently remove parchment paper from pan and let cool for another 15 minutes. Once cool, cut granola bars into 8 4x2 inch bars or 12 bars that are about 3x2 inches. You can enjoy them now, or do an optional second bake to crisp them up more and place the cut bars still on the parchment paper onto a baking sheet and bake another 10 minutes.

Store in an airtight container at room temperature for 1 - 2 weeks (they're the freshest for the 1st week), or freeze for up to 2 months.
Nutrition
Calories:
281
kcal
|
Carbohydrates:
27
g
|
Protein:
7
g
|
Fat:
17
g
|
Saturated Fat:
7
g
|
Trans Fat:
1
g
|
Cholesterol:
1
mg
|
Sodium:
87
mg
|
Potassium:
230
mg
|
Fiber:
4
g
|
Sugar:
9
g
|
Vitamin A:
9
IU
|
Vitamin C:
1
mg
|
Calcium:
60
mg
|
Iron:
2
mg