These Chewy Banana Quinoa Bars are packed full of nutrition and flavor but free from refined sugar and peanuts while being vegan and gluten free! Perfect for growing little ones!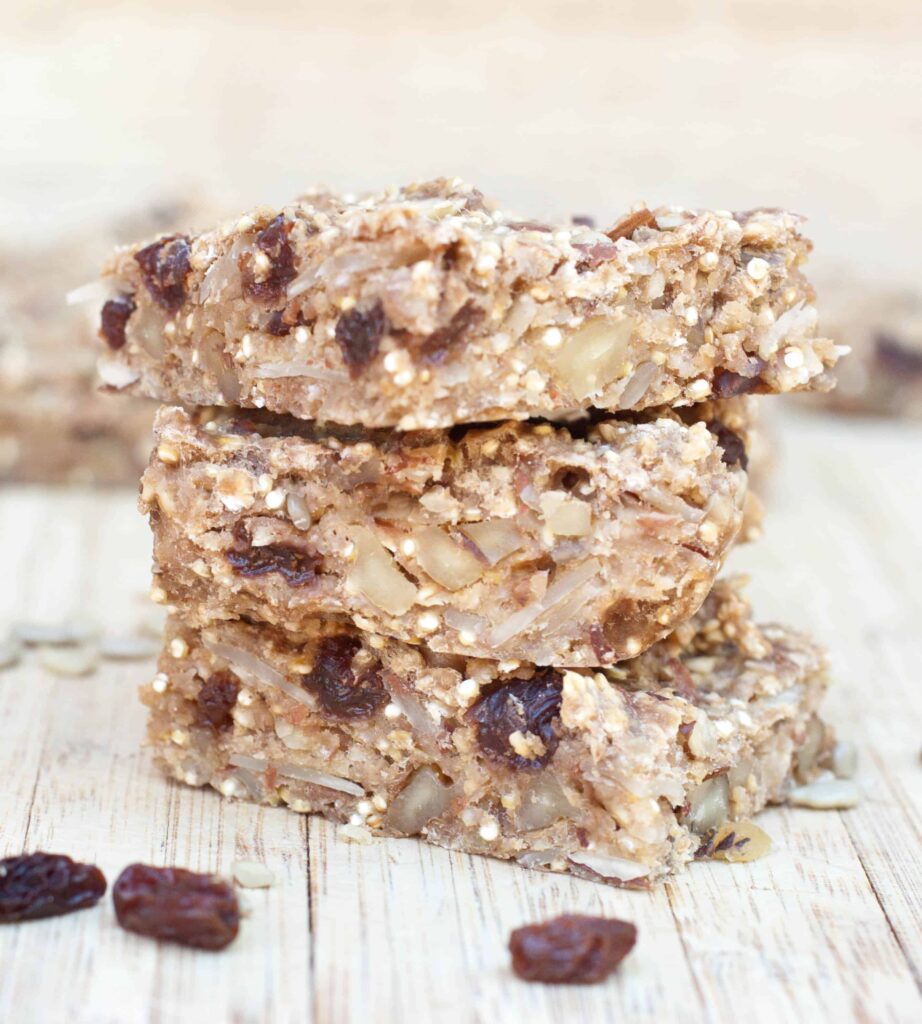 Back in the day when I was single, living alone, and working in restaurants, I never cooked. Not only because I was always either in class or at work, but also because, to me, cooking is not just about eating. Actually, if I were to pick the top 3 reasons why I cook, it'd be #3. The act of creating and making ingredients into something new, that's #2. But the #1 reason why I cook? Hands down: To share and to care for others through food. Without other people to eat with, what's the point?? Even now when I'm alone I don't cook. It's so bad that I've even found myself having eaten bread, cheese, and some type of meat all separately as I graze through my hunger. Yes, that's right, basically a deconstructed sandwich… instead of actually making a sandwich. It's a new level of lazy eating, my friends. I'm not proud of it, but hey, I've accepted it. ?
Anyway, anyone who's been to our house for dinner or a party, you'll get it. I always have tons of food. Because I love sharing it with our guests. But since having M, cooking and creating for her, now that hits a cord of my heart more than I could have ever imagined. A tiny human who is tastes different food for the FIRST time?! It's incredible. Even better, her taste preferences (and her teeth!) are at a point where I can begin to move away from purées and towards super fun creations like these Chewy Banana Quinoa Bars!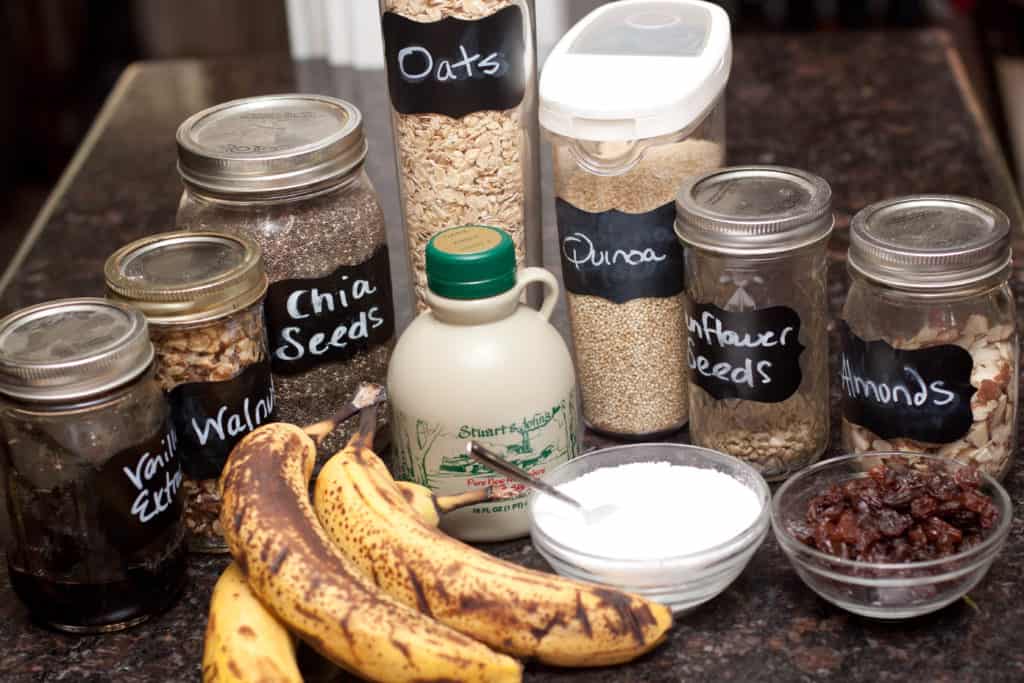 We're not vegan or gluten free in this house. And M (so far) doesn't have an allergy to peanuts (phew!) I do, however, want to make sure that M's little growing body is being nourished by the very best. Baby "puffs" and Cherrios? Meh. Empty, in my opinion. So when I saw the overripe bananas, I knew I wanted to make something that M would love but that would also be packed full of healthy goodness.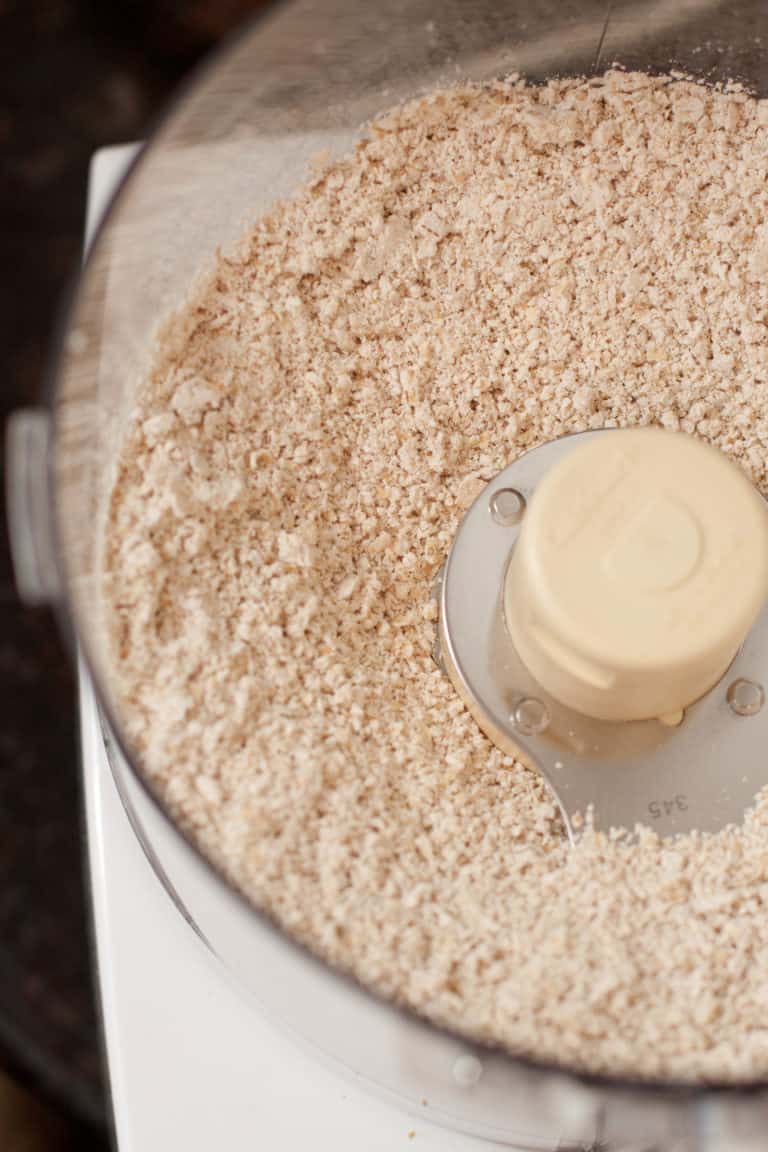 Instead of using flour, I just made an oat flour with some organic old fashioned rolled oats that I buy in the bulk section by tossing them in the food processor. Oats, naturally, are gluten free, but there is a chance that they will come in contact with wheat during processing. To be 100% sure, you can buy oats that are labeled "gluten free."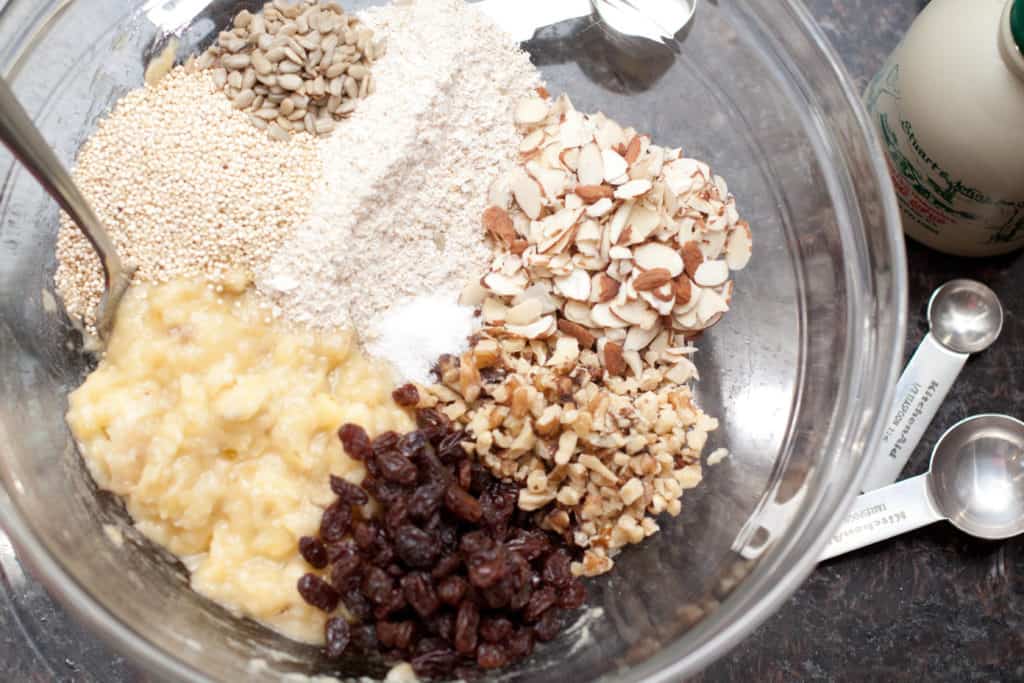 I didn't even purposefully make these vegan – proving that avoiding animal products is really easy! Fresh mashed bananas, oat flour, raisins, chopped walnuts, sunflower seeds, sliced almonds, quinoa, vanilla extract from scratch, cinnamon, pure maple syrup for sweetness, and a touch of salt! Packed full of protein, amino acids, vitamins, and fiber. You may have noticed the chia seeds in the ingredients photo… yeah. I had intended to add them too, but totally forgot. Mom Brain, it's real. Feel free to add a tablespoons of those, too!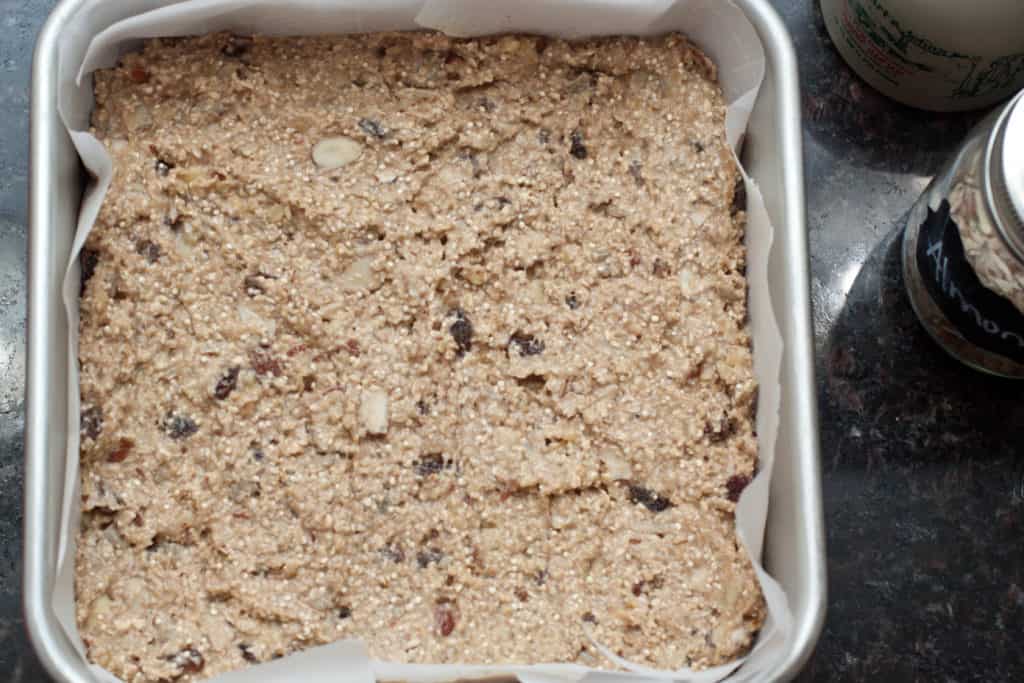 All mixed together and spread into a parchment lined 8X8 pan…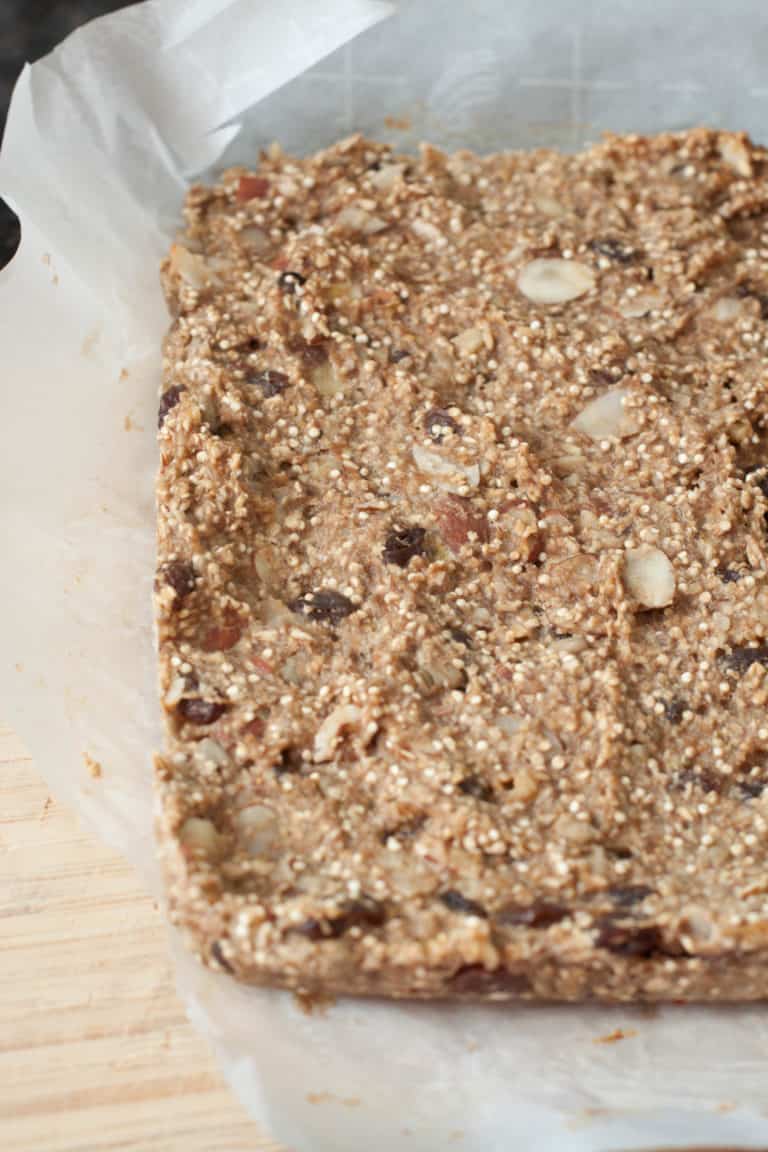 …and baked for about 40 minutes.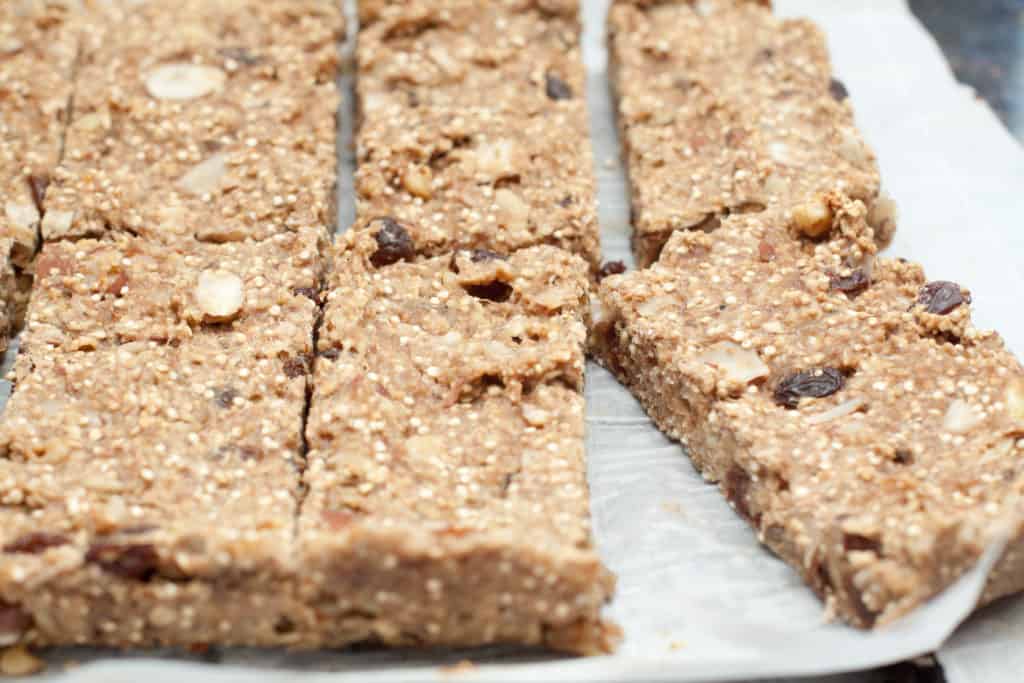 First I sliced them into bars,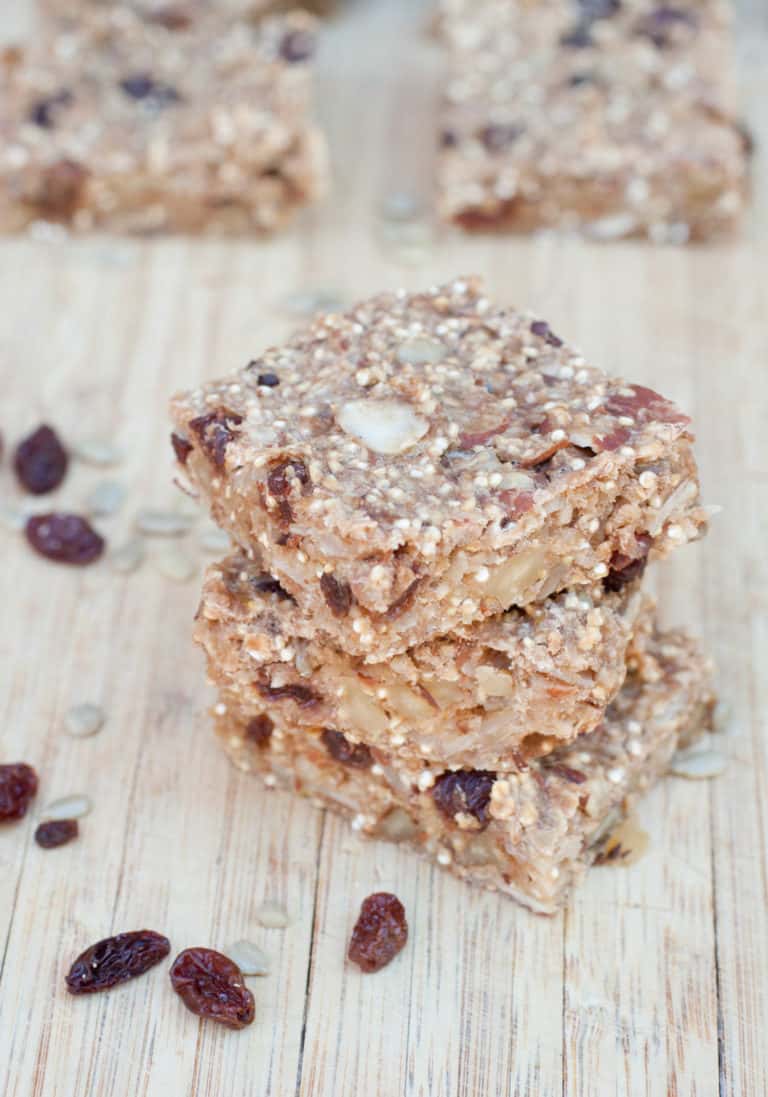 but then I realized that they were way more Bar-like.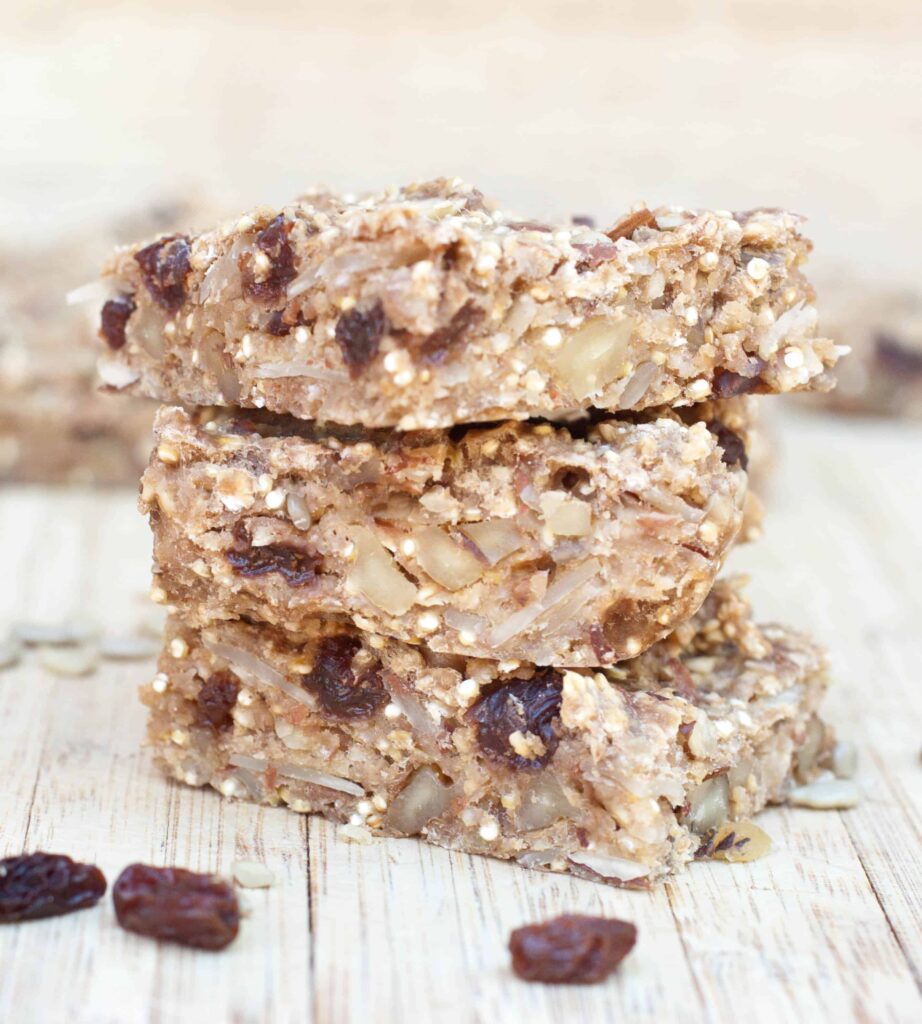 Look at all those nuts!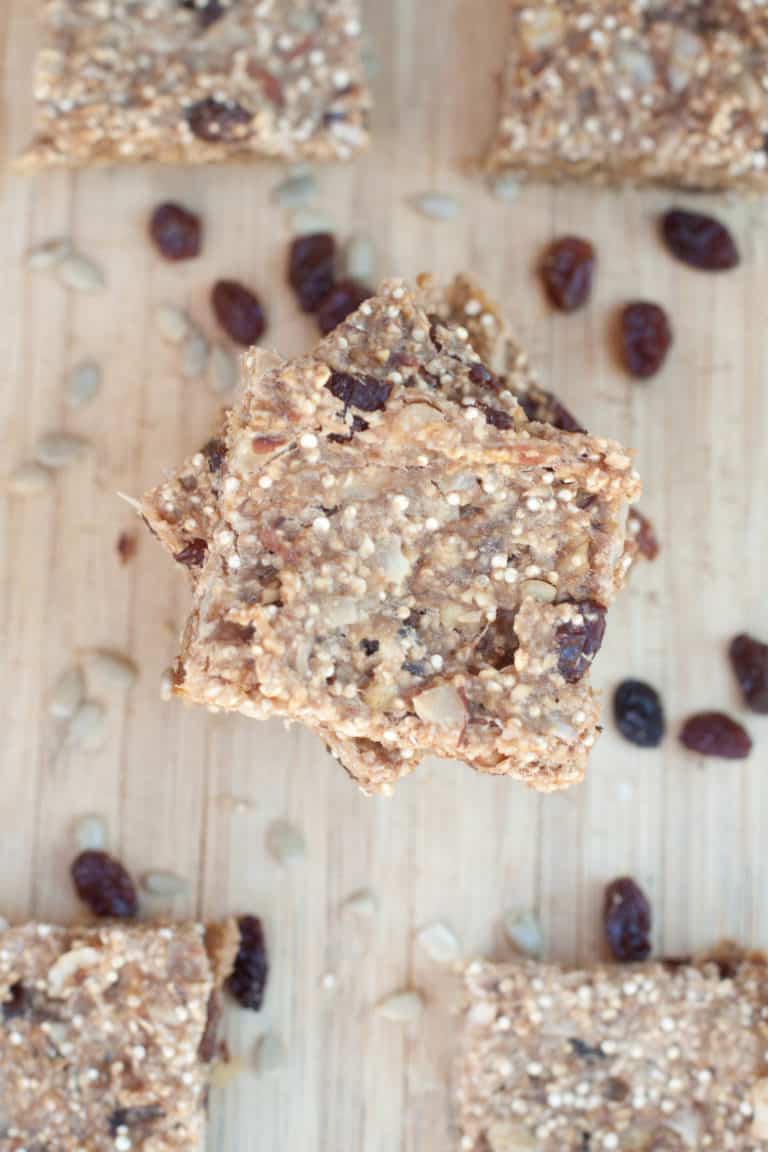 M loved these. And I love how easy they were and how incredibly nutritious they are! This recipe makes 16 bars, so I just packed them up into little baggies of two and popped them in the freezer to be able to bring them out whenever my little Munchkin needs a little healthy snack!
Other Healthy Toddler Friendly Snacks
Banana Oat Muffins
Broccoli Cheddar Quinoa Bars
!
Healthy Raspberry Chocolate Chip Muffins
Strawberry Fruit Roll-Ups
Oatmeal Quinoa Chocolate Chip Cookies
Want to see more of the healthy snacks and meals I make for my little one? Sign up to receive new recipes via email, and follow me on Facebook, Instagram, and Pinterest!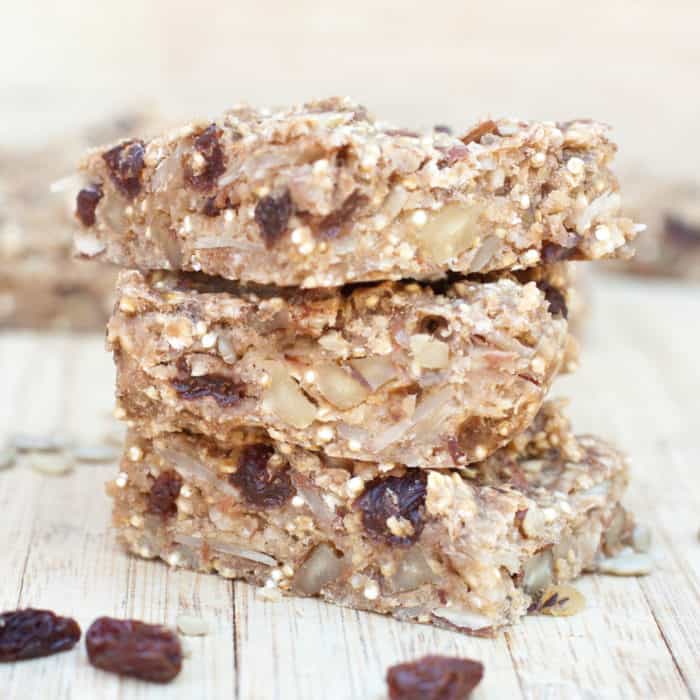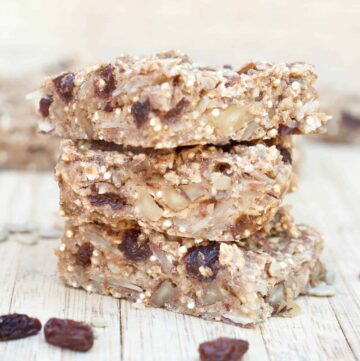 Chewy Banana Quinoa Bars - Vegan, Gluten and Peanut Free
These Chewy Banana Quinoa Bars are packed full of nutrition and flavor but free from refined sugar and peanuts while being vegan and gluten free! Perfect for growing little ones!
Print
Pin
Rate
Ingredients
1 1/2

cups

mashed overripe bananas

about 3 large bananas

2

cups

old fashioned rolled oats

gluten free

1/3

cup

quinoa

rinsed

3/4

cup

raisins

1/4

cup

sunflower seeds

1/2

cup

chopped walnuts

1/2

cup

sliced almonds

2

tablespoons

pure maple syrup

1

teaspoon

ground cinnamon

1/4

teaspoon

kosher salt

1

teaspoon

vanilla extract
Instructions
Pre-heat oven to 350 degrees.

Line an 8X8 baking pan with parchment paper.

Add the oats to a food processor and blend until floured, about 7-10 seconds.

In a large bowl, mash bananas.

Add remaining ingredients to bowl and mix.

Pour mixture into pan and smooth to one even layer.

Bake for 35 to 45 minutes, until edges being to brown very slightly. These bars will be soft and chewy and they wont brown much at all - if they're browning a lot, they're burning!

Store in an airtight container and in fridge for up to a week. Freeze for up to 6 months.