These Oatmeal Quinoa Chocolate Chip Cookies are toddler friendly, mom approved cookies that are packed full of nutrition but satisfy a craving for a big soft chocolate chip cookie!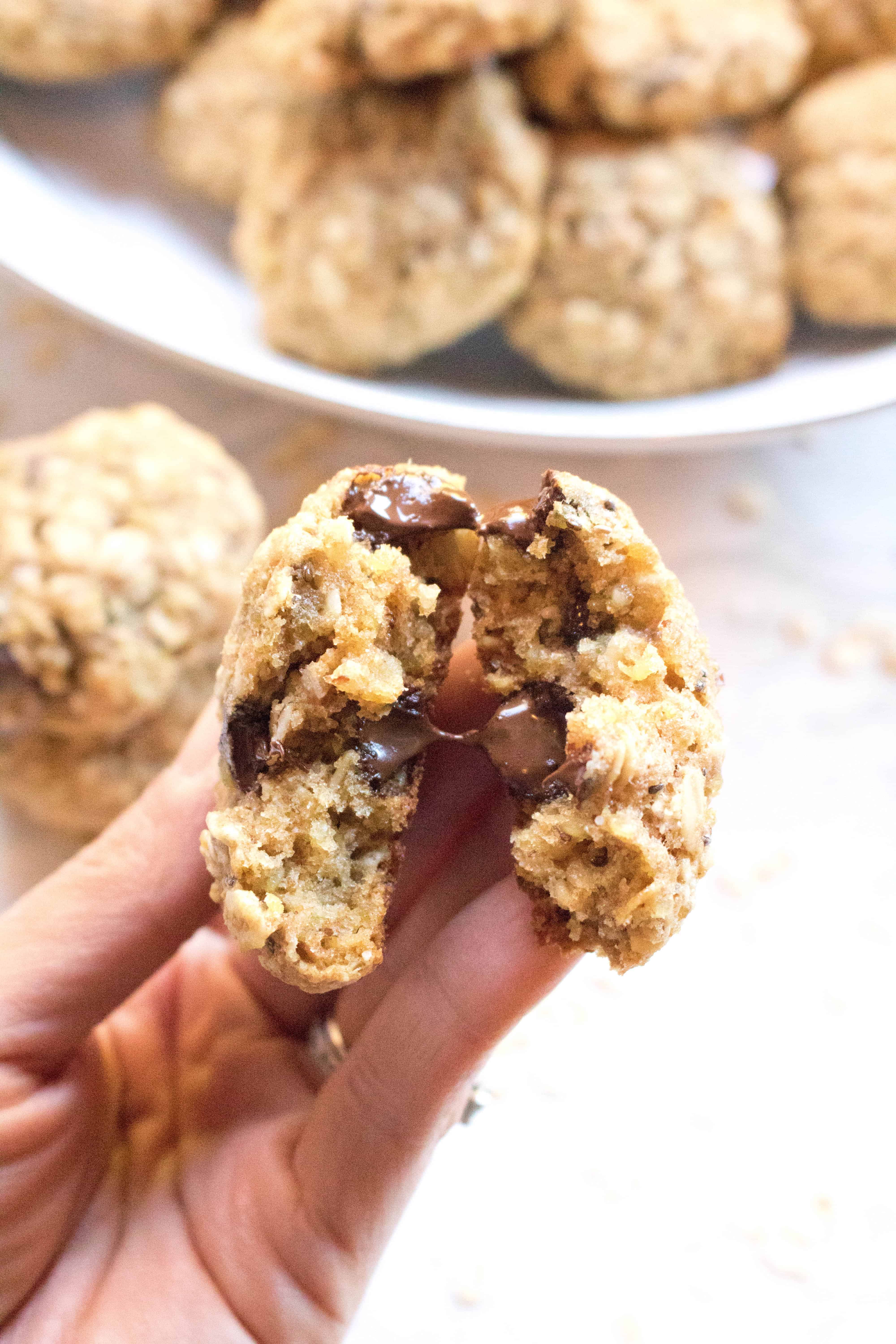 Here's a quickie for you, friends! None of the normal step by steps with this one because, well, with a tantrum-ing toddler in the house, nothing goes as planned these days. Except these Oatmeal Quinoa Chocolate Chip Cookies which have become my new favorite healthy snack!
Our Vegan Cashew Cacao Bliss Balls and Peanut Butter Chocolate Energy Balls have been go-tos for awhile now. But given our toddler's head on steamroll into the world of tantrums and general what my husband calls assholery, I've started doing one of the things I told myself I'd never do as a mother. That's right: bribery. Or as I prefer to call it – quid pro quo. You nap for me, I'll continue to provide food and shelter and a warm bed for you to nap in. No? Ok, how about a cookie?
With that said, if you've followed this blog for awhile, you'll know we have a (loose) rule that if we want something sweet, we need to make it ourselves. It (drastically) reduces the amount of sweets we have in our house and ultimately is beneficial for my waistline. So, the cookie offer, it's unfortunately one that's usually pretty empty because we never have store bought cookies in the house. Someone has to make them. Plus, we've tried to stay away from a lot of refined sugar products for the tiny human anyway. But then I realized, that I can call whatever I want a cookie. The tiny human will have no idea. She has no idea that "normal" cookies don't have ground flax seed or chia seeds or sunflower seeds and definitely not quinoa! All she knows that is if I call it a cookie, it must be special. And she's gotta earn it.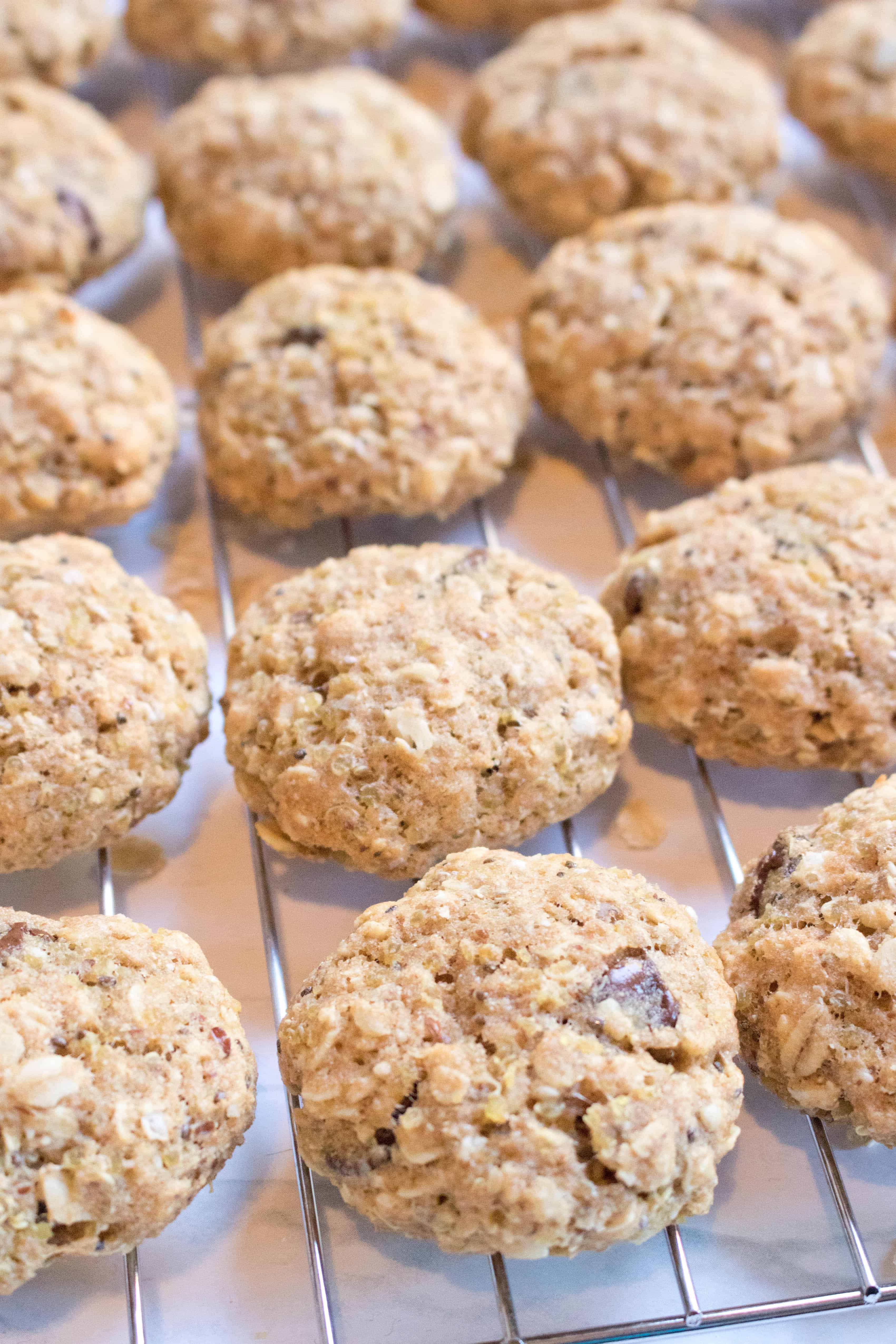 Thus, these delightful little Oatmeal Quinoa Chocolate Chip Cookies were born. And let me tell you, they really are quite delightful. They have just a kiss of sweetness from the honey and maple syrup, they're soft and chewy with the occasional crunch from a little hidden sunflower seed. Then with just a touch of chocolate, they're the healthiest chocolate chip cookie you'll ever eat. You'll forget you're eating quinoa. Seriously.
M loved them. Now did I get that nap that I wanted in return? Of course I didn't; I made the rookie mistake of trying to negotiate with a terrorist two year old. ;P
Our Other Favorite Cookies
Healthy Blueberry Oatmeal Cookies
Other Healthy Toddler Friendly Snacks
Healthy Raspberry Chocolate Chip Muffins
So whether you're trying to keep your toddler bribes as healthy as possible or you're cutting out refined sugars from you're diet and dammit it's hard and you need a cookie, I've got you with these Oatmeal Quinoa Chocolate Chip Cookies!
Enjoy! Don't forget to let me know if you've tried them on Facebook, Pinterest, and Instagram!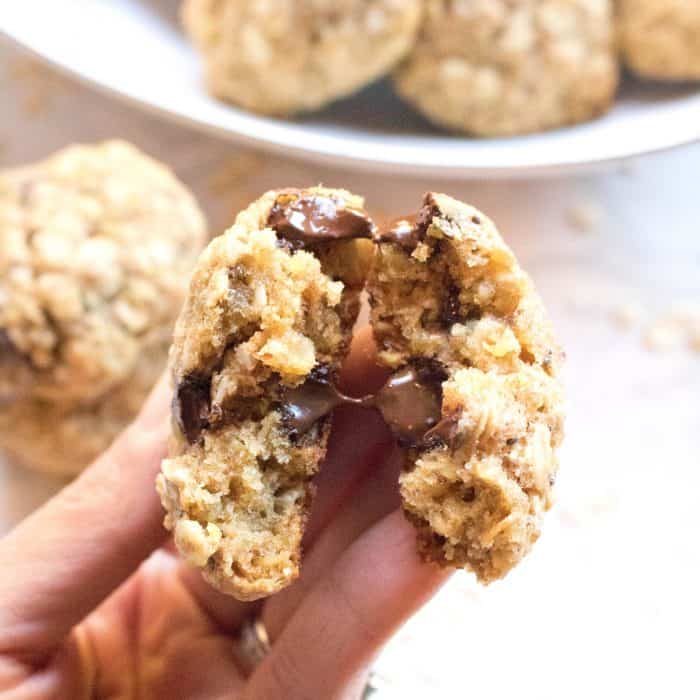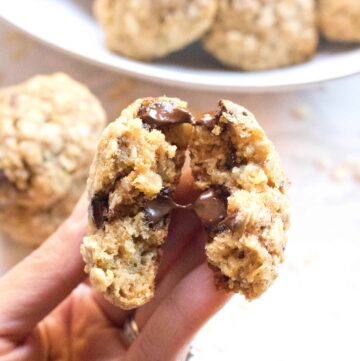 Oatmeal Quinoa Chocolate Chip Cookies
A cookie that's packed full of nutrition! These Oatmeal Quinoa Chocolate Chip Cookies are soft and have just the right amount of sweet that makes you not realize how nutritious they are!
Print
Pin
Rate
Ingredients
1

cup

coconut oil

solid

1/2

cup

honey

1/4

cup

pure maple syrup

2

eggs

1

tsp

vanilla extract

make your own! https://www.servedfromscratch.com/vanilla-extract-from-scratch/

2

cups

whole wheat flour

1

teaspoons

baking soda

1

teaspoons

salt

2 1/2

cups

old fashioned rolled oats

1 1/2

cups

quinoa, cooked and cooled

2

tablespoons

ground flax seed

1

tablespoon

sunflower seeds, raw unsalted

2

teaspoons

chia seeds

1/2

cup

chocolate chips
Instructions
Pre-heat oven to 375 degrees and lightly grease baking sheets.

In a large bowl add coconut oil, honey, and maple syrup. With a hand mixer, mix on low until all is well combined. Add eggs and vanilla and mix again until all incorporated.

In a medium bowl, mix flour, salt, and baking soda. Slowly add to wet mixture mixing until is all well combined.

In that same bowl used for the flour, add oats, quinoa, flax, chia seeds, sunflower seeds, and chocolate chips. Give a quick mix. Then, with your hands, slowly add this mixture to the dough, but mix it all in with your hands, being sure to not overwork the dough.

On greased baking sheets, roll out 2ish inch balls and flattening them slightly on sheet, so they're thick discs, spacing them at least an inch apart.

Bake for 8-10 minutes. Transfer to cooling rack. Store in an airtight container in fridge for