By making your own snack foods you make them healthier and much more fun to eat. Try your own Hard Pretzel Rods From Scratch!

We're in full Christmas mode around these parts! Which means we're making a lot of our holiday favorites around here and not too many new things. But the other day I had a serious craving. But not really for a particular food, but for the memory of eating a favorite childhood snack. Which meant I had to finally try my hand at making Hard Pretzel Rods From Scratch!Hard Pretzel Rods are one of those snacks filled with all the warm and fuzzy memories. I don't have a particular memory around eating them, I just remember that they were one of my favorite snacks as a kid and that I'd take my time nibbling through the pretzel, enjoying the crunch, the salt, and also apparently the sweet sweet innocence of being a kid who had no worries in the world except if I was going to get another pretzel. Maybe that's why these Hard Pretzel Rods From Scratch tasted so damn good. Adulthood and all it's responsibilities? It's a trap, am I right? Ha.
Anyway, here's another snack from scratch to add to our collection! These were not nearly as labor intensive as the last Cheddar and Sour Cream Potato Chips From Scratch, but definitely my preferred pretzel over Soft Pretzels and Pretzel Bites. Although let me be clear, I don't discriminate against any kind of pretzel when it comes to snacking. If it's carb filled and salty, I'm all in. And these Hard Pretzel Rods From Scratch? Paired with some Dijon Mustard and a beer, it was the perfect adult version of a childhood afternoon snack!
Now it's back to our holiday classics! Pecan Sandies, Christmas Wreath Cookies, Cream of Mushroom Soup from scratch for some party casseroles, Crescent Rolls From Scratch and of course some Nutella From Scratch, one of my favorite homemade Christmas gifts!
Merry Christmas and Happy Holidays, friends! I have some big plans and changes in store for the New Year! Thanks for supporting another great year and cheers to the new one! 😀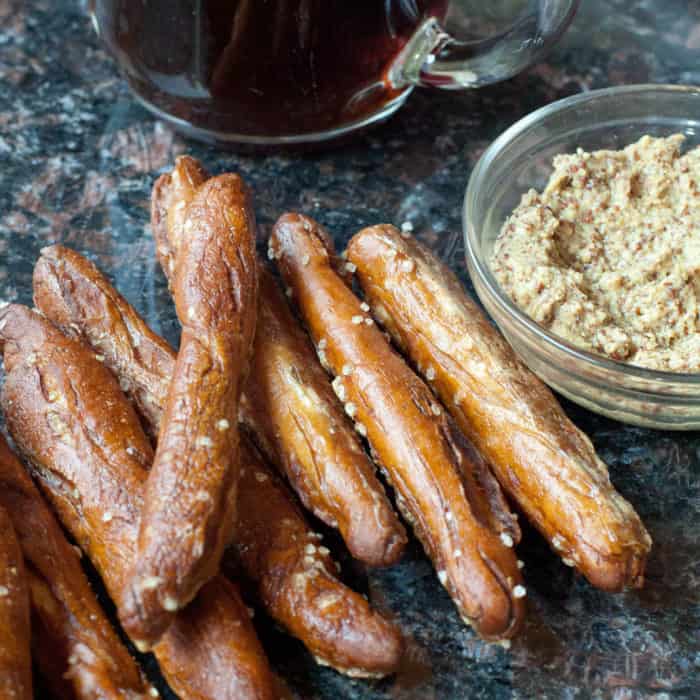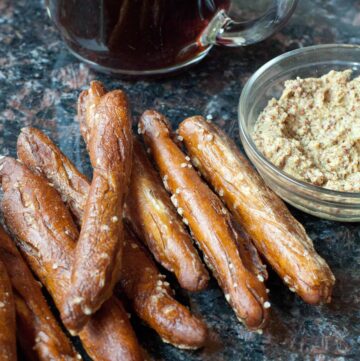 Ingredients
1 1/2

cups

all-purpose flour

1 1/2

cups

bread flour

1

teaspoon

instant yeast

2

teaspoons

light brown sugar

packed

1/2

teaspoon

kosher salt

1

cup

warm/hot water

Cooking spray or vegetable oil
Poaching Liquid
8

cups

water

1/2

cup

baked soda

1/4

cup

light brown sugar

packed
Topping
1

large egg + 1 tablespoon water

whisked together

2

tablespoons

coarse sea salt
Instructions
Make the pretzels: In a medium bowl, stir the flours, yeast, brown sugar, and salt together in a large bowl, then add the warm water until a shaggy dough forms.

Transfer the dough to a lightly floured surface and knead for 5 minutes until a smooth dough forms.

In a large clean bowl, grease with oil or with cooking spray. Place the dough ball in the bowl and cover with a spritzed or greased piece of plastic wrap. Let rise until doubled in size, usually an hour, but depends on how warm your home is. You can also use the a Proof setting on your oven, if you have it.

Line 2 baking sheets with parchment paper.

Transfer the dough to a clean, unfloured surface and divide dough in half. Then divide each half in half and continue until you have 24 even pieces of dough. Roll each piece into a rope about 9 inches long and 1/2 inch wide (the thinner the better). Line up the ropes on the baking sheets and cover loosely with clean cotton kitchen towel. Let rise for another 30 minutes.

Poach and bake: Preheat the oven to 325˚F and prepare the poaching liquid. In a large wide saucepan or Dutch oven over medium heat, bring 8 cups water to a simmer over medium heat. Add the baked soda and brown sugar and stir until dissolved. The water should foam slightly.

Gently drop your dough ropes into the simmering water, just a couple at a time. Poach for 15 seconds and with tongs, gently remove the ropes and return them to the baking sheets. Brush with egg wash and generously sprinkle with sea salt.

Bake for 50-60 minutes, checking every 20 minutes as they will begin to brown quickly. Bake until they're dark brown, glossy, and fully hardened. Transfer to a wire rack and let cool completely. Store the pretzels at room temperature in an airtight container for up to a week.