Making your own Peanut Butter From Scratch is way easier than you'd think, plus it only takes four simple ingredients!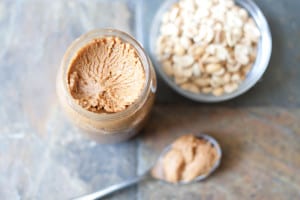 I'm re-posting this recipe today because not only is Peanut Butter a staple food that should be in every good American's pantry, but it's also the best introduction From Scratch condiment. It's only 4 ingredients, is ridiculously easy, but will still have your friends saying, "Wow, you made this Peanut Butter From Scratch?!" To which you can coyly answer, "Oh yeah, it's actually really easy," 'Cause it is!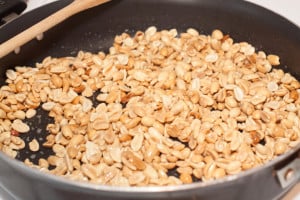 First, all you need are some skinned, raw peanuts. You can buy them in the bulk section of almost any grocery store. Give them a good fry in, well, peanut oil what else! This'll help give them an even more delicious roasted peanut flavor. Careful not to burn them though, stir them often because the delightful roasted flavor is not too far from the not so delightful burnt flavor.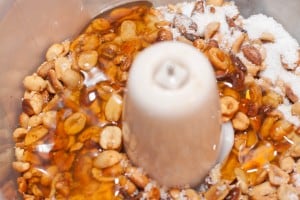 Once the peanuts are cooled, toss them in a food processor with some salt and a nice honey (my favorite is Wessels Family Honey),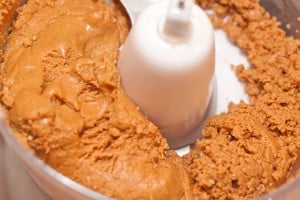 and blend until smooth. Or partially chunky- however you like your PB!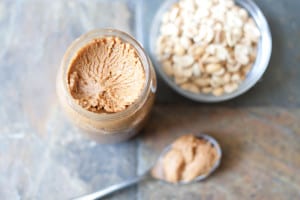 And that's it! Only 4 ingredients and just 35 minutes, 20 of which are cooling time and 5 of which are watching a food processor blend. That's all you need to make your very own, homemade, Peanut Butter from scratch! Which means it's even more acceptable to be eaten by the spoonful, right? 😉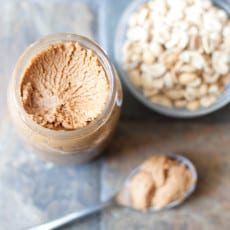 Peanut Butter From Scratch
With only 4 ingredients you can make your own Peanut Butter from scratch!
Print
Pin
Rate
Ingredients
1

lb

of raw skinned peanuts

1

tablespoon

of peanut oil

3

tablespoons

of honey

1

tablespoon

of kosher salt
Instructions
Heat peanut oil in wok or large frying pan on medium to high heat. When the oil starts to simmer add the peanuts and cook for one minute stirring constantly. Then turn the heat down to medium and then fry to another 7-10 minutes until they are a deep golden brown.

On a pan lined with paper towels, cool the peanuts completely, at least 20 minutes.

Once they are cooled put the peanuts in a food processor, add honey and salt, and blend until creamy, 5 minutes, remembering to scrape down the sides.

Yields 2 cups. Store in an airtight container.