Oil free and Vegan, this homemade Blueberry Almond Granola from scratch is one of my favorite healthy, nutritious breakfasts!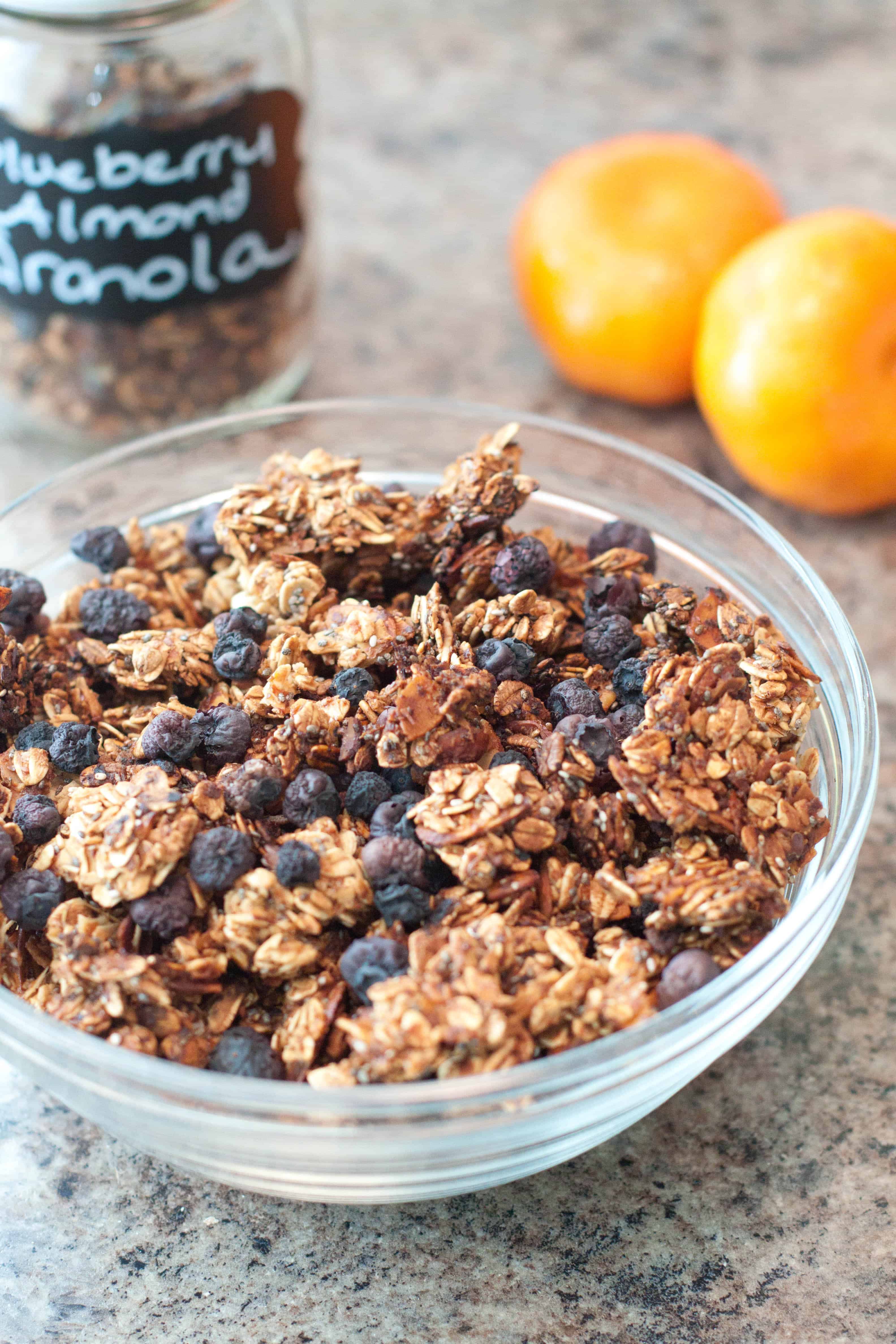 Mmm granola. I love granola as a snack, whether they be in bar form, or just loose like this. Granola satisfies the crunch and touch of sweet that I'm often looking for in quick grab and go snack. This granola, unlike the others I've made, is even better. It's totally oil free which means less calories and fat, but still all the flavor.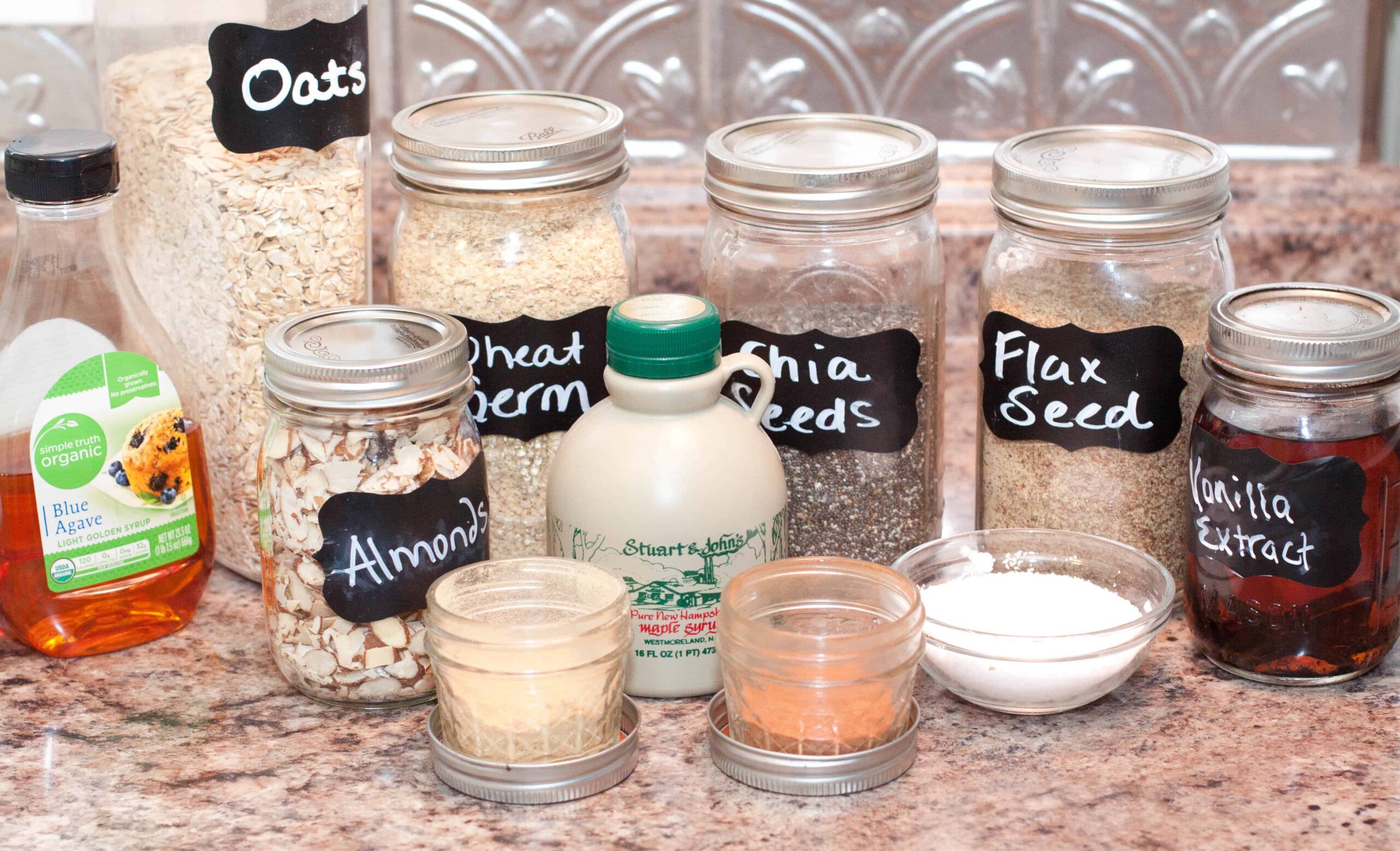 While I'm adding lbs growing our little one, my studly husband has decided he wants to drop them before she's born. Not that he needs to (in my opinion), but he's recognizing that his current gym schedule is not going to be maintainable once the baby is born, so he's preparing himself now. Plus, if anyone's going to need some gym time post baby, it's going to be me trying to lose the baby weight. So, even though I personally love our Copycat Kashi Go Lean Cereal, my husband still prefers granola like our Maple Pecan Granola and Granola Bars. Both contain either vegetable oil or coconut oil, so I decided to try a granola that was not only lower fat, but also a little beefed up in nutrients.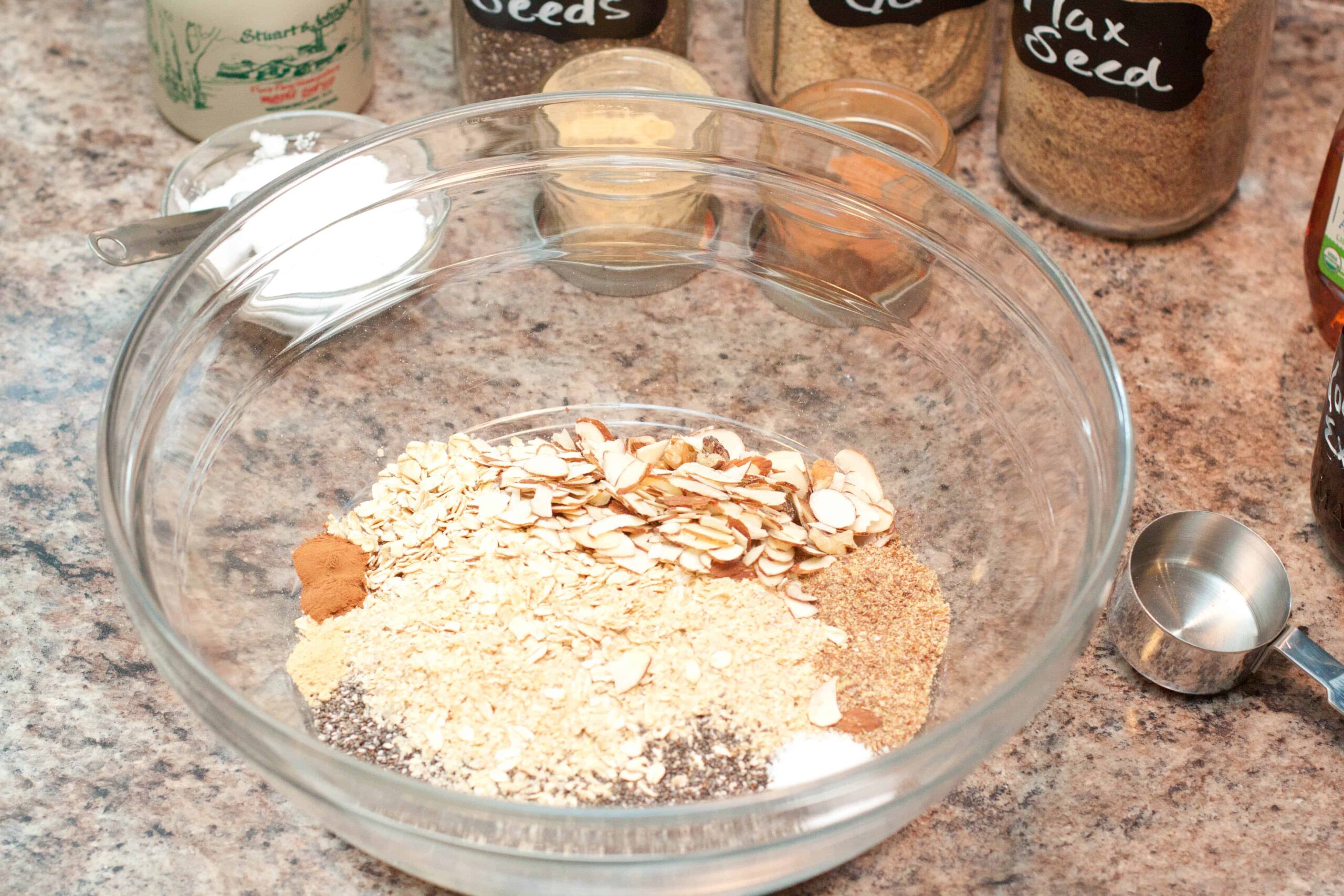 But also that was super easy to make. So I just a mixed of all the dry ingredients,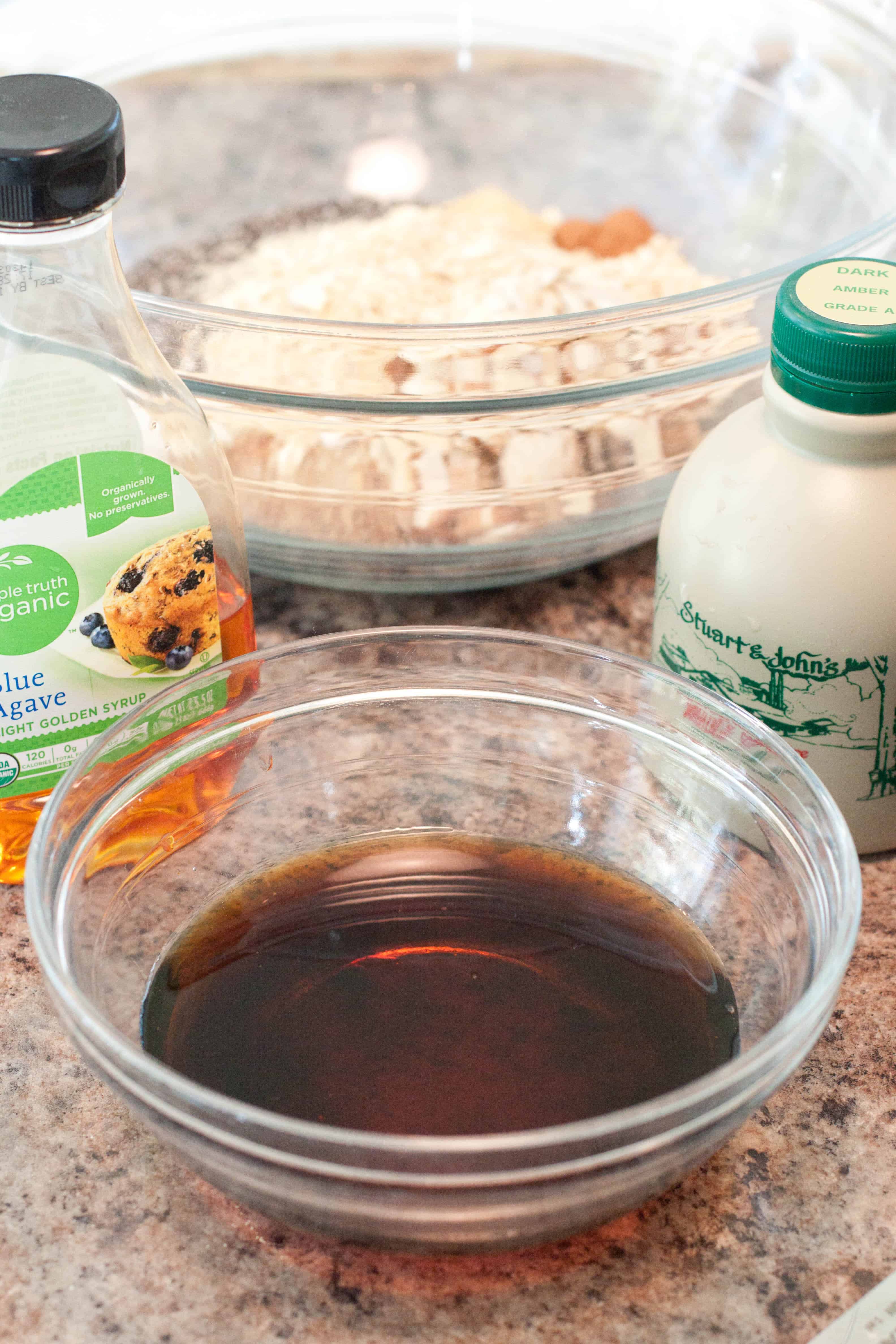 then a did separate mix of the natural sweeteners: agave, 100% pure maple syrup, and vanilla extract.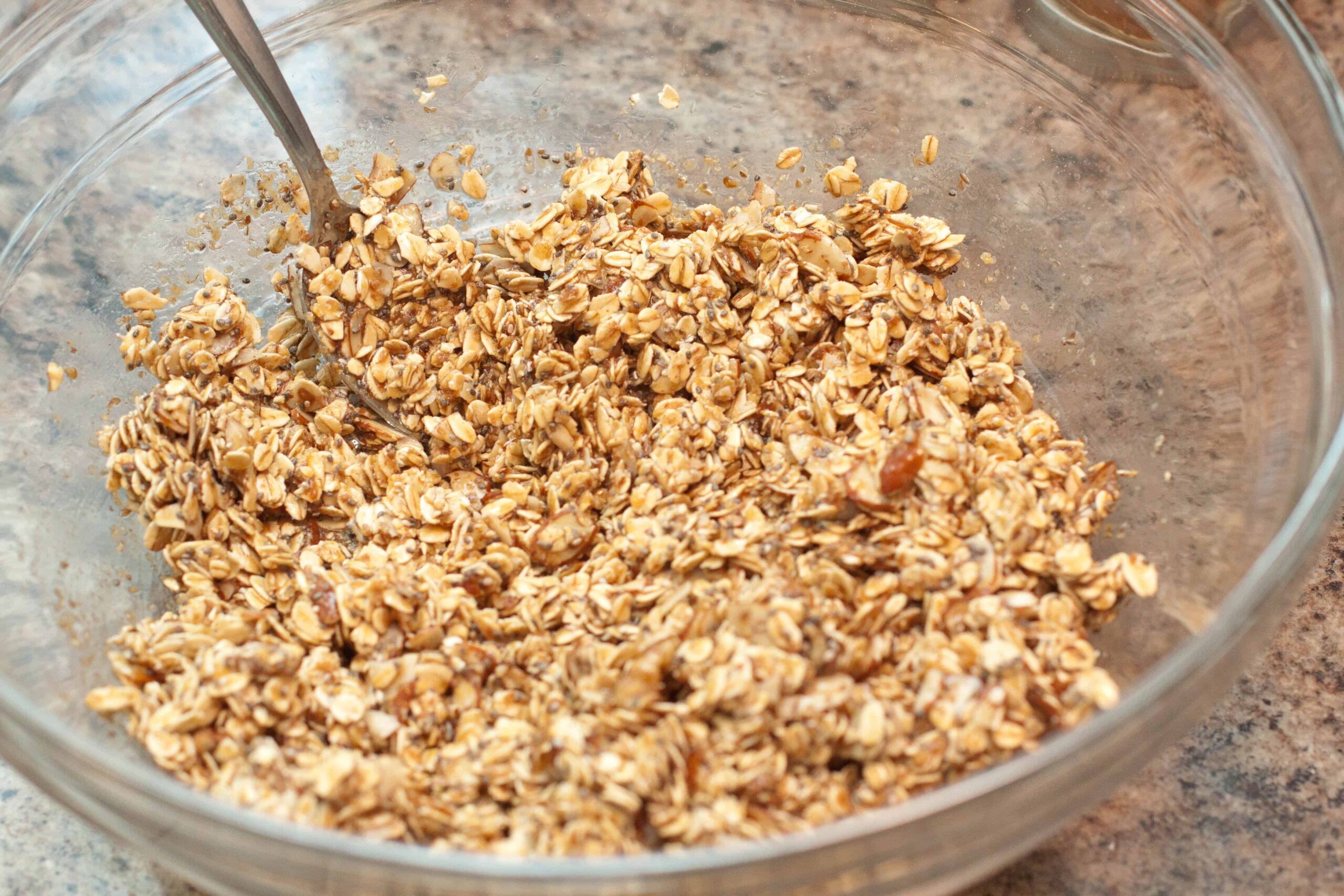 All mixed together really well and onto a parchment paper lined baking sheet,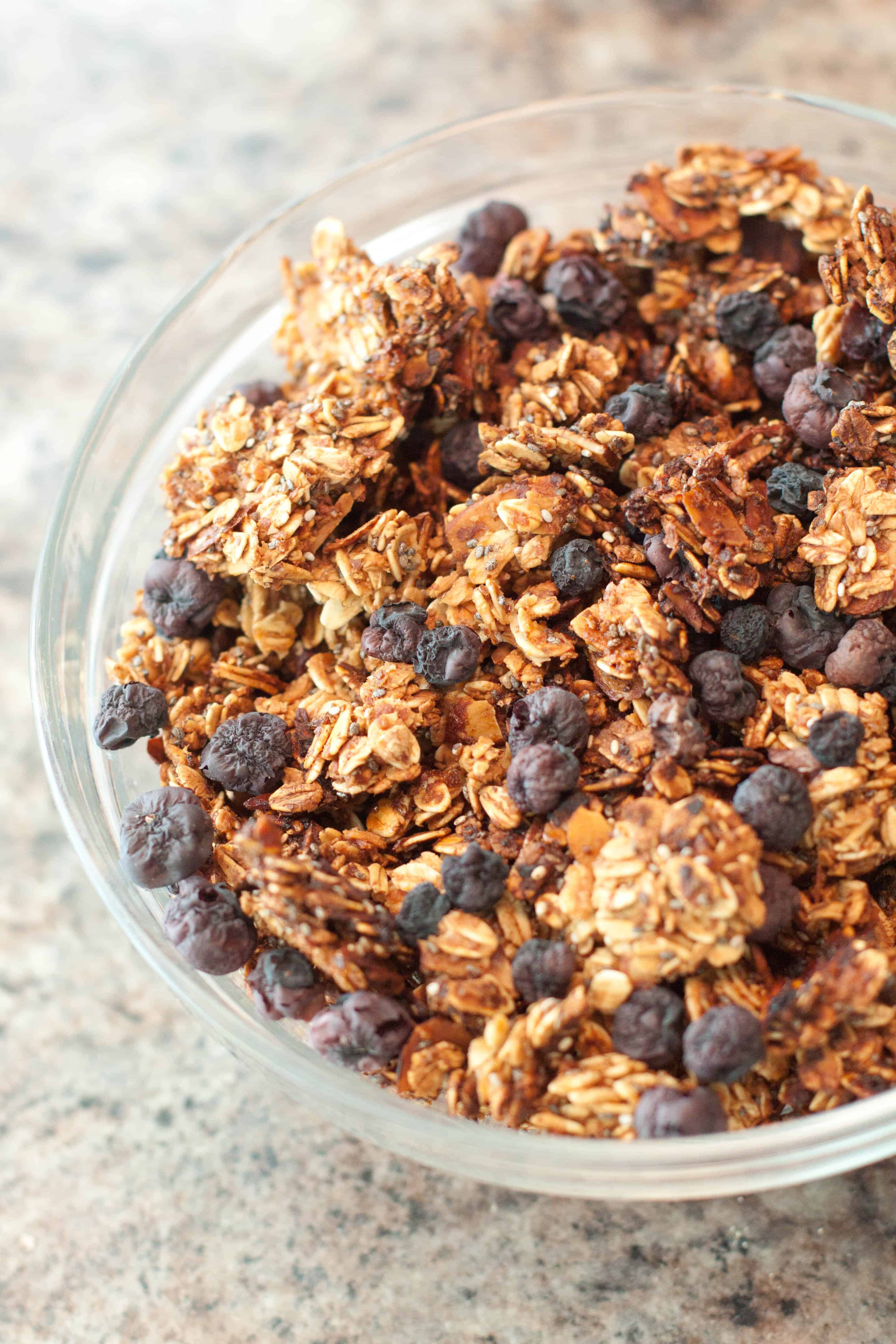 and finally baked for about 25 minutes until browned and delicious. I've been on a dehydrating fruit kick lately so I added some of blueberries I'd dried recently to give it a little extra deliciousness. Hooray for a tasty, healthy, naturally sweetened, oil free snack / breakfast!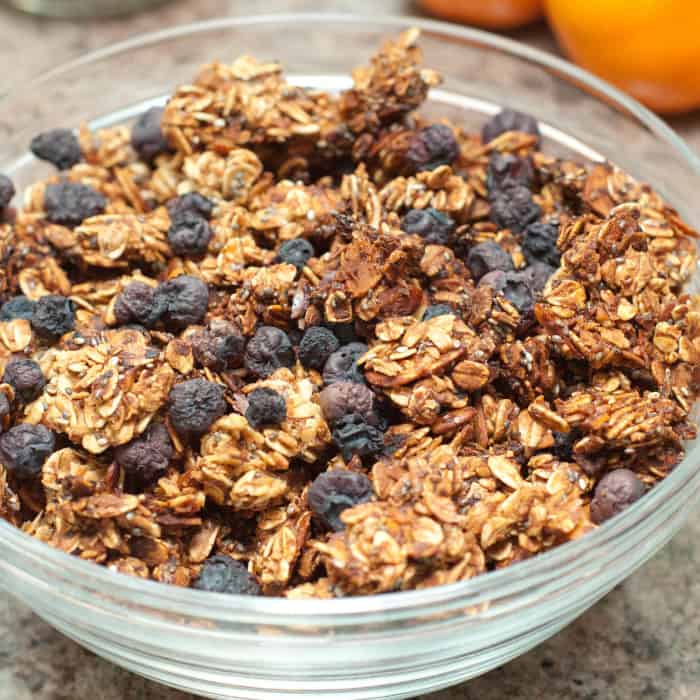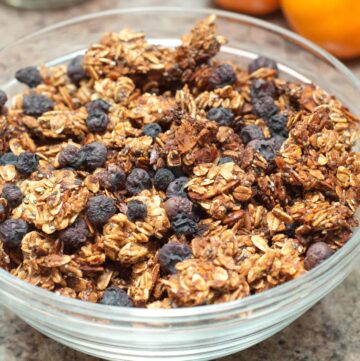 Blueberry Almond Granola
An oil free, high nutrient rich, vegan and gluten free granola from scratch
Print
Pin
Rate
Ingredients
2

cups

rolled oats

1/8

cup

ground flax seed

1/4

cup

wheat germ

or 1/4 more ground flax seed or oat bran for gluten free

1/8

cup

chia seeds

1/4

teaspoon

ground ginger

1/2

teaspoon

ground cinnamon

1/2

teaspoon

kosher salt

1/2

cup

sliced almonds

1/3

cup

pure maple syrup

1/4

cup

agave

1

teaspoon

vanilla extract

1/2

cup

of dried blueberries
Instructions
Pre-heat oven to 350 degrees. Line a baking sheet with parchment paper.

In a large bowl mix together oats, wheat germ, flax, chia seeds, almonds, ginger, cinnamon, and salt.

In a separate small bowl whisk together the maple syrup, agave, and vanilla extract.

Add wet ingredients to the dry and mix well until all dry ingredients are incorporated.

Add granola to parchment lined baking sheet and flatten to a single layer. Bake for 20-25 minutes. At the 10 min mark, take out of oven and flip granola to other side for even browning. Then check again at 20 minutes and turn if necessary and bake until browned.

Remove from oven and let cool on sheet so it gets crunchy.

Add dried blueberries or other dried fruit and store in an airtight container.
Notes
*Substitute all ground flax seed or add in some oat bran to be gluten free