It's your new favorite yogurt parfait recipe but in toddler-friendly healthy popsicles! These Blueberry Parfait Popsicles are one of our latest snack recipes for kids that's from scratch and mom-approved!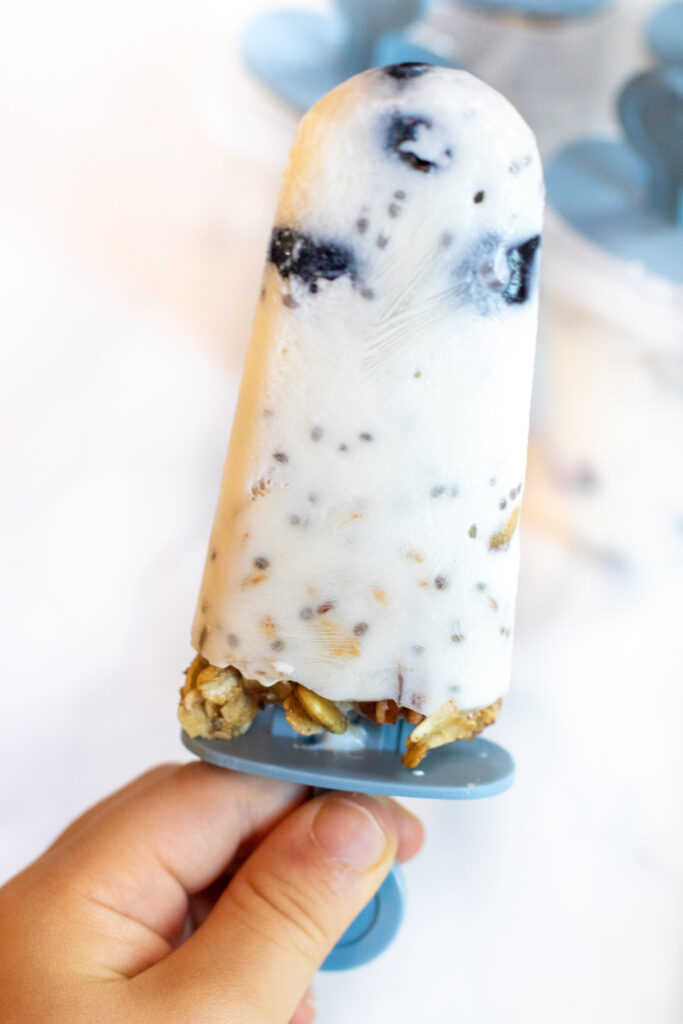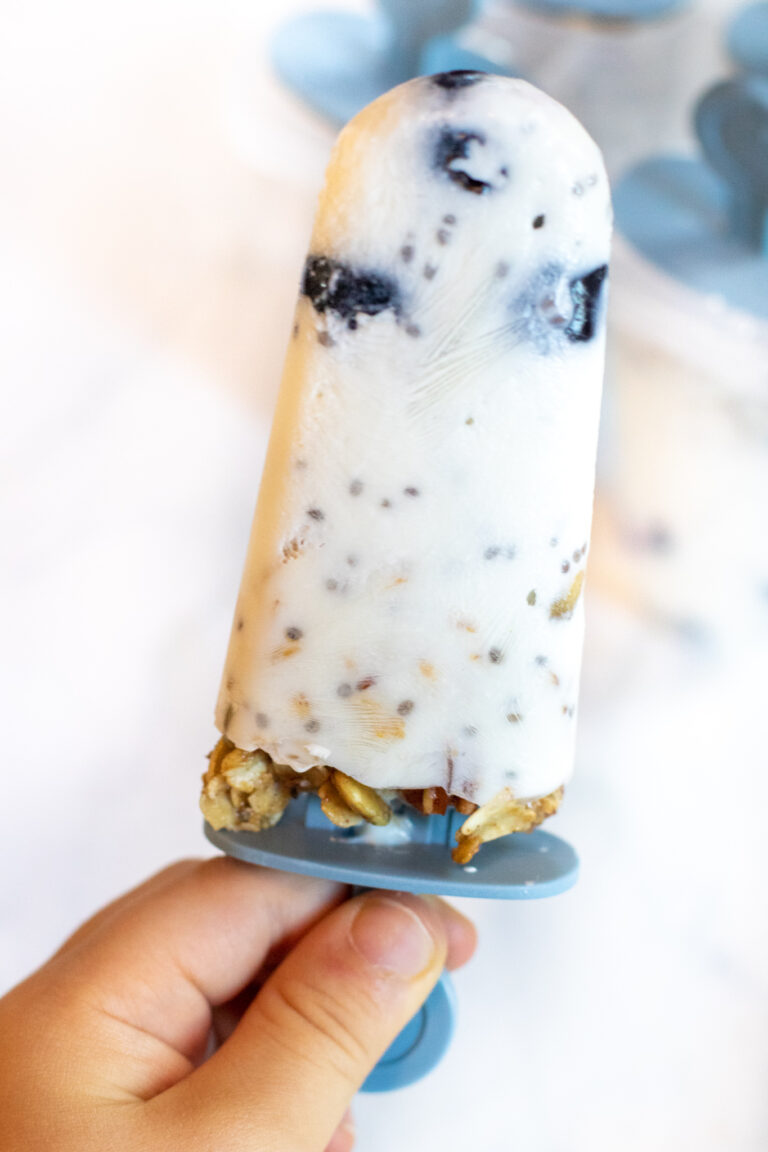 Sunnnnnn! Oh my gosh, it's exactly the kind of fuel for the soul that we needed around here. While I know it's still early Spring, the past week here in the Pacific NW has been absolutely gorgeous. Which makes me start thinking about all of the fun warm weather snack recipes for kids that I can't wait to make and these Blueberry Parfait Popsicles are on the top of both our snack and breakfast list these days!
Ingredients Needed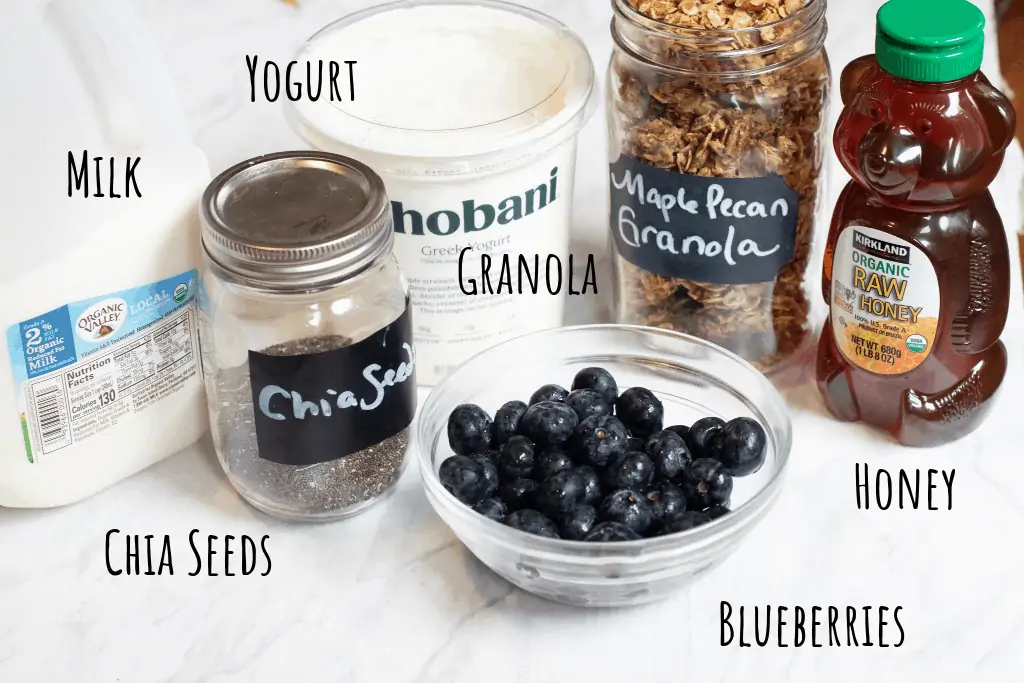 I love snack recipes for my kids that are easy like this, AND that they can help with!
Yogurt - We usually use plain greek yogurt, but a regular plain or even just a simple vanilla would also be great! Also, have you

made your own yogurt

yet?
Milk - We use 2% because that's what we always have. But whatever you use would be great, too! This works for nut milks or soy milk, too!
Honey - Natural sweeteners are our jam for all of our kids' snacks. Maple syrup or agave work great, also!
Chia Seeds - If you know our recipes at all, you know we love to sneak a superfood in whenever we can!
Blueberries - Fresh or frozen are great!
Granola - Use your favorite! Ours of course is our Healthy Maple Pecan Granola!
Easy to Make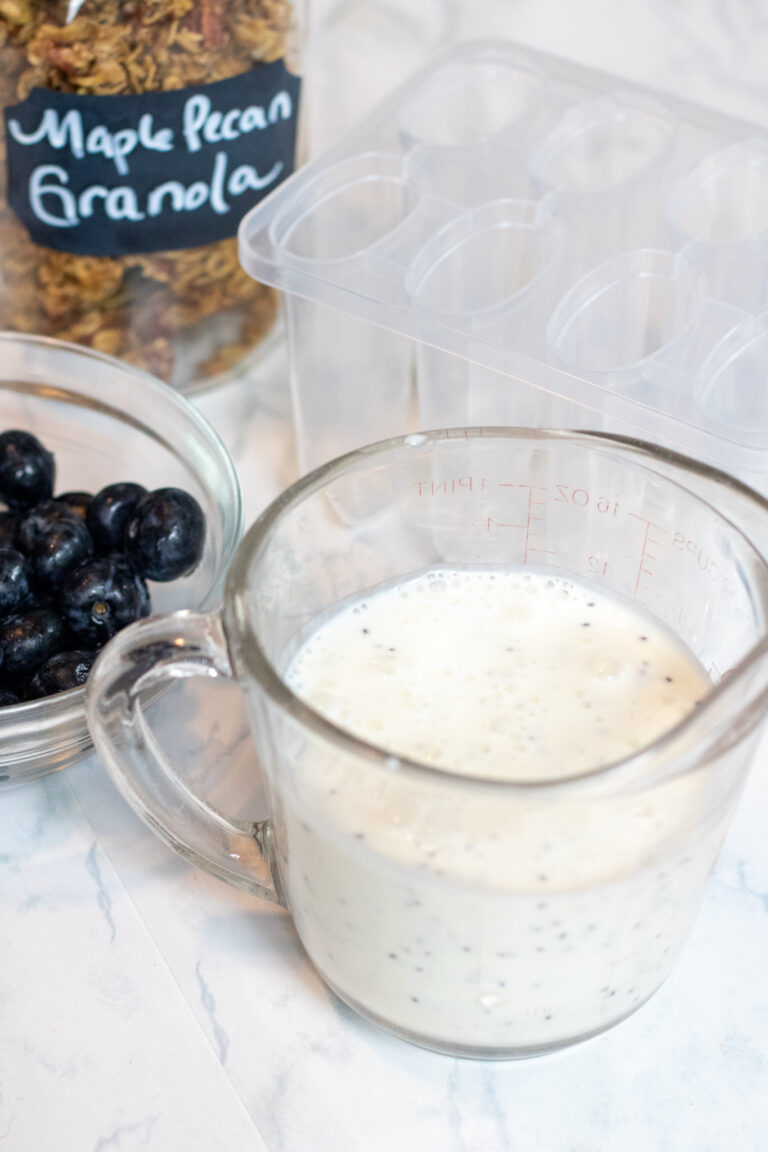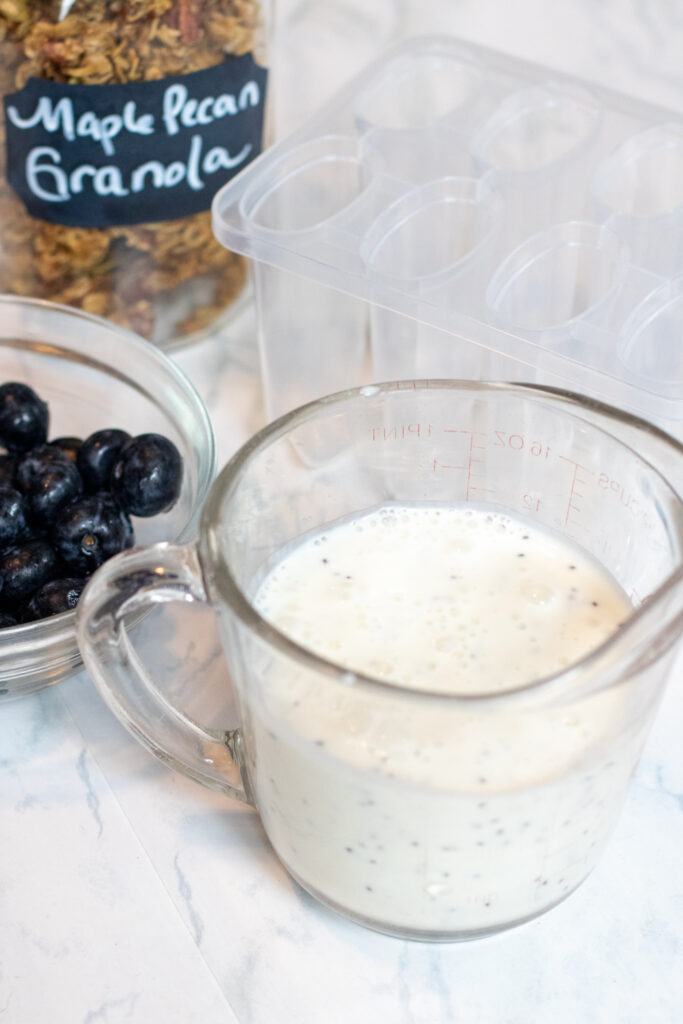 As with all of our easy kid snacks, this recipe can be made super fast and with the help of little hands!
Step 1: Mix yogurt, milk, honey, and chia seeds.
We use a pour spout measuring cup. This will help add it to your popsicle mold. Click here for the one we use and love!
Step 2: Add the blueberries and give a gentle stir.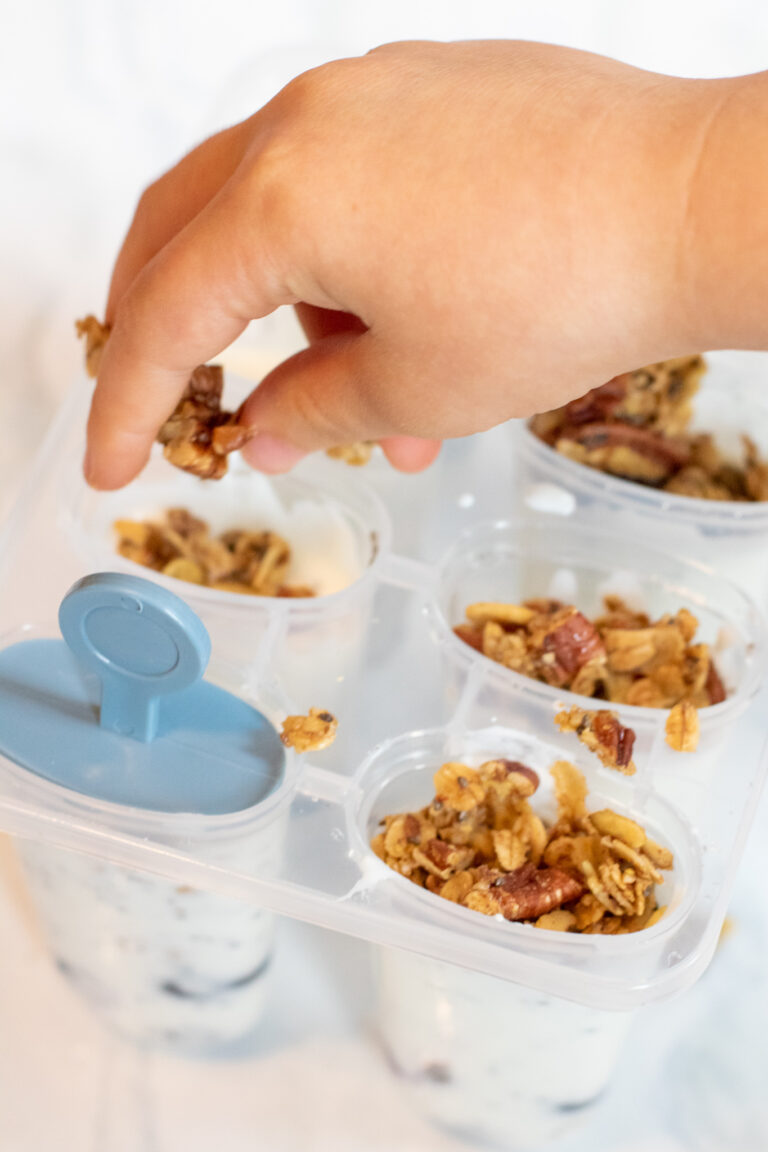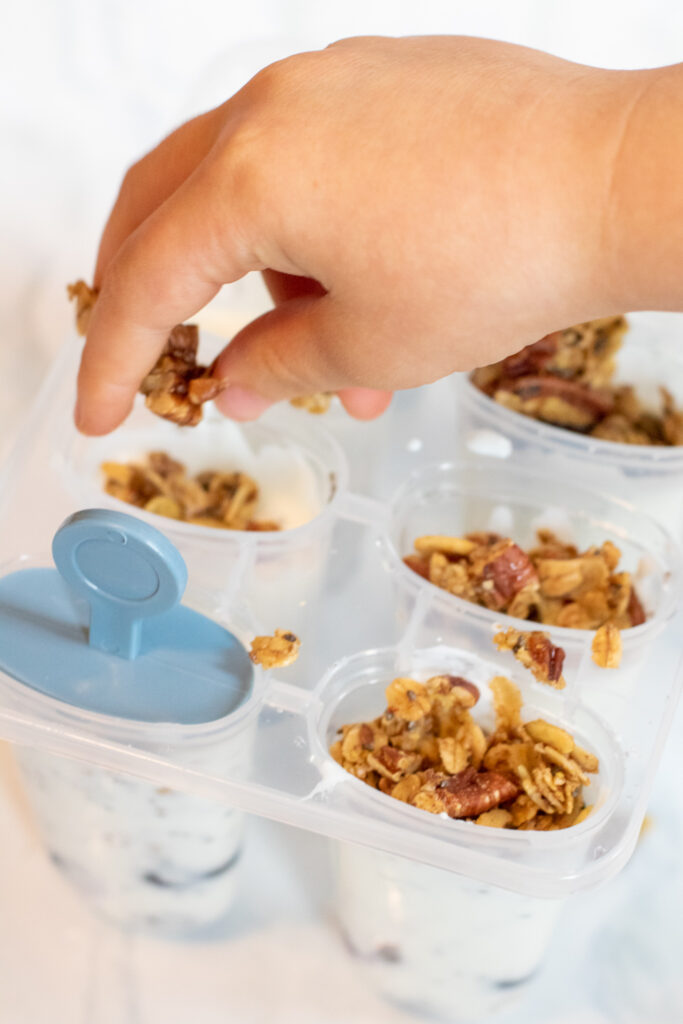 Step 3: Fill popsicle mold and then top with your granola of choice.
This is my girls' favorite step! Mainly because they love to snack on the granola. Clearly, they're my daughters.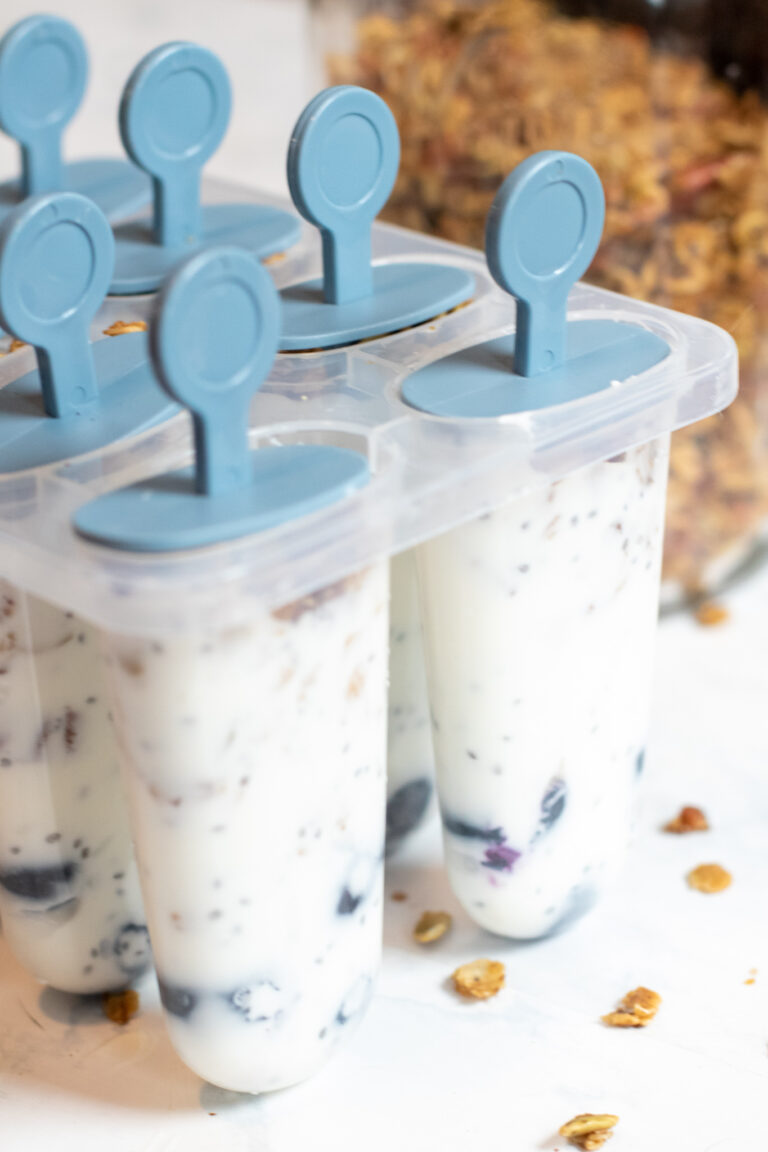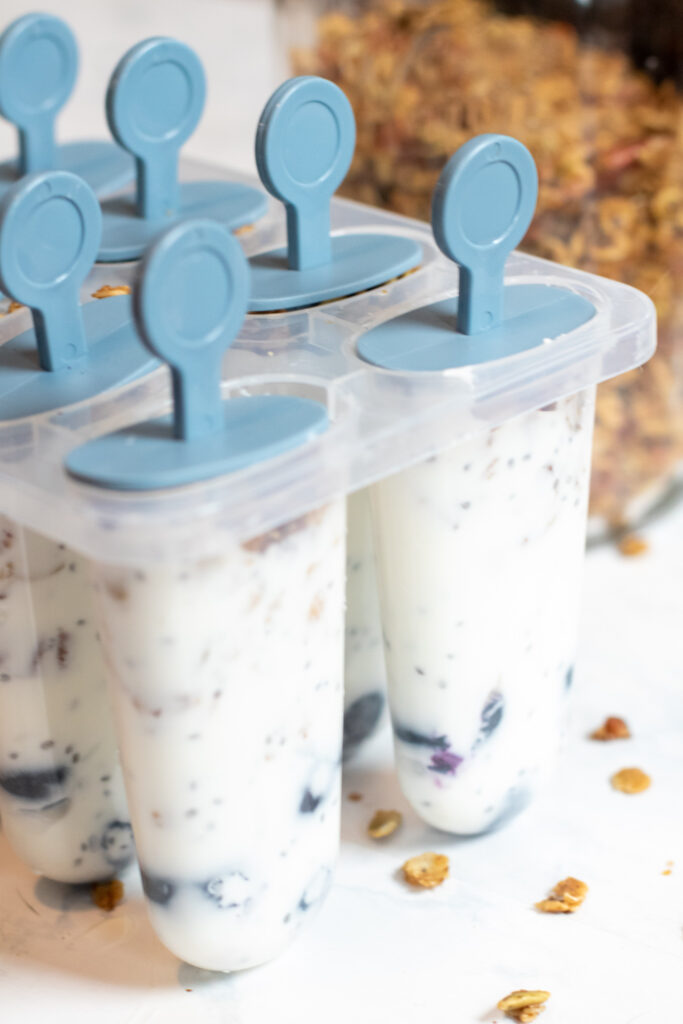 Step 4: Add the tops of your molds and then they're ready to freeze!
This is the hardest part of the recipe - waiting for it all to set! We usually make this before bed so that the girls can have them for breakfast in the morning! They love these healthy popsicles so much that they work as a great bribe for an easier bedtime routine. 😉
Customizable
We've made this healthy popsicle parfait recipe multiple times now and our favorite thing is these parfait recipe popsicles are so incredibly customizable. Add what you have, customize for any diet, and switch up the fruit or granola! Here are some of our favorite additions/substitutions:
Maple Syrup
Raspberries
Blackberries
Almond Milk
Fruit Yogurt
Basically just put your favorite parfait recipe ingredients into a popsicle! But made into to super healthy snack for the kids!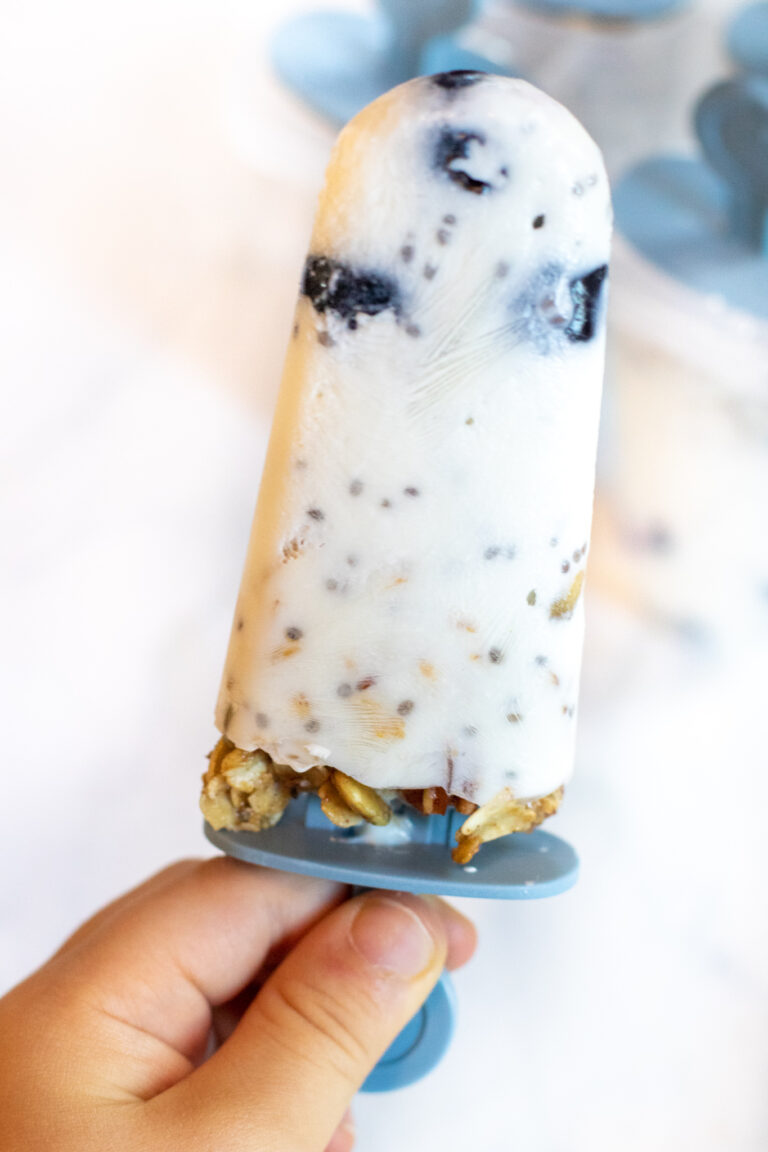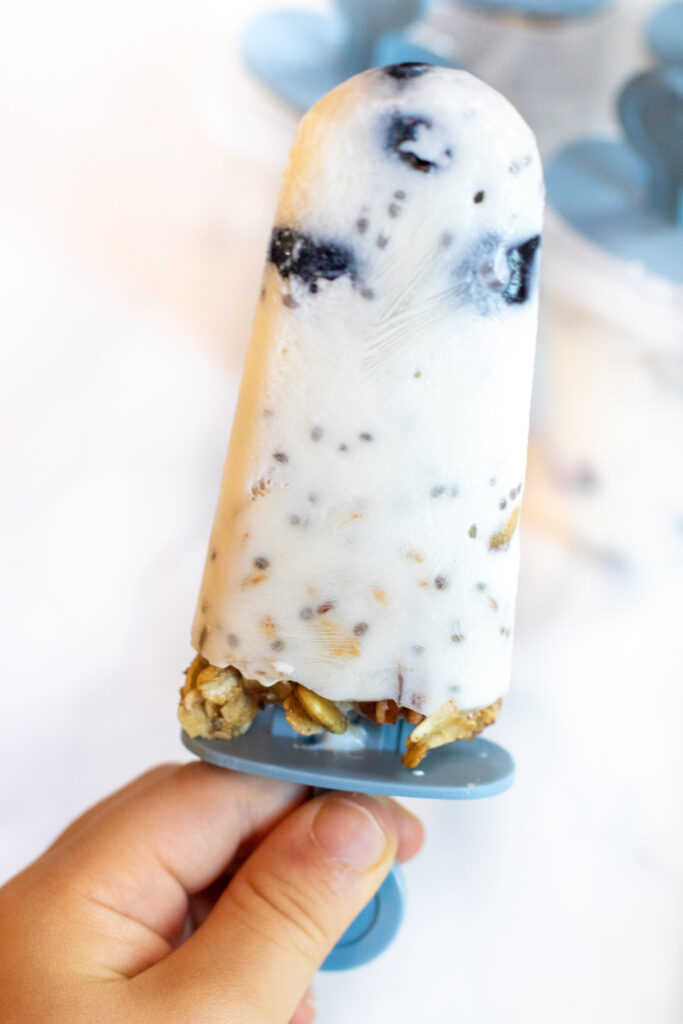 And trust me, these Blueberry Parfait Popsicles are an absolute favorite of our girls! Did I mention how they're a good bribe for bedtime? But naturally sweetened without any added sugar and made with plenty of from scratch flair!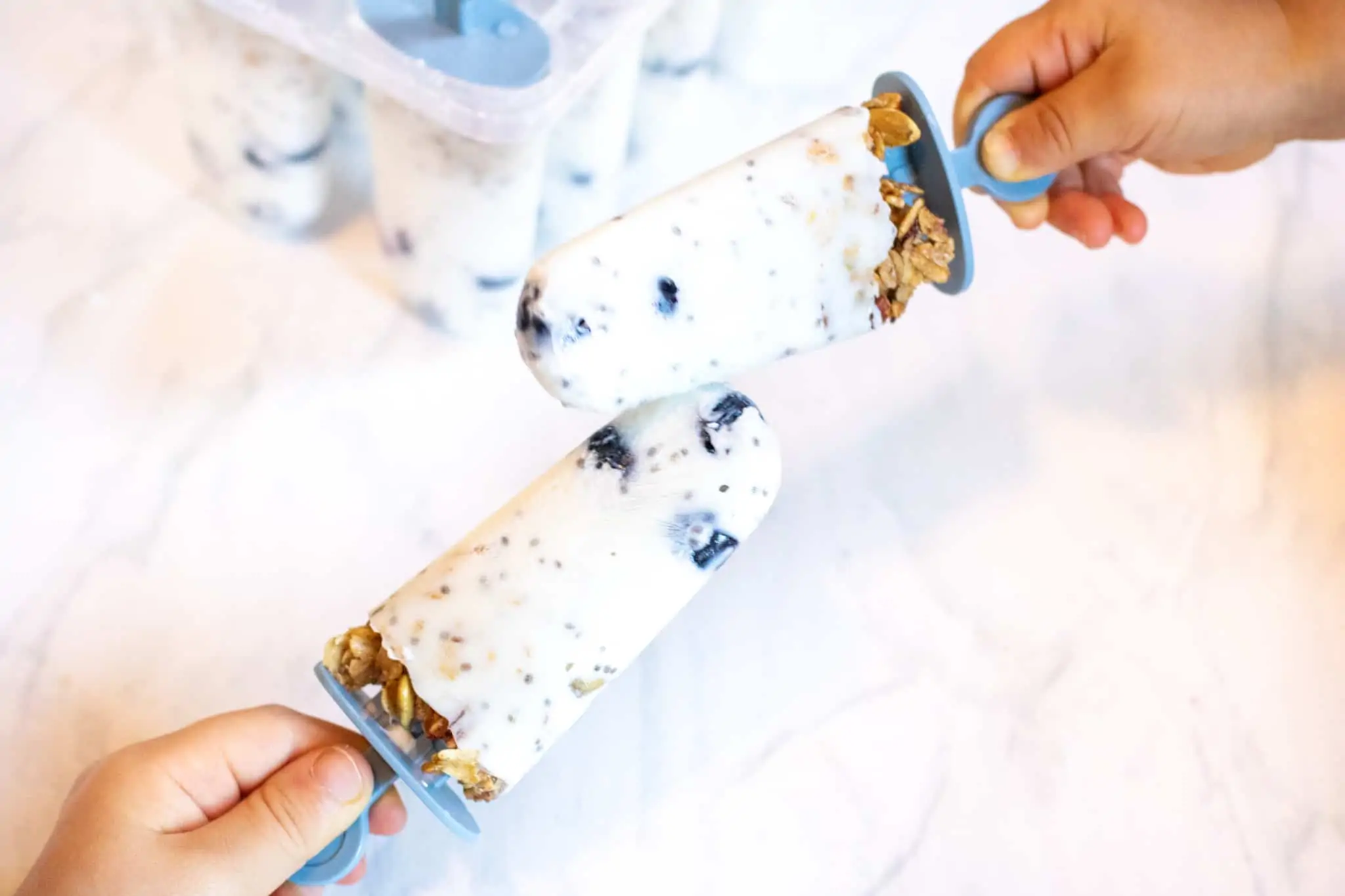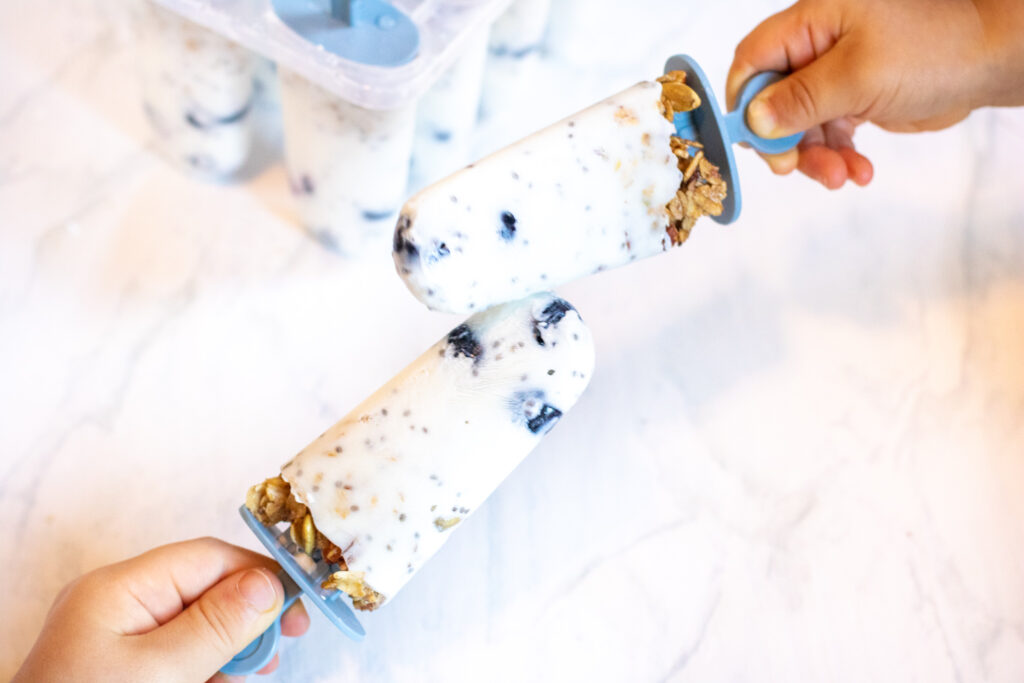 Does it get any better than a from scratch, healthy popsicle recipe that the kids love and that's Mom approved? All my girls know is that they're delicious, so they don't think so, either!
Our Other Healthy Kid Snacks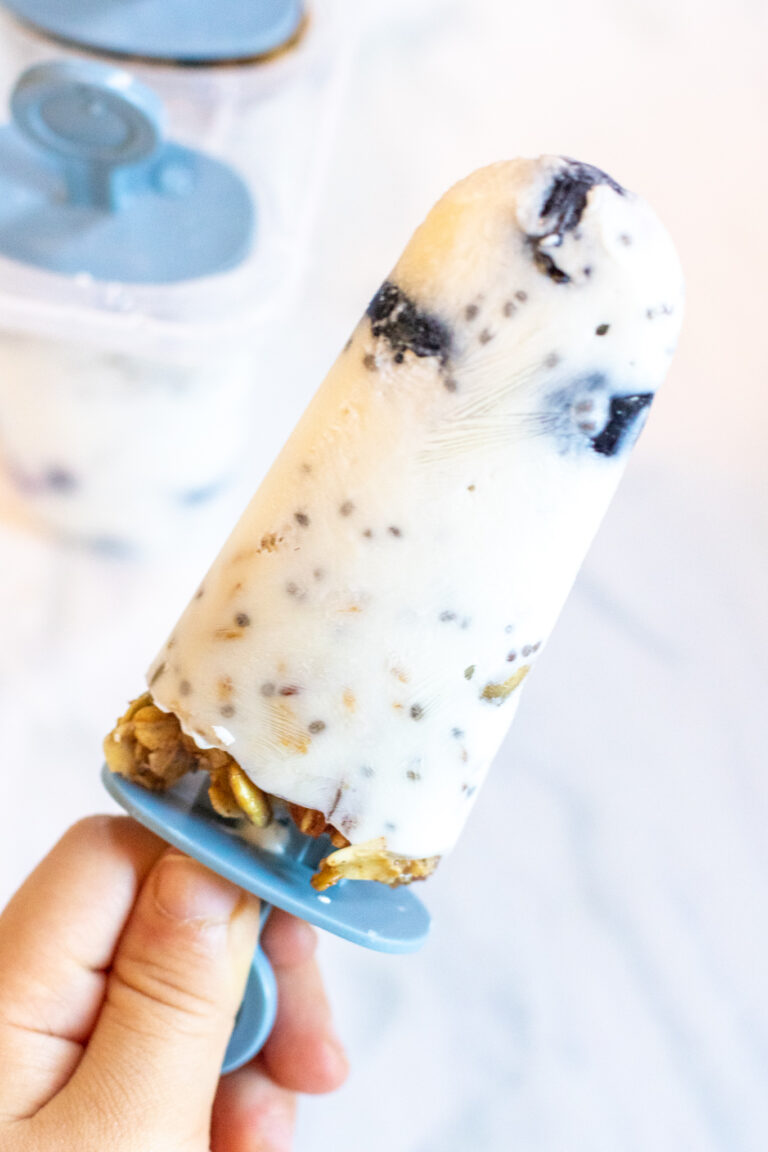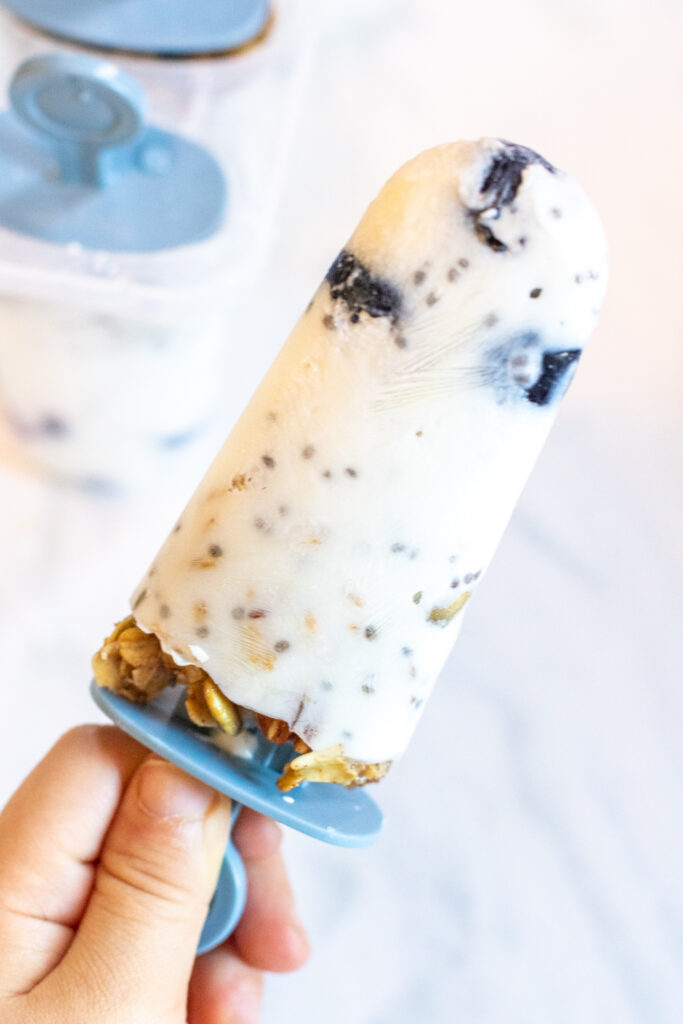 Blueberry Parfait Popsicles for the win! They're perfect for breakfast or for a healthy snack! Now that the warm weather is just around the corner, I'm sure all Spring/Summer you'll find a batch of these in our freezer for the girls (and me)!
FAQs
How long does it take for the popsicles to set?
At least 4-6 hours. We usually make them in the evening and put them in the freezer overnight so they're ready for breakfast in the morning.
What size popsicles do they make?
The mold that we use makes 6 small 3 1/2 inch popsicles.
How do I get the popsicles out of the mold?
Run the bottom of the mold under warm/hot water to loosen the popsicles to be able to remove them from the mold.
Can I make these vegan?
Absolutely! Use a vegan yogurt, milk, and granola and use maple syrup or agave (or your other favorite vegan all natural sweetener) to make them vegan friendly!
Enjoy! As always, if you make this recipe or any of my others, I love to hear what you think! Leave a comment below, email me, or you can find me on Facebook, Instagram, and Pinterest!
If you want to see more, be sure to sign up for my 5 Easy Ways to Start Cooking From Scratch!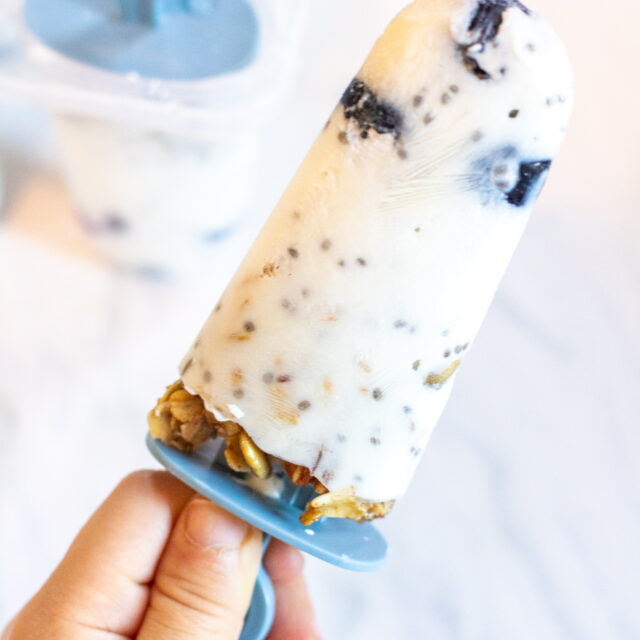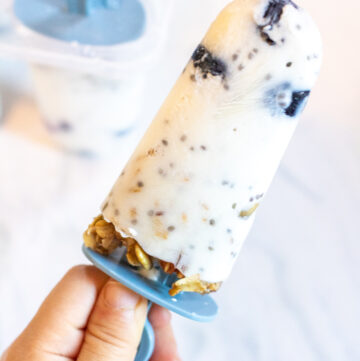 Ingredients
3/4

cup

Greek yogurt

1/8

cup

milk

1

tablespoon

honey

1

teaspoon

chia seeds

3/4

cup

blueberries

3 oz

1/2

cup

Granola
Instructions
In a small bowl or a measuring cup with a pour spout, add yogurt, milk, chia seeds, and honey. Gently mix well until smooth.

Add blueberries and gently mix - careful to not braek blueberries.

Fill popsicle mold with mixture, leaving 1- 1 1/2 inches room at the top.

Sprinkle granola on top of each of the popsicles and add stick into mold.

Add to freezer and let set for at least 4 hrs.

Remove popsicles from mold by running it under warm/hot water for a few seconds to loosen them from the mold.
Notes
Substitutions: Yogurt - Use your favorite! Greek, plain, vanilla, fruit, or even almond or soy to make it vegan. Milk - Use whatever you have, even a soy or nut milk. Honey - Use your favorite all-natural sweeteners like maple syrup or agave. Blueberries and Granola - Use your favorite fruits or granola!
Nutrition
Calories:
67
kcal
|
Carbohydrates:
10
g
|
Protein:
3
g
|
Fat:
2
g
|
Saturated Fat:
1
g
|
Trans Fat:
1
g
|
Cholesterol:
1
mg
|
Sodium:
11
mg
|
Potassium:
75
mg
|
Fiber:
1
g
|
Sugar:
6
g
|
Vitamin A:
15
IU
|
Vitamin C:
1
mg
|
Calcium:
36
mg
|
Iron:
1
mg