If you didn't know it, you'd almost think it was tuna! Our Avocado Chickpea "Tuna" Salad is a mock tuna salad recipe that's easy, delicious, vegetarian (that can easily be made vegan), and ready in just 10 minutes. It's ready to be put into your favorite bread for a fast, easy, and delicious lunch!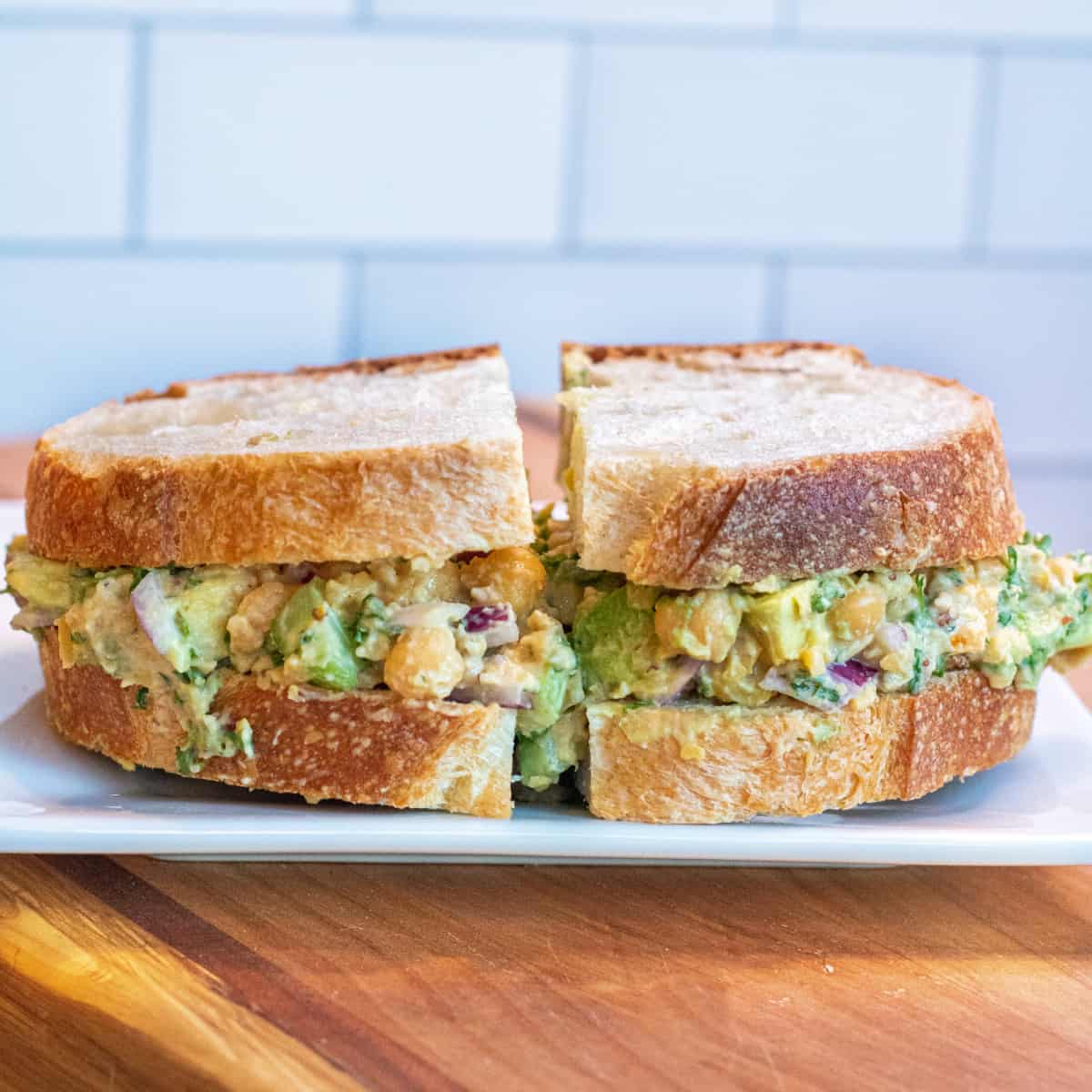 Ever want a tuna salad but you go to the pantry and realize you don't have any? Or you want something kinda like tuna salad but not because you're vegetarian. I got you. Our Avocado Chickpea "Tuna" Salad is everything you want from a tuna salad without the tuna and kicked up a nutritional notch with some fresh avocado! This mock tuna salad recipe is ready in just minutes, can easily be made vegan, and is ooooh so delicious and packed full of flavor!
Ingredients Needed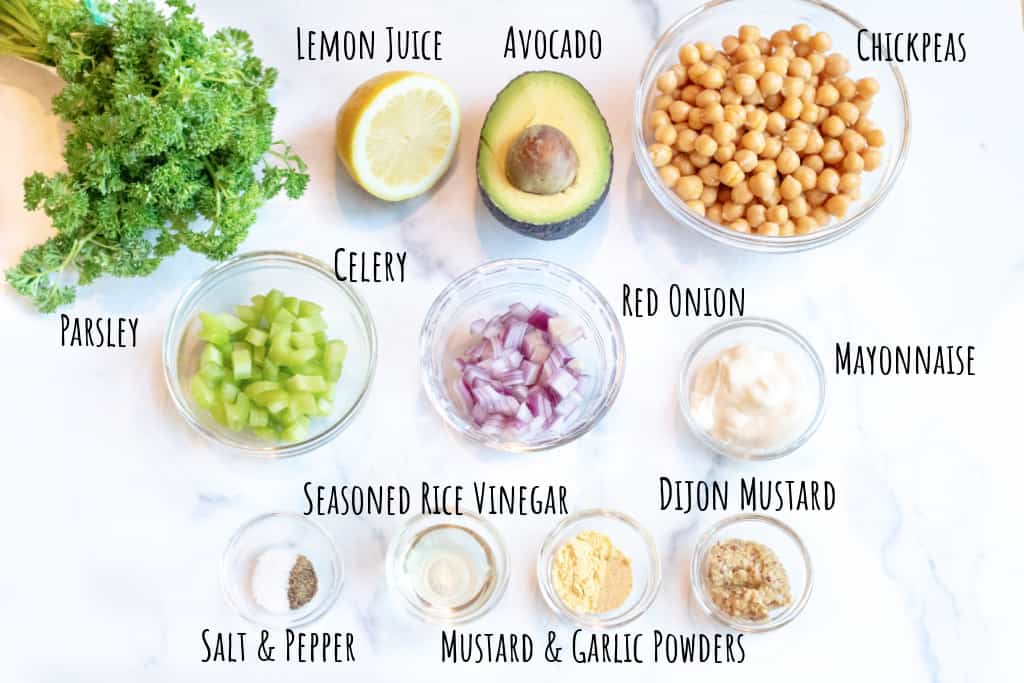 Chickpeas - Canned is of course the fastest option, but you could of course also use dried cooked chickpeas, too! Especially if you're making up a big batch of dried chickpeas for some meal prep for your favorite chickpea recipes for the week!
Avocado - This kicks up the nutrition of the sandwich with some added vitamins C, E, K, and B6 plus magnesium, and potassium. Paired with the plant-based protein of the chickpeas, this mock tuna salad recipe has all of your nutritional bases covered!
Celery and Red Onion - Can you even call it a tuna-like salad without these two?
Mayonnaise - Have you made your own yet? Not too much for this recipe, just enough to add the perfect amount of creaminess without being drenched.
Dijon Mustard - Another classic condiment you can make from scratch, and it adds just the right amount of flavor!
Seasoned Rice Vinegar - This is one of my favorite vinegars to add to recipes because of the added salt and sweetness added to the acidity.
Ground Mustard and Garlic Powder - These spices are the perfect flavor enhancers for this chickpea salad.
Fresh Parsley - You can of course use dried parsley, too. But fresh really adds a great herbal touch.
Lemon Juice - Just a touch to add a bright finishing acidity to tie it all together.
Salt and Pepper - Nothing worse than an under-seasoned salad!
Ready in Minutes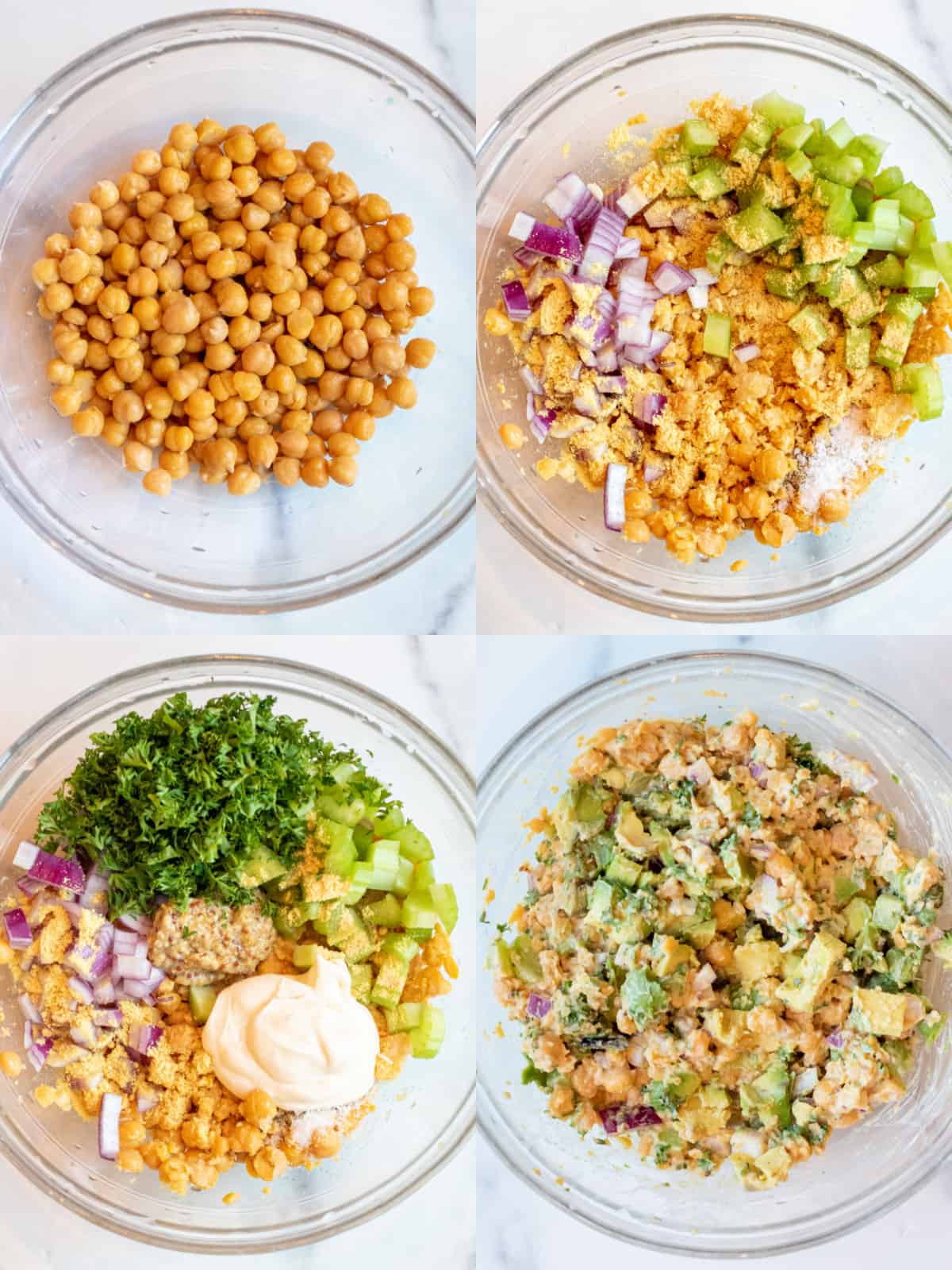 One of the (many) reasons why I love this chickpea "tuna" salad is that it is so insanely fast to make.
Mash chickpeas
Add everything except the avocado and mix.
Add avocado and give up one final mix.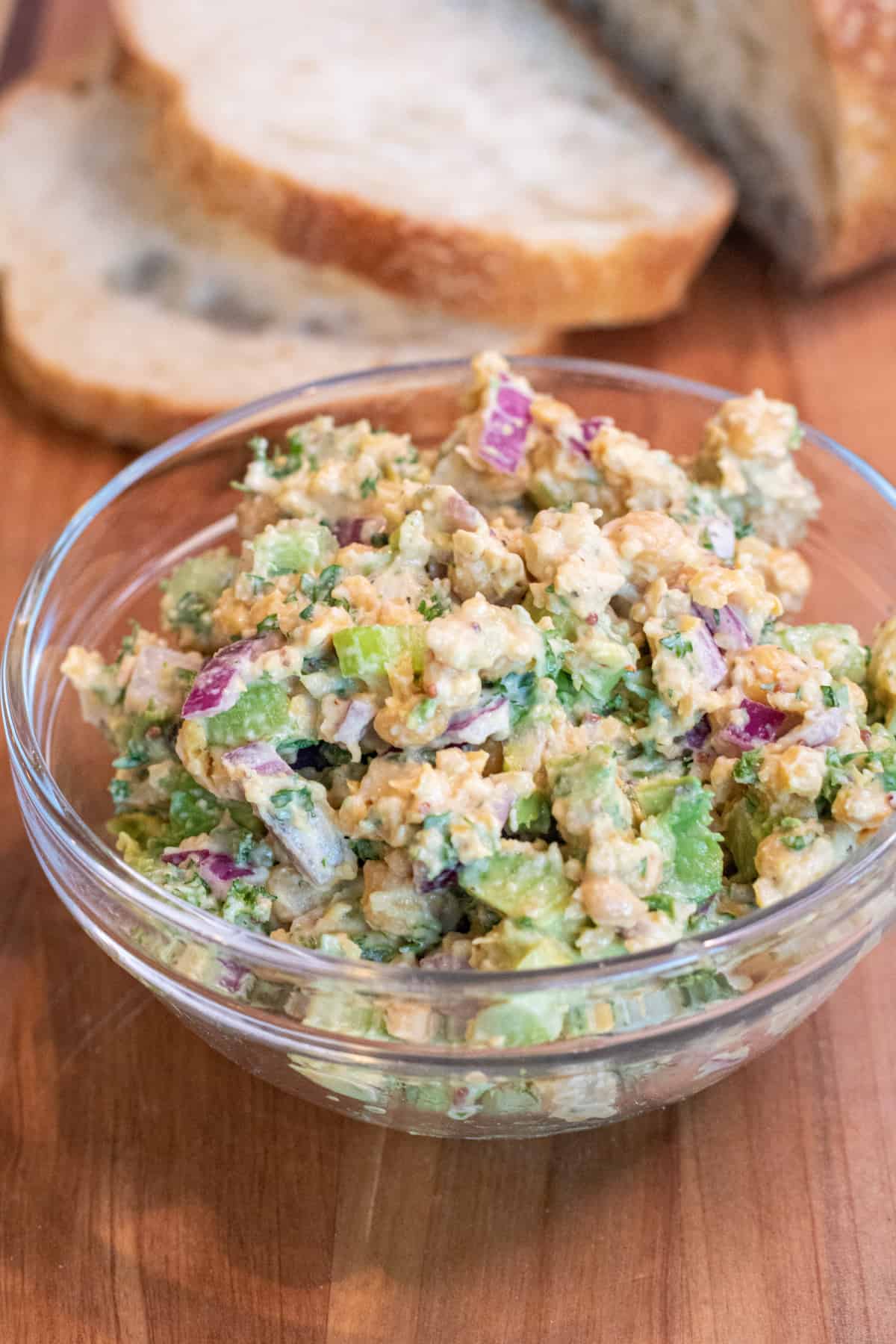 Done! All of the flavors that you want in a tuna salad, without the tuna. A true mock tuna salad.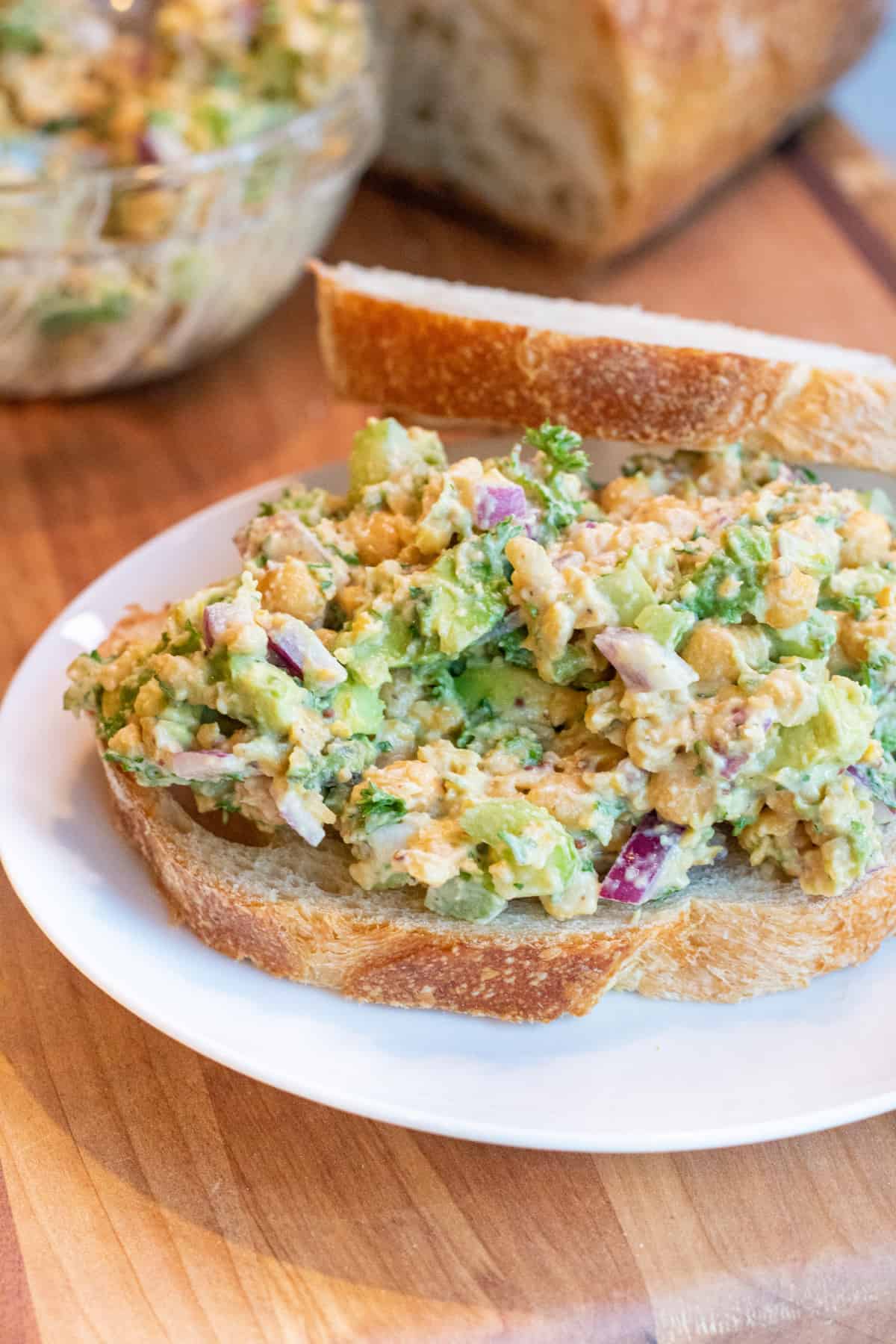 Oh but you're not done yet. Time to serve that delicious, flavorful, texture-rich salad on your favorite tuna salad vessel!
What to Serve it With
Our favorite is of course a couple of thick slices of artisan bread like Dan's Como Bread. But you could also add a little sweetness with our Homemade Hawaiian Sandwich Bread, go classic with our Easy White Sandwich Bread, or slap that in one of our soft chewy Vietnamese Baguettes! But my kiddos also love this with some Saltine Crackers or Ritz Crackers, too!
Make it a vegetarian and gluten-free meal by using your favorite gluten-free bread or wrapping it up in a crisp lettuce wrap like we do for our Curry Chicken Salad!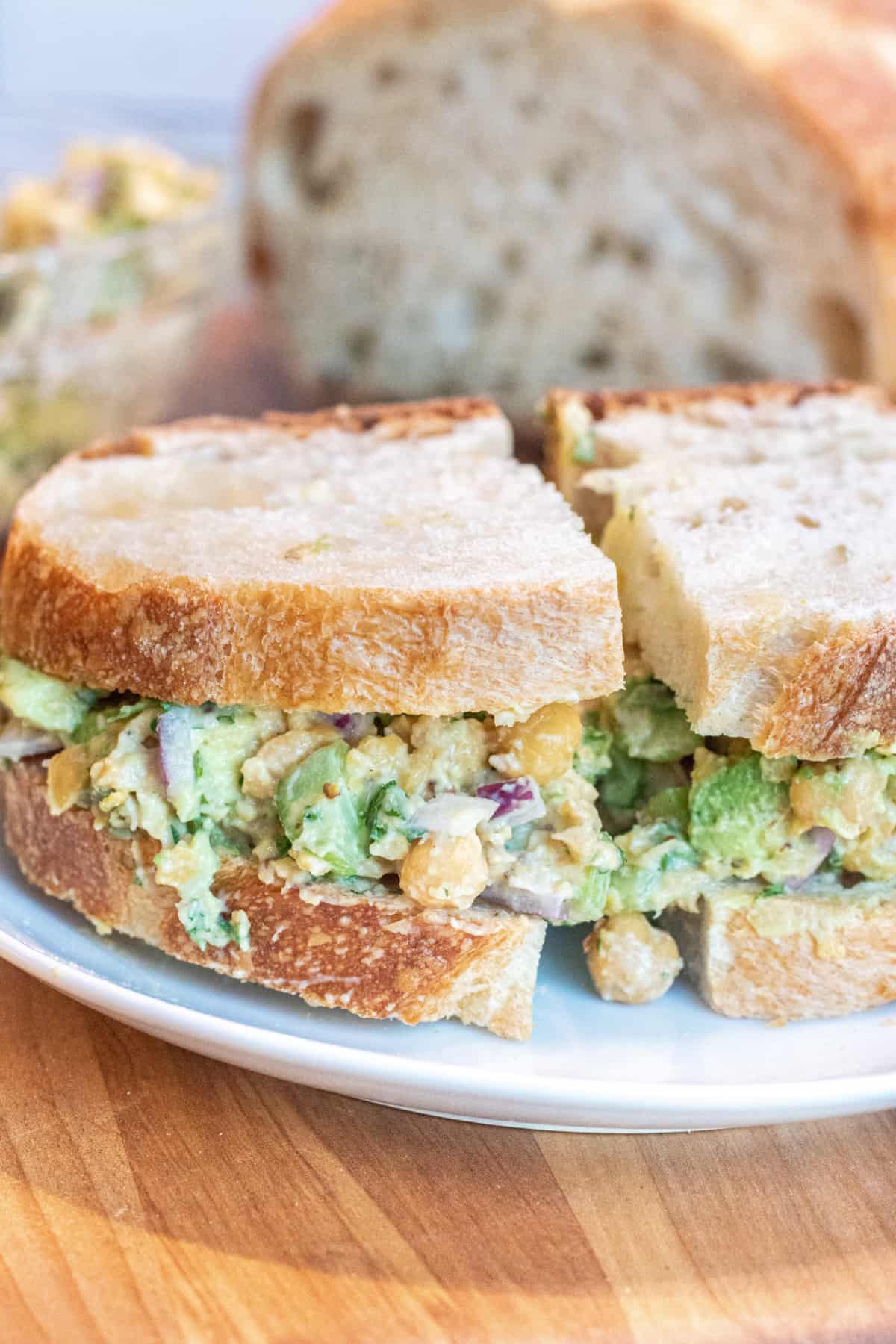 Recipe Tips
Chickpea Skins
Chickpeas out of the can and cooked from dried both will still contain the skin. Totally edible of course, and this recipe is still delicious without the skins removed, but you can of course take them off. That will increase the total time so it's totally a personal preference.
Chickpea Mashing
Use either a fork or a potato masher to mash your chickpeas to your liking. You can mash them really well or leave a few whole, we prefer to leave a few whole to add to the texture.
Meal Prep
This is a great vegetarian lunch to meal prep! Prepare the salad and then store it in an airtight container in the fridge for up to 5 days.
Make it Creamier
If you like a super creamy salad, you can add another tablespoon of mayo to make it even creamier.
Dried vs. Fresh Parsley
We love fresh parsley in this recipe, but if you don't have it, no problem. You can use a tablespoon of dried, instead!
Make it Vegan
You can easily make this recipe vegan by using your favorite vegan mayo.
Make it Gluten-Free
Use your favorite gluten-free bread or serve it on gluten-free crackers or in lettuce wraps!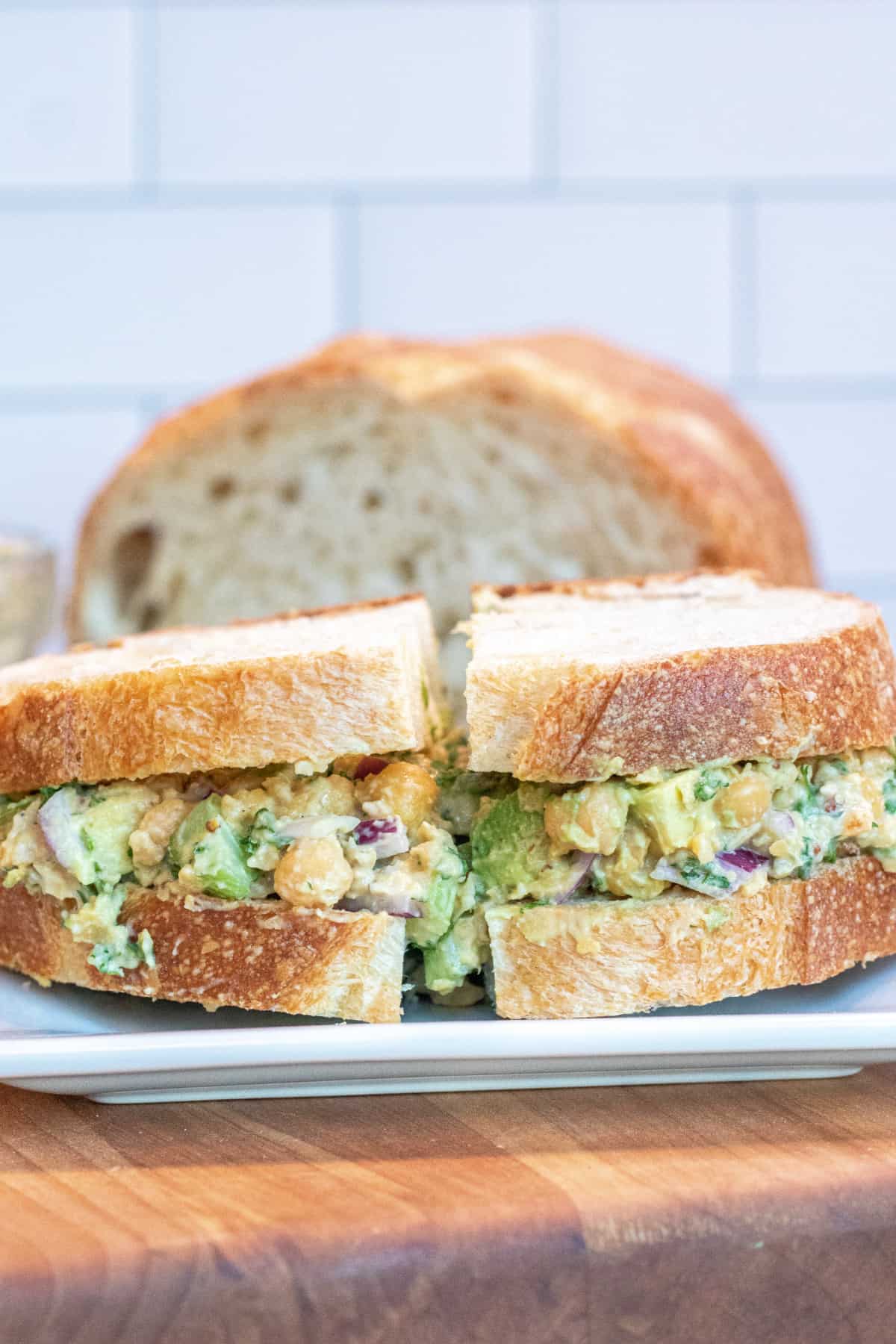 Enjoy! As always, if you make this recipe or any of my others, I love to hear what you think! Leave a comment below, email me, or you can find me on Facebook, Instagram, and Pinterest!
If you want to see more, be sure to sign up for my 5 Easy Ways to Start Cooking From Scratch!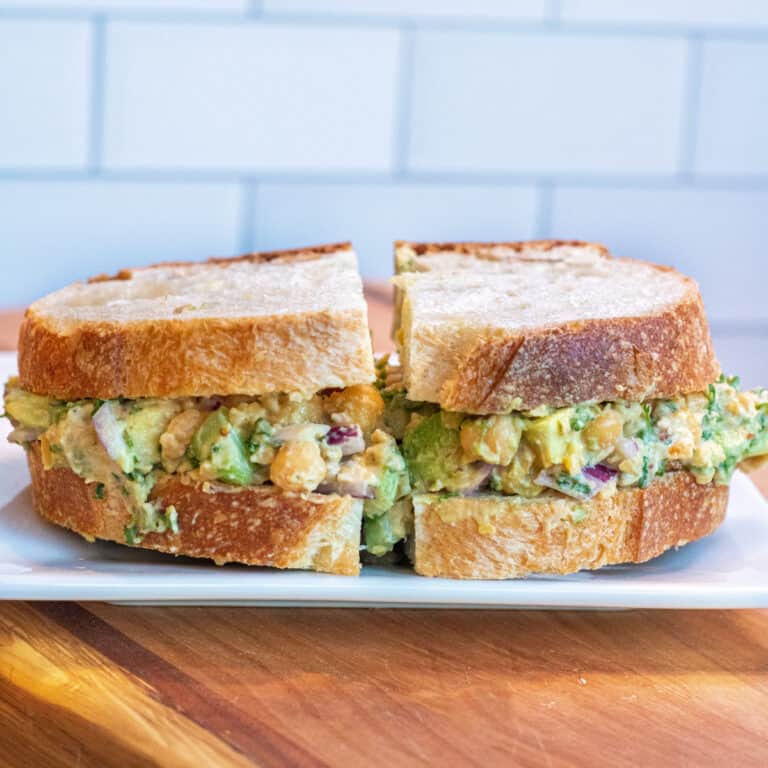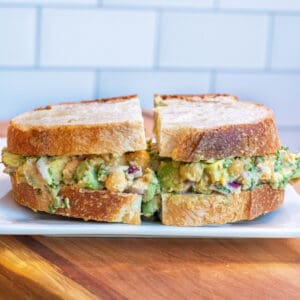 Avocado Chickpea "Tuna" Salad
A mock tuna salad recipe using chickpeas instead!
Print
Pin
Rate
Ingredients
1

15 oz can

chickpeas

or 1 3/4 cups cooked, rinse and drained.

1/3

cup

celery

diced

1/4

cup

red onion

diced

2

tablespoons

mayonnaise

1

tablespoon

dijon mustard

1

tablespoon

seasoned rice vinegar

1/4

teaspoon

garlic powder

1/2

teaspoon

mustard powder

1/4

cup

fresh parsley

minced

1/2

avocado

diced

1/2

teaspoon

kosher salt

1/4

teaspoon

ground black pepper

3/4

teaspoon

lemon juice

6

slices

artisan bread

or any of your favorite breads!
Instructions
Add chickpeas to a medium-sized bowl and use a fork or a potato masher to gentle mash them. Mash all of them or leave a few whole for added texture.

Add celery, onion, mustard powder, garlic, salt, pepper, parsley, mayo, dijon, and seasoned rice wine vinegar. Mix well. Add lemon juice and give a quick mix again and then add avocado and give one final mix.

Serve between your favorite slices of bread, in lettuce wraps, or with your favorite crackers!
Notes
The nutritional value is approximately per sandwich.
This recipe makes enough chickpea "tuna" salad for 2 heaping sandwiches. You can get 3 sandwiches out of this recipe, too.
Storage
Store in the fridge for up to 5 days. It makes this recipe great for vegetarian meal prep!
Substitutions
Onion: Red is our favorite for this salad but you could use a sweet yellow or white, too.
Mayonnaise: Use your favorite vegan mayo to make this vegan!
Parsley: Use 1 tablespoon dried in place of the 1/4 cup of fresh.
Seasoned Rice Vinegar: You want to make sure it's labeled "seasoned" because this had added salt and sugar. You can also substitute mirin, but keep in mind mirin does have a low level of alcohol in it, so for using it in a raw dressing, the recommendation is to cook it for at least 30 seconds to allow the remaining alcohol to evaporate.
Chickpea Skins
Remove the skins if desired, but this salad is still delicious with them, too!
Nutrition
Calories:
354
kcal
|
Carbohydrates:
35
g
|
Protein:
8
g
|
Fat:
21
g
|
Saturated Fat:
3
g
|
Polyunsaturated Fat:
8
g
|
Monounsaturated Fat:
8
g
|
Trans Fat:
0.04
g
|
Cholesterol:
6
mg
|
Sodium:
1040
mg
|
Potassium:
466
mg
|
Fiber:
7
g
|
Sugar:
5
g
|
Vitamin A:
798
IU
|
Vitamin C:
18
mg
|
Calcium:
107
mg
|
Iron:
3
mg