This Easy White Sandwich Bread is a super simple, easy-to-make classic white bread that's a great introduction to bread making!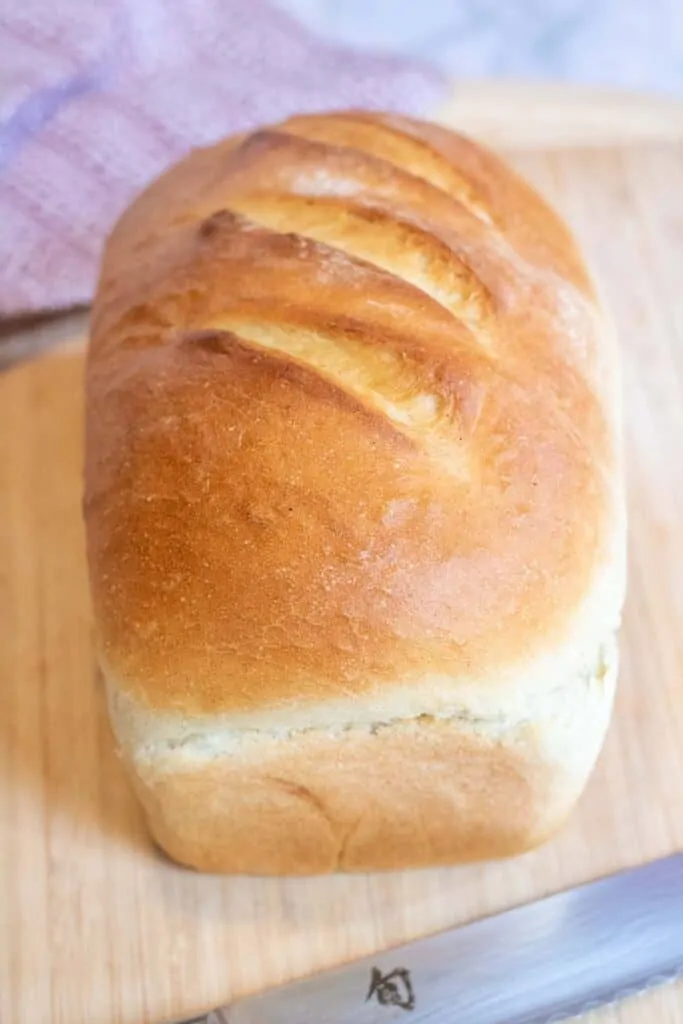 Heeeyy fellow Quaran-bakers! Here's a new favorite, for you. This Easy White Sandwich Bread has helped us de-stress about the events in the world through delicious delicious carbs.
Ingredients Needed:
All-purpose flour - The flour needed for that classic white bread.
Yeast - Instant yeast is what we use because its activation time is so quick. But you could also use an active yeast, which it will just take a bit longer to activate with the sugar and water.
Sugar - Granulated is best as it will dissolve the fastest in the water to activate the yeast.
Salt - Fine ground and a non-iodized salt is best, but any fine ground salt works.
Vegetable oil - You could also use another neutral oil like olive or canola.
Warm water - To help activate the yeast.
Easy peasy, right?
Equipment Needed:
Stand mixer - like a Kitchen Aid! This will help a LOT. We love

this one

!
Kitchen scale - Honestly, this will be helpful SO many times in the kitchen. And you can get one for (like

this one

that we love!) for under $20.
Spray bottle - A lil bottle with water is needed for the maillard reaction or that nice browning on top of the bread!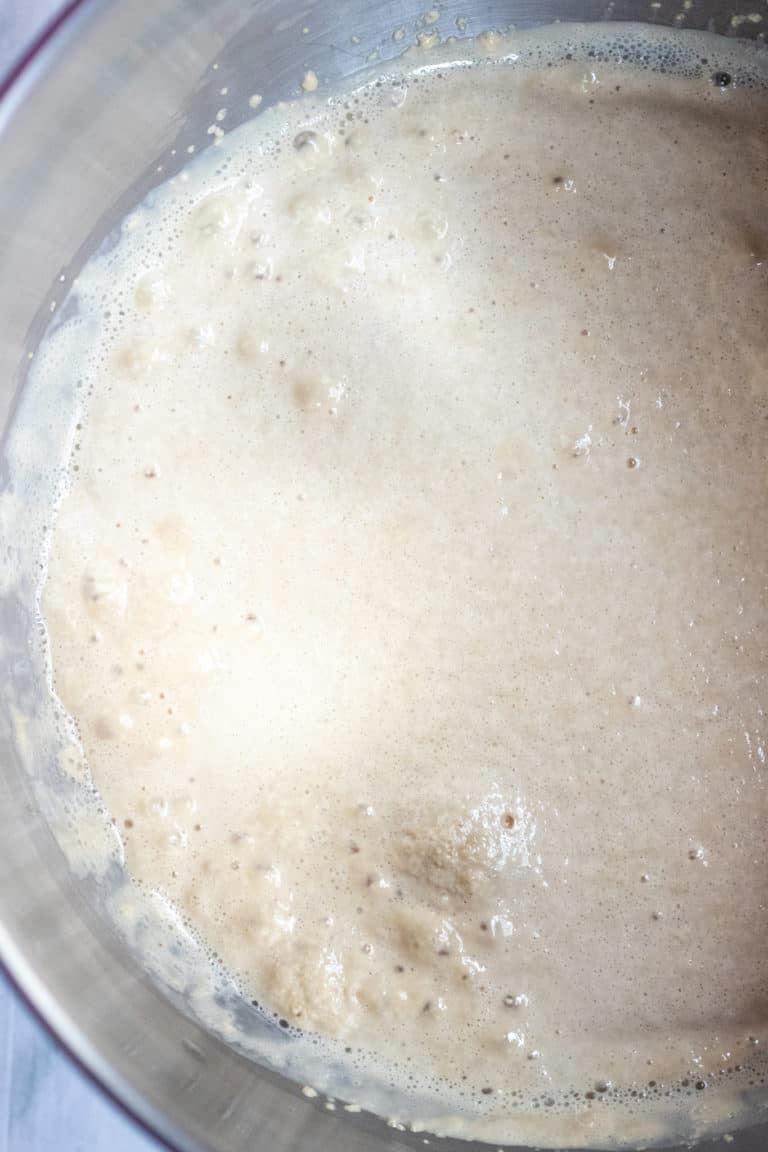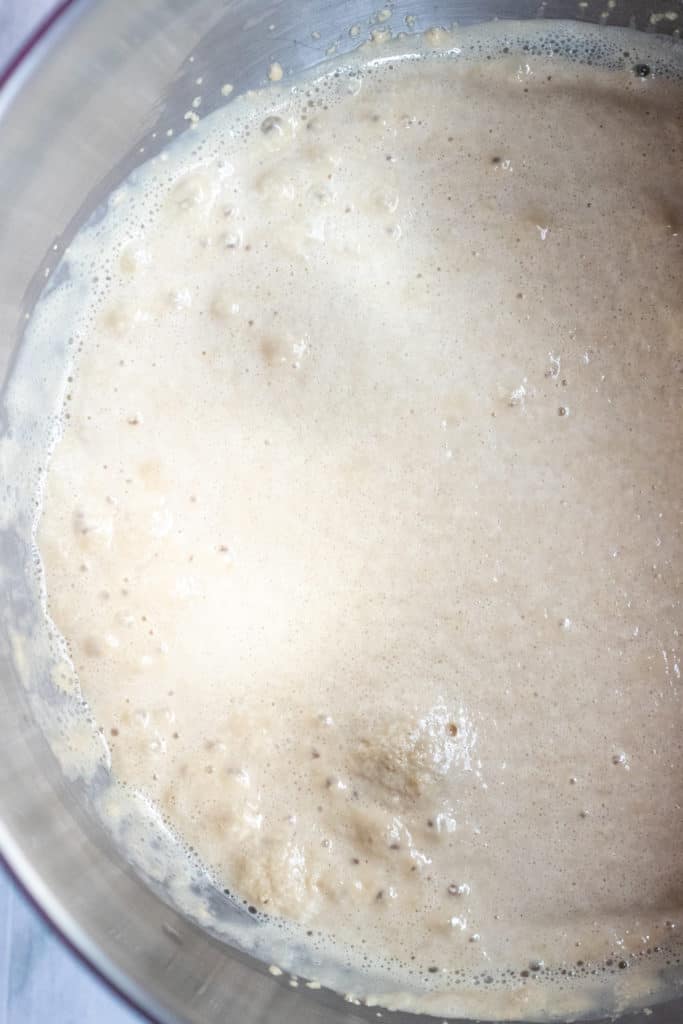 How to make Easy White Sandwich Bread:
It's a super easy bread to make. Not quite as easy as our No Knead Rosemary Garlic Bread, but still pretty darn easy. All you need to do:
Activate the yeast
Add the oil and flour
Let rise
Add to a pan
Let rise again
Bake
Annnd done!
Activating yeast? That's just mixing the water and sugar and letting it sit until it gets all nice n' frothy!
Then add the oil and flour and just let your stand mixer do the work for you.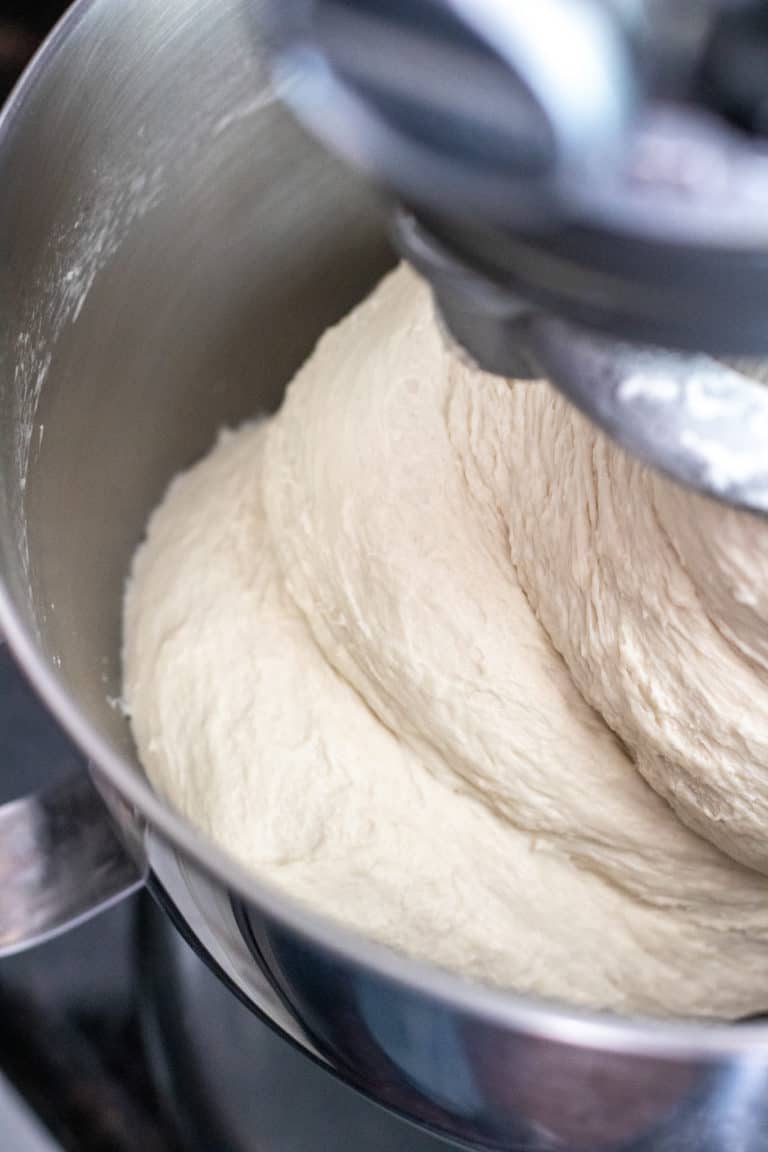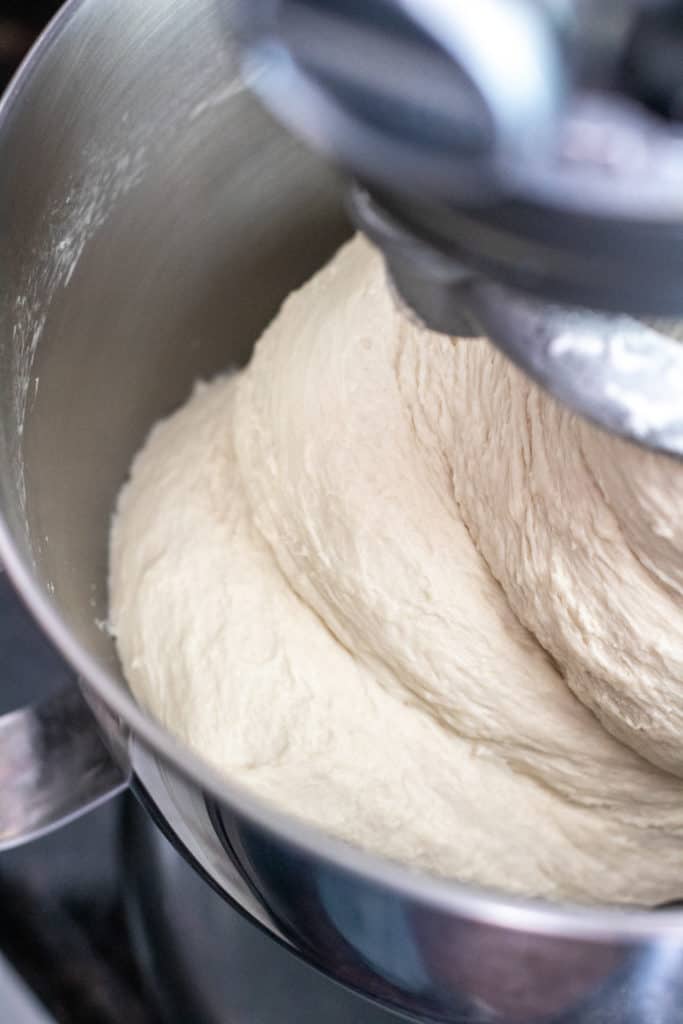 Mix in the mixer on low until the dough is combined and pulls away nice and cleanly from the side.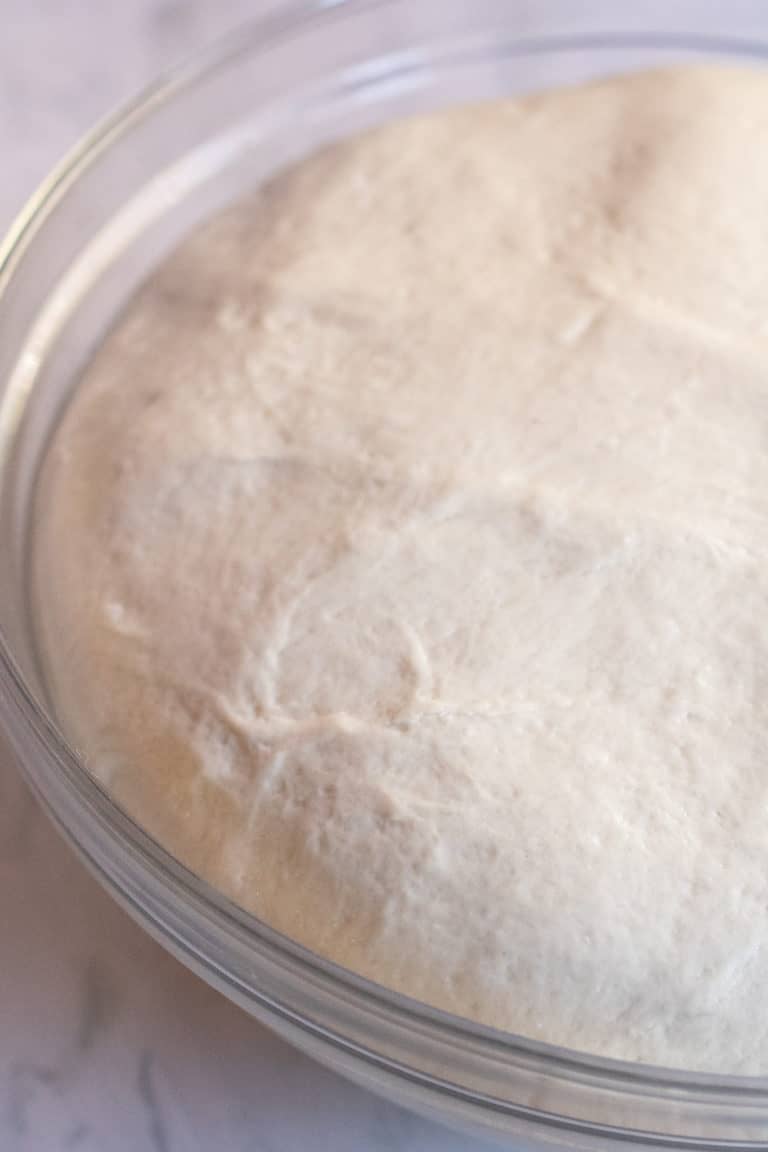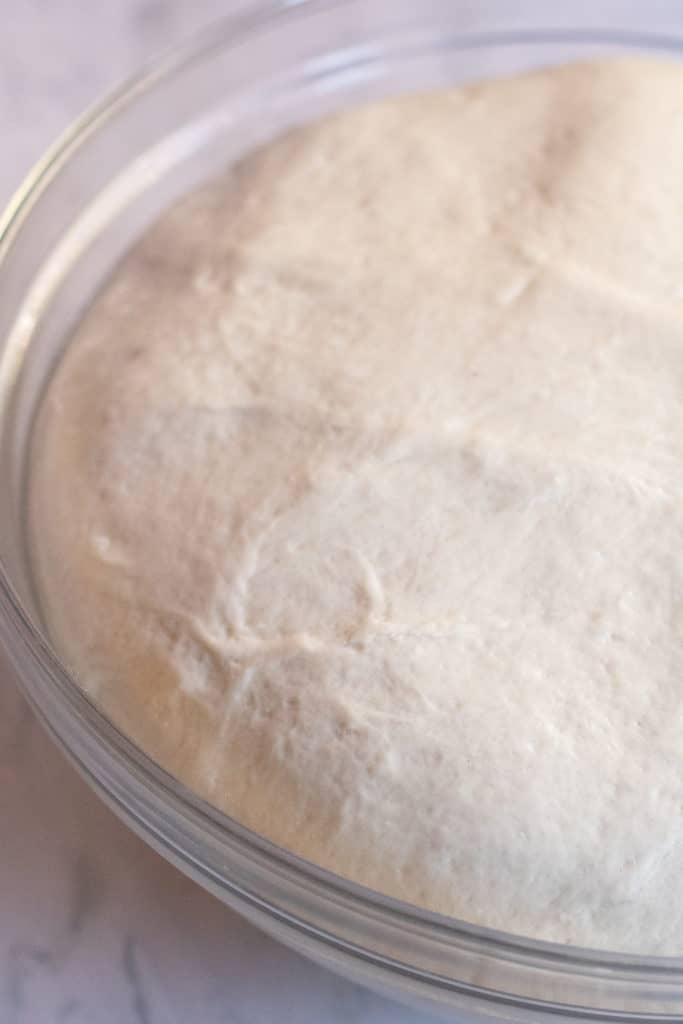 Let let it proof until it has doubled and looks like a soft pillow you just want to nuzzle your face into.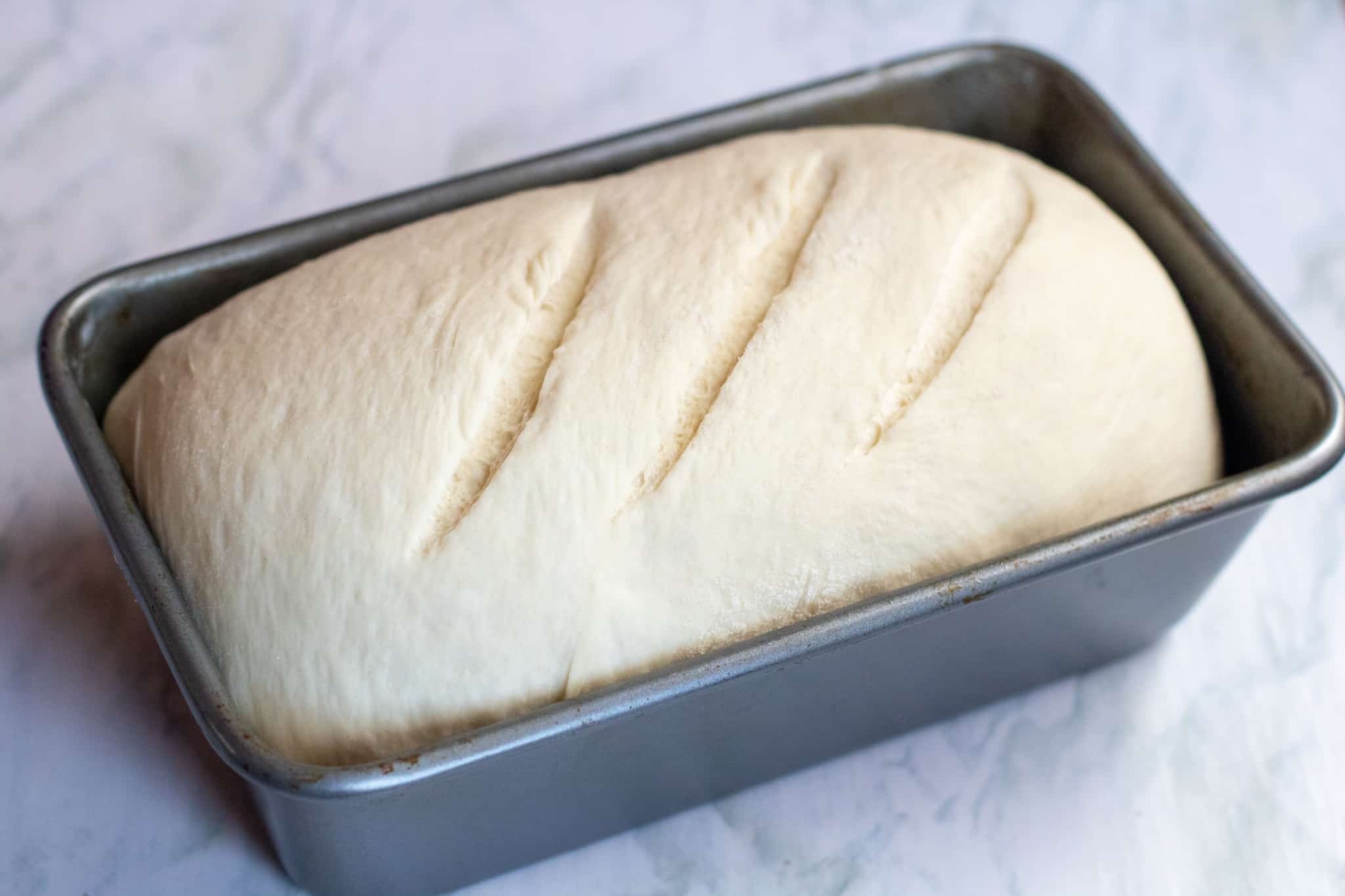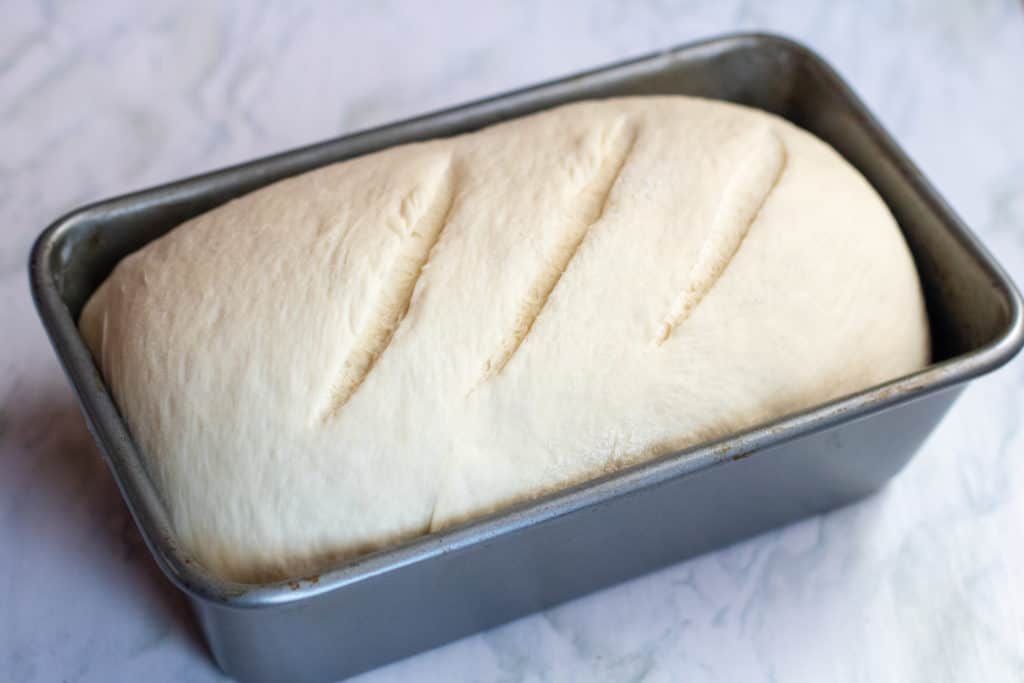 Put that lovely loaf into a well greased pan and give it couple of pretty scores,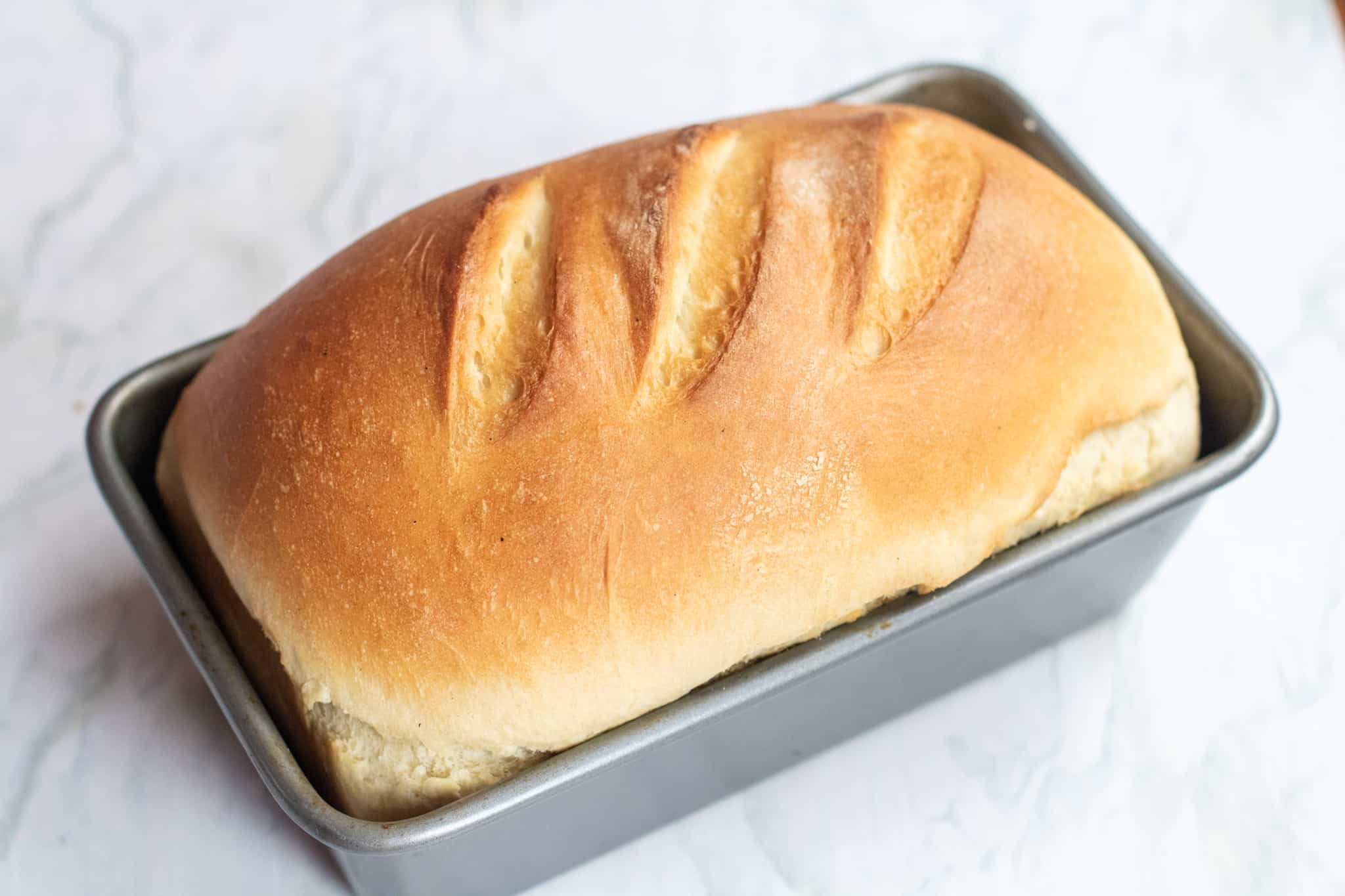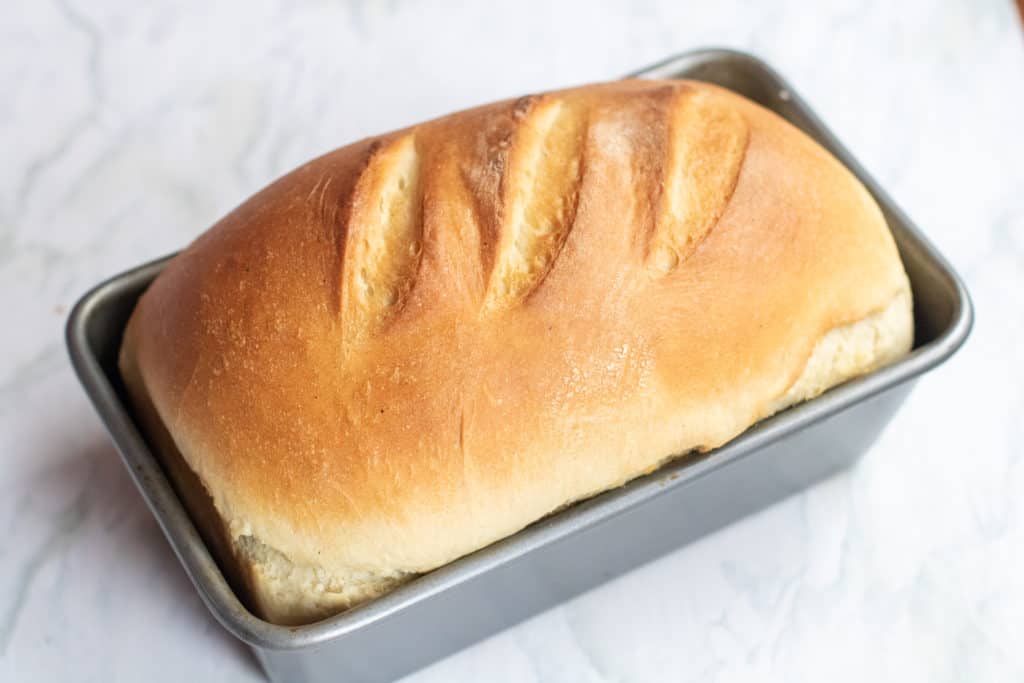 and bake!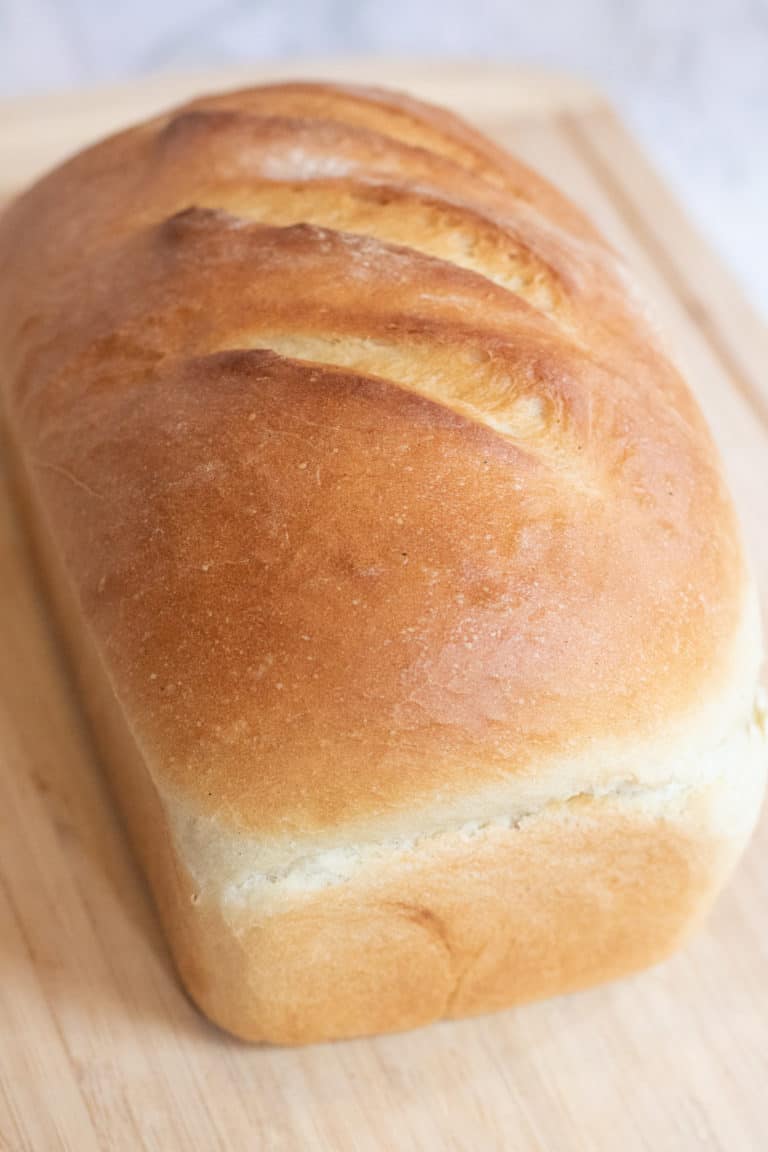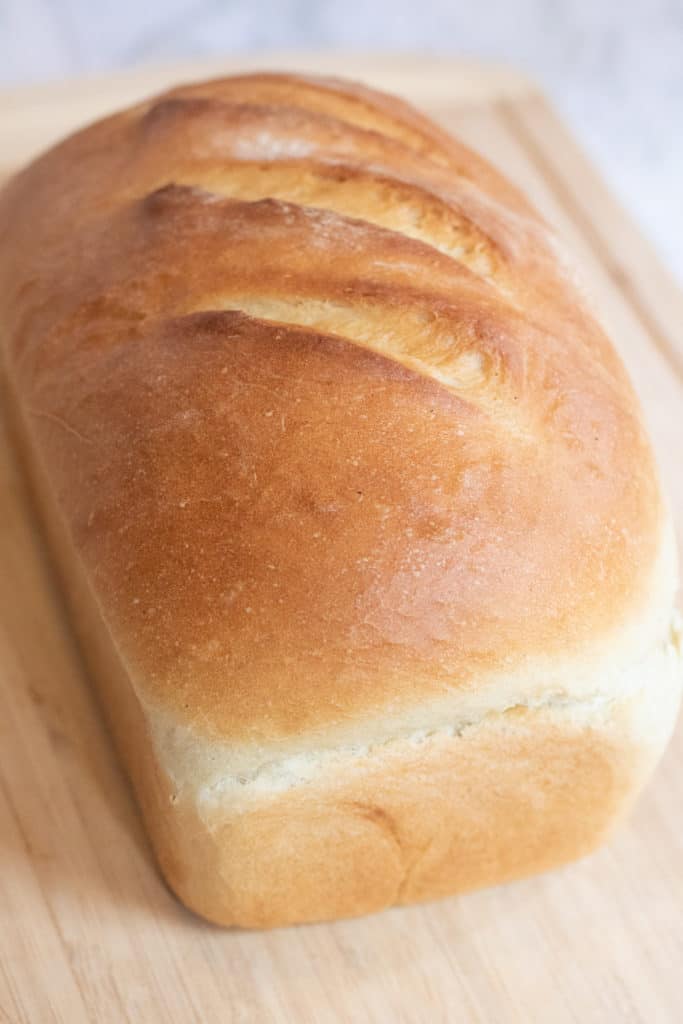 To perfection.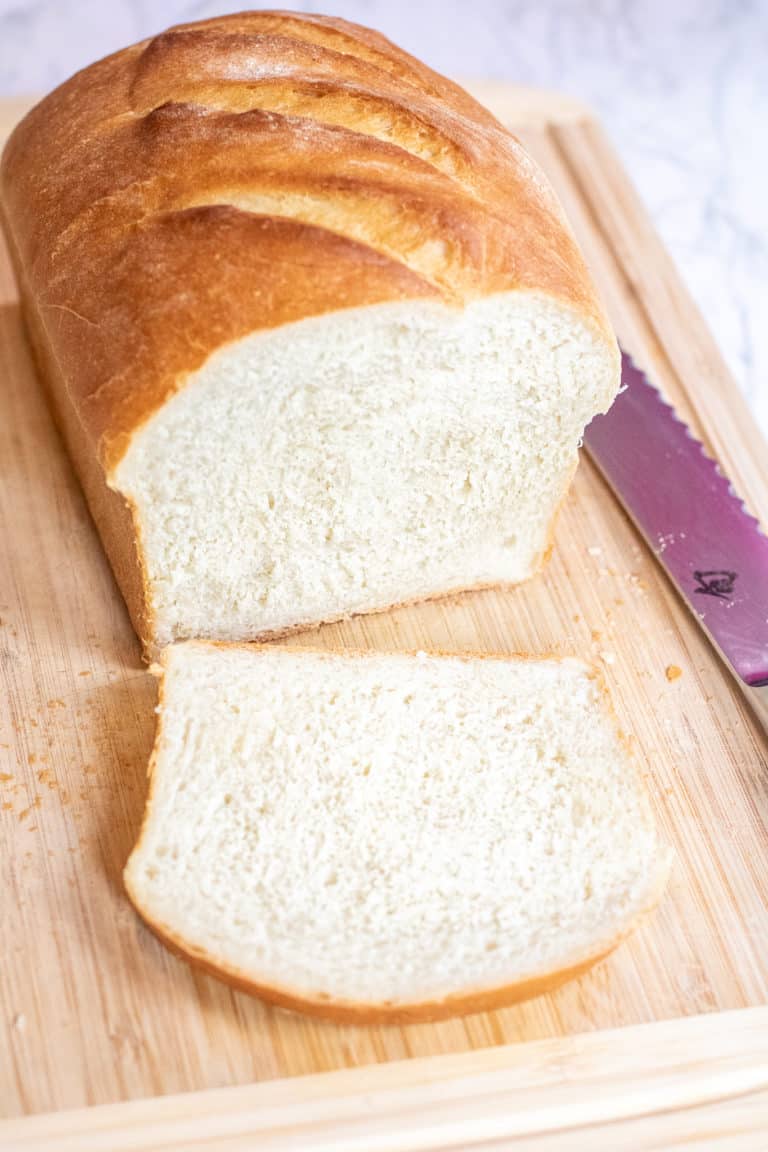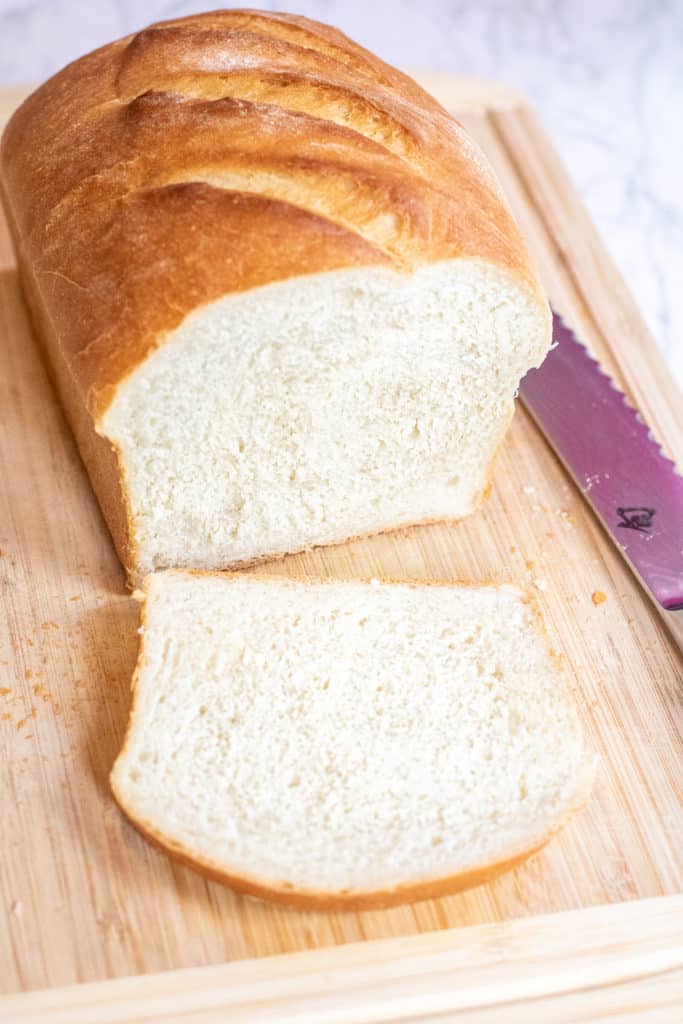 This Easy White Sandwich Bread is the perfect sandwich bread. It's a classic and easy.
If you're looking for something a little different, or you've made this and now want to make all the bread? Here are some of our other favorites!
Homemade Hawaiian Sandwich Bread
No Knead Rosemary Garlic Bread
Easy Dinner Rolls From Scratch
So my quarantine baker buds, bake on! If you can find flour and yeast, that is... ha. Enjoy As always, if you do please let me know!! I love to hear about it on Facebook, Instagram, and Pinterest!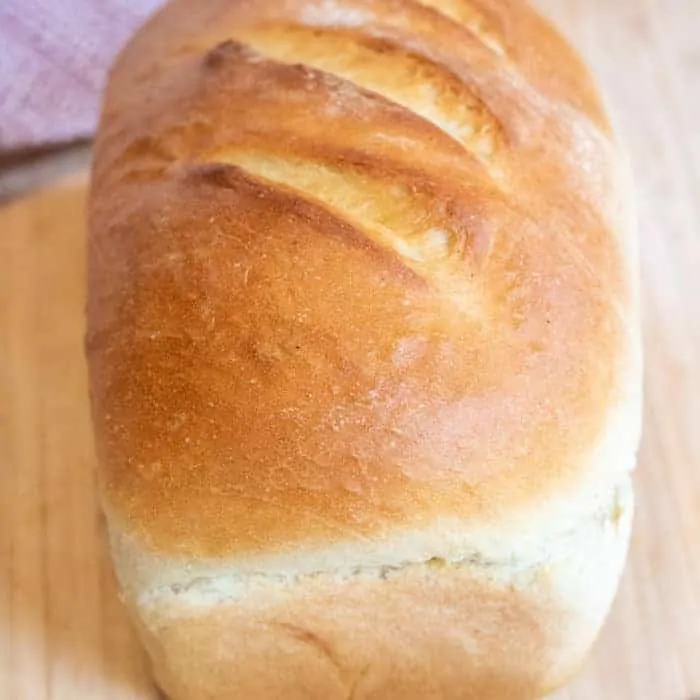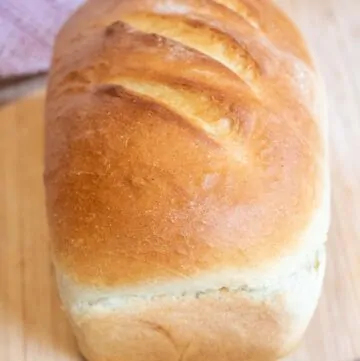 Easy White Sandwich Bread
This Easy White Sandwich Bread is a super simple, easy to make classic white bread that's a great introduction to bread making!
Print
Pin
Rate
Ingredients
10

grams

granulated sugar

about 2 teaspoons

355

grams

warm water (90-100 degrees)

about 1 1/2 cups

8

grams

instant yeast

1 package or 2 1/4 teaspoons

23

grams

vegetable oil

about 2 tabelspoons

525

grams

all purpose flour

about 4 1/4 cups

15

grams

fine ground non-iodized salt

about 2 1/2 teaspoons
Instructions
Activate the yeast by adding it to the sugar and water in the bowl of a stand mixer with a dough hook, approximately 10 minutes, until it's frothy.

In a separate large bowl, add flour and salt and mix.

Once the yeast is foamy and activated, add vegetable oil and mix on low with dough hook.

Slowly add flour 1/3 of a cup at a time mixing on low until all is well combined and dough pulls cleanly from the side of the bowl.

Transfer dough to a well oiled large bowl. Cover with plastic wrap and let rise until doubled (approximately 60-90 minutes).

Pre-heat oven to 400 degrees and liberally grease a 9 X 5 loaf pan.

Lightly flour a counter and then shape dough into a large ball.

Add dough to well greased (or parchment paper lined) loaf pan. Gently cover with a linen towel and let it rise again for another 30 minutes.

Once it's risen to fill out the loaf pan, use a very sharp knife or bread lame to score top of dough 3 times. Spritz with a little cold water.

Add to oven and bake for 40 minutes.

After 20 minutes, open oven and spritz the top of loaf again with cold water.

After final 20 minutes, take pan out of oven and take out of pan and cool on side. Let cool for at least 60 minutes before slicing.