This Homemade Irish Soda Bread is a quick bread that's perfect for whenever you want an easy, crunchy crust, soft crumb, flavorful loaf that doesn't require yeast, kneading or a lot of work!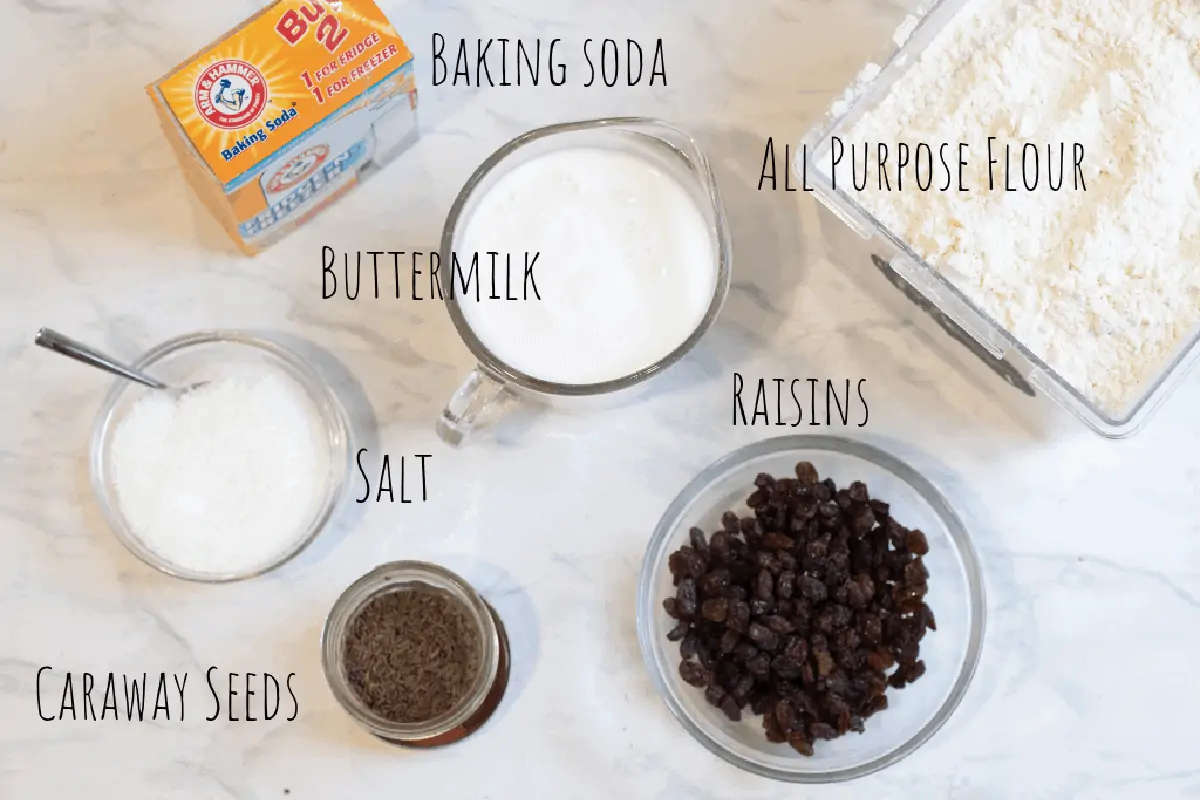 A Homemade Irish Soda Bread has been on my list to make for a long time. A bread that doesn't require kneading, that's leavened by buttermilk and baking soda, and has dense, tight crumb? I'm in. Plus, anytime we get to use our Finex cast iron skillet, I'm all in.
What is Soda Bread?
Soda Bread is a bread that doesn't require any yeast because the "soda" in it - baking soda - combined with the buttermilk, will leaven it without yeast. This makes it a quick bread. Because of this, it makes a nice dense crumb, crispy crust, and the buttermilk adds a rich flavor.
While it's not truly Irish, Ireland like many other European countries in the 1800s were unable to produce wheat that could produce a good yeast bread, so the alternative soda bread was born.
Have you had Irish Soda Bread before and was put off by the taste because it was too bitter? I have! That means that there was too much baking soda in the recipe and that the ratio of baking soda to buttermilk was off. No need to worry about that with this recipe - there's no bitter taste to it at all!
Ingredients Needed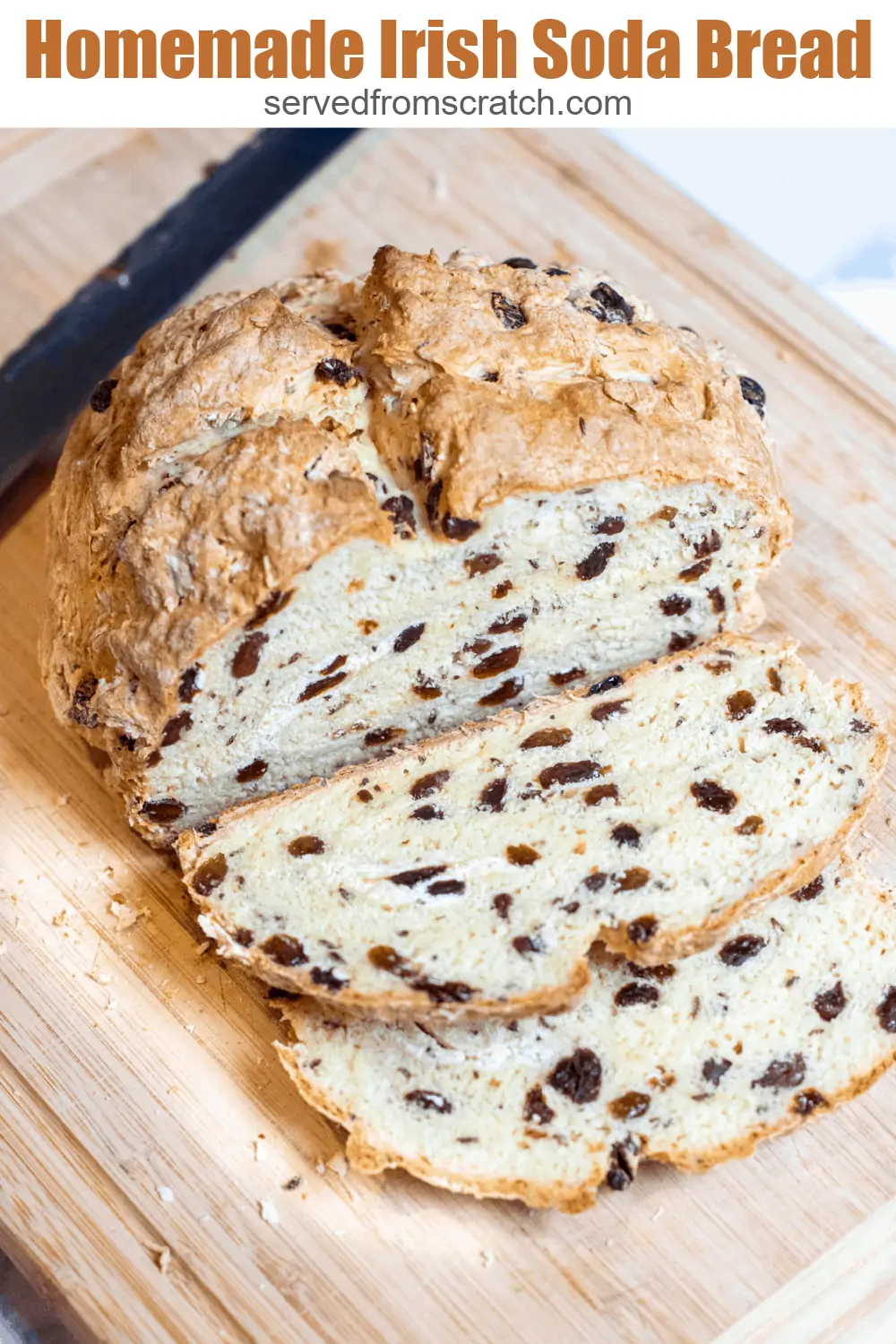 A super traditional Irish Soda Bread really only requires 4 ingredients: flour, baking soda, salt, and buttermilk. There are a ton of other recipes out there that have eggs and butter in them too. I've made this recipe with and without and I prefer it without eggs and butter. The result is a more tender, soft bread!
You could stop right here and have a delicious bread, but I wanted a little more flavor so I added in a couple of classic Irish Soda Bread add-ins, raisins and caraway seeds.
No buttermilk? No Problem! Did you know you can make your own Homemade Buttermilk without having to make a special trip to the store?
Incredibly Easy to Make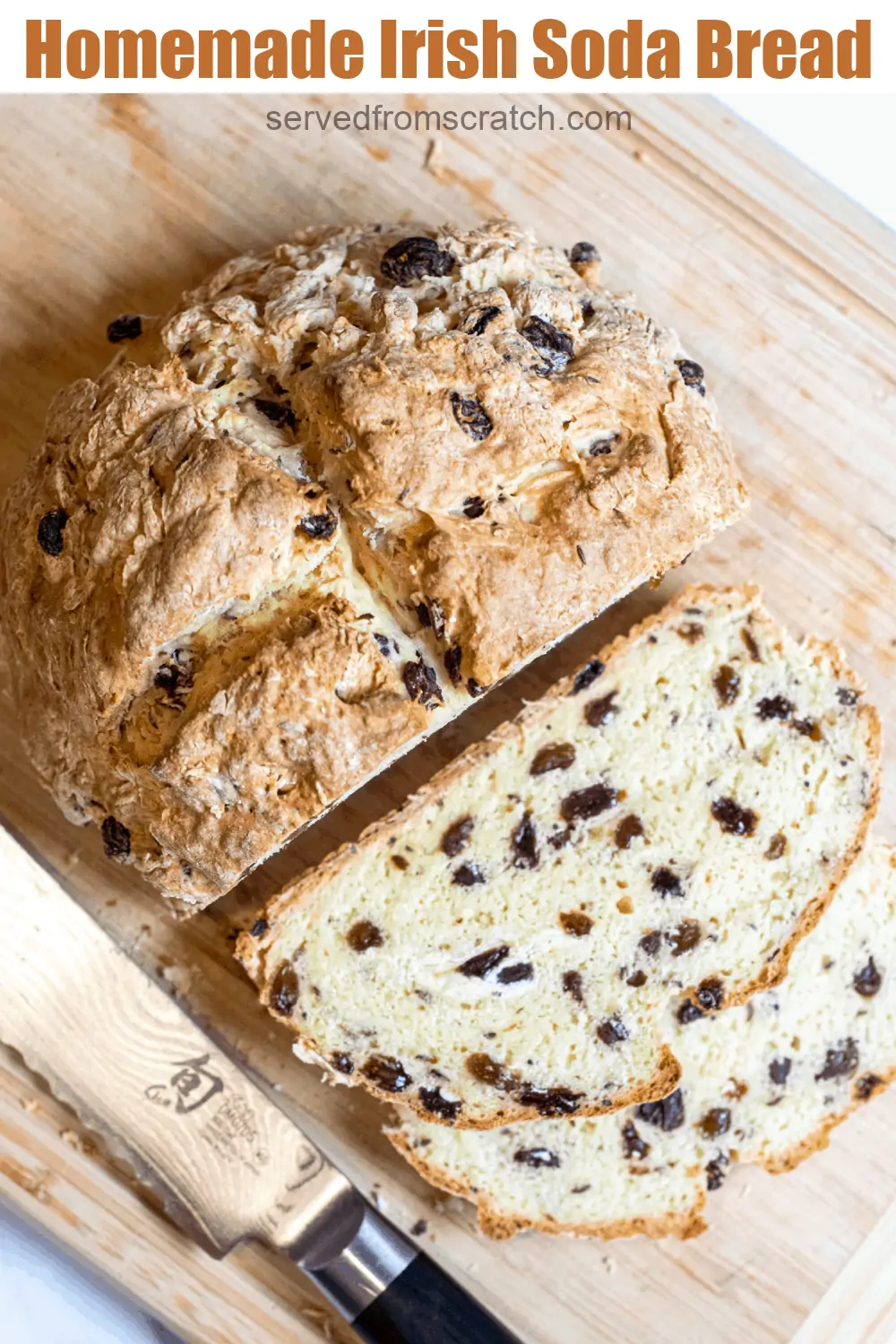 As with most quick breads, this bread is so easy to make!
Step 1: Mix flour, baking soda, and salt in a large bowl, then fold in your add-ins, if you choose!
Step 2: Add the buttermilk and give it a gentle mix until it's all incorporated.
Step 3: Gently form the dough into a ball. It will be a shaggy dough, but that's ok. Don't worry if some of the flour isn't incorporated into the dough ball, the most important thing to keep in mind is to not overwork the dough. Shape it into a ball and call it good.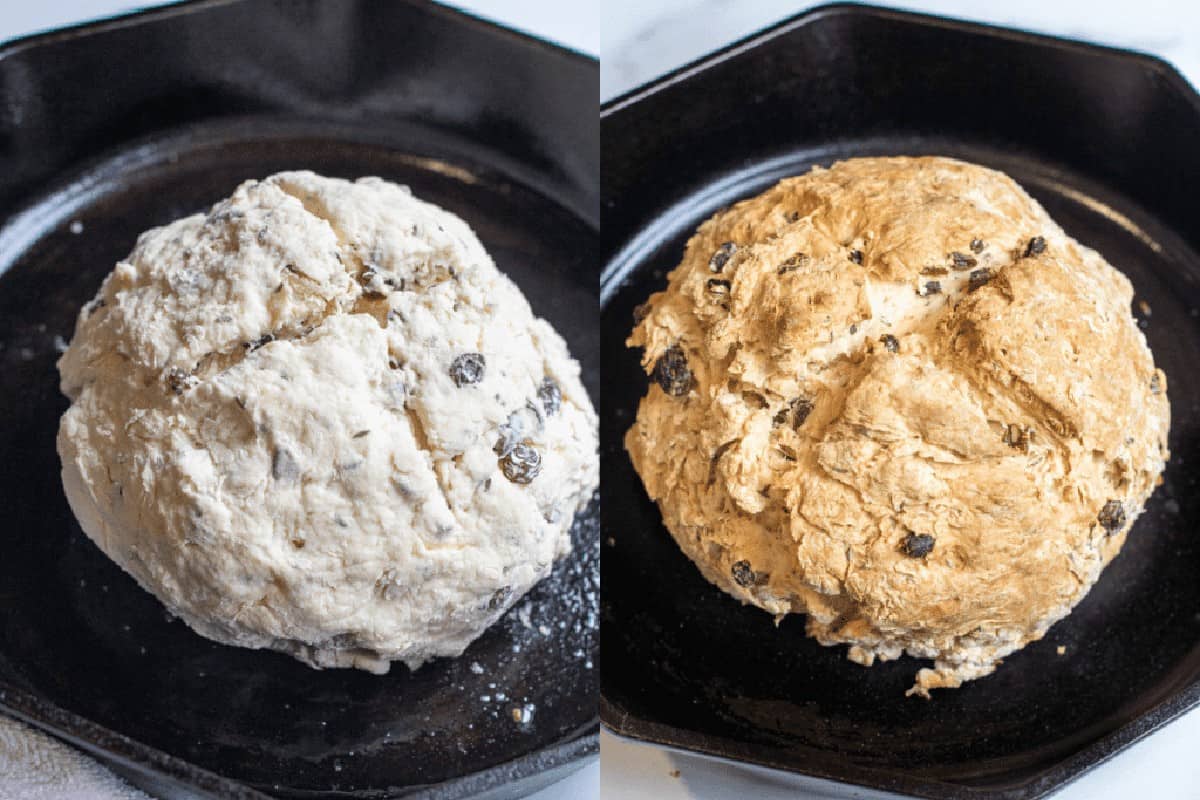 Step 4: Add this rough dough to a greased cast iron, parchment paper-lined baking sheet, or Dutch oven. Score a big X deeply in the bread.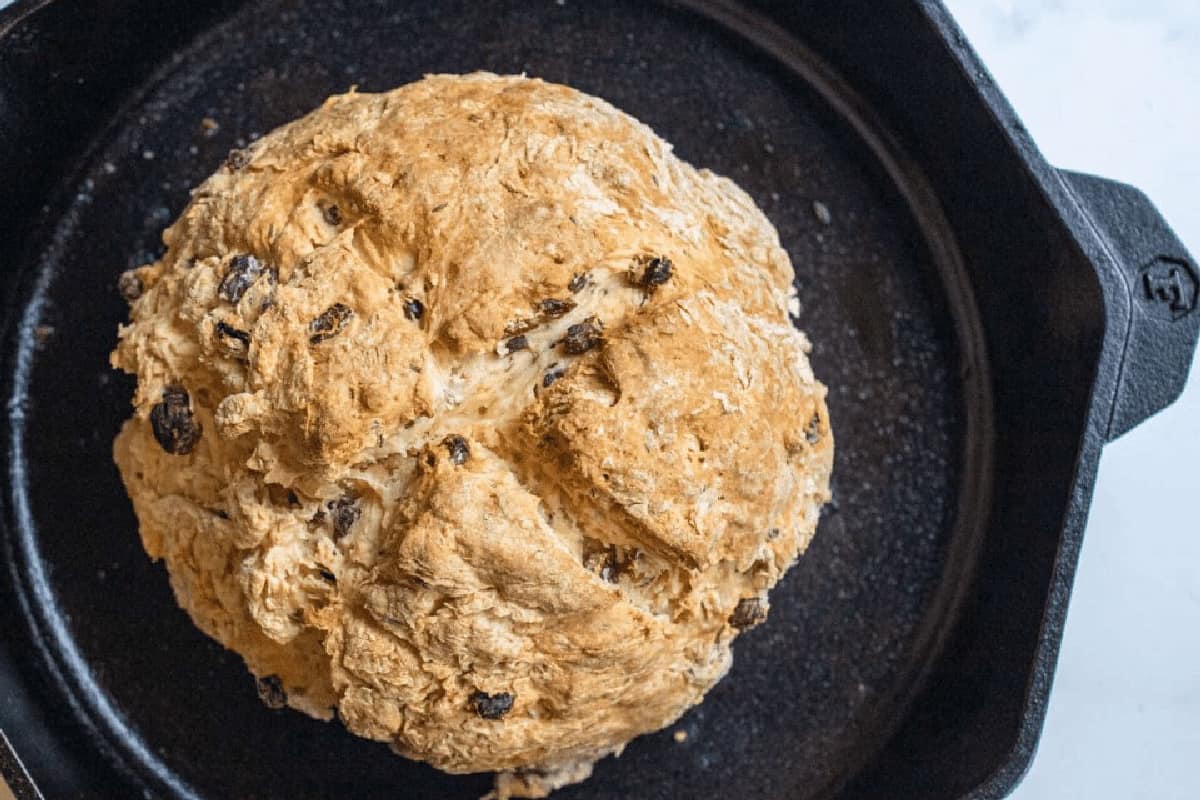 Step 5: Bake!
A cast iron skillet soda bread baked in one of our favorite skillets from Finex!
Important Tips
While this bread is simple to make, there are some tips you need to keep in mind while making it to make sure you have the most success!
Don't add the buttermilk until you're ready to bake! While you can prep the flour, baking soda, salt, and add-ins in advance, you really want to make sure that your buttermilk isn't added until you're ready to bake. That means, making sure your oven is preheated and the cast iron is greased or the baking sheet is lined with parchment paper. This is because once the buttermilk is added, the activation with the baking soda starts - remember, no yeast so this bread gets its rise from that activation between the buttermilk and the baking soda. You want that to happen while it's in the oven baking.
Just Form Into a Ball. The dough will be sticky and shaggy. Once you have most of the buttermilk mixed in, I think it's best to use your hands to just incorporate it into a dough into a ball until it just barely comes together. There might be some flour left over, that's ok.
Don't Knead! No need (har har). Seriously, as with all breads that do not have yeast, you won't want to overwork your dough. If you feel like you have to knead the dough together, don't knead more than 5-6 times, max. Too much kneading will create a hard dense crumb on the bread. Rule of thumb with no yeast breads, the less kneading the softer the crumb.
Score the bread. This is an important step to helping to ensure that the center is cooked. You want to make sure that it's at least 1/3 of an inch deep. Use a super sharp knife or a bread lame for this.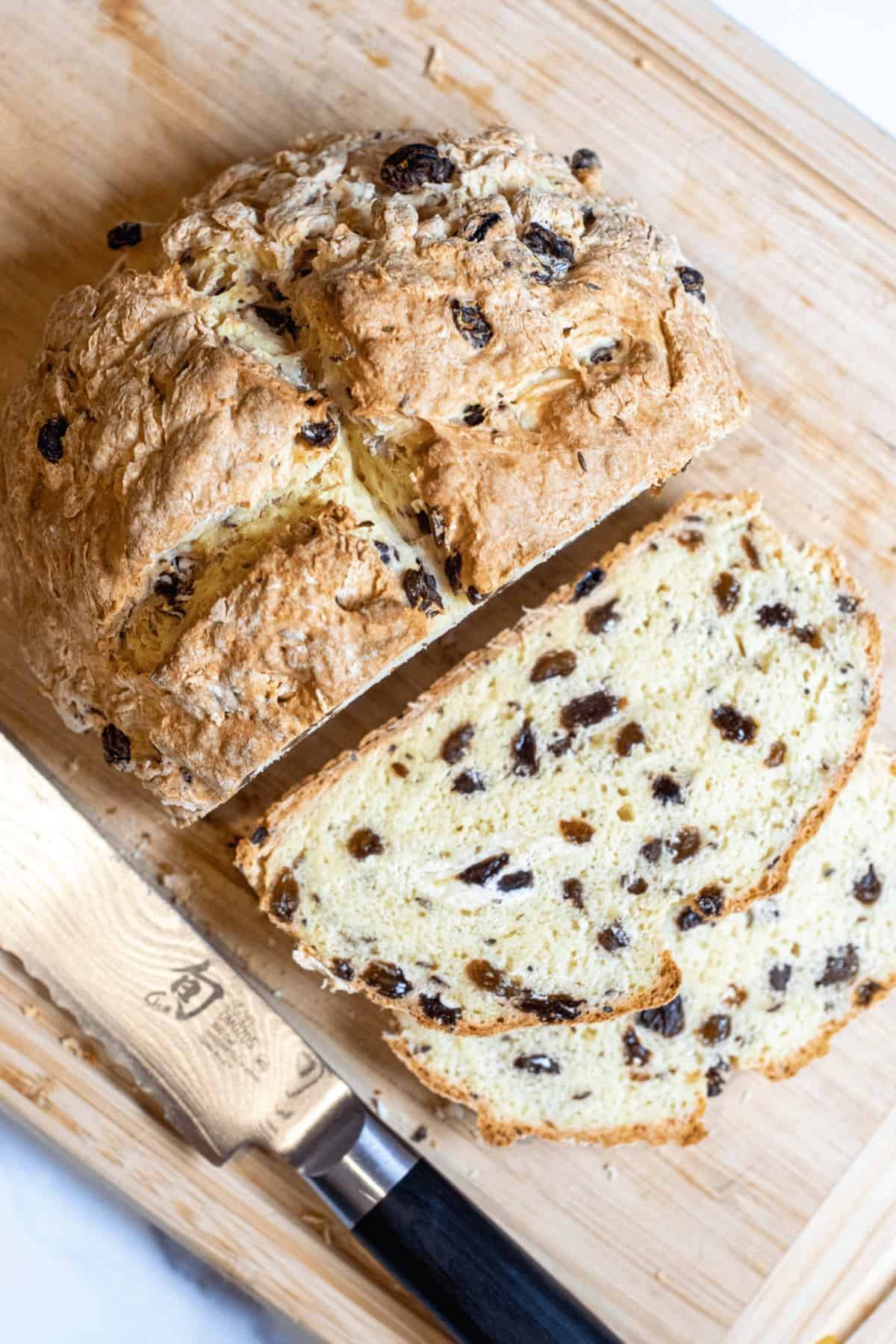 Once baked, ahh look at that nice tight but soft crumb and nice crispy crust!
Bread in a hurry! No proofing, no kneading, and no equipment needed for this one. It's a savory quick bread that makes the most perfect breakfast toast with butter. Or leave out the raisins and caraway seeds and then have a perfect easy crusty soft bread for your favorite soup or stew!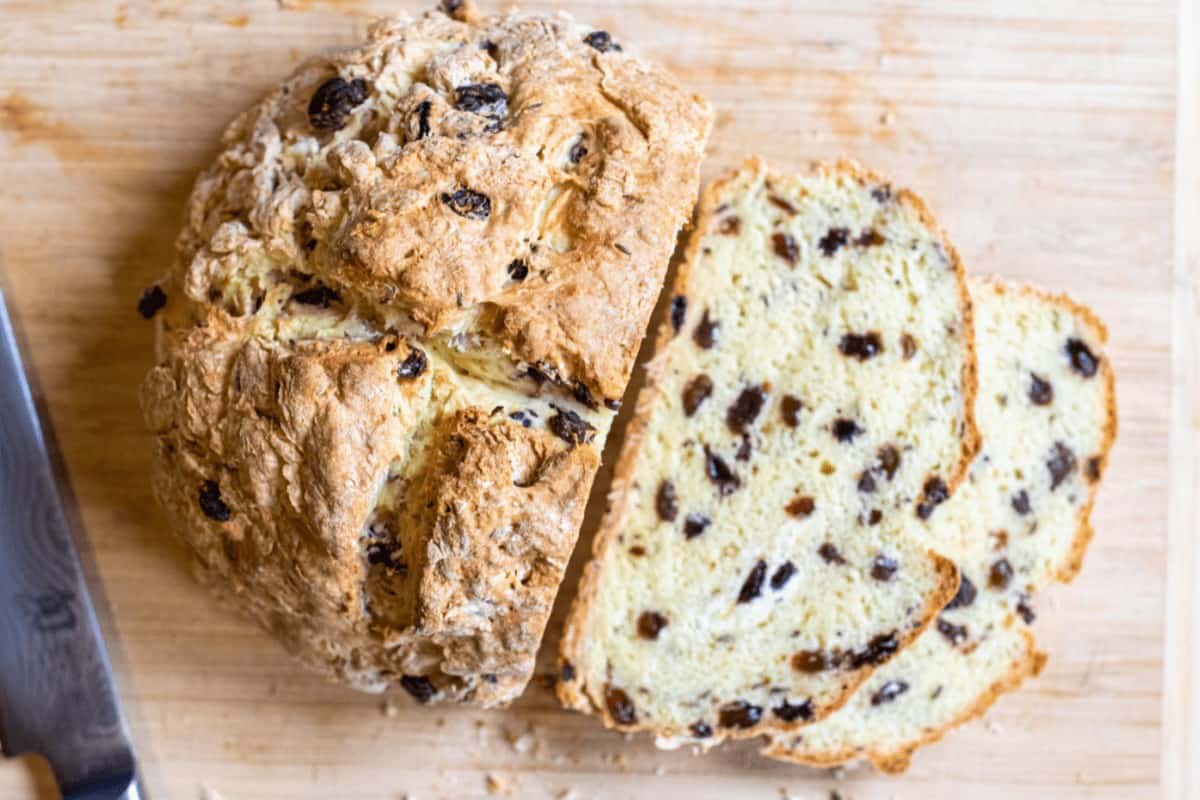 FAQs
Can I leave out the caraway seeds and raisins?
Of course! For a plain (but delicious) crusty bread, no need to add anything!
My dough is super shaggy and didn't use all of the flour.
That's ok. You don't want the dough too dry or too well worked. Just form it all until it forms into a nice ball but do not knead more that 5-6 times. If there is a little extra flour left over, that's ok.
What do I bake it in?
Whatever you have! We like it best in a cast iron skillet because it's what gives it the crispiest crust, but you can also bake it on a baking sheet, in a Dutch Oven.
How do I know it's done?
As with most breads, the easiest way to check if a bread is done is to give the bottom of the loaf a little tap. If it sounds hollow, then it's done. You can also use an instant read thermometer and if the internal temp is 200°F. That assures that enough of the moisture is gone so it's no longer soggy, but not too hot that the crumb dries out.
Most soda breads I've eaten have tasted too bitter.
Yup, been there. That means that there wasn't a good ratio of baking soda to buttermilk and there was just too much baking soda. Have no fear, no bitter taste with this bread!
How long does it last?
Soda bread dries out pretty quickly, so it's best to store this in plastic or an airtight container for 3-4 days.
Can I freeze it?
Yes. Baked and fully cooled bread will last in the freezer for up to 2 months wrapped in plastic or aluminum foil.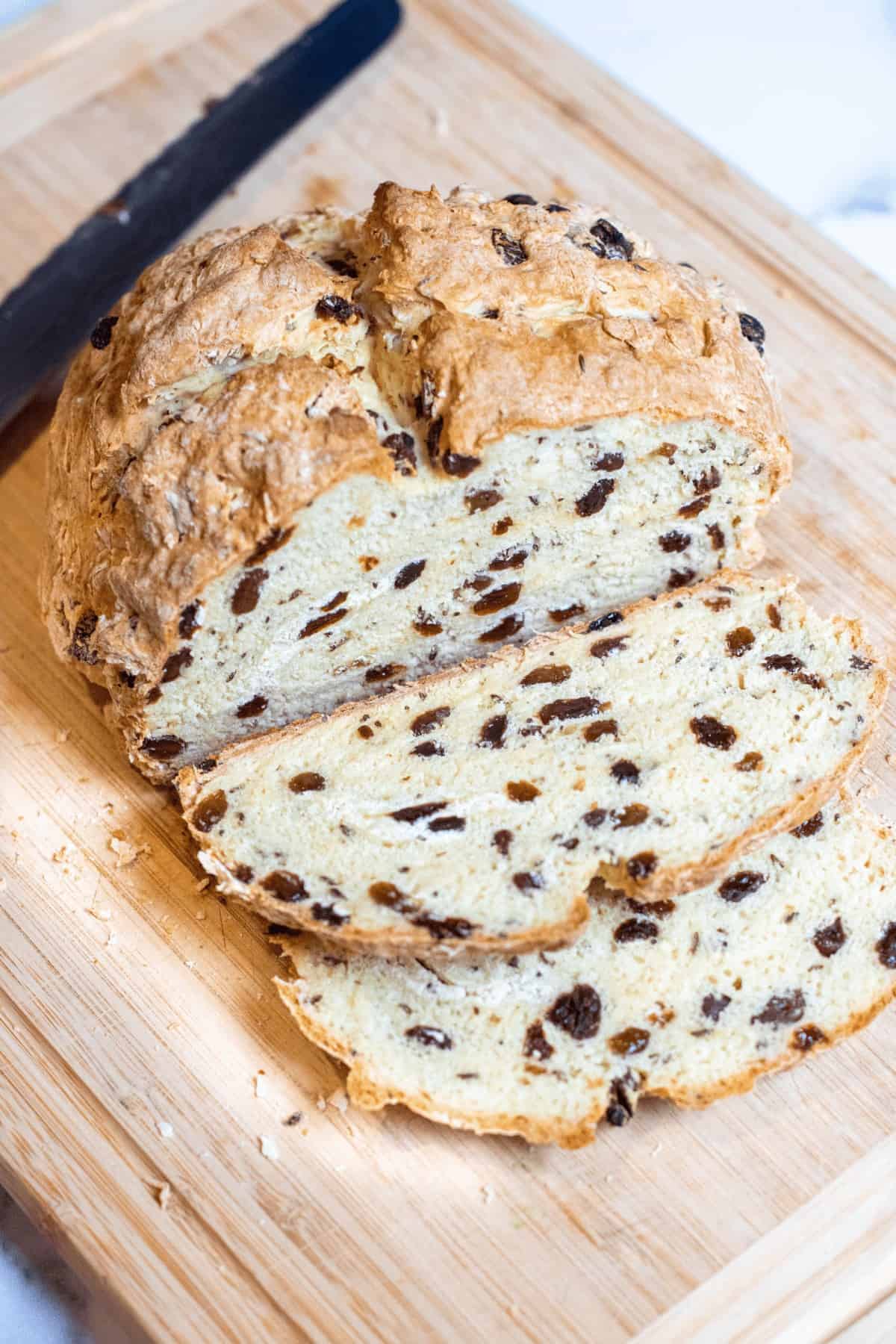 Enjoy! As always, if you make this recipe or any of my others, I love to hear what you think! Leave a comment below, email me, or you can find me on Facebook, Instagram, and Pinterest!
If you want to see more, be sure to sign up for my 5 Easy Ways to Start Cooking From Scratch!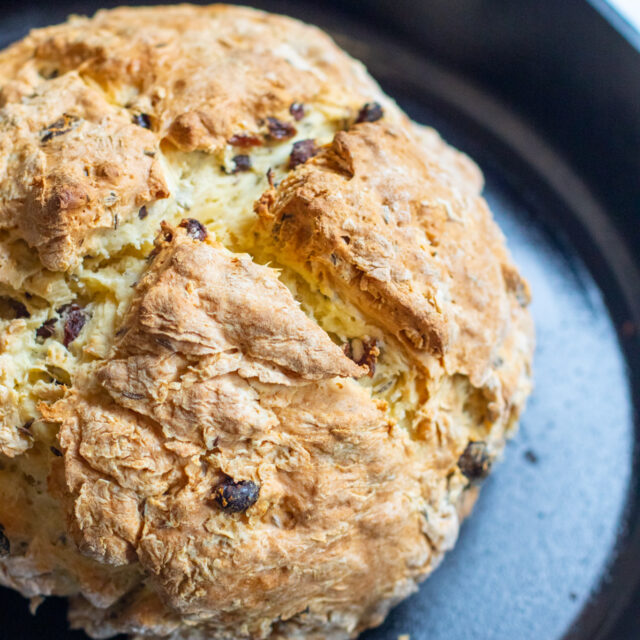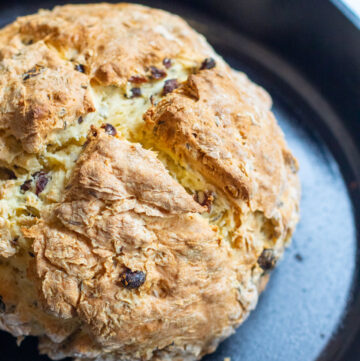 Homemade Irish Soda Bread
Bread in a hurry! This Homemade Irish Soda bread is a quick bread that doesn't require yeast or kneading and can be ready in just an hour!
Print
Pin
Rate
Ingredients
4

cups

all purpose flour

1 1/4

teaspoon

baking soda

1 1/4

teaspoon

salt

1 1/2

cups

buttermilk

1

cup

raisins

1

tablespoon

caraway seeds
Instructions
Pre-heat oven to 400° F. Grease cast iron skillet or Dutch oven with butter or line a baking sheet or parchment paper.

In a large bowl, mix together flour, salt, and baking soda well, then mix in the raisins and caraway seeds.

Once ready to bake and oven is pre-heated, make a well with the flour mixture in the bowl and then add buttermilk. With a large spoon, gently mix into a shaggy dough.

Knead dough in the bowl a couple of times to gently form into a shaggy ball in the bowl. All of the flour may not be incorporated, and that's ok.

Add balled dough to greased cast iron, Dutch oven, or baking sheet. Score a 1/3 inch deep X into the center of the dough. Spray top of loaf with a couple of squirts of water.

Bake for 40-45 minutes until golden brown or it reaches an internal temperature of 200° F.

Let cool for at least 30 minutes until slicing.
Notes
Serving size is for 1 slice of 12 slice loaf.
Always spoon and level your flour when measuring for baking. Using weights is the most accurate way to measure.
Don't add the buttermilk until you're ready to bake. Once the buttermilk and baking soda mixes, it will start to activate and you want this to happen in the oven.
Don't over mix! Be sure to mix until dough just barely forms a shaggy dough and then form into a ball. If you want to knead it, be sure you don't work it too much, knead it max 5-6 times.
Store in an airtight container for up to 3-4 days.
Freeze fresh baked and fully cooled bread for up to 2 months wrapped in plastic or aluminum foil.
Nutrition
Calories:
208
kcal
|
Carbohydrates:
43
g
|
Protein:
6
g
|
Fat:
2
g
|
Saturated Fat:
1
g
|
Cholesterol:
3
mg
|
Sodium:
392
mg
|
Potassium:
192
mg
|
Fiber:
2
g
|
Sugar:
2
g
|
Vitamin A:
51
IU
|
Vitamin C:
1
mg
|
Calcium:
48
mg
|
Iron:
2
mg