Homemade bread is always better and these Easy Dinner Rolls From Scratch are so simple to make that you'll never want to go back to store-bought again!
Make our Homemade Hawaiian Rolls, next!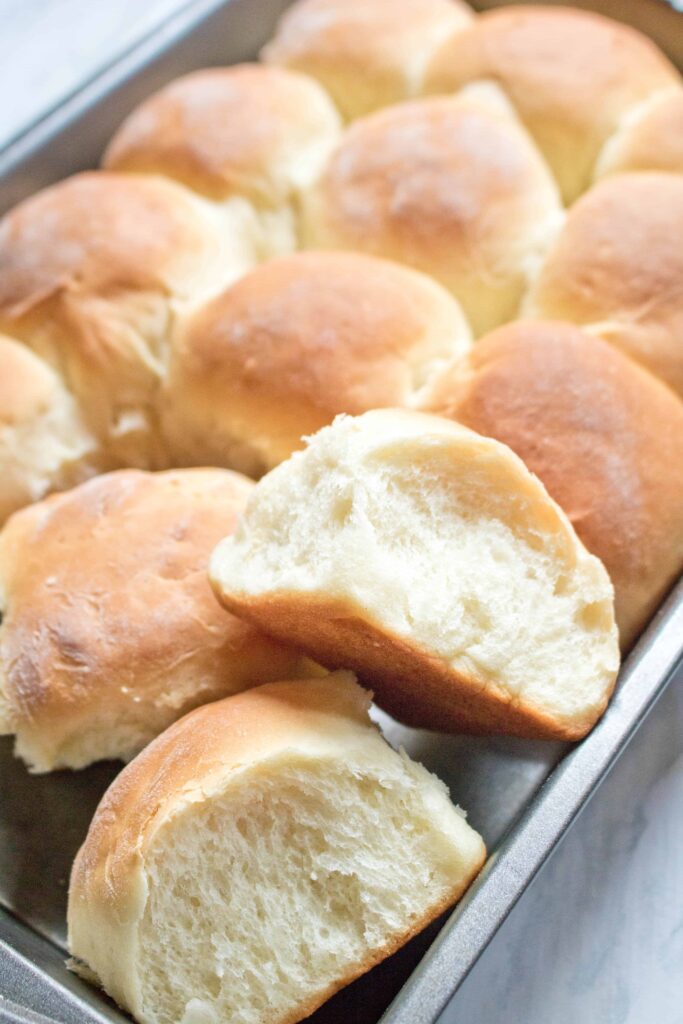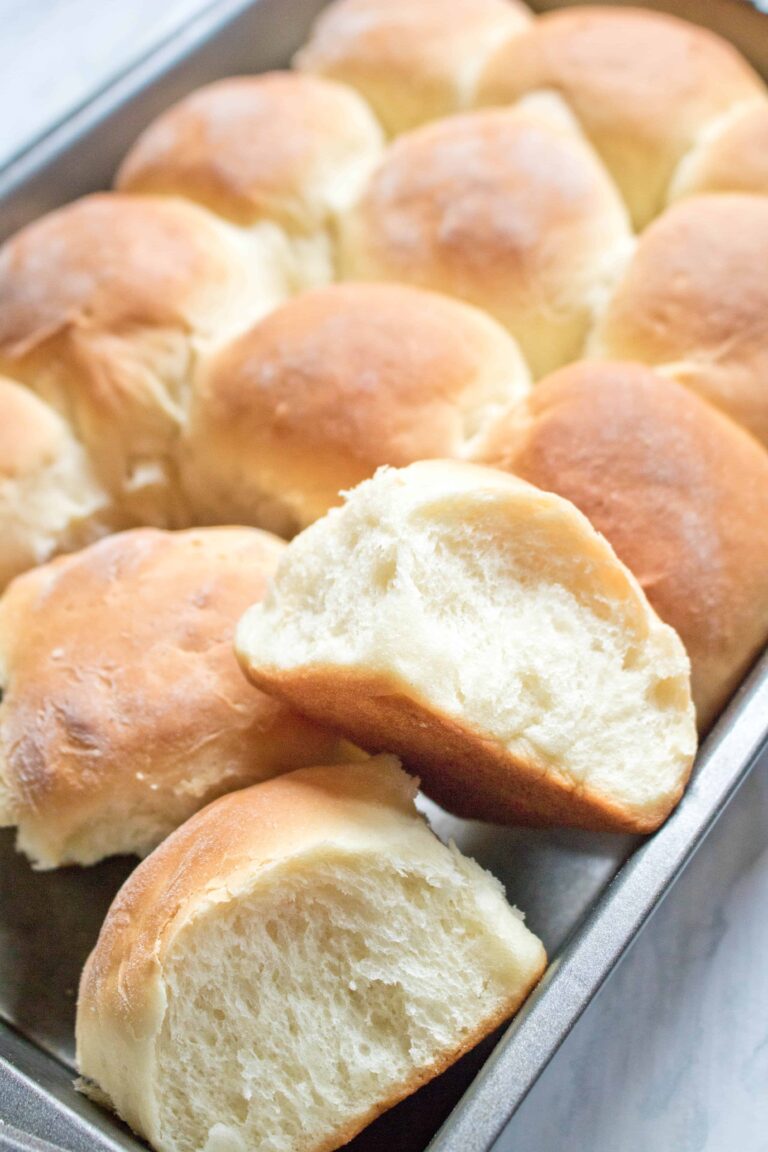 Is there anything better than fresh-baked bread? No. The answer is no. There are many foods I could live without. Chocolate? Bye. Ice cream? See ya. Cakes and Pies? Adios. But bread? The thought of life without bread is truly horrifying. So much so that a *slight* gluten intolerance can't even keep me away. These Easy Dinner Rolls From Scratch? Oh they're just over there being delightfully soft, subtlety sweet, unassumingly solidifying my deep love for all things bread and holy.
Recipe Video
Ingredients Needed:
One of the best parts about these rolls? I bet you have everything you already need in your pantry right now.
All Purpose Flour - You could also use bread flour or whole wheat flour.
Sugar - White granulated is best for this recipe.
Instant Yeast - If you have active yeast instead, no problem. Just activate your yeast first by letting the yeast and water sit in the stand mixer for about 10 minutes until it starts to bubble.
Butter - I use salted for this recipe but you could also use unsalted and just add a pinch more salt.
Egg
Salt
Step-by-Step Instructions
Are you a bread lover who finds the thought of making your own bread daunting? I get it. It can be! There are some bread recipes that are super complicated and technical. This recipe is NOT one of them. These Easy Dinner Rolls From Scratch are sooo easy you'll think you're missing something!
Step 1: Add all of your ingredients (first reserving 1 cup of flour) to a stand mixer and let it do the work.
Step 2: Then shape it into a ball on a floured surface and add it to a bowl to rise.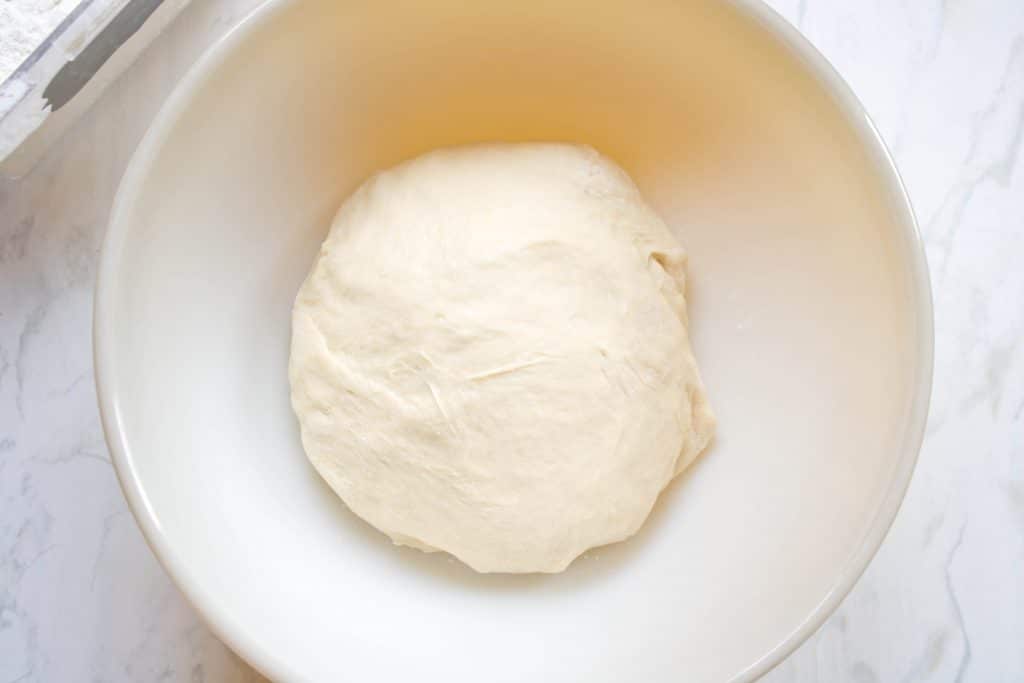 Do I need a Stand Mixer? No! But let me just say in general. In life. In all things that can make your baking world a better place, yes. You need a good stand mixer. But for this recipe you can totally mix everything by hand, it's just much easier to do it with a kitchen aid or other stand mixer.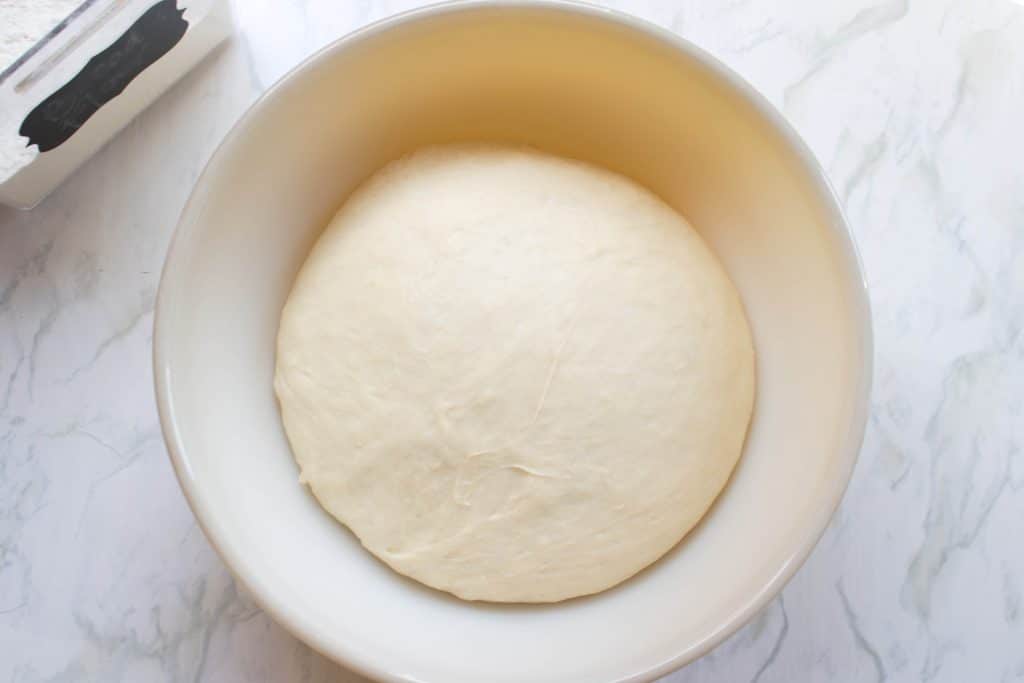 Oh hi, pretty.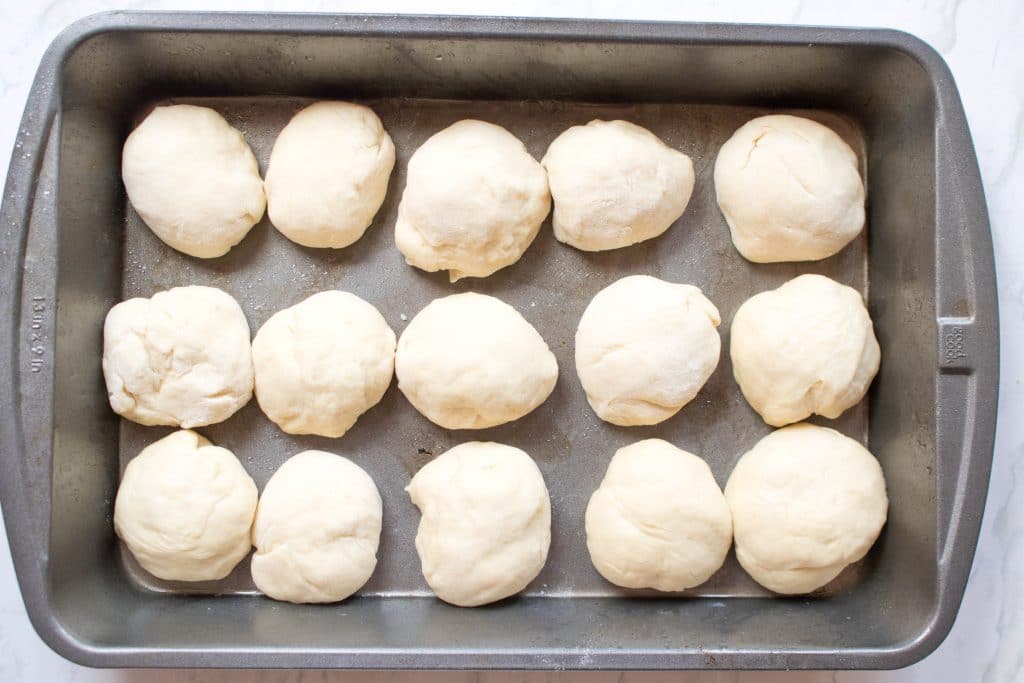 Step 3: Shape into little balls and add to your 9X13 baking dish.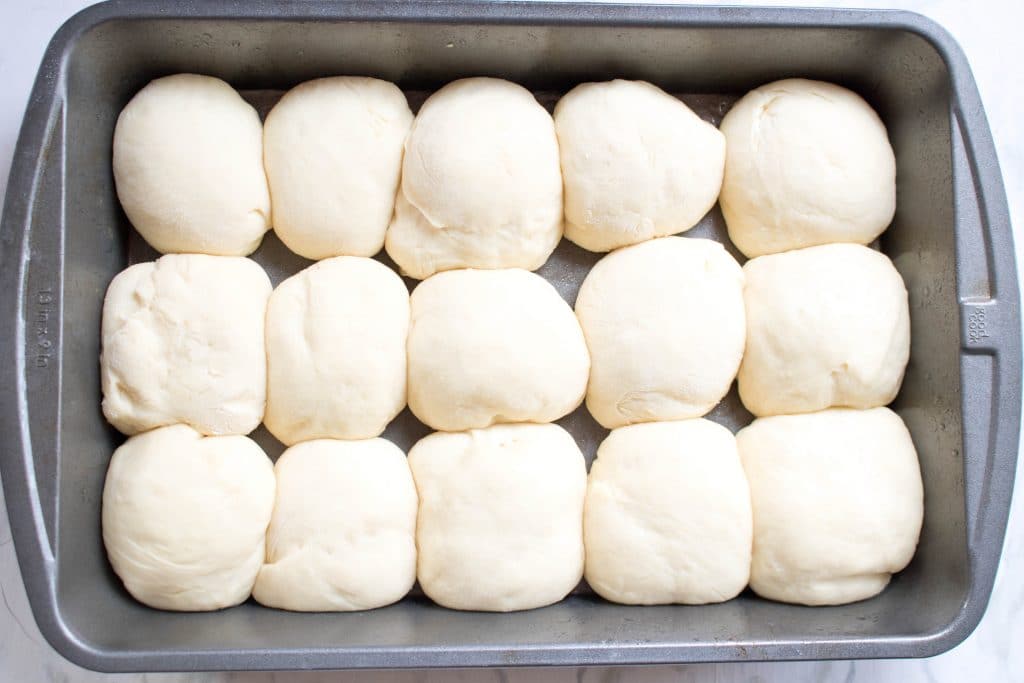 Step 4: Let them rise again in their pan and they're ready to be baked!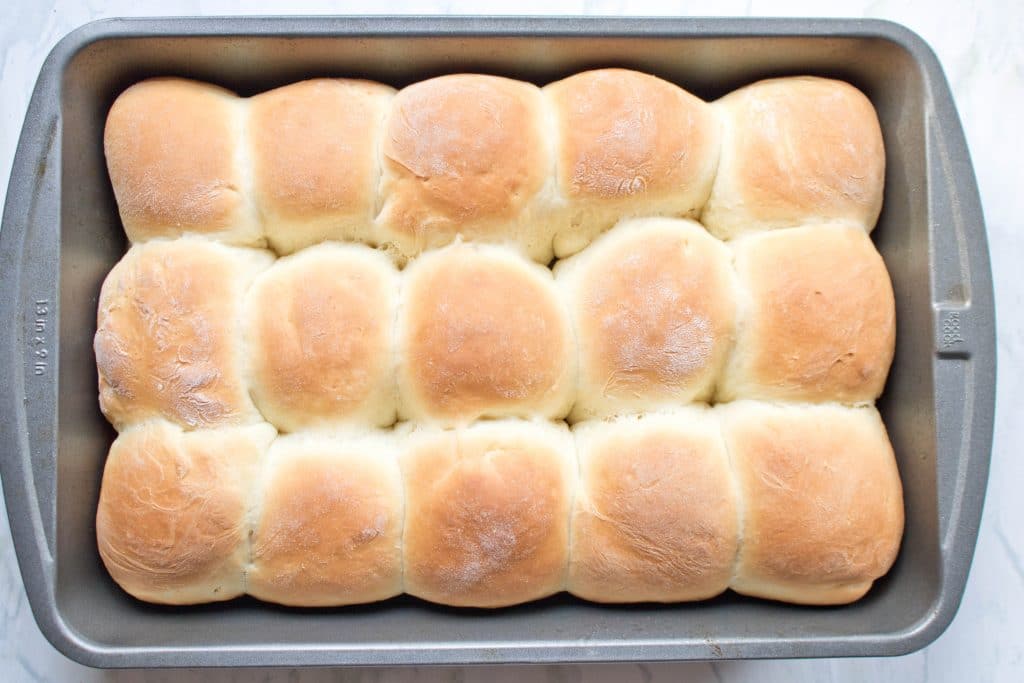 Baked to perfection!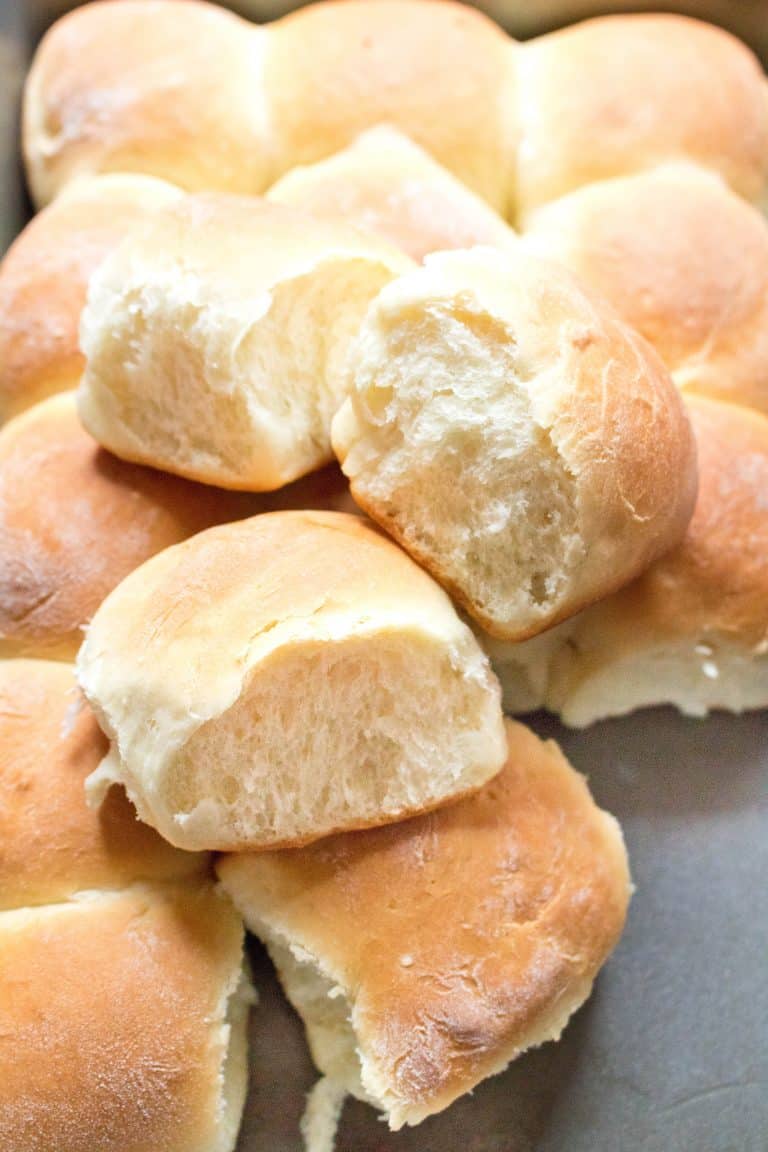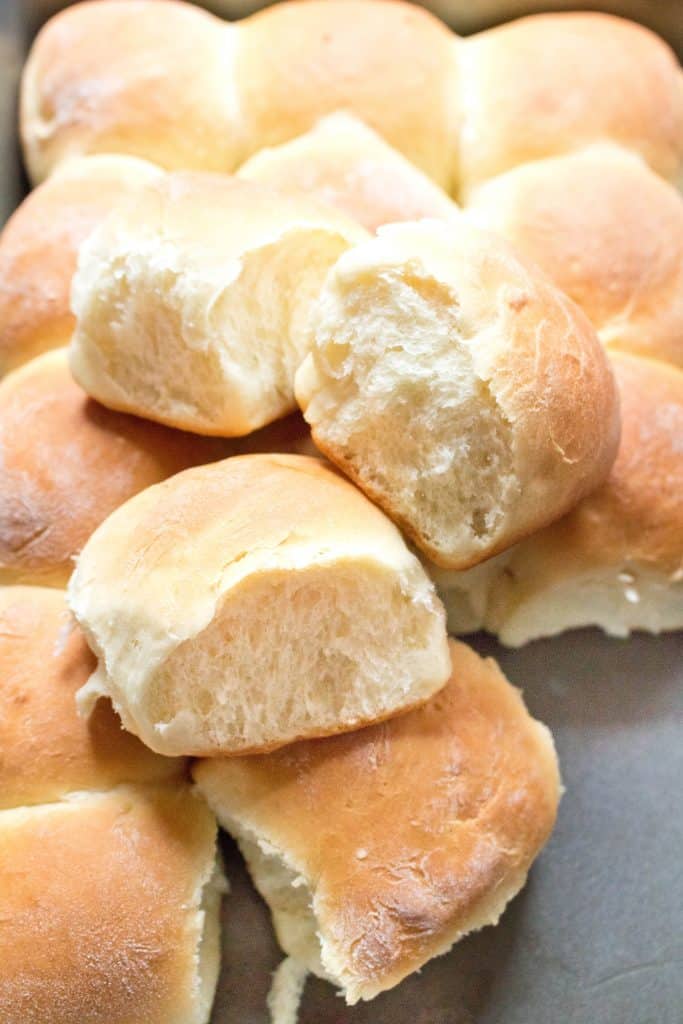 Truly. They're the pull apart, soft, fluffy, rolls that you'll want to use to sop up some Homemade Mushroom Marinara. Dip in some gravy. Finish a bowl of Cream of Mushroom Soup From Scratch with them. Slice in half and put a tab of butter in. Or, do what we did: smoke a turkey in the smoker and add some homemade BBQ sauce for the ultimate turkey slider.
Our Other Homemade Breads
Most of the bread recipes we make around here are super easy. As a working mom with two under 3, everything we make these days is easy. Here are some of my other favorite easy homemade bread recipes:
No Knead Rosemary Garlic Bread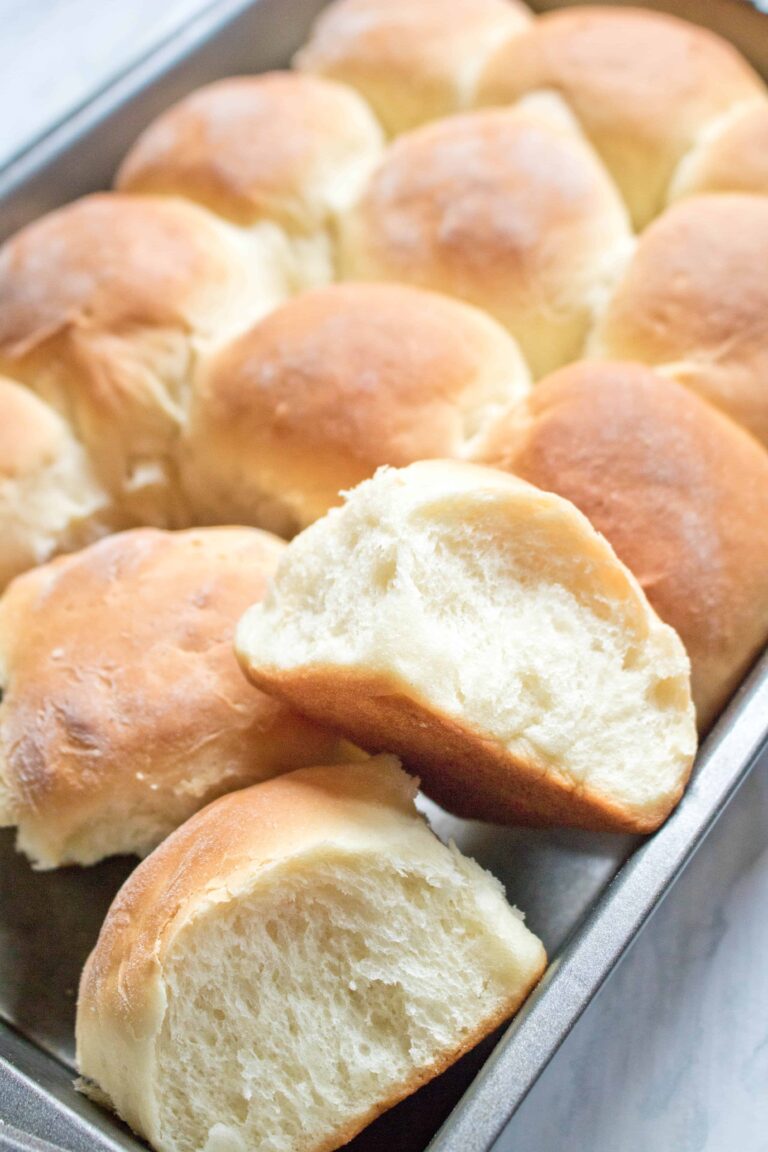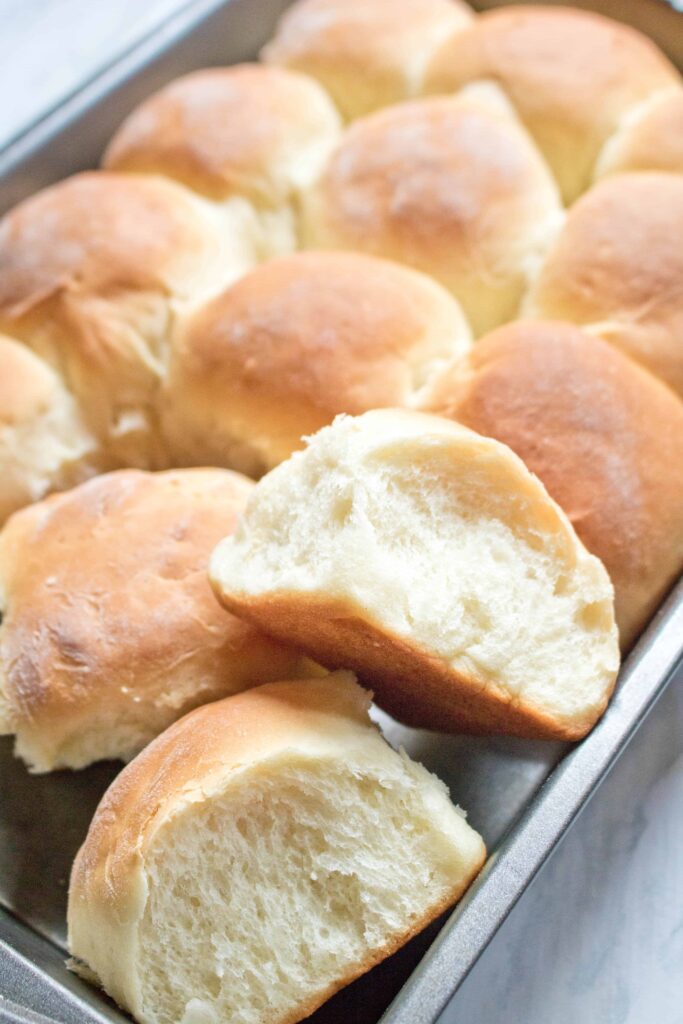 These were a huge hit in our house. But my toddler is taking after her mother, and not just that the girl gets hangry. She already has a deep deep love for all things carb-loaded and bread and she was one happy little gluten lover with these.
You'll find these at our table on Easter this year! Anndd probably 6 times before then, too. 😉
Enjoy! As always, if you make this recipe or any of my others, I love to hear what you think! Leave a comment below, email me, or you can find me on Facebook, Instagram, and Pinterest!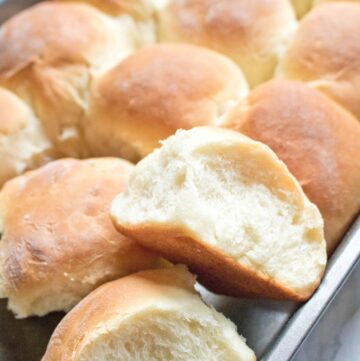 Easy Dinner Rolls From Scratch
Homemade bread is always better and these Easy Dinner Rolls From Scratch are so simple to make that you'll never want to go back to store bought again!
Print
Pin
Rate
Ingredients
1

tablespoon

instant yeast

1

cup

warm water

3

1/4

cup all purpose flour

1/4

cup

sugar

2

tablespoons

salted butter

softened

1

teaspoon

kosher salt

1

Egg, beaten
Instructions
In the bowl of a stand mixer add warm water and sprinkle yeast on top. Add the rest of the ingredients except 1 cup of flour.

With the dough hook, mix on low until all is combined. Slowly add the last cup of flour and continue to mix for another few minutes until a dough forms.

Lightly flour a clean surface and transfer dough to it. Dough will be slightly sticky. Knead a couple of times and shape into a ball.

Transfer ball into a large bowl and cover with plastic wrap. Let rise until doubled - approximately an hour.

Grease a 9X13 pan. Return dough to a floured surface and break into 15 evenly sized balls and place in pan. Cover with kitchen towel and let rise another 45 minutes. Or you can loosely cover and place in fridge to let rise overnight.

Bake at 350 degrees for 15-20 minutes until tops are golden brown.
Notes
Prepare in advance:
Prep dough in pan and let rise loosely covered in the fridge overnight to bake the next day.